Learn how to make the best Mini Eggs cookies with this easy recipe. These Easter chocolate chip cookies are loaded with chopped Mini Eggs for a festive treat that everybody will love!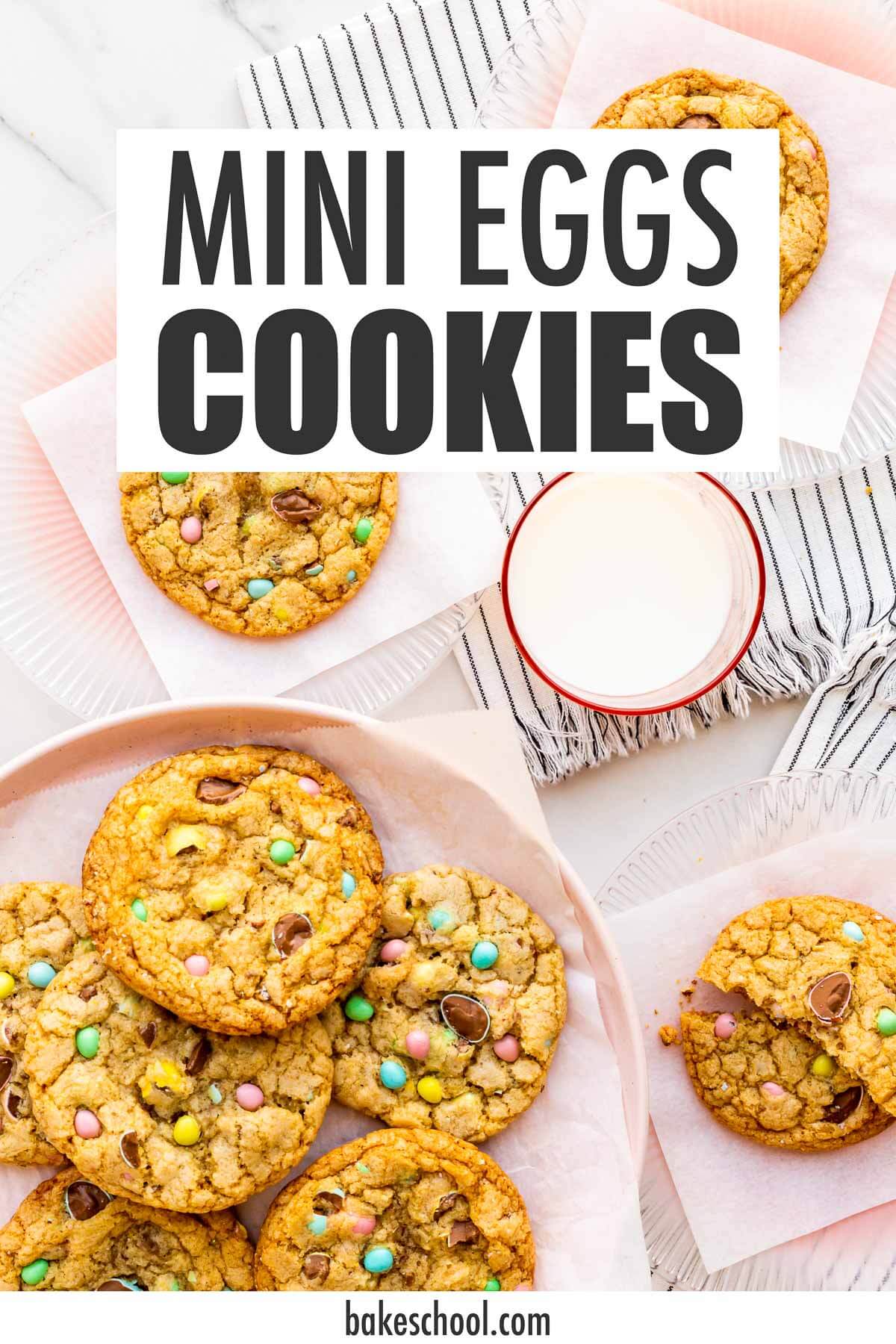 Disclosure: As an Amazon Associate, I earn from qualifying purchases.
Everybody loves Mini Eggs and, not only can you snack on them, but you can also bake with them! Incorporate them into Easter brownies and Mini Eggs blondies.
This cookie recipe was inspired by my quest to understand how to make the best chocolate chip cookies.
Jump to:
What you need to bake Easter cookies with Mini Eggs
If you want to make Easter chocolate chip cookies with pecans from scratch, you will need the following ingredients:
butter, preferably unsalted butter because you will add salt to the dough, but if you have salted it, it will work. Just adjust the salt in the recipe accordingly, otherwise, your cookies may be too salty
granulated sugar gives these cookies crispy edges
brown sugar adds molasses flavour to help balance the eggy flavour. Brown sugar may also lead to a slightly thicker, chewier cookie. Both light or dark brown sugar work, though dark has a higher molasses content and will bring more flavour to these cookies
large eggs, don't use smaller eggs because your cookie dough may be too dry and your cookies won't spread enough but don't use extra large eggs because they could cause the cookie dough to puff too much as it bakes, leading to a more cakey cookie
all-purpose flour is needed to bind all the ingredients together and give the cookies structure, contributing to the chewiness of the cookies as well. If you don't use enough flour, your cookies may spread too much as they bake
baking soda is a base (alkaline). You need baking soda for the cookies to spread properly and for fast browning. Do not use baking powder. Read up on baking soda vs baking powder if you are unsure
salt is really important to balance out the sweet molasses flavour. Don't skip it. I like to use Diamond Crystal fine kosher salt, but table salt will work, though the cookies will be saltier and you may want to halve the salt, in that case
candy-coated Easter chocolate candy eggs like Cadbury Mini Eggs or Hershey's Eggies
See recipe card for quantities.
Instructions
To make most cookie recipes, including these Easter egg cookies, you use the creaming method to make the dough, first combining softened butter with the sugars before adding the eggs and dry ingredients.
You add the inclusions or add-ins, in this case, chopped Easter Mini Eggs, after the dough is finished mixing. If you add them too early, they may break down too much and this will affect the texture of the dough and the baked cookies.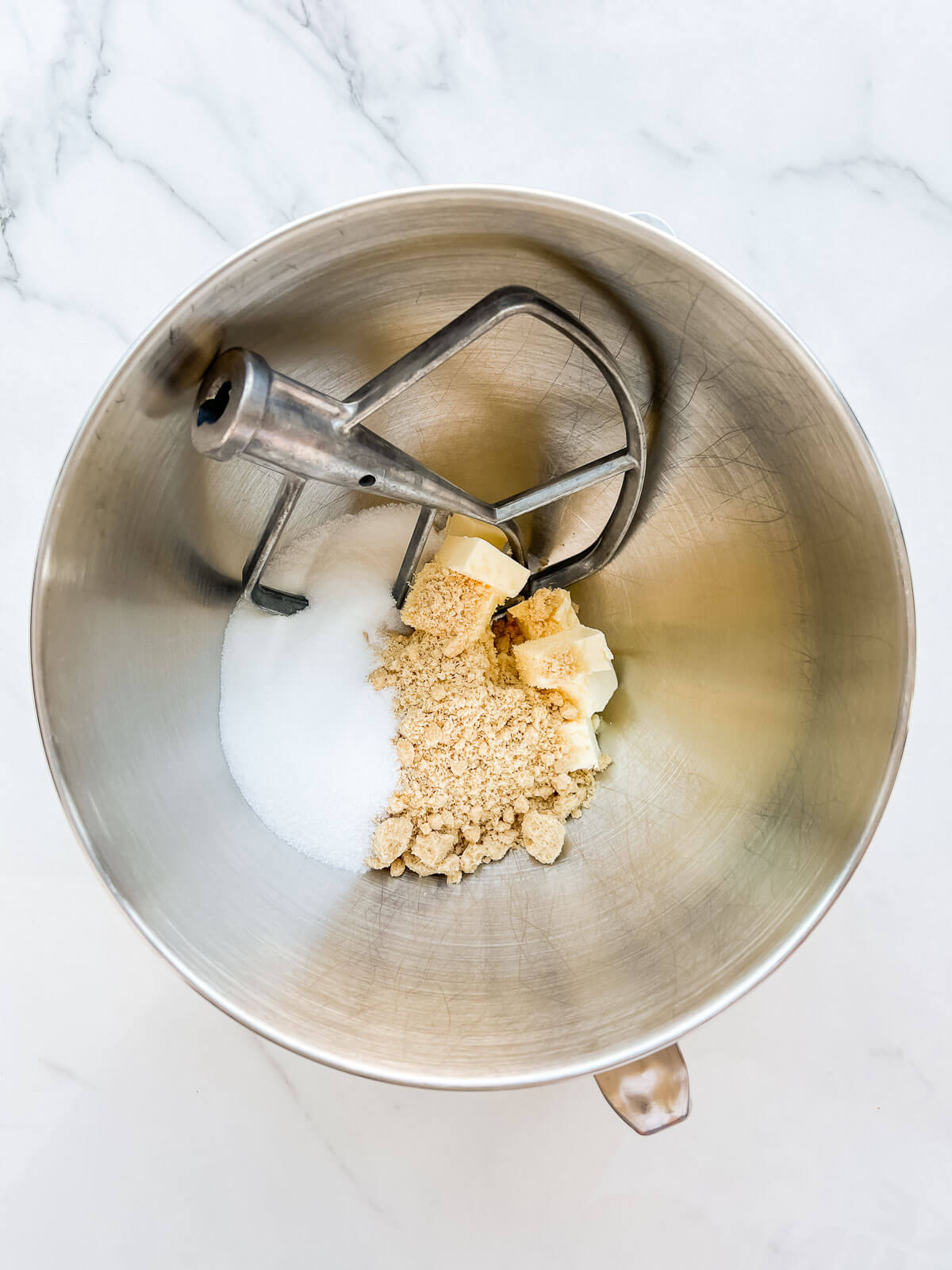 Cream the softened butter with the sugars using a stand mixer fitted with a paddle attachment (or with an electric hand mixer).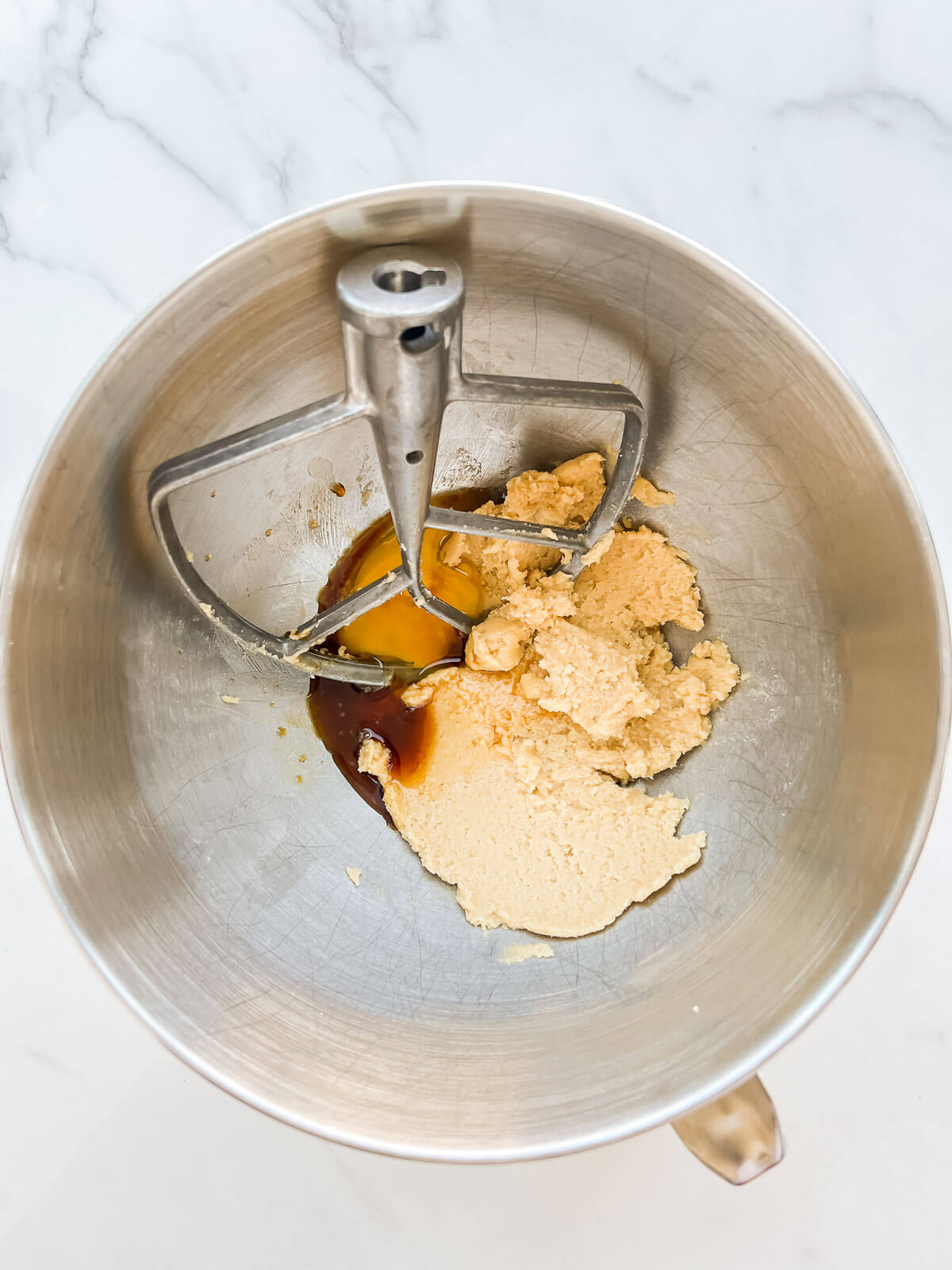 Once the butter and sugars are light and fluffy, incorporate the egg and vanilla extract.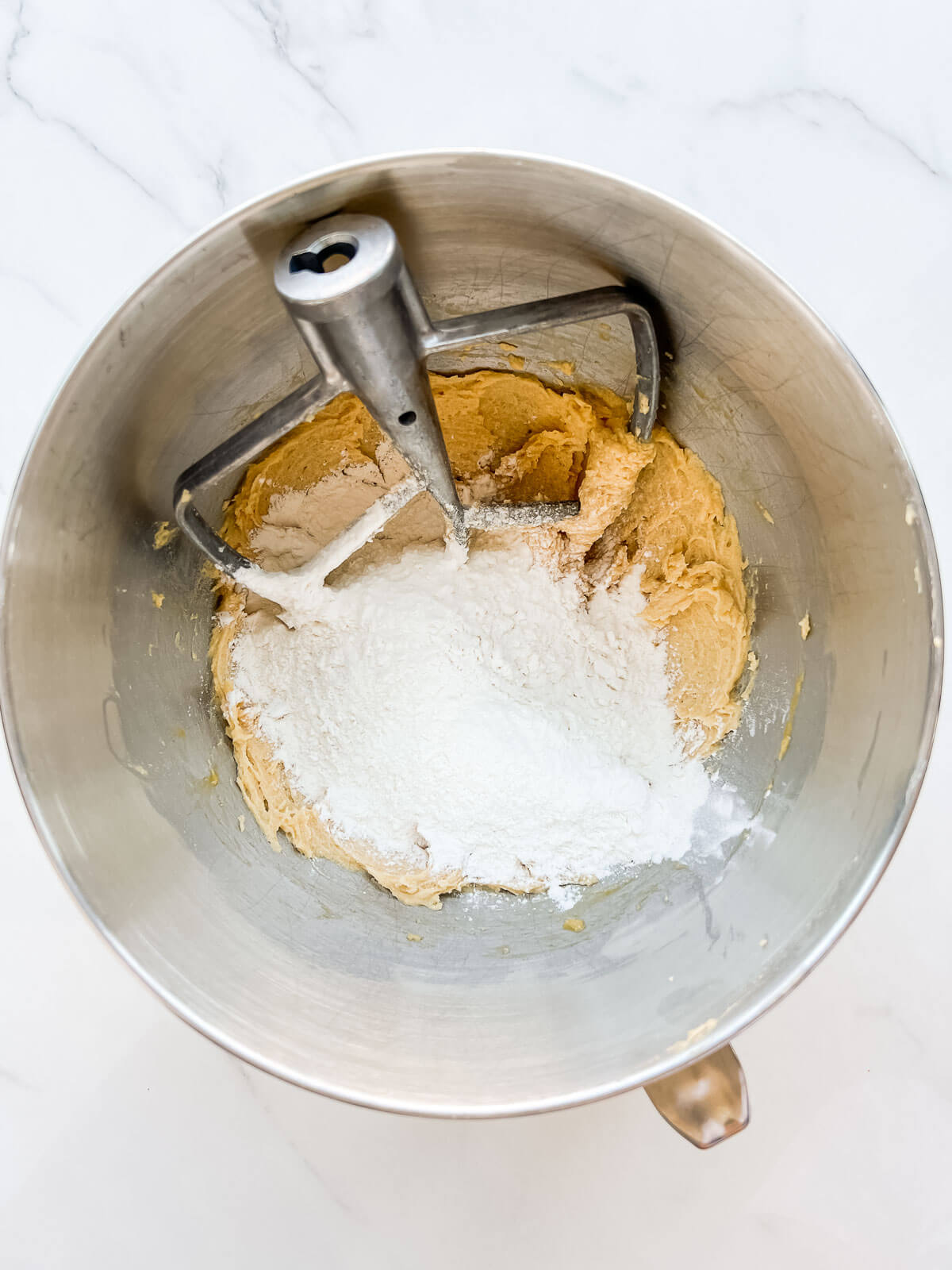 Stir in the whisked dry ingredients (flour, baking powder and salt) on low speed.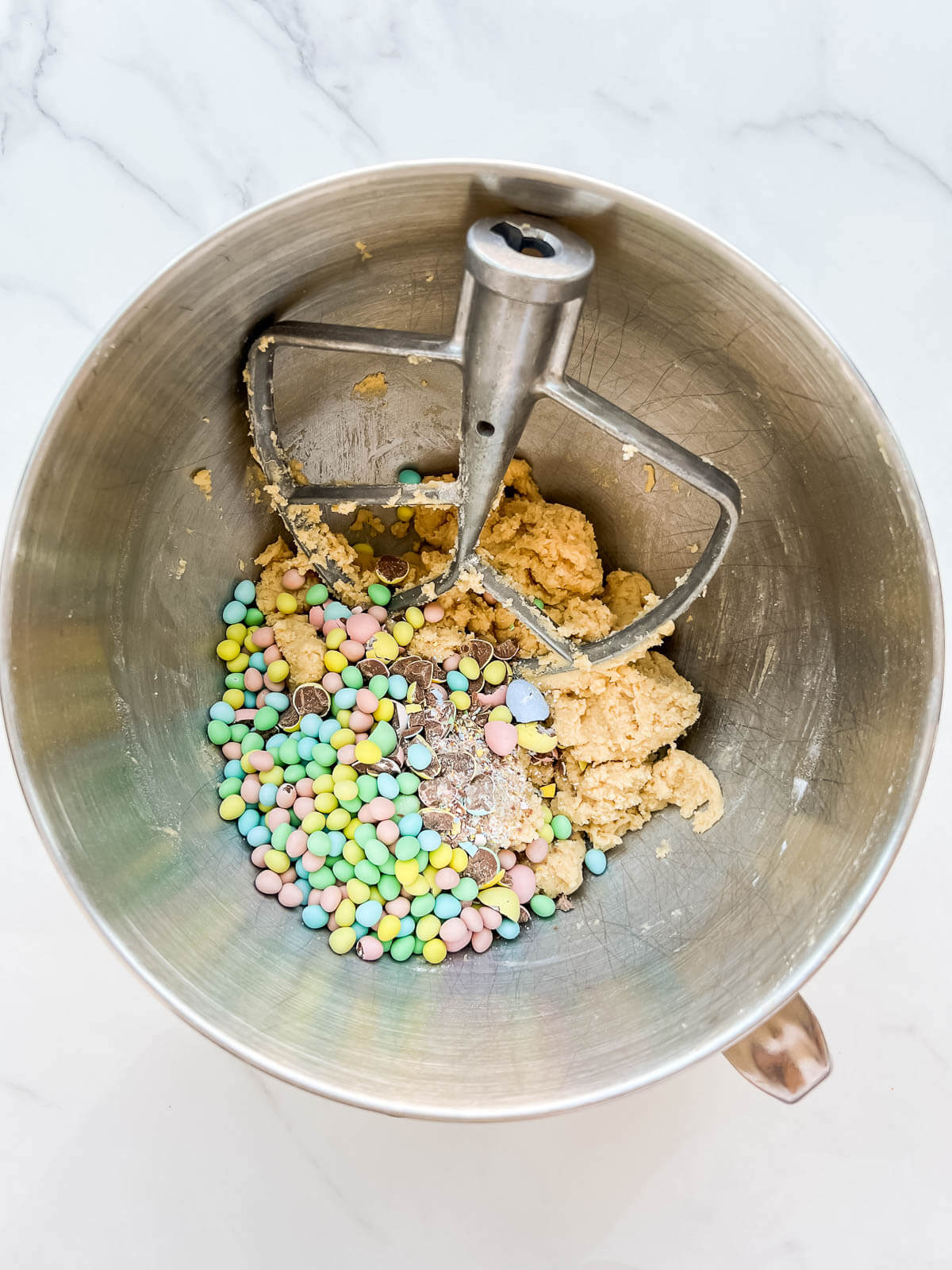 Stir in the Mini Eggs! I used chopped Mini Eggs and tiny Micro Eggs (the mini version of Mini Eggs!).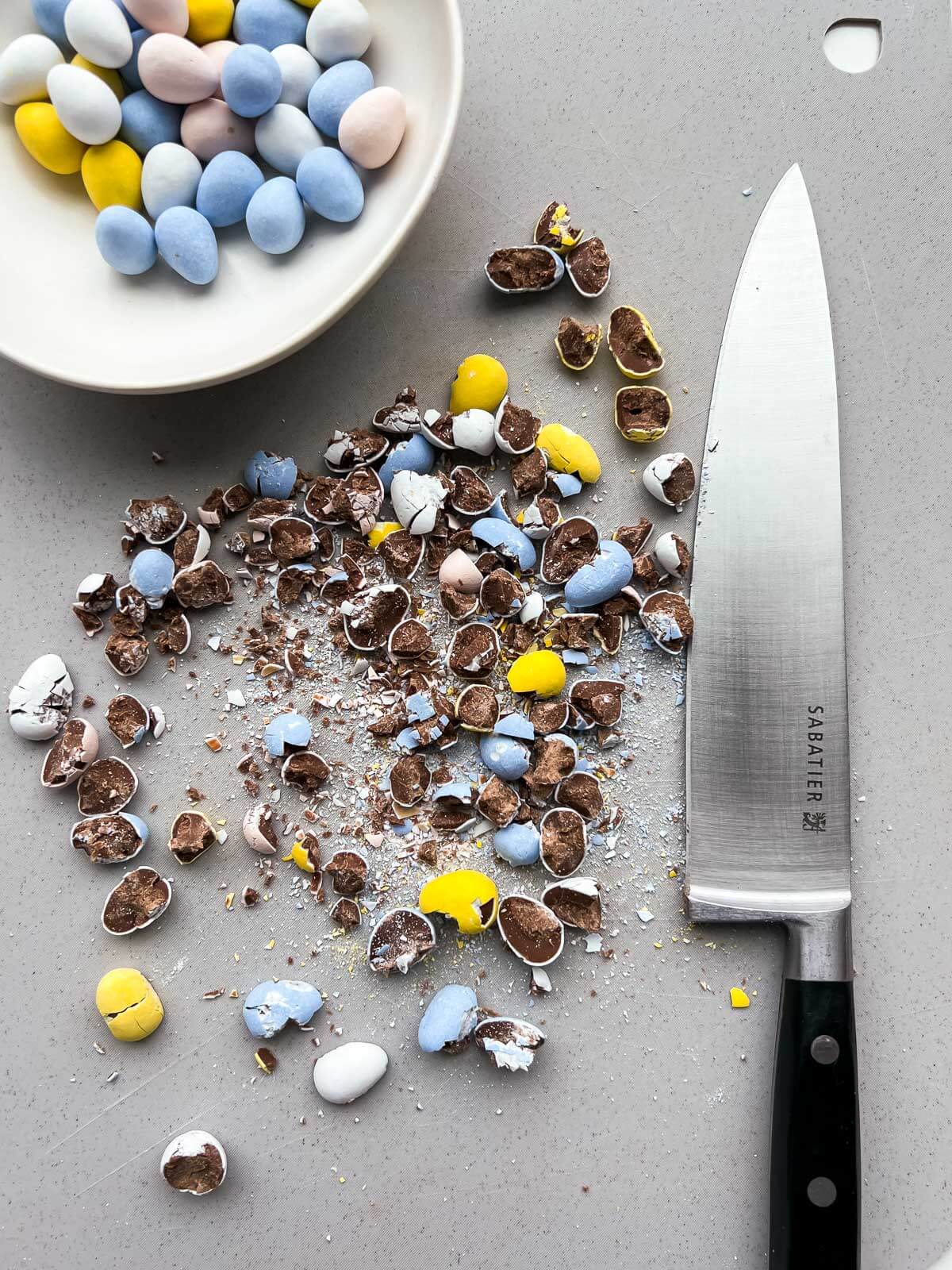 Hint: Don't crush the Cadbury Mini Eggs too much. Leave large chunks of the candy so that you can appreciate the texture and flavour of the candy-coated chocolate. I like to crush mine with the side of a knife just so it splits in half, making a few crumbs out of the candy coating.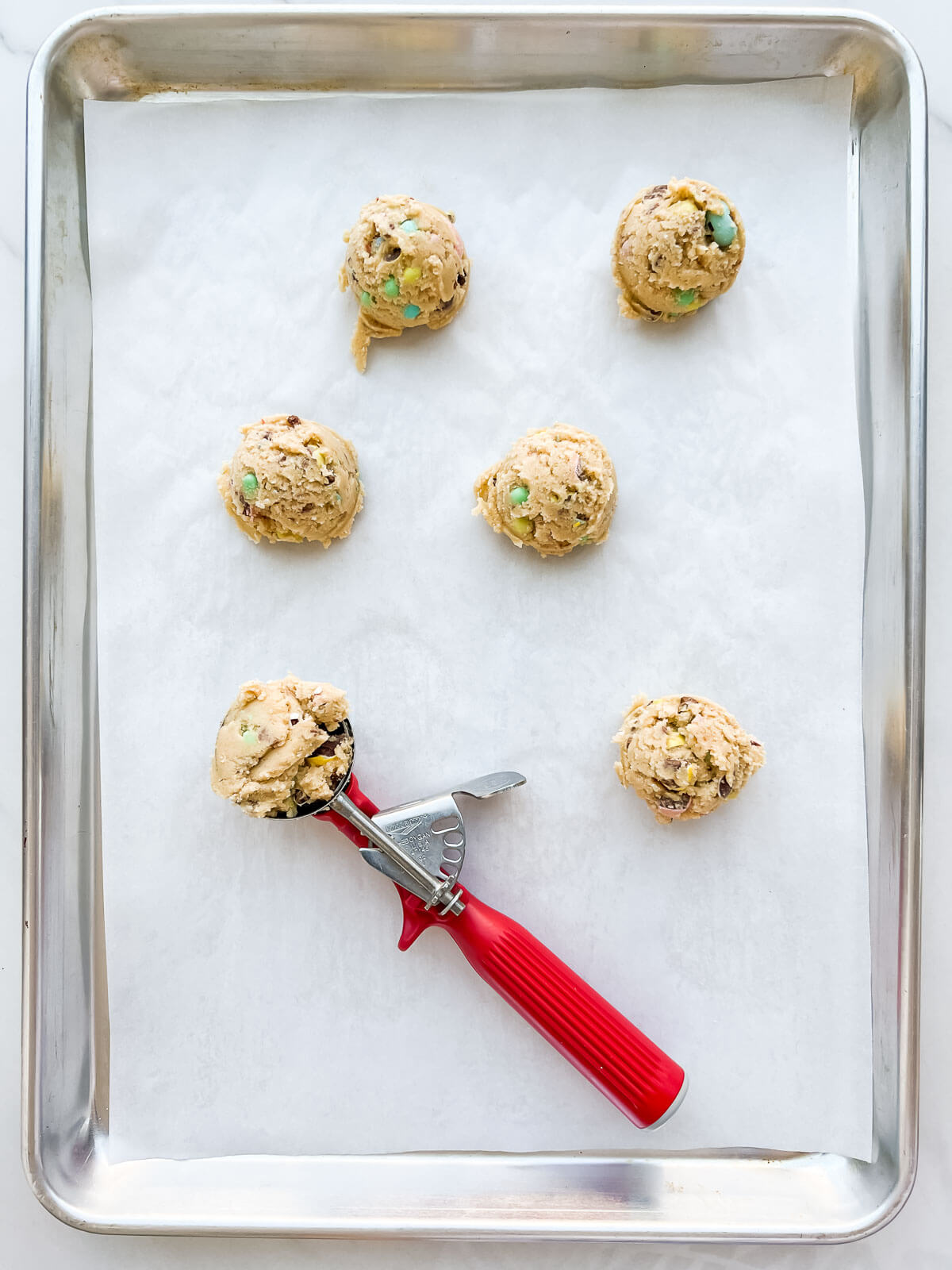 Use a disher to scoop even portions of cookie dough onto parchment-lined sheet pans, spacing them out.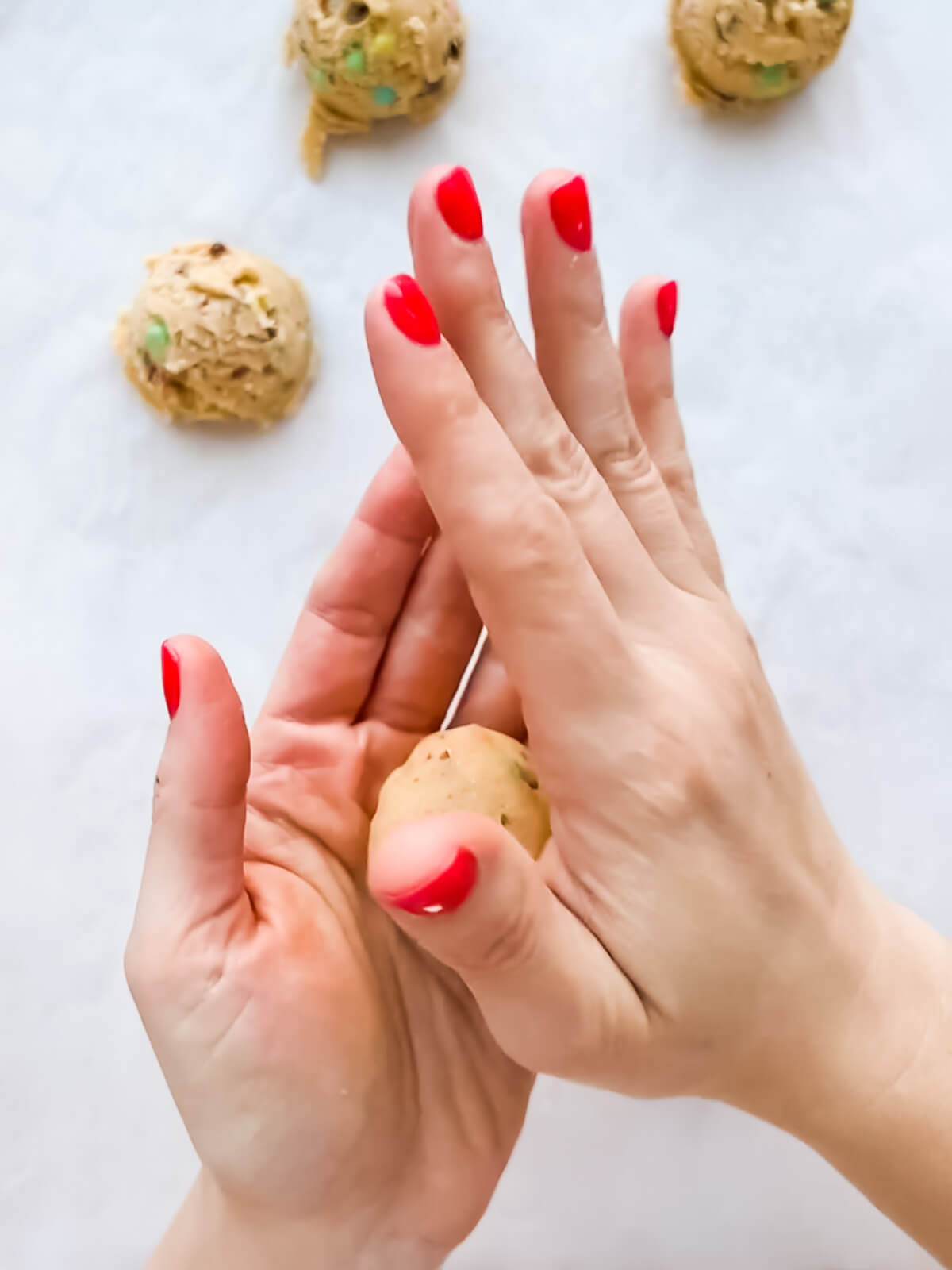 You can smooth out the scoops wth the palms of your hands to make sure your cookies bake nice and round.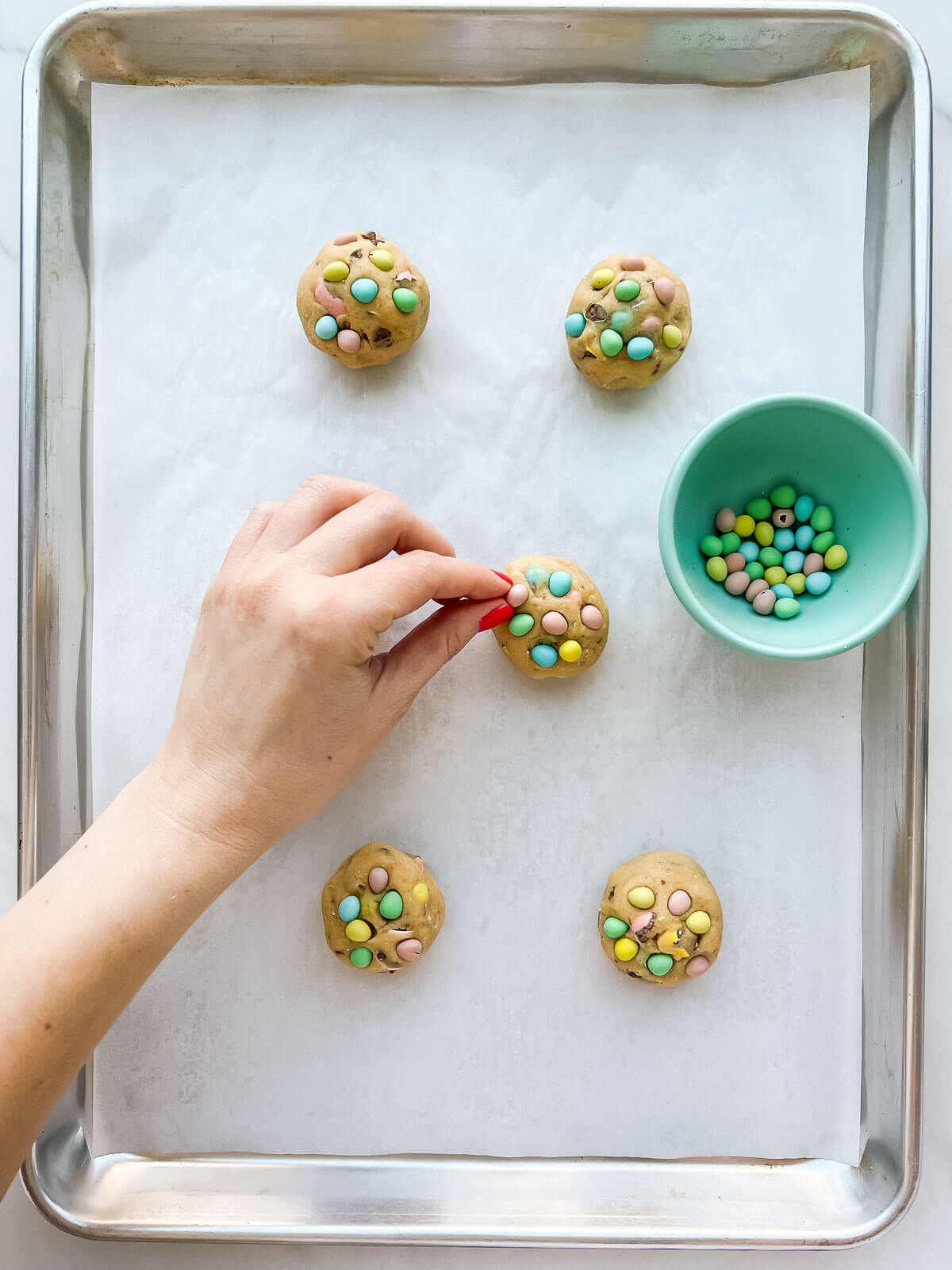 Adding more Mini Eggs to the mounds of cookie dough before they bake will ensure that you can see them on the surface of the baked cookies, making them more festive for Easter!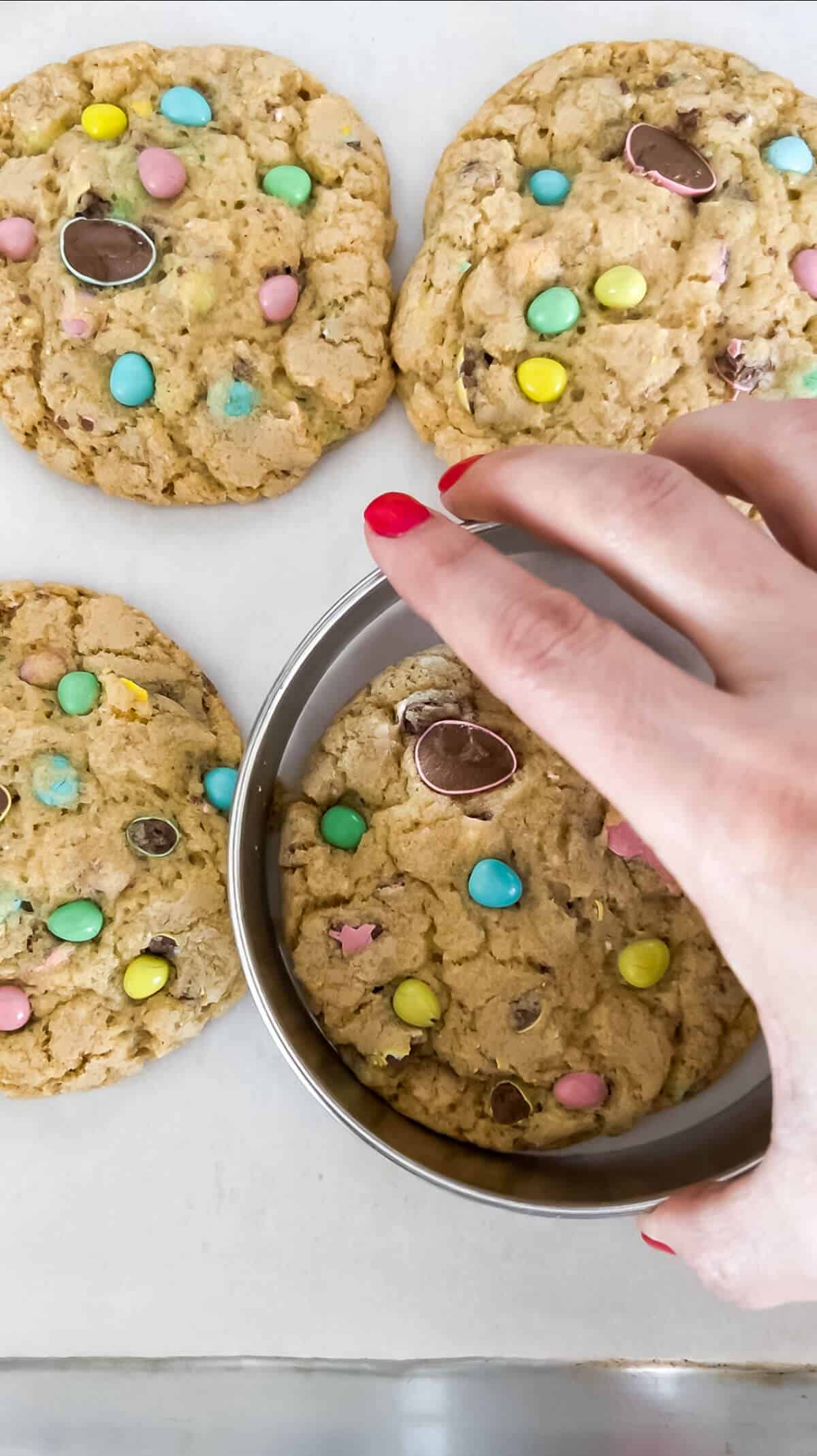 Hint: Use a large round cookie cutter or the back of a spoon to push back any cookie edges toward the centre if they spread out when the cookies were baked. This ensures a perfectly round shape!
Substitutions
Chocolate chip cookies are versatile and there is much room for creativity:
All-purpose flour—you can replace a portion of the flour in this recipe with an alternative flour, like rye or buckwheat. If you want to completely substitute, it's not 1:1! For example, these spelt chocolate chip cookies require more flour to achieve the perfect thickness without spreading too much.
Chocolate—use any candy-coated chocolate you like to eat, whether white, milk, dark, or chocolate chips. Or if it's the fall, try chopped Halloween candy bars. Candy like M&M's or Smarties (the candy-coated chocolate in Canada) works here too instead of chocolate chips. Remember that different types of chocolate will bake differently
Nuts—replace a portion of the Easter chocolate with chopped pecans, walnuts, or chopped peanuts
Variations
There are so many ways to change up the Easter chocolate cookies once you have a base recipe you like:
Funfetti: incorporate rainbow jimmies along with the Easter chocolate to make these even more festive
Equipment
It can be difficult to make cookie dough by hand in a bowl with a wooden spoon, so I prefer to use an electric hand mixer or even a stand mixer. Besides a mixer, you will need:
a kitchen scale, not only for verifying that the scoops of dough are even, but also to measure out the ingredients
a spatula is essential for scraping down the bowl to ensure the butter and sugar are evenly incorporated with the rest of the ingredients and to avoid textural defects when the cookies bake
a cookie scoop to help portion out the dough evenly will ensure more uniform cookies
aluminum sheet pans, at least two of them, and parchment paper for easy cleanup
a cooling rack to transfer freshly baked cookies to allow for air circulation as they cool.
Hint: use a cookie scoop to portion out the cookie dough easily. Then roll each scoop into a smooth ball so that it bakes perfectly. Evenly scooped cookies will bake at the same time, whereas if you portion out dough unevenly, they will not.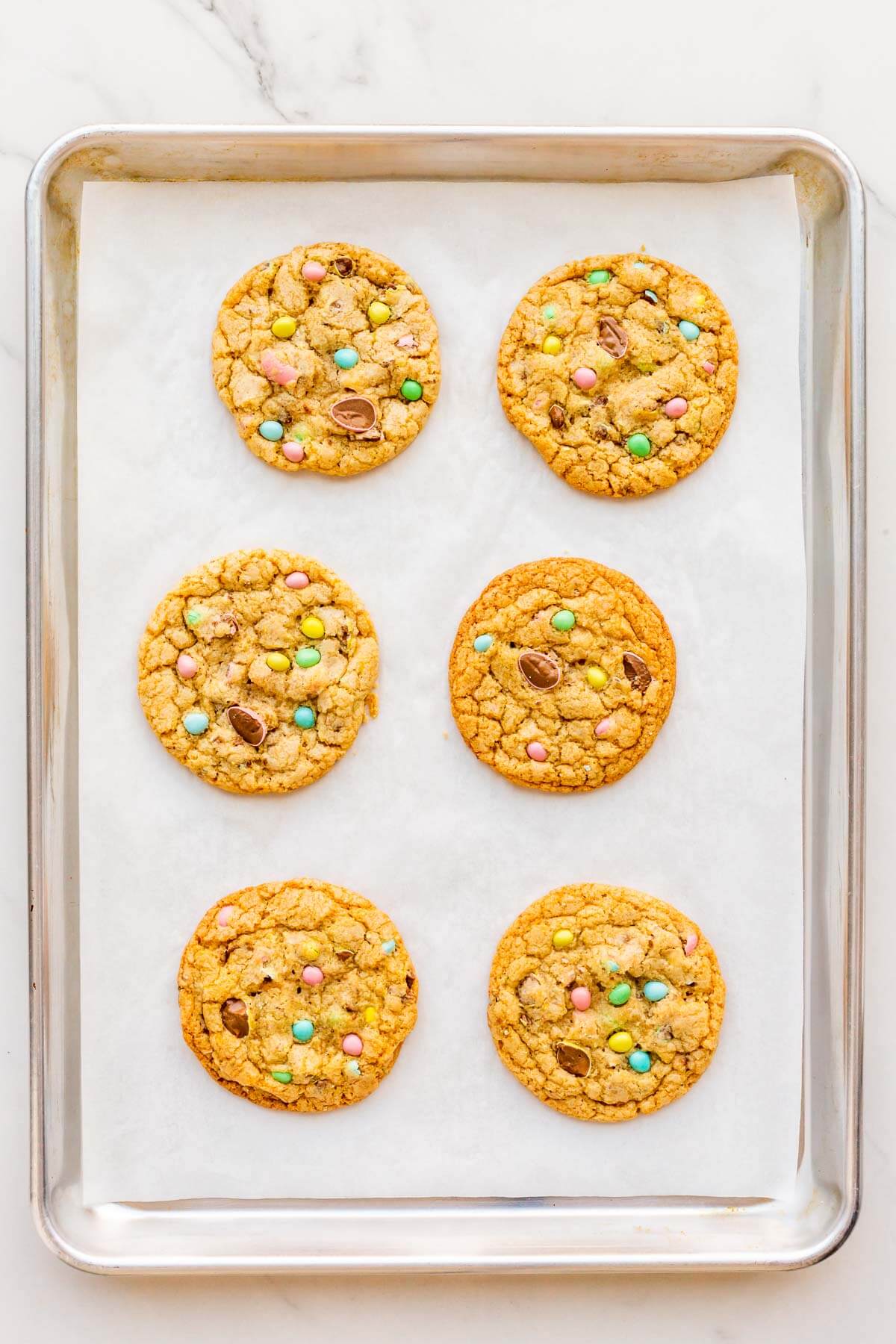 Storage
Once the cookies have cooled down, store them in an airtight container or resealable bag. They will begin to dry out after about 3 or 4 days. For longer storage, freeze for up to 6 months:
Bake frozen scoops of cookie dough as in the recipe card, just add a couple of minutes to the baking time
Reheat the frozen baked cookies in a moderate-low oven (250–300 ºF) until warm.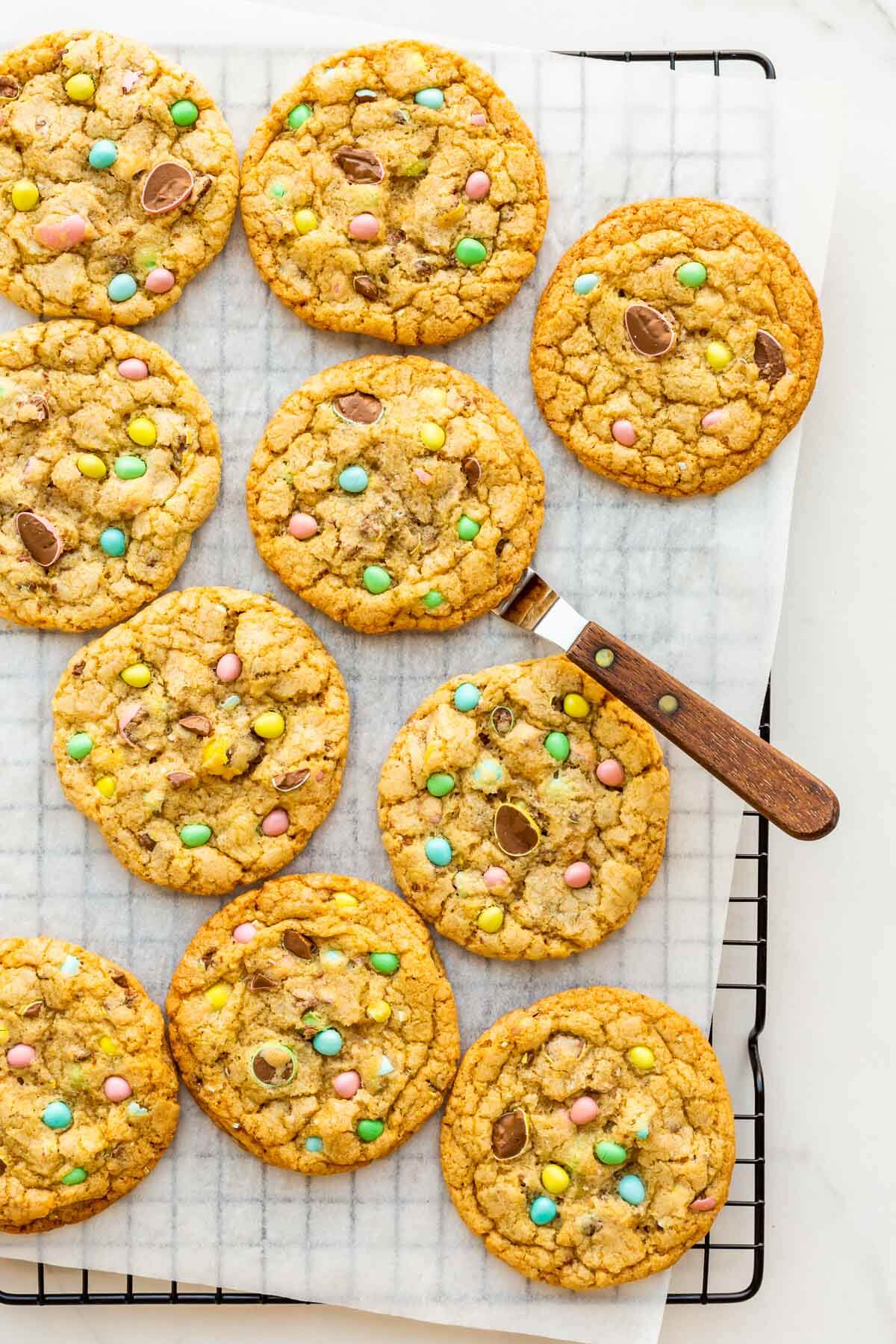 Top tip
If you struggle with flat cookies, read about why cookies spread thin when they bake. And if you struggle with the opposite problem and your cookies are too thick and don't budge when they bake, read about why cookies don't spread.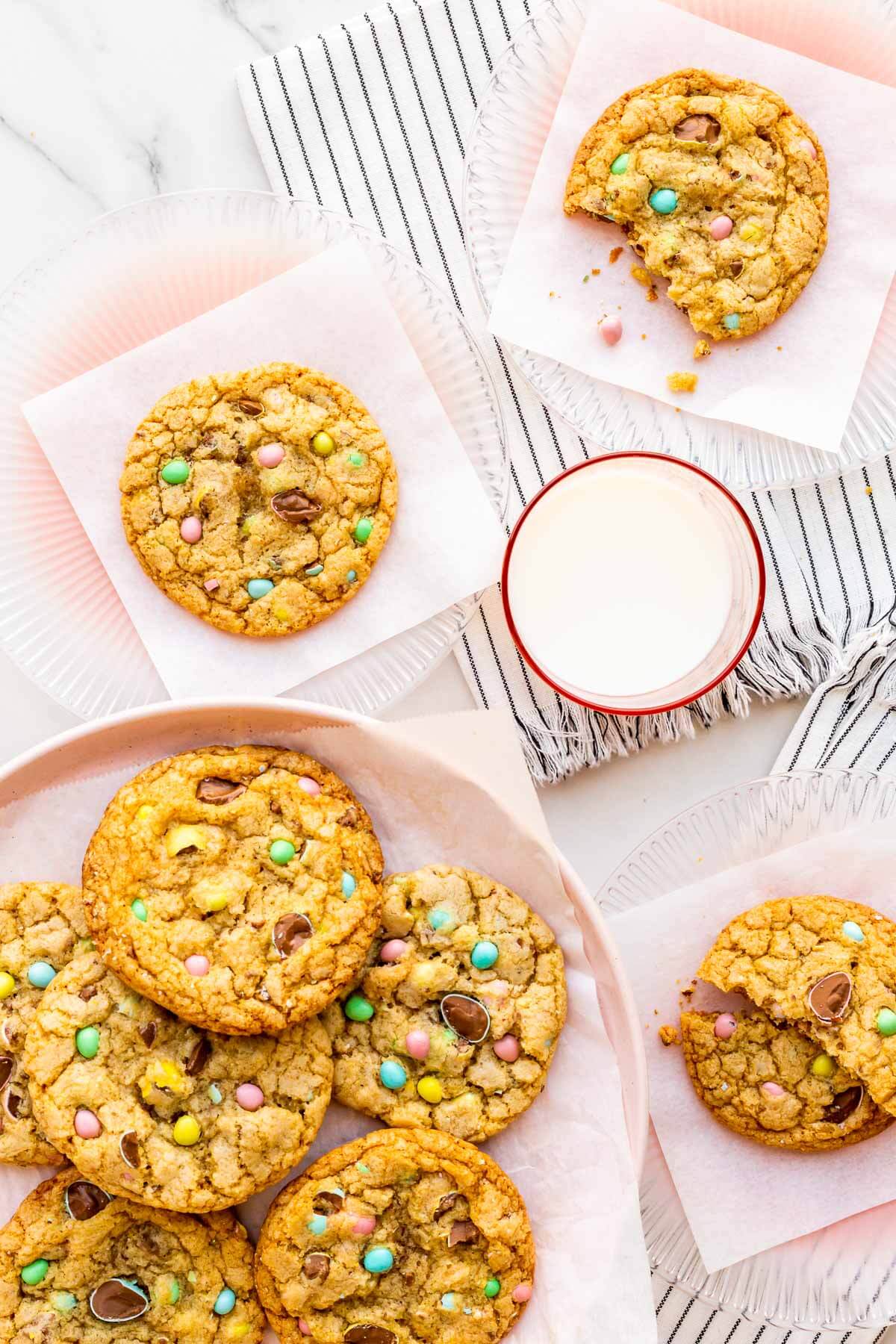 FAQ
Are Cadbury Mini Eggs sold all year?
You can buy Cadbury Mini Eggs year round, though they are easier to find around holidays like Easter and even Christmas. In between those holidays, I've found them in drug store candy aisles as well as dollar stores.
Can you cut Mini Eggs?
When I bake with Mini Eggs, I like to leave some whole and chop some. To safely chop round candy-coated chocolate like Mini Eggs, which tend to roll around, place them on a cutting board and press on the Mini Eggs with the side of a large chef's knife to crack them. This will lead to uneven pieces, some big and some small, and you can then incorporate all of them in your cookie and bar recipes.
Do I have to use Cadbury Mini Eggs?
I like to bake with Cadbury Mini Eggs or Micro Eggs (the mini version of Mini Eggs) or Hershey's Eggies. If you can't find any of these, M&M's or chocolate Smarties candy will work too in this recipe. Use the same weight as the Mini Eggs listed in the recipe card.
Other Easter baking recipes
Looking for other Easter baking recipes like this? Try these:
Using up leftover cookies
If you have leftover Mini Eggs cookies or they've gone stale, chop them up and make a batch of cookie ice cream! Here are some base recipes where you can incorporate the leftover cookies:
📖 Recipe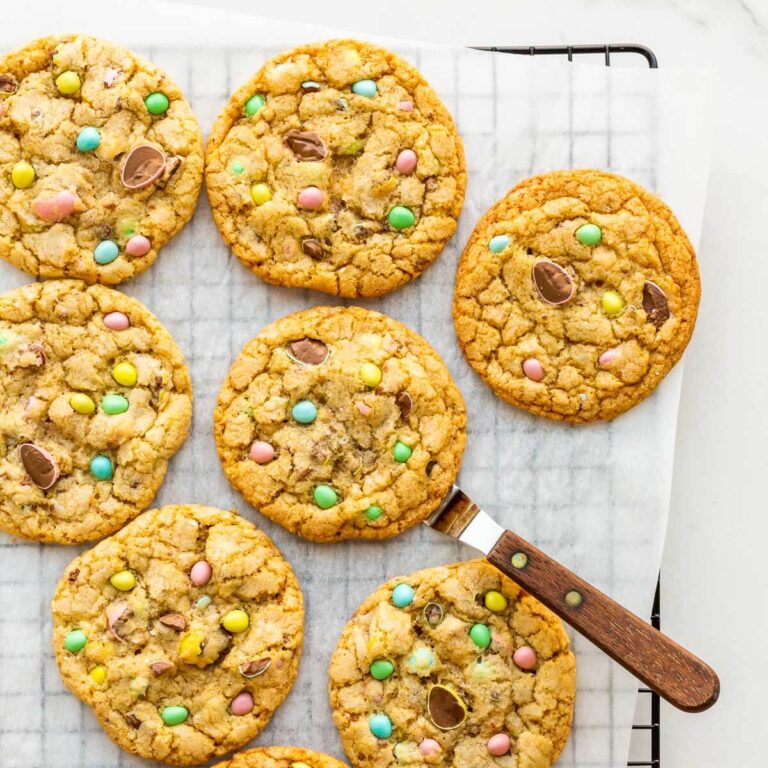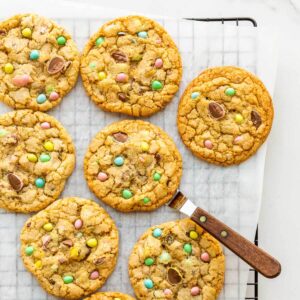 Mini Eggs Cookies
Learn how to make Mini Eggs cookies with this easy recipe. These are an Easter twist on classic chocolate chip cookies. These cookies are chewy and salty-sweet, and you don't have to chill the cookie dough before baking!
Instructions
Preheat the oven to 350 °F (175 °C). Line two large half sheet pans with parchment paper.

In a medium bowl, whisk together the flour, salt, and baking soda. Set aside.

In a large bowl, using an electric hand mixer (or using a stand mixer fitted with the paddle attachment), cream together the butter, the granulated sugar, and the brown sugar until it's very light and fluffy.

Add the egg and the vanilla, and mix well until the mixture is light and fluffy again. Make sure to clean down the sides of the bowl as needed with a big spatula.

Dump in the whisked dry ingredients, and incorporate them either with the hand mixer on low, or by hand with a big wooden spoon.

Mix in the chopped Mini Eggs. The dough should be quite thick.

Scoop approximately 50 gram portions of the dough, rolling them into balls.

Place 7 cookies per cookie sheet, being sure to space them apart and stagger them. If you have extra Mini Eggs, you can garnish each scoop of dough with a few extra (whole and chopped).

Bake the cookies one sheet pan at a time until the edges just begin to brown (this takes about 12 to 14 minutes). You might want to rotate the pan partway through the baking to make sure the cookies brown evenly.

Let the cookies cool completely on the sheet pan while you bake the second pan.

Store in an airtight container.
Notes
Safety first: Chopping round, hard candies and ingredients can be dangerous because your knife can slip and the candy can roll. To "chop" the Mini Eggs safely, use a chef's knife and crush them with the blade, pressing down on them. The pressure will split the eggs in half or into large pieces with a few candy crumbs.
Nutrition
Calories:
256
kcal
Carbohydrates:
37
g
Protein:
3
g
Fat:
12
g
Saturated Fat:
7
g
Polyunsaturated Fat:
0.4
g
Monounsaturated Fat:
2
g
Trans Fat:
0.3
g
Cholesterol:
31
mg
Sodium:
215
mg
Potassium:
36
mg
Fiber:
0.4
g
Sugar:
26
g
Vitamin A:
259
IU
Vitamin C:
0.4
mg
Calcium:
44
mg
Iron:
1
mg