This eggless carrot cake is layered with thick cream cheese frosting to make the best carrot cake recipe without eggs!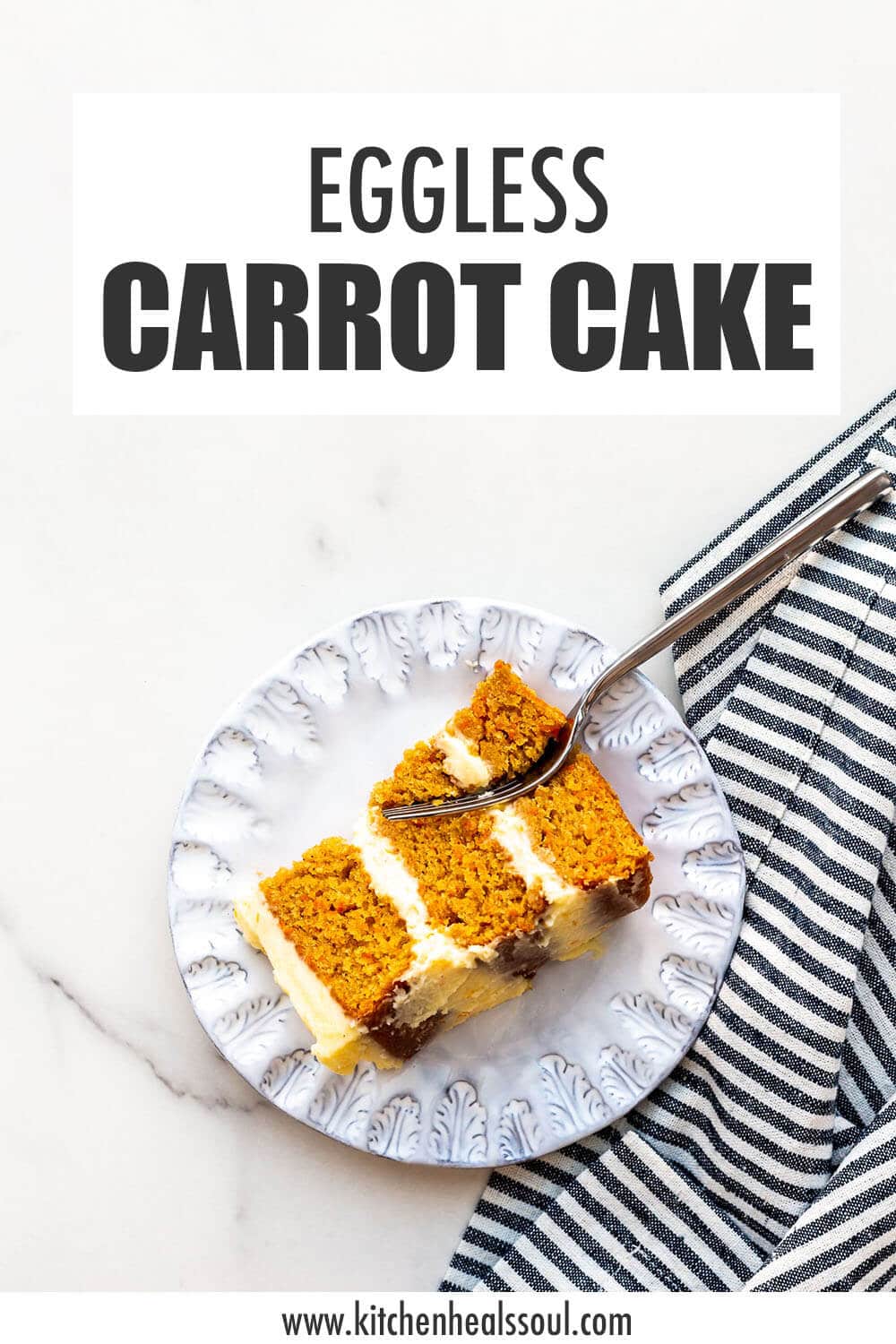 Disclosure: As an Amazon Associate, I earn from qualifying purchases.
Carrot cake without eggs
With the success of the eggless chocolate cake, eggless banana bread, and healthier pumpkin bread (also without eggs), it seemed reasonable to imagine that making a carrot cake without eggs would be possible.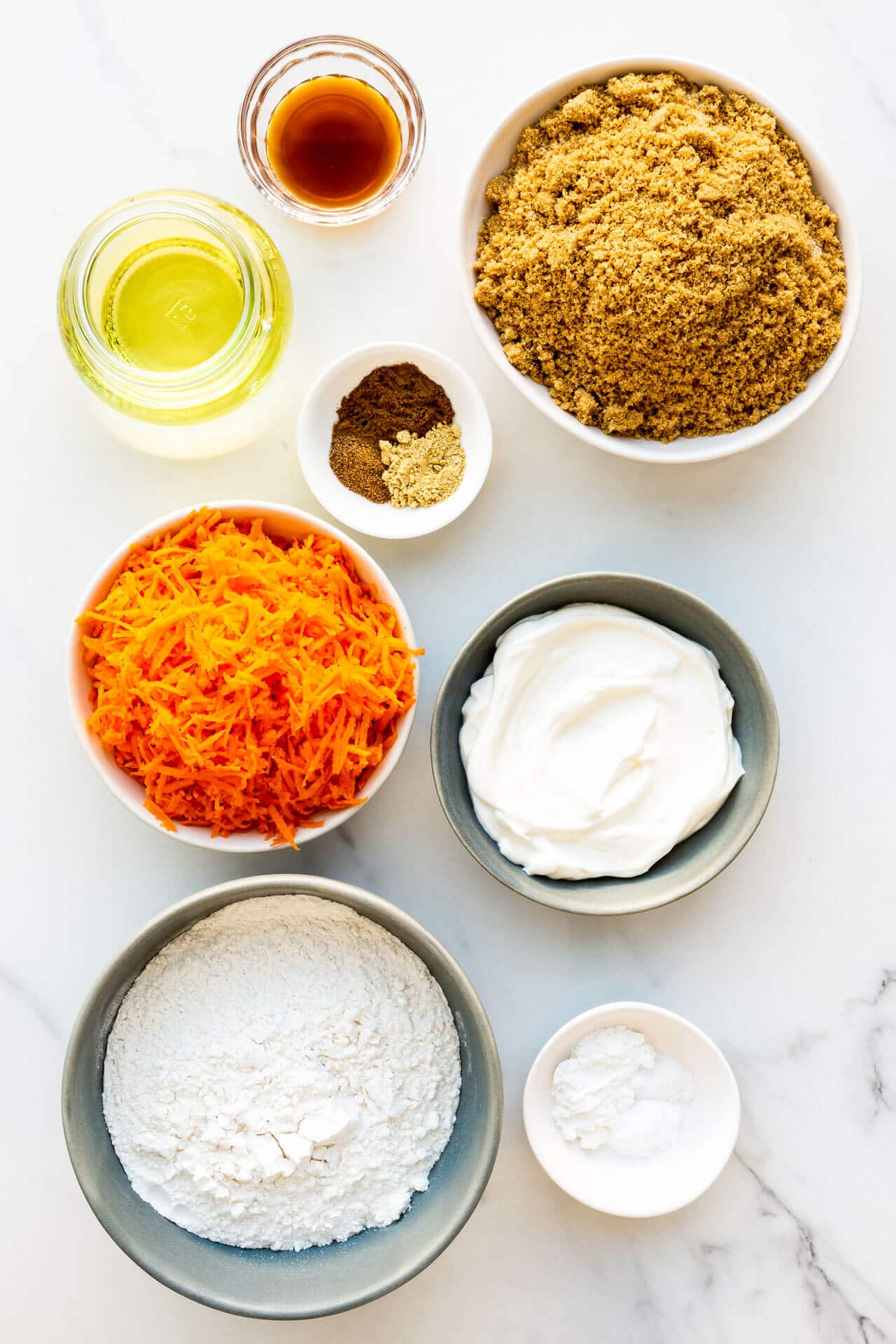 In this cake recipe, I would have probably used 3 large eggs, which is roughly 150 grams of eggs. To replace them, I used the following baking substitution: 190 mL of full-fat sour cream. The sour cream provides both moisture and fat, like an egg would have. It may not have the same emulsifying properties as the egg, but this worked well in this recipe.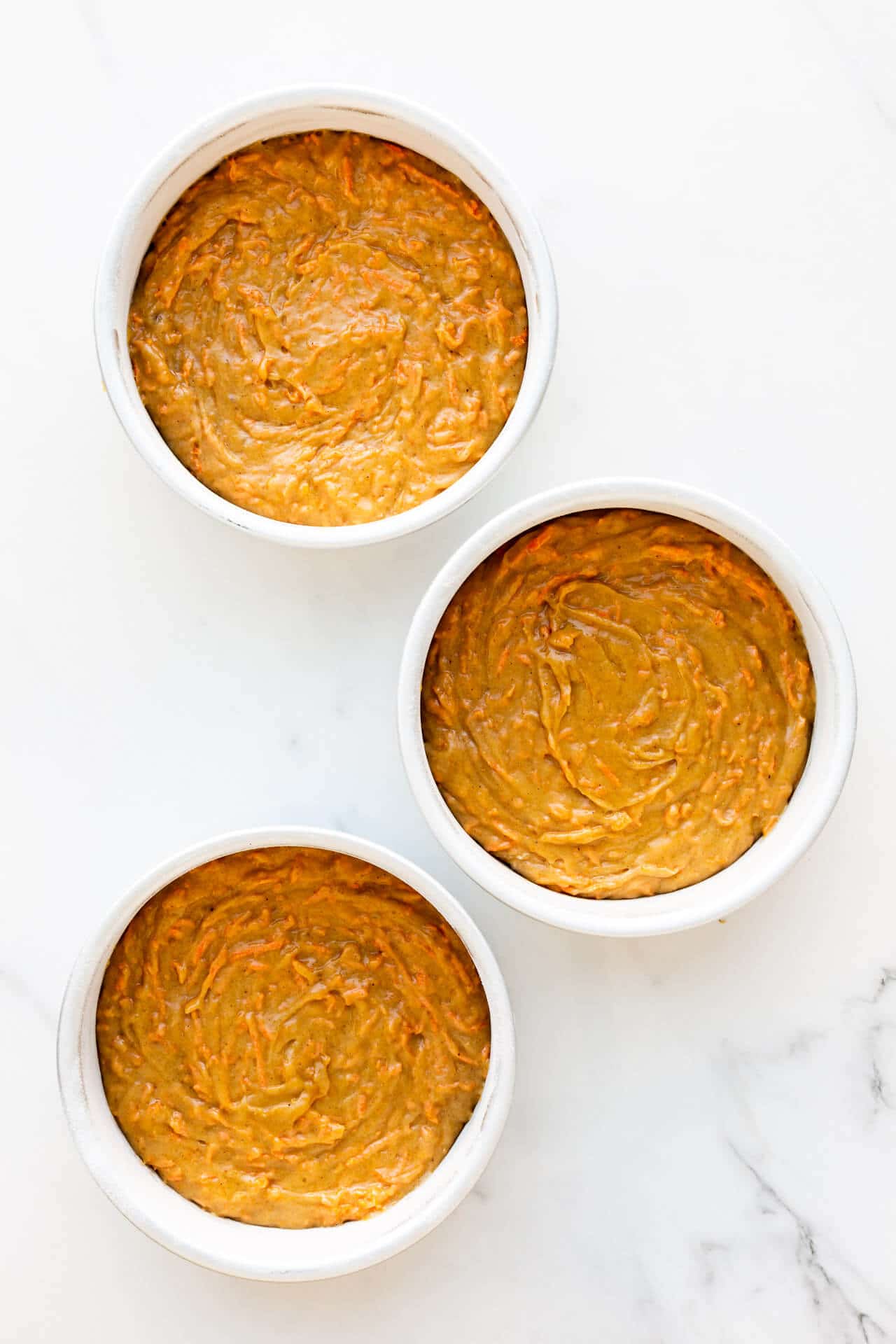 Leavening agents in cakes
Using an acidic ingredient like sour cream in a cake batter means that you need to use two chemical leaveners, baking powder and baking soda. The baking soda is there to help neutralize some of that acidity so that the baking powder can do its job of helping cakes rise when the cake is in the oven, and not prematurely.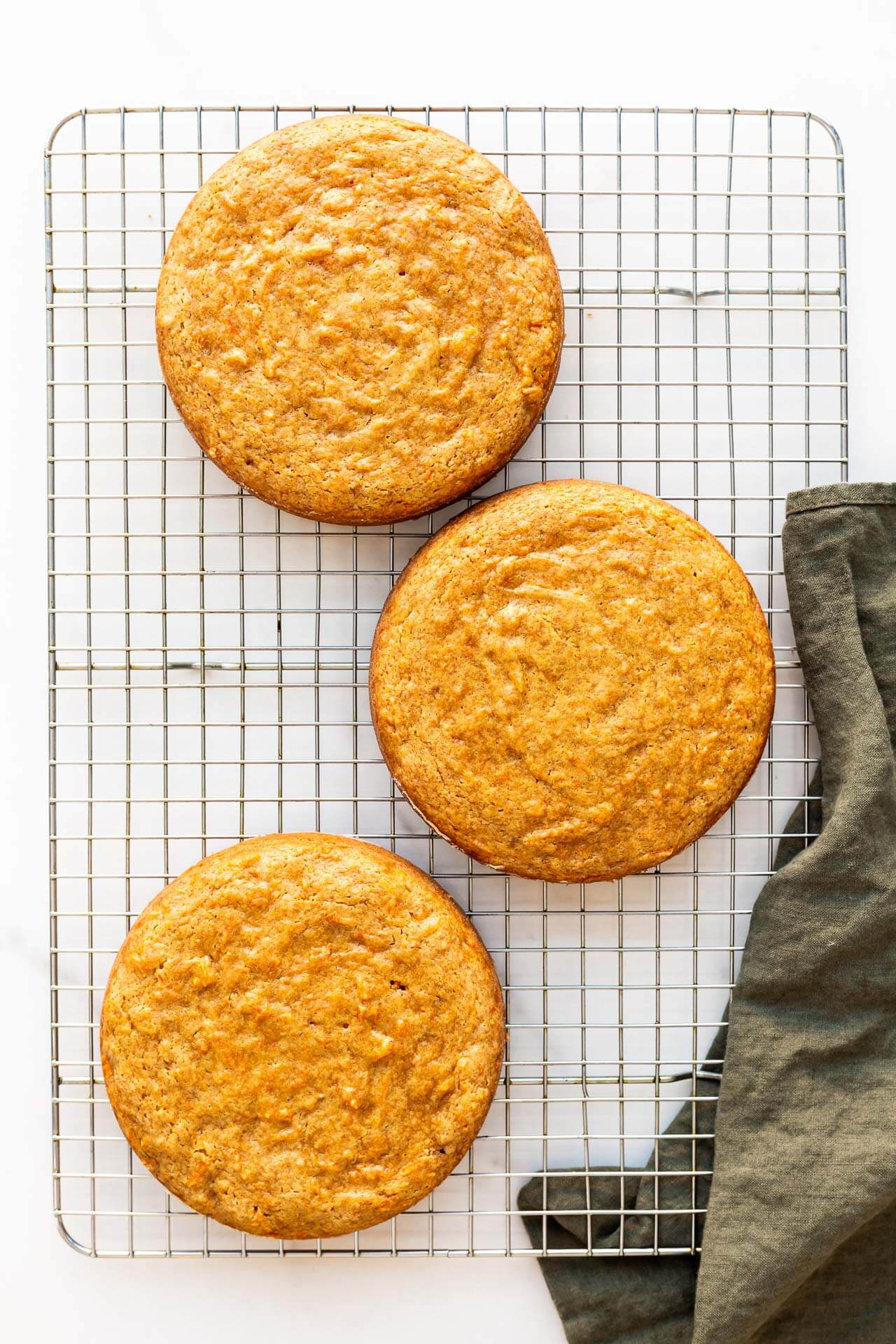 Two-bowl method for mixing
Cake recipes that are made with softened butter are mixed using the creaming method, where the sugar and butter are mixed together for a long time. This incorporates air into the batter, leading to softer, fluffier cakes that are less dense.
For this cake, I decided to use canola oil instead of butter because I wanted to have a cake that was tender, even if it has to be refrigerated. Remember oil is liquid at room temperature and still fluid even in the refrigerator, whereas butter is solid. This leads to a more tender mouthfeel, even when the cake is cold.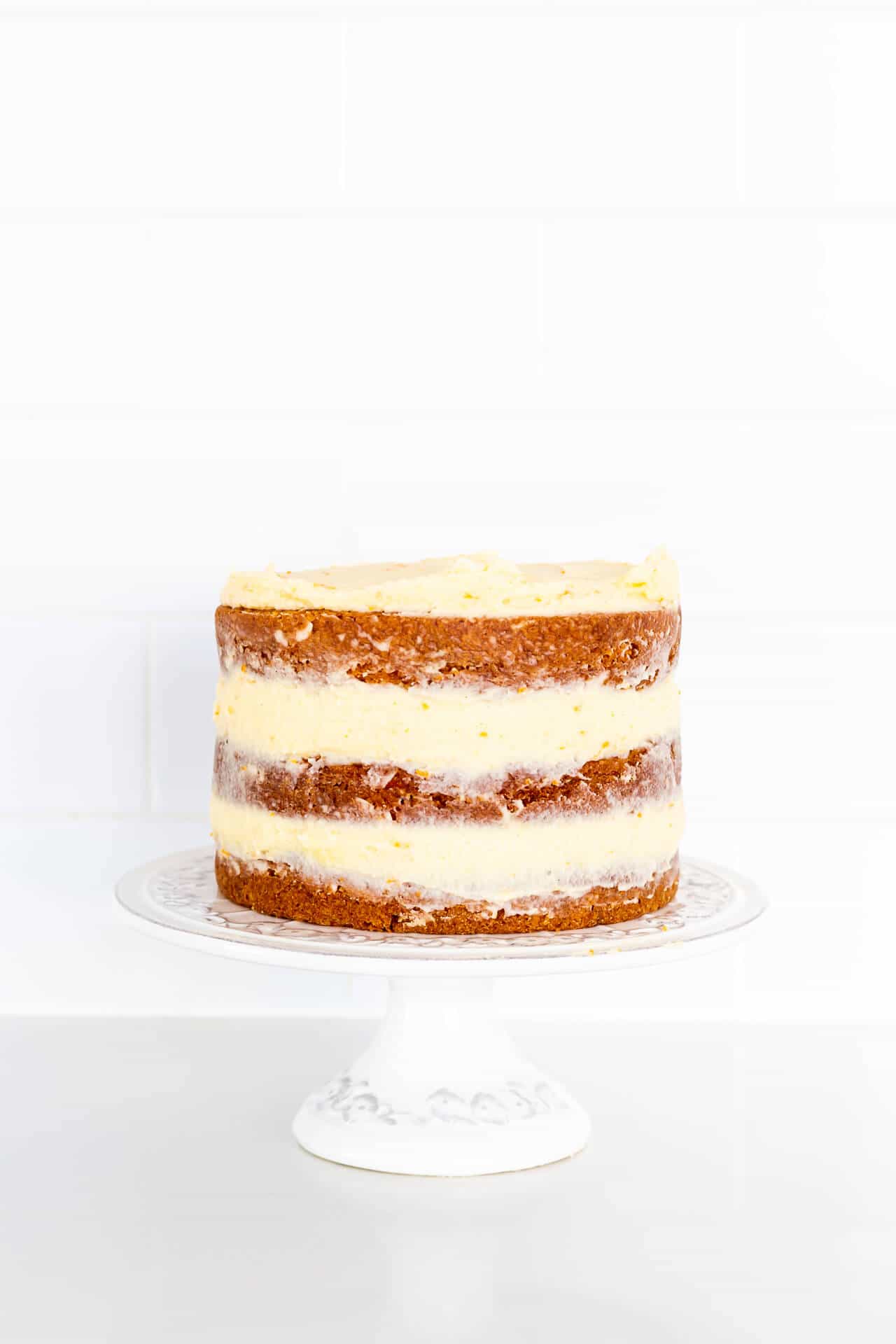 Using oil means you can use a different mixing method to make the batter: the two-bowl method, just like for muffins. Much to my surprise, the layers of cake baked flat, without having to use cake strips. You could level the tops if you want very flat, perfectly even layers to stack, but as you can see from the photos, without trimming the tops, I still had a fairly flat finish.
Making thick cream cheese frosting with less icing sugar
The best frosting for carrot cake is cream cheese frosting. It's what people expect and sometimes the frosting is the main reason people eat carrot cake or order it in restaurants.
The secret to making a thick cream cheese frosting with less icing sugar is to first cream the butter with the icing sugar before adding the cream cheese. This way the icing sugar is coated with fat, thereby delaying or preventing it from drawing the water out of the cream cheese.
This mixing method leads to a more stable cream cheese frosting that you can make with a lot less icing sugar than most! I've used it for other layer cakes, like this chocolate cake with cream cheese frosting and this cranberry cardamom cake.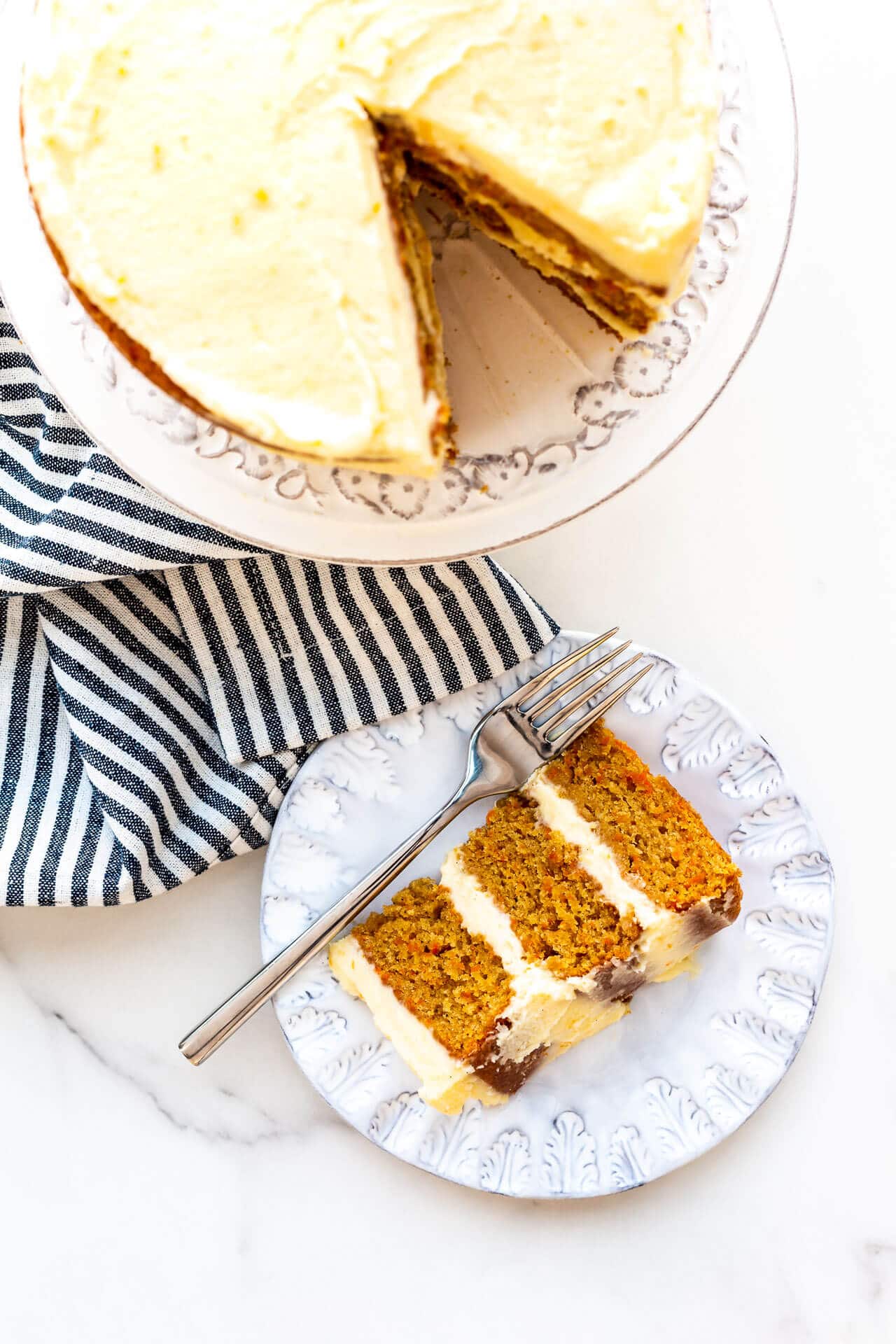 Here are some of my favourite tools and baking pans to make layer cake recipes like this one:
Frequently asked questions
Can I make this without raisins?
This carrot cake recipe is made without raisins, nuts, coconut, or pineapple. If you want a carrot cake with raisins, you can add them to the cake batter at the same time as the shredded carrot. Add 125 mL–250 mL (½ cup–1 cup) of raisins and/or nuts to this recipe. I don't recommend adding canned pineapple because it's quite wet and would throw off the ratios in the recipe.
How do you store this cake?
In general, if you are going to be eating layer cakes within a day, you can store them at room temperature, assuming your room isn't too hot and it's not summer. To be safe, it's best to store this eggless carrot cake in the refrigerator, preferably covered, especially because this is a "naked" cake, meaning the sides aren't fully frosted. They may dry out faster.
Why does my carrot cake seem dense?
If you store your carrot cake in the fridge, make sure to let it warm up at room temperature a little before eating it. Otherwise, the frosting will be quite firm because of the butter, which hardens at colder temperature. In general, fridge-cold cakes are firmer and you should give them time at room temperature to soften before eating.
📖 Recipe
Eggless carrot cake
This eggless carrot cake is layered with thick cream cheese frosting to make the best carrot cake without any fuss.
Ingredients
Eggless carrot cake
220

grams

(

1¾

cups

)

bleached all-purpose flour

10

mL

(

2

teaspoon

)

baking powder

2.5

mL

(

½

teaspoon

)

ground cinnamon

2.5

mL

(

½

teaspoon

)

ground ginger

2.5

mL

(

½

teaspoon

)

ground nutmeg

2.5

mL

(

½

teaspoon

)

baking soda

1.25

mL

(

¼

teaspoon

) Diamond Crystal fine kosher salt

125

mL

(

½

cup

)

canola oil

250

grams

(

1¼

cups

) light brown sugar

188

mL

(

¾

cup

)

sour cream (14% fat)

15

mL

(

1

tablespoon

)

orange zest

5

mL

(

1

teaspoon

) pure vanilla extract

375

mL

(

1½

cups

)

finely grated carrots
Cream cheese frosting
95

grams

(

¾

cup

)

icing sugar

115

grams

(

½

cup

)

unsalted butter

,

room temperature

250

grams

(

10

oz

)

Philadelphia cream cheese (full fat, regular)

,

cold

5

mL

(

1

teaspoon

) vanilla bean paste,

or vanilla extract

15

mL

orange zest

,

optional
Instructions
To make the eggless carrot cake layers
Preheat the oven to 350ºF. Butter, flour, and line with parchment three 6-inch cake pans (Wilton on Amazon)

Sift together (or whisk) the flour, baking powder, cinnamon, ginger, nutmeg, baking soda, and salt. Set aside

In a separate large bowl, whisk together the canola oil, brown sugar, sour cream, orange zest, and vanilla until very well blended.

Add the flour mixture to the bowl with the wet ingredients and fold everything together until the flour has almost completely disappeared.

Divide the mixture between the three pans, banging the pans to release any air pockets. Smooth the surfaces of the cakes with an offset spatula and bake them until they are done: a cake tester inserted in the centre of the cakes will come out clean, and the edges will have pulled away from the sides of the pan. This takes 25 to 30 minutes.

Let the cakes cool 10 minutes before unmoulding to cool completely on a wire rack.
To make the cream cheese frosting
In the bowl of an electric mixer fitted with the paddle attachment, cream together the icing sugar and the butter until it is creamy and light.

Add the cream cheese, the vanilla bean paste, and the orange zest (if using) and beat the frosting until it is smooth.

Peel off the parchment from the cake layers and place the first layer on a cake stand. Top with a couple spoonfuls of frosting (~150 grams) and smooth it out. Stack on the second cake layer and another 150 grams of frosting, then top with the final layer. Use a bench scraper or an offset spatula to smooth the sides if desired.

Chill for 30 minutes to set the frosting before serving.
Give back
If you enjoy the free content on this website, say thank you!
Nutrition
Calories:
687
kcal
|
Carbohydrates:
72
g
|
Protein:
6
g
|
Fat:
43
g
|
Saturated Fat:
17
g
|
Trans Fat:
1
g
|
Cholesterol:
78
mg
|
Sodium:
314
mg
|
Potassium:
404
mg
|
Fiber:
3
g
|
Sugar:
46
g
|
Vitamin A:
7406
IU
|
Vitamin C:
7
mg
|
Calcium:
169
mg
|
Iron:
2
mg