Learn how to make chocolate financiers with this easy recipe. These mini chocolate almond cakes are made with brown butter, ground almonds, cocoa powder, and egg whites, giving them a lovely texture and flavour.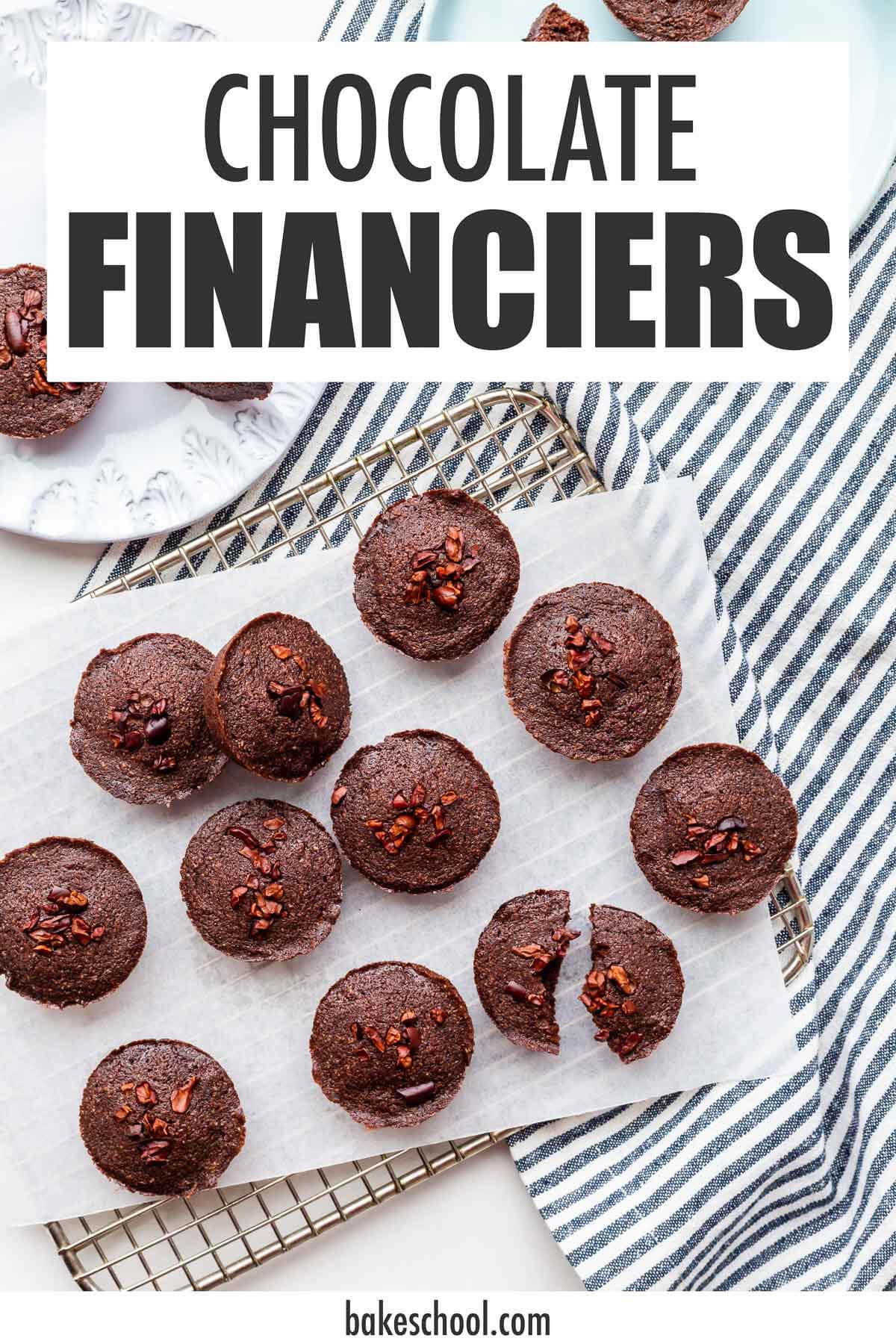 Disclosure: As an Amazon Associate, I earn from qualifying purchases.
Financiers are small almond cakes made with brown butter, ground almonds, and egg whites. The combination of ingredients gives them a nutty flavour and crispy edges.
Financiers are easy to make and can be flavoured in many ways, replacing all-purpose flour with an alternative (like in these chestnut financiers) or replacing the ground almonds with a different ground nut (like in these pistachio financiers) or even coconut (in these coconut financiers). You can also top them with fruit before baking, like in these berry financiers.
Before making these chocolate almond financiers, read about how to make beurre noisette (the French pastry term for brown butter) if you've never made it before.
Jump to:
What You Need to Make These...
The beauty of financiers is that they are made from a very simple list of ingredients and you likely have them on hand if you bake fairly often!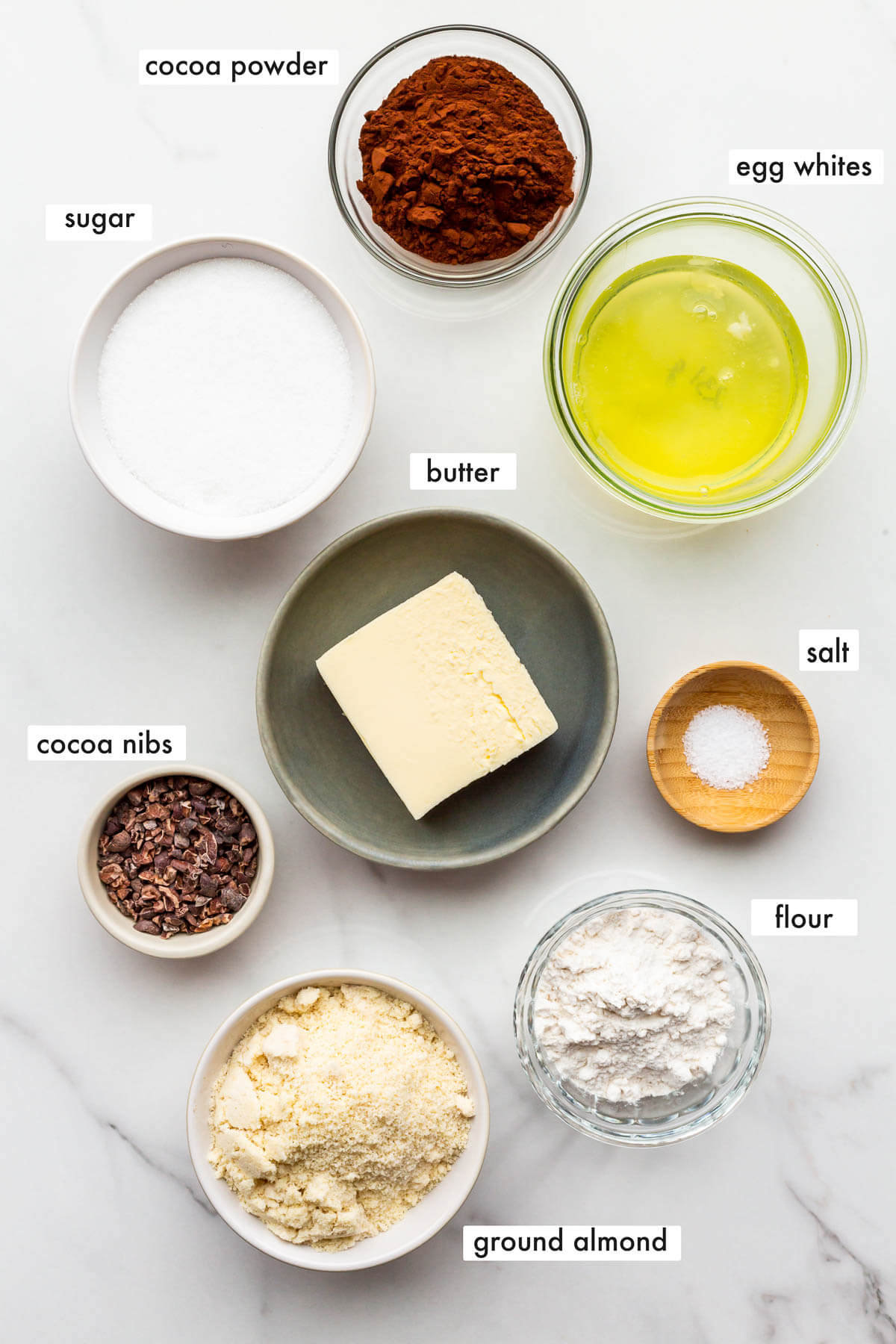 butter—I used unsalted butter, but salted will work fine. You may reduce the salt if you are worried that the cakes will be too salty.
sugar—traditionally, financiers are made with powdered sugar but I usually use granulated sugar
flour—bleached all-purpose is what I use, but unbleached will likely work fine
ground almonds—you can buy ground almonds (also called almond flour) at most bulk stores and grocery stores with the nuts and baking products
cocoa powder—use Dutch-processed cocoa powder for a rounder flavour
egg whites—be sure to weigh the egg whites to make sure you have the right amount since the size of eggs can vary. Feel free to use boxed egg whites for this recipe if you prefer!
salt—I use Diamond Crystal kosher salt which is less salty than table salt. If using regular salt (or even Morton's kosher salt), you may like to use half the suggested amount
cocoa nibs (optional)—I like to garnish financiers before baking them and for chocolate financiers, cocoa nibs bring a ton of chocolate flavour and a little crunch.
See recipe card for full information on ingredients and quantities.
Substitutions
With a short list of ingredients, your substitution options are limited:
Sugar—instead of granulated sugar, you can try icing sugar or a combination of the two. Brown sugar will also work, but watch for lumps!
Nut-free—instead of ground almonds, you can try ground sunflower seeds for a nut-free version
Gluten-free—for a gluten-free version, you can test the recipe with an alternative flour. For example, millet or sorghum flour should work well, but I've also successfully made gluten-free financiers with chestnut flour and even white rice flour! Buckwheat flour would also be a really interesting option here.
Cocoa—you can try natural cocoa powder instead of Dutch-processed in this recipe, but the flavour and colour of the chocolate tea cakes may differ with a different cocoa powder.
Note that you will have to test any substitution you make to ensure it works!
Variations
I consider the base recipe for financiers a sort of blank canvas for creativity. Here are some ways to jazz it up:
Coconut— grind coconut to replace the almond flour to make a chocolate coconut version
Orange—incorporate the zest of an orange or a clementine in the batter to add orange flavour
Chocolate dip—dip the edge of the financiers in melted chocolate, either white or dark chocolate and let set
Chocolate chip—add chocolate chips or chopped dark chocolate to the batter
Raspberry—top each financier cake with a fresh raspberry before baking (instead of the cocoa nibs)
Instructions to make Chocolate Financiers
This might be one of the simplest cake recipes to make. The mixing method is a two-bowl method, where the dry ingredients are mixed in one bowl and the egg whites are whipped separately before combining the two.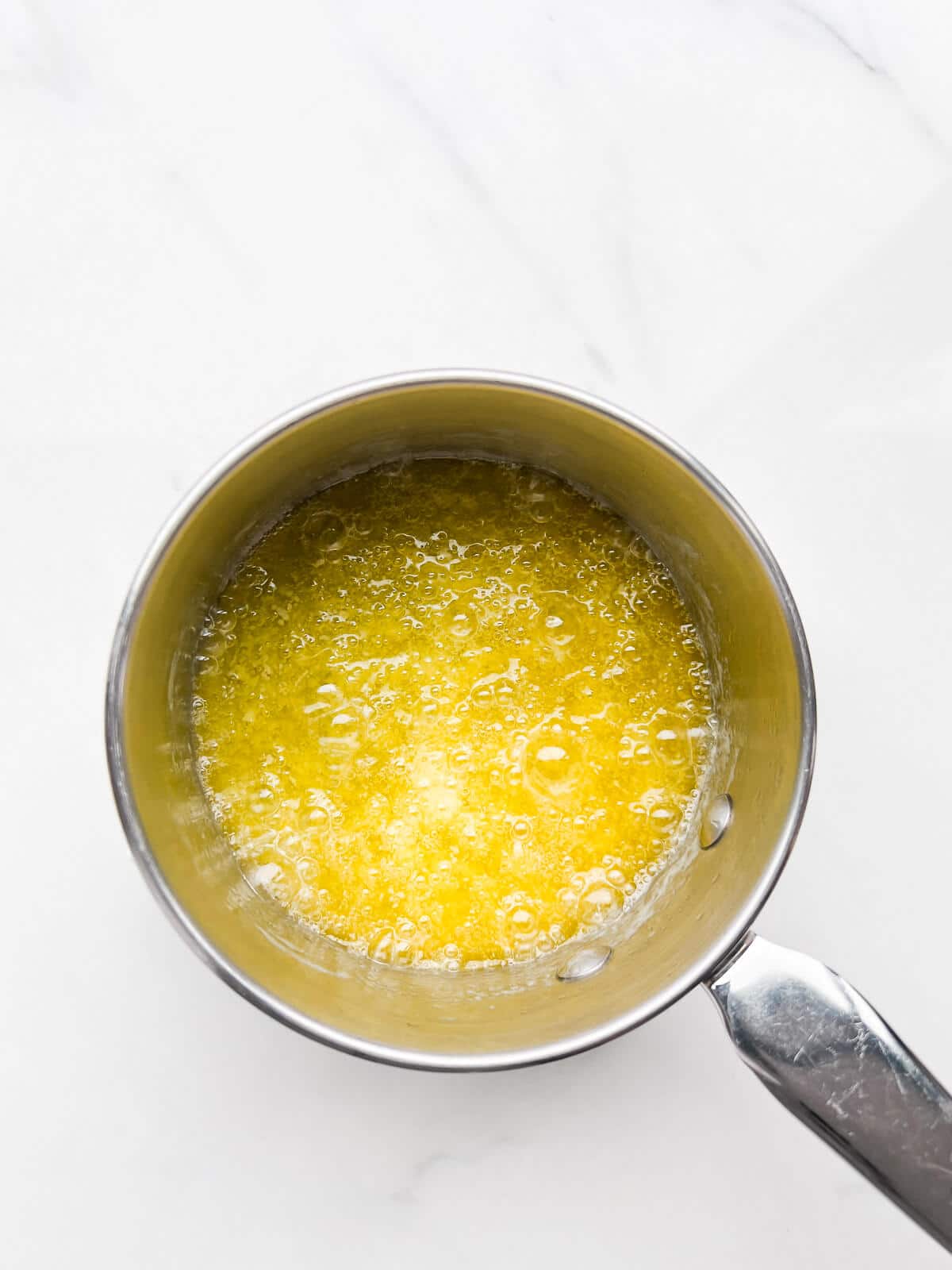 Step 1: Start by melting the butter in a small saucepan because you will need to give it ample time to cool down later.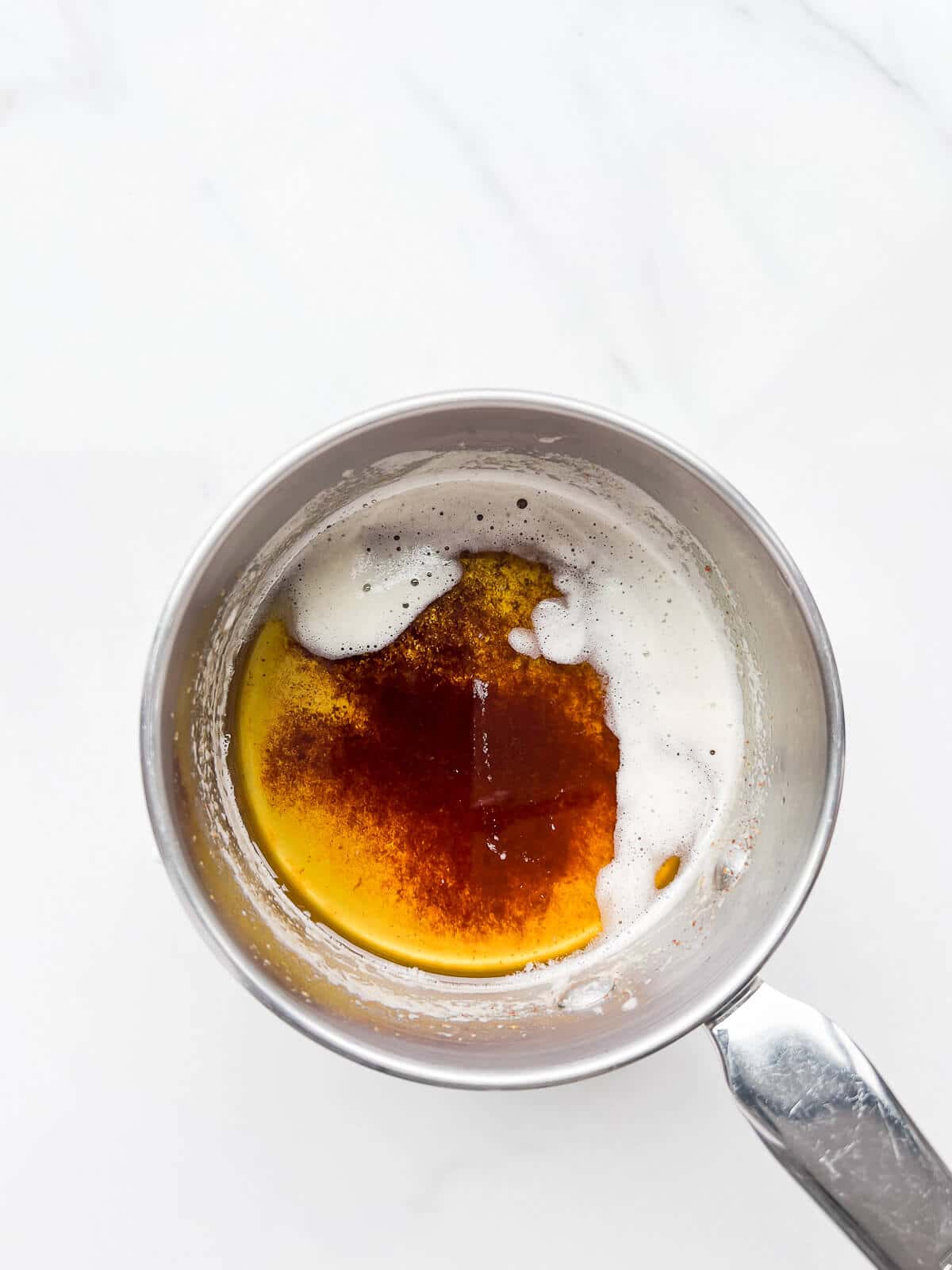 Step 2: Brown the butter until it smells nutty and the milk solids have browned and caramelized.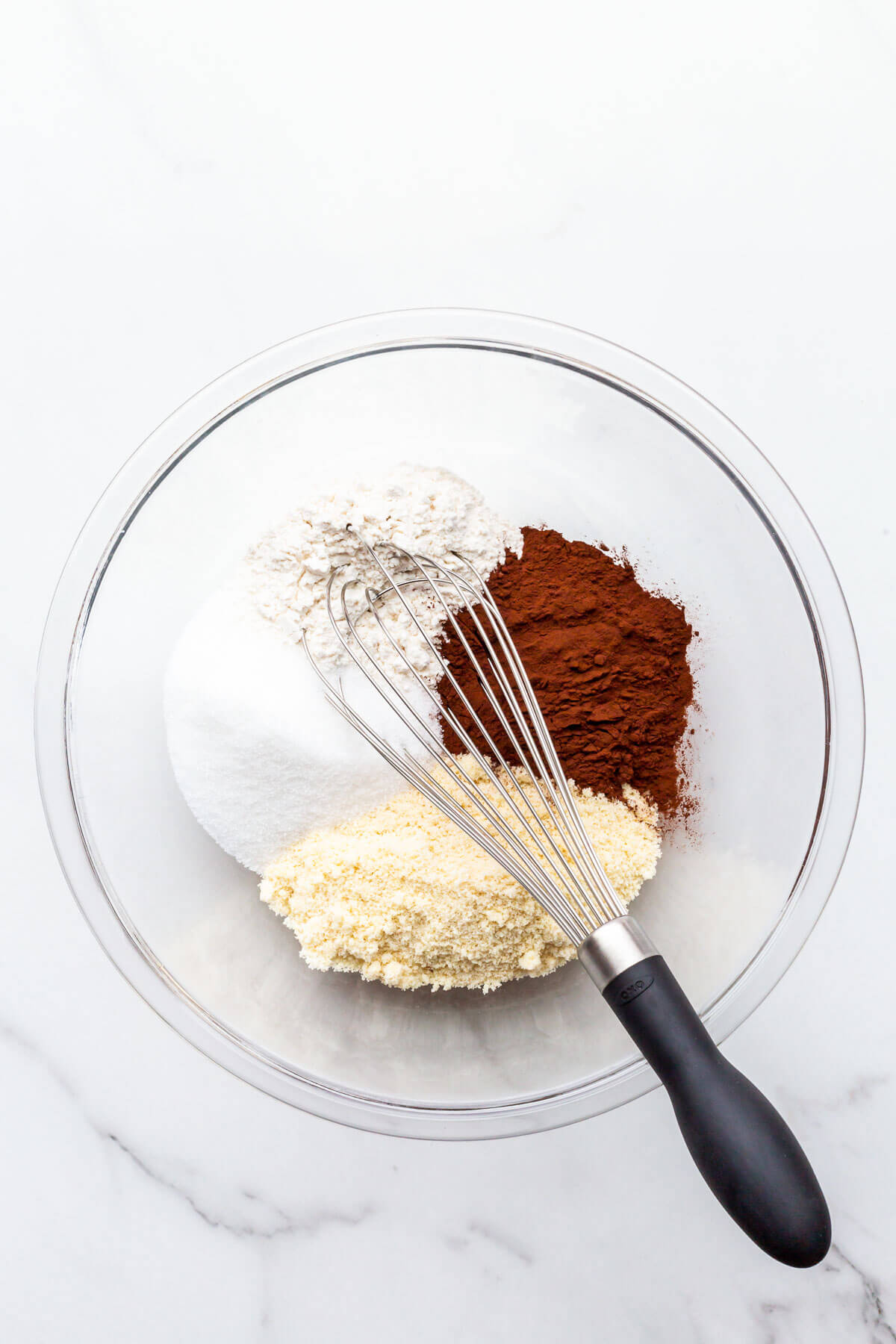 Step 3: Combine the dry ingredients in a large bowl, including the sugar, ground almond, flour, and cocoa powder.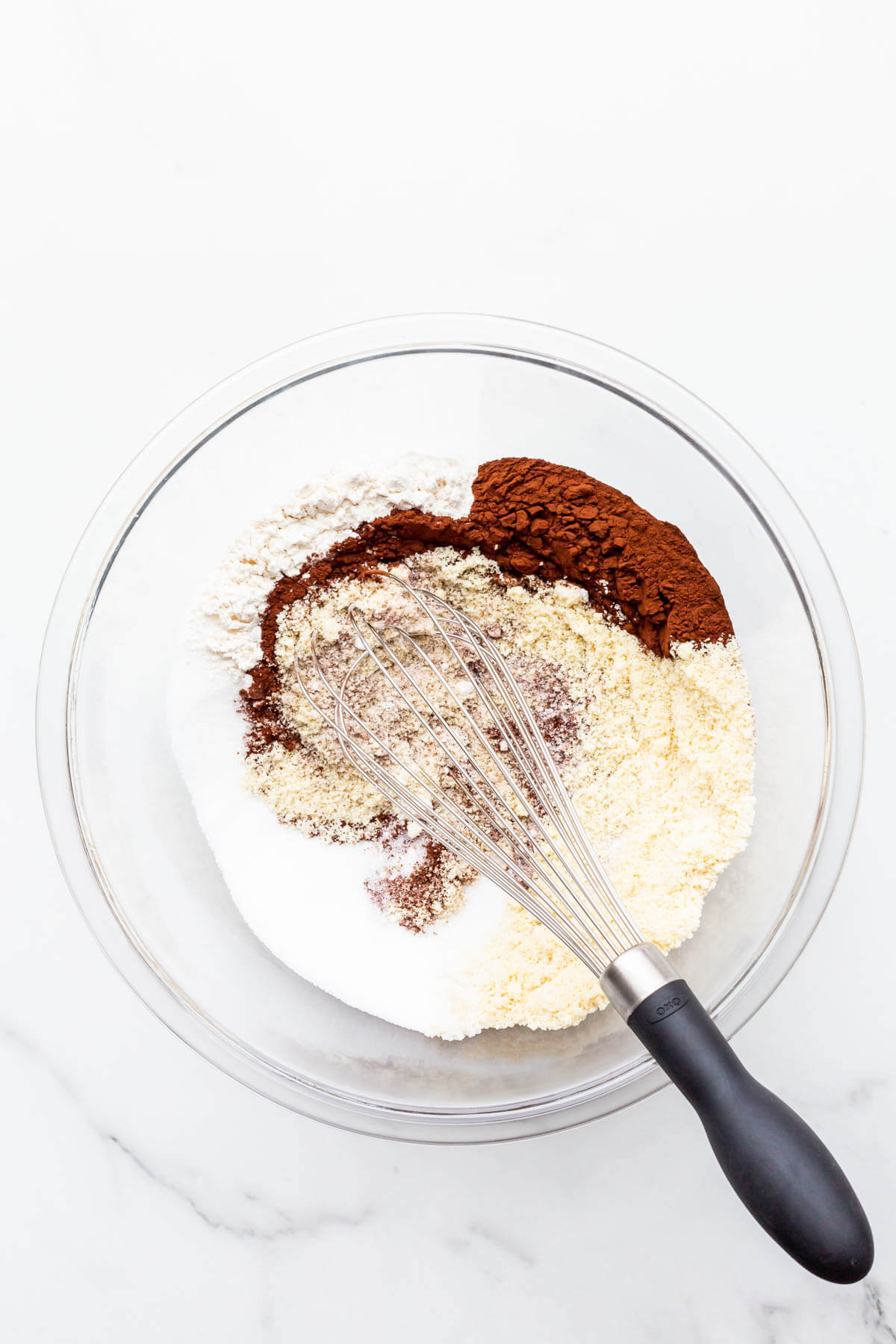 Step 4: Use a whisk to make sure there are no lumps. If the mixture is too lumpy, use a sifter to smooth it out.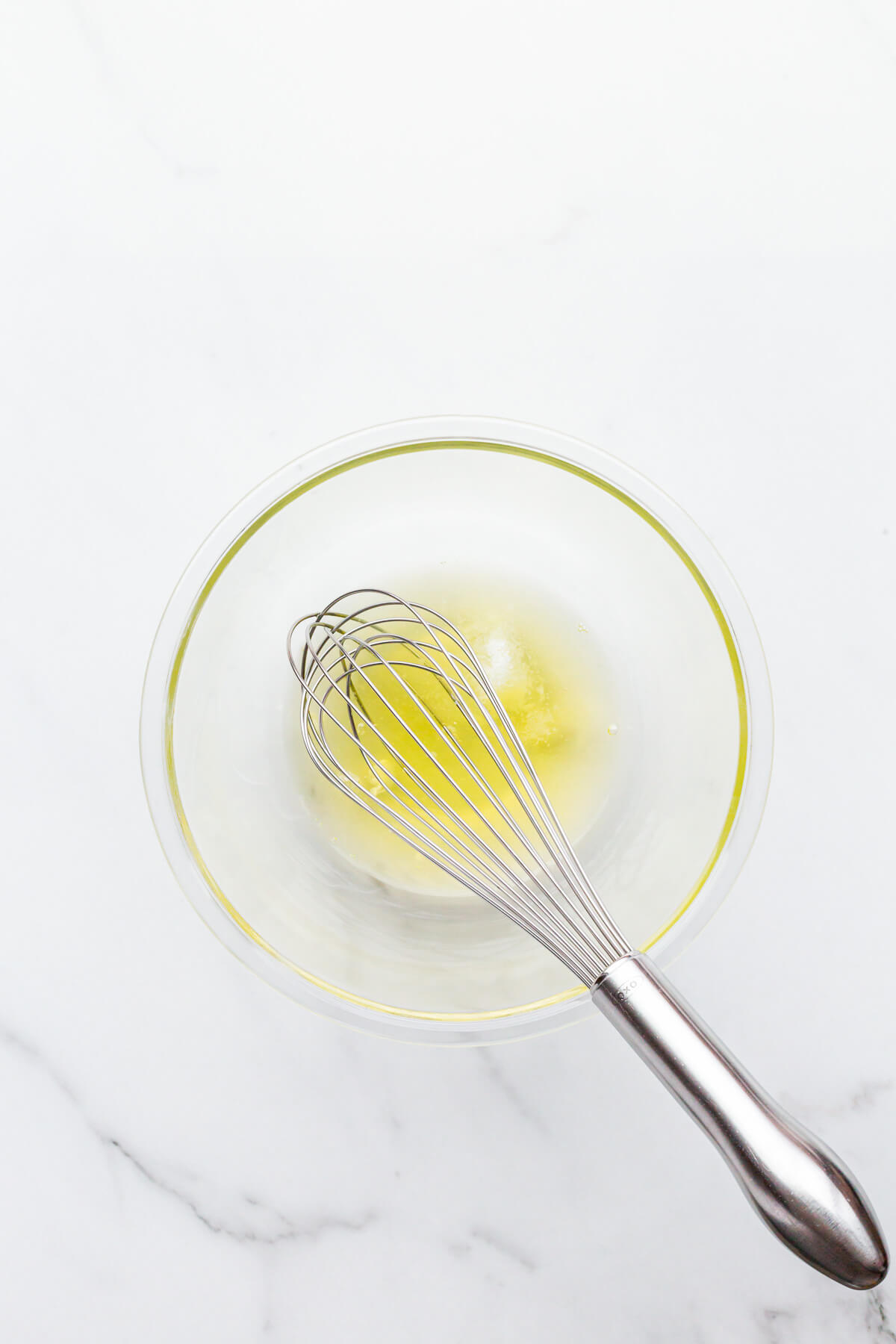 Step 5: In a separate bowl, combine the egg whites and salt.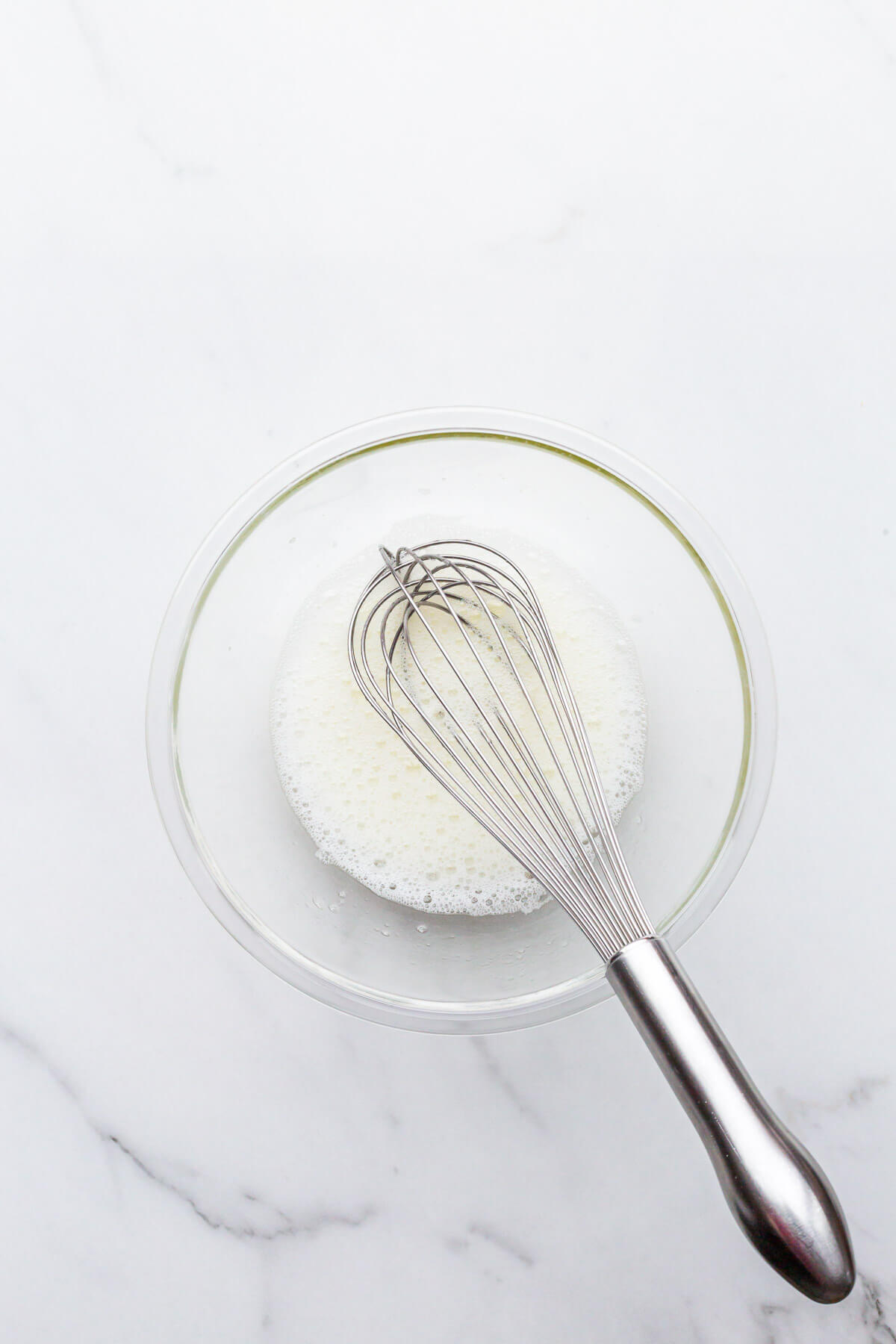 Step 6: Whip the egg whites until thick and foamy using a balloon whisk.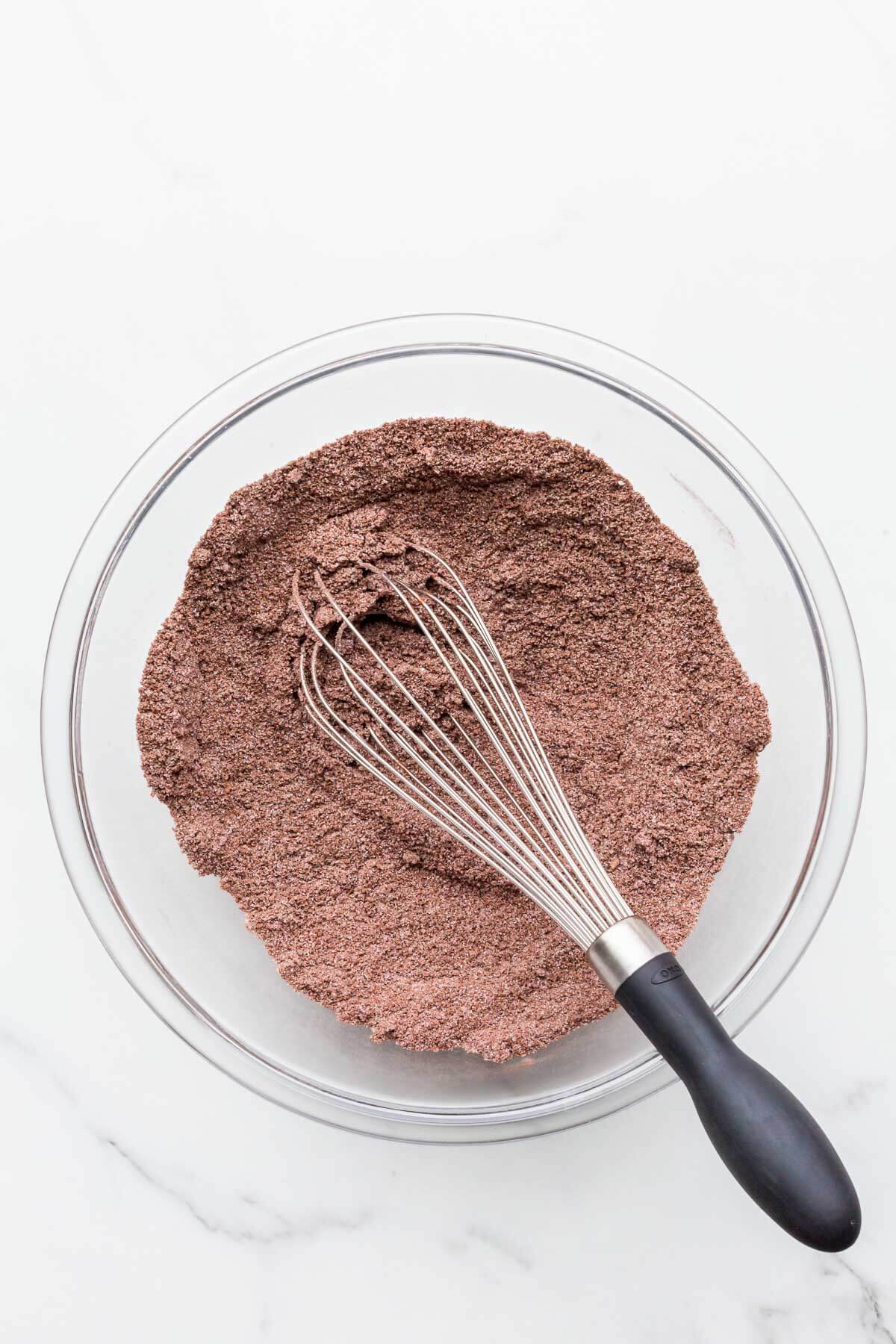 Step 7: Once the dry ingredients are evenly mixed and pretty much lump-free, you are ready to add the whipped egg whites.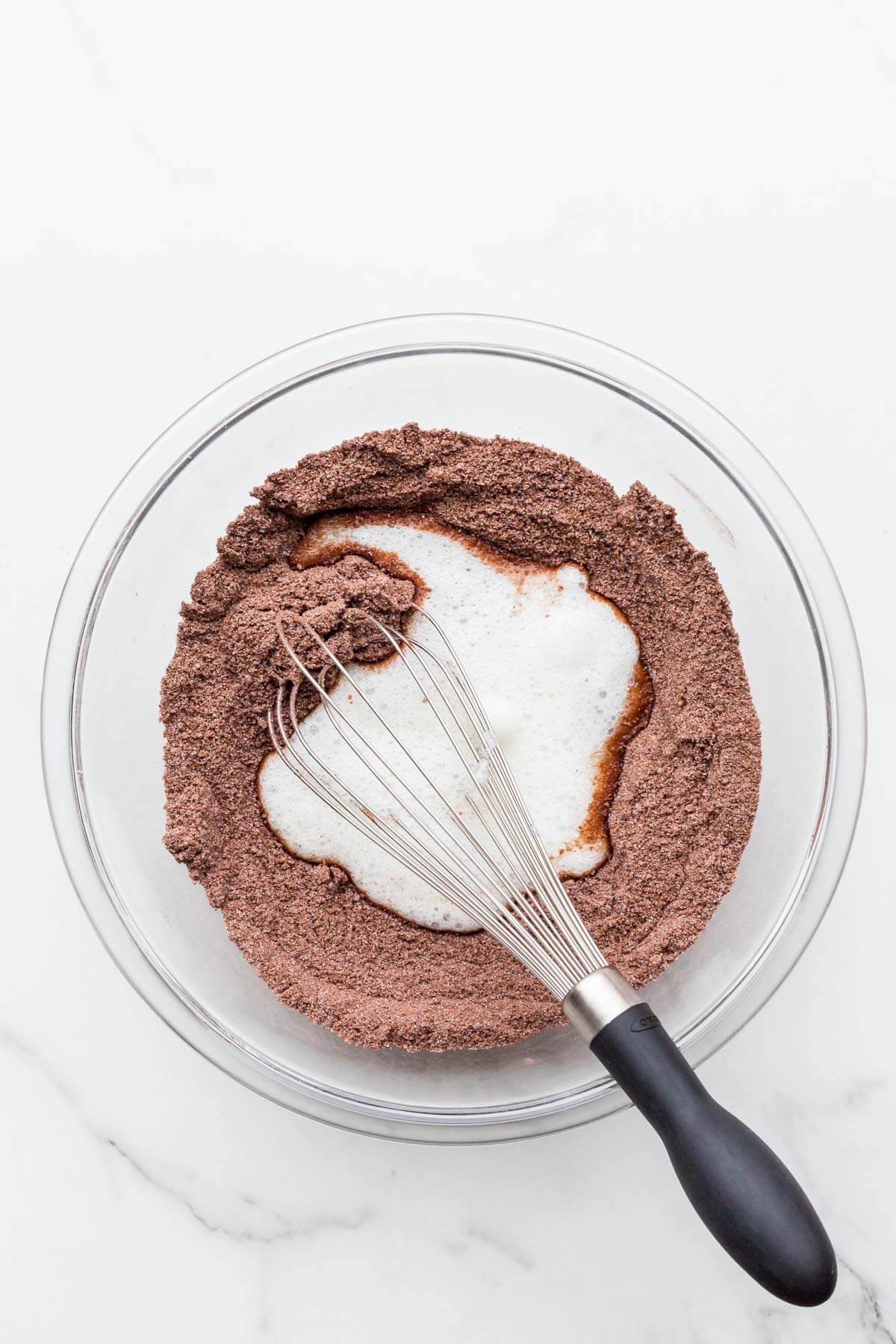 Step 8: Pour the whipped egg whites over the dry ingredients and work the two components together with a whisk.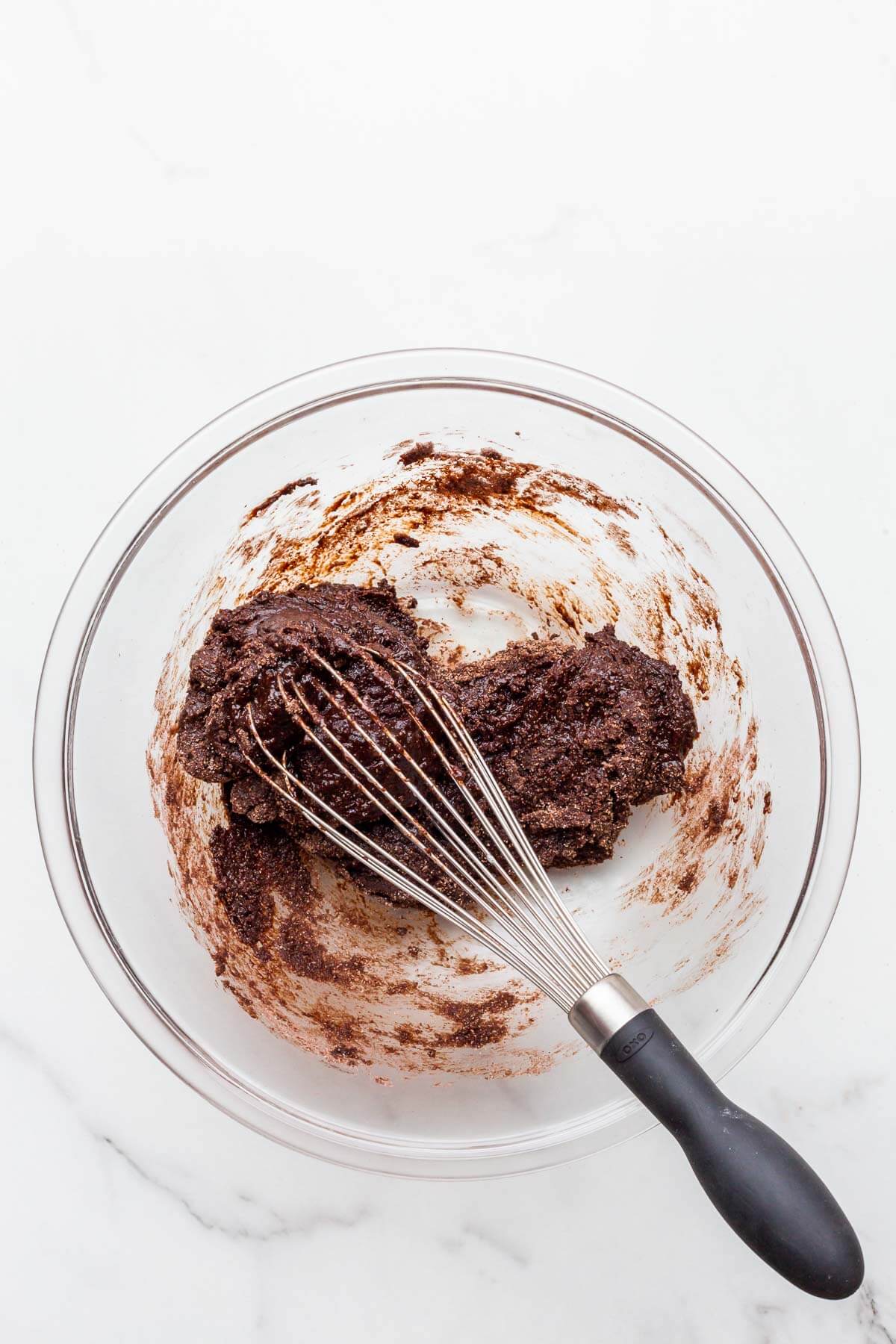 Step 9: The chocolate almond batter will be quite stiff and thick at this stage.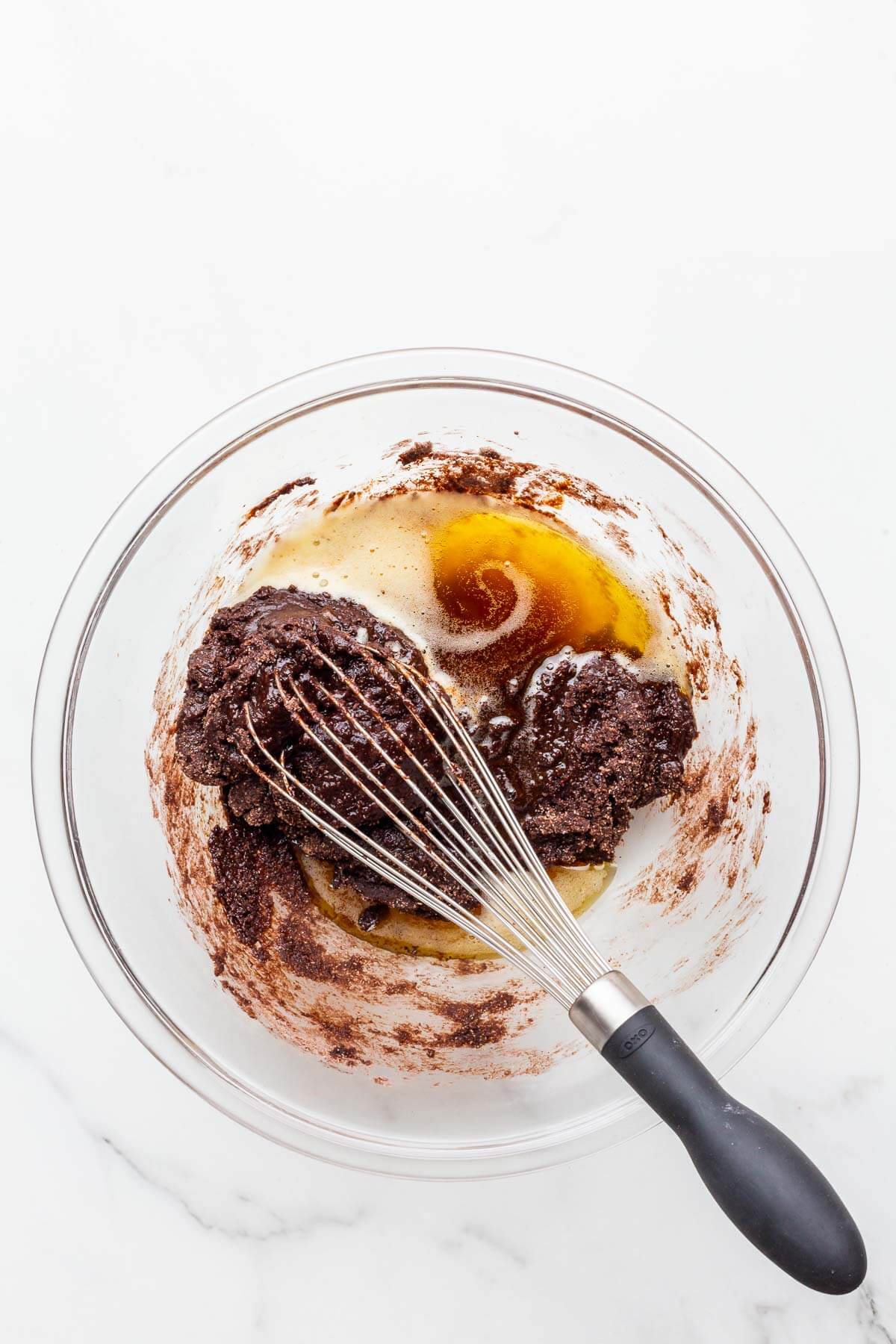 Step 10: Whisk in the cooled brown butter.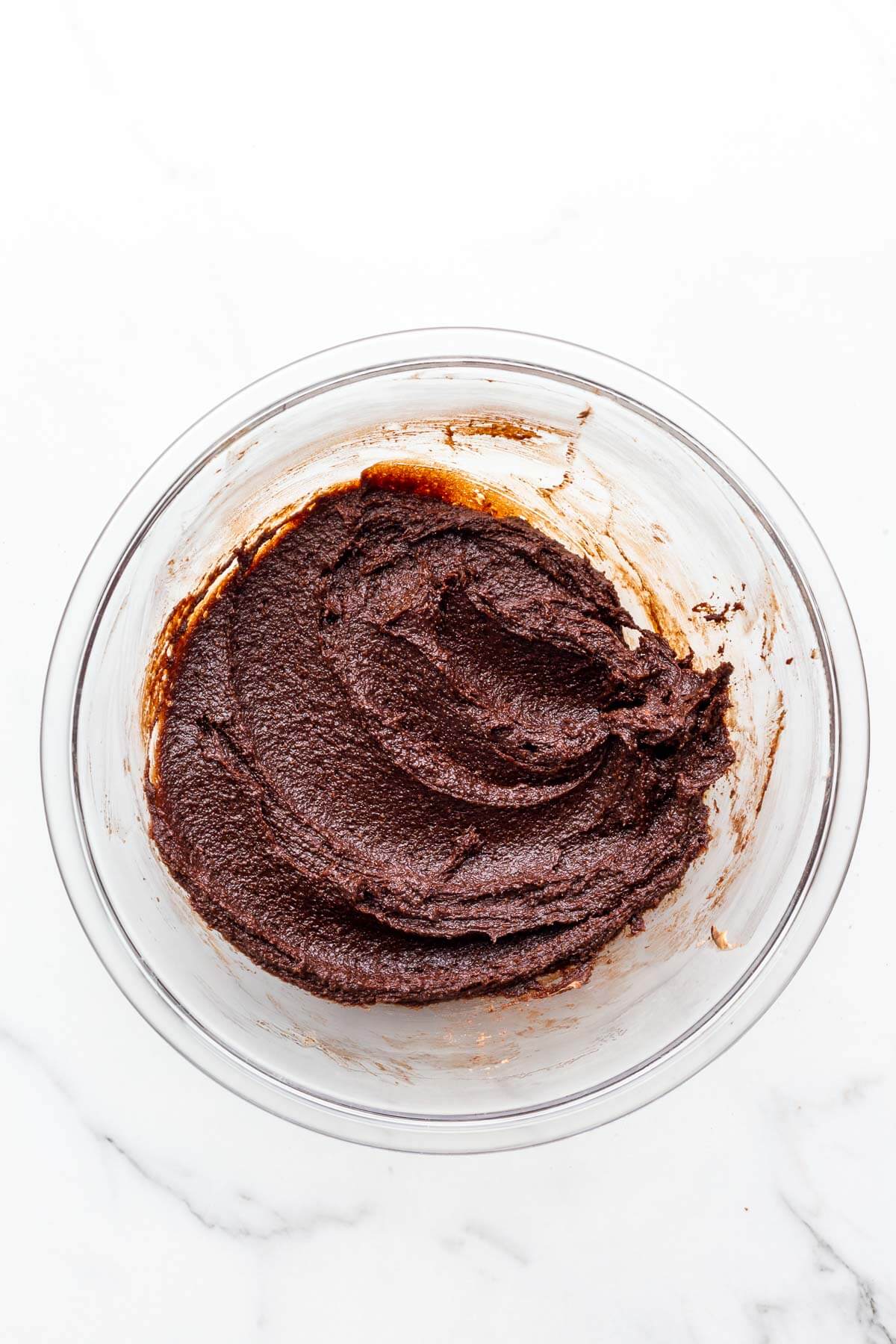 Step 11: The chocolate almond batter will be glossy and thick.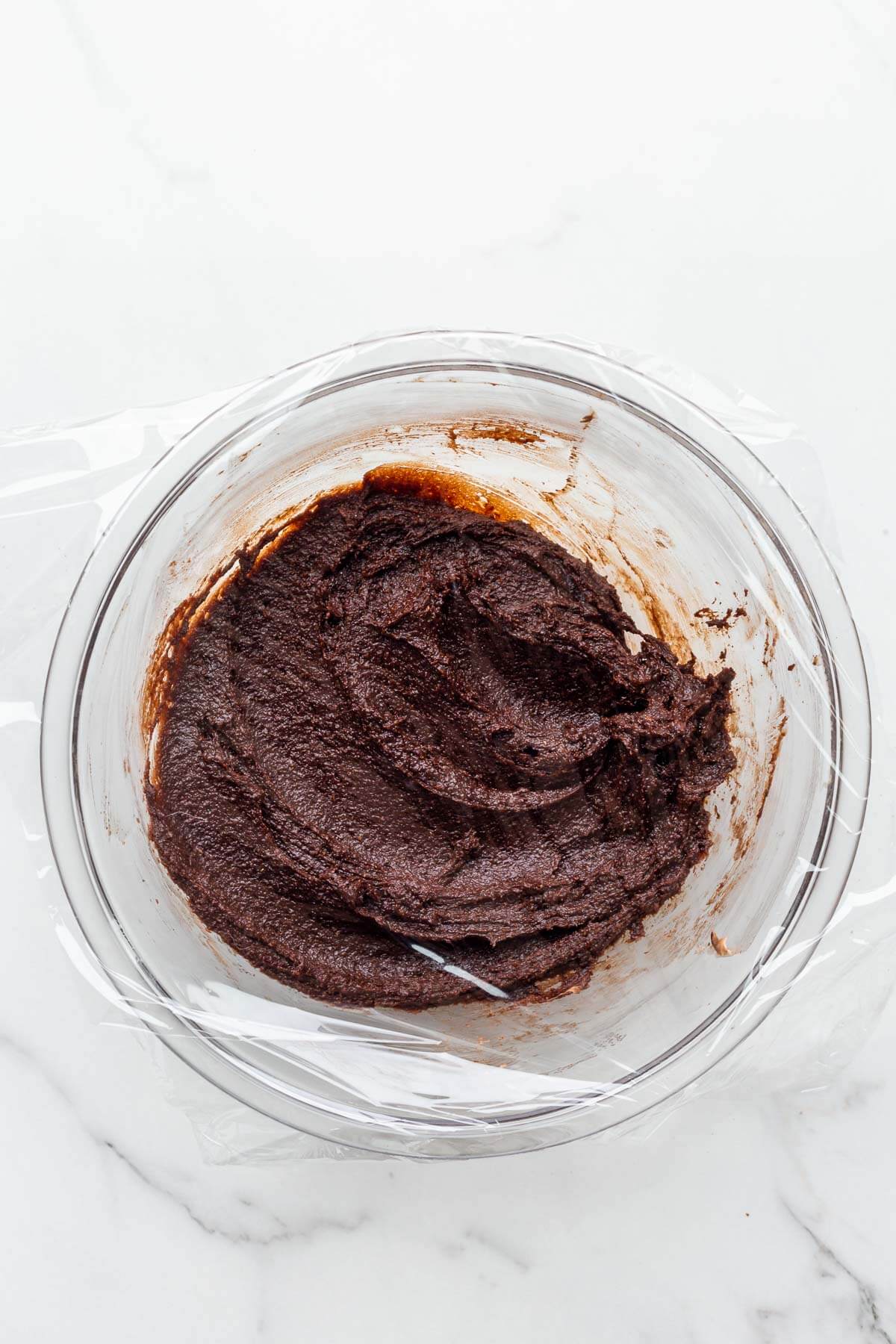 Step 12: Cover the bowl of chocolate financiers batter with plastic wrap and chill it for 1 hour until cold.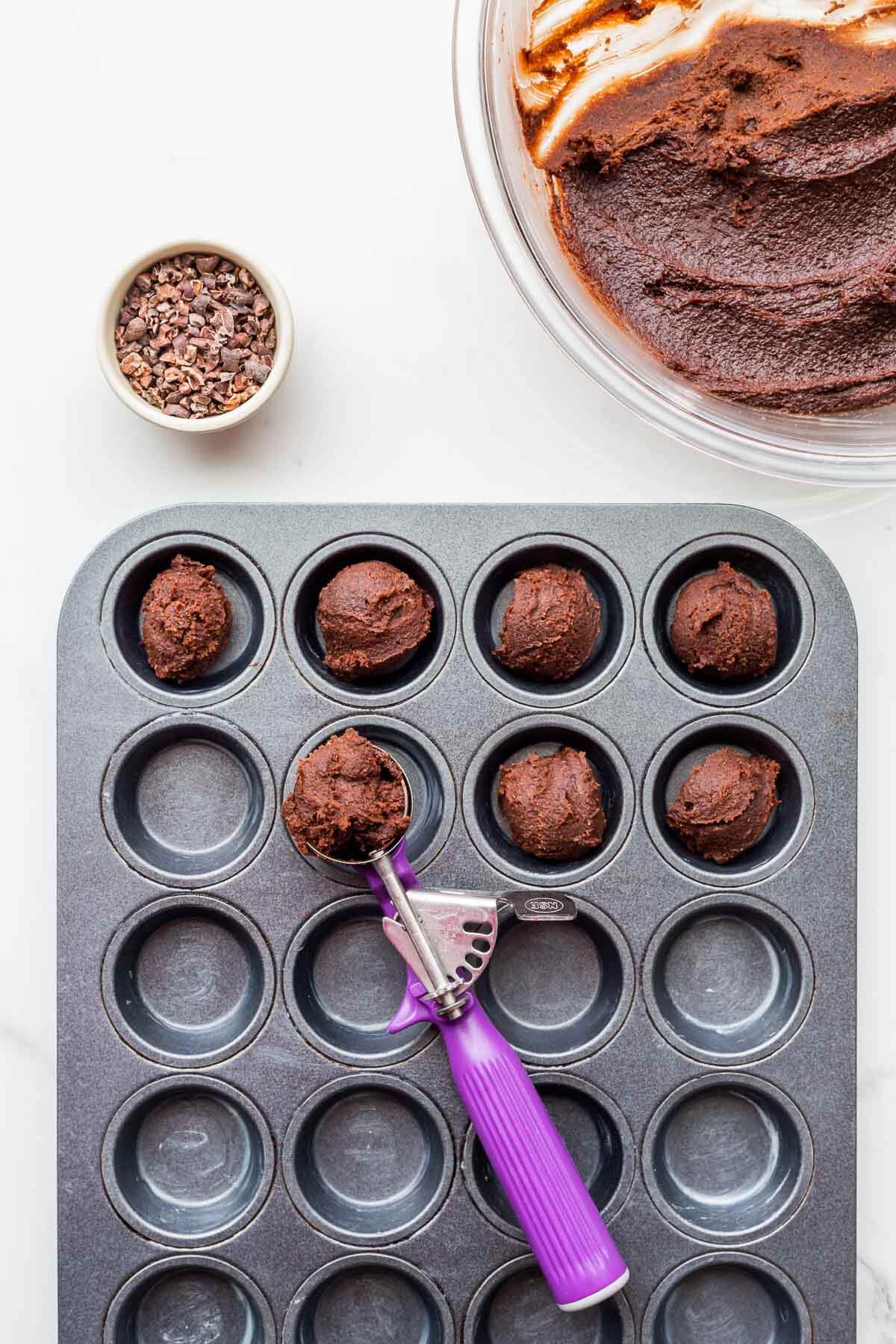 Step 13: Use a ¾ ounce disher to divide the batter evenly among the greased cups of a mini muffin pan.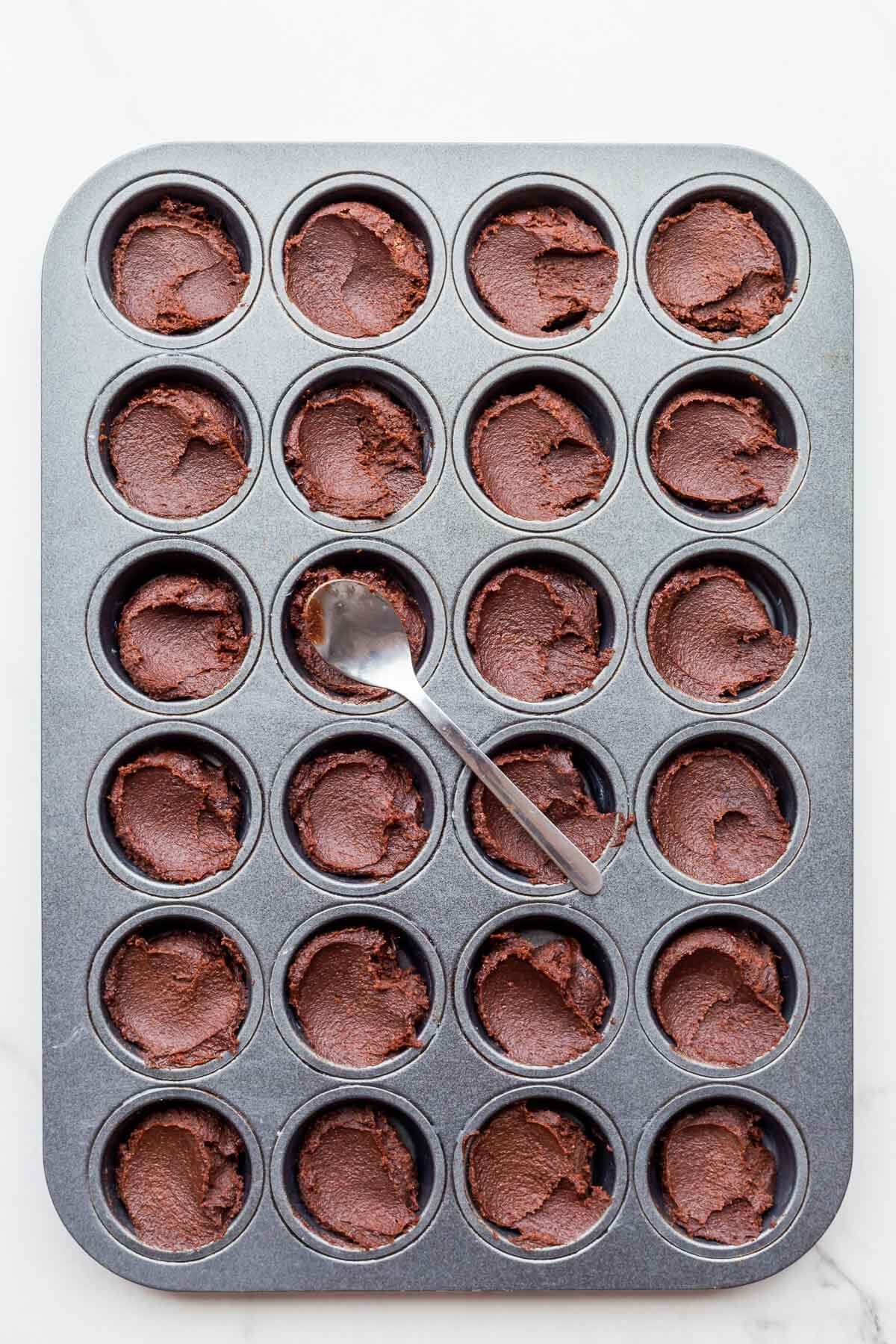 Step 14: You can use the back of a spoon to flatten out the mounds (optional but helpful if garnishing with cocoa nibs).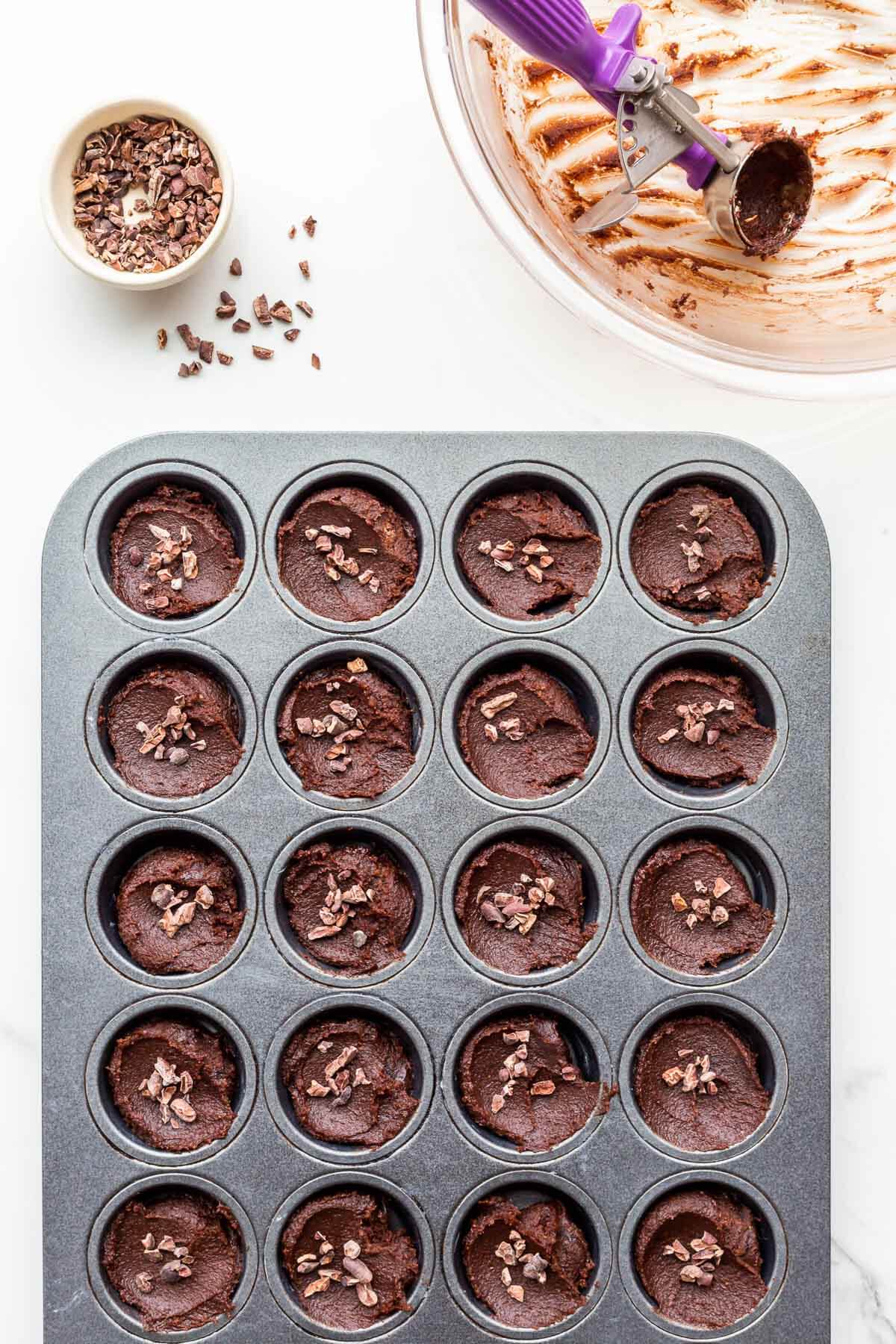 Step 15: I live to garnish financier cakes with a "little something" before baking to make them extra special. Since these are chocolate cakes, I garnished them with cocoa nibs.
Another great option would be a few mini chocolate chips, or chopped almonds since the batter is made with ground almonds.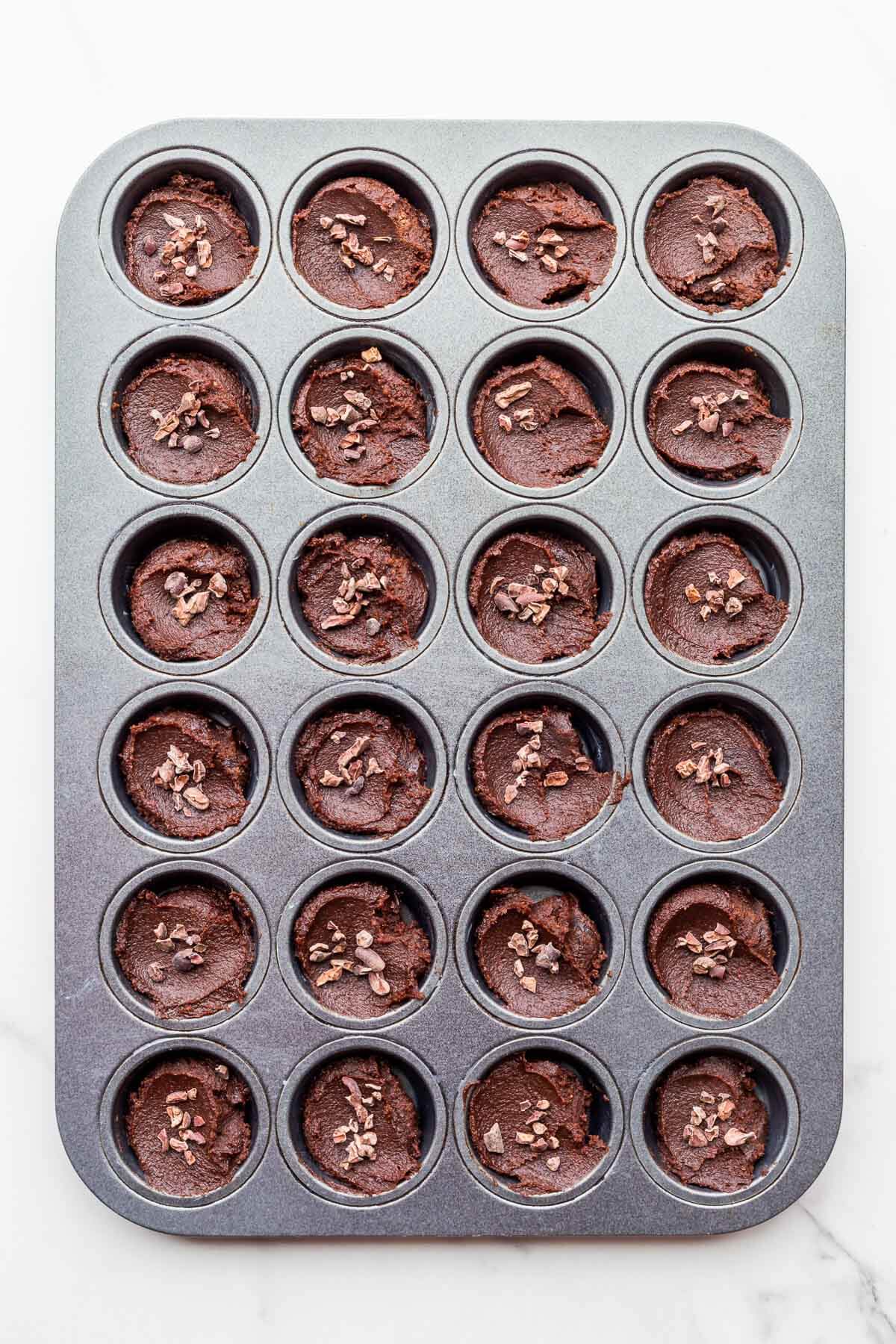 Step 16: Chocolate financiers should look quite even before baking.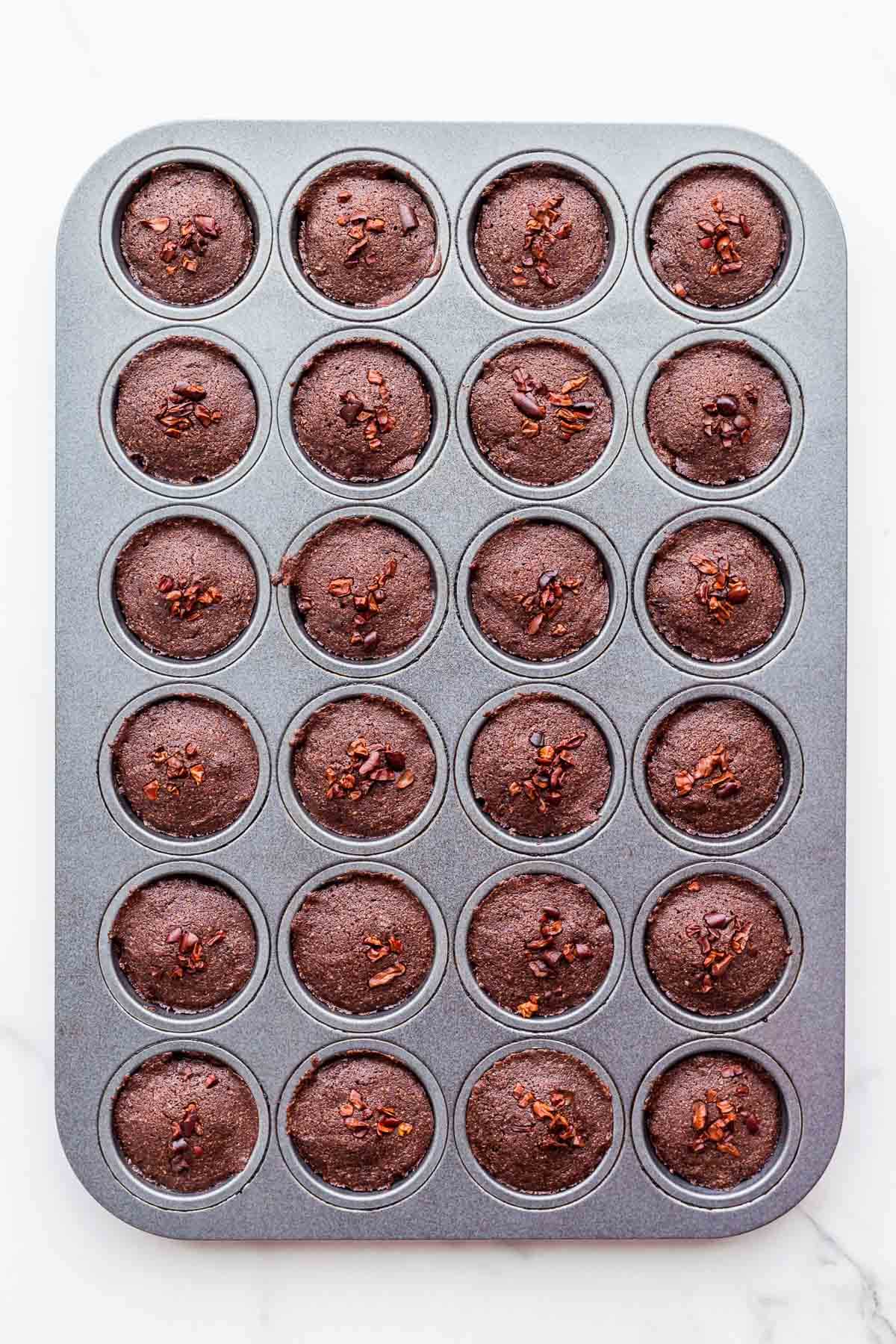 Step 17: After baking, the financiers have puffed and are set. The batter loses some of its shine as they bake.
Tip: Use a cake tester to check if the cakes are done baking.
Top Tip
Whip the egg whites with the salt in the recipe to help break up the globular proteins. This will make it easier for you to build a stable egg white foam more quickly by hand with a whisk.
Storage
Store chocolate financiers in an airtight container for up to 3 days. I actually prefer to freeze them in a freezer bag to keep them fresh for up to 2 months. These cakes are small and defrost quickly when taken out of the bag and placed on a plate at room temperature. It takes about 30 minutes.
Serving Suggestions
Financiers are served with tea and coffee as a treat on their own, as you would cookies. In fact, financiers are often referred to as a cookie in French pastry and taught alongside cookie recipes and madeleines.
Financiers Recipe FAQs
What is the difference between financiers and madeleines?
Both financiers and madeleines are small classic French pastry cakes. Financiers are made with egg whites, brown butter, and ground almonds, baked in small rectangular moulds (or round). On the other hand, madeleines are not made with any nuts, and are traditionally flavoured with orange zest or lemon and baked in seashell-shaped pans. Madeleine recipes usually call for a chemical leavener, specifically baking powder, while financiers do not.
How do I prevent financiers from sticking to the pan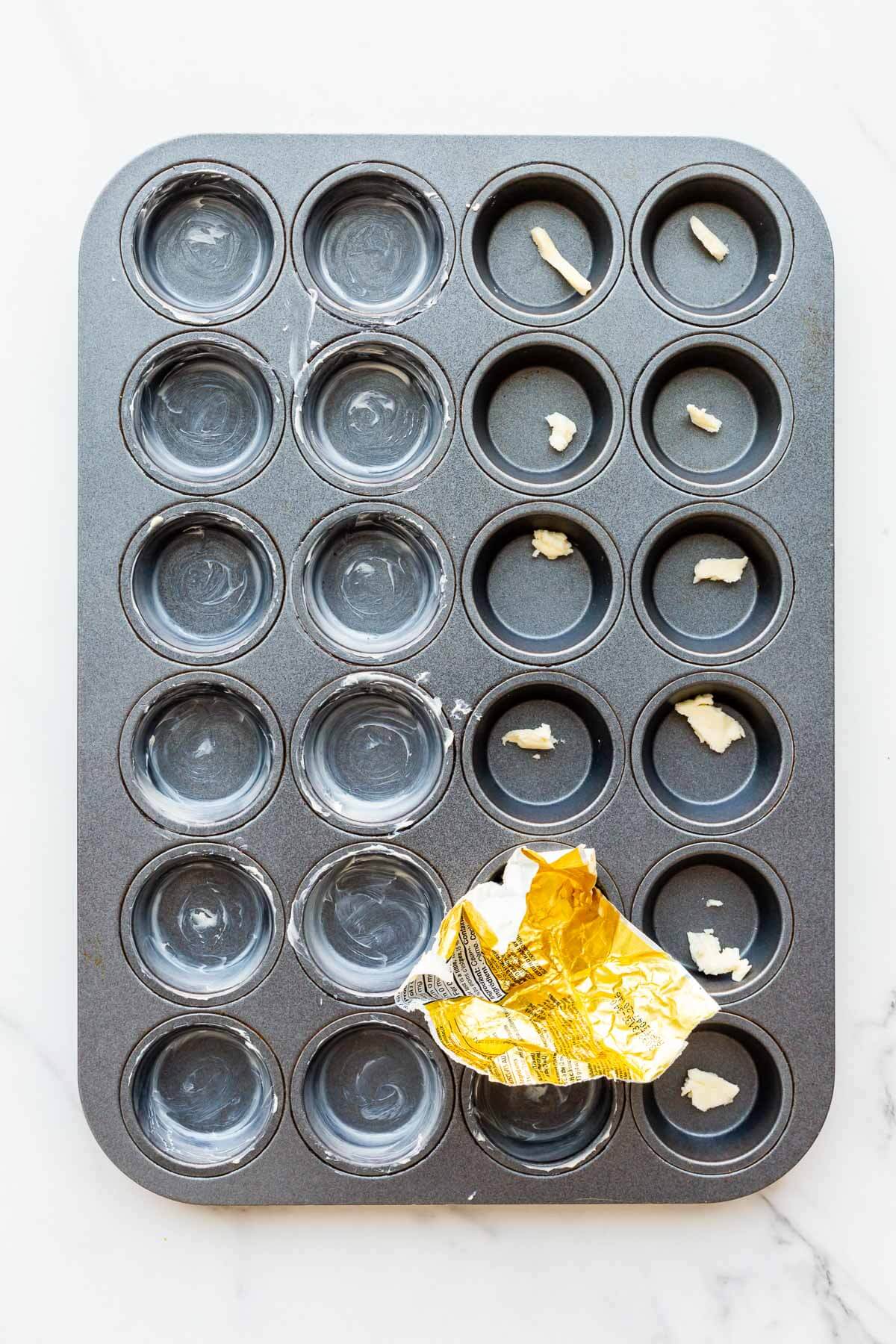 Many pastry chefs bake financiers in silicone pans to ensure they don't stick to the pan. If you don't have a silicone pan, you can use a non-stick pan and then butter and flour the wells of the pan to ensure the sweet cakes don't stick.
Other financiers recipes to try
Looking for other financier recipes like this? Try these:
If you tried this Chocolate Financiers Recipe or any other recipe on my website, please leave a 🌟 star rating and let me know you like it in the 📝 comments below.
📖 Recipe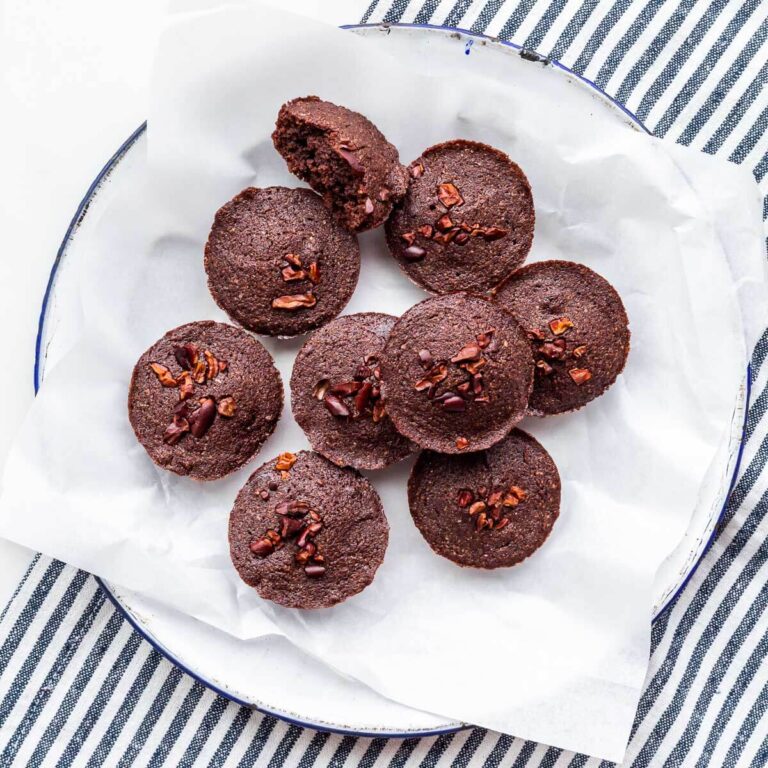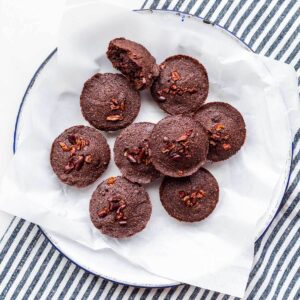 Chocolate Financiers
Learn how to make chocolate financiers with this easy recipe. These little chocolate cakes are made with ground almonds and brown butter, which create a sweet, nutty chocolate cake!
Instructions
In a small saucepan, melt the butter over medium heat and continue cooking it until it turns light brown in color. Remove the pan from the heat and transfer the brown butter to a small bowl to cool down sllightly. Set aside.

In a medium bowl, whisk together the ground almonds, sugar, flour, and cocoa powder. Set aside.

In a separate bowl, combine the egg whites and salt. Whisk them until they are very frothy and foamy.

Pour the frothy egg whites over the dry ingredients. Whisk vigorously to mix everything together, then add the cooled brown butter and whisk the batter more to completely incorporate it. The batter will be quite stiff.

Wrap the bowl with plastic wrap and chill the batter for at least 1 hour until cold.

Preheat the oven to 350 °F (175 °C). Butter a non-stick 24-cup mini muffin pan.

Divide the batter among the 24 wells of the prepared pan. Sprinkle the tops of the financiers with cocoa nibs to garnish them.

Bake the chocolate financiers until the centres are set. This takes about 16 minutes. Use a cake tester inserted into the middle of one of them to verify they are baked through. Let cool slightly before using a mini offset spatula to unmould them.
Notes
For a gluten-free option, replace the all-purpose flour with white rice flour or even millet or sorghum flour. I've also tested chestnut flour with great success! 
Nutrition
Calories:
92
kcal
Carbohydrates:
9
g
Protein:
2
g
Fat:
6
g
Saturated Fat:
3
g
Polyunsaturated Fat:
0.2
g
Monounsaturated Fat:
1
g
Trans Fat:
0.2
g
Cholesterol:
10
mg
Sodium:
59
mg
Potassium:
31
mg
Fiber:
1
g
Sugar:
6
g
Vitamin A:
120
IU
Calcium:
11
mg
Iron:
0.4
mg