This recipe for chocolate raspberry tart was sponsored by Cacao Barry.
This easy chocolate raspberry tart is filled with a milk chocolate ganache and topped with fresh raspberries and cookie cutouts. If you can make cookies, you can make this gorgeous milk chocolate tart! Strawberries would work beautifully too in this recipe.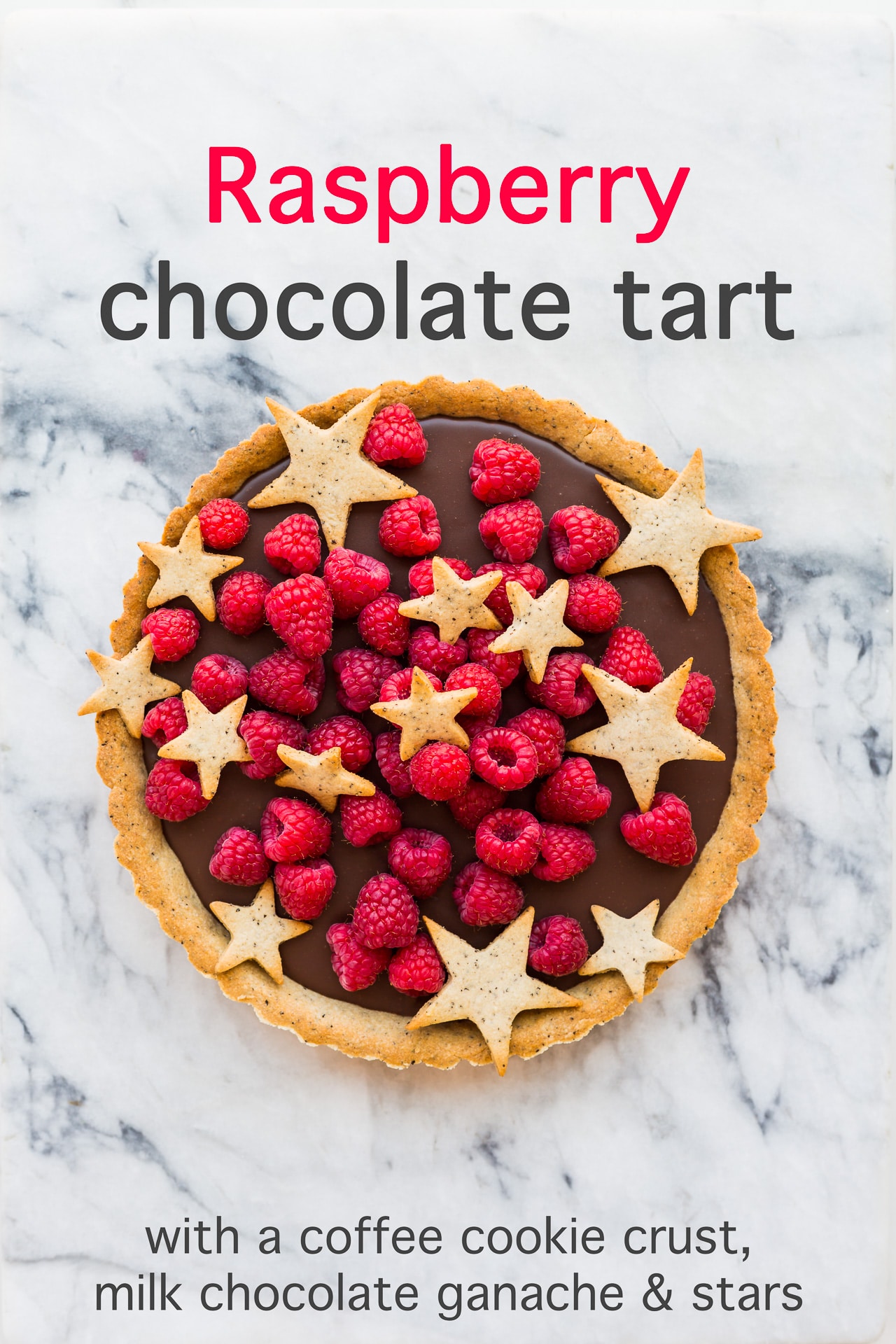 Disclosure: As an Amazon Associate, I earn from qualifying purchases.
I love combining coffee and raspberries. I shared a raspberry bread pudding that was infused with coffee grinds and served with a delicious coffee crème anglaise! There's also the classic combination of coffee and chocolate: you can't go wrong with either of those. So I thought to myself: why not combine all three, chocolate, coffee, and raspberries, to make the best raspberry chocolate tart?
Jump to:
What you need to make this milk chocolate tart
There are three major components to this chocolate dessert that you will be making: a sweet cookie crust (like a sablé dough), a milk chocolate ganache filling, and the raspberry garnish. For this recipe, you will need the following ingredients:
butter, preferably unsalted, though salted could work here!
icing sugar (also called powdered sugar)—icing sugar will yield a more tender crust, though granulated can work in this recipe too and yield a crust with a more sandy texture
ground almonds either from blanched almonds without the skin or with the skin. Since they are in the crust, it won't make a difference to the look of this dessert
ground coffee beans—you can use a coarse grind here. They mostly add flavour and texture to the dough.
egg yolk—to help bind the dough together and make the crust a little more tender
flour—bleached all-purpose though unbleached will work as well
whole milk (3.25 % fat)—to bind the crust along with the yolk
41% milk chocolate—I like to use Alunga milk chocolate from the brand Cacao Barry. It's not as sweet as some other milk chocolate products
whipping cream (35 % fat)—please use full-fat whipping cream
fresh raspberries
See recipe card for quantities.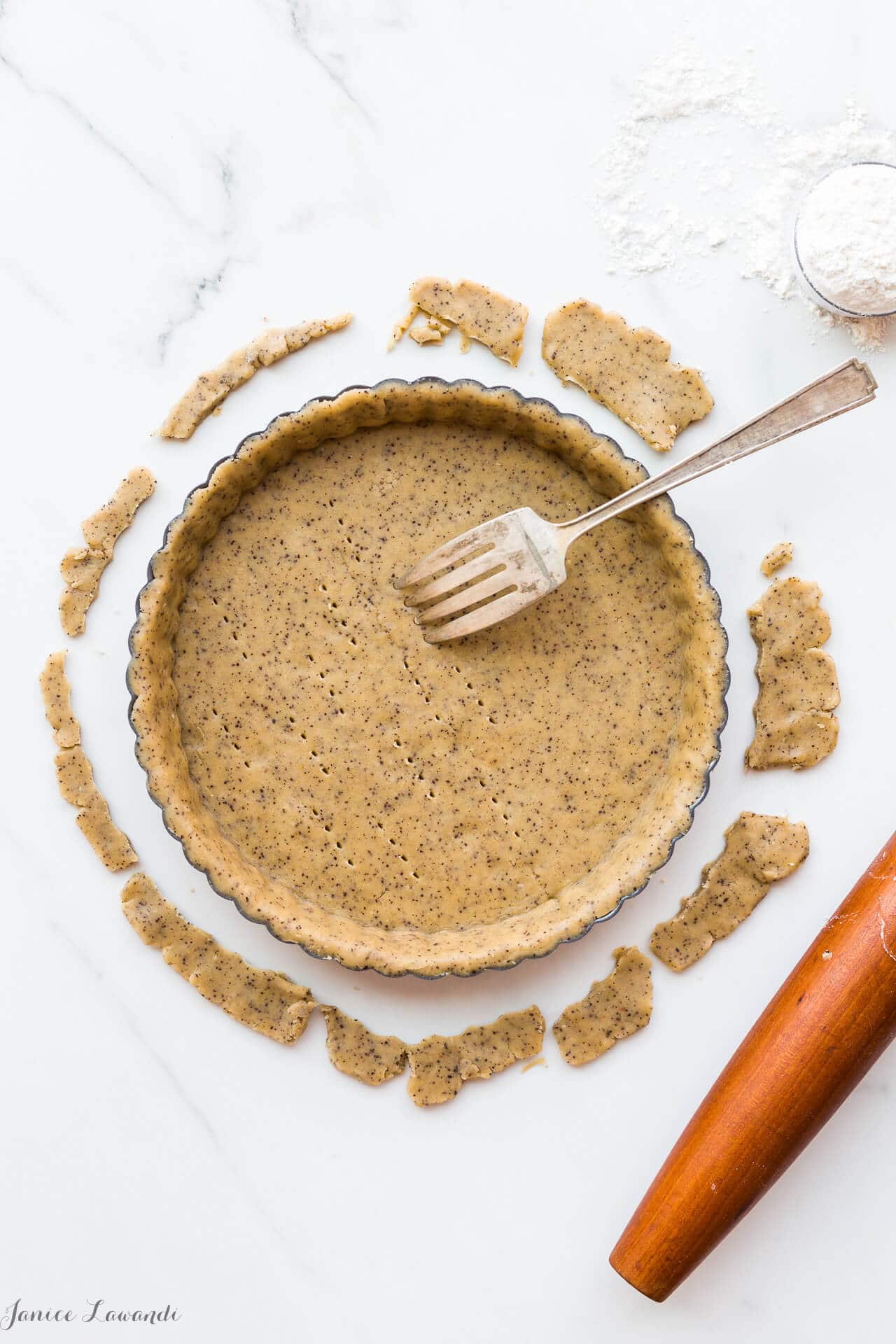 Choosing the right chocolate for ganache
When you are working with a recipe like ganache that has only 2 ingredients and is 66% chocolate, you MUST use the best chocolate for baking, a chocolate that you like to eat, because this recipe is all about the chocolate. The chocolate is the star of this recipe, truly.
For this recipe, I made the milk chocolate ganache with Cacao Barry's Alunga milk chocolate, which is sometimes referred to as milk chocolate for dark chocolate lovers. It comes in 1-kilo resealable bags and is sold at IGA grocery stores in Quebec, as well as online via Vanilla Food Company.
Alunga milk chocolate is creamy with a smooth, creamy texture and flavour that is not overly sweet, which is why even those that tend to prefer dark chocolate love it too. It's a really great chocolate for this tart (and for snacking on too!). The chocolate comes as "pistoles", kind of like very large chocolate chips, so you don't have to chop it to make the ganache, which is very convenient!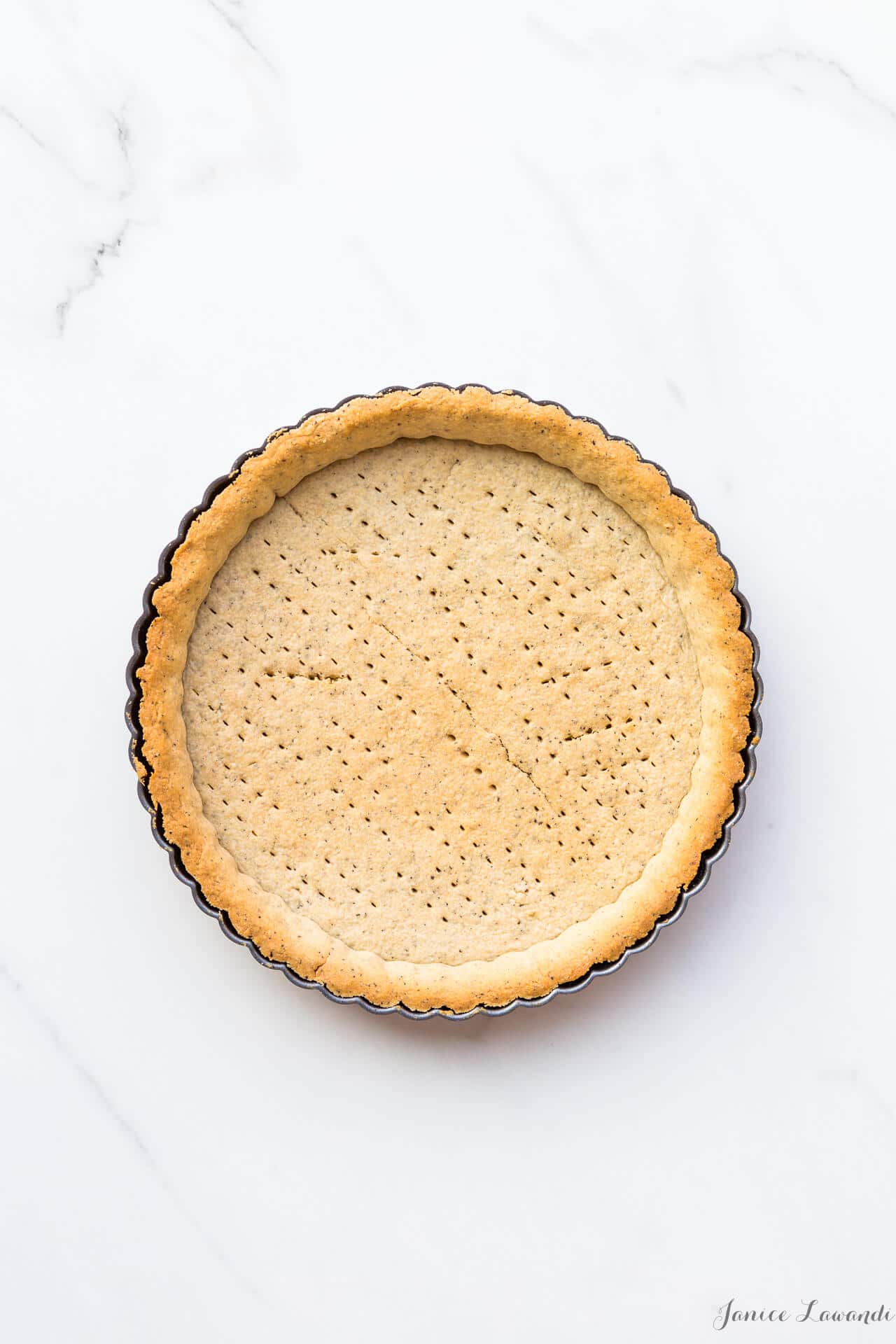 Milk chocolate ganache ratio
Milk chocolate contains a lower amount of cocoa solids and more sugar than dark chocolate. For this reason, making a milk chocolate ganache can be a little trickier, especially if you want it to set fairly firm, like if you want to fill a tart shell with milk chocolate ganache or make milk chocolate truffles. The ratio of chocolate to cream that works for dark chocolate is not appropriate for milk chocolate.
For a ganache-filled chocolate tart made with dark chocolate: a 1:1 ratio of dark chocolate to cream, by weight, works very well. At this ratio, you can also make dark chocolate truffles, though some like to use a 2:1 ratio of dark chocolate to cream for a firmer truffle. It's really up to you.
For a chocolate tart filled with a milk chocolate ganache: a 1:1 ratio of milk chocolate to cream is too soft. You are better off with a milk chocolate ganache ratio of 2:1 of milk chocolate to cream, by weight. At this ratio, the milk chocolate ganache will set firm enough that the tart can be cut, but remains a little soft and pliable, unlike hard chocolate. Obviously, the higher the chocolate content, the firmer the ganache will be when chilled and set. I've tested a higher ratio of 2.5:1 of milk chocolate to cream and I found at this ratio, the ganache was difficult to get right. Getting all the chocolate melted with so little hot cream is tough and also, I noticed when cutting the tart, the ganache doesn't always adhere to the tart shell as well as it should. For tarts, I definitely would use a 2:1 ganache ratio with milk chocolate.
Tip: So, for a dark chocolate ganache tart, use a 1:1 ratio of dark chocolate to cream. For a milk chocolate ganache tart, use a ratio of 2:1 of milk chocolate to cream.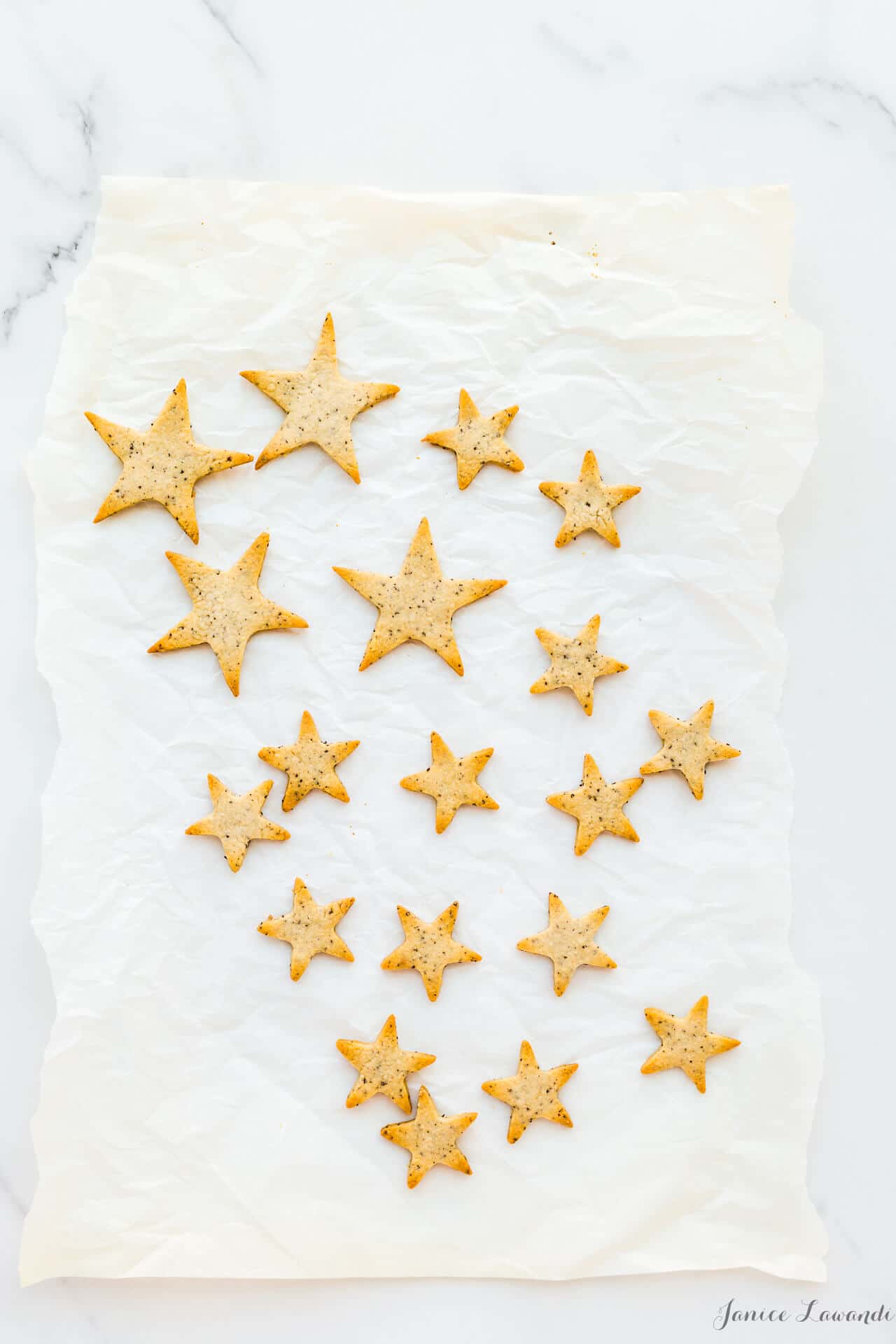 Special equipment
You will need a tart pan with a removable bottom to make this recipe so that you can easily get the tart out of the pan to serve it on a plate. A tart pan is preferable to a pie plate for this recipe so that you can unmould the tart, and also to get the pretty fluted edge.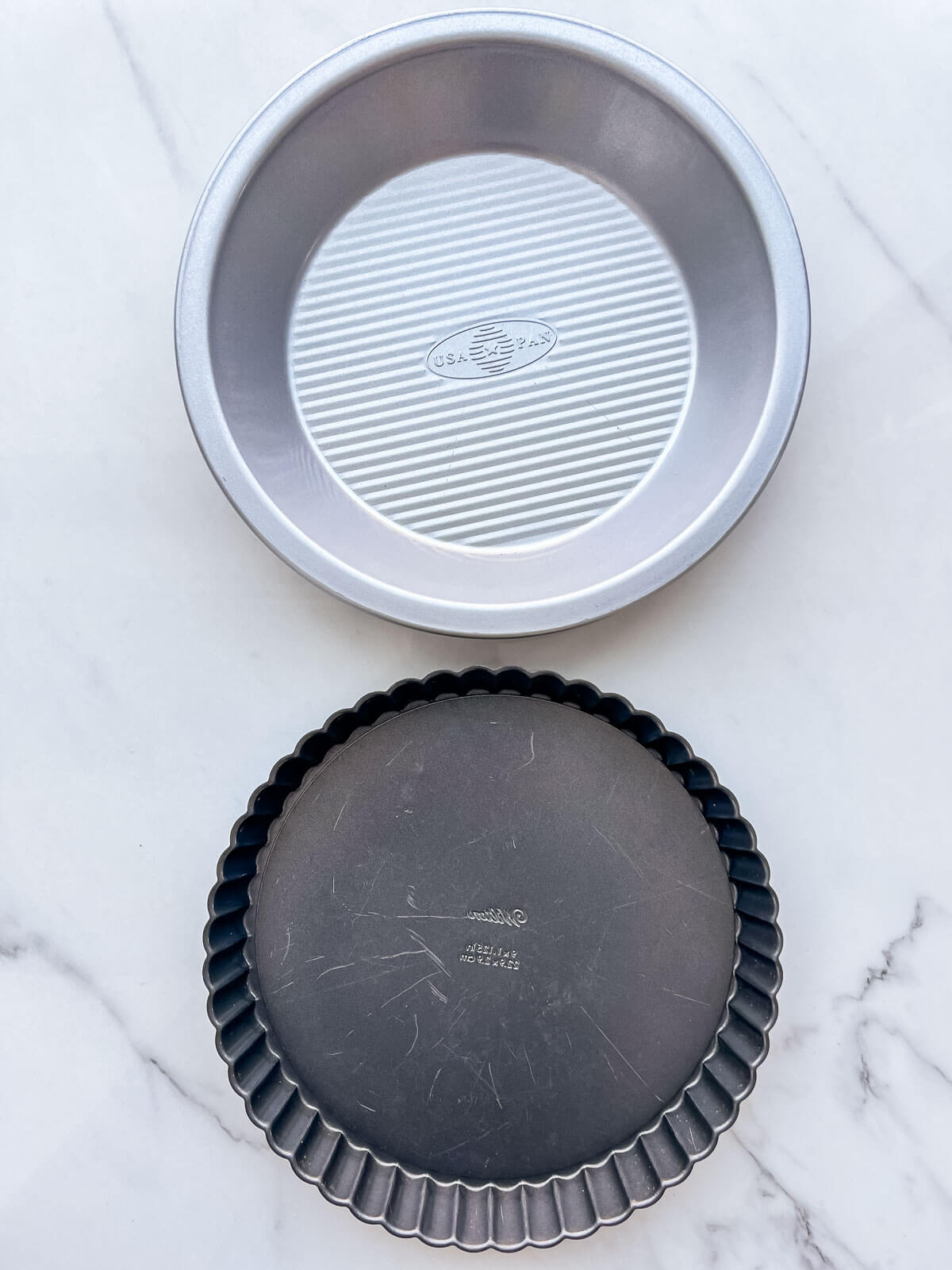 Blind-baking a tart shell without pie weights
I'd guess that almost all the tart recipes that call for blind-baking a tart shell instruct you to use pie weights (dried beans or even dry rice or sugar) to weigh down the empty crust as it slowly bakes in the oven. Bakers weigh down the crust as it bakes to make sure the crust bakes flat, without any bubbling. The pie weights will also support the walls of the tart shell as it bakes, preventing any slumping or distortion of the edge that can occur as the dough heats up in the oven.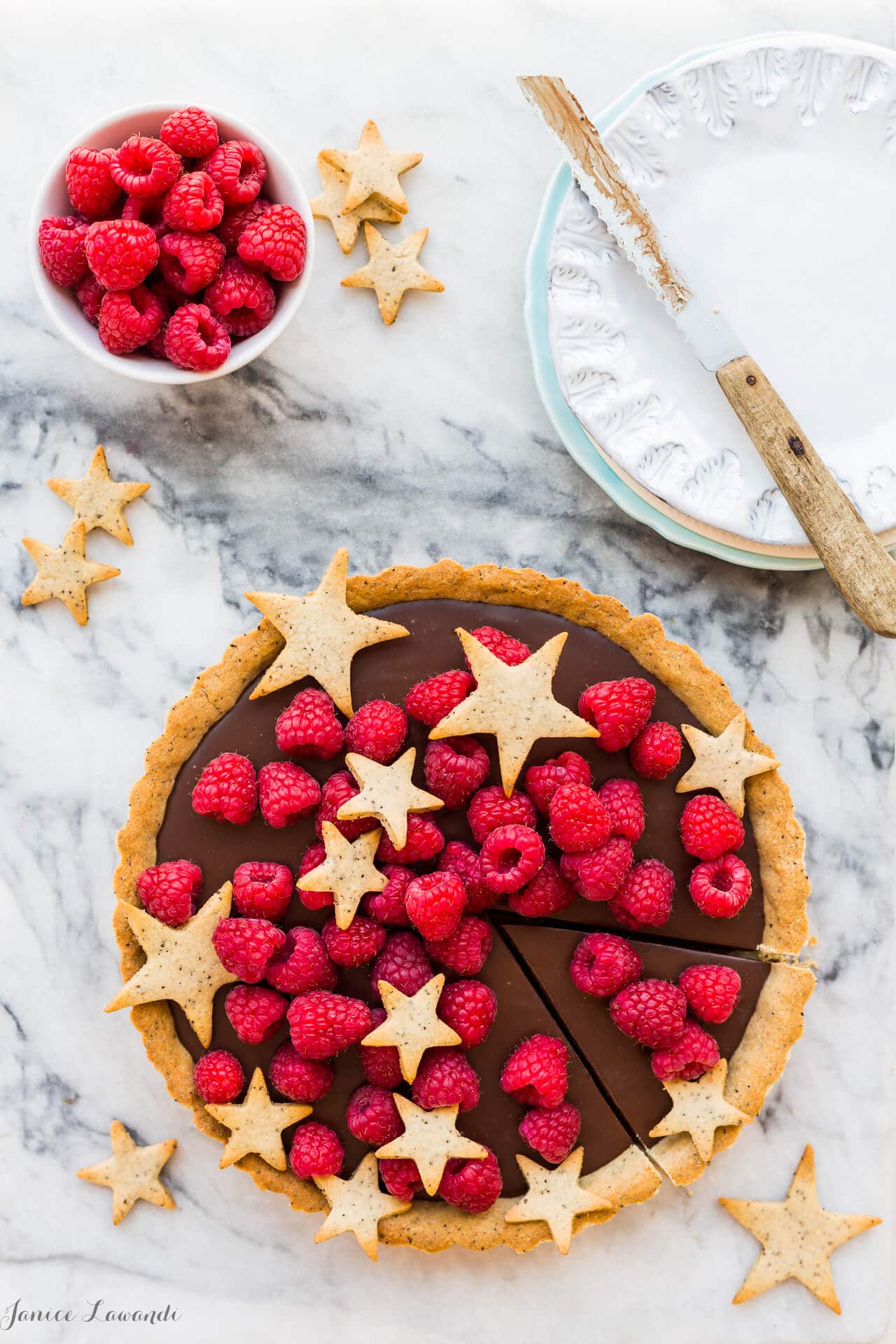 Blind-baking with pie weights works great, but lately, I've been blind-baking mini tarts without pie weights. I simply dock the chilled pastry with a fork and bake. No pie weights.
The key is to make sure you line your tart pan with the dough without stretching or pulling the dough. The dough must fall into all the nooks and crannies of the pan without stretching it. The dough must be pressed and fitted into the pan properly on all sides for this to work. I find the step of lining a tart pan with dough to be the most crucial step when making a tart.
What you do to the crust before it is baked has a HUGE impact on what happens in the oven and how your tart shell looks when it comes out of the oven. I find it very important to take time on this step and to work with more than enough dough to line the pan without pulling, tugging, or stretching. The excess can be used to make cookies that you can decorate the tart with. There is zero waste. And when it comes to unmolding the tart, remember to use this trick to remove your tart from a tart pan with removable bottom.
Frequently asked questions
Why did my chocolate tart not set?

Chocolate ganache, especially milk chocolate ganache, can be quite soft and will remain soft until properly chilled. It can take several hours to set in the fridge. If the ganache filling is still not set after refrigeration, leave it for longer in the fridge. If your ganache stays liquid after several hours in the fridge, likely you mismeasured the chocolate and cream amounts and used the wrong ratio of cream to chocolate. Remember for milk chocolate ganache, you need a ratio of 2 parts chocolate to 1 part cream, by weight, so that it sets properly! Use too much cream and your chocolate tart will not set.
Do I need to grease the tart pan to make the crust?
You do not need to grease tart pans usually when you bake a crust made from either a pâte sucrée or pâte sablée. Neither of these doughs stick to the pan and they always unmould cleanly.
📖 Recipe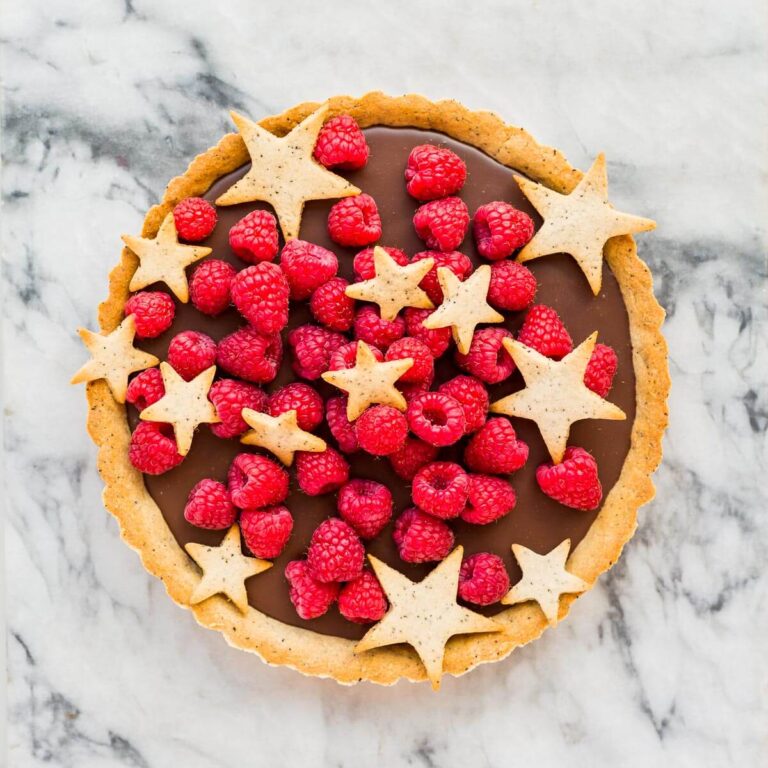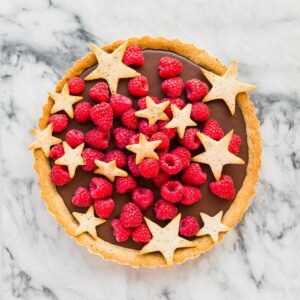 Raspberry Chocolate Tart
This easy raspberry chocolate tart is made with a coffee cookie crust, a milk chocolate ganache filling, and topped with fresh raspberries and cookie stars.
Ingredients
Coffee cookies crust (coffee pâte sablée)
86

grams

unsalted butter

room temperature

63

grams

icing sugar

33

grams

ground almonds

1

tablespoon

ground coffee beans

1

large egg yolk(s)

156

grams

bleached all-purpose flour

1

tablespoon

whole milk (3.25 % fat)
Milk chocolate ganache
350

grams

Cacao Barry Alunga 41% milk chocolate

175

mL

whipping cream (35 % fat)
Garnish
170

grams

fresh raspberries
Instructions
To make the pâte sablée or coffee cookie crust
In the bowl of an electric mixer fitted with the paddle attachment, cream together the butter with the icing sugar, ground almond, and ground coffee.

Add the yolk and beat it in, then mix in the flour on low. Add 1 tablespoon of milk and mix so that the dough comes together.

Gather the dough into a ball and flatten into a disk. Wrap it in plastic wrap and chill for 1 hour.

Roll the dough out to at least an 11 inch disk. Fit the dough into a 9-inch tart pan with a removable bottom. Make sure that the dough fits well into all the corners and the fluted edge. Use your rolling pin to trim the excess of dough, which you can gather into a disk and chill, then reroll and cut out cookie stars, which you can bake on a cookie sheet until golden brown to garnish the tart later.

Place the pan on a baking sheet and chill the unbaked pastry shell for about 1 hour til it is very cold and hard.

Meanwhile preheat the oven to 350ºF (175 °C). When the pastry is very cold, remove the baking sheet with the tart from the fridge. Using a fork, poke holes all over the crust.

Bake the tart shell on the middle rack of the oven for 20 to 30 minutes, until the edges are golden brown and have pulled away from the sides just a little. As the tart shell bakes, check on it every 5 to 10 minutes to make sure there aren't any air pockets forming. If you see a lump of air, just poke it with a tooth pick, a fork, or a wooden skewer to release the air. Press the pastry gently to smooth it out.

When the tart shell is completely baked, remove the sheet pan from the oven. Allow to cool at least 15 minutes before unmolding. Check out my trick for unmolding a tart for this step. Allow to cool completely. Place the unmolded baked tart shell on a serving plate.
Make the ganache
Place the chocolate in a large heatproof bowl. Some may partially melt the chocolate to make the ganache mixing easier later. Set aside.

Heat the cream in heavy-bottomed saucepan over medium–high until it's just boiling. Pour the hot cream over the chocolate. Let sit 1 minute, then stir to form smooth ganache.

Pour the ganache into the cooled tart pan. Place the tart in the fridge to set (this takes several hours so I recommend making the tart the day before).
Garnish
Decorate the chilled tart with fresh raspberries and the cookie cutouts you may have baked with the leftover tart dough. You can sprinkle the tart with powdered sugar before serving, if you'd like.
Nutrition
Calories:
414
kcal
Carbohydrates:
43
g
Protein:
5
g
Fat:
28
g
Saturated Fat:
16
g
Polyunsaturated Fat:
1
g
Monounsaturated Fat:
8
g
Trans Fat:
0.3
g
Cholesterol:
58
mg
Sodium:
13
mg
Potassium:
167
mg
Fiber:
4
g
Sugar:
26
g
Vitamin A:
508
IU
Vitamin C:
5
mg
Calcium:
40
mg
Iron:
2
mg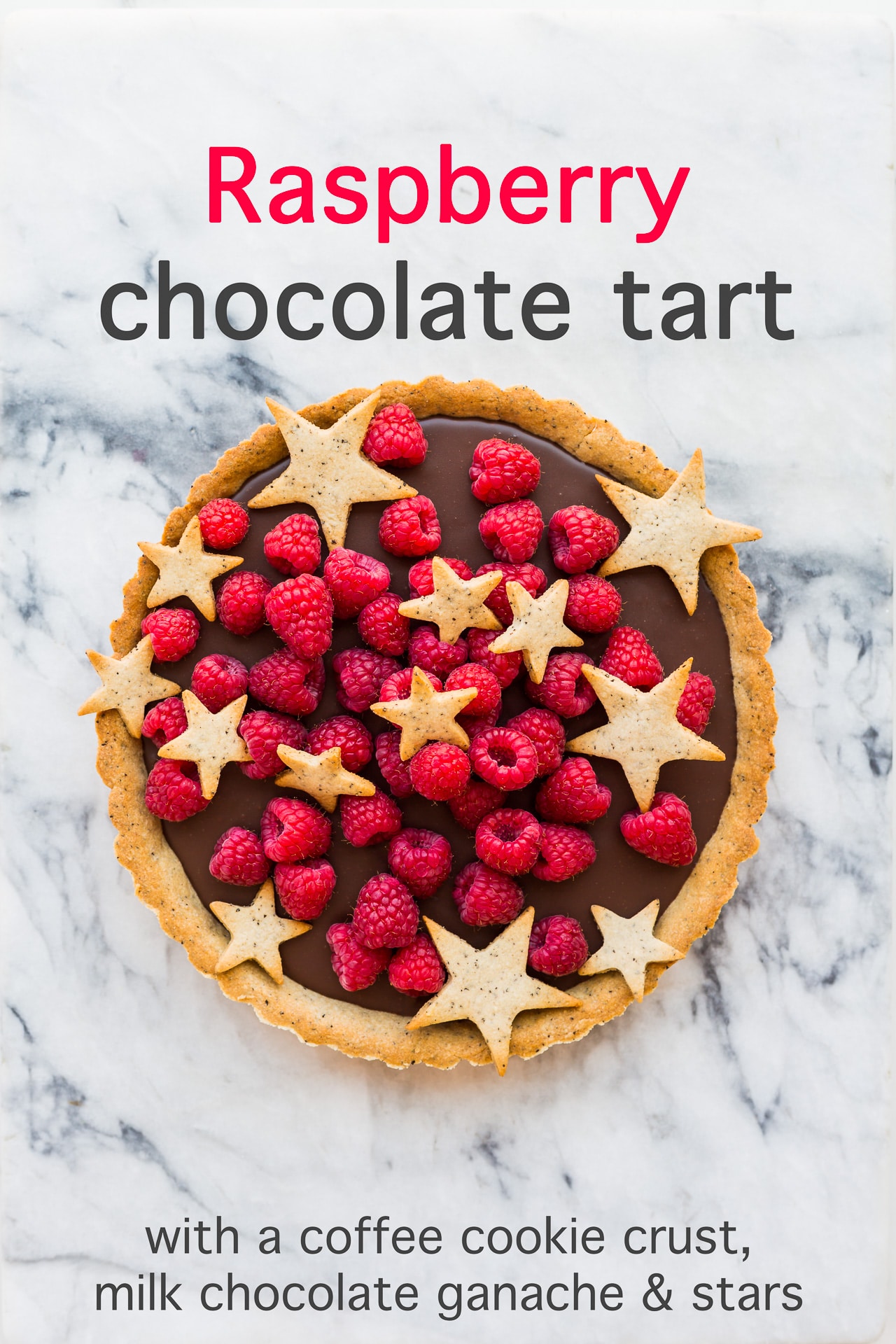 This post is sponsored by Cacao Barry. I was compensated monetarily and with product. Thanks for supporting the companies that allow me to create content. As always, please know that I wouldn't work with a sponsor nor recommend a product if it wasn't worth it.