This easy recipe for raspberry bread pudding with coffee crème anglaise is the perfect treat for breakfast, brunch, or dessert, made with fresh raspberries and ground coffee beans.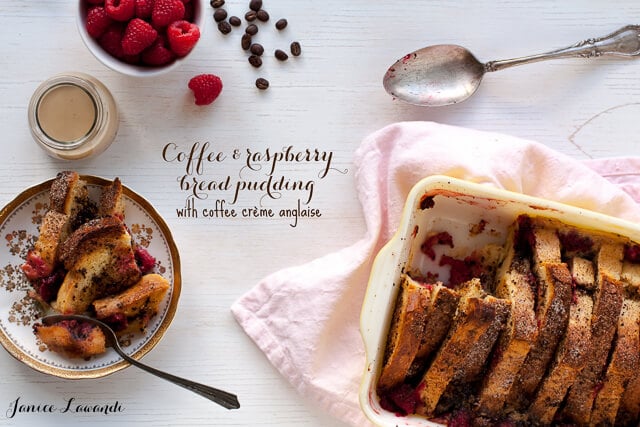 Disclosure: As an Amazon Associate, I earn from qualifying purchases.
I love to bake with coffee because you can use it to flavour so many different treats, like slice-and-bake cocoa coffee cookies, coffee frosting for chocolate drop cookies, Swedish cardamom buns (which I made with coffee as a nod to Turkish coffee), coffee banana smoothie, and coffee buttercream frosting for chocolate cake.
Jump to: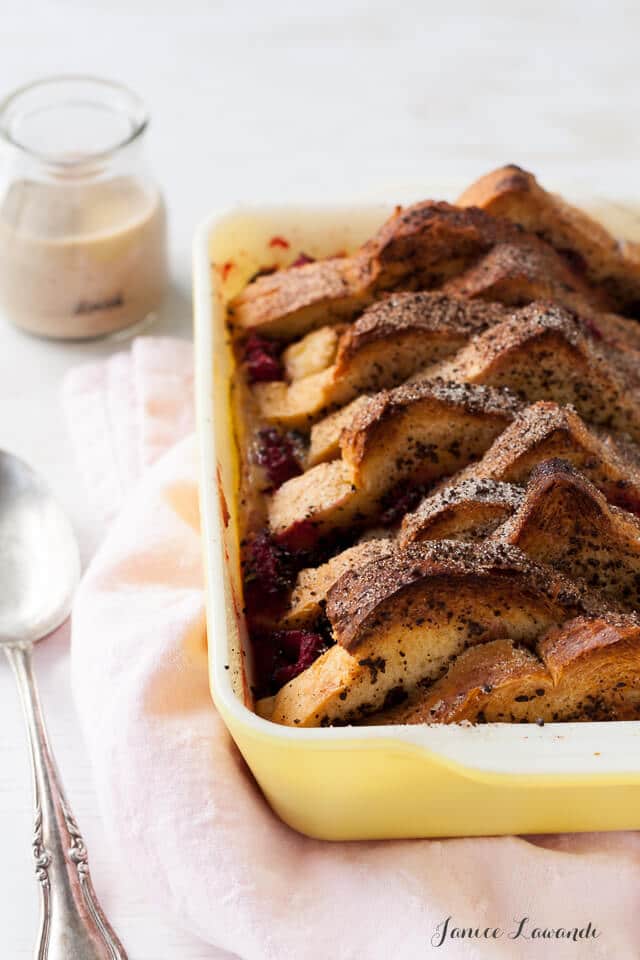 What you need to make this coffee-flavoured bread pudding
coffee beans that you will grind or coffee grinds
granulated sugar
bread—I used a "carré blanc" which is a basic white milk bread, but brioche would work very well here too!
unsalted butter
eggs and egg yolks—use large eggs otherwise the custard sauce might not thicken properly and the bread pudding may not set right
whole milk (3.25 % fat)—favour full-fat milk over skim milk, which is more watery and not ideal for sauces and desserts
vanilla—use pure vanilla extract or vanilla bean paste
fresh raspberries are best in this recipe because frozen berries may break down and release too much water
See recipe card for quantities.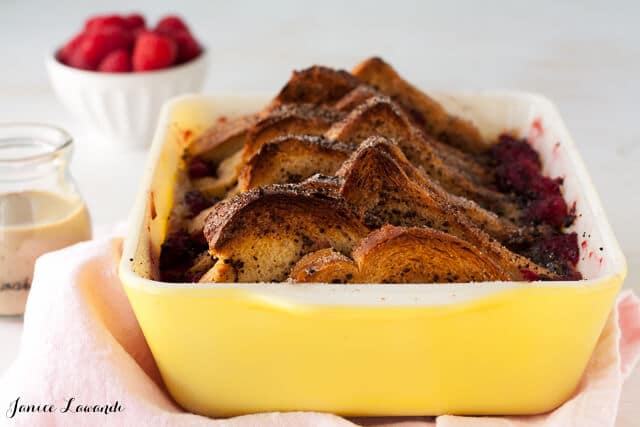 Coffee crème anglaise
All good bread puddings must come with a hefty drizzling of crème anglaise, so I served mine with a coffee-infused crème anglaise (a fancy French baking term for custard sauce). Remember, a crème anglaise is a custard sauce thickened with egg yolks only, and though the name includes the word "crème" (French for cream), this sauce is actually made with milk. The egg yolks make the sauce thick, creamy, and more decadent, making you think it's made with cream even though it's not.
Traditionally, crème anglaise is flavoured with a scraped vanilla bean that's added to the milk, allowing it to slowly infuse the sauce as you heat it on the stove. Crème anglaise is cooked on the stove at low temperature, just hot enough to thicken the sauce but not so hot that the eggs cook or curdle. If your crème anglaise ends up lumpy or you notice bits of cooked egg yolk in it, though not ideal, you can still use it because you can just pass the mixture through a strainer to remove any lumps.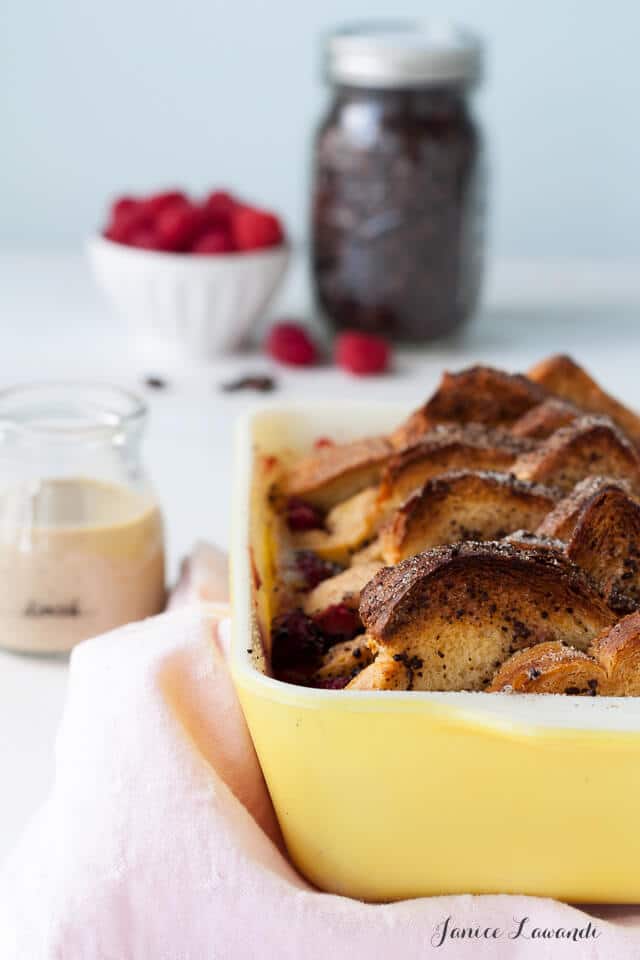 Crème anglaise is a great sauce to make simple desserts seem a little fancier: serve crème anglaise with slices of gluten-free chocolate cake or even a bowl of fresh summer berries. Crème anglaise can be served with any dessert you serve with ice cream. Try serving your next rhubarb lattice pie, maple apple pie, or even a peach mango pie with crème anglaise instead of ice cream.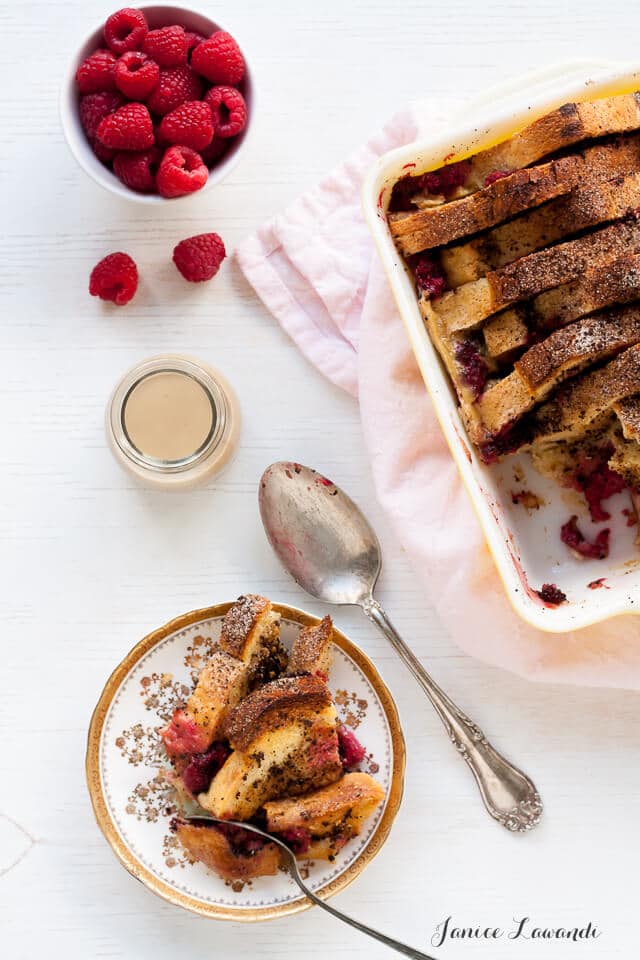 📖 Recipe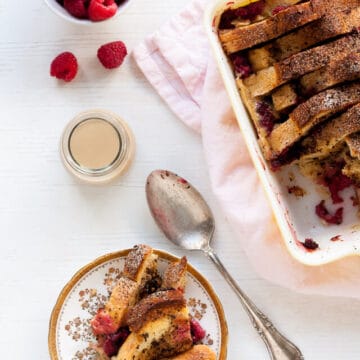 Raspberry Bread Pudding with Coffee Crème Anglaise
This recipe is a take on bread and butter pudding, flavoured with coffee and raspberries, and served with a coffee crème anglaise.
Ingredients
Coffee sugar
20

grams

coffee beans

100

grams

granulated sugar
Raspberry bread pudding
9

slices

bread

I used a "carré blanc, ~ basic white bread

60

grams

unsalted butter

more if needed, softened

70

grams

coffee sugar

3

large egg(s)

66

grams

granulated sugar

375

mL

whole milk (3.25 % fat)

5

mL

pure vanilla extract

340

grams

Fresh raspberries
Coffee crème anglaise
250

mL

whole milk (3.25 % fat)

3

large egg yolk(s)

50

grams

coffee sugar
Instructions
To make the coffee sugar
Grind the coffee beans in a coffee grinder. Combine the coffee grinds with the sugar and stir well to mix. Divide the mixture: you will need 50 grams of this coffee sugar for the crème anglaise, the rest (~70 grams) is for the bread pudding.
To make the bread pudding
Preheat the oven to 350 °F (175 °C). Butter a small 1.4 L (1.5 quart) Pyrex baking dish (or an ovenproof dish).

Butter one side of each slice of bread then sprinkle generously with coffee sugar, patting it into the butter as you go. Don't worry if you have a few tablespoons leftover.

Cut and fit 5 slices of the bread in the bottom of the pan in a single layer, then sprinkle with some of the berries (~half). Cut the remaining slices in half diagonally, then arrange them upwards on top of the first layer of the bread so the corners are sticking up.

Tuck the rest of the berries between the slices. Set aside.

In a medium bowl, whisk together the eggs, sugar, milk and vanilla. Then drizzle this evenly over the bread slices. If you have any leftover butter or coffee sugar, sprinkle it over top.

Bake the bread pudding for about 45 minutes, until the custard is set.

Serve warm.
To make the coffee crème anglaise
Have a strainer set over a bowl in an ice bath ready.

In a medium bowl, whisk the yolks with half the coffee sugar until the yolks have lightened in color. Set aside.

In a medium saucepan, heat the milk with the rest of the coffee sugar.

When the milk is steamy, pour it over the yolks and whisk to temper the eggs.

Transfer the mixture back to the saucepan and continue heating on medium–low, stirring constantly with a wooden spoon for about 10 minutes until the mixture coats the back of the spoon.

Strain the mixture into the bowl over the ice bath and stir every 10 minutes to chill completely.
Nutrition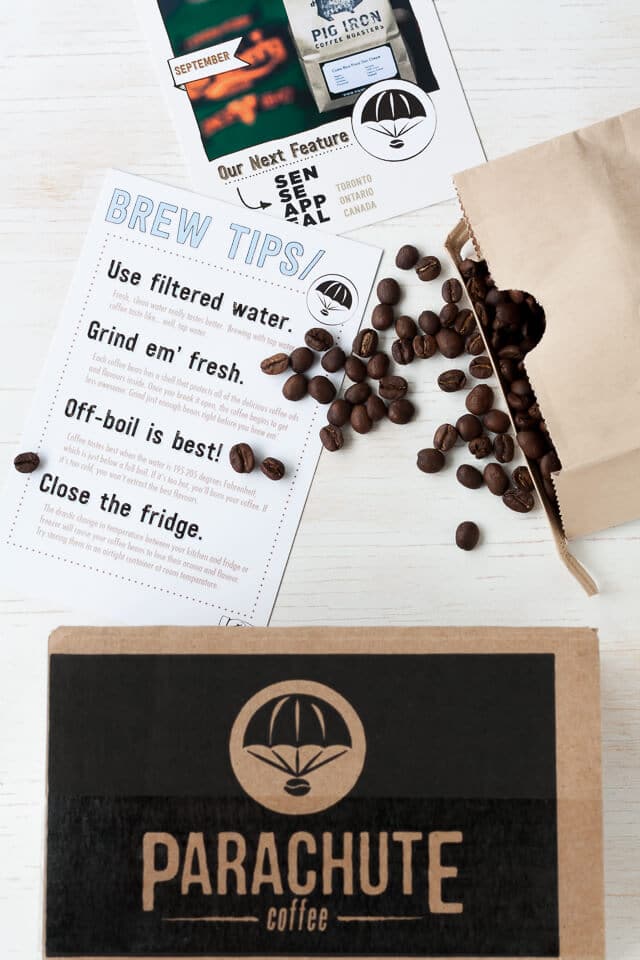 Monthly coffee subscription service
Parachute coffee, a Canadian company, offers a monthly subscription service: every month, Parachute coffee teams up with a different small, Canadian coffee roaster to send you the best coffee. I honestly think the concept is brilliant because you'll get a fresh batch of coffee every month without having to step foot in a store.
Parachute takes away all the excuses that make you buy stale, burned, grocery store-brand coffee: Parachute coffee delivers freshly roasted coffee right to your doorstep every month. Since most of us can't necessarily afford to travel across Canada to try all the different third wave cafés, every month is like a trip to a different local roaster with information about the beans and the country of origin.
Each package comes with brewing and storage tips too: did you know that you should use water that has been heated just below boiling temperature (90–96 ºC or 195–205 ºF)? And, before you ask me how you are supposed to consistently boil water to that temperature, I can suggest this Cuisinart "Perfect Temp" kettle to help you out (Amazon), which is my method of choice (yes, I own and love this kettle so I can happily recommend it to you).
To subscribe to Parachute Coffee's monthly coffee delivery service (or to try it out for a month), visit the "Subscribe" tab of their website at http://www.parachutecoffee.com. I bet Parachute will change your relationship with coffee. And while you wait for your coffee delivery, here's that recipe for coffee & raspberry bread pudding with coffee crème anglaise that I made with this month's coffee from Parachute!
Parachute Coffee sent me their coffee bean delivery box to try out this month. Thanks for supporting the sponsors that allow me to create new recipes.