Crème anglaise is a rich, creamy custard sauce that is made from milk, sugar, and egg yolks, so it's actually a gluten-free dessert sauce! Pour it over summer berries or serve it with your favourite dessert. It's also the base for many ice cream recipes.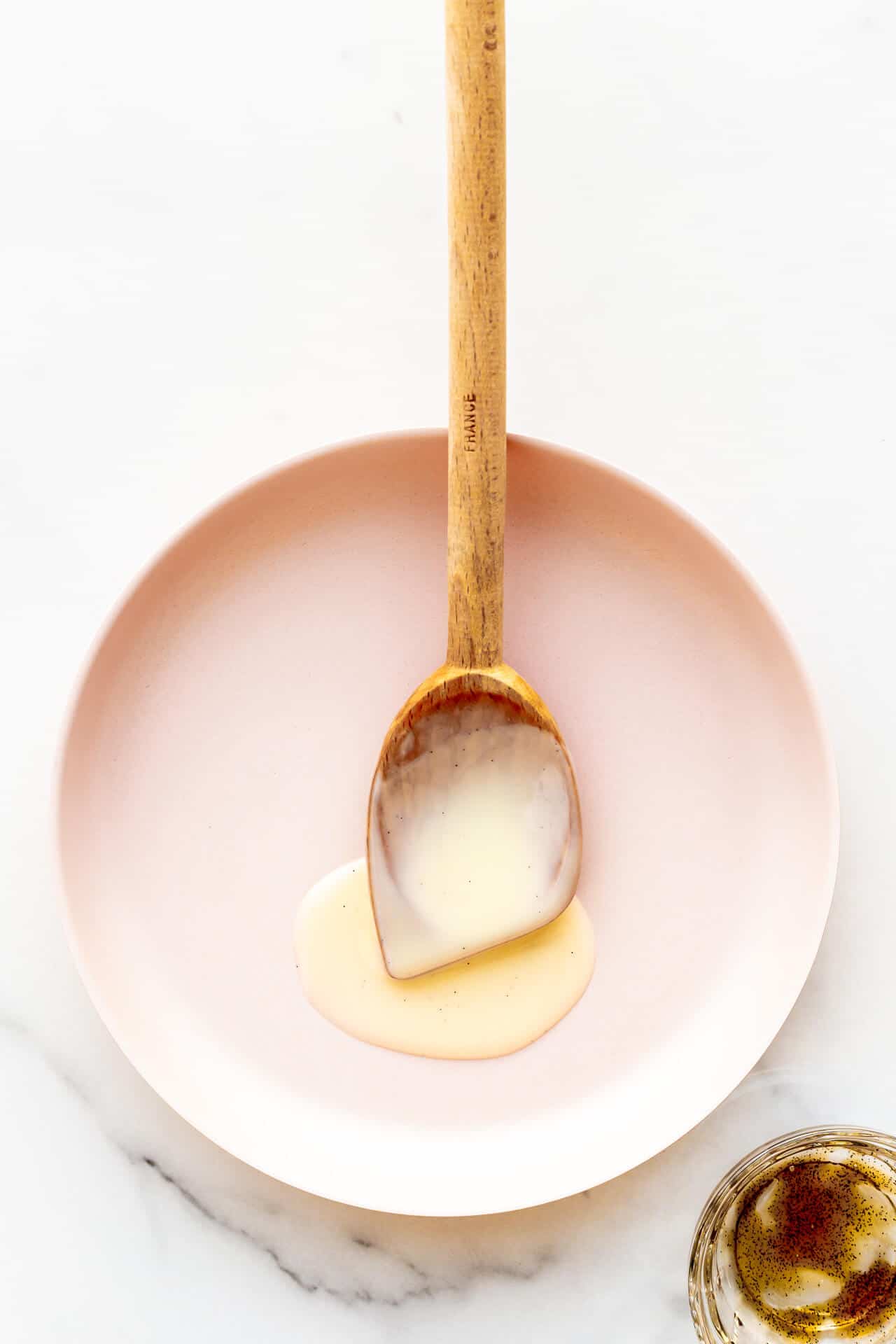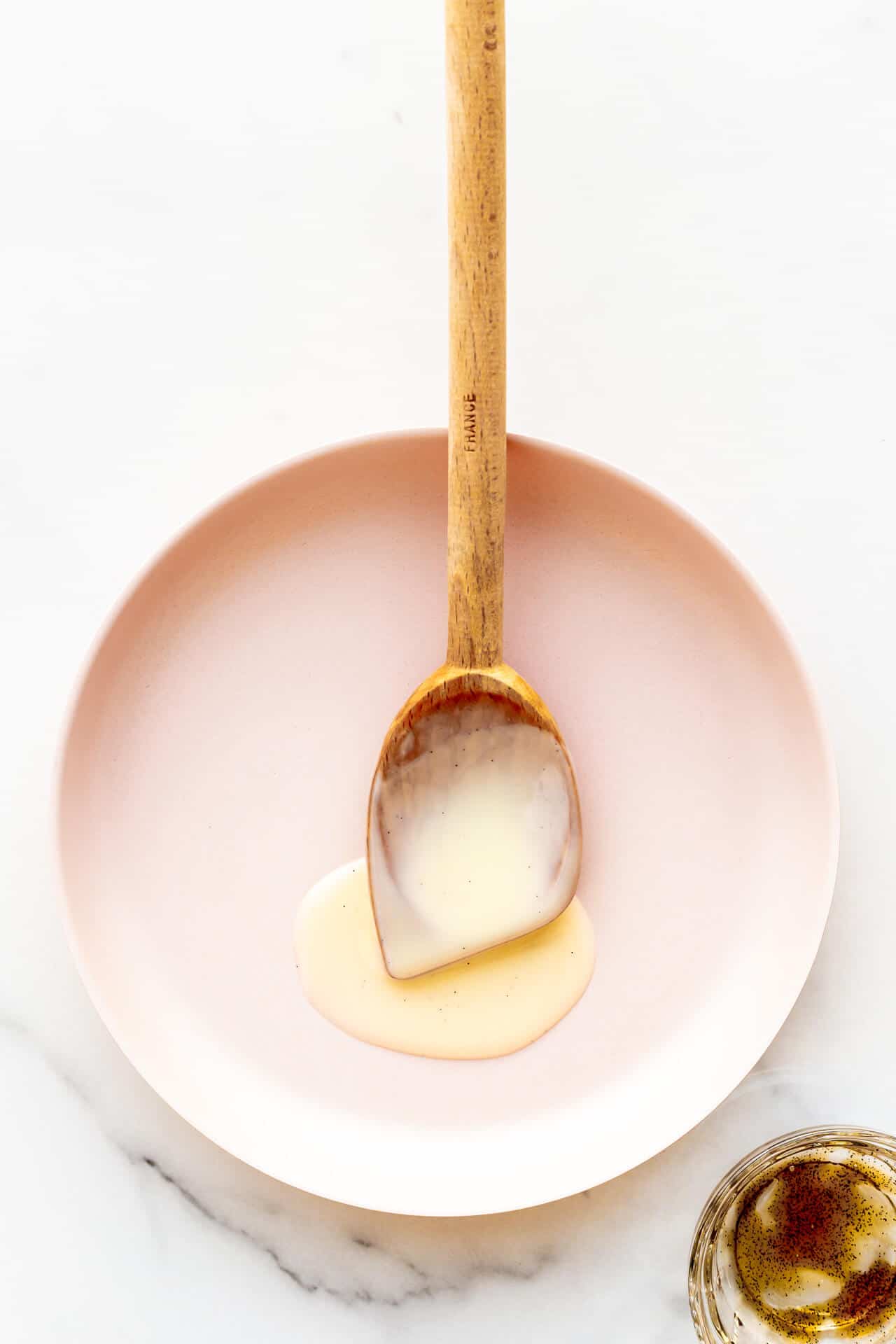 Disclosure: As an Amazon Associate, I earn from qualifying purchases.
Crème anglaise is the French pastry term for a sweet egg-yolk-thickened dessert sauce, but you may also see it called English pouring cream or custard sauce. You may also see shortened names for this custard sauce, like "anglaise."
It's a common misconception that crème anglaise includes cream (especially heavy cream or whipping cream). Actually, it doesn't contain any cream! It also doesn't call for any starches or flour thickeners, which is how it differs from pastry cream (also called crème pâtissière).
Jump to:
Ingredients to Make Crème Anglaise
Crème anglaise is made from a simple list of ingredients that you probably already have in your kitchen. That's the beauty of this easy vanilla custard sauce. All you need are egg yolks, sugar, milk, and a little vanilla.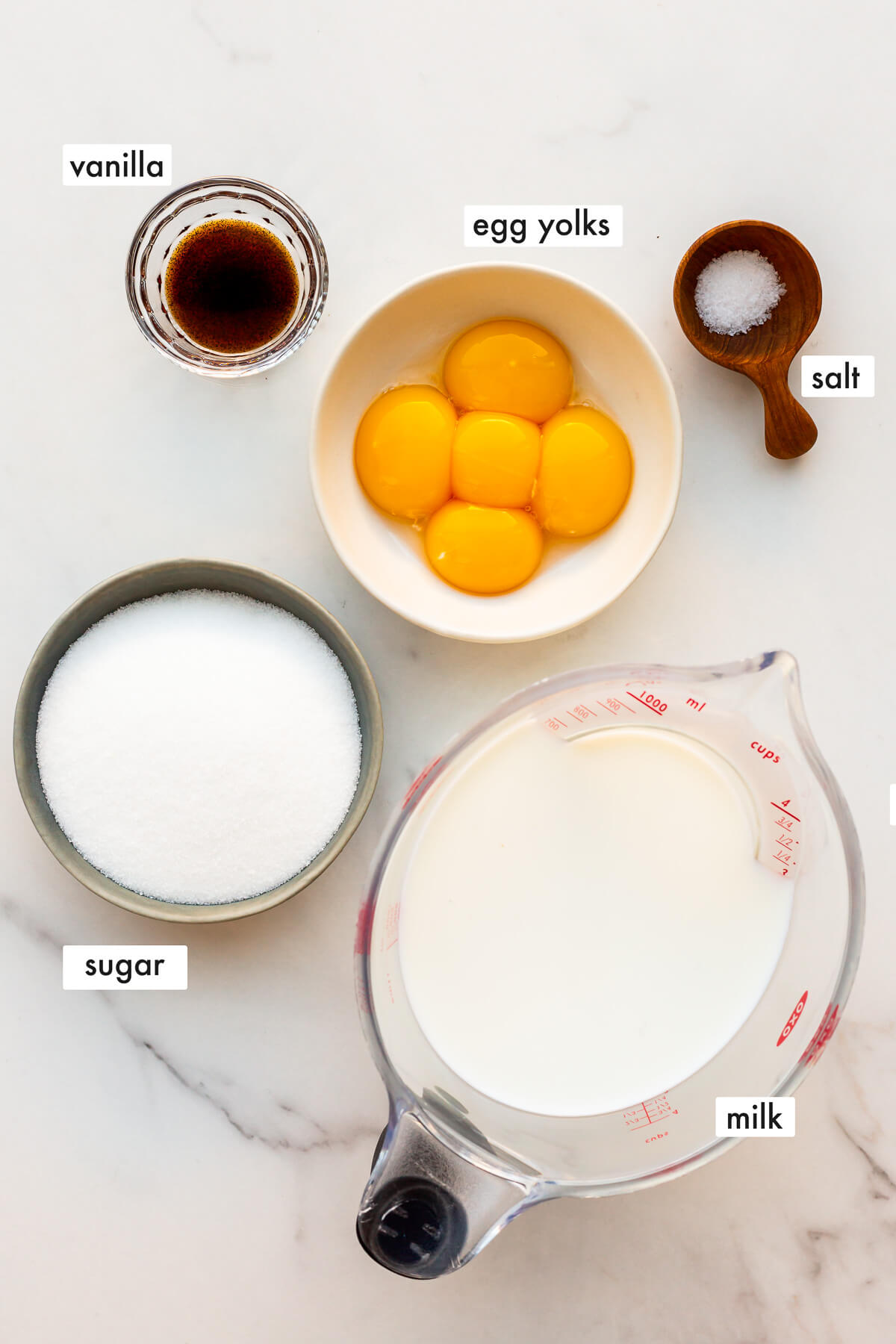 milk—you can use either 2 % or 3.25 % (full fat) milk
egg yolks, not whole eggs, which help thicken the sauce but also provide a richer flavour and a smoother sauce
sugar—use granulated sugar or special fine sugar because you don't want to use sugar with flavour (like brown or maple), which will interfere with the taste of vanilla (unless that's your goal, obviously)
vanilla—you can use a vanilla bean, vanilla bean paste, or vanilla extract, but remember these are added at different stages in the recipe. Read about how to use vanilla if you are unsure.
salt—it's optional but a pinch of salt can really enhance the flavours and make this simple custard sauce taste more complex
Note that crème anglaise is not made with thickeners like flour or cornstarch. Starch and flour thickeners are used for pastry fillings like vanilla pastry cream.
See recipe card for exact quantities.
Substitutions and Variations
vanilla: whether you use vanilla extract, vanilla bean paste, or vanilla beans is up to you. Just remember that when you cook or bake with vanilla, depending on which product you use, you will add it at different stages: vanilla beans are added before the sauce is cooked, while vanilla bean paste or extract is added after the sauce is off the heat.
milk: a real crème anglaise is made with milk, not cream, either 2 % fat or even 3.25 % whole milk.
orange: add the zest of an orange to the milk when you heat it on the stove. This will lead to a lovely orange-flavoured custard sauce.
Homemade eggnog is a variant of a crème anglaise, flavoured with freshly grated nutmeg and rum.
How To Make Custard Sauce
The steps to make a crème anglaise are very similar to those for making pastry cream, with a few key differences: crème anglaise is cooked low and slow on the stove, stirring with a wooden spoon, while a pastry cream is heated at a higher temperature to cook it fast and thicken it quickly.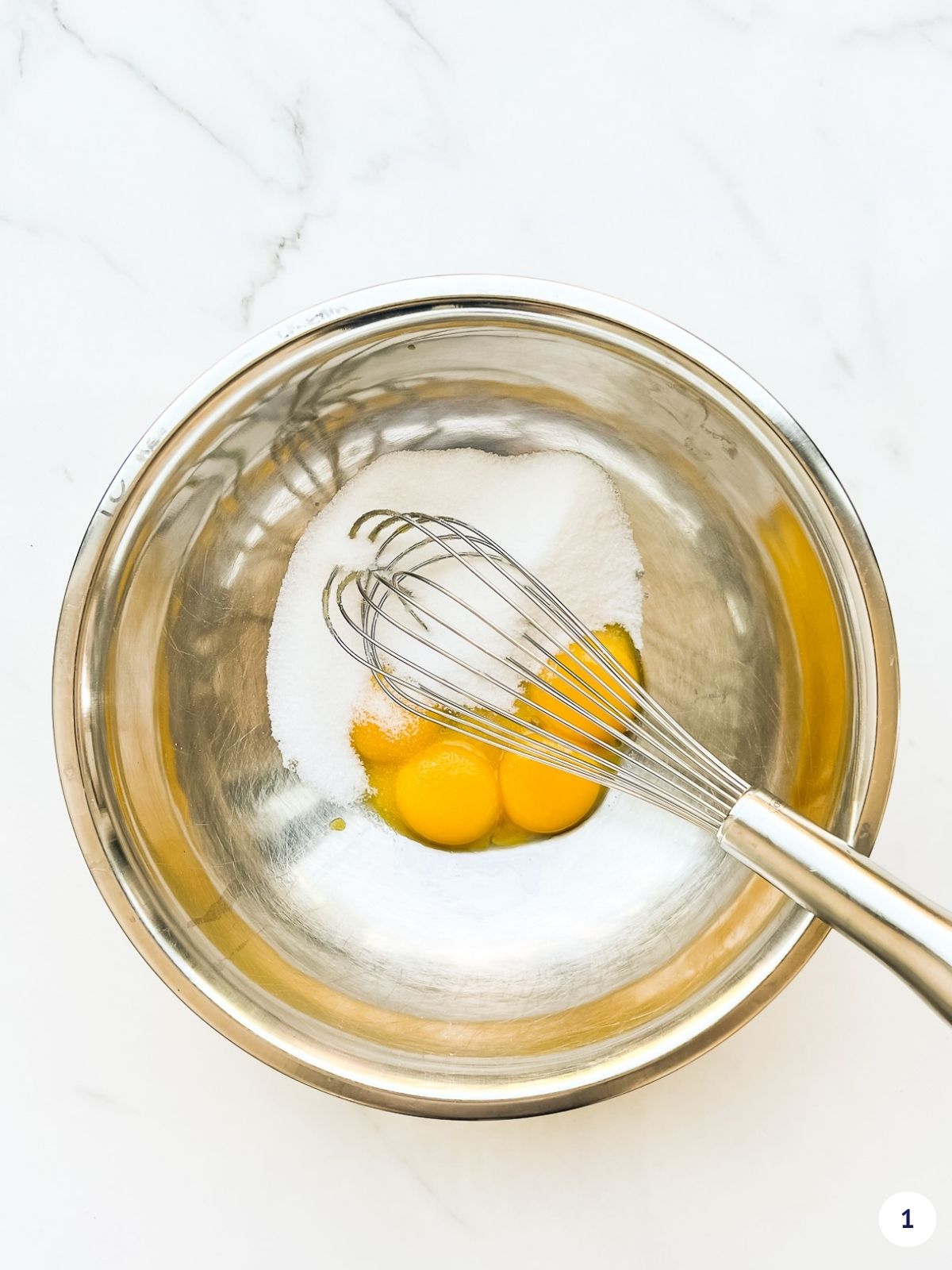 Step 1: Combine the egg yolks with half the granulated sugar in a bowl (image 1).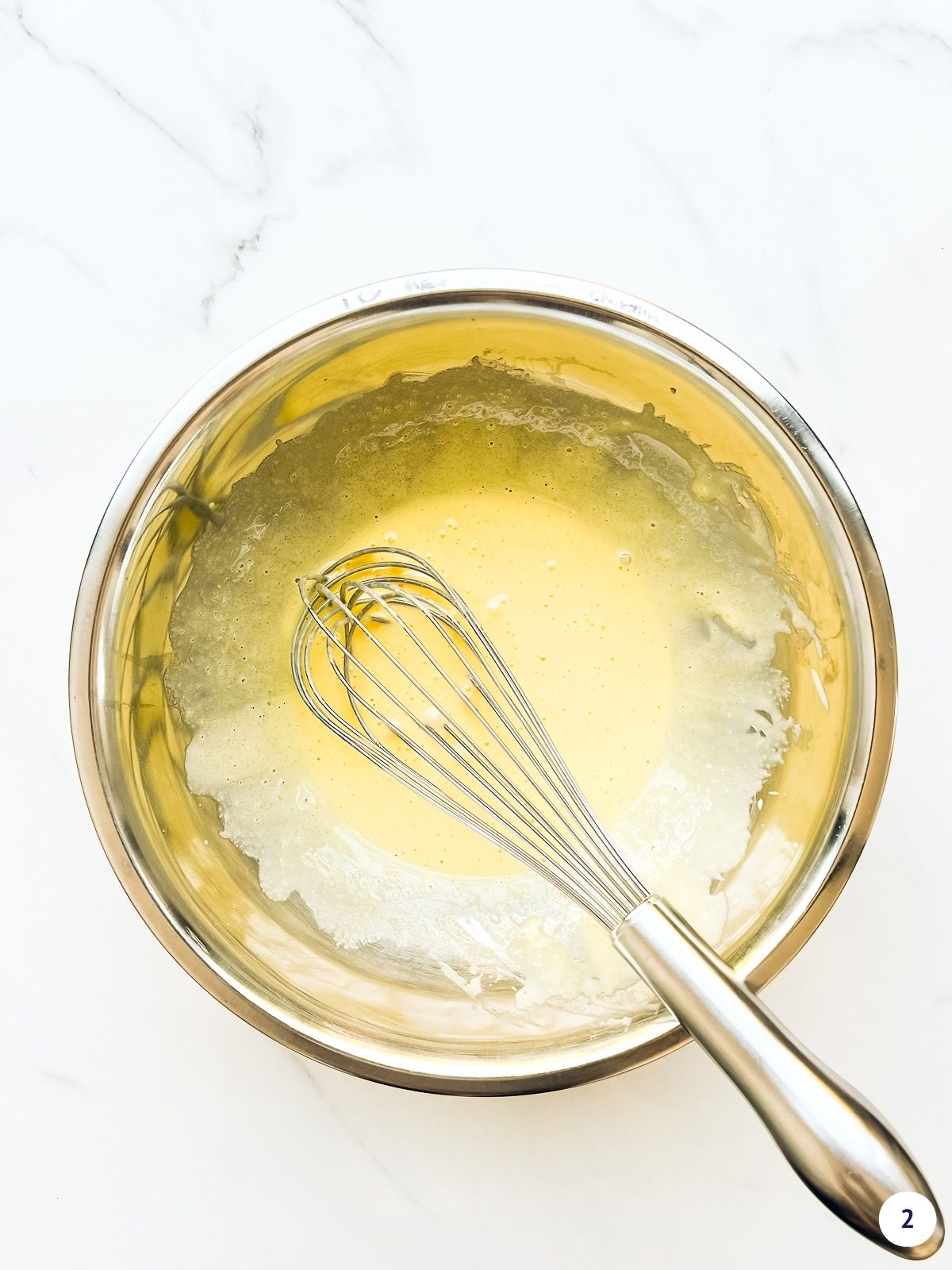 Step 2: Whisk them until very light in colour (image 2). This step is called blanchir les oeufs in French pastry.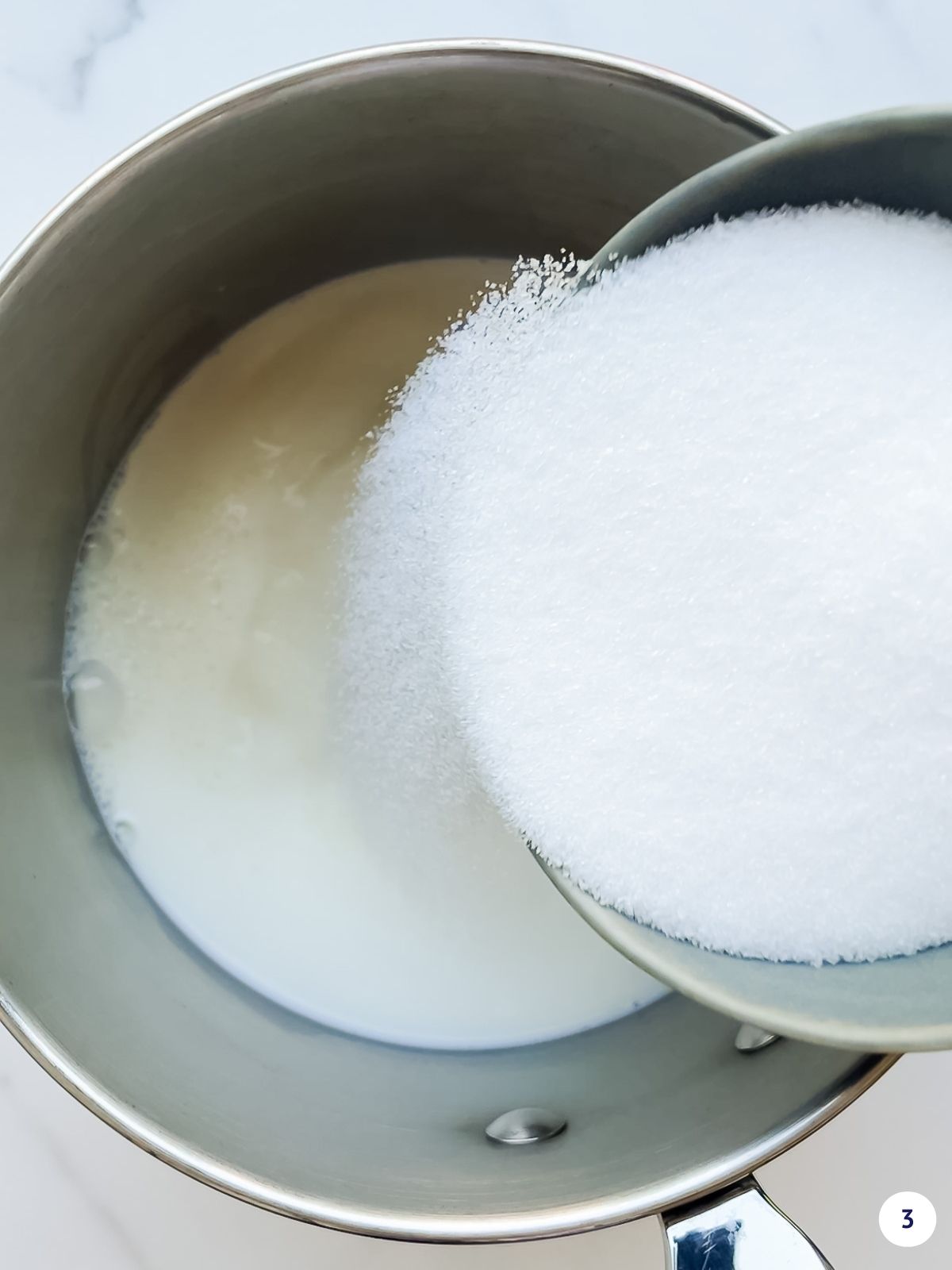 Step 3: Meanwhile, heat the milk with the rest of the sugar in a saucepan (image 3). If you are using a vanilla bean to flavour your custard sauce, you would add it at this stage.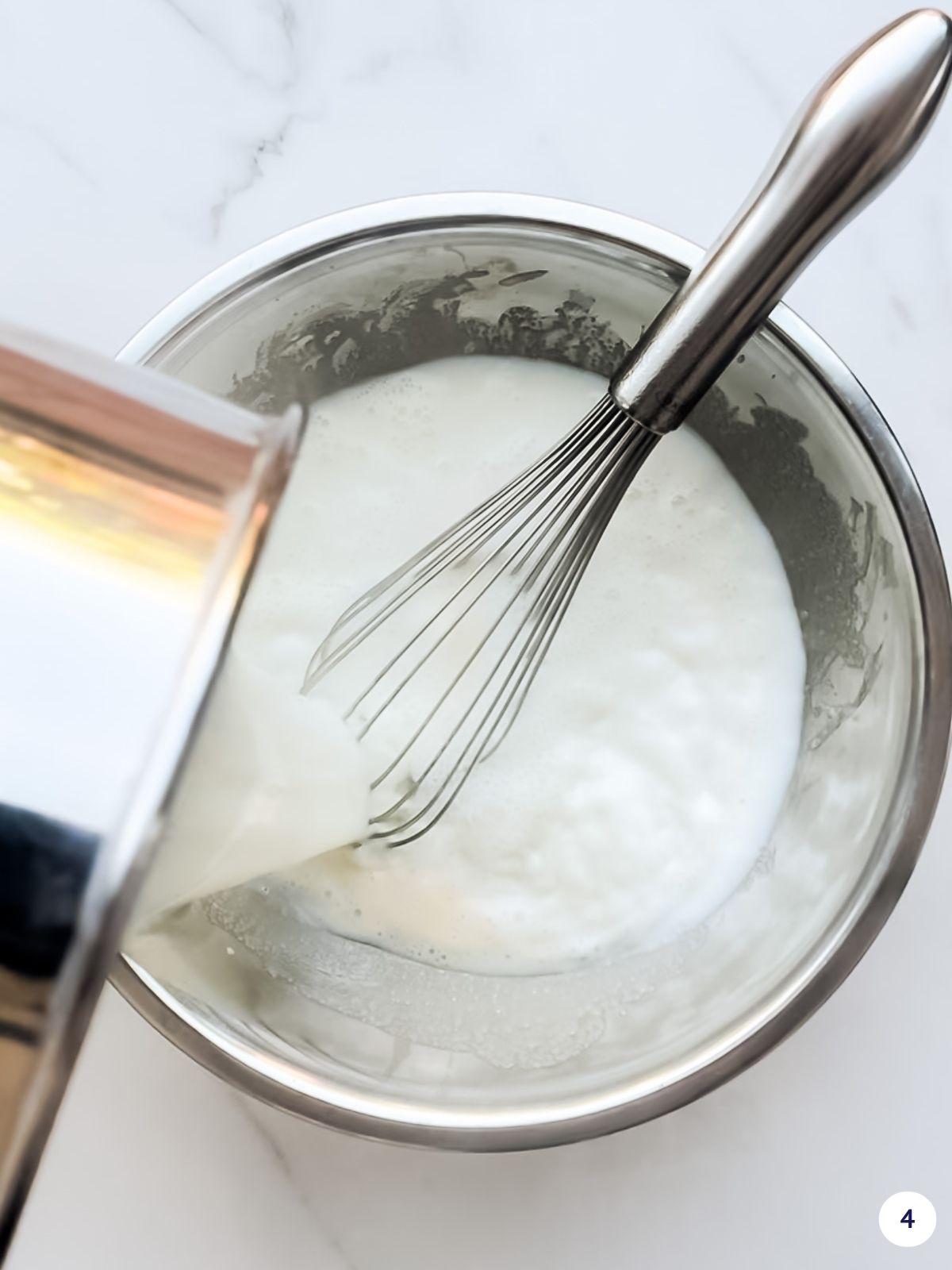 Step 4: When the milk is hot, pour it over the whipped egg yolks to temper them (image 4).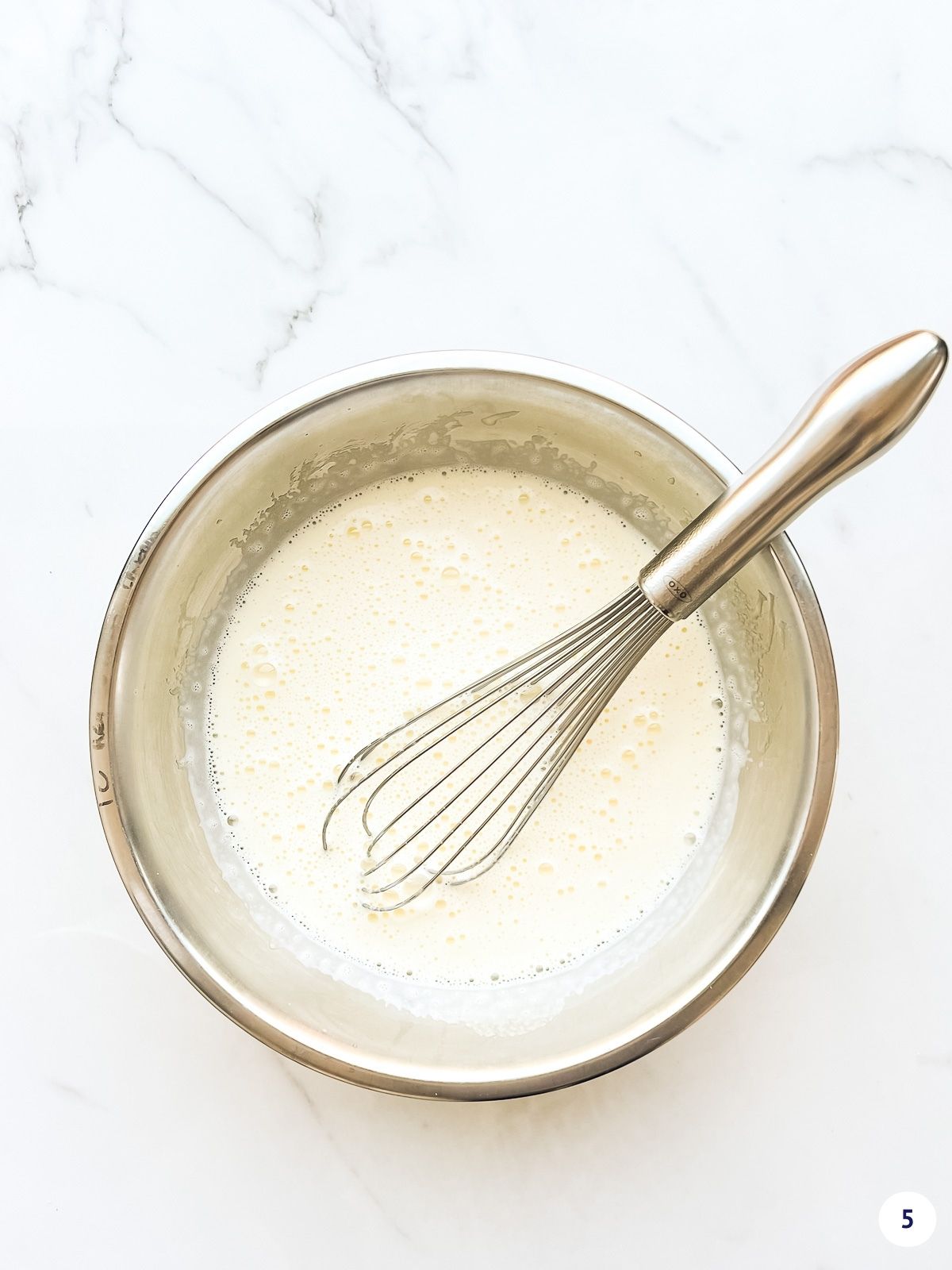 Step 5: The tempered egg yolk and milk mixture will be quite light in colour initially (image 5).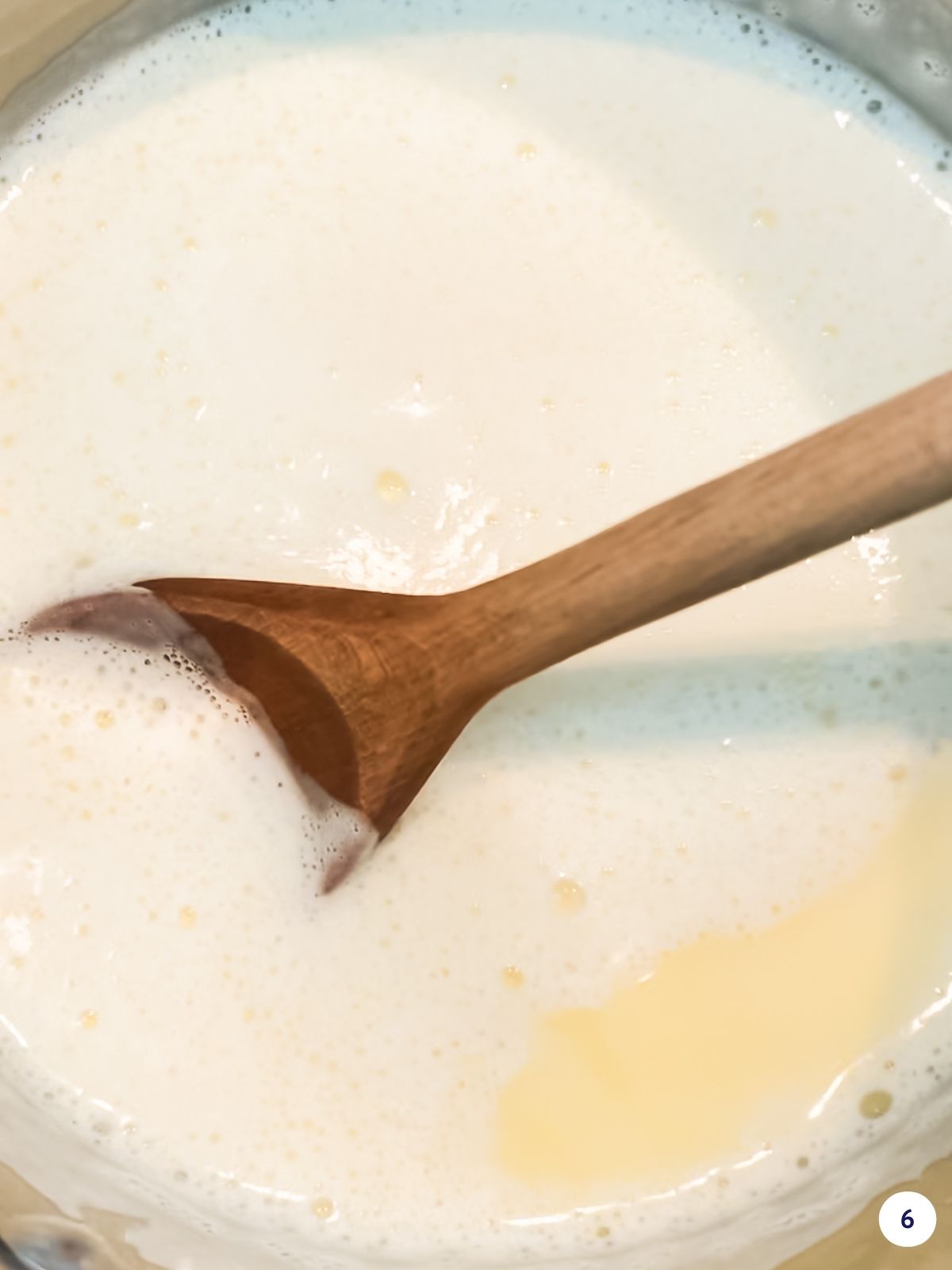 Step 6: Transfer the mixture back to the saucepan and gently heat it over medium–low heat until the custard sauce coats the back of the spoon. The sauce will have a richer more yellow tint to it and the foam will disappear when it's cooked (image 6).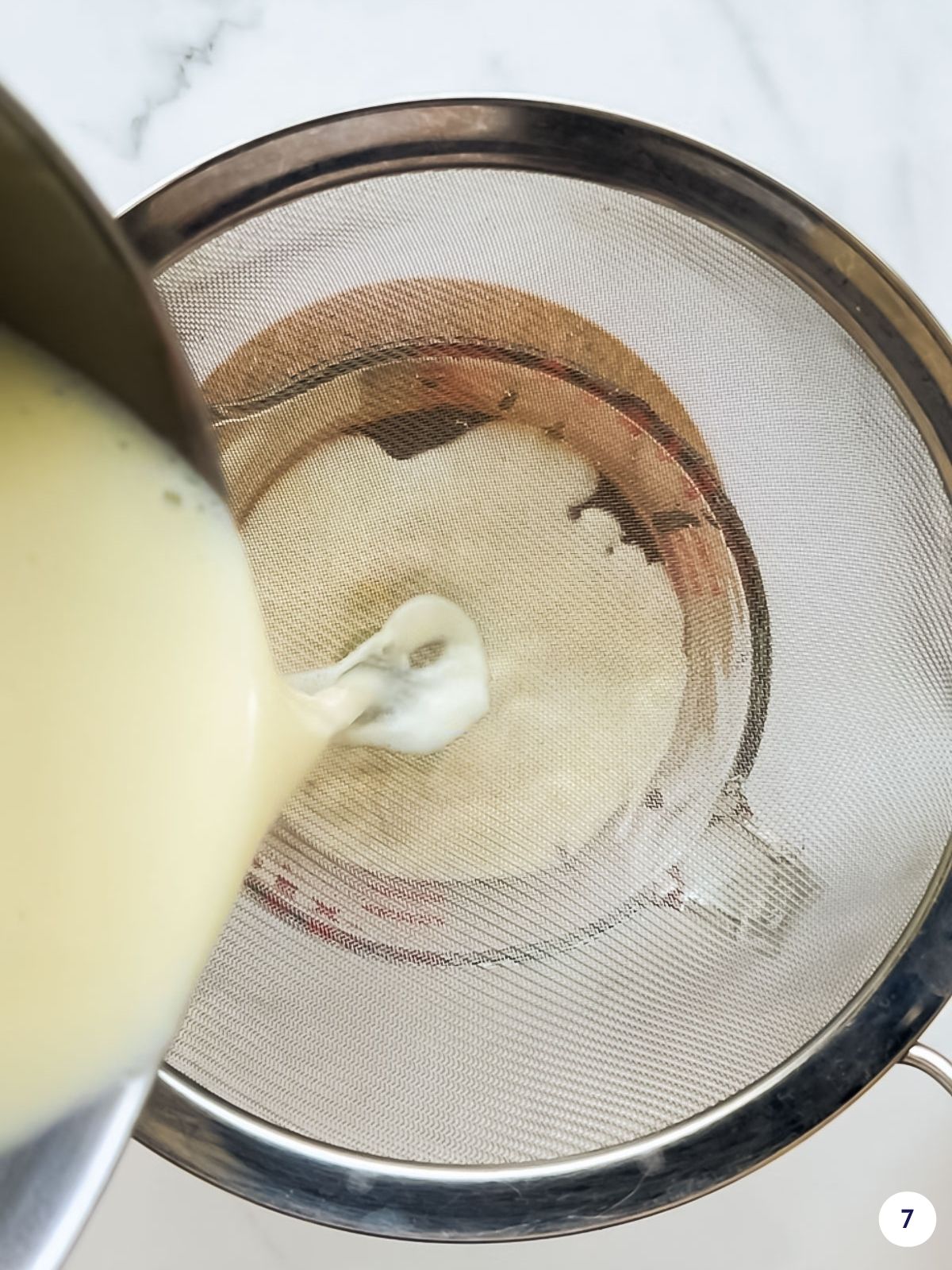 Step 7: It's preferable to strain custard sauces (image 7), just like pastry cream, before chilling them to remove any lumps and the vanilla bean (if using). If using vanilla extract or vanilla bean paste, you can add them now that the sauce is off the heat.
This custard sauce gets its rich, creamy texture from milk that is heated with egg yolks to thicken it. The thickness comes from the slow evaporation of the mixture on the stove. It takes about 10 minutes or more to achieve the right texture, without having to resort to any thickeners or cream.
Top Tip
As recommended by the FDA and the CDC, you need to ensure your custard sauce containing egg yolks reaches 71 °C (160 °F) to be safe to consume.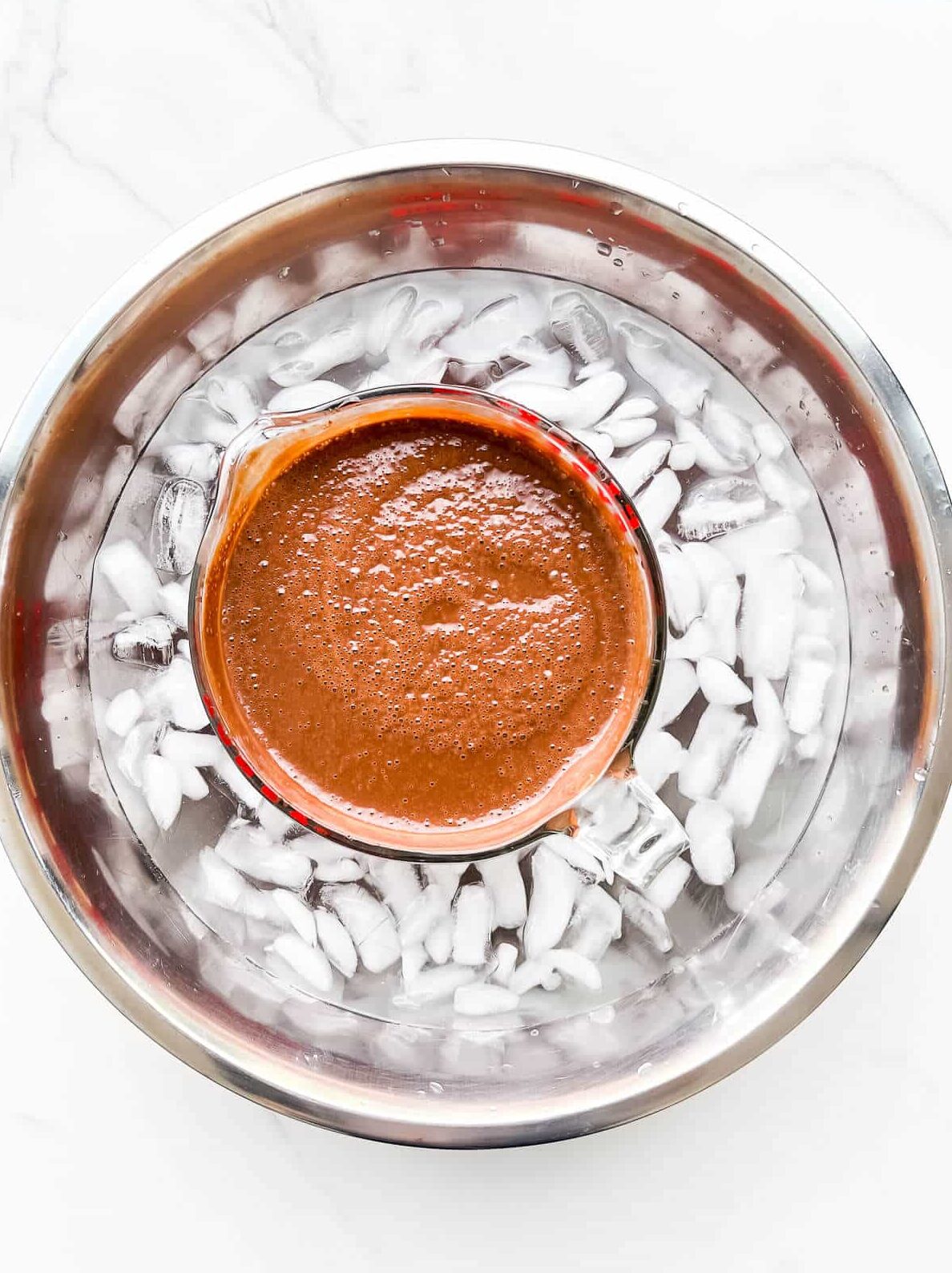 You should also cool them down fast to make sure the custard sauce doesn't linger in the danger zone between 4.5 °C and 60 °C (40 °F and 140 °F) for more than 2 hours. Use an ice bath to bring the temperature of the sauce down as fast as possible before putting it in the refrigerator.
Crème Anglaise FAQs
How do you thicken crème anglaise?
Crème anglaise, when hot, is quite thin and fluid. Typically, you don't use thickeners to make it thicker. Slow heating is what makes this pouring custard thicker, as does chilling, actually. If you compare a warm custard sauce to a properly chilled custard sauce, you can really see the difference in texture. It should have the consistency of whipping cream (un-whipped).
What is the difference between custard and crème anglaise?
The word custard technically refers to pastry cream a sweet egg- and milk-based filling thickened with flour and/or cornstarch, while a custard sauce refers to crème anglaise a sweet milk-based sauce that is thickened with egg yolks. Crème anglaise is gluten-free, while custards and pastry creams often are not unless they are thickened exclusively with cornstarch.
Can you make it ahead?
Yes, but just a day or two ahead of when you use it. In fact, I encourage you to make crème anglaise the day before you want to serve it because letting it chill overnight in the fridge transforms it into a thick, unctuous pouring custard that is perfect for serving with slices of cake and fresh berries.
How long can you store it for
In pastry school, we were taught that crème anglaise should be stored for only a few days before throwing it out and making a fresh batch.
At home, I tend to store it for up to 1 week in the refrigerator. Make sure that when you make it, you chill it down quickly over an ice bath to stop the cooking and to help preserve it longer. While crème anglaise is not boiled quickly, it is cooked slowly over low heat for a long period of time, which is what allows you to store this cooked custard for a few days.
Can you freeze it?
No and yes. Custards and custard sauces aren't great for freezing solid to be defrosted later, especially if they don't have starches or stabilizers. They can break down and the texture may be off when the frozen custard is defrosted. This is an important lesson they teach you in pastry school. That being said, ice cream is a frozen crème anglaise: it's churned with air to freeze it quickly in a light, more stable form. But even ice cream can't be stored forever in the freezer.
What do you use it for?
I love to serve fresh summer berries with crème anglaise drizzled on top. It's such a simple dessert but so elegant and so yummy! It's also great for serving with bread pudding as a sauce or to jazz up simple one-layer cakes. Crème anglaise is a dessert sauce so basically you can pour it on your favourite dessert that you think would go well with custard. You could also serve it with pie instead of ice cream or serve it with waffles (like these cranberry waffles served with eggnog crème anglaise!).
Serving Suggestions and Uses
Crème anglaise is actually the cooked custard base you use to make ice cream. You combine crème anglaise with whipping cream before churning it to make the best ice cream.
Crème anglaise is a sauce that is served over soufflés or steamed puddings (like these marmalade pudding cakes). You can also serve it with bread pudding (like this raspberry bread pudding is served with a coffee-flavoured crème anglaise). It's perfect for pouring over berries or slices of warm milk sponge cake, or even this fallen chocolate cake.
Crème anglaise is also the base for homemade eggnog. To make eggnog, you incorporate freshly grated nutmeg and spike it with rum or brandy.
Recipes With Crème Anglaise
Now that you have mastered how to make crème anglaise, here's how to use this recipe and technique. You can make:
If you tried this vanilla crème anglaise recipe (or any other recipe on my website), please leave a ⭐ star rating and let me know how it went in the comments below. I love hearing from you!
📖 Recipe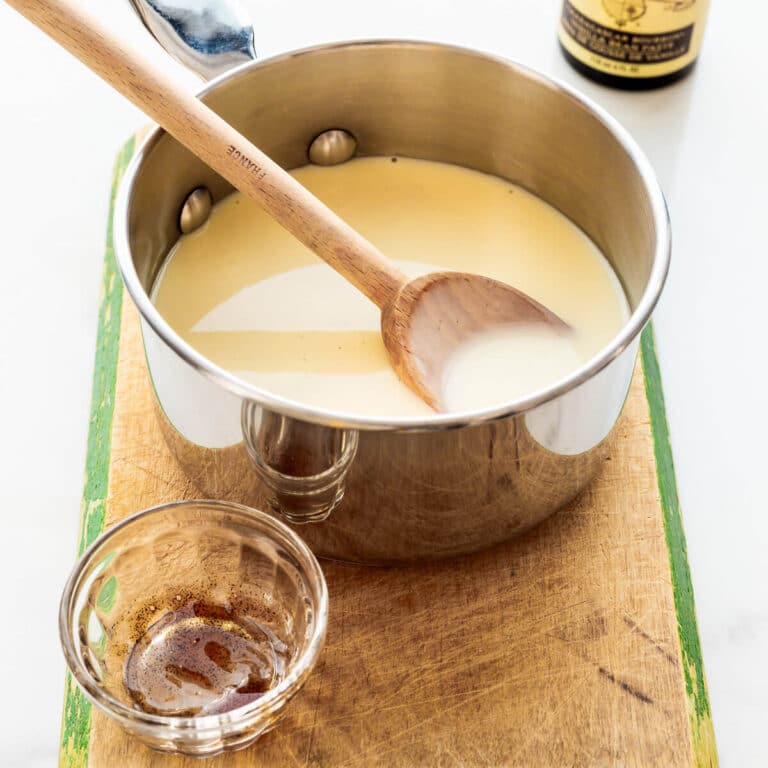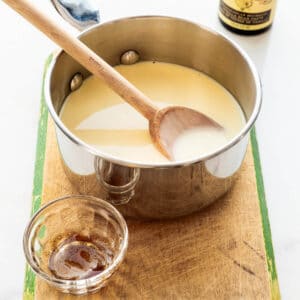 Vanilla Bean Crème Anglaise
Crème anglaise is a custard sauce made from milk, egg yolks, and sugar, flavoured with vanilla. It's easy to make and you can serve most desserts with crème anglaise or transform it into ice cream!
Instructions
Set a medium metal bowl in a large bowl of ice water and have a fine sieve at the ready.

Combine the milk and half the sugar in a 3-quart saucepan. Set the pan over medium heat, stirring occasionally to encourage the sugar to dissolve. Heat the mixture through but do not allow it to boil (this is key to avoid making scrambled eggs!). Remove from the heat.

Put the egg yolks and salt in a small heatproof bowl and gently whisk to break up the yolks. Whisk in the remaining half of sugar and beat the mixture until the yolks become very pale and light. Gradually whisk in the warm sweet milk mixture. Pour the yolk mixture back into the saucepan, and whisk to combine.

Cook over medium-low heat (slow and steady), stirring constantly with a clean wooden spoon until the custard thickens enough to coat the back of the spoon and hold a line drawn through it with a finger, about 10 minutes. An instant-read thermometer should register around 85 ºC (185°F). Do not let the sauce overheat or boil because then you will probably curdle the mixture, making scrambled eggs. Immediately strain the sauce through the sieve into the bowl set in the ice-water bath.

Gently whisk in the vanilla bean paste (or vanilla extract). Stir the custard occasionally until cool, about 10 minutes. Transfer it to a large container. Cover and refrigerate for about 1 hour, until the custard sauce is velvety and thick.

Serve over summer berries, slices of cake, or you can add cream and churn it to make your vanilla bean ice cream.
Notes
This recipe makes about 3 cups of custard sauce. Remember that crème anglaise and custard sauces are not made with thickeners like flour. Flour and/or cornstarch are thickeners used to make pastry cream.
Vanilla: You can make this vanilla custard sauce with vanilla extract, paste, or beans, but you add them at different points in the recipe:

vanilla bean: add it to the milk at the beginning and heat them together to infuse the milk with the bean before tempering the eggs
vanilla extract: add it off the heat, whisking it into the hot custard sauce after cooking it
vanilla paste: add it off the heat, whisking it into the hot custard sauce after cooking it

Milk: a real crème anglaise is made with milk, not cream, either 2 % fat or even 3.25 % whole milk.
Orange flavour: add the zest of an orange to the milk when you heat it on the stove. This will lead to a lovely orange-flavoured custard sauce.
Custard sauce containing egg yolks must reach at least 71 °C (160 °F) to be safe to consume
Cool custard sauces down fast to make sure they don't linger in the danger zone between 4.5 °C and 60 °C (40 °F and 140 °F) for more than 2 hours. Use an ice bath to bring the temperature down as fast as possible, then refrigerate immediately.
Custard sauce is generally served cold.
Nutrition
Calories:
215
kcal
Carbohydrates:
23
g
Protein:
6
g
Fat:
7
g
Saturated Fat:
4
g
Cholesterol:
143
mg
Sodium:
100
mg
Potassium:
178
mg
Fiber:
1
g
Sugar:
23
g
Vitamin A:
376
IU
Calcium:
157
mg
Iron:
1
mg
Short on time? Premium churned ice cream is crème anglaise so this is a good substitute when you are in a pinch! Just melt it in the fridge overnight. But be sure to check the ingredients of your favourite premium ice cream to make sure it's indeed made with the same ingredients, namely milk, cream, eggs and/or egg yolks, vanilla, and salt. Then you can melt it and use it as a custard sauce!