Learn how to make homemade pumpkin ice cream with this easy recipe. The base for this ice cream is a crème anglaise custard, thickened with egg yolks and flavoured with a homemade pumpkin spice mix and pumpkin purée. Great Thanksgiving dessert recipe!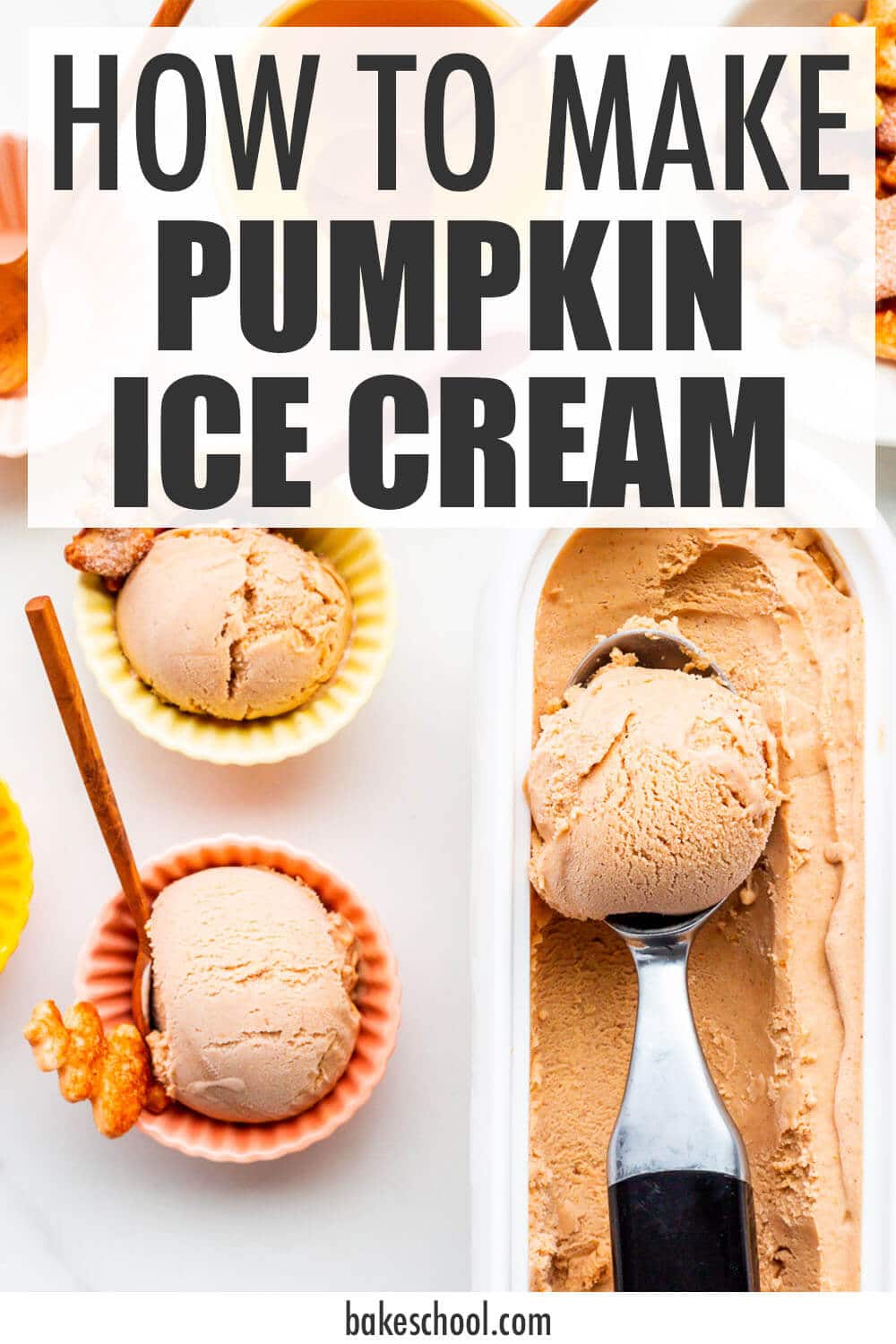 Disclosure: As an Amazon Associate, I earn from qualifying purchases.
The fall season is all about pumpkin desserts, but instead of the usual pumpkin loaf cake and pumpkin pie, make pumpkin ice cream! If you love to bake with pumpkin, order your copy of the e-book All About Pumpkin so you can showcase this star ingredient!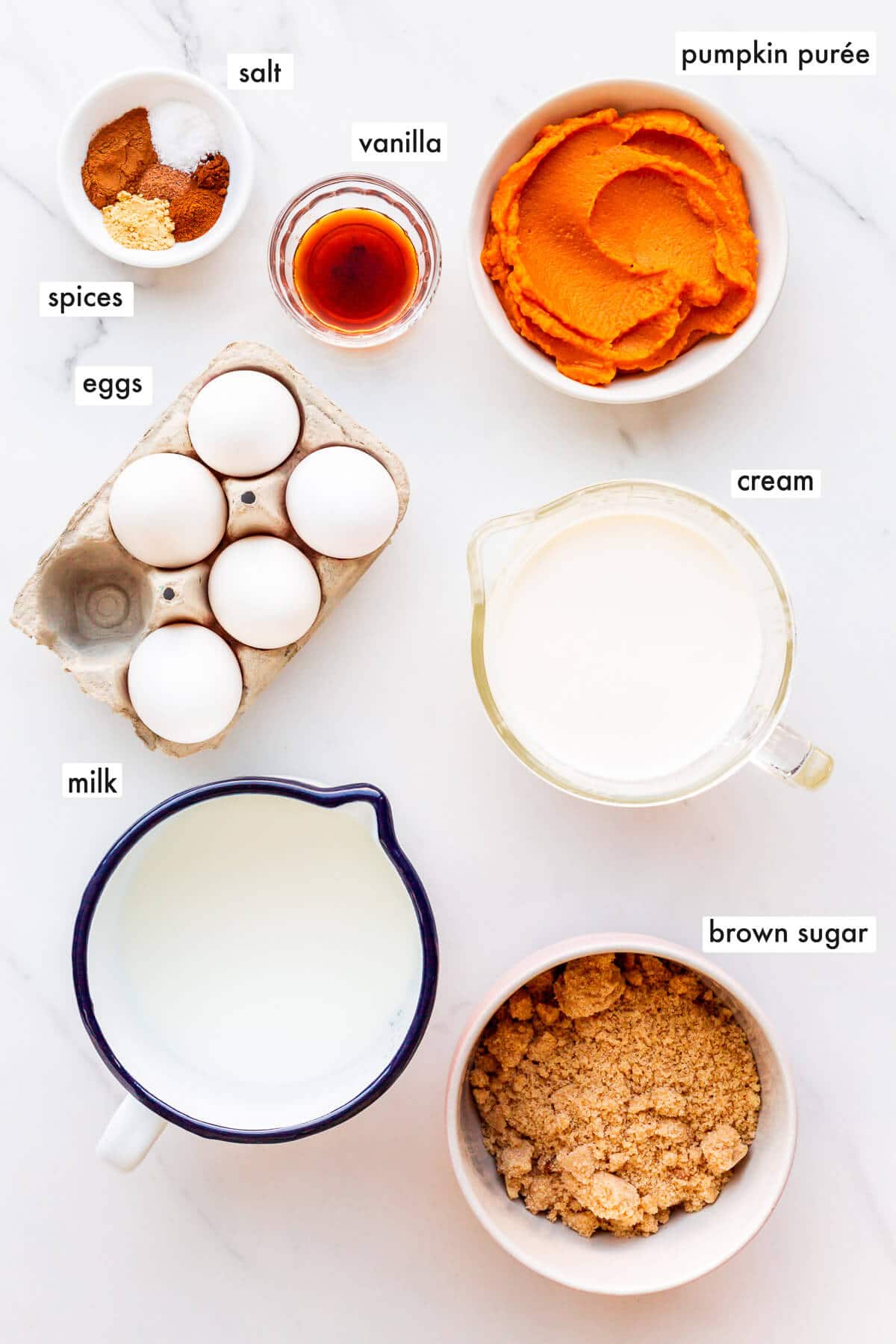 What you need to make it
Pumpkin ice cream tastes just like pumpkin pie, actually! It's a real treat! Here is a rundown of the ingredients you will need to make it:
milk and cream are important to add fat to the ice cream base so that it doesn't freeze too hard. Too much milk and not enough cream will lead to a less creamy taste and will also have an impact on texture
sugar, either granulated sugar or brown sugar works in this recipe, but brown sugar will add more flavour. The sugar is very important to achieve the right texture so don't cut back on it
egg yolks are needed to help emulsify the ice cream ingredients and also to thicken the custard and give it a richer texture and flavour
pumpkin spice mix or a mixture of spices, store bought spice mix or a homemade blend will work here
pumpkin purée, either homemade or canned will work in this recipe, but I prefer homemade
salt, specifically Diamond Crystal fine kosher salt is a fine salt that isn't too salty. The salt is needed to balance out the sugar and bring out the flavours in this ice cream. If using table salt, add half the amount.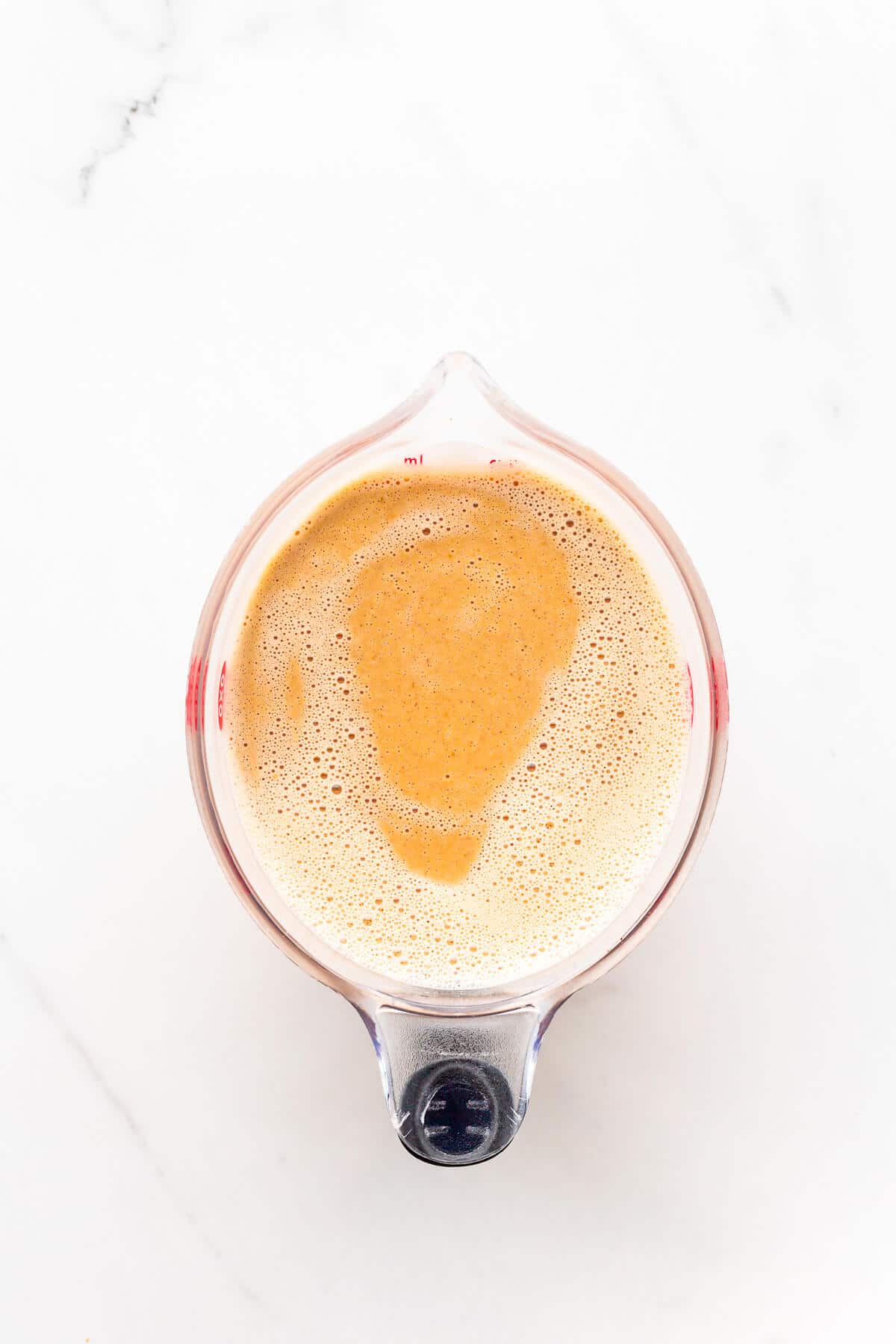 Incorporating pumpkin in ice cream
I am convinced that the best ice creams start with a crème anglaise. This ice cream starts with a custard base, also known as a crème anglaise. Once the custard sauce has thickened on the stove, it's combined with pumpkin purée to make a pumpkin crème anglaise.
You can use homemade pumpkin purée or canned. I prefer to use homemade pumpkin purée, which has a better flavour. Just don't use canned pumpkin filling for this recipe because it already has spices added and may even have sugar too. This would throw off the recipe completely so make sure to check the ingredients on the back of the can to make sure that the can only contains pumpkin.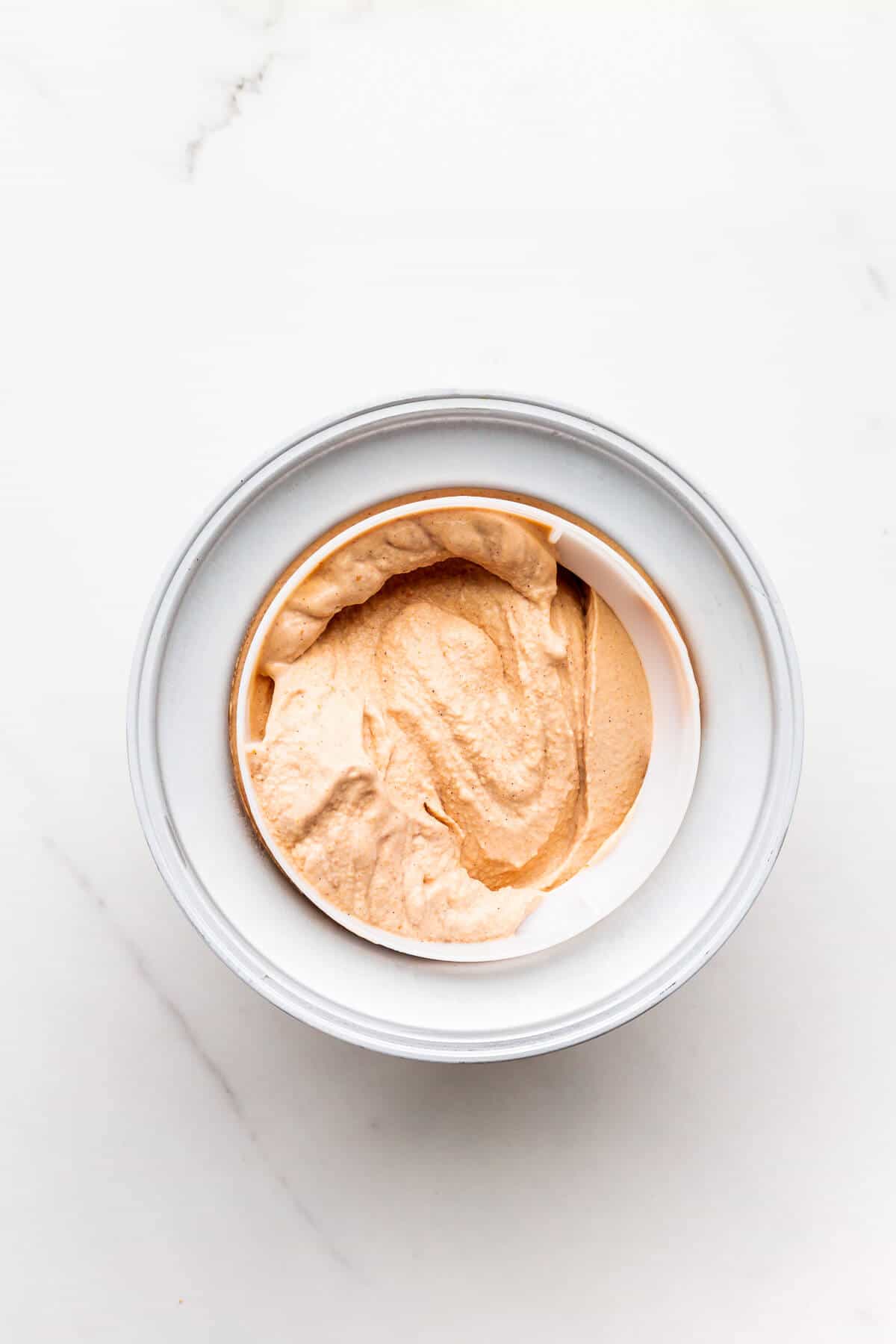 Infusing ice cream with spices
Before heating the milk/cream to make the vanilla crème anglaise, the spices are added to the milk mixture to help infuse it with the flavours of cinnamon, ginger, allspice, cloves, and nutmeg. It's important to add the spices before heating the mixture to give enough time to extract the flavours into the milk. This way you get the most flavour out of them.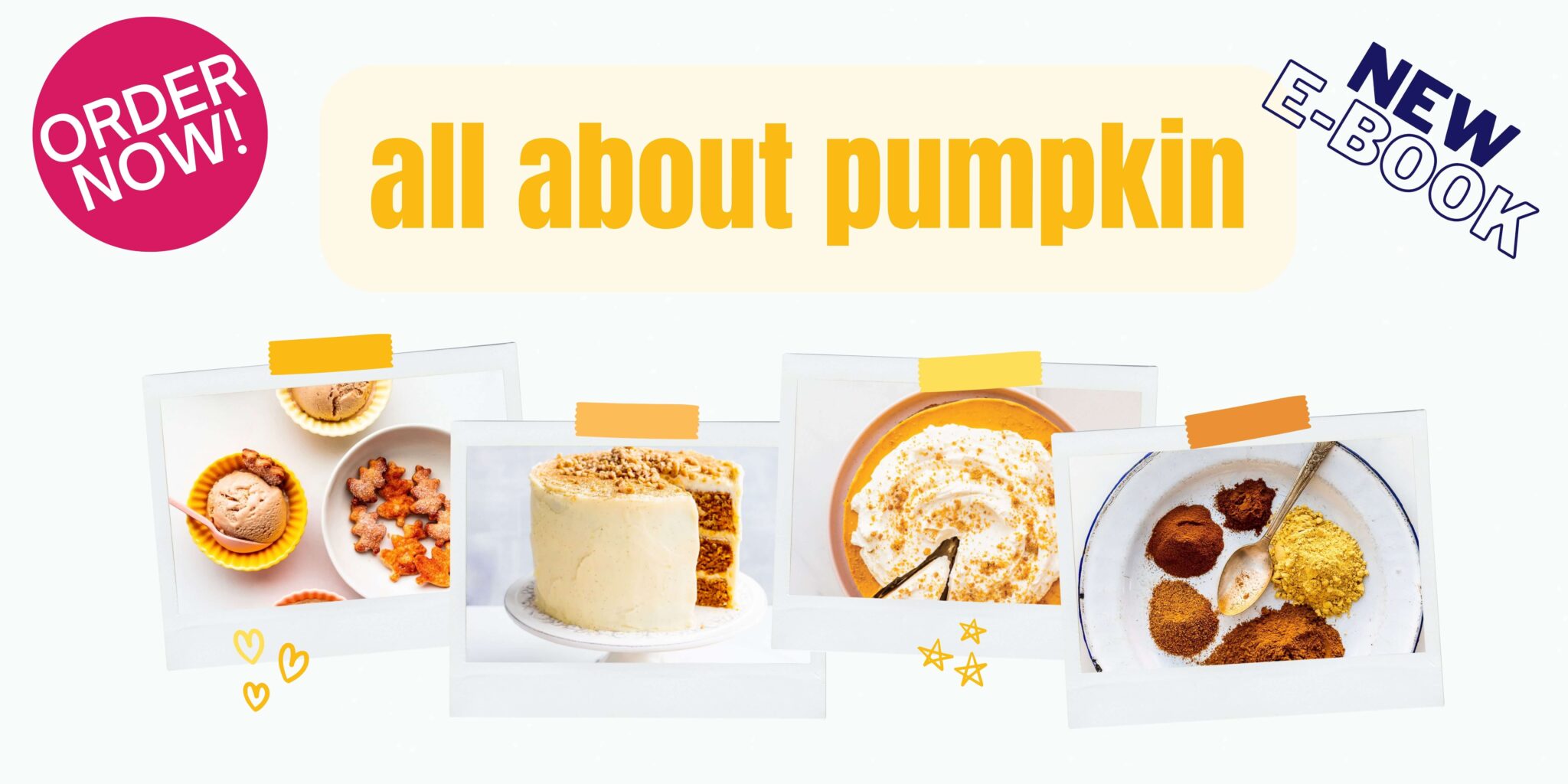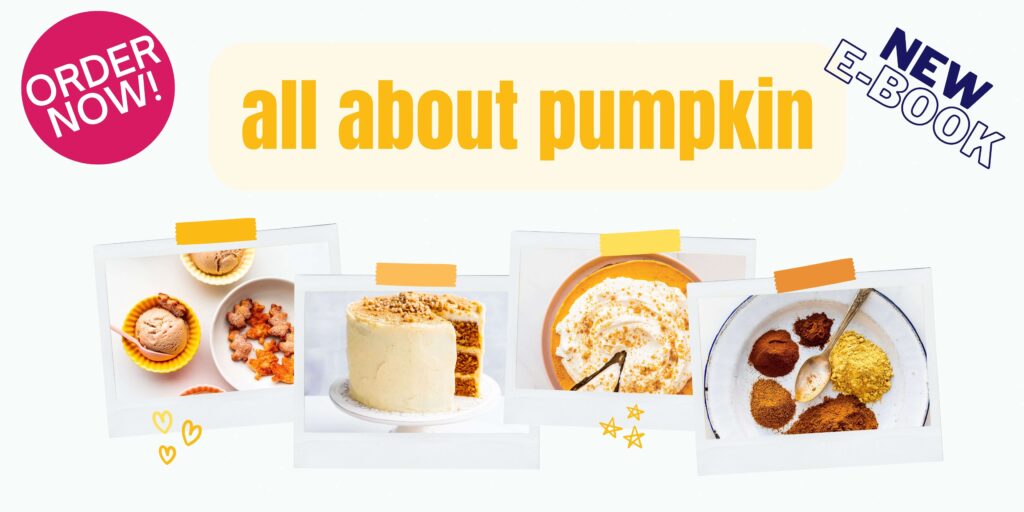 You'll notice this recipe is quite heavy on the spices. You could add less of them or smaller quantities, but I find with frozen desserts, the flavour needs to be bold in order to taste it because it's served very cold, which makes it very hard for flavours to come through.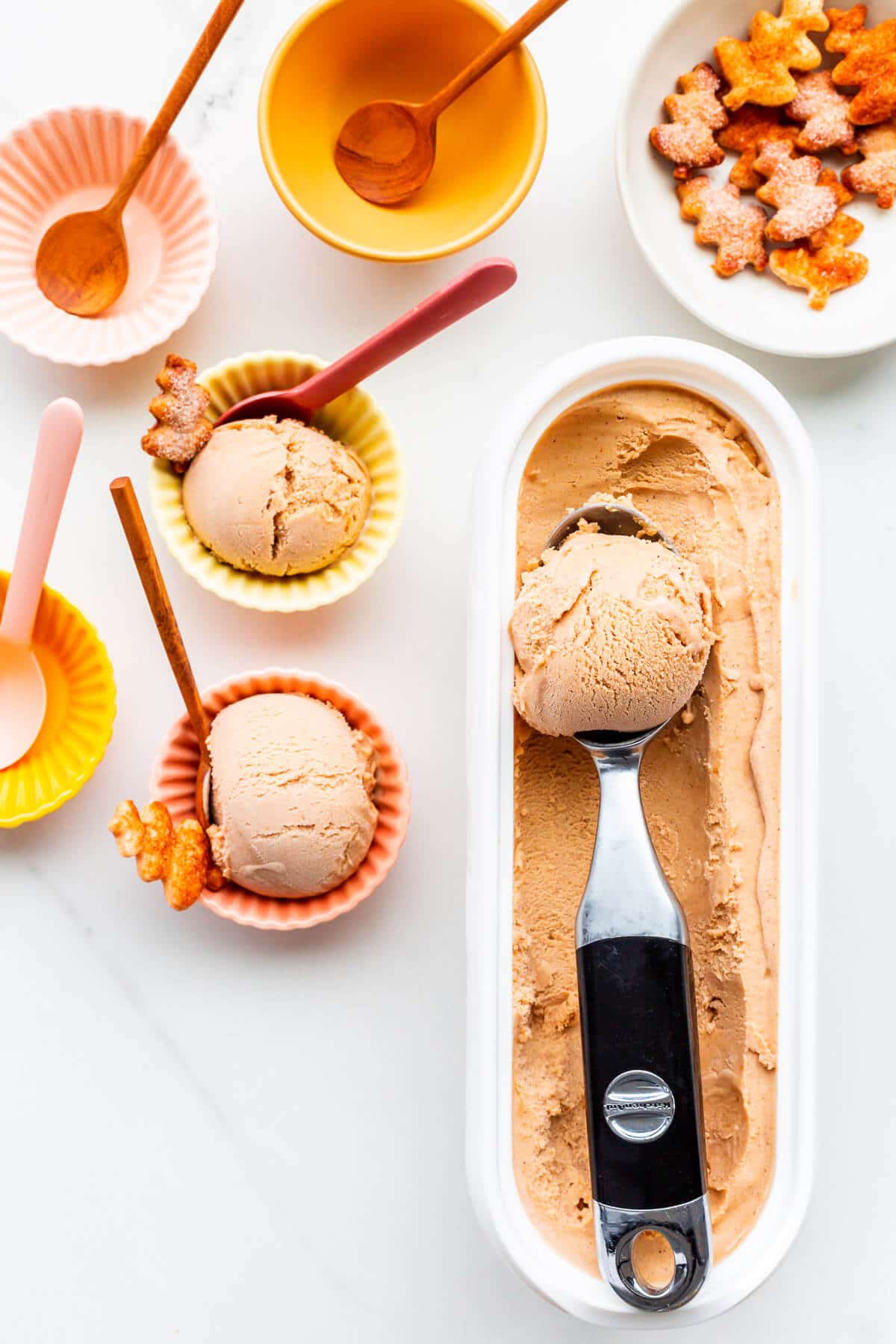 Substitutions
If you want to modify this recipe or use it as a jumping off points, here are some suggestions:
replace the spices with masala chai (the tea) and infuse the milk with masala tea, which contains black tea as well as cardamom, cinnamon, cloves, ginger, etc. (spices depend on blend used)
change the spices used, like remove the cinnamon and add cardamom instead
skip the spices altogether to make a vanilla pumpkin ice cream
replace the pumpkin purée with mashed sweet potato for a sweet potato ice cream. Use the same weight/volume as the pumpkin in the recipe
Really, there are so many ways to modify this recipe. Get creative!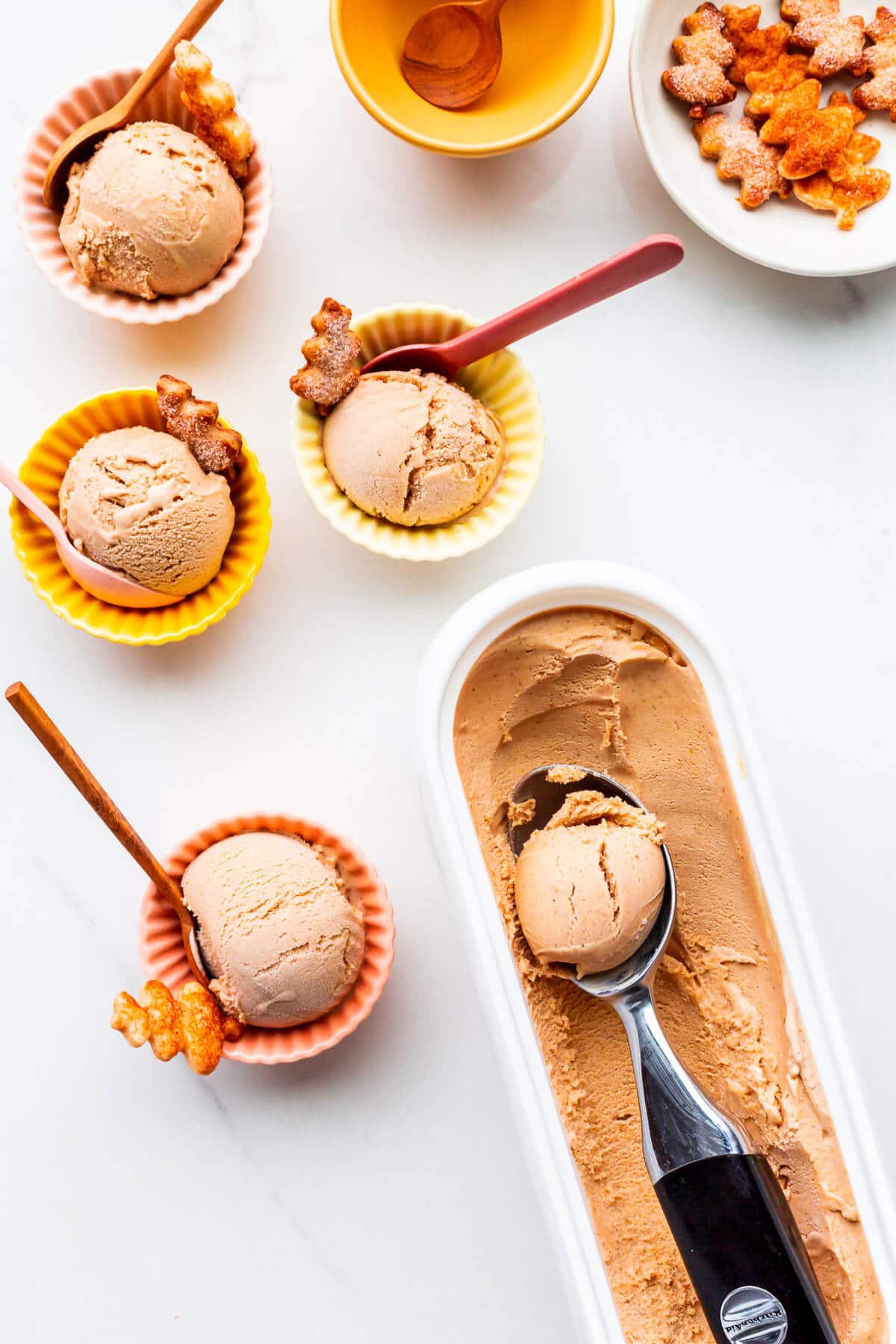 Ice cream storage tips
I highly recommend investing in a freezer container for your ice cream. I have a Tovolo ice cream tub that has an elongated shape, giving you ample room to drag the ice cream scoop more easily! The base is non-slip, so you have more traction when scooping and it's double walled for better storage.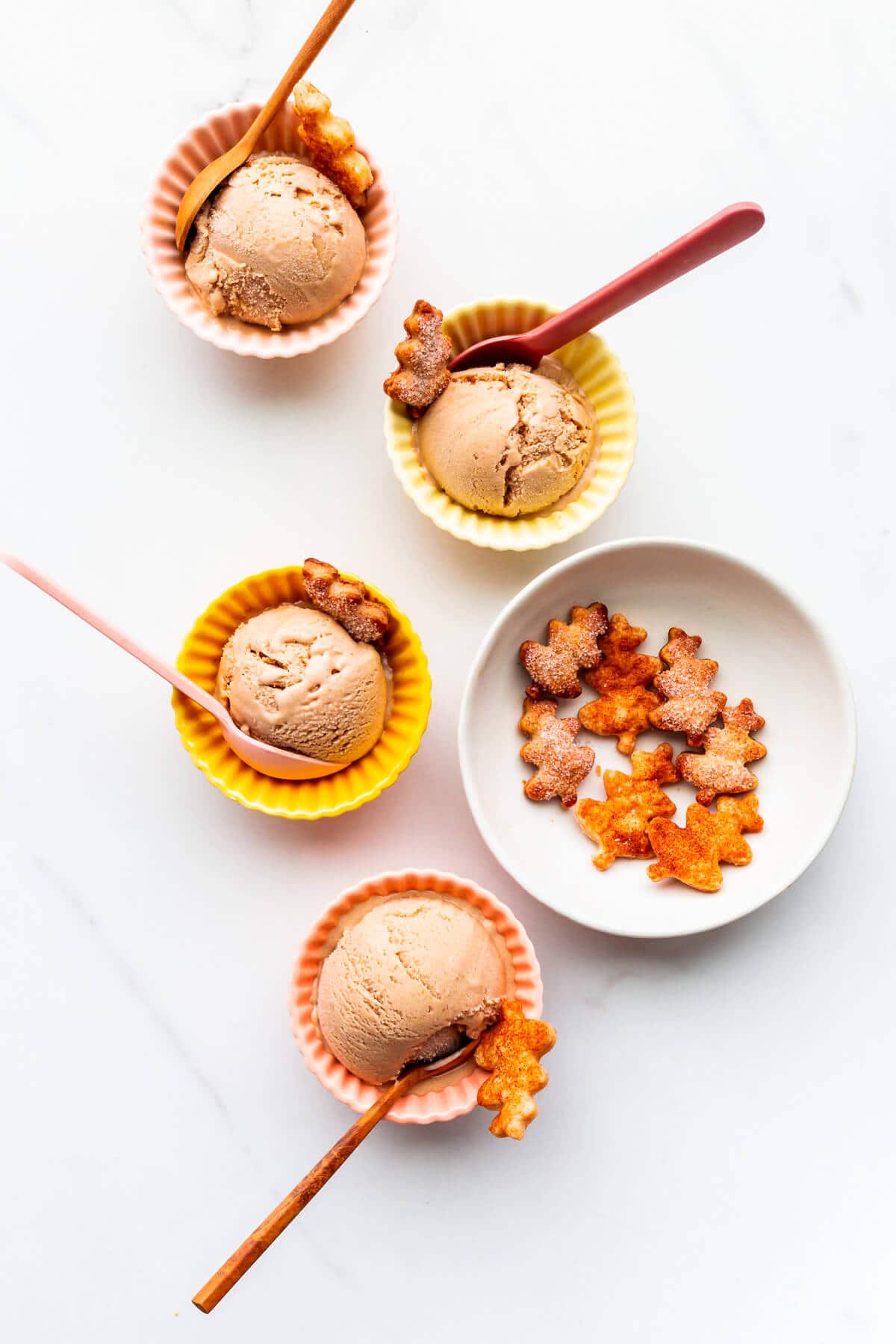 📖 Recipe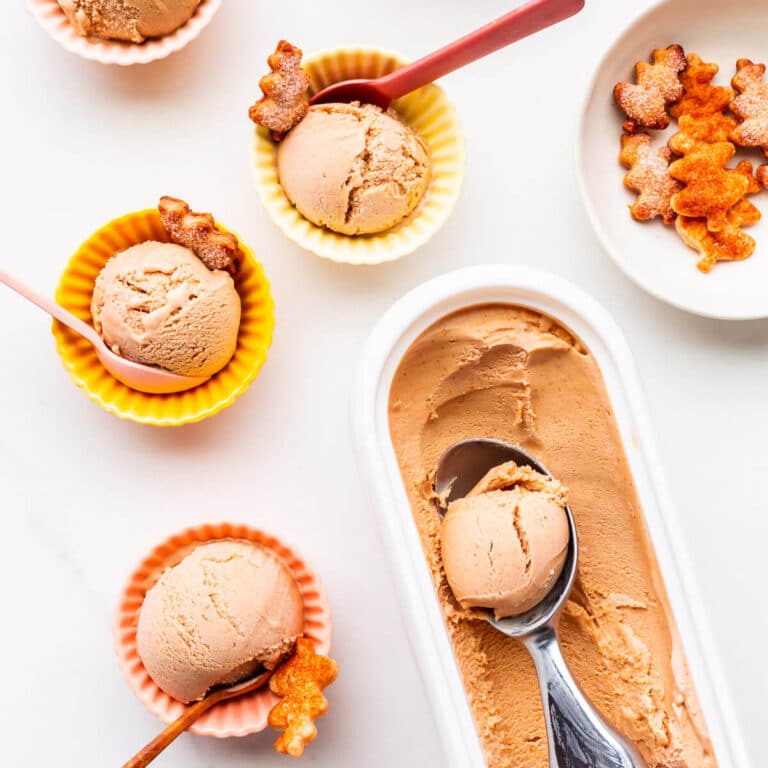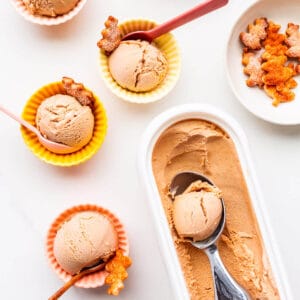 Pumpkin Ice Cream
Make pumpkin ice cream, a fun ice cream flavour for fall that's easier to make than pumpkin pie! It's also a great way to use up leftover pumpkin purée!
Ingredients
180

grams

pumpkin purée

5

large egg yolk(s)

200

grams

light brown sugar

divided

440

mL

whole milk (3.25 % fat)

310

mL

whipping cream (35 % fat)

5

mL

vanilla bean paste

5

mL

ground cinnamon

2.5

mL

ground ginger

1.25

mL

ground allspice

0.625

mL

ground cloves

0.625

mL

ground nutmeg
Instructions
Freeze the ice cream drum in the freezer for at least 24 hours before attempting to make ice cream.

Before you begin to cook the ice cream base, place the pumpkin purée in a 1 L (4 cup) measuring cup (or a big bowl preferably with a pouring spout). Set a strainer over top. Set aside

In a large bowl, whisk the egg yolks with half the sugar until the mixture has lightened.

In a medium saucepan, whisk the rest of the sugar with the milk, cream, vanilla bean paste, cinnamon, ginger, salt, allspice, cloves, and nutmeg. Heat the mixture until it is very hot and almost comes to a boil.

Pour the hot milk mixture over the whisked yolks to temper the eggs. Whisk continuously until the mixture is homogenous, then transfer it back to the saucepan.

Switch to a wooden spoon and, stirring constantly, heat the mixture on the stove over medium—low heat until the custard has thickened and has reached 83 °C (181 °F).

Pour the mixture through the strainer, pressing the custard through gently, if needed.

Stir the strained custard with the pumpkin purée at the bottom of the bowl (or measuring cup). Cover with plastic wrap, then refrigerate the pumpkin custard base for several hours to cool completely (overnight is best!).

Place the frozen drum on the ice cream maker, and churn the custard according to instructions. It can take about 15 to 20 minutes to churn the ice cream.

When the ice cream has reached the desired consistency. Turn off the machine, disassemble, and transfer the ice cream to a container. Place in freezer for a few hours to finish chilling before serving.
Notes
Serve this pumpkin ice cream with pie crust cookies for a dessert that tastes just like pumpkin pie!
Nutrition
Calories:
360
kcal
Carbohydrates:
35
g
Protein:
7
g
Fat:
23
g
Saturated Fat:
13
g
Cholesterol:
228
mg
Sodium:
222
mg
Potassium:
232
mg
Fiber:
2
g
Sugar:
29
g
Vitamin A:
964
IU
Vitamin C:
2
mg
Calcium:
166
mg
Iron:
1
mg