Most pumpkin pie recipes rely on canned milk for their creamy texture. Learn how to make the best pumpkin pie without evaporated milk with this easy recipe. This is the perfect pumpkin dessert for Thanksgiving.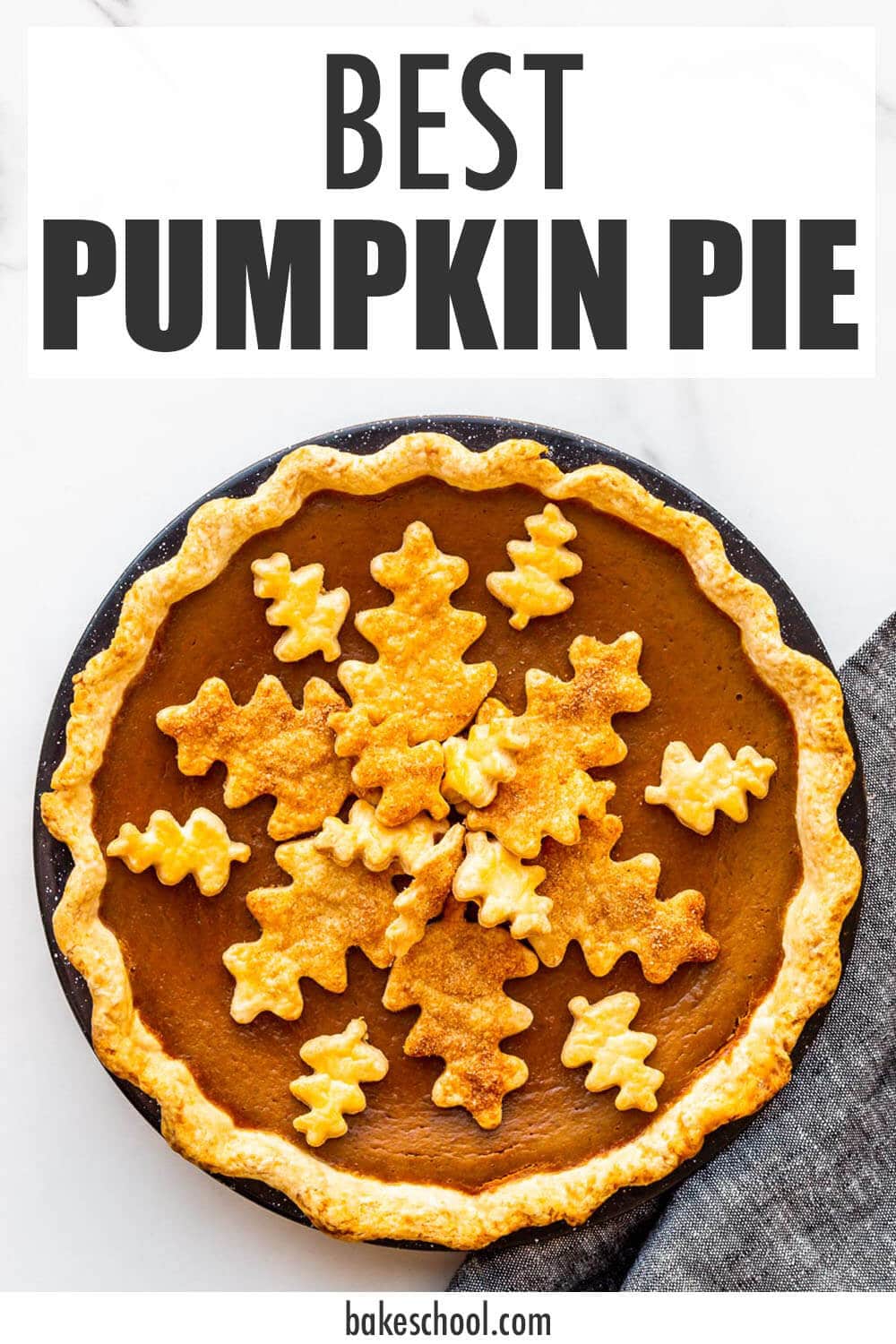 Disclosure: As an Amazon Associate, I earn from qualifying purchases.
If you want to take pumpkin a little further than the usual pumpkin loaf cake, this pumpkin pie without evaporated milk is a real treat! If you love to bake with pumpkin, order your copy of the e-book All About Pumpkin so you can celebrate this star ingredient!
What you will need
There are two major components to this recipe. If you want to make a pumpkin pie without evaporated milk, you will need:
All butter pie dough (enough to make a single crust plus extra for cut-outs for pie decor)
all-purpose flour is the base ingredient for the crust to give it structure and to help the crust hold its shape as the pie bakes
granulated sugar is added to the crust (just a little) to sweeten it slightly but to also help with browning
salt is really important to balance out the sweet flavour in the filling and also to balance out the sour notes. Don't skip it. I like to use Diamond Crystal fine kosher salt, but table salt will work, though the pie dough will be saltier and you may want to halve the salt.
butter, preferably unsalted butter because you add salt to the dough, but if you have salted, it will work. Just adjust the salt in the recipe accordingly, otherwise your pie crust may be too salty
cold water is needed to develop some of the gluten in the flour and also to hydrate the dough.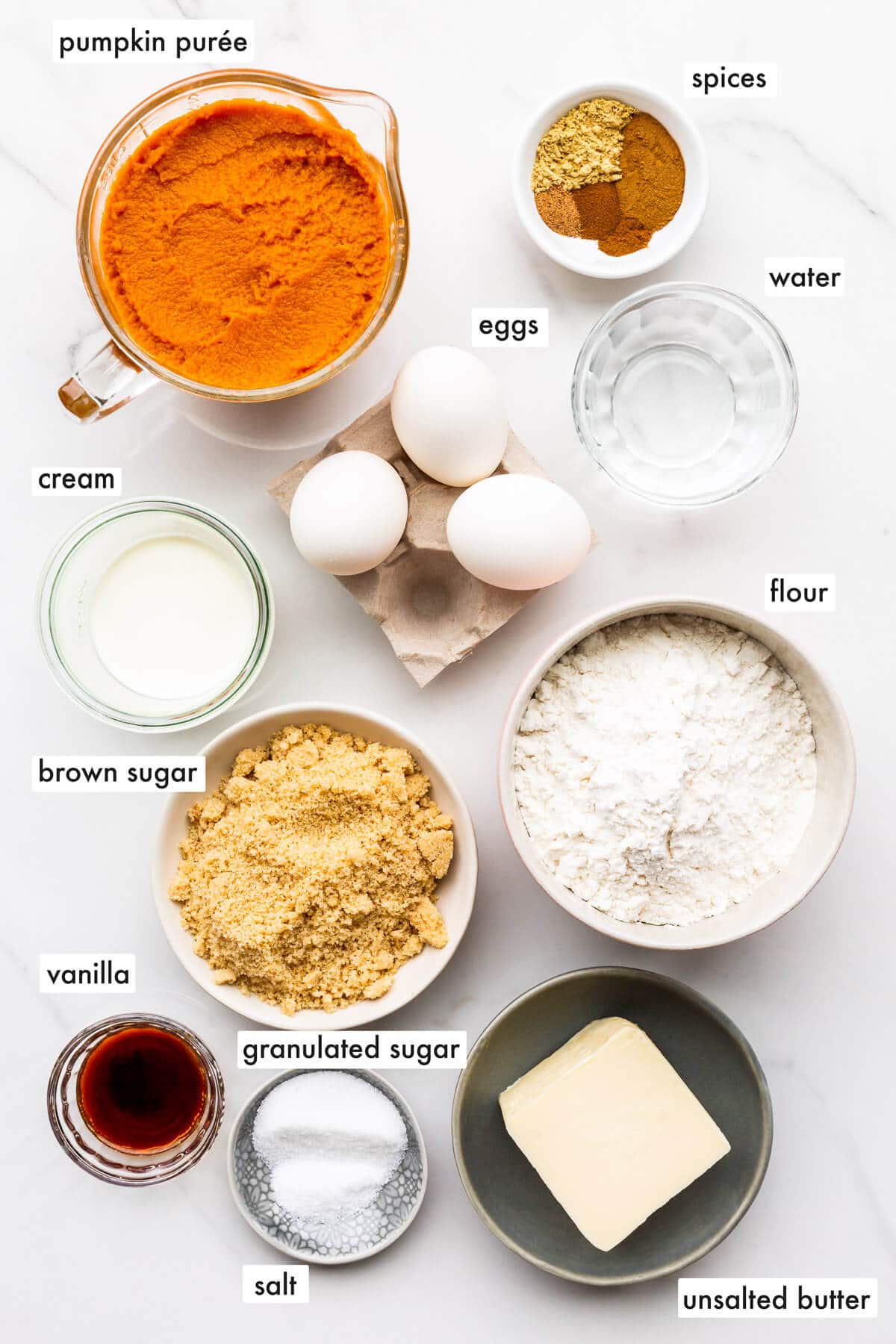 Pumpkin pie filling without evaporated milk
large eggs to help set the custard filling so that it is smooth and slices cleanly
brown sugar preferably, though granulated sugar could also work here but wouldn't add as much flavour
pumpkin spice or a mixture of warm spices , specifically cinnamon, ginger, allspice, nutmeg, and cloves.
whipping cream or half-and-half which will add body and richness to the filling. I prefer using whipping cream for the filling with 35 % fat because fat is flavour
vanilla extract or vanilla bean paste adds sweetness and depth to the filling, enhancing the flavour of the filling.
salt is really important to balance out the sweet flavours of the filling so it's not bland or one-noted. Don't skip it. I like to use Diamond Crystal fine kosher salt, but table salt will work, though you may want to halve the salt if using table salt.
egg wash made by whisking a whole egg and a little water with a pinch of salt. You will use this to seal the par-baked crust and also to brush onto the pie decor before baking
cinnamon sugar is optional but I like to sprinkle it on the pie crust cutouts after brushing with egg wash and before baking. This way it adheres to the cutouts and also gives them a more rustic appearance, reminiscent of fall leaves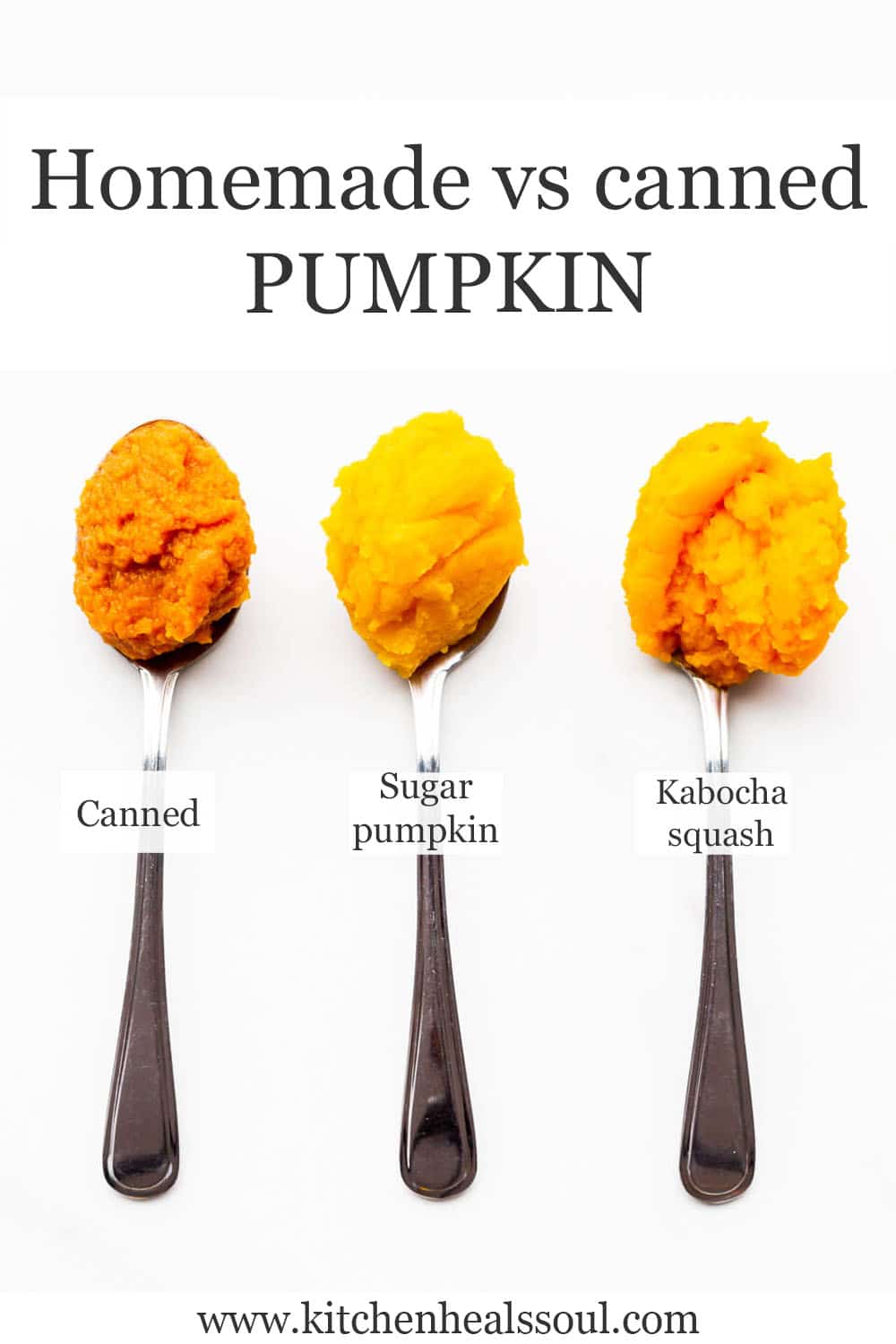 The different types of pumpkin purée
You can use canned pumpkin or homemade pumpkin purée. You could even use puréed kabocha squash or even butternut, but there's a trick to using homemade purée!
Canned pumpkin versus fresh pumpkin purée
This recipe was made using canned pumpkin, but homemade pumpkin purée will also work. Just remember that pumpkin purée may contain a lot of water, so after you have roasted and puréed it, it's best to strain it through a cheesecloth to remove some of the water. Otherwise, your filling may end up watery from the excess moisture!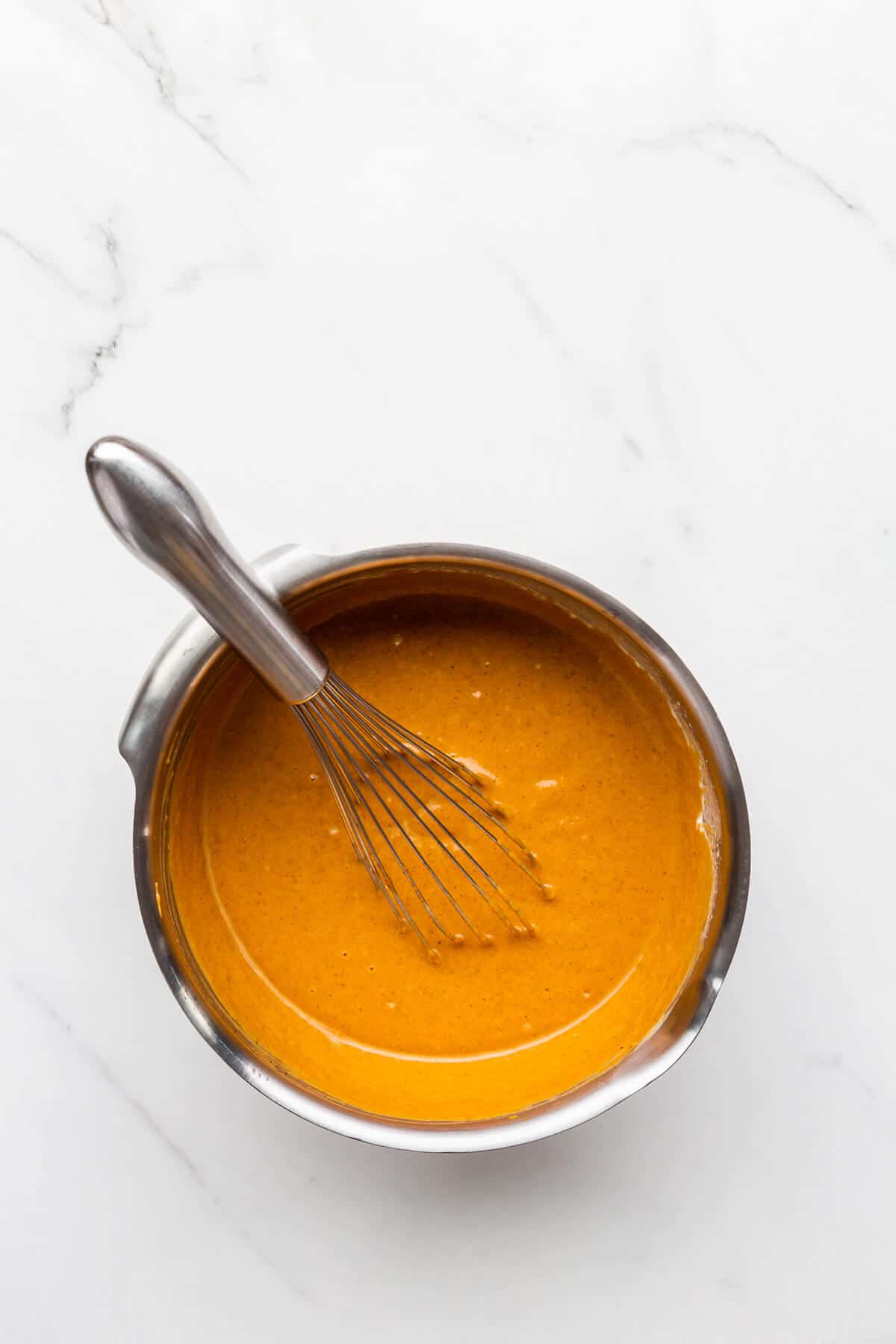 Canned pure pumpkin versus canned pumpkin filling
Pumpkin filling or pumpkin pie mix in the can is not a good baking substitution for pure pumpkin without making some adjustments to your recipe. Canned pure pumpkin is 100 % pure Dickinson pumpkin. Nothing else is added to this product. It is canned plain and it is not to be confused with pumpkin filling or pumpkin pie mix, which contains more ingredients than just pumpkin.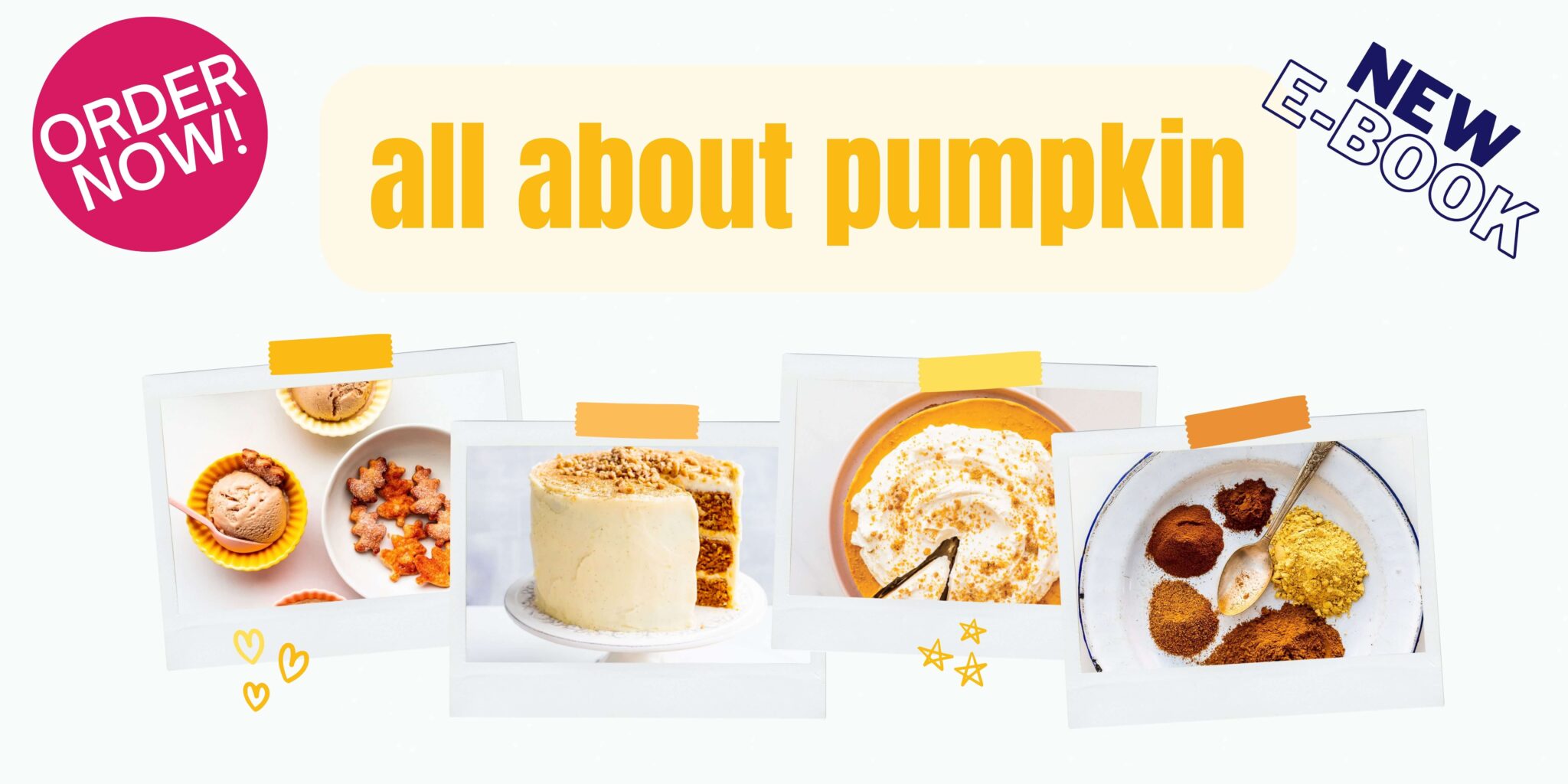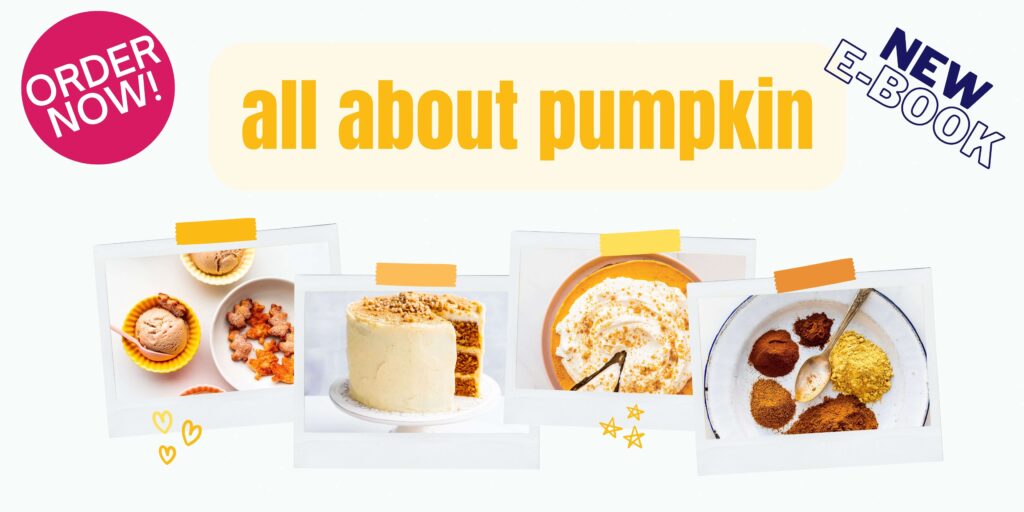 Pumpkin pie filling or mix is used to simplify pumpkin pie-making because the spices are already in it. All you do is add eggs and milk, cream, or evaporated milk. If you are using canned pumpkin pie filling, you will have to adjust the spices in the recipe or skip them altogether depending on the brand.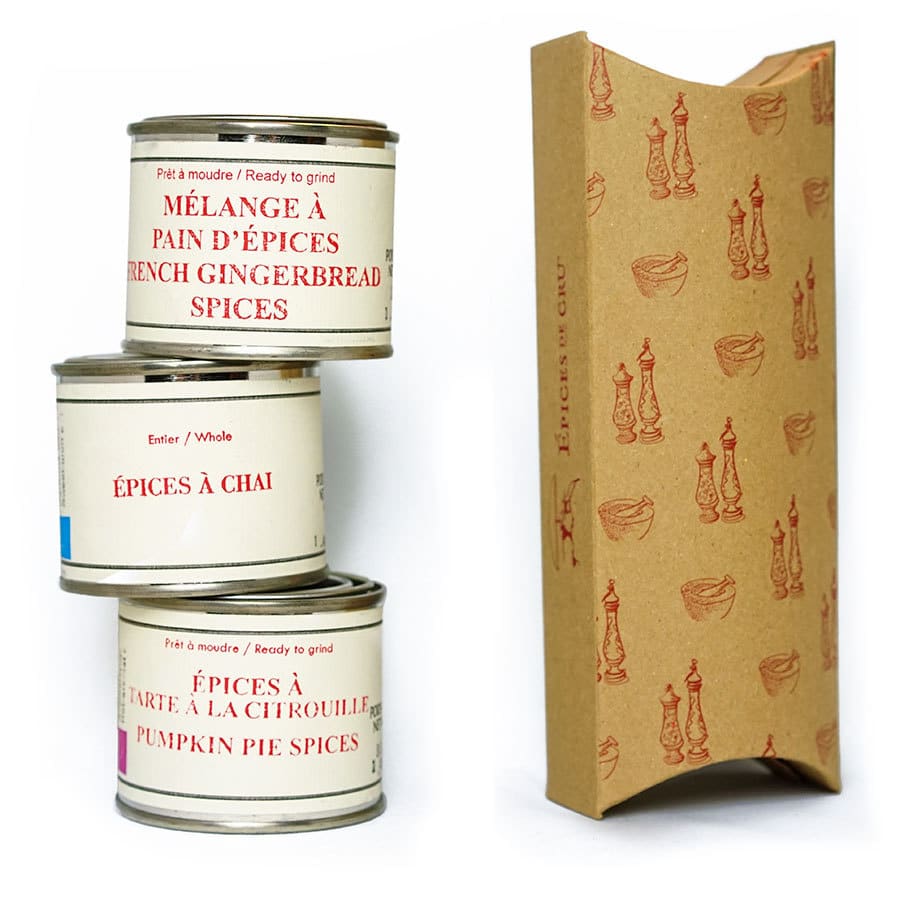 Pumpkin spice substitute
In this recipe, you'll notice the homemade pumpkin pie filling is flavoured with a mixture of ground cinnamon, ginger, allspice, nutmeg, and cloves. This is essentially a homemade pumpkin spice blend. Feel free to omit all these spices and replace them with up to 15 mL (1 tablespoon) pumpkin spice blend.
I prefer to use a homemade blend of spices so I can control the flavour of the filling. For example, I really love to add a little allspice to pumpkin pie filling because it's a distinct sweet warm flavour that really enhances the other spices in the mixture. But by all means, you can simplify this recipe and substitute the long list of spices with pumpkin spice.
The filling in a pumpkin pie should taste lightly spiced with warm spices and the taste is a lovely balance of perfume-y nutmeg and aromatic cloves with the comforting flavour of cinnamon. The flavour of pumpkin pie is sweet and warm, and the pumpkin custard is a canvas for these fall flavours to shine.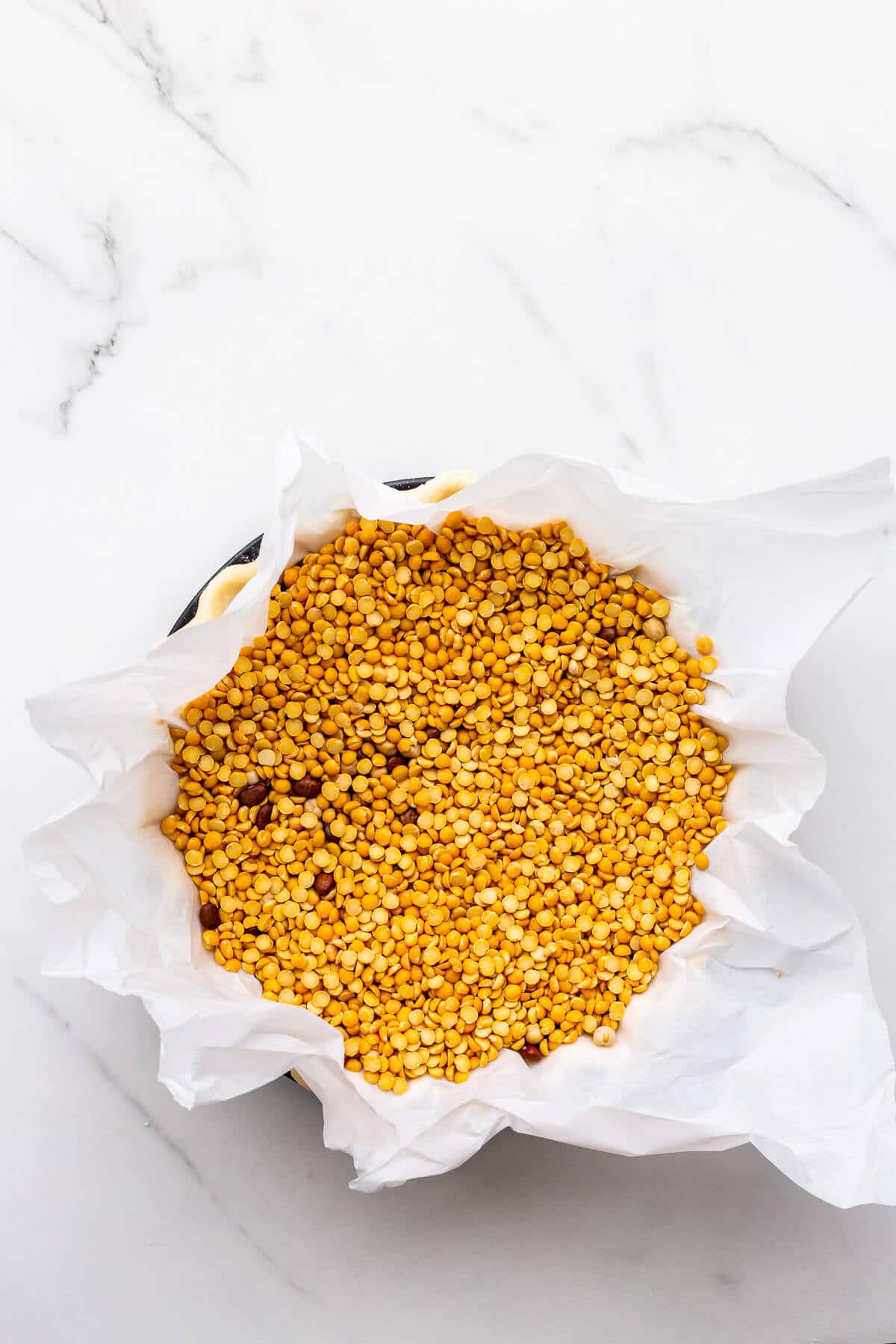 The best pans for baking pies
When it comes to making any pie, you have many pie plate options.
So, which is best? I prefer using a metal pie plate. Metal is a good heat conductor, which means it will help drive heat to the bottom crust in contact with the pan. This will help cook the bottom so that it isn't raw. For a deep-dive on metal versus glass, check out this guide to baking pans and bakeware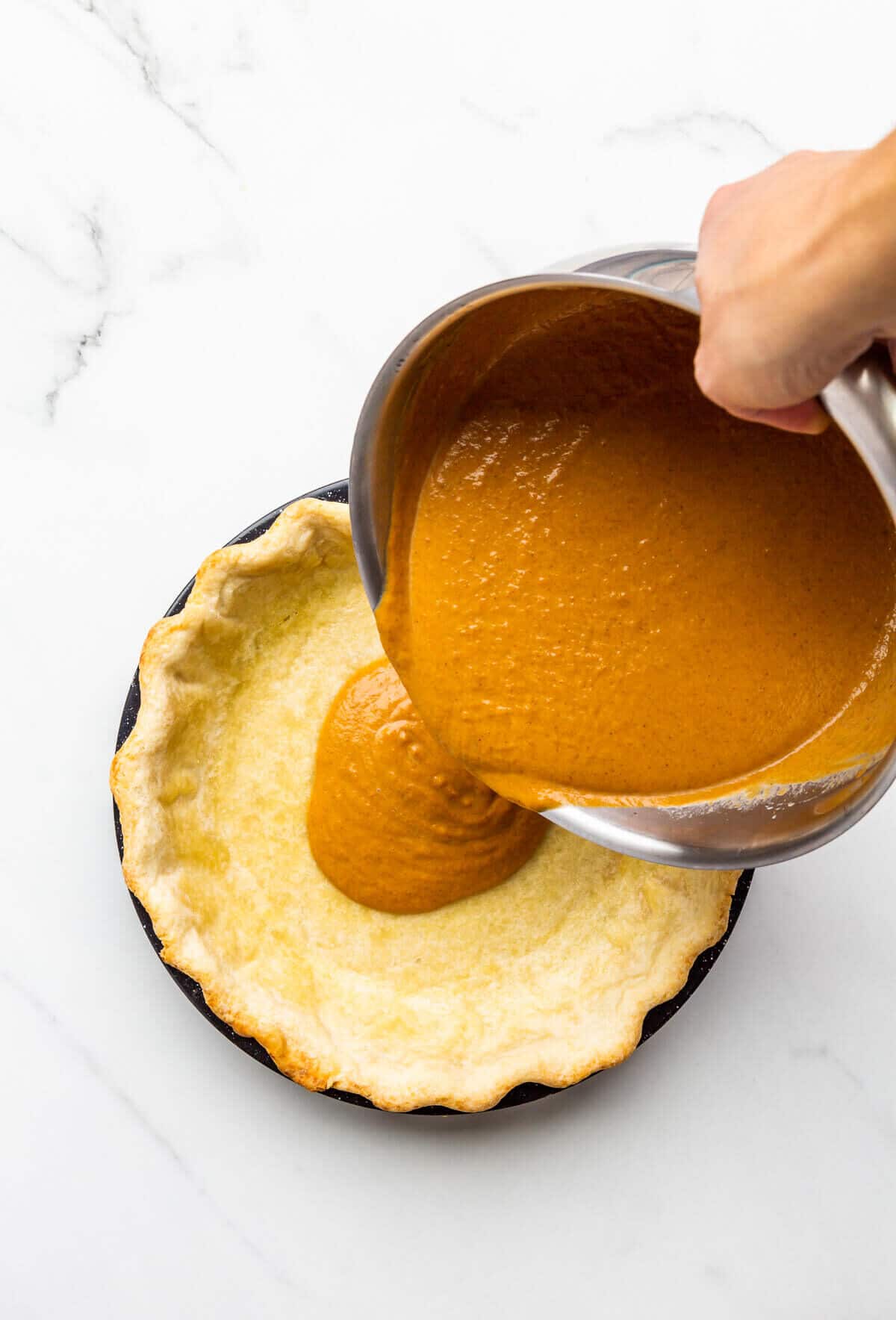 Tricks for baking pumpkin pie
Most recipes do not suggest to blind-bake or par-bake the pie shell before filling and baking pumpkin pies, but over the years, I've grow to prefer taking this extra step to ensure shell is baked through without over-baking the custard.
Over-baked pumpkin pie filling will crack because the egg proteins contract and tighten. This also leads to the filling weeping when the pie cools, similar to what can happen with lemon bars. The good news is that the moisture that is released on the surface of the pumpkin pie can be blotted, gently, using a paper towel. Once blotted, it's unlikely that the pie will weep again.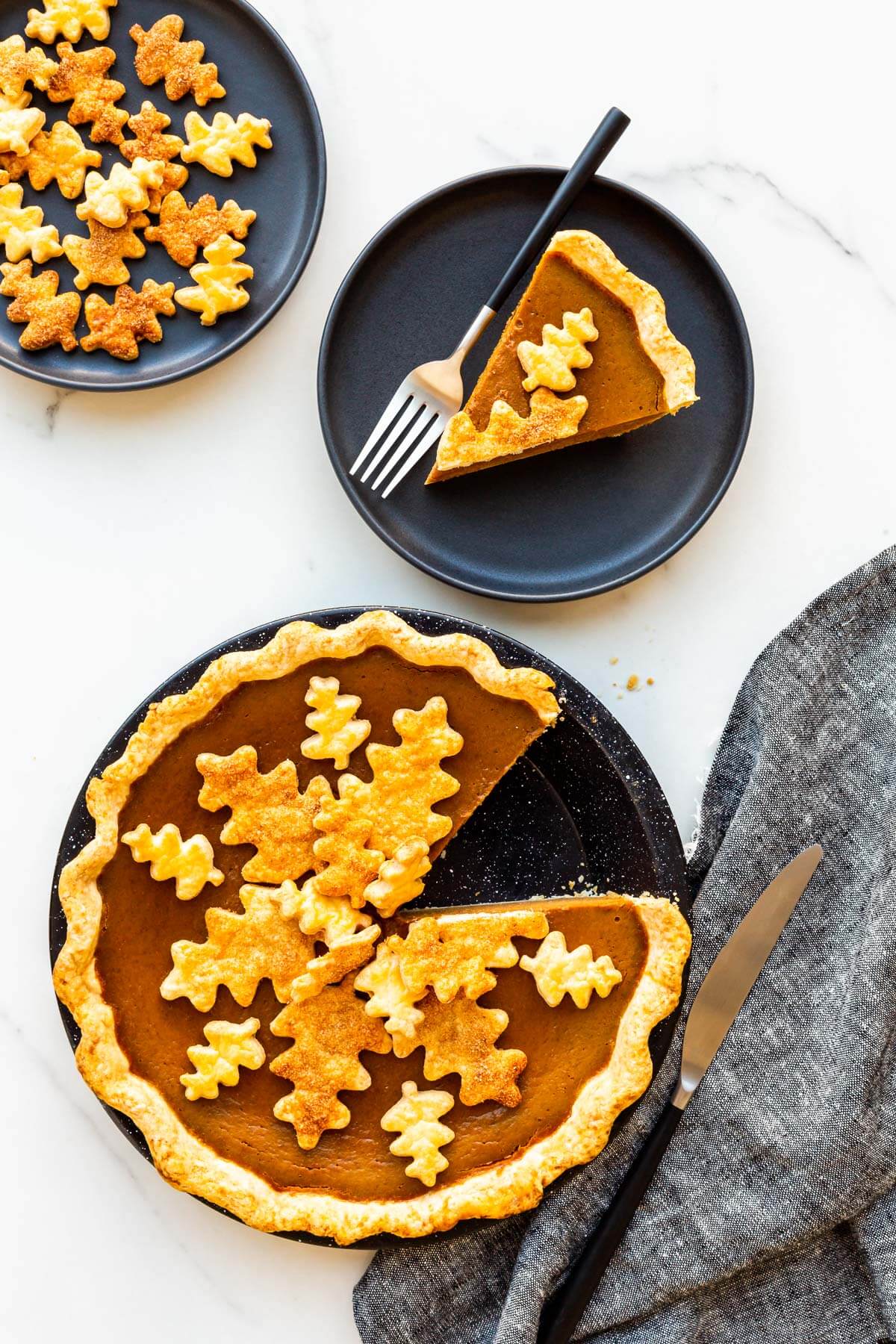 Once baked and cooled down to room temperature, you can store your pumpkin pie in the fridge until it's time to serve. Let it come to room temperature for 30 minutes before serving. Cover leftover pumpkin with aluminum foil and refrigerate.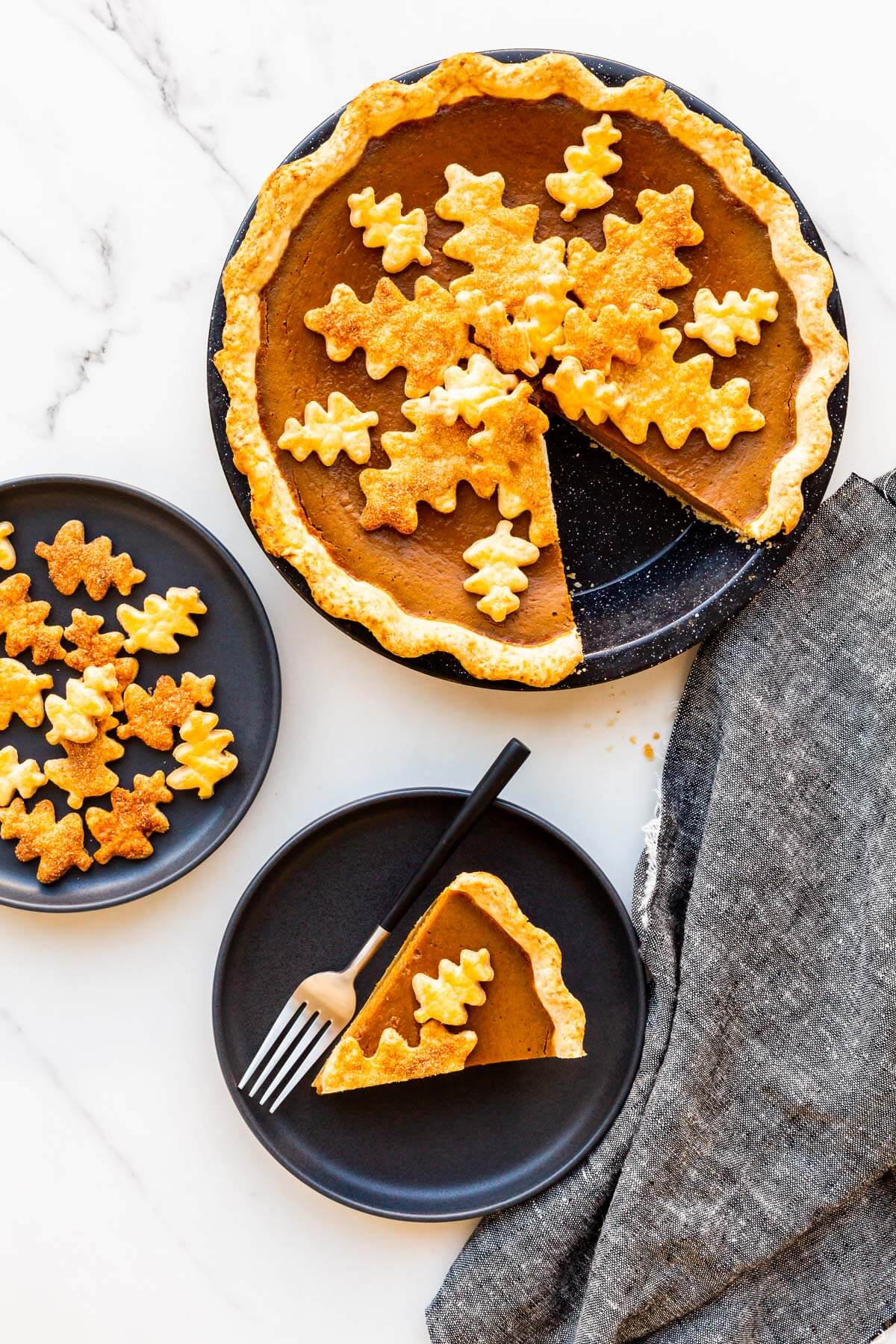 I top pumpkin pie with decorative pie cutouts, made from leftover pie dough. I bake the cutouts separately so that they are perfectly crispy and baked until golden brown. Not only do these pie cookies allow you to create a very festive decorated pumpkin pie, the cutouts allow you to hide any cracks that sometimes happen when the filling cools down and shrinks back slightly.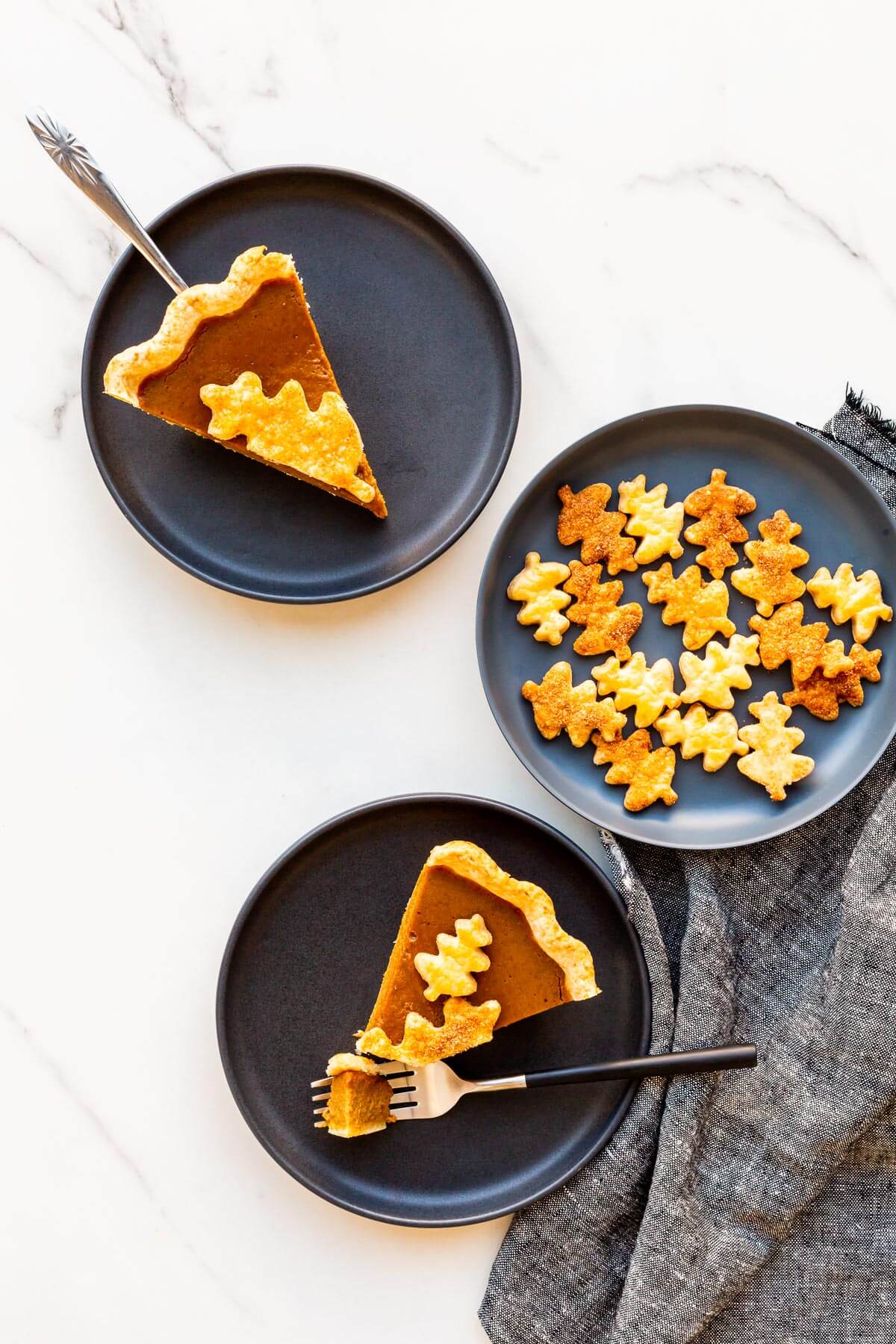 When you cut into a pie with decorative cutouts like this, be sure to lift off the cookies first to avoid them tearing through the rich, creamy custard.
📖 Recipe
Pumpkin pie without evaporated milk
Learn how to make pumpkin pie without evaporated milk or canned milk, using whipping cream instead. This is one of the easiest pie recipes you can make and the crust is made in the food processor.
Ingredients
Instructions
Easy all-butter pie dough in the food processor
In the bowl of a food processor fitted with the metal blade, combine the flour, sugar, and salt. Add the cold butter and pulse to form a coarse crumble.

Add the water and pulse it in, then let the food processor run just until the dough comes together. I use my Cuisinart Food Processor from Amazon for this recipe.

Divide the dough in two and transfer both pieces to your work surface. Shape each piece into a disk and wrap each in plastic wrap and chill for 30 hour.

After 30 minutes of chilling, retrieve one disk of dough. Roll the disk to a 14" circle. Transfer to buttered metal pie plate and fit it in place.

Trim and fold under the edges, then crimp the edge using your thumb and forefingers to create a wavy edge.

Place the pie shell in the fridge for 30 minutes until the pie shell is cold and hard.

Preheat the oven to 425 °F. Move the oven rack to the lower ⅓ of the oven.

Retrieve the pie shell from the fridge. Line with a big square of parchment and fill the pie with dry beans or pie weights, enough to fill the pie shell up to the top of the crimped edges.

Par-bake the pie crust for 20 minutes.

Remove the pie shell from the oven and place on a cooling rack. Carefully lift off the parchment with the pie weights. Set aside. Put the pie shell back in the oven and continue to bake for another 3–5 minutes until the bottom looks dry and set.

Take the par-baked pie shell out of the oven. Lower the oven temperature to 375 °F.
Egg wash
Whisk together the egg, water, and a pinch of salt while the pie shell is baking.

As soon as the par-baked pie crust comes out of the oven, brush the bottom and sides with egg wash but do not brush the edges! Let the pie shell cool completely while you make the filling. Save the leftover egg wash for the pie crust cutouts.
Pumpkin pie filling
In a large bowl (preferably one with a pouring spout like this), whisk together the filling ingredients until thick, creamy, and homogenous.

Once the par-baked pie shell has cooled, pour the filling in it.

Bake the pumpkin pie at 375 °F until the edges are set but the centre still jiggles a little. This takes about 35–40 minutes.

Take the pie out of the oven and place on a cooling wrack. Let the pie cool to room temperature, then refrigerate for several hours or overnight so that the pie sets properly before serving. 

Decorate with pie cutouts before serving with whipped cream.
Pie crust cutouts
Preheat the oven to 425 ºF.

On a lightly floured surface, roll the second disk of dough out until it's ¼–⅛" thick.

Cut out leaf shapes (or whatever shape you want). Place them on parchment-lined baking sheets, leaving a little space between them for air circulation.

Brush the cutouts with a thin layer of the leftover egg wash and sprinkle with cinnamon sugar.

Bake the cutouts until evenly golden brown and baked through, about 15–20 minutes.

Let the cutouts (and the pie) cool completely before decorating. You can store the leftover crust cutouts in an airtight container and eat them like cookies.
Give back
If you enjoy the free content on this website, say thank you!
Notes
I like to use the harvest cookie cutter set for fall pies and you can buy it on Amazon.
Nutrition
Calories:
522
kcal
|
Carbohydrates:
60
g
|
Protein:
7
g
|
Fat:
28
g
|
Saturated Fat:
17
g
|
Polyunsaturated Fat:
1
g
|
Monounsaturated Fat:
8
g
|
Trans Fat:
1
g
|
Cholesterol:
140
mg
|
Sodium:
317
mg
|
Potassium:
239
mg
|
Fiber:
3
g
|
Sugar:
26
g
|
Vitamin A:
9539
IU
|
Vitamin C:
3
mg
|
Calcium:
78
mg
|
Iron:
3
mg