Learn how to make an all-butter pie crust in a food processor with this easy recipe. This dough doesn't crack and rolls out beautifully for gorgeous pie crusts that hold their shape as they bake! This food processor crust is great for lattice work and cutout decorations on pies.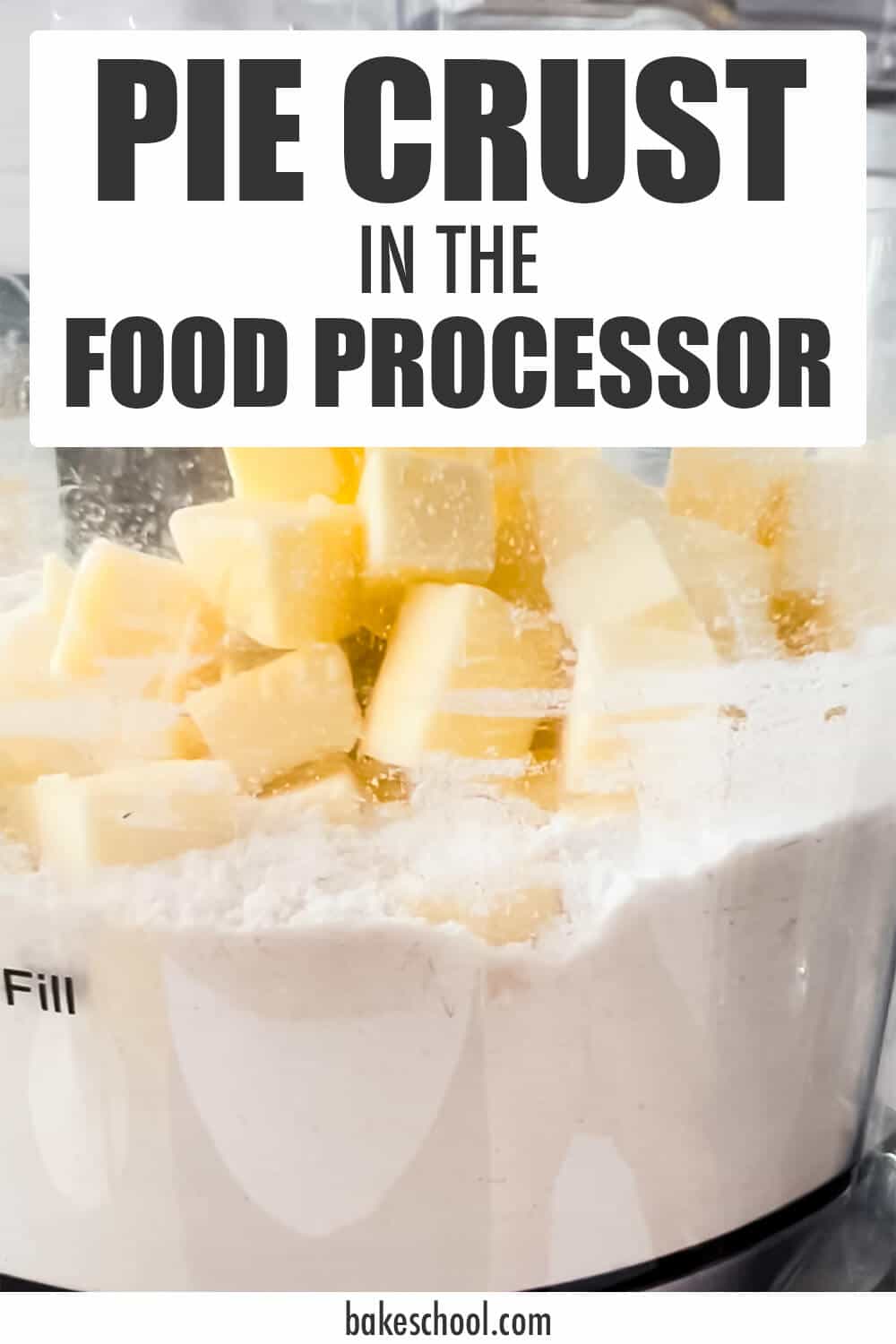 Disclosure: As an Amazon Associate, I earn from qualifying purchases.
The holiday season is hectic and you need a reliable pie crust recipe to get you through all the pie-making. This all-butter pie crust made in the food processor is exactly what you need!
This is the pie crust I use to make this double-crust maple apple pie and this blueberry pie, among others. It's my go-to recipe!
Jump to: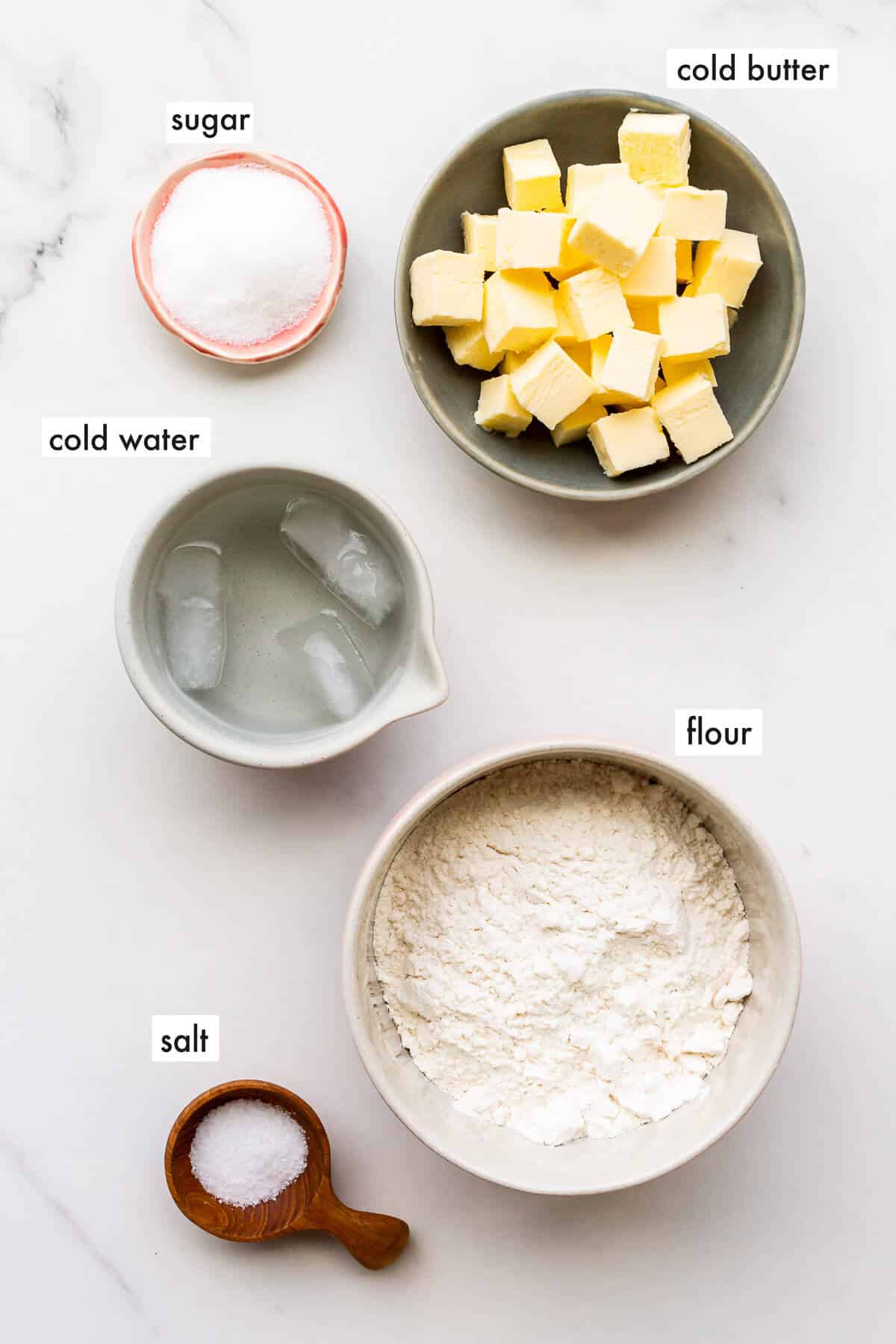 Ingredients
You only need a few ingredients to make pie dough and you likely have them all in your pantry and fridge! Here's what you need:
Flour—bleached all-purpose works great in doughs like this
Sugar—just a little sugar helps to bring out the flavours and also helps with browning
Salt—I use Diamond Crystal fine kosher salt, but if you'd like to use regular table salt, use half the amount, otherwise, the crust may be too salty
Butter, specifically unsalted butter, though salted will work too (adjust the salt in the recipe accordingly)
Cold water or even ice water ensures that the butter stays cold, making it easier to handle and creating a flaky crust that isn't overly greasy.
See recipe card for quantities.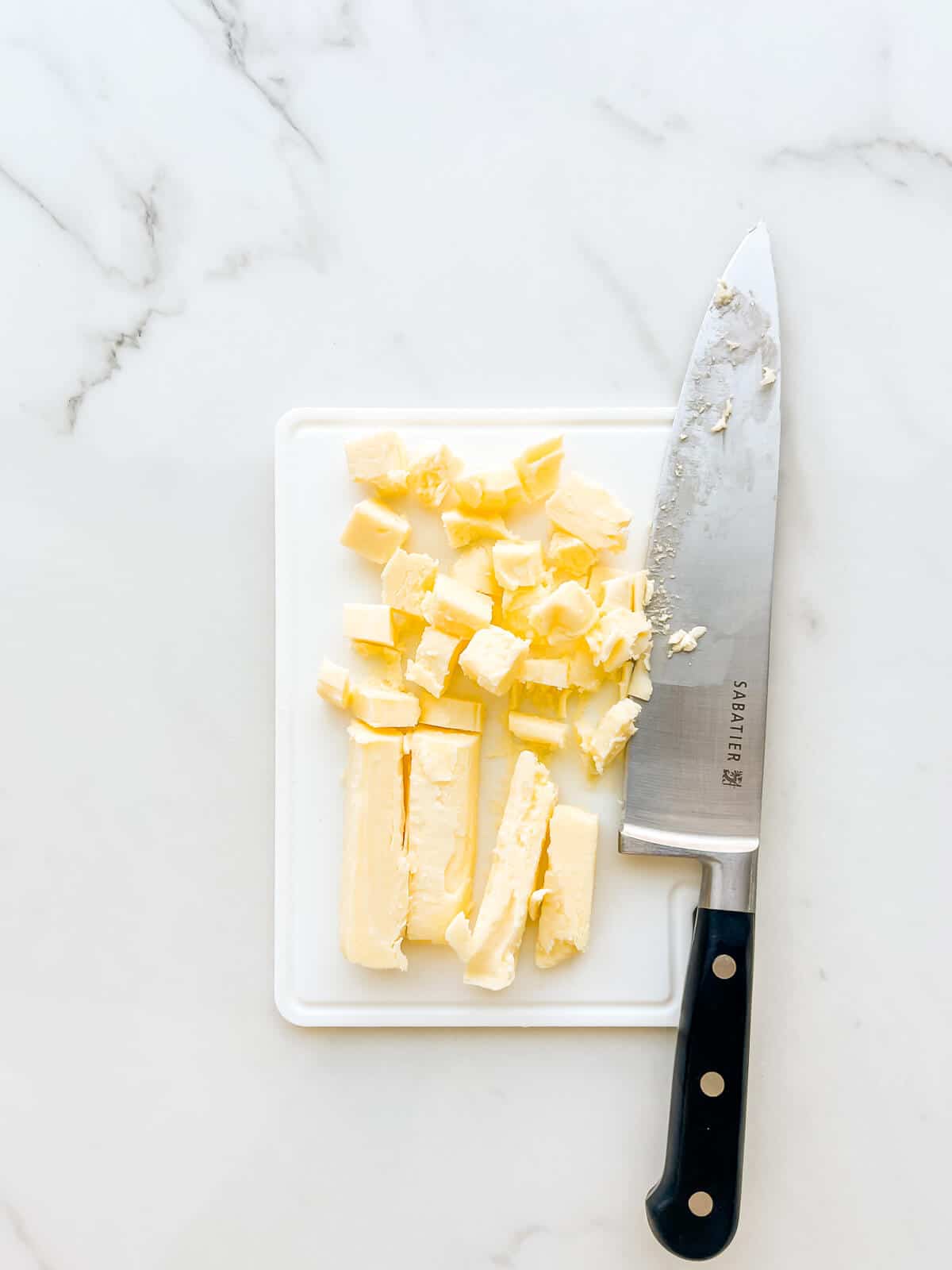 Using a food processor to make dough
The beauty of using a food processor to make pie crust is that the machine can cut the fat (in this case butter) into the flour, without the butter warming up (like it would if you did this step with your hands).
For this recipe, you will use the regular food processor blade.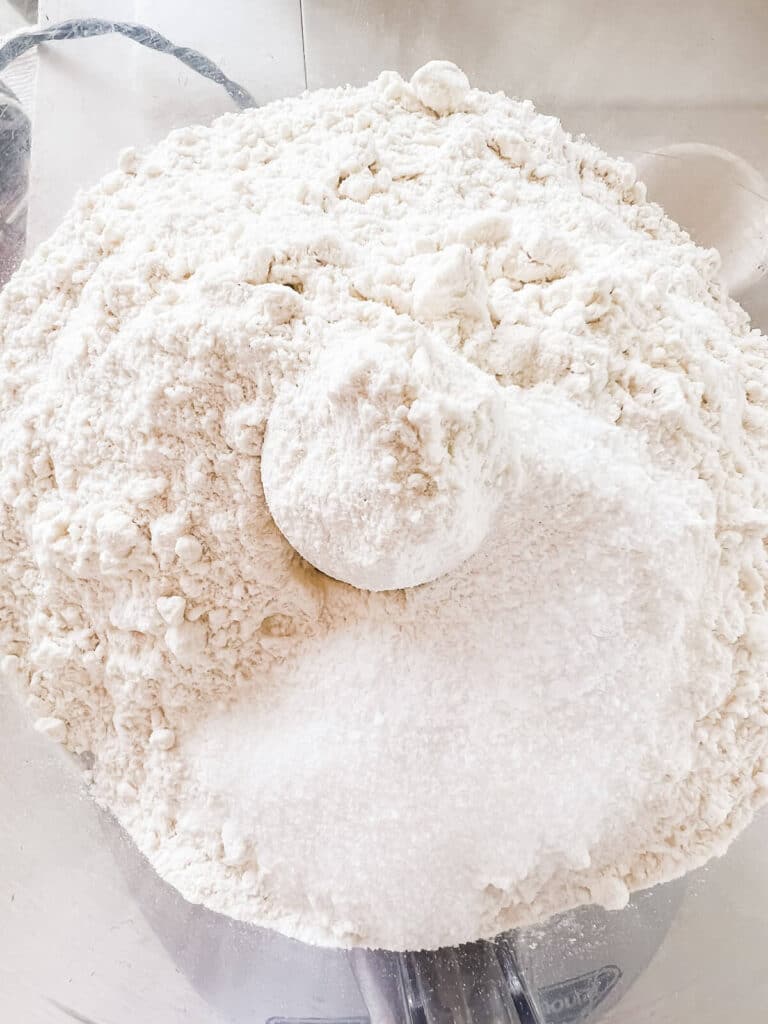 Combine all the dry ingredients in the bowl of the food processor. You can use the pulse setting to evenly mix them together.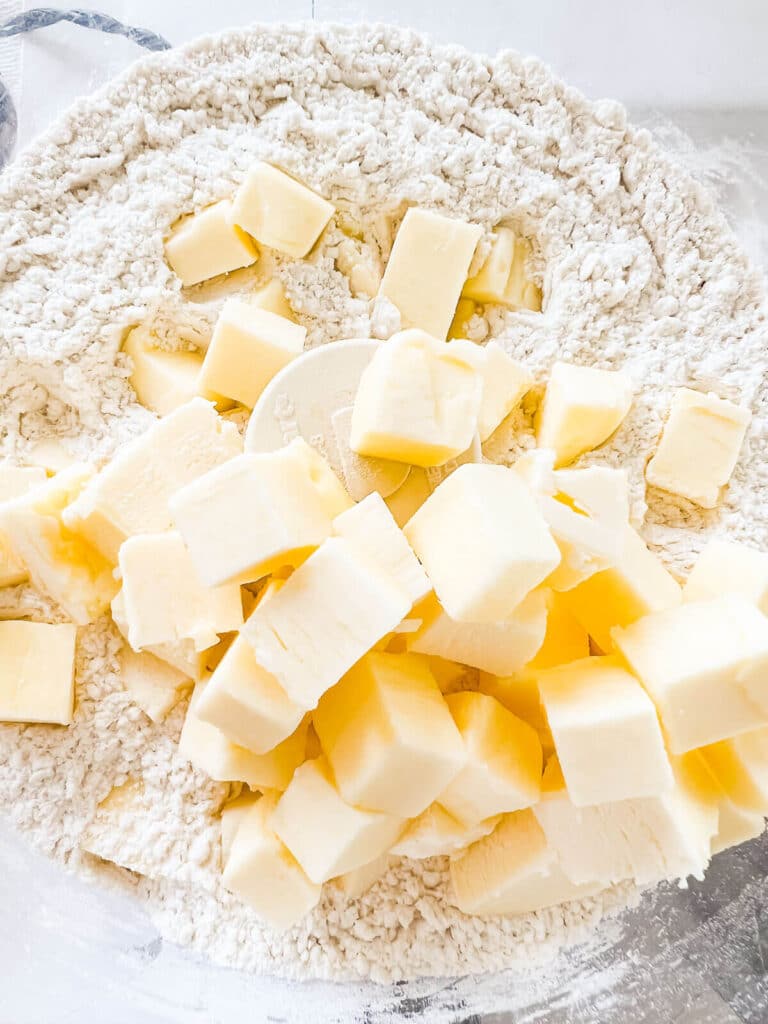 Add cold cubed butter to the food processor bowl with the dry ingredients.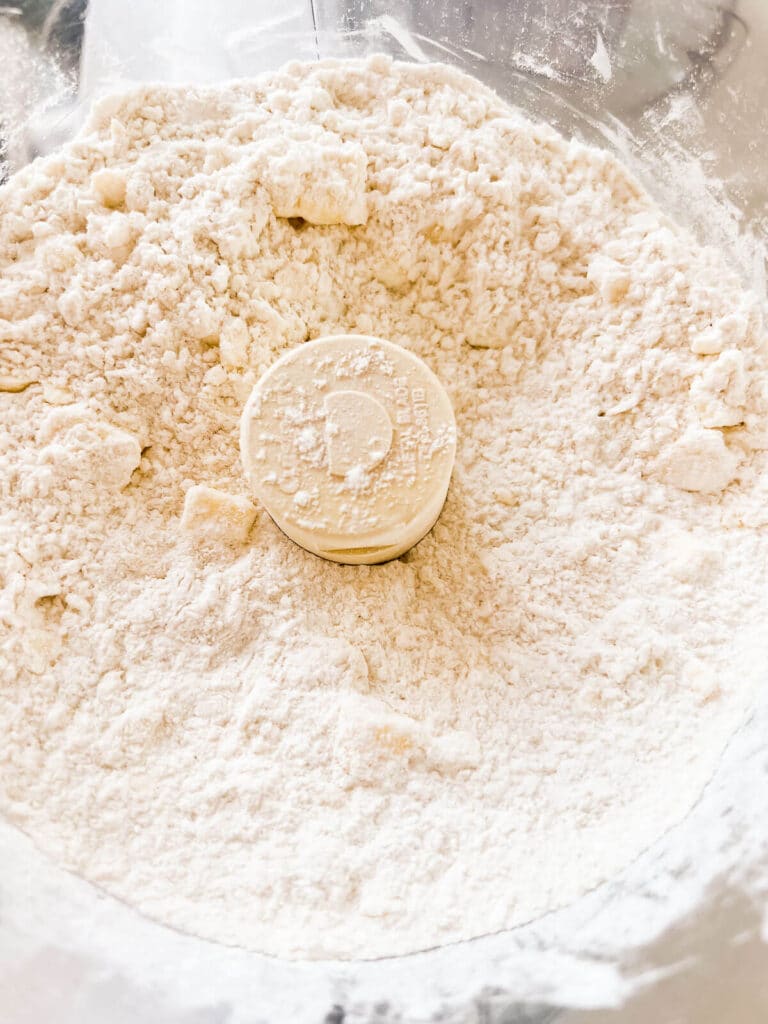 Pulse the butter into the dry ingredients for form an uneven, coarse crumble. You will notice some slightly bigger pieces of butter (like a chickpea or large bean size) and smaller pieces.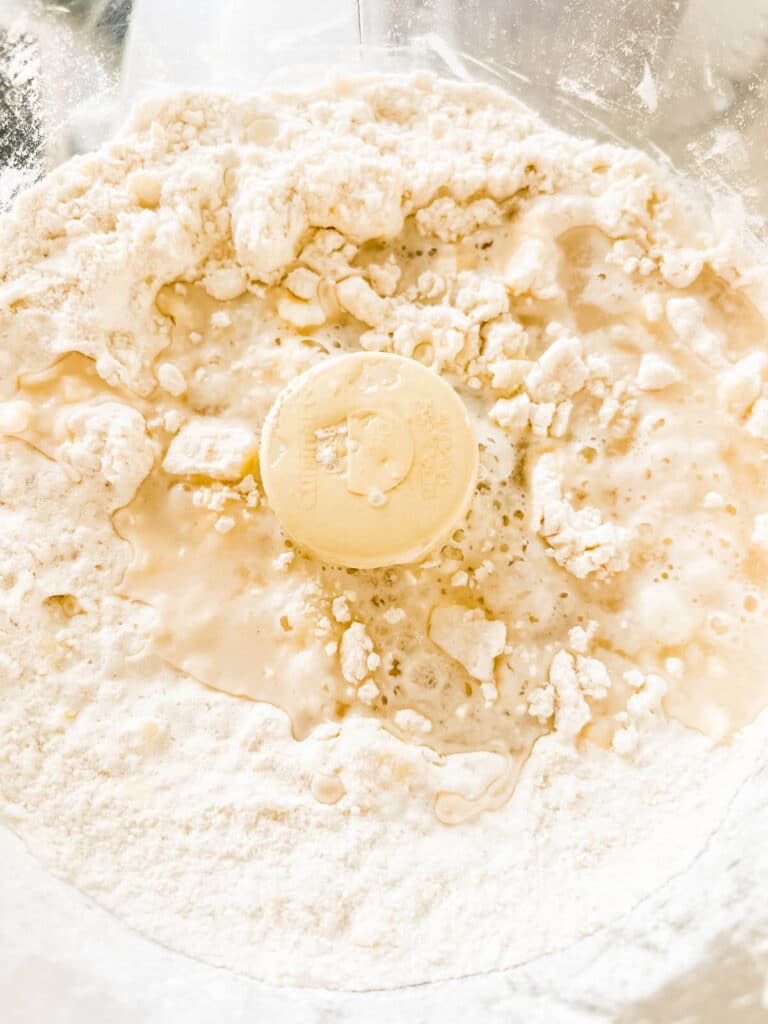 Add the cold water to the food processor.
Hint: Use the pulse setting to incorporate the water into the dough. The dough should clump together and the flour should look moistened, with very few dry bits left.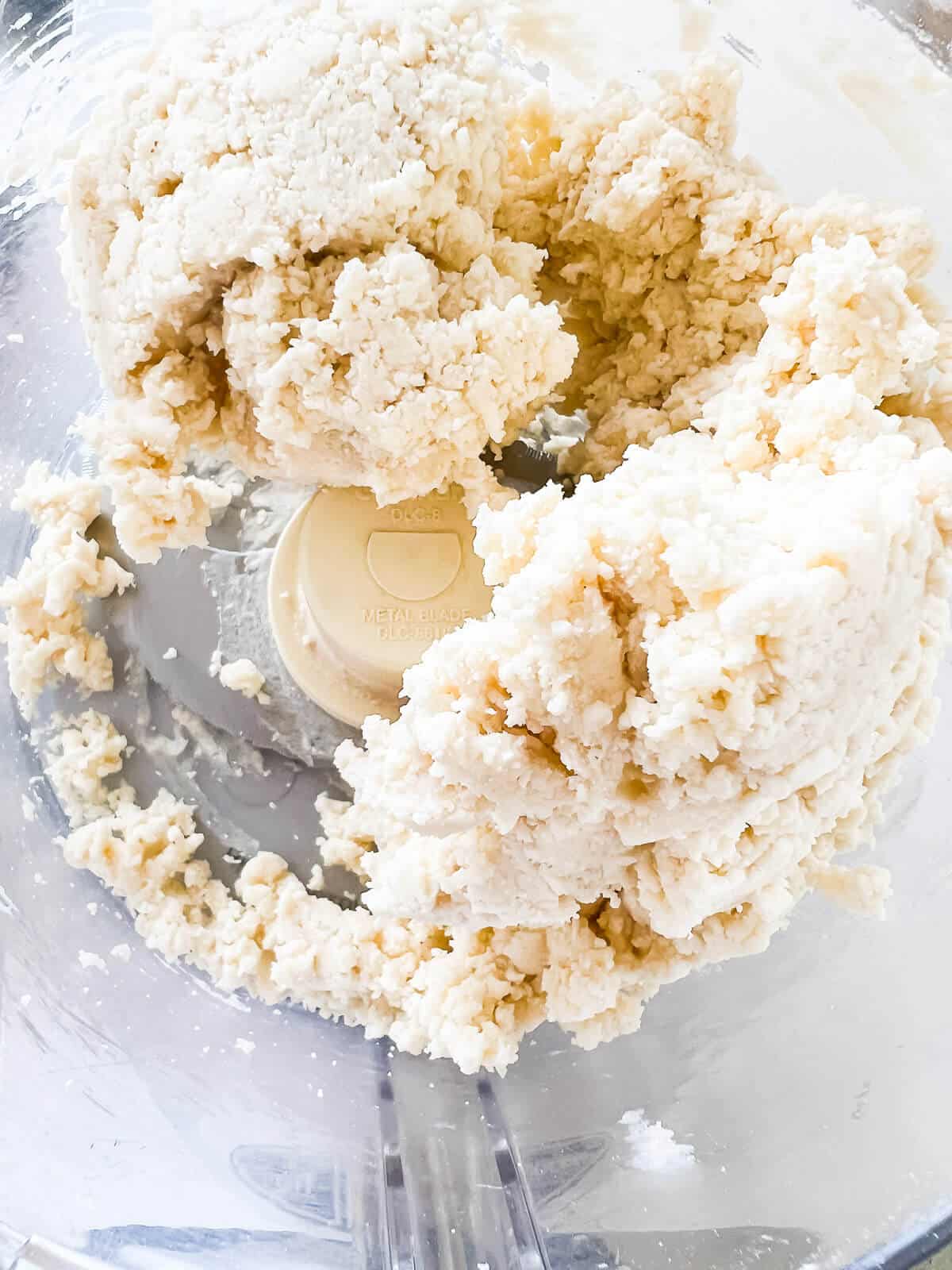 When you incorporate the butter, the goal is to cut it into the flour so that the butter is coated in flour but also so that much of the flour is coated in fat. This reduces gluten formation in the next steps.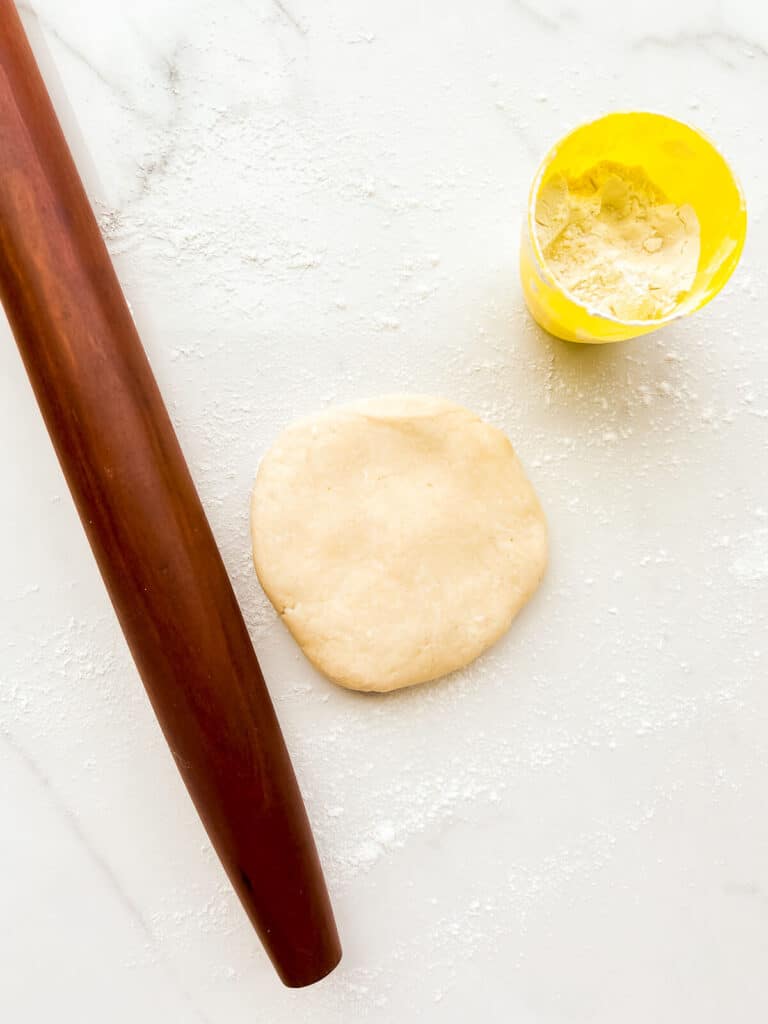 Roll out pie dough on a floured surface to prevent it from sticking, using a rolling pin, like a French rolling pin with tapered edges.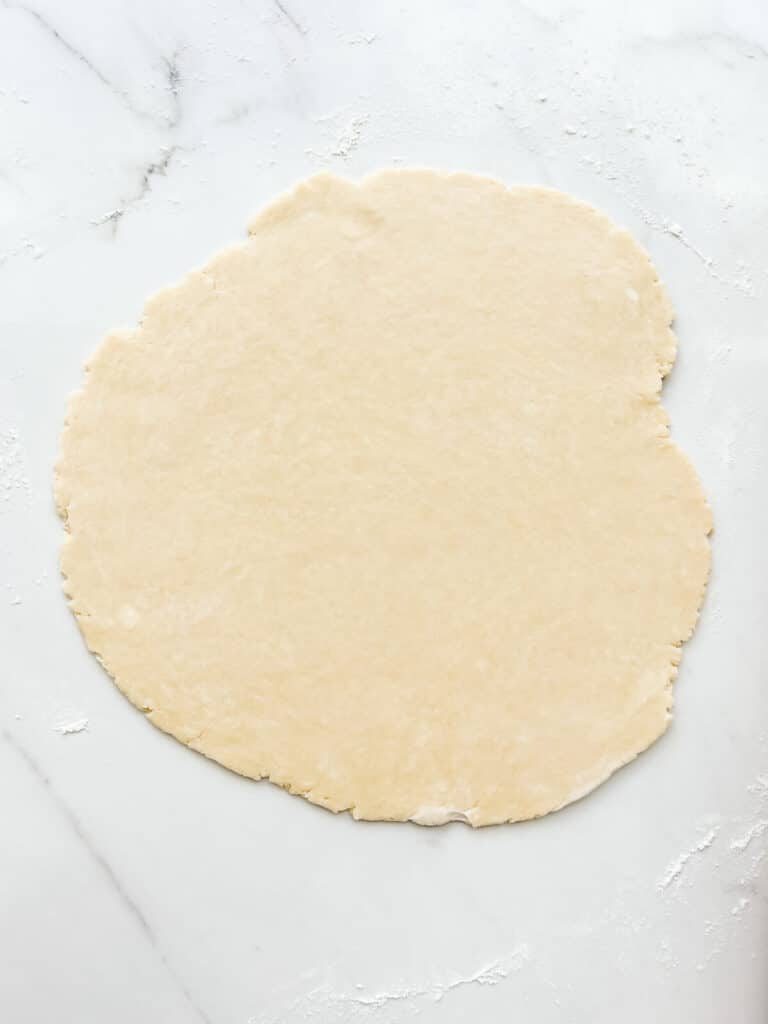 Make sure to roll the dough to a thin, even layer, rolling out the dough from the middle of the disk to the edges. Continuously slide the dough around to make it even and also to verify it's not sticking. Use more flour as needed.
Substitutions
With only a handful of ingredients, your pie crust substitutions are limited:
Butter—you can replace the butter with leaf lard or shortening (like Crisco), but the texture and flavour will be different. You can also replace unsalted butter with salted butter, but to do so, you will have to reduce the salt in the recipe to compensate, or else the crust may be too salty.
Flour—you can use a mix of flours, like use part all-purpose and part whole wheat or rye, just don't replace 100 % of the flour with an alternative because the dough may be more difficult to work with and behave different, especially if the gluten is lower (or if there is none).
Water—some people will use cold vodka instead of the cold water or cold water with a splash of vinegar. Either way, the goal is to reduce gluten formation in the dough, but in my experience, gluten development isn't much of an issue with the food processor method.
As always, if you decide to try a substitution, take note of what you did, your experience, and the results so that you can learn and make modifications next time.
I cannot guarantee that changes or substitutions will lead to the same results.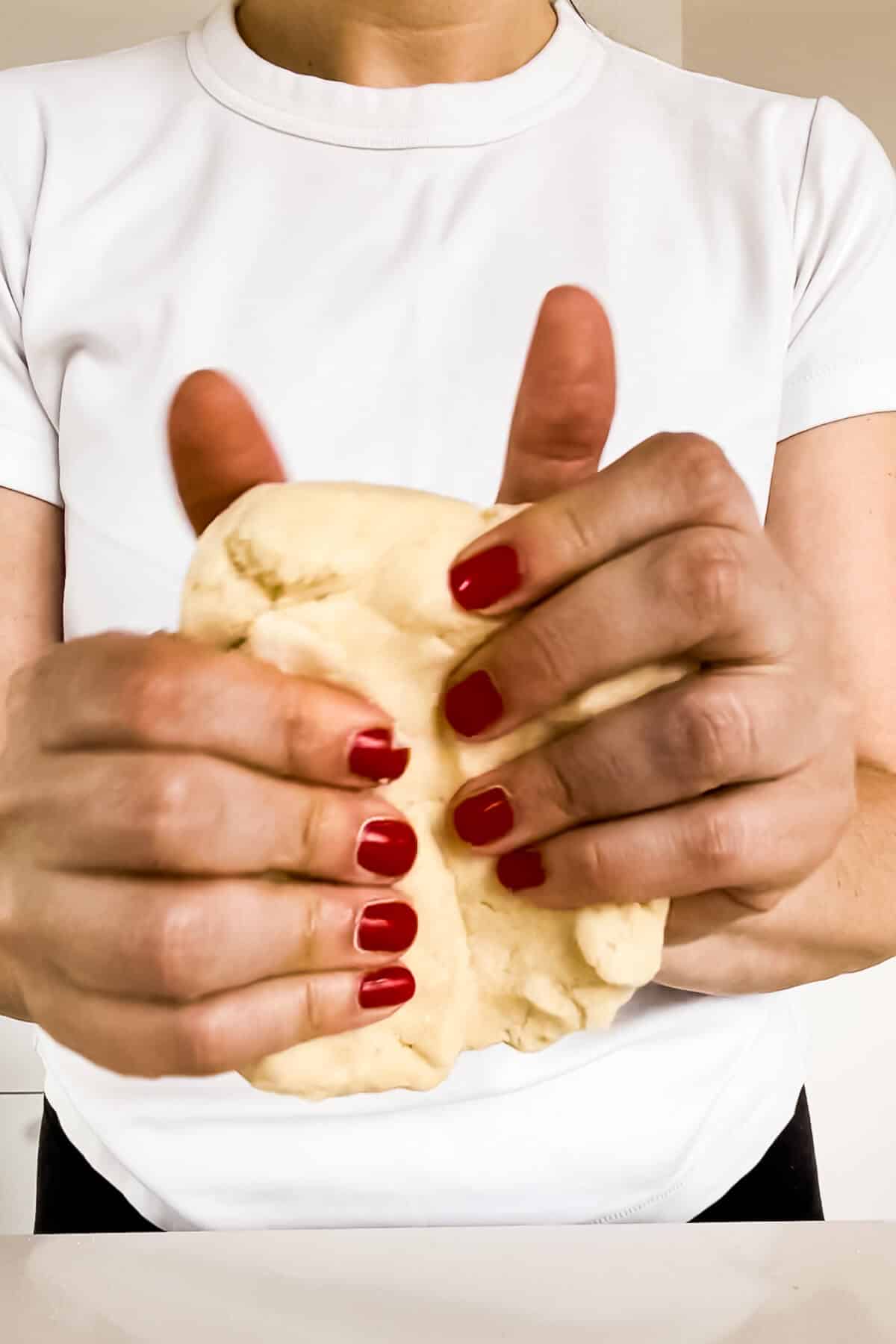 Variations
Once you know how to make pie dough, you can start to get creative:
Warm spices—add a little cinnamon and ginger to the flour before adding the butter (try 2 teaspoons ground cinnamon and 1½ teaspoons ground ginger)
Cheese—some people like to add shredded cheddar cheese to the dough to make a cheese-flavoured pie crust, especially for apple pie.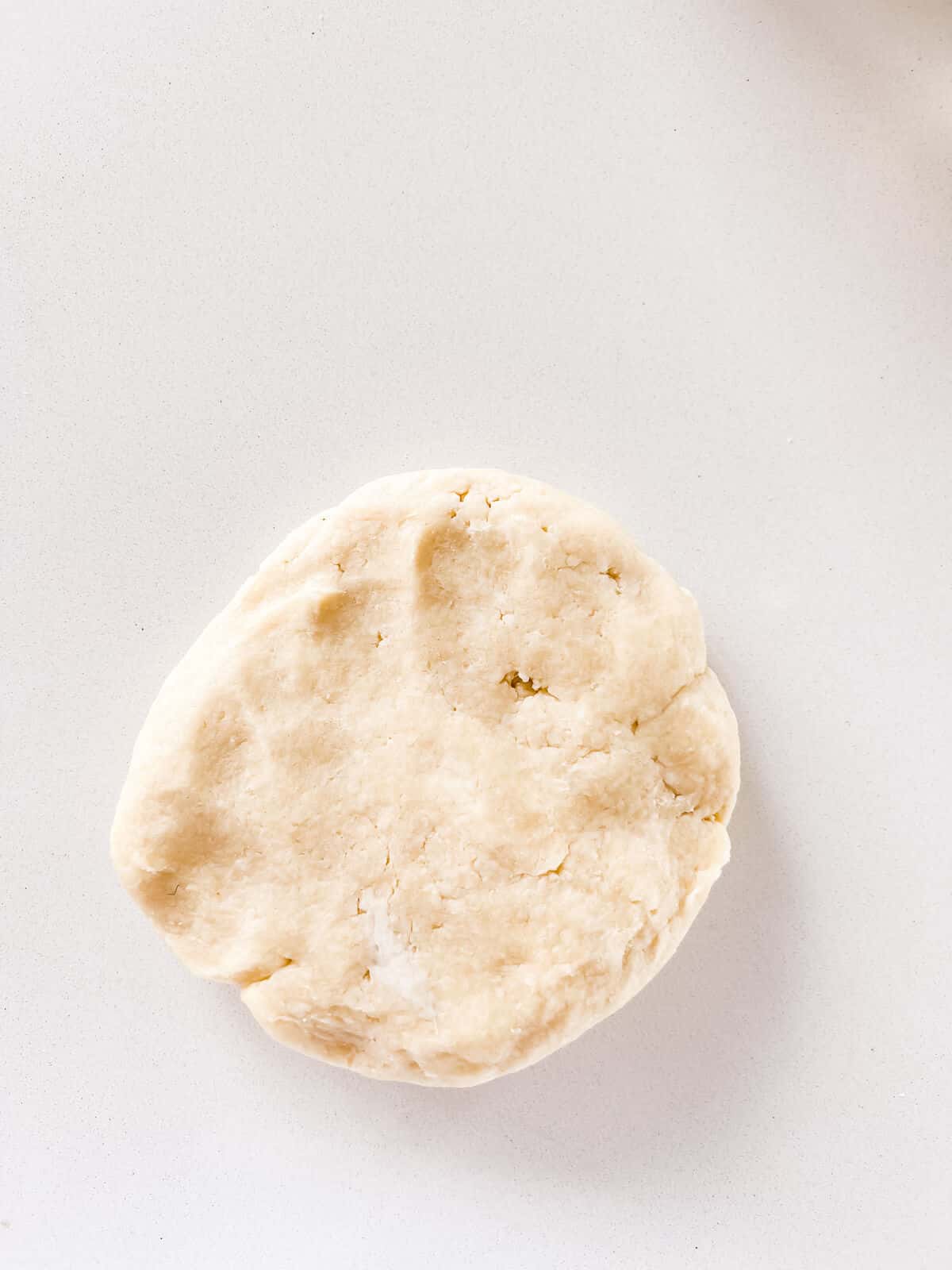 Special equipment
You don't need many tools to make pie. In order to make pie crust in a food processor, obviously you need a food processor. This recipe fits a standard 11-cup (or larger) food processor. I use a Cuisinart food processor, but I've also successfully used a KitchenAid food processor.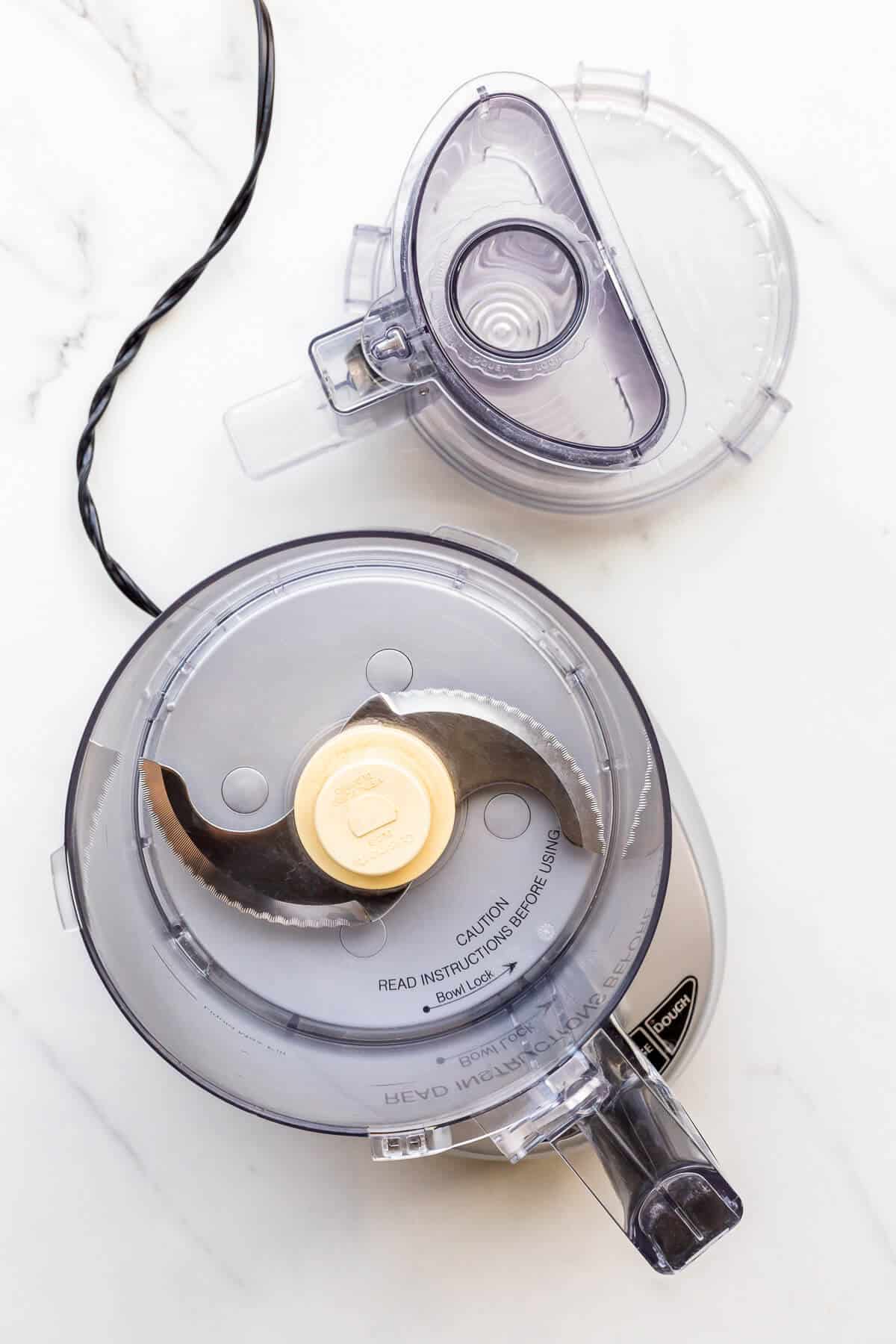 This recipe will not fit a smaller or mini food processor (also called a mini food chopper). These smaller appliances only have a 3.5-cup capacity, which is too small for the ingredient quantities in this recipe.
Once the dough is ready, you will need a rolling pin to transform the disk of dough into an even sheet, and a pie plate to assemble and bake your pie.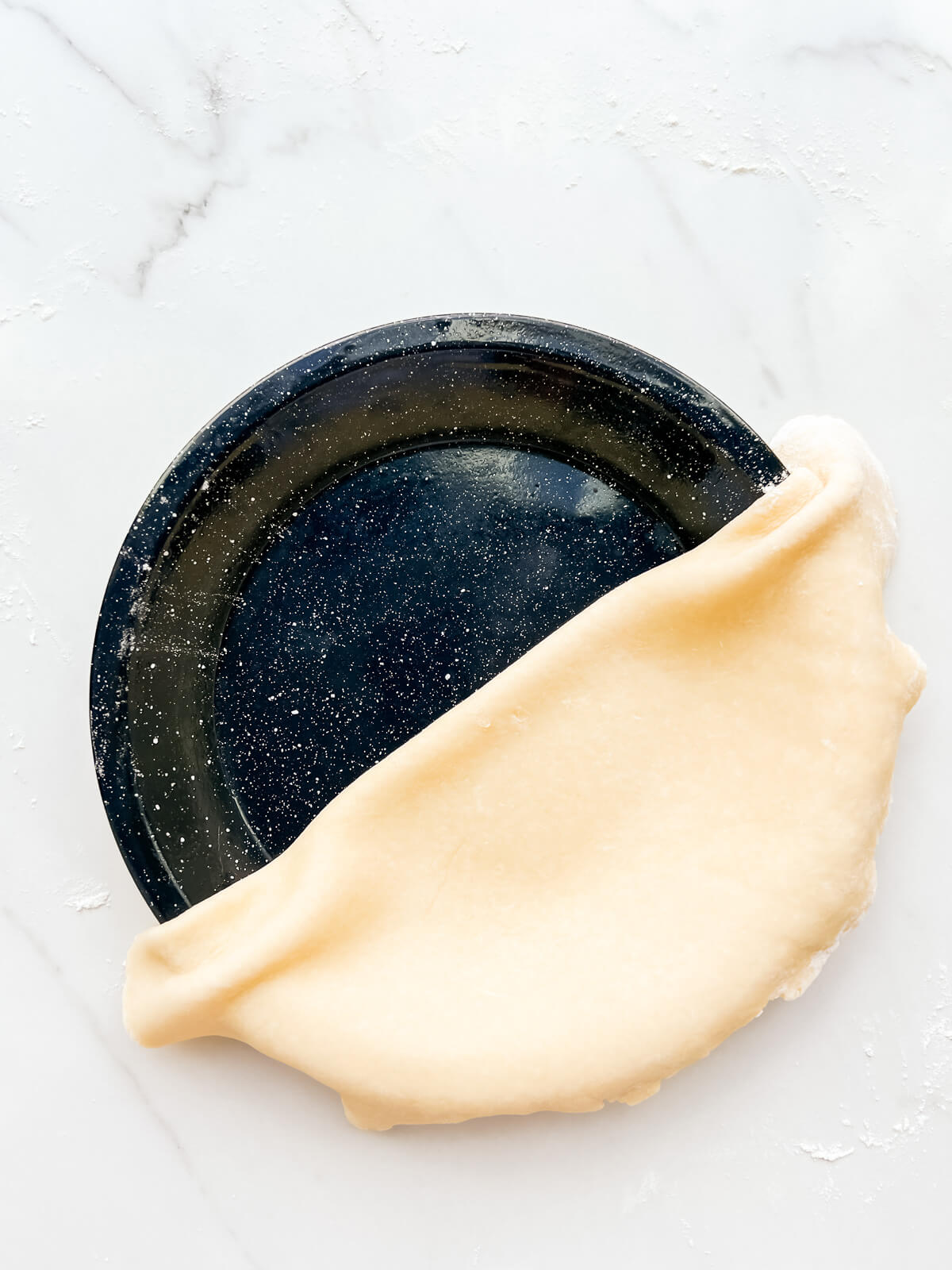 Storage
I always divide double-crust recipes into two disks of dough to store wrapped in plastic wrap in the refrigerator for up to a week (7 days).
For longer storage, you must refrigerate the dough. To refrigerate disks of pie dough, wrap them twice in plastic wrap and then store them in a freezer bag with the air removed. I store several disks in a large bag and pull out one or two as needed.
To defrost pie dough, leave it in the refrigerator overnight to slowly thaw before using. Do not defrost on the counter as it may sweat, and the outside may soften and warm up too much before the inside has a chance to defrost, leading to trouble when you have to roll it out.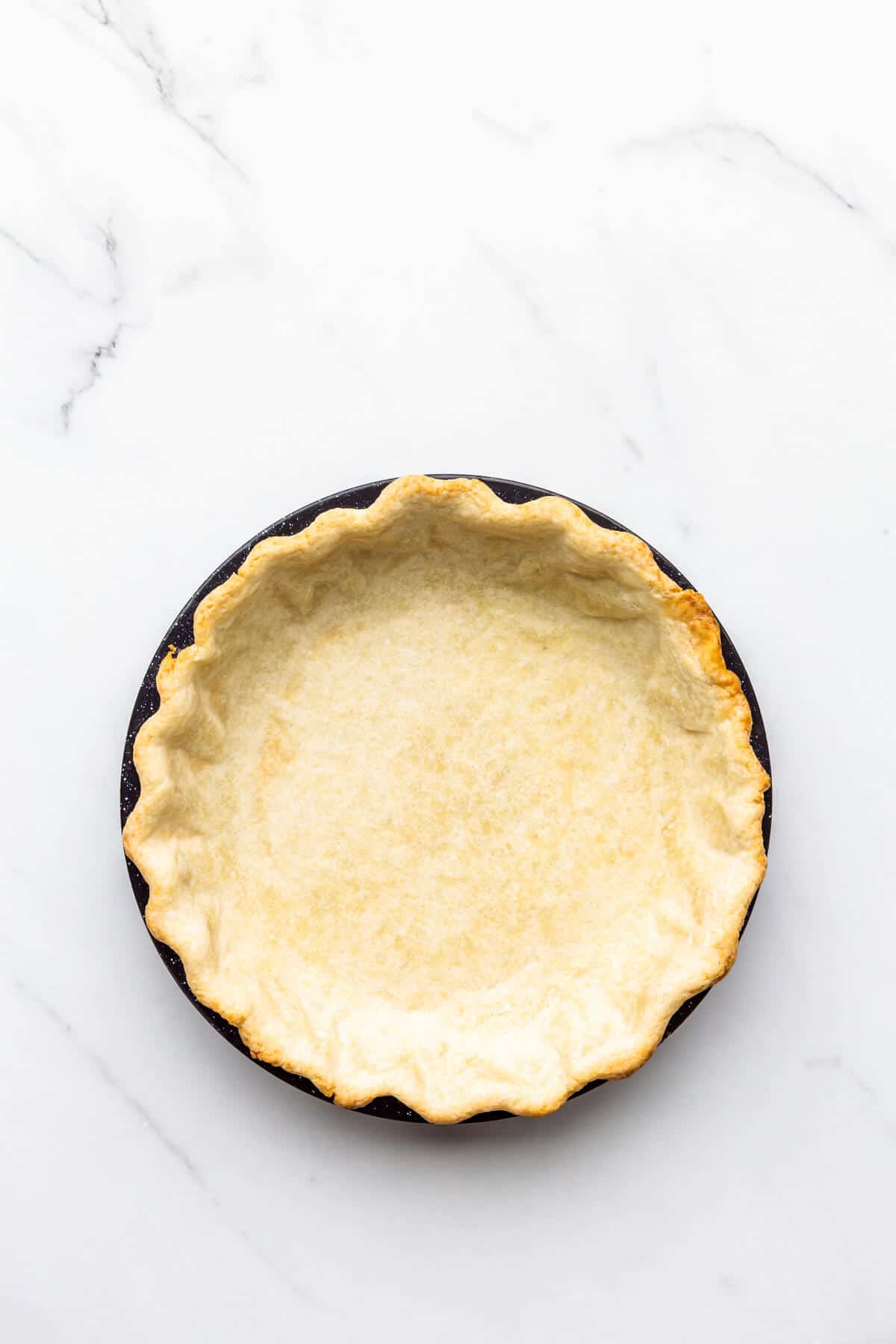 Top tip
For a flaky dough, work the butter into the flour less so that there are bigger pieces that will make distinct layers when rolled. Use a stand mixer to make your pie crust if you want to achieve a flakier texture.
For a mealy dough that holds lattice work and cut shapes well, work the butter into the flour more so that the pieces of butter are smaller for a more sandy texture.
📖 Recipe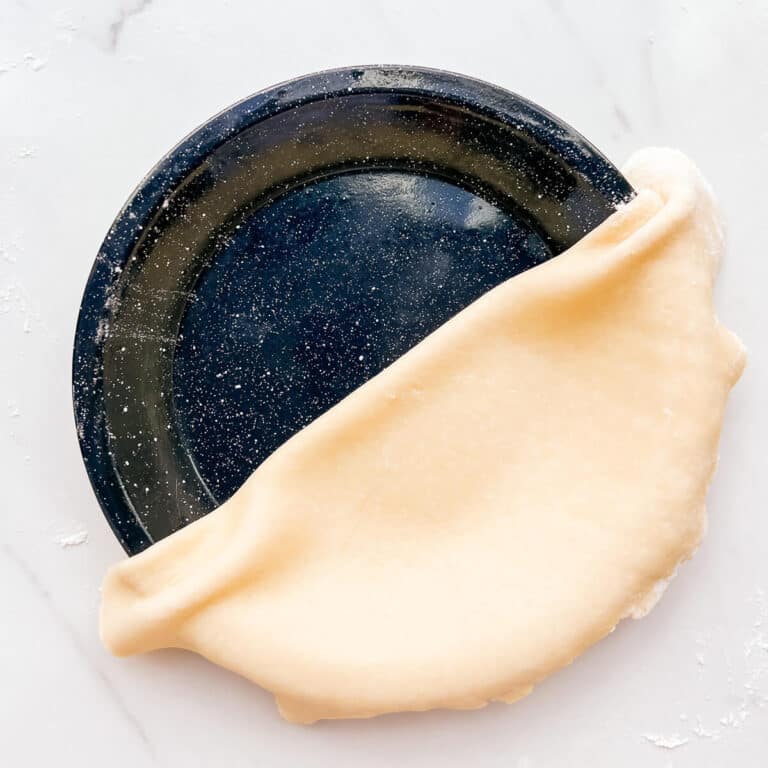 Easy All-Butter Pie Crust Made In A Food Processor
Learn how to make pie crust in a food processor with this easy recipe. This makes enough dough for a double crust pie. It rolls out beautifully, without cracking, and holds its shape in the oven.
Ingredients
312

grams

bleached all-purpose flour

15

mL

granulated sugar

173

grams

unsalted butter

cut into cubes, very cold

100

mL

water

cold
Instructions
In the bowl of a food processor fitted with the metal blade, combine the flour, sugar, and salt. Add the cold butter and pulse to form a coarse crumble.

Add the water and pulse it in, then let the food processor run just until the dough comes together. I bought my Cuisinart Food Processor on Amazon.

Divide the dough in two and transfer both pieces to your work surface. Shape each piece into a disk. Wrap both in plastic wrap and chill for 30 minutes to 1 hour before rolling out on a floured surface with a rolling pin.
Notes
You can halve this recipe to make a single crust pie.
If the dough gets too warm at any point, put it in the fridge.
Nutrition
Calories:
202
kcal
Carbohydrates:
21
g
Protein:
3
g
Fat:
12
g
Saturated Fat:
7
g
Cholesterol:
31
mg
Sodium:
196
mg
Potassium:
31
mg
Fiber:
1
g
Sugar:
1
g
Vitamin A:
360
IU
Calcium:
7
mg
Iron:
1
mg
FAQ
Is it better to make pie crust in a food processor or by hand?
You can make pie crust in a food processor, in a stand mixer, or by hand. The beauty of using a small appliance like a food processor is that the butter stays cold longer and therefore you will likely end up with a flakier, less greasy crust. By hand, the butter may warm too much and this means the crust may even leak butter as it bakes if you don't chill it long enough before putting your pie in the oven.
What attachment do you use to make pastry in a food processor?
To make pastry in a food processor, you use the regular S-shaped food processor blade (that is sharp and made of metal).
What food processor is best for pie dough?
You can use any food processor to make pie dough but pay attention to the size and capacity of the machine. A smaller mini food processor can't hold this quantity of flour and butter. Use a larger 11 cup machine to be sure to have room for the dough to move around in the bowl.
Can I use a food processor instead of a pastry cutter?
A food processor is a great alternative to a pastry cutter and the blade of the machine will mimic the cutting action of a hand-held pastry cutter. Both will keep the butter cold for longer than by hand.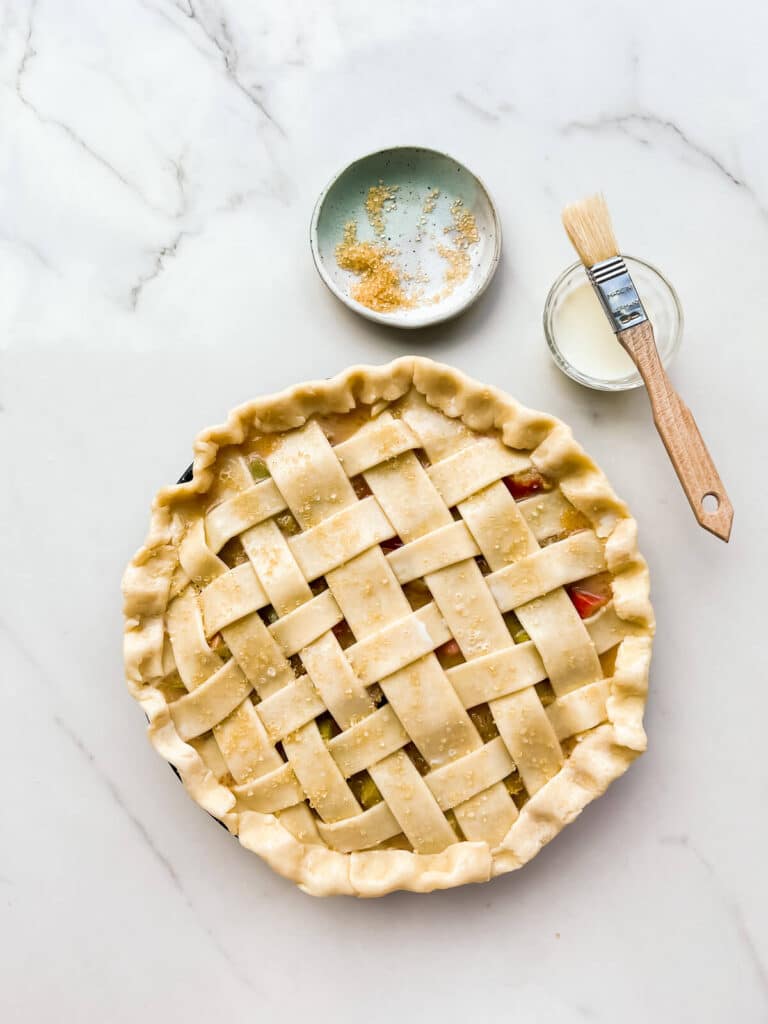 Recipes to make with this dough
Once you've mastered making pie crust in the food processor, you can make so many different recipes!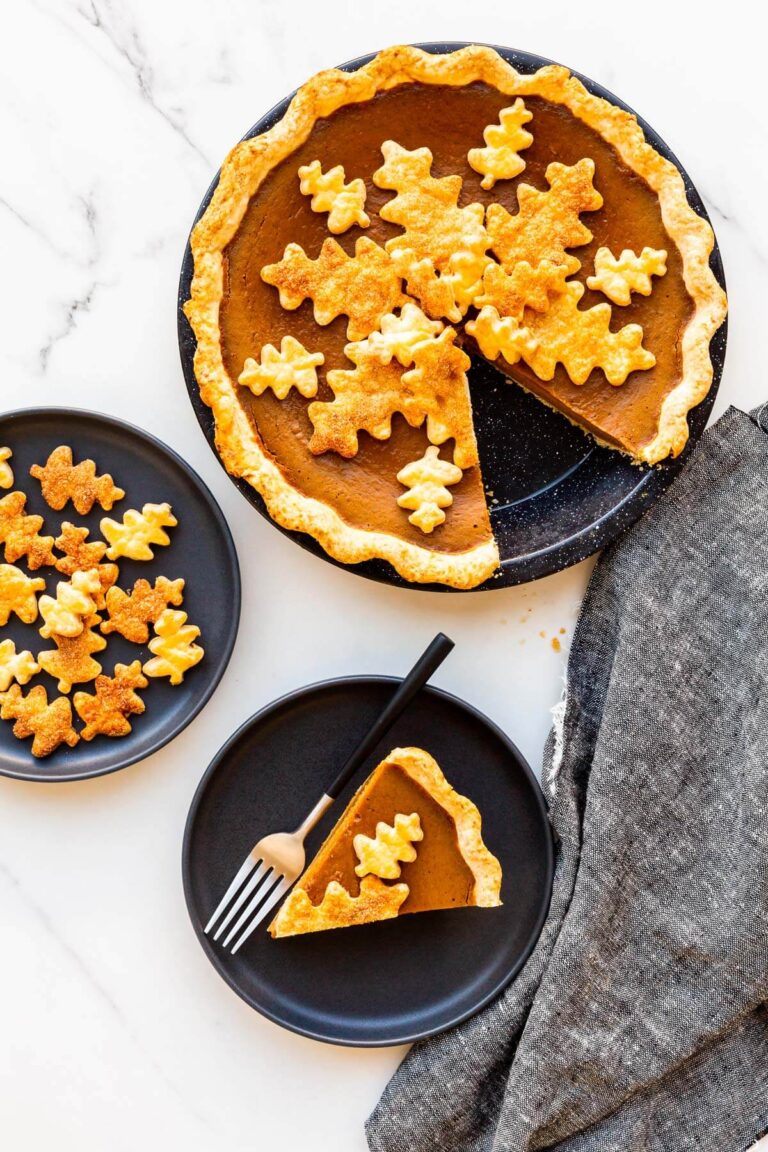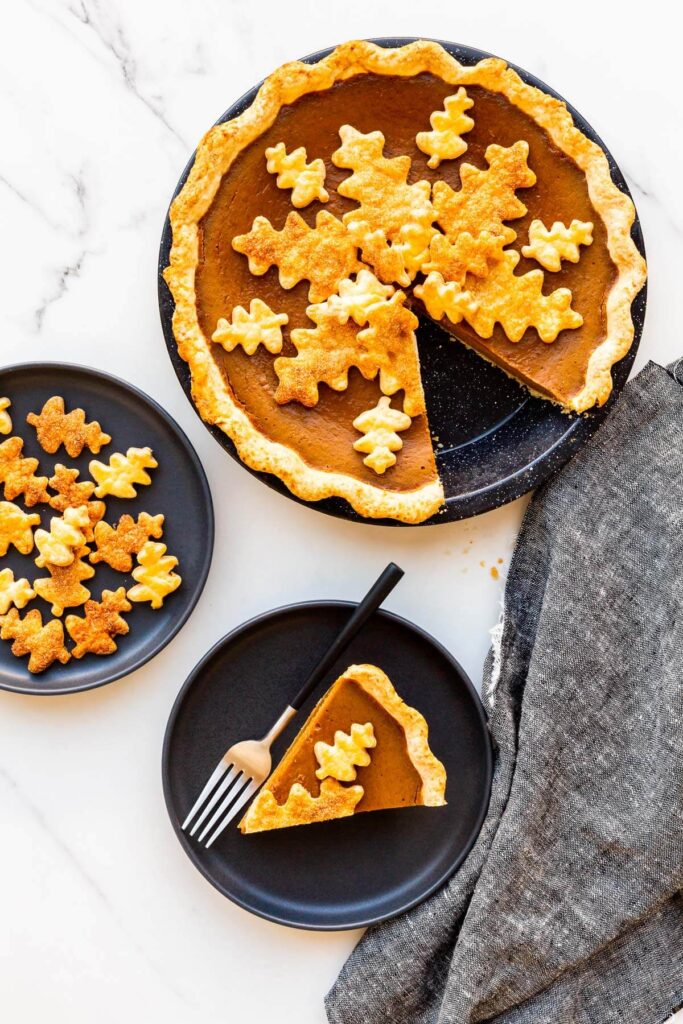 Here are a single crust pies to try: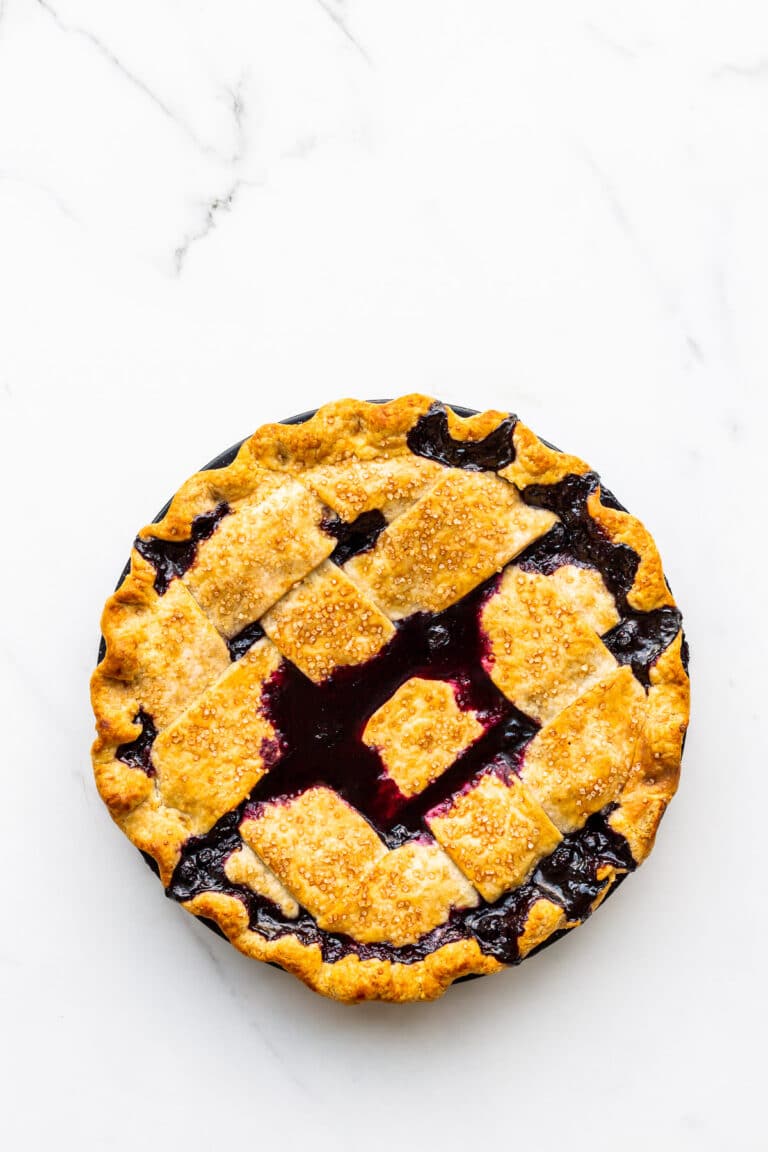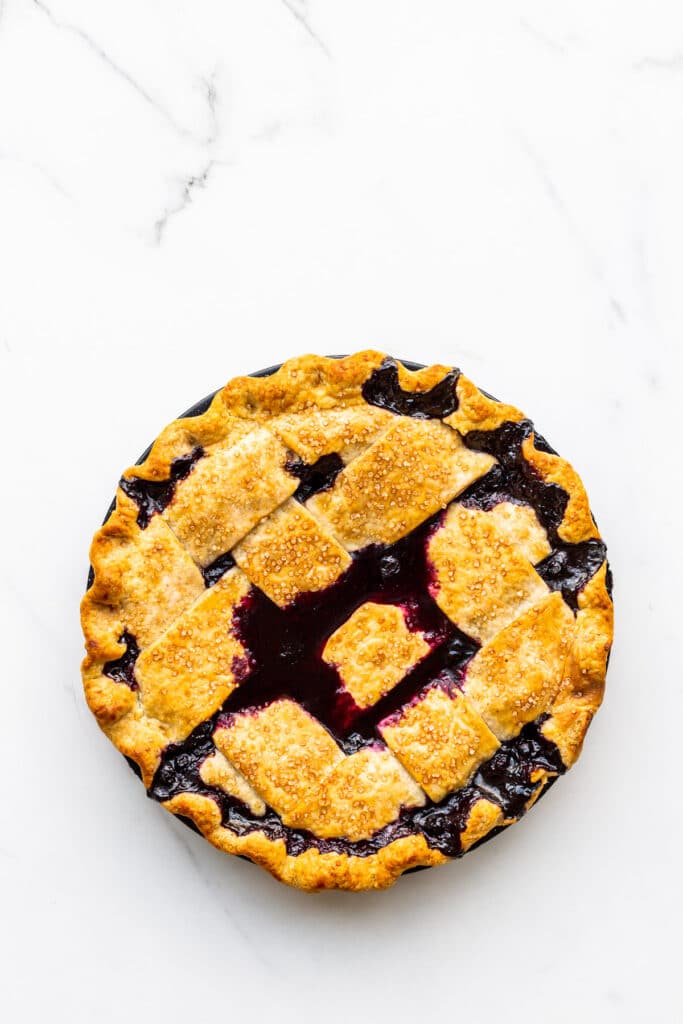 And here are a few double crust pies to try:
See more pie recipes.
Don't forget to save your pie scraps to make pie crust cookies sprinkled with cinnamon sugar!