This easy apple galette is much simpler to make than an apple pie, and yet just as satisfying to eat! Galettes are a great place to start if you aren't familiar with pie-baking because the recipes are less fussy.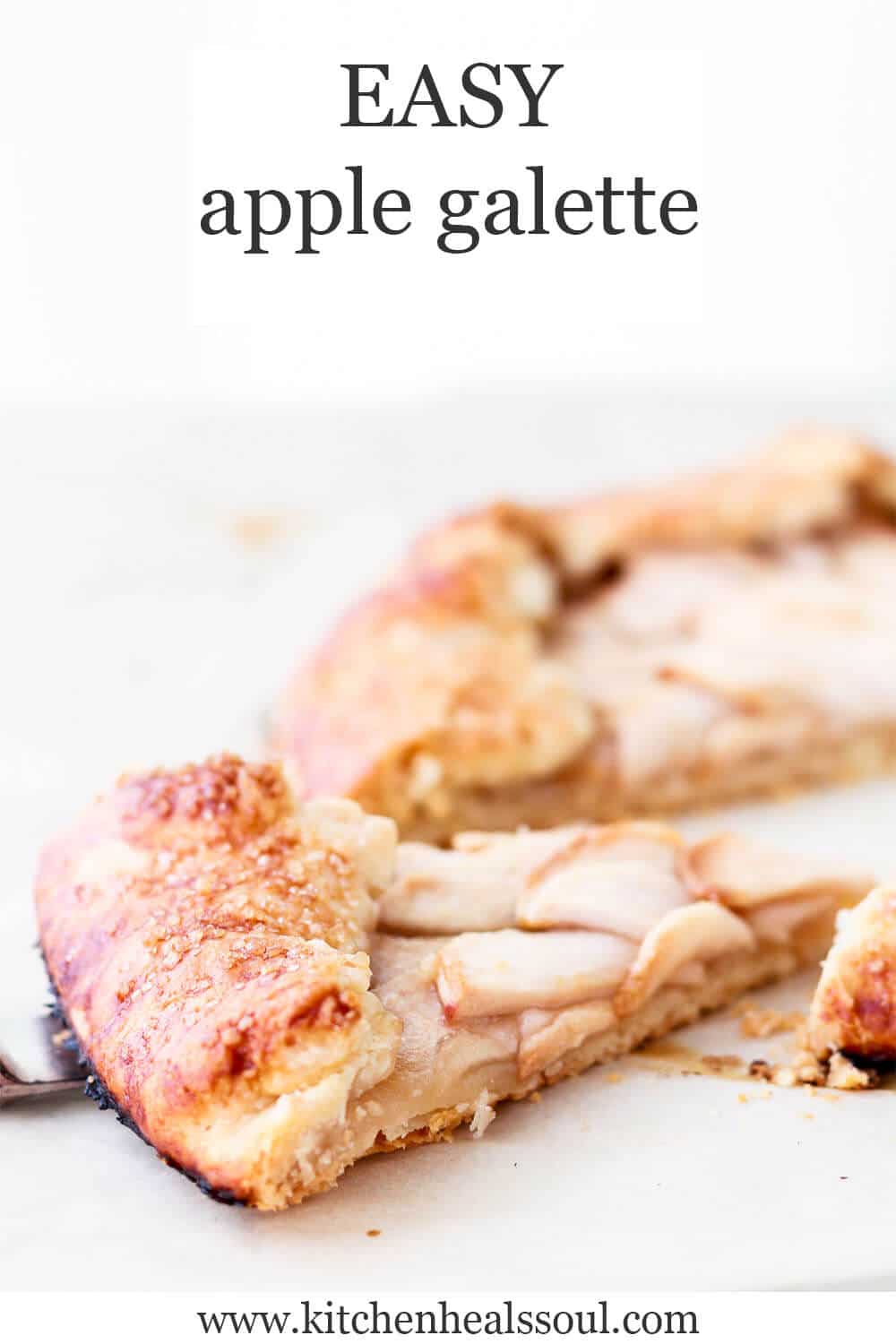 Disclosure: As an Amazon Associate, I earn from qualifying purchases.
What is a galette?
A galette is a single crust pie or an open-faced pie. Galettes are flatter than pies and they are usually baked on sheet pans so you don't need a pie plate or a special plate to make one. The beauty of the galette is that they are simpler and faster to make.
The word galette is technically a French baking term that can refer to many things:
a thick cookie, especially where I live in Quebec. A "galette à la mélasse" are a lot like these thick and chewy molasses cookies
a crêpe, like a galette au sarrasin is a buckwheat crêpe
a round stuffed pastry, like the galette des rois which is made from two disks of puff pastry baked with a filling of frangipane (almond cream) in between
an open-faced fruit pie like the apple galette here, or these mini raspberry galettes
In this case, we are referring to an open-faced fruit pie that has a single crust with fruit arranged in the centre before baking. Galettes are made from two components: a crust and a fruit filling.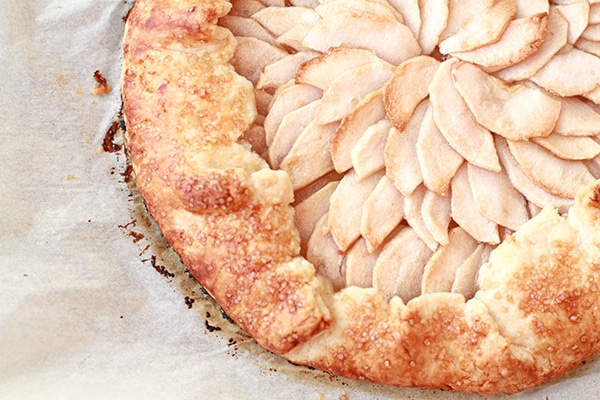 Galette crust
This galette is made from an all-butter pie crust that can be described with all the right words you look for in a pie crust: crispy, tender, flaky. And while the instructions indicate to make the dough by hand, feel free to use a food processor to cut the butter into the flour. The results will be similar, though with the food processor, if you process the dough more, the butter pieces will be smaller, and your galette crust will be less flaky. That's fine! All roads lead to a galette! If anything, less flaky pie crusts tend to hold their shape better during baking so using the food processor has its advantages.
The dough is simply flour, butter, and water, with a little salt for flavour. If you are short on time, head to your local bakery and ask them to sell you pie dough. Some will even roll it out for you so that all you have to do is arrange the fruit over it and bake.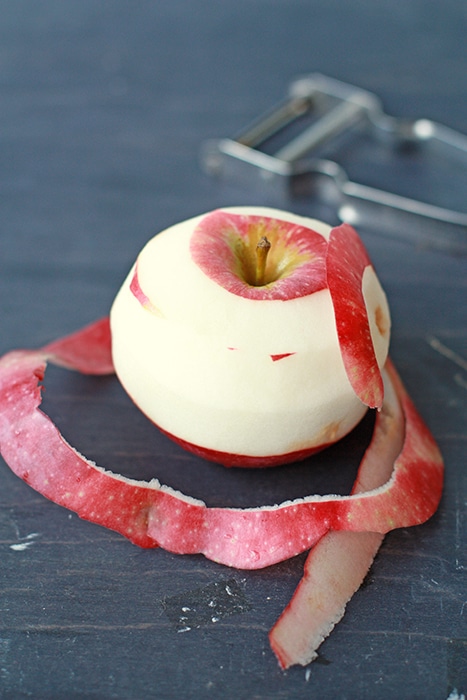 The filling
I brushed apple jelly on the surface of the dough to add even more apple flavour to the filling. This is entirely optional. You can also brush apple jelly on the apples when you take the galette out of the oven. The jelly will melt over the pieces of cooked apples and act as a shiny glaze. That's what most pastry chefs do to seal the filling and to give pastries an eye-catching shine.
Arranging the apples into a pretty pattern can be intimidating, so feel free to just layer the sliced apples in a more disordered fashion. It doesn't really matter though the goal is to layer them as tightly as possibly so that there are less gaps and air pockets in between. As the apples bake, they will soften and the apples will cook down, so you want to use a lot of sliced apple to make sure the filling is generous.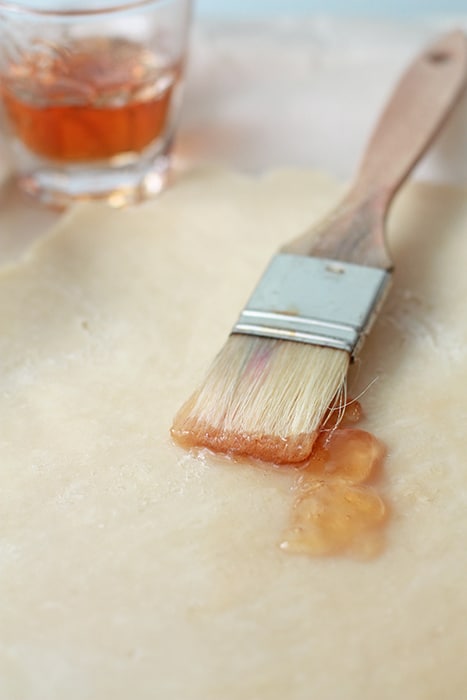 Types of apple
This galette is all about the apple. The flavours are as simple as can be. It has no cinnamon, or any other spices, but instead a touch of sugar and some apple jelly brushed onto the crust before layering in the apples. Unlike this maple apple pie that requires a little flour to thicken the filling, an apple galette doesn't.
The beauty of the galette is that they are an open canvas allowing you to arrange fruit in a decorative pattern, but they are also very forgiving. Pretty much any type of apple will work here, though apples that hold their shape when cooked are better than those that break down when cooked. Why? Because apples that break down might not hold that intricate decorative arrangement of apples that you worked hard to create.
I like to favour apples that hold their shape when baked, so Cortland, Lobo, Spartan, Granny Smith, Golden Delicious, etc. Apples like McIntosh or Empire may break down and become more saucy when baked in a galette.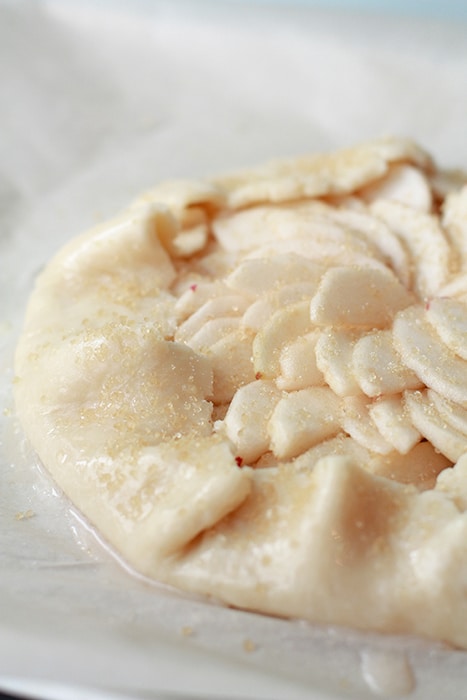 Storage tips
Apple galettes are best consumed within a couple days of making, but honestly, you probably won't have leftovers for longer than that! You can serve the apple galette plain or serve warm à la mode, topped with scoops of homemade vanilla bean ice cream.
If you want to bake the galette ahead of time. I suggest baking it, cooling it completely, then freezing the baked galette. Freeze it on a sheet pan, then wrap it really well in a few layers of plastic wrap and then foil. Then when you want to serve the galette. Unwrap the frozen galette and defrost/reheat in the oven until it's warm at 350 ºF on a sheet pan.
Another option would be to freeze the unbaked galette on a sheet pan until it's frozen solid, then wrap in several layers of plastic wrap and foil to protect it. Unwrap the frozen galette and place on a sheet pan to bake it from frozen, following the instructions in the recipe. You'll have to add a few minute to the timer in the end. Remember you are aiming for the crust to be golden brown and the filling to be well cooked (apples should be soft). Don't pull the pie out before you are sure that the crust is baked, even on the bottom. Try to lift an edge of the galette to make sure it's browning underneath.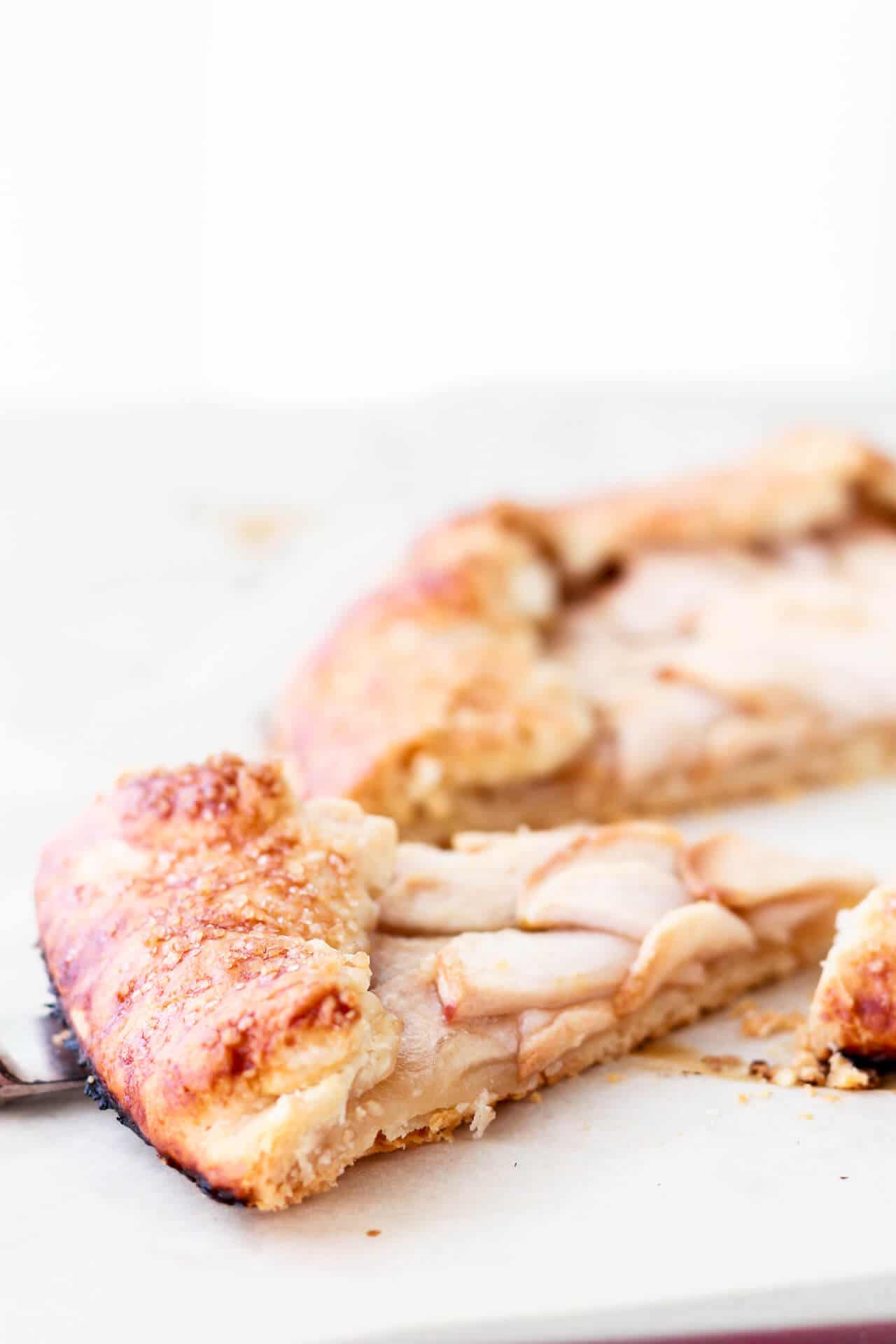 📖 Recipe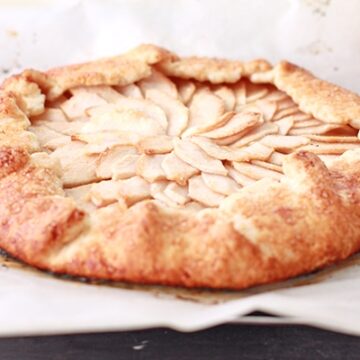 Easy Apple Galette
A very simple apple galette recipe made with an all-butter pie crust and lots of sliced apples. You can give the tart a glossy finish after baking by brushing the baked fruit with a little warm apple jelly.
Ingredients
250

grams

bleached all-purpose flour

¼

teaspoon

Diamond Crystal fine kosher salt

170

grams

unsalted butter

cut into little cubes, cold

60

mL

cold water

up to 90 mL (⅓ cup) if you feel your dough is dry

3

Cortland apple(s)

I used large apples but if your apples are smaller, you might need 5 apples to fill the galette

30

mL

granulated sugar

plus a little more for dusting over the assembled tart

60

mL

apple jelly

15

mL

skim milk (fat free)

Turbinado sugar

for sprinkling over the crust before baking
Instructions
Begin by making the crust: in a large bowl, mix together the flour and salt, then drop in the butter cubes and work it in with your finger tips and/or rubbing it into the flour with your palms. Work quickly to not melt/warm the butter too much. When your mixture is coarse, drop in a few tablespoons water, work it in with a fork (or your fingers), and continue adding water til the dough comes together when pressed. Give the dough a quick knead to gather all the dry bits, flatten into a disk and wrap with cling wrap. Refrigerate for about an hour.

Preheat the oven to 400°F. Roll out the chilled dough to ⅛ inch between two large pieces of parchment. Transfer the parchment to your baking sheet and chill.

Meanwhile, peel core and slice apples to ⅛ inch. Toss with 2 tablespoon granulated sugar. Set aside.

Take the rolled dough out of the fridge, and remove the top sheet of parchment. Brush the apple jelly over the crust leaving 1–1.5 inches of crust bare.

Top the jelly with the sliced apples arranging them in concentric circles to make it pretty and still keeping the 1–1.5-inch edge bare.

Gently fold over the bare crust over towards the middle to make a rustic edge. With your palms, press and push the fold towards the middle a little to "tighten" the galette.

Brush the crust with milk and sprinkle with the crust coarse sugar. Sprinkle a little more granulated sugar over the apples.

Bake for 20 minutes then lower the oven to 375 °F (190 °C) and bake for another 30 minutes until the crust is golden brown delicious and the apples are soft.

Let cool about 20 minutes before serving
Nutrition
Calories:
338
kcal
Carbohydrates:
42
g
Protein:
4
g
Fat:
18
g
Saturated Fat:
11
g
Cholesterol:
46
mg
Sodium:
80
mg
Potassium:
117
mg
Fiber:
3
g
Sugar:
15
g
Vitamin A:
568
IU
Vitamin C:
4
mg
Calcium:
18
mg
Iron:
2
mg