This recipe for mini raspberry galettes makes open-faced mini raspberry pies that are very easy to make (more so than full pies usually are). I made these mini galette pies with fresh raspberries and red currants too, but you can use any mixed berries.
As an Amazon Associate I earn from qualifying purchases.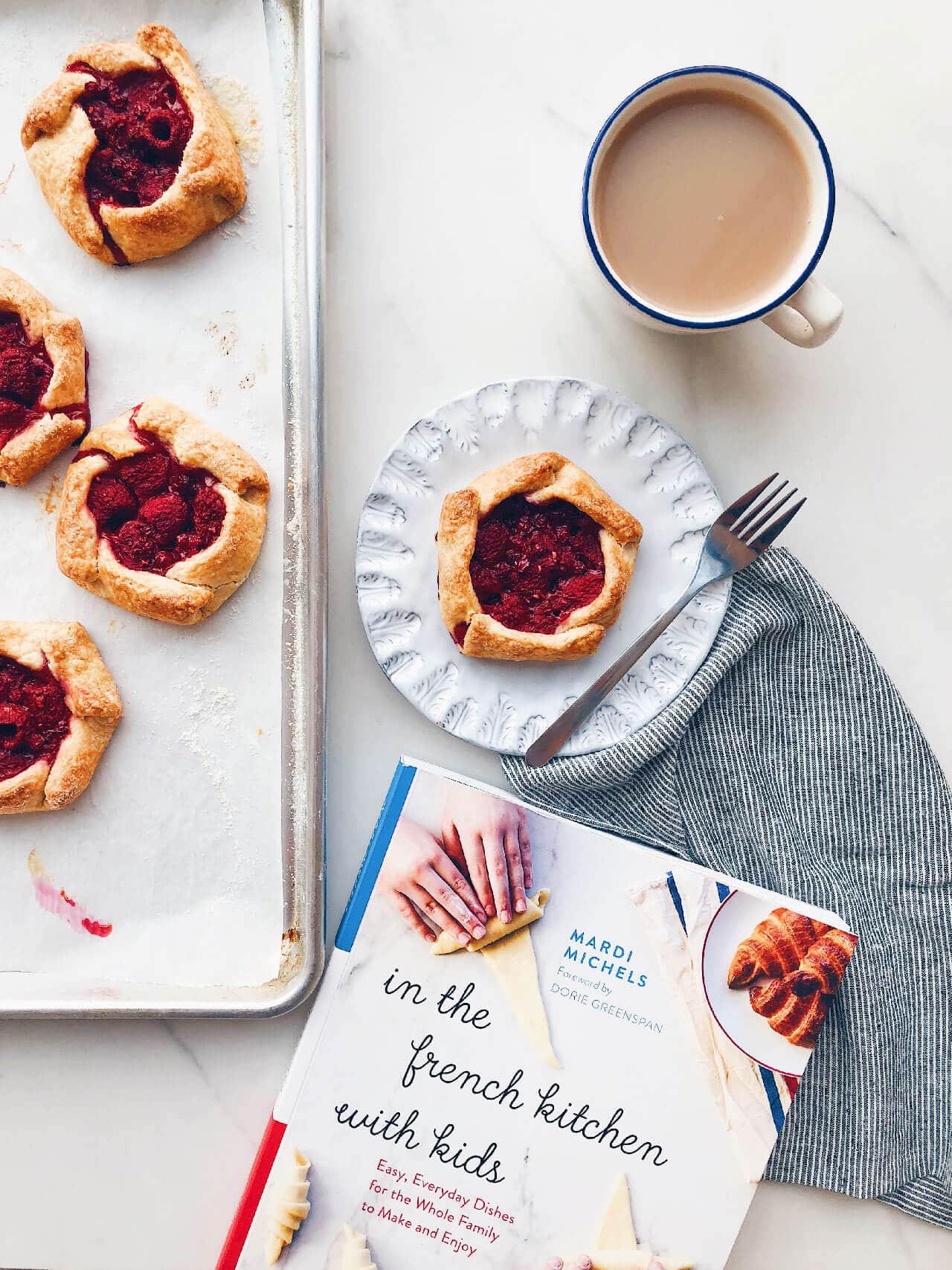 Disclosure: As an Amazon Associate, I earn from qualifying purchases.
I think it's safe to say that pie-making scares a lot of us. That doesn't mean your life should be pie-less! The easiest pie you can make and a great "entry-level" easy recipe to start with on your quest to make pie is a galette recipe.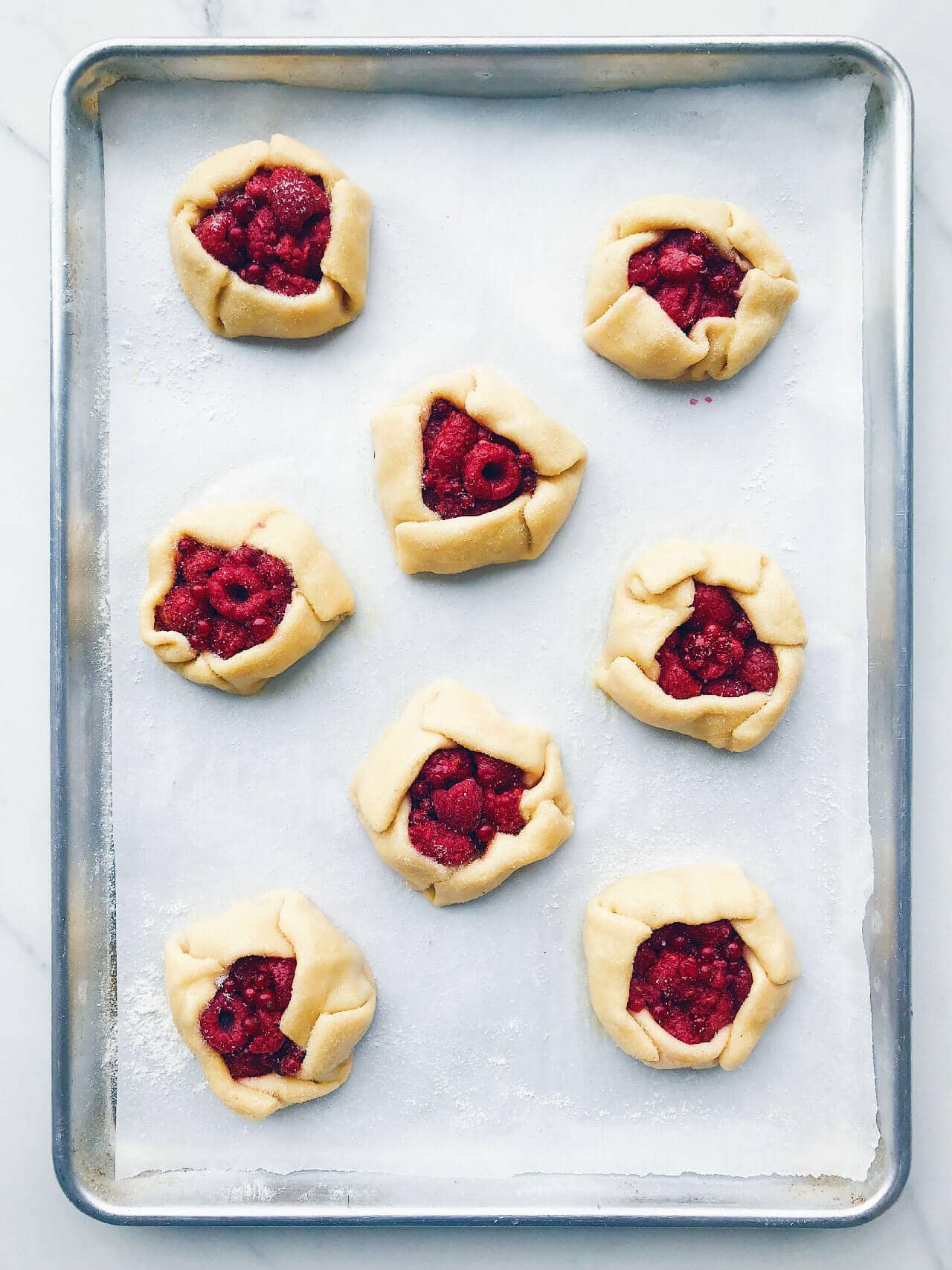 What is a galette?
A galette is a freeform pie. Galettes are "open-face" so they have a base crust and edges, but no top crust. Galettes would fall under the single-crust pie category. You can make them big, like 9 or 10 inches, basically the size of a traditional pie, or you can make mini galettes that are just 4 or 5 inches in diameter. In an attempt at pie perfection, some people will bake galettes in a cake pan or a pie pan (or jumbo muffin pans for mini galettes). I don't think that's necessary. You can make galettes with all kinds of fruits and vegetables, from berries to zucchinis and summer squash. I've made galettes with apples for an quick and easy alternative to a double-crust apple pie.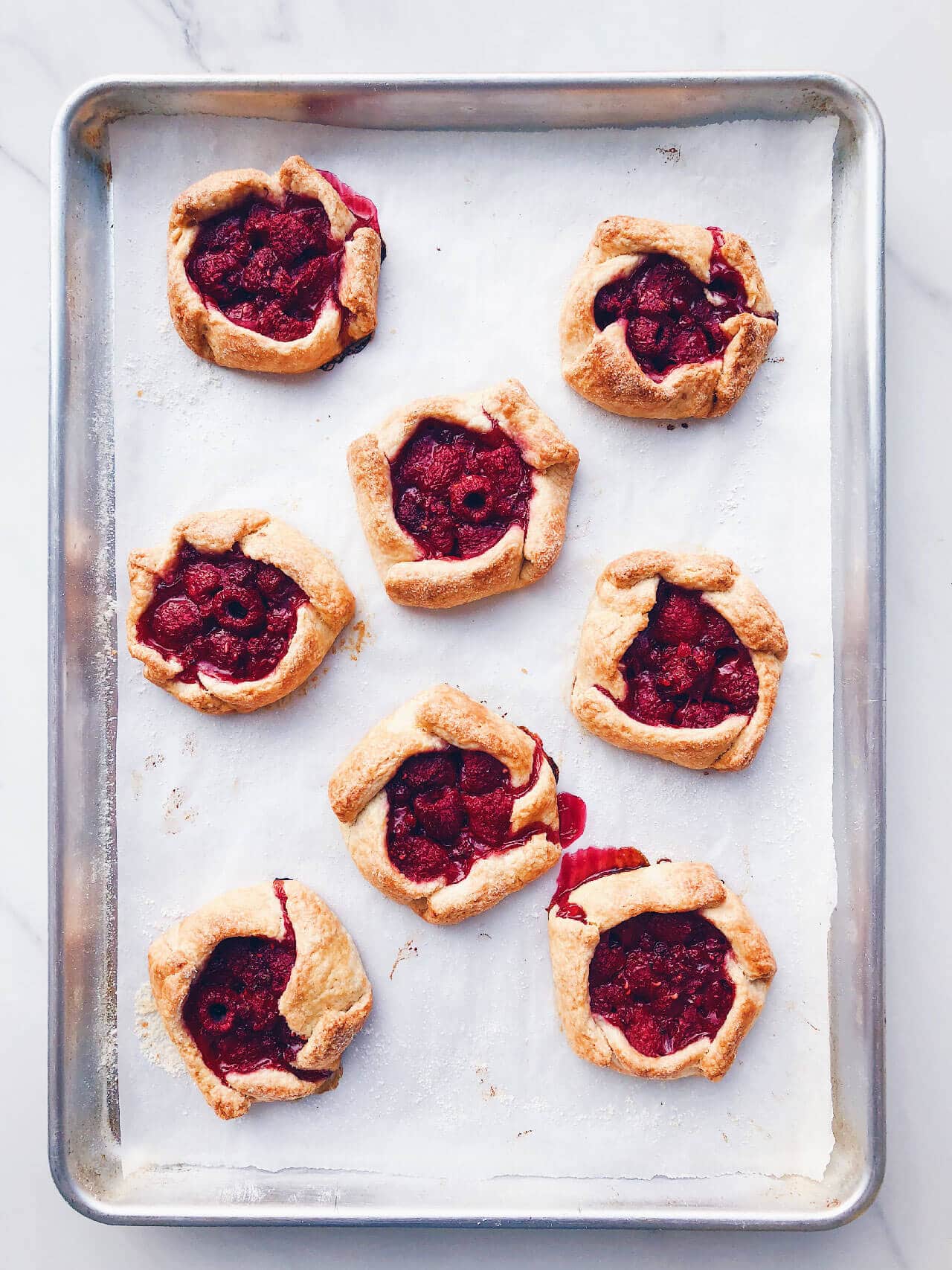 What type of dough do you use to make a galette?
You have a few options. These mini raspberry galettes are made with a sweet crust (pâte sucrée) but you can also use a regular all-butter pie crust. It's really up to you. You can also decide if you want to make the dough by hand or with a food processor. You can even use a stand-mixer to make the dough. I've done it and it works.
This raspberry galette recipe is adapted from Mardi Michels Mixed Berry Galettes in her book In The French Kitchen with Kids (available on Amazon). I also wrote a review of the book In The French Kitchen with Kids, where this recipe comes from.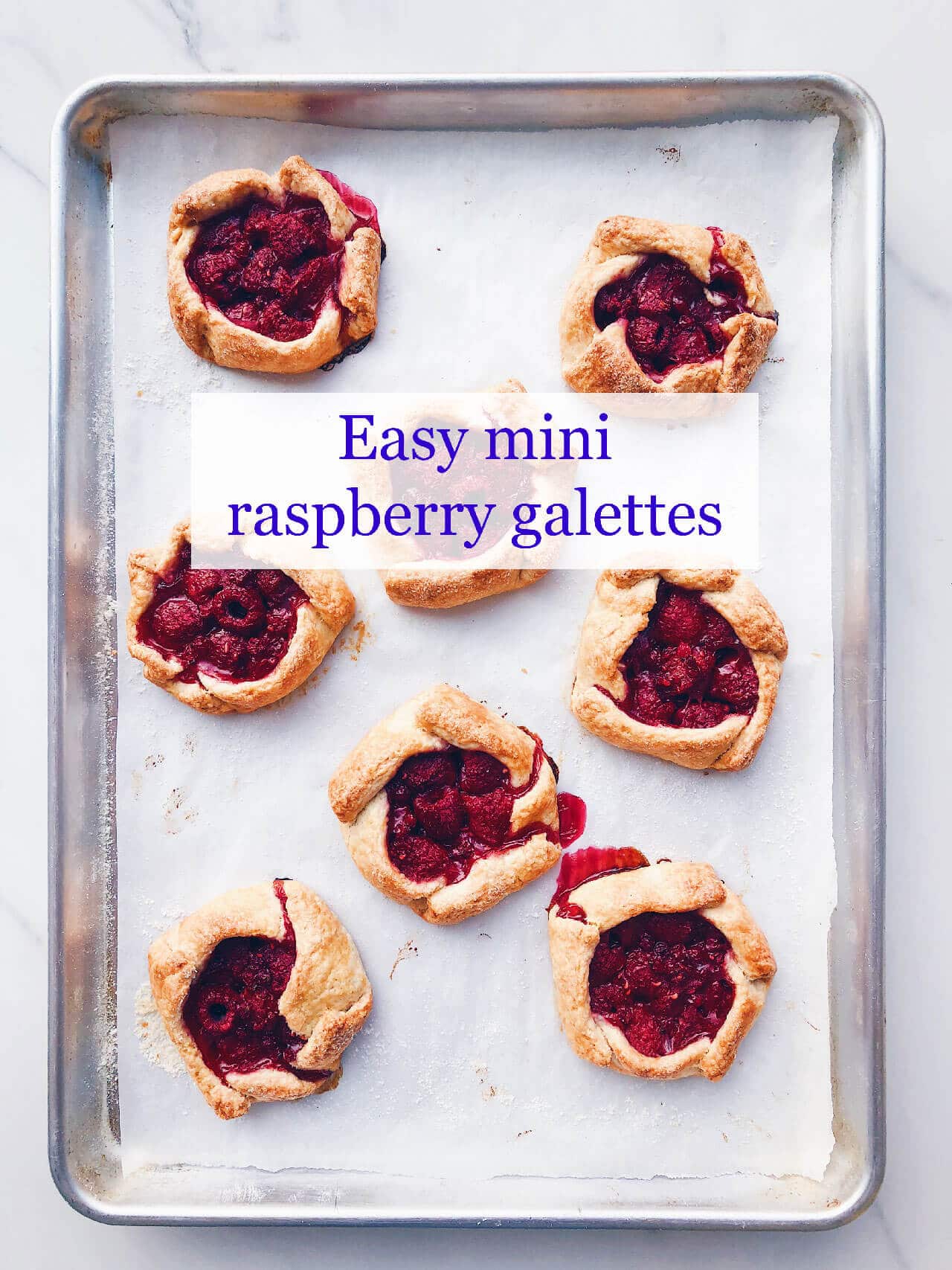 These mini raspberry pies are easy to make and Mardi's recipe will guide you through the steps so that yours will turn out perfectly! Serve them with big scoops of homemade ice cream, like vanilla bean ice cream, cardamom ice cream, or even popcorn ice cream for something different!
What to do with pie dough scraps
Inevitably, when you make a pie, you will be left with a pile of pie dough scraps. Gather them up and press them together to shape them into a disk and use them to make pie crust cookies!
📖 Recipe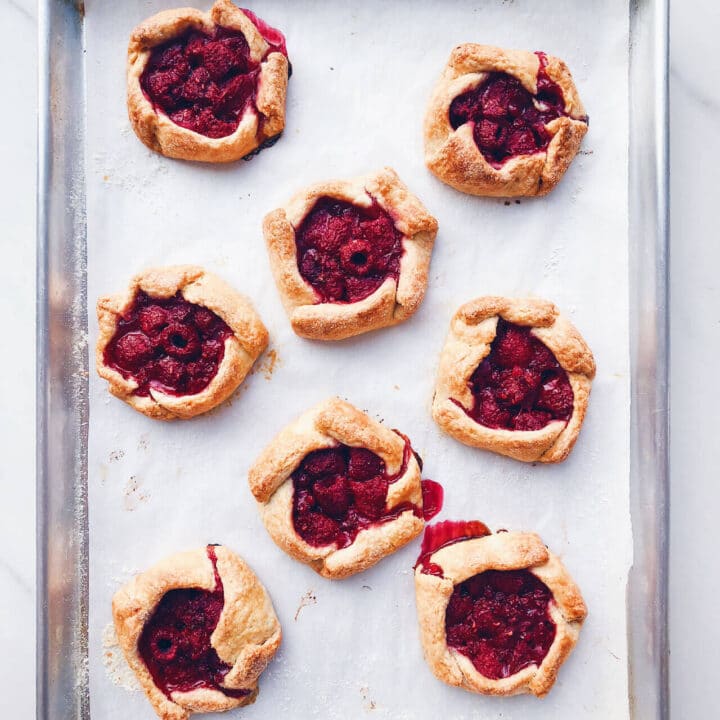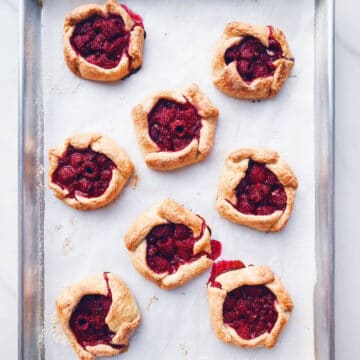 Raspberry Galettes
Freshly baked mini raspberry galettes on a parchment-lined baking sheet. These easy pies are fast to make and much easier than a full pie. Make these fruit galettes with a sweet shortcrust and fresh berries
Ingredients
Sweet shortcrust recipe
225

grams

bleached all-purpose flour

¼

teaspoon

Diamond Crystal fine kosher salt

50

grams

granulated sugar

113

grams

unsalted butter

cut into cubes, cold

1

large egg(s)

lightly beaten

2

tablespoon

whipping cream (35 % fat)
Raspberry galettes recipe
1

recipe

sweet shortcrust

recipe above

300

grams

fresh berries

I used mostly raspberries with a few red currants

2

tablespoon

granulated sugar

1

tablespoon

cornstarch

1

tablespoon

fresh lemon juice

1

tablespoon

finely grated lemon zest
Assembly ingredients
1

large egg(s)

Granulated sugar
Ingredients to serve
Instructions
To make the sweet shortcrust
Whisk the flour, salt and sugar together in a large bowl.

Add the cubed butter and, using your fingertips, lightly rub the butter into the flour until it resembles large breadcrumbs with some pieces the size of small peas. You can also use a pastry blender for this job.

Make a well in the middle of the flour mix and add the egg. Using a wooden spoon, mix the egg into the flour until they are completely combined.

Add the cream and mix until the dough is firm enough to form a ball when you press the mixture together with your fingers—it might be a little crumbly, but form the dough into a disk and wrap it tightly in plastic wrap.

Refrigerate for a minimum of 1 hour, or up to 3 days, in the fridge. You can also freeze the dough, tightly wrapped in plastic, for up to 3 months. Thaw it overnight in the fridge before you roll and bake.
To make the raspberry galettes
Combine the berries, sugar, cornstarch, lemon juice and zest in a small bowl. Stir to coat the berries thoroughly and set aside.

Preheat the oven to 350 °F (175 °C). Line two sheet pans with parchment paper.

Divide the pastry into eight pieces and roll each piece out to a rough circle about 6 inches (15 cm) in diameter. If necessary, trim the rolled-out shapes with a pizza cutter so they are more or less round. Place the circles of dough on the parchment-lined baking trays. They should not be touching.

Use a ¼-cup (60 mL) measure to divide the berry mixture evenly between the dough circles. Place the berries in the center of the dough and use the bottom of the measuring cup to flatten them slightly. You should leave a border of about 1 ½ inches (4 cm) around the edge.


Working with one circle at a time, fold the uncovered edges of dough up and around the filling, working your way around the circle. You'll end up with pleated edges that are a little rough and you might need to trim some uneven parts to ensure you don't end up with a thick area of just crust. Once you've shaped all the galettes, you will probably be able to combine them all onto one large sheet pan to make baking easier.

Chill the galettes before baking to set the pastry. This may take about 30 minutes.

Brush the edges of each galette with a little egg wash and sprinkle the pastry with sugar

Bake until the pastry is golden and the berries are cooked (Mardi suggests about 30 minutes, but I left mine in for 50 minutes because I had chilled them before baking to set the pastry).

Remove from the oven and place the galettes on wire racks to cool slightly. Serve warm or at room temperature with a scoop of vanilla ice cream or Chantilly cream.

Nutrition
Calories:
291
kcal
Carbohydrates:
37
g
Protein:
5
g
Fat:
14
g
Saturated Fat:
9
g
Polyunsaturated Fat:
1
g
Monounsaturated Fat:
4
g
Trans Fat:
0.5
g
Cholesterol:
76
mg
Sodium:
92
mg
Potassium:
76
mg
Fiber:
2
g
Sugar:
13
g
Vitamin A:
485
IU
Vitamin C:
3
mg
Calcium:
21
mg
Iron:
2
mg
I was sent a free copy of the cookbook by the publisher Appetite. I was not obliged to review the book, nor was I monetarily compensated to do so. All opinions are my own.