This popcorn ice cream recipe is from the book Hello, My Name is Ice Cream by Dana Cree, reproduced with permission from the publisher.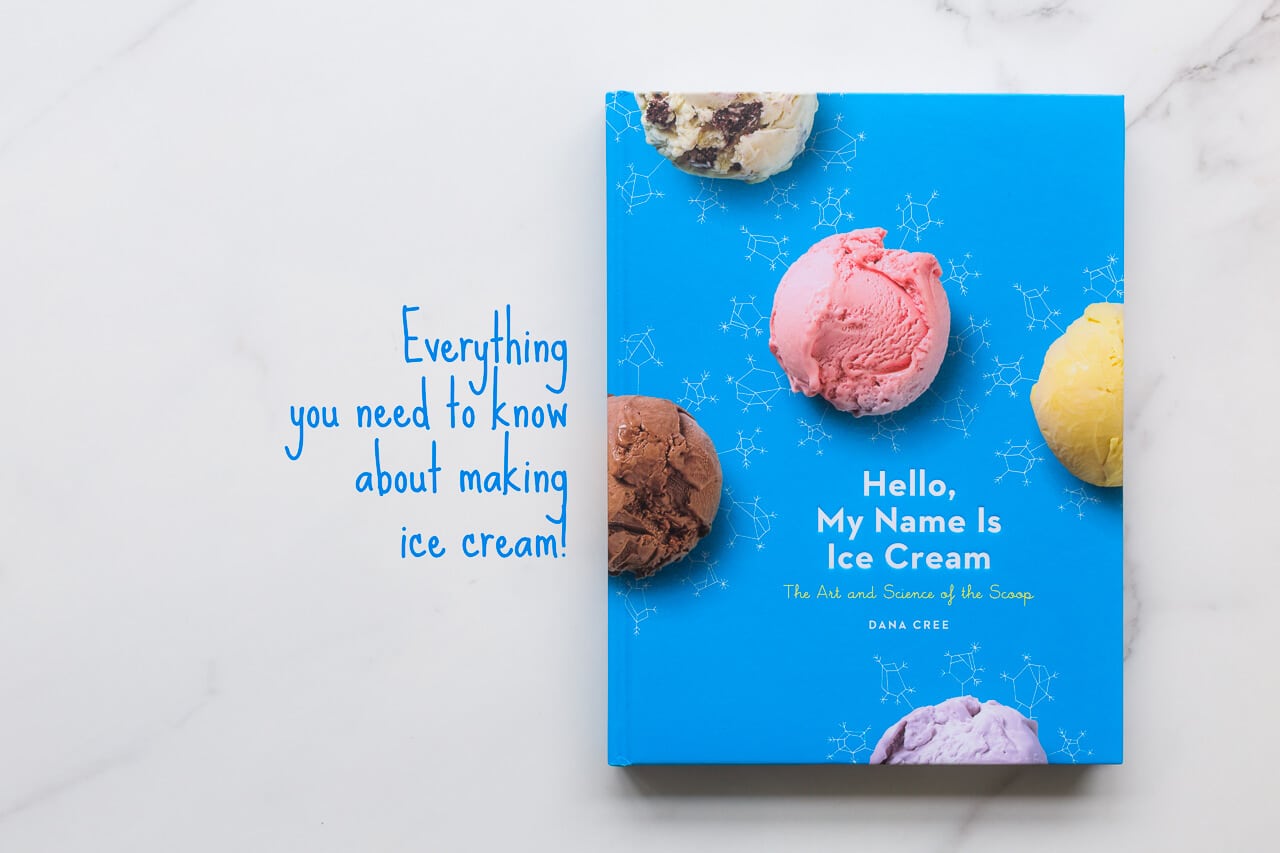 Disclosure: As an Amazon Associate, I earn from qualifying purchases.
This popcorn ice cream recipe is from the book Hello, My Name is Ice Cream (from Amazon) by Dana Cree. I "settled" on the popcorn ice cream recipe on page 92 because it's not made from egg yolks like I am accustomed to. This recipe makes a different style of ice cream, an egg-less ice cream called Philadelphia style ice cream!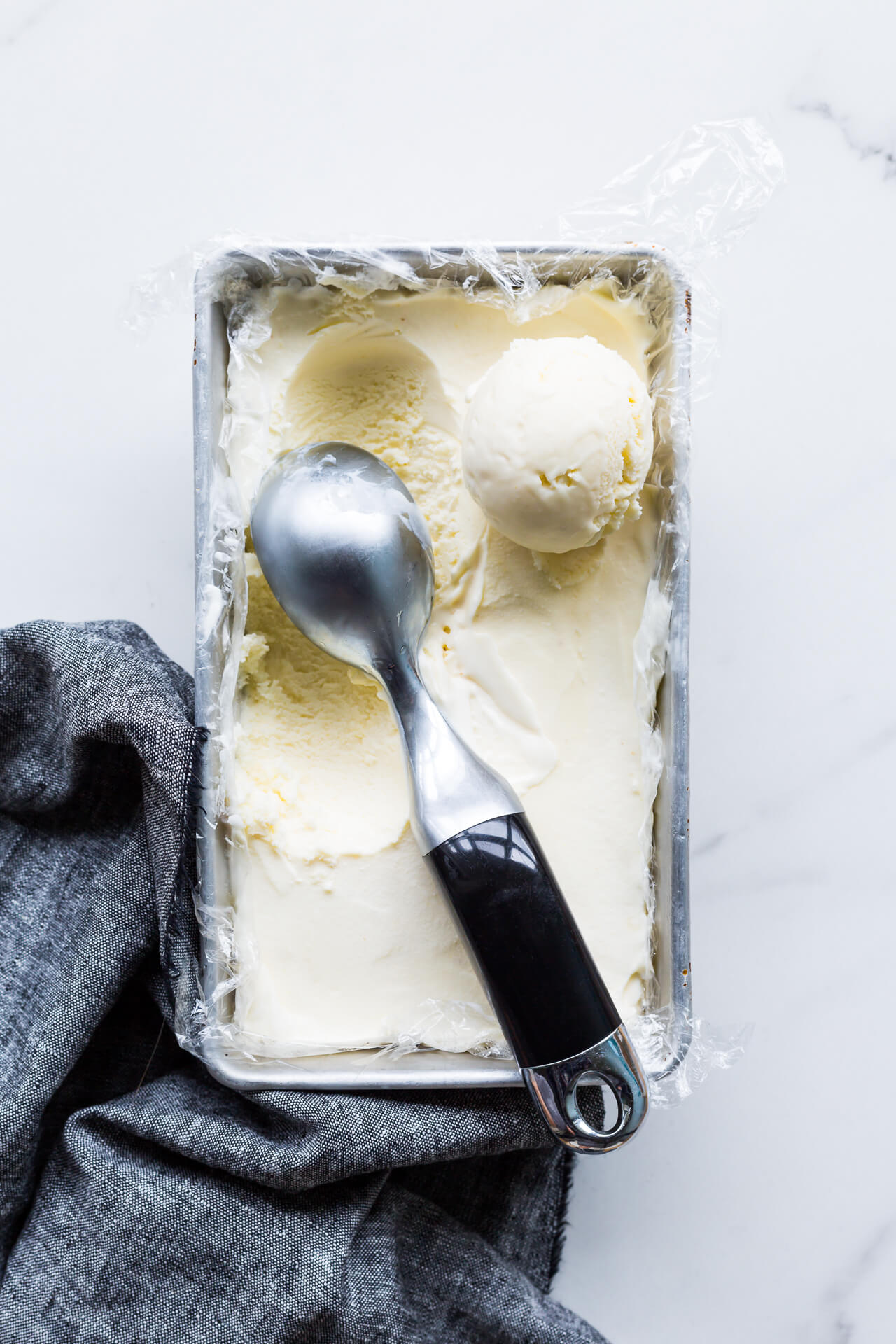 Ingredients for Philadelphia style ice cream
Philadelphia ice creams are not thickened with egg yolks the way crème anglaise-based ice cream is. Instead this recipe is made from just cream, milk, sugars, and a stabilizer:
Milk and cream, preferably 2 % fat or even 3.25 % fat whole milk and whipping cream with 35 % fat. You can play with the amount of fat in this recipe, but less fat will have an impact on the final texture and flavour. The ice cream may taste a little more watery with less fat.
Sugar, specifically granulated sugar because it won't interfere with the delicate flavour of the mint. Don't skimp on the sugar or your ice cream may end up too icy and the texture won't be as nice.
Glucose, which can bind more water molecules than sucrose (granulated sugar). For this reason, adding glucose or other invert sugars like corn syrup or honey will help you improve the texture of ice cream, reducing the free water in the ice cream base, resulting in less ice crystals.
Fine kosher salt, which dissolves easily and provides a little depth of flavour, helping the flavours in the ice cream stand out more.
Stabilizer, like cornstarch or tapioca starch, which helps with the texture of the ice cream by trapping water. This helps delay melting when you serve and eat the ice cream, and it also reduces the number of larger ice crystals.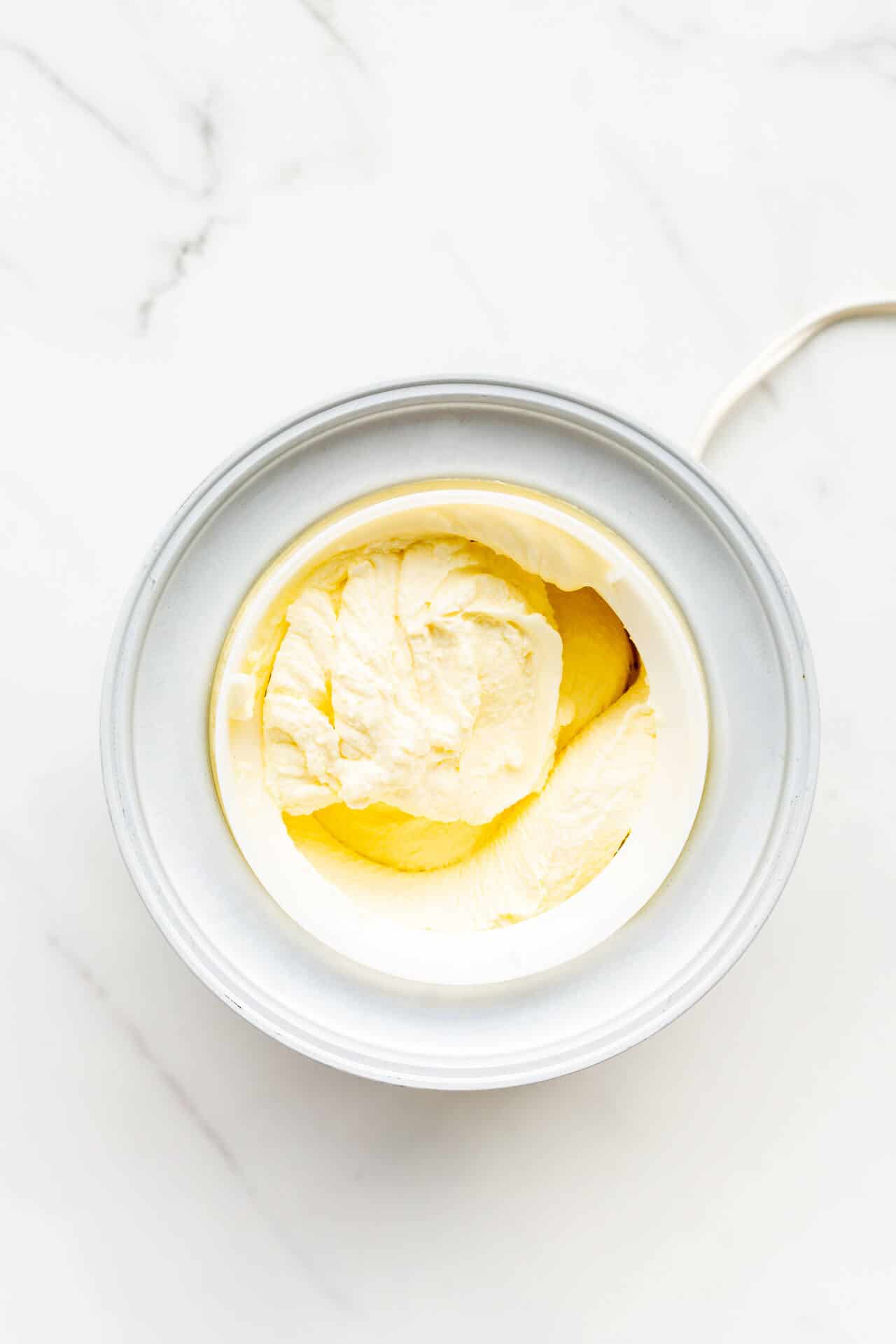 Infusing ice cream with popcorn flavour
This Philadelphia style ice cream is infused with buttery popcorn. To do so, you first make popcorn in a big pot on the stove with clarified butter. Then you add the dairy and let it all steep so that the buttered popcorn flavour infuses into the milk.
Once the popcorn has steeped long enough, you can strain it out and then add in the stabilizer you want to use. Then you chill the ice cream base before churning.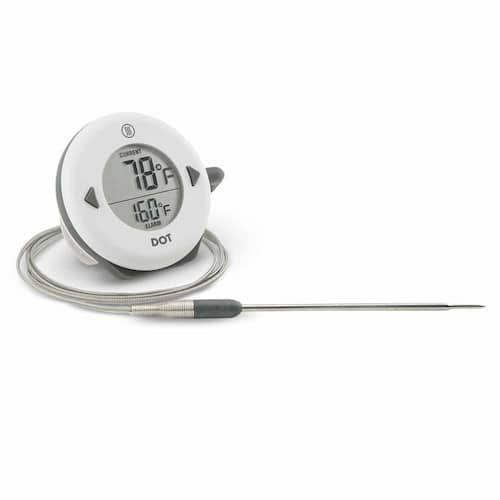 Equipment
I used an old Krups La Glacière ice cream maker to churn this batch of popcorn ice cream, but it is no longer in production. Dana Cree (and many others) recommends this Cuisinart model that you can get on Amazon. If I had the budget, I'd probably invest in this Breville model (available on Amazon), which comes with a built-in compressor so that you can avoid having to chill an ice cream drum for 24 hours. This machine chills itself!
Wanna buy a copy of the book? Head over to Amazon to get yours! It's a keeper! And then you can use your freshly churned ice cream to make homemade ice cream sandwiches and ice cream strawberry shortcakes! And for different ice cream flavours, you can make a batch of cookie ice cream, mint chocolate chip ice cream, cherry bourbon ice cream, lemon custard ice cream, cardamom ice cream, or even spiced chai ice cream!
If you want to learn more about making ice cream at home, check out this mega guide to how to make the best ice cream, with tips and tricks, and troubleshooting ideas if you run into problems along the way.
Please note that I have modified the directions of this recipe ever so slightly to attempt to make the use of the texture agents clearer.
📖 Recipe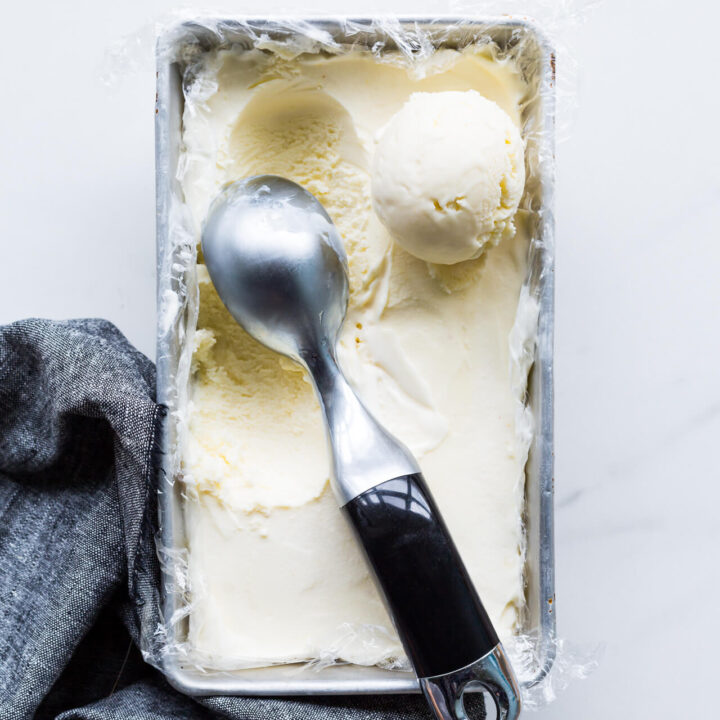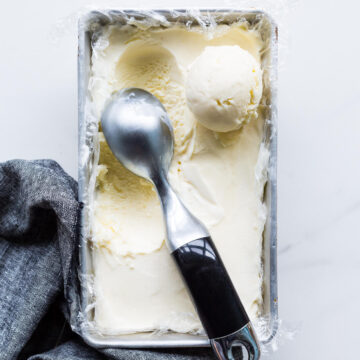 Popcorn Ice Cream
This recipe for popcorn ice cream is made from an eggless ice cream base (also known as Philadelphia-style ice cream), infused with freshly popped buttery popcorn for the ultimate buttered popcorn ice cream flavour.
Instructions
Boil the dairy.

Place the cream, milk, sugar, texture agent 1 if using (see notes below), and glucose in a medium heavy-bottomed saucepan over medium–high heat, and cook, whisking occasionally to discourage the milk from scorching, until it comes to a full rolling boil. Reduce the heat to a low simmer and continue cooking for 2 minutes and add texture agent 4

if using (see notes below)

, then set the pot aside in a warm place and add

texture agent 3 if using (see notes below)

.

Pop the popcorn. Place the clarified butter and popcorn in a large heavy-bottomed pot over medium-high heat. Cover with a lid and cook until you hear the sound of the corn popping. Use pot holders to take hold of the handle in one hand and the lid in the other. Gently shake and swirl the pot around, keeping the bottom flush with the burner, to encourage even popping and avoid burnt spots. Continue until the sound of popping corn has slowed to less than one pop per second. Immediately remove the popcorn from the heat.

Infuse. Working quickly, remove the lid from the popcorn pot and pour the dairy into it. Stir the popcorn, watching it dissolve. Let the popcorn-dairy mixture cool to room temperature, about 1 hour.

Blend. Transfer the popcorn mixture to a blender. Add the salt and start blending on low speed at first, increasing gradually to full speed, to avoid the liquid's jumping out of the blender cup. Continue blending for 1 to 2 minutes, until the ice cream base is very smooth.

Chill. Transfer the base to a shallow metal or glass bowl. Working quickly, fill a large bowl two-thirds of the way with very icy ice water. Nest the hot bowl into this ice bath, stirring occasionally until it cools down and add texture agent 2 if using (see notes below).

Strain. When the ice cream base is cool to the touch or a thermometer reads 50°F or below, strain it through a fine-mesh sieve to remove the bits of hull.

Cure. Transfer the ice cream base to the refrigerator to cure for 4 hours, or preferably overnight. (This step is optional, but the texture will be much improved with it.)

Churn. Place the base into the bowl of an ice cream maker and churn according to the manufacturer's instructions. The ice cream is ready when it thickens into the texture of soft-serve ice cream and holds its shape, typically 20 to 30 minutes.

Harden. To freeze your ice cream in the American hard-pack style, immediately transfer it to a container with an airtight lid. Press plastic wrap directly on the surface of the ice cream to prevent ice crystals from forming, cover, and store it in your freezer until it hardens completely, between 4 and 12 hours. Or, feel free to enjoy your ice cream immediately; the texture will be similar to soft-serve.

Notes
TEXTURE AGENTS
Best texture Commercial stabilizer: 3g | 1 teaspoon mixed with the sugar before it is added to the ice cream base.
Least icy: Guar or xanthan gum 1g | ¼ teaspoon whirled in a blender with the ice cream base after it is chilled in the ice bath.
Easiest to use: Tapioca starch 5g | 2 teaspoons mixed with 20g | 2 tablespoons of cold milk, whisked into the ice cream base after it is finished cooking.
Most accessible: Cornstarch 10g | 1 tablespoon plus 1 teaspoon, mixed with 20g | 2 tablespoons of cold milk, whisked into the simmering ice cream base, then cooked for 1 minute.
Nutrition
I think the next ice cream I'll make will be pumpkin sage. Dana Cree even covers how to make pumpkin purée at home—see, this book covers much of what you need to make great ice cream at home!
Please note that this post is a review of the cookbook Hello, My Name is Ice Cream by Dana Cree with a popcorn ice cream recipe from the book, reproduced with permission from the publisher. I purchased the book on Amazon and you can to here.
This post contains affiliate links to Amazon. If you buy a product I recommend on Amazon via the link, I will receive a small commission, and the price you have to pay will not change in any way.