Bing cherries are pitted and heated with bourbon and sugar to make bourbon-infused cherries and then those cherries are folded into homemade vanilla bean ice cream to make this homemade cherry bourbon ice cream.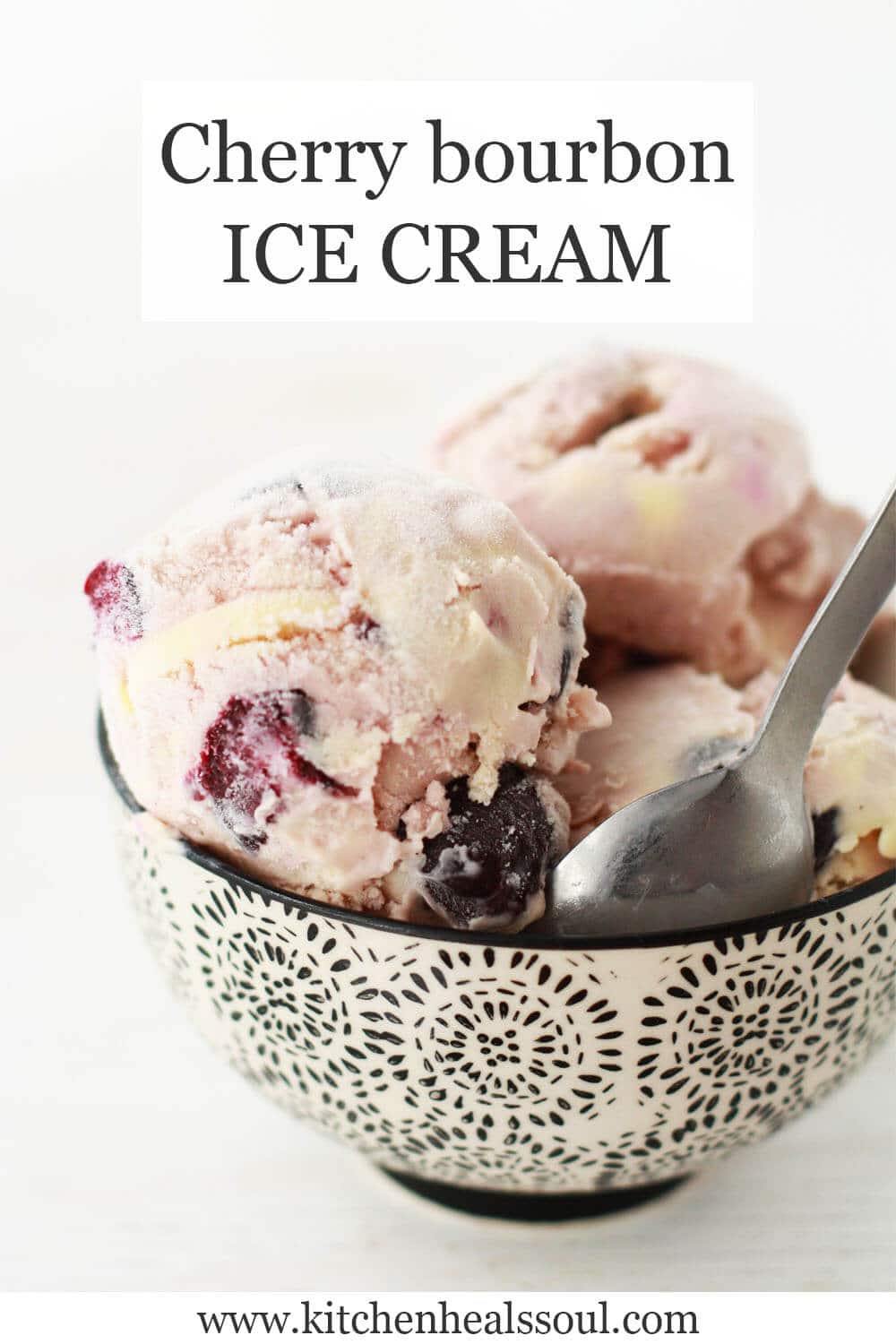 Disclosure: As an Amazon Associate, I earn from qualifying purchases.
Ice cream can be tricky, especially if you want to incorporate alcohol into it. A heavy pour of booze and you may end up with an ice cream that simply will not freeze. I have done this before with rum raisin ice cream, where I was a little too heavy handed with the rum. What I made was a very boozy milkshake in the end.
The freezing point of ethanol is -114.1 °C. Below -114.1 °C, ethanol crystallizes into a solid. This is also the melting point and so above -114.1 °C, ethanol melts and goes from solid state to liquid. Knowing this, you can understand that if you add too much alcohol (ethanol) to an ice cream base, it becomes harder and harder to freeze the base and make ice cream that is solid.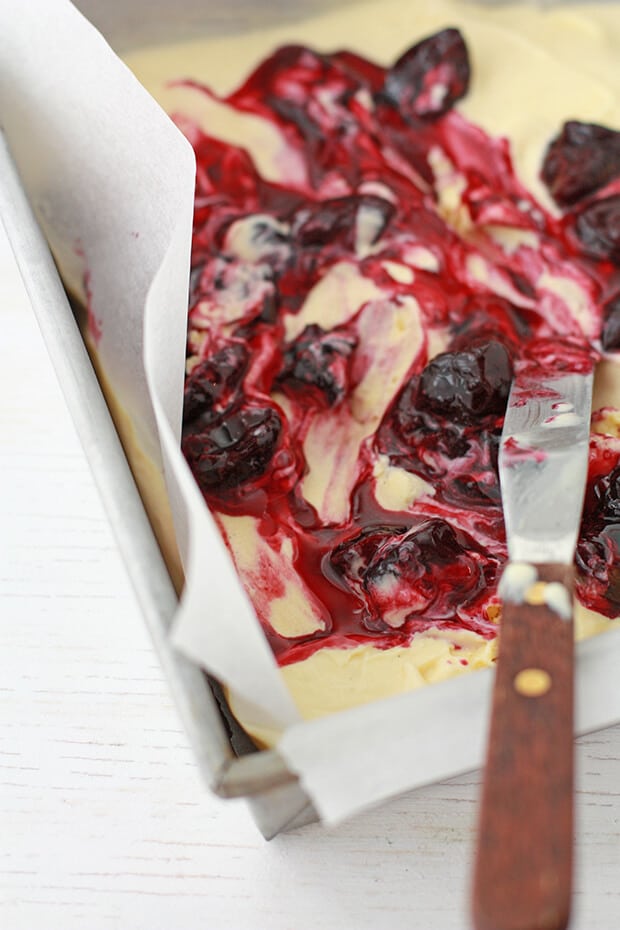 Ice cream makers can use the low melting/freezing point of alcohol to their advantage: adding a little alcohol to an ice cream base yields a softer set: the ice cream freezes less hard and so it is easier to scoop straight from the freezer.
The rule of thumb is that you cannot go past 75 mL (5 tablespoons) of alcohol in the ice cream base for 1 litre of ice cream, or else, expect that the ice cream will be too soft to scoop, regardless of how long you churn and freeze it. Anyways, quite frankly, any more alcohol than that and the ice cream probably won't taste that good because it's just too boozy.
If you want to learn more about making ice cream at home, check out this mega guide to how to make the best ice cream, with tips and tricks, and troubleshooting ideas if you run into problems along the way.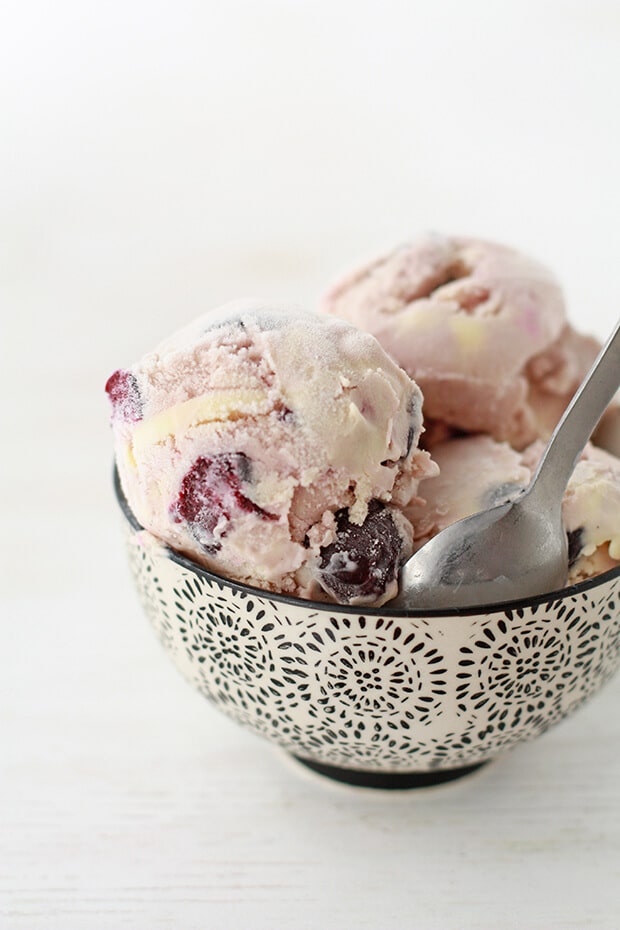 This recipe is adapted from the August 2013 issue of Bon Appétit. It starts like any custard-based ice cream with a crème anglaise, cooked on the stove. I made two batches of ice cream base to work with to see the best way for incorporating the bourbon cherries:
adding the cherries to the ice cream as it churned
swirling the cherries into the soft ice cream after it was churned
Either method works, and depends entirely on if you want a pretty swirl of boozy cherries, or a more uniform dispersion. You could even just top the vanilla ice cream with the boozy cherries. Up to you! Be sure to make an extra batch of this cherry bourbon ice cream to transform into homemade ice cream sandwiches. Trust me!
And for something different, try this popcorn ice cream or this lemon custard ice cream.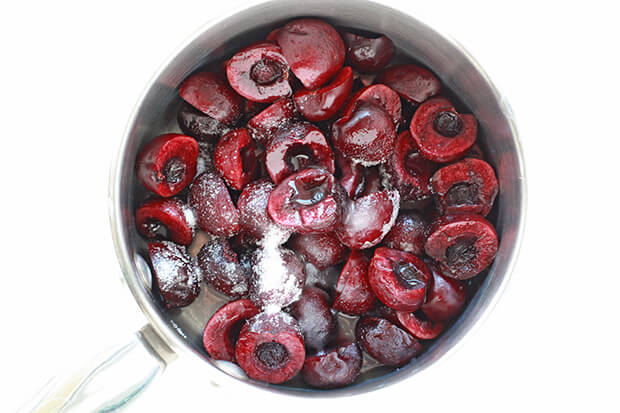 I used an old Krups La Glacière ice cream maker to churn this batch of popcorn ice cream, but it is no longer in production. Dana Cree (and many others) recommends this Cuisinart model that you can get on Amazon. If I had the budget, I'd probably invest in this Breville model (available on Amazon), which comes with a built in compressor so that you can avoid having to chill an ice cream drum for 24 hours. This machine chills itself!
📖 Recipe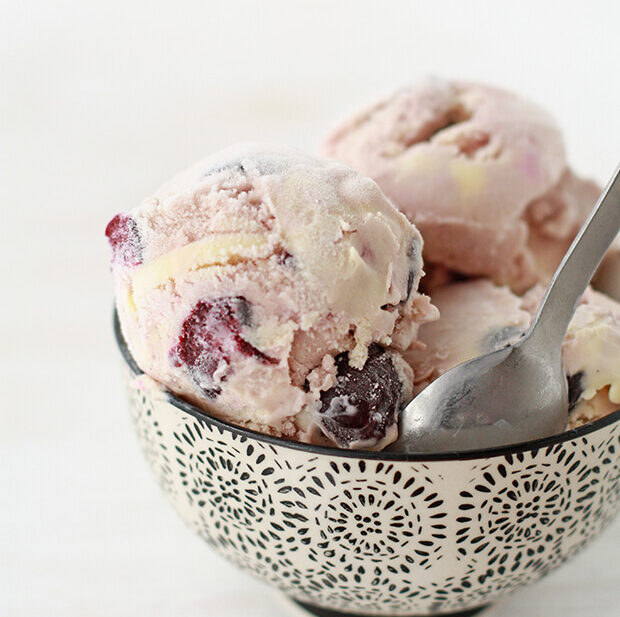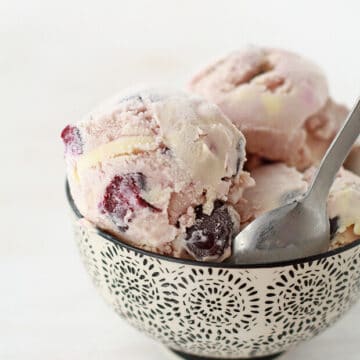 Bourbon Cherry Ice Cream
Learn to infuse Bing cherries with bourbon and then make bourbon cherry ice cream with this easy recipe
Ingredients
Ice cream base
425

mL

whole milk (3.25 % fat)

200

mL

whipping cream (35 % fat)

50

grams

granulated sugar

1

pinch

Diamond Crystal fine kosher salt

5

large egg yolk(s)

50

grams

granulated sugar
Boozy cherries
280

grams

Bing cherries

halved/pitted

30

mL

granulated sugar

15

mL

water

15

mL

bourbon
Instructions
Freeze the ice cream maker drum in the freezer at least 24 hours prior to churning your ice cream.

In a medium saucepan, heat the milk, cream, 50 grams of sugar, and a pinch of salt, along with the vanilla bean (split, seeds scraped into the pan of milk). Heat it on medium til it comes to a simmer, then take it off the heat and let it steep for about 30 minutes.

Meanwhile, whisk the egg yolks with 50 grams of sugar til they have lightened in color. Prepare a bowl with a strainer and set it next to the stove.

Bring the milk mixture back up to a simmer, then temper the eggs with half the milk mixture, and pour it all back into the pan.

Stir the mixture with a wooden spoon on medium heat til it coats the back of a spoon (à la nappe). You will know the custard is done cooking when you give the mixture a stir, and it stops moving right away (unlike fluid milk that would keep swirling around the pan). Immediately take the pan off the heat and strain the custard into the bowl you set aside. Cover with plastic wrap and chill in the freezer for about 30 minutes, then transfer the bowl to the fridge to chill overnight.

To prepare the boozy cherries, heat the halved cherries with the sugar and water on medium heat for about 10–15 minutes, til the juices have thickened. Take it off the heat, add the bourbon, and transfer to a container to chill in the fridge over night.

When your ice cream drum, custard, and cherries have all chilled overnight, churn the ice cream (according to your machine's instruction booklet). I let mine churn for at least 15 minutes til it's really thick. You can add the cherries towards the end, or swirl it on top of the ice cream, directly in the container you will be storing your ice cream in. When the ice cream is made, immediately transfer it to a container and get it into the freezer.

Homemade ice creams set very hard. Take it out of the freezer for about 10 minutes or so before serving.
Notes
Nutrition
Calories:
332
kcal
Carbohydrates:
45
g
Protein:
7
g
Fat:
14
g
Saturated Fat:
8
g
Polyunsaturated Fat:
1
g
Monounsaturated Fat:
4
g
Cholesterol:
156
mg
Sodium:
44
mg
Potassium:
119
mg
Fiber:
3
g
Sugar:
37
g
Vitamin A:
1863
IU
Vitamin C:
0.2
mg
Calcium:
130
mg
Iron:
1
mg