Learn how to make the best chocolate brownie ice cream with this easy recipe. You will make a chocolate ice cream custard base (with egg yolks like a crème anglaise), flavoured with dark chocolate and cocoa powder, and fold in pieces of brownie after churning it in an ice cream machine.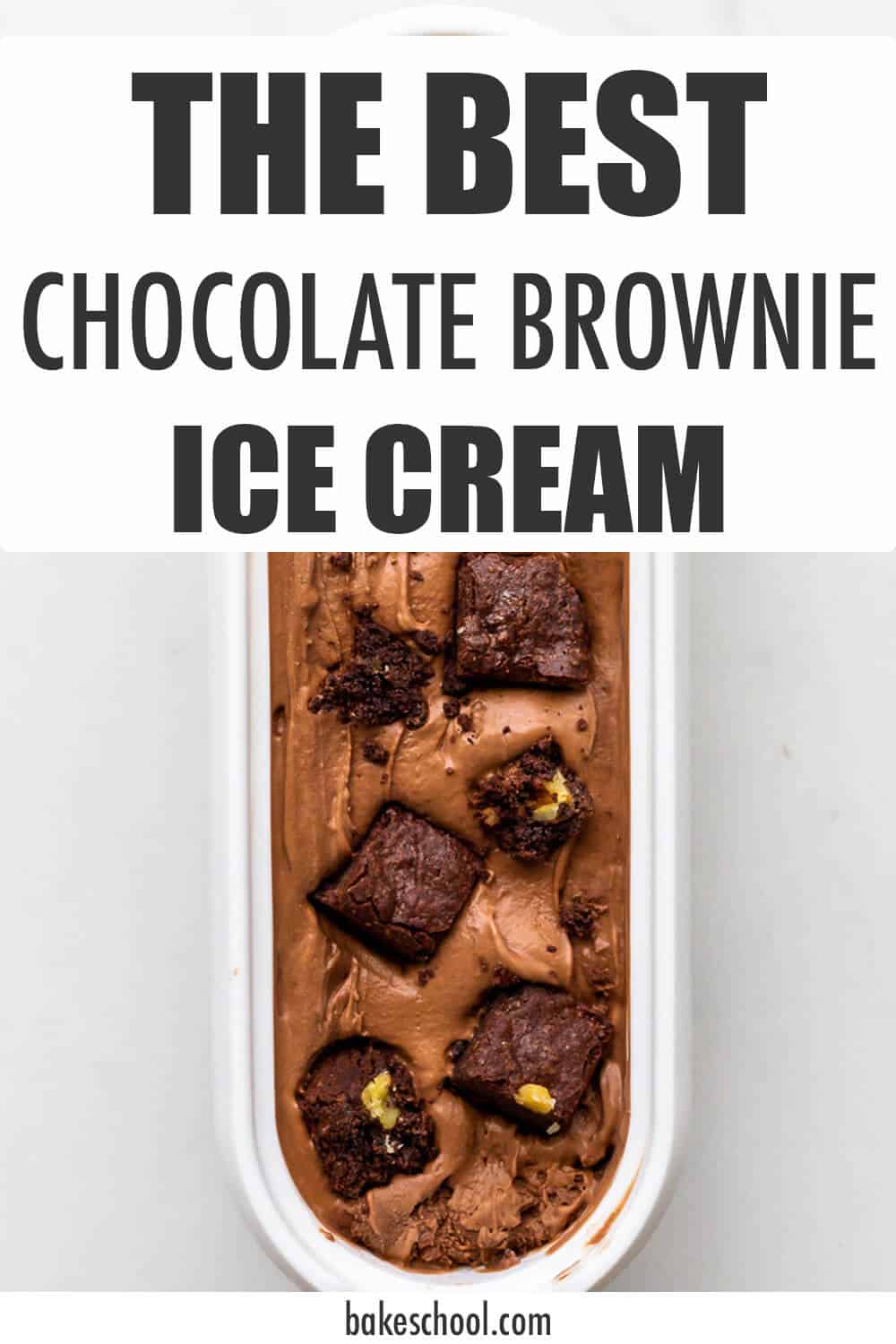 Disclosure: As an Amazon Associate, I earn from qualifying purchases.
Once you've mastered making chocolate ice cream, you can start folding in a variety of different add-ins (also called inclusions) to make your favourite ice cream flavours.
Read up on how to make crème anglaise before making this recipe if you've never done it before!
Jump to:
Ingredients
To make chocolate brownie ice cream, you need the ingredients to make a chocolate custard base and you will obviously need pieces of brownies.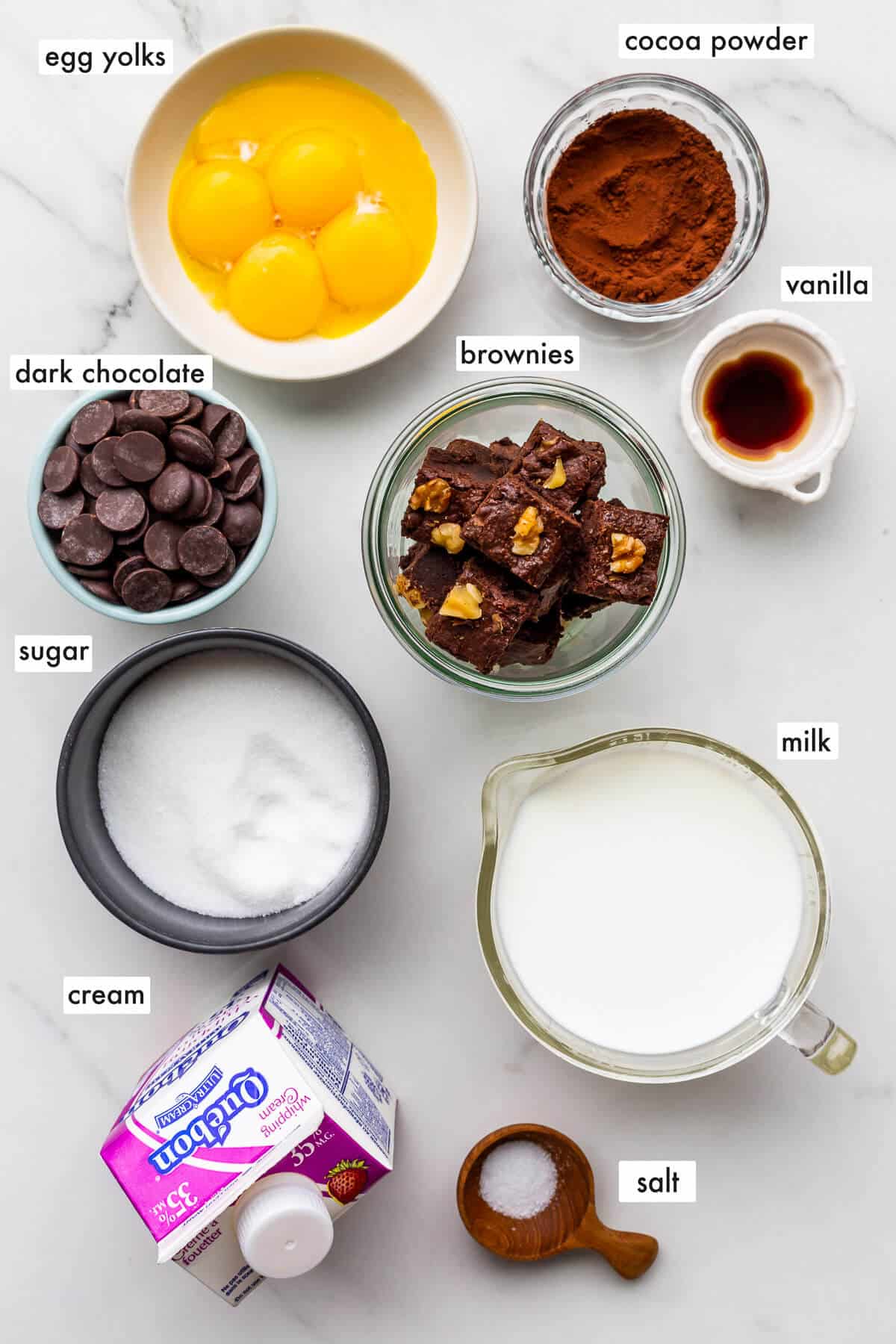 Milk and cream, preferably 2 % fat or even 3.25 % fat whole milk and whipping cream with 35 % fat. You can play with the amount of fat in this recipe, but less fat will have an impact on the final texture and flavour. The ice cream may taste a little more watery with less fat and have more ice crystals.
Egg yolks to make the crème anglaise, which act as an emulsifier and a thickener in this recipe, providing body, as well as colour and flavour.
Sugar, specifically granulated sugar though brown sugar would work fine too. Don't skimp on the sugar or your ice cream may end up too icy and the texture won't be as nice.
Fine kosher salt, which dissolves easily and provides a little depth of flavour, helping the flavours in the ice cream stand out more.
Vanilla extract enhances the flavours in the custard base making a more complex-tasting chocolate ice cream.
Dutch-processed cocoa powder—do not use a natural cocoa powder because the flavour is too mild! I used either Cacao Barry Extra Brute or Cacao Barry Plein Arôme cocoa.
Chocolate, specifically 70 % dark chocolate that isn't too sweet—I used Ocoa from Cacao Barry, which is not sweet and has a strong cocoa flavour with roasted and bitter notes.
Brownie pieces—I used leftover Brownies with walnuts that I cut up and froze to make this ice cream, but you can use any brownies, even made from brownie mix. Use store-bought brownies from your favourite local bakery if are short on time!
See recipe card for quantities.
I would avoid incorporating frosted brownies in ice cream. The frosting may be less palatable when frozen. Proceed with caution if your brownies are frosted, or scrape it off before mixing in the brownie pieces.
Instructions
There are four major parts to making chocolate brownie ice cream:
Blooming the cocoa powder and melting the chocolate to make the chocolate base
Making a crème anglaise
Combining the chocolate base with the crème anglaise
Chilling, churning, and folding in the brownies before hardening the ice cream.
Blooming the cocoa powder
Blooming the cocoa helps the cocoa powder better incorporate into the ice cream so that it doesn't have a powdery mouthfeel in the end.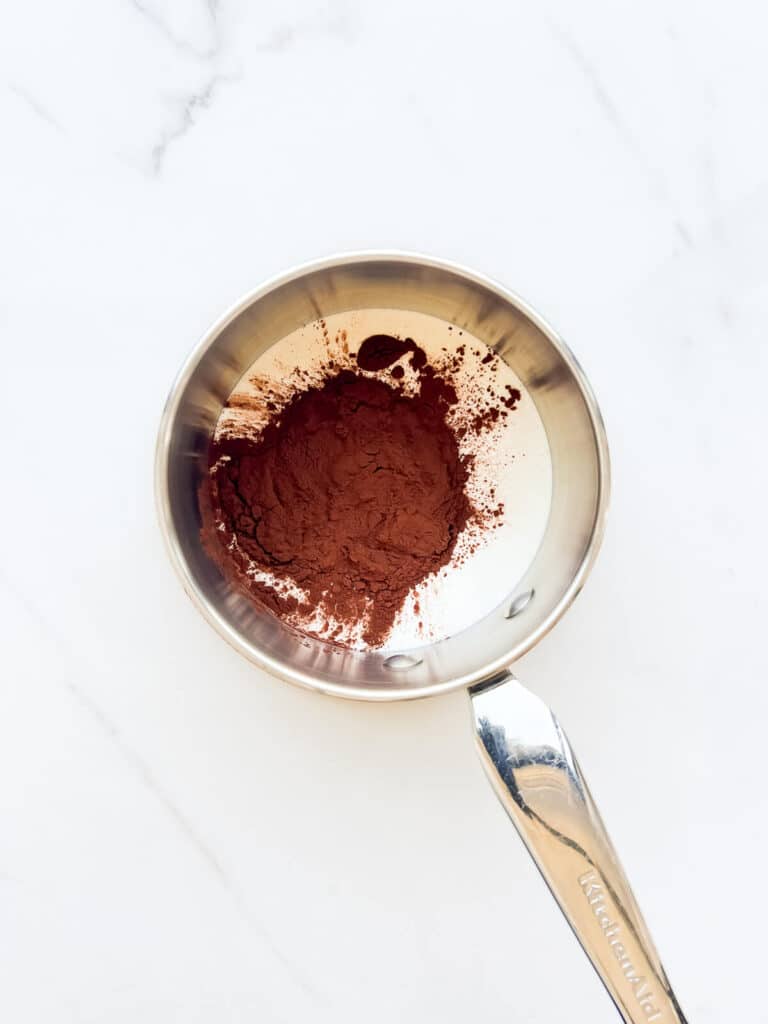 Start by heating most of the cream and cocoa powder—this is called "blooming" the cocoa powder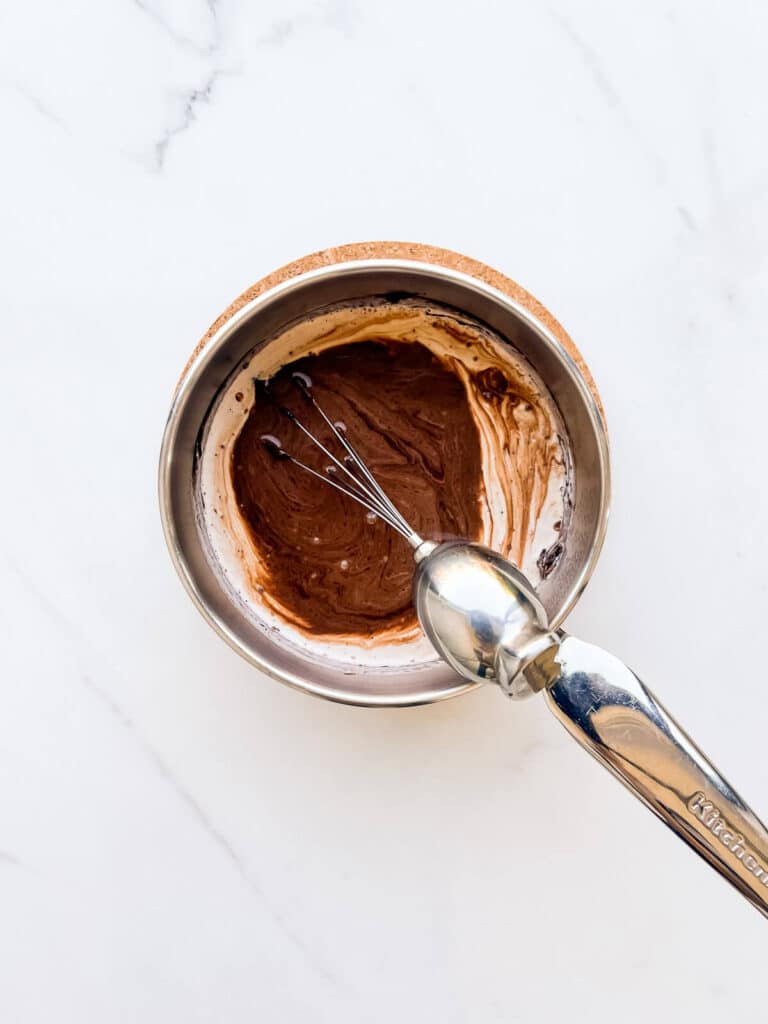 Once the cocoa and cream are hot, you can add the dark chocolate and it will melt.
Making a crème anglaise
Please read about how to make a crème anglaise if this is your first time. Unlike pastry cream filling, crème anglaise is cooked low and slow for a longer period on the stove at a low heat setting.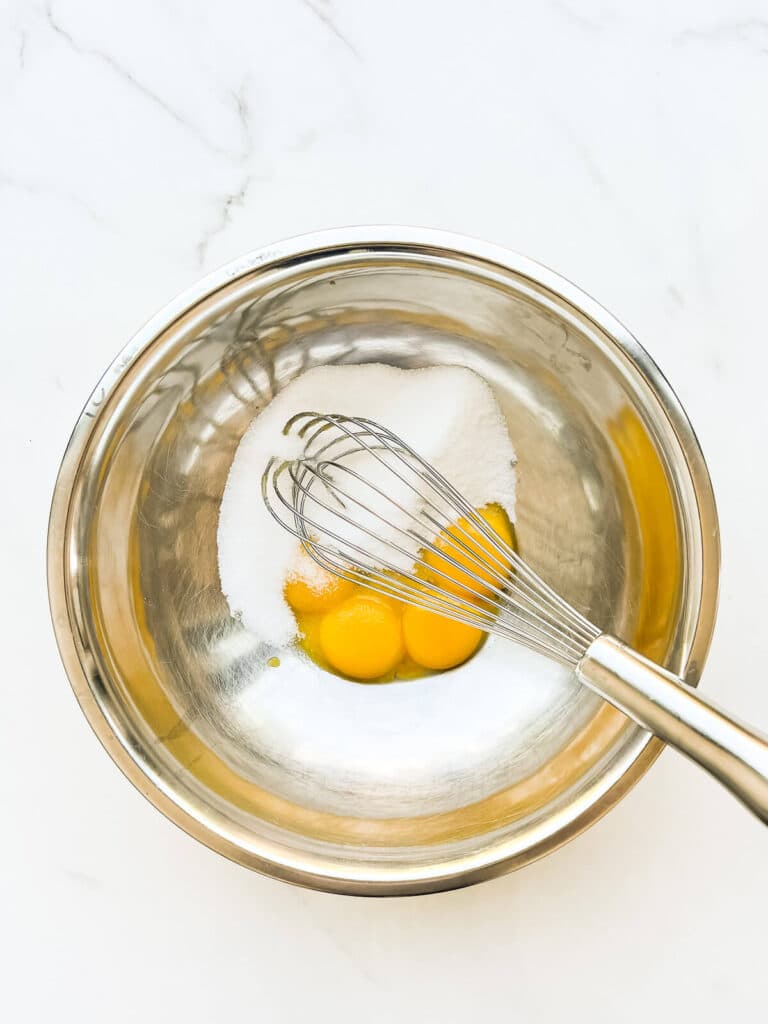 To make the crème anglaise, you start by whisking the egg yolks with the sugar, which is a French pastry term called "blanchir" (which means to whiten or lighten").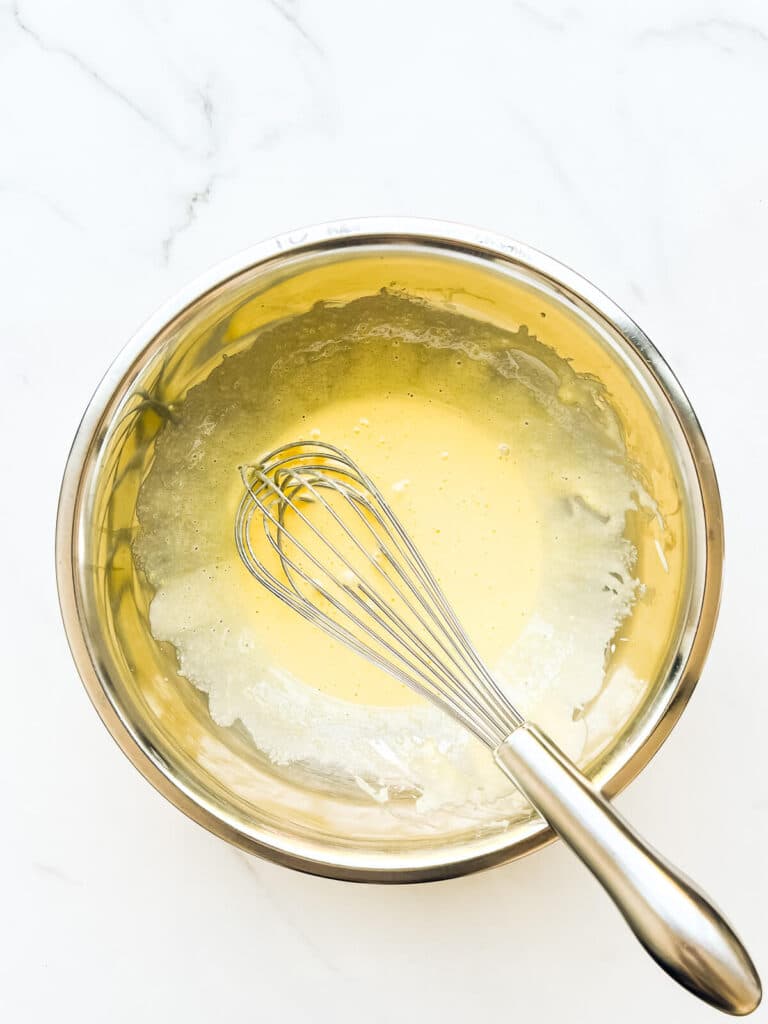 The egg yolks should become a pale pastel yellow and the sugar should begin to dissolve.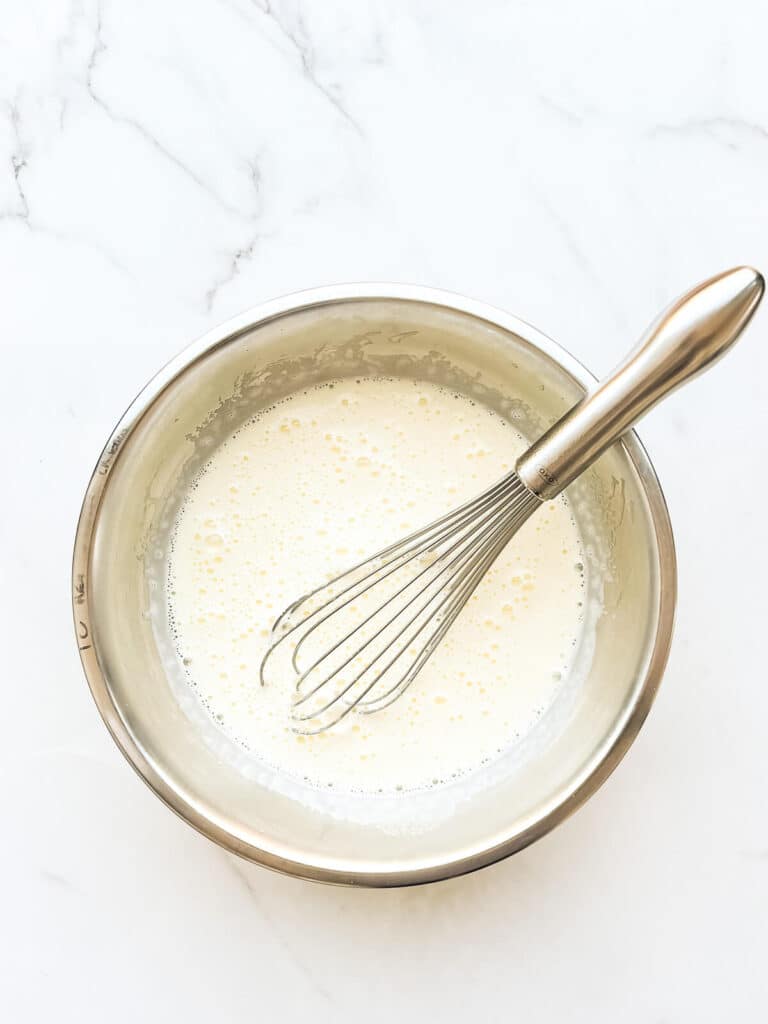 Heat the milk until it's almost boiling, then pour it onto the whisked egg yolk mixture to temper the eggs.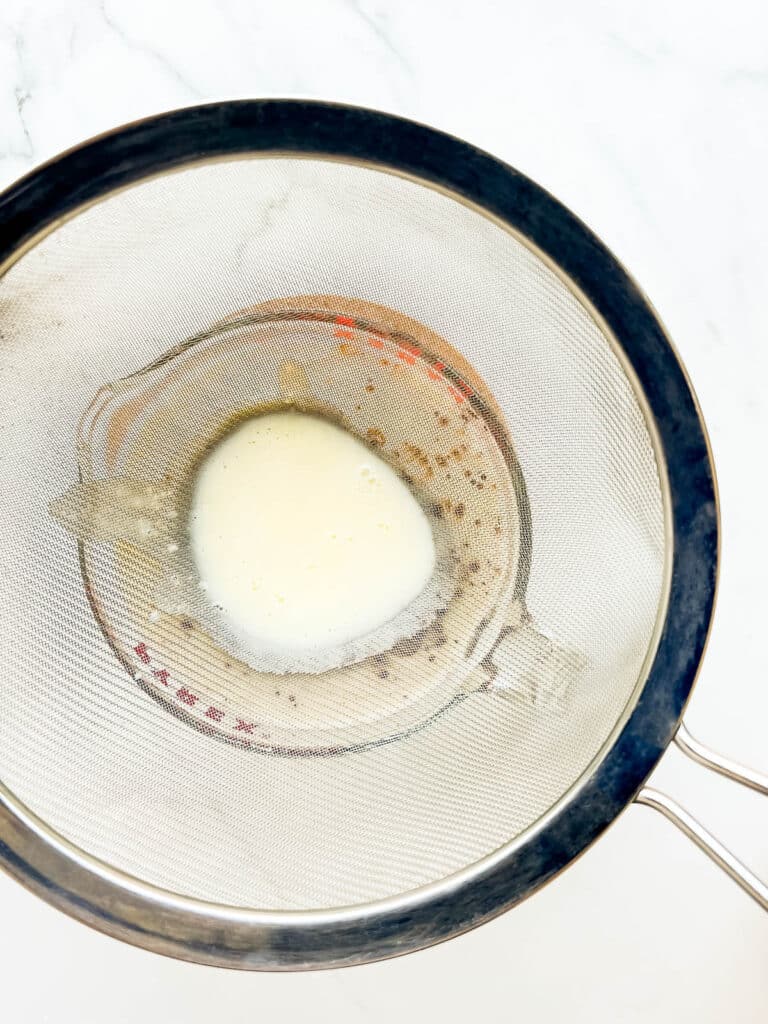 After cooking the custard on the stove on low to thicken it, the crème anglaise is strained to remove any bits of cooked egg that would ruin the texture of your ice cream.
Combining the chocolate base and crème anglaise
The chocolate base of melted chocolate, cream, and cocoa powder doesn't easily combine with the crème anglaise. You have to use a stick blender to get the two components to mix properly (or use a whisk, but this will take some effort).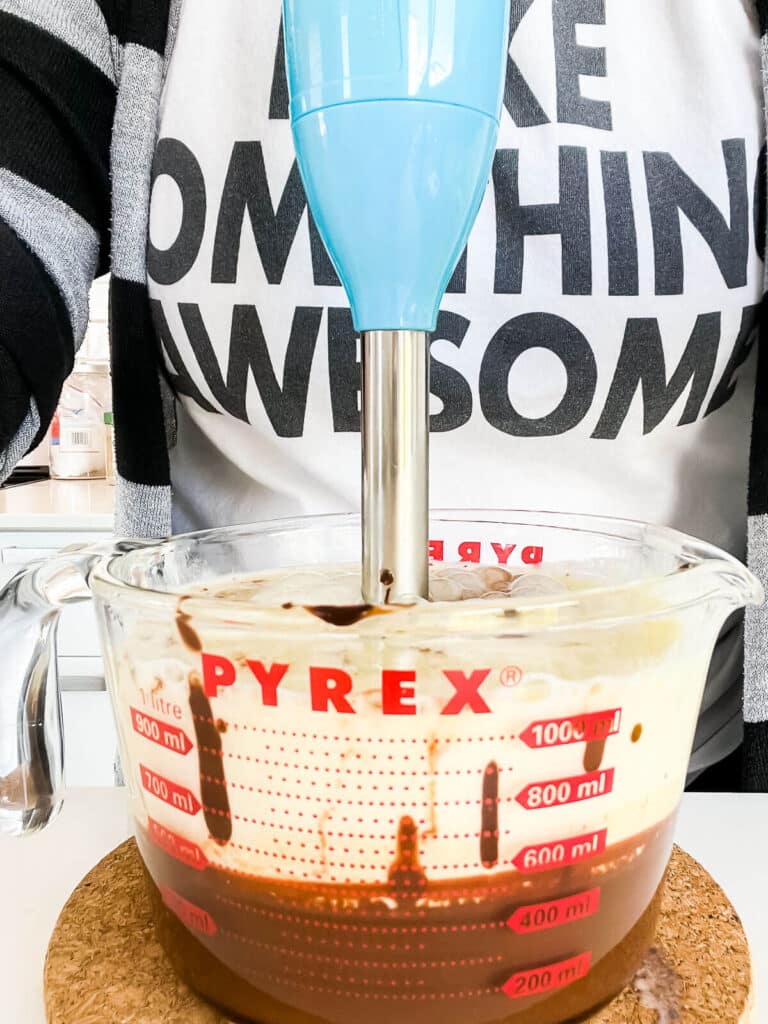 Use a stick blender (electric hand blender) to combine the chocolate base and the crème anglaise.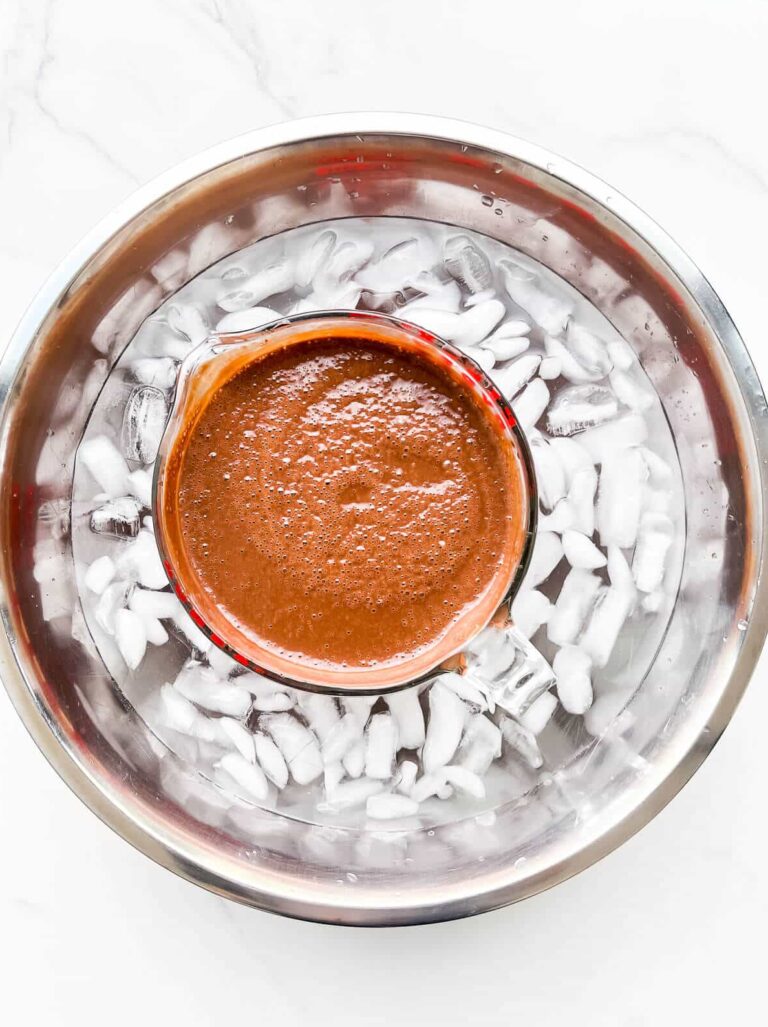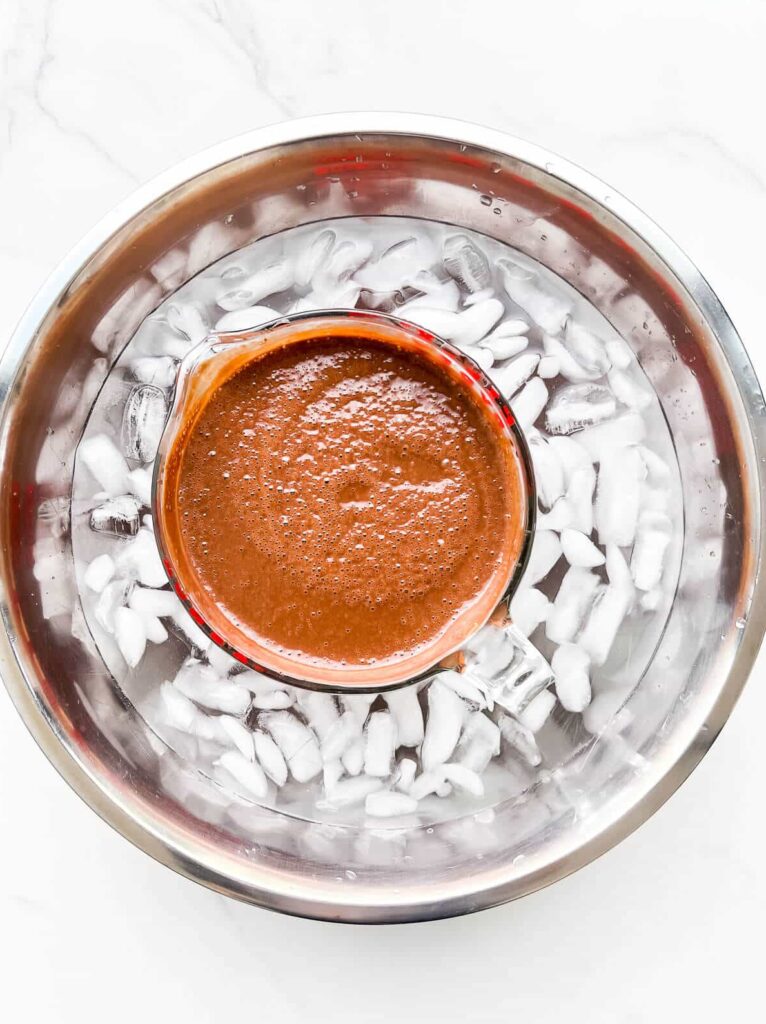 Chill the chocolate custard in an ice bath to speed up the process. You should then chill the custard overnight in the fridge.
Chilling the custard and churning the ice cream
In order to churn the ice cream fast enough before the freezer drum melts, the ice cream base has to be chilled thoroughly in the refrigerator. Taking the time to do so will prevent the freezer drum from heating up too quickly as it churns. You will have more time to churn the ice cream so that it freezes properly with a nice creamy, light texture.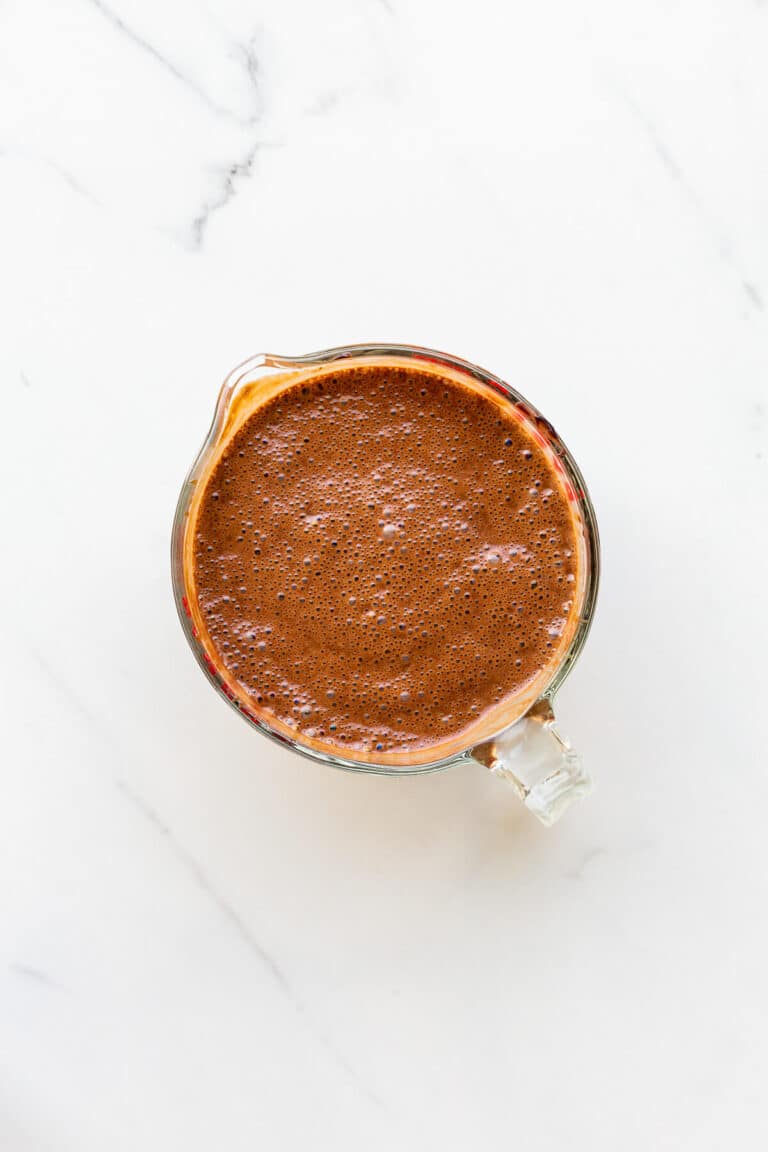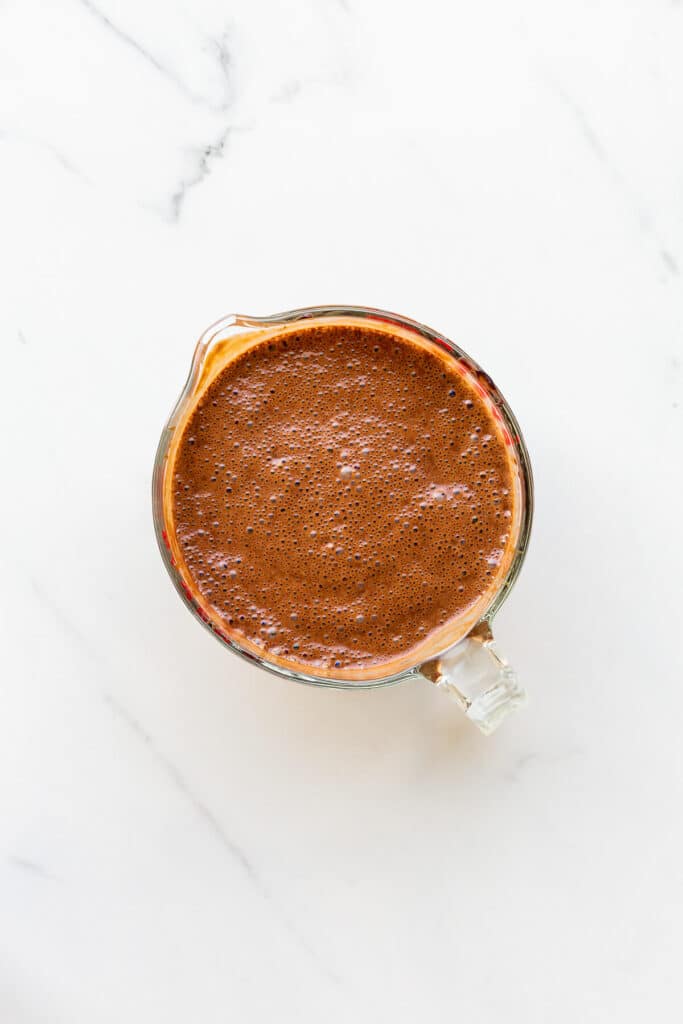 Before chilling overnight in the refrigerator, the chocolate custard will have a lot of bubbles.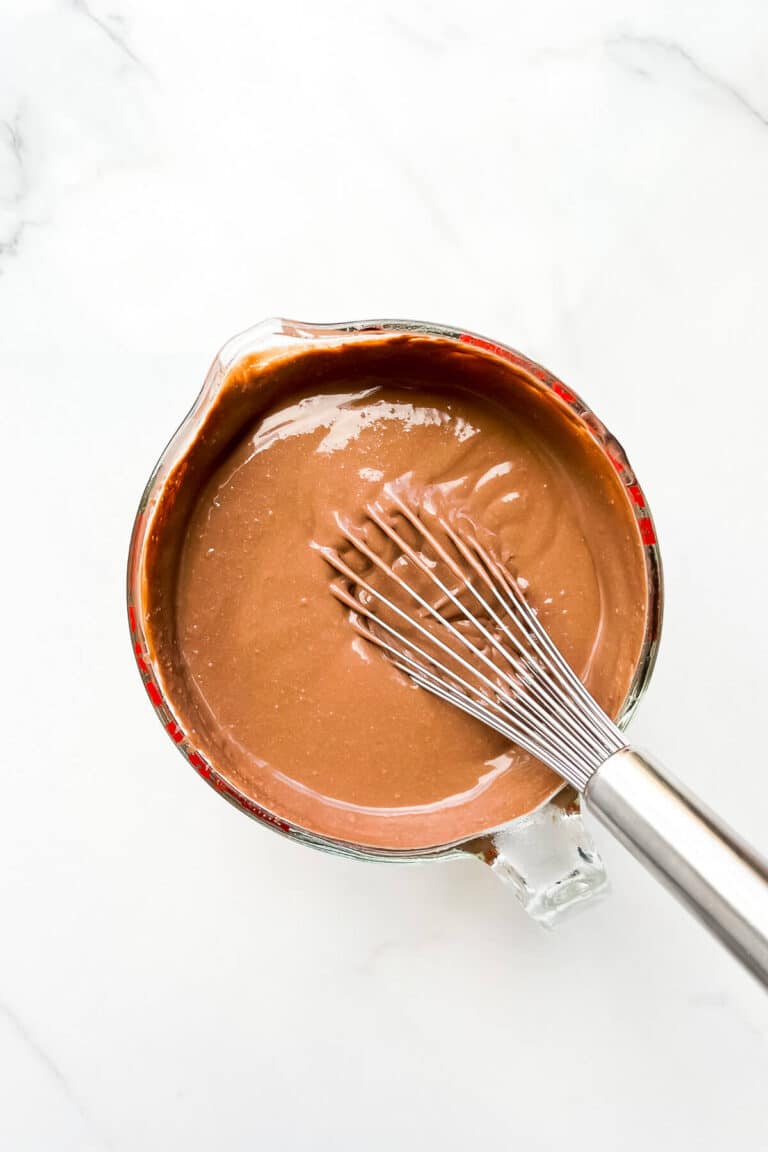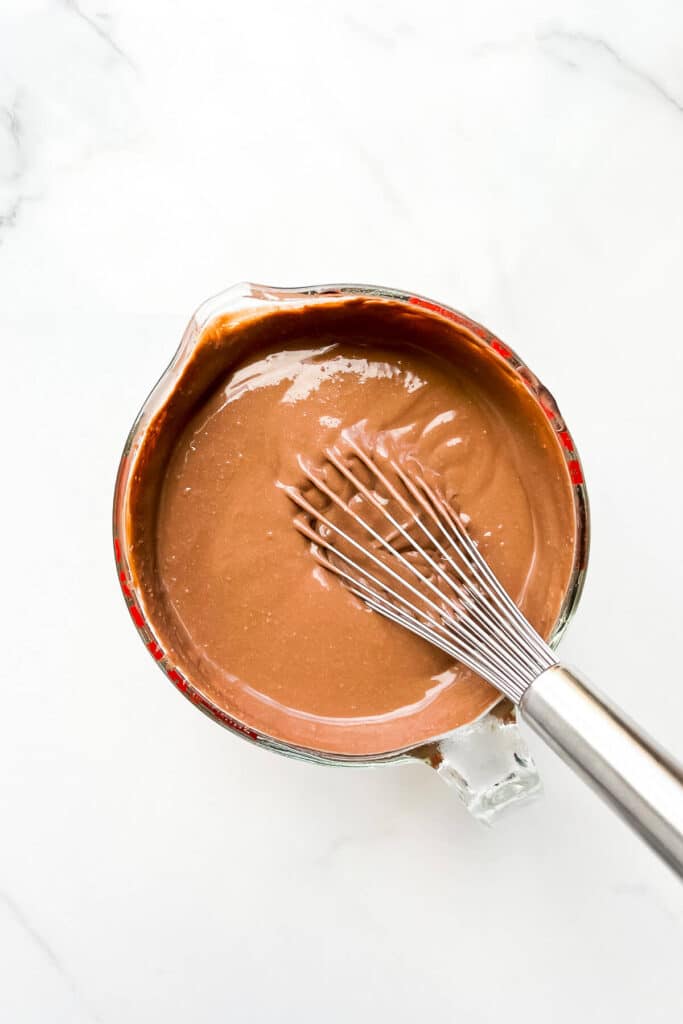 After chilling the chocolate custard in the fridge overnight, it will be thick like pudding.
Tip: Don't forget to chill the freezer drum for at least 24 hours before churning your ice cream. I usually put it in the freezer 2 days before I will make ice cream. Otherwise, the freezer drum may not be cold enough: you may not be able to churn your ice cream fully. This could lead to it melting too fast during the process. The ice cream may be dense or icy.
Churn the ice cream in an ice cream maker for about 20 minutes or until it has the texture of soft serve ice cream.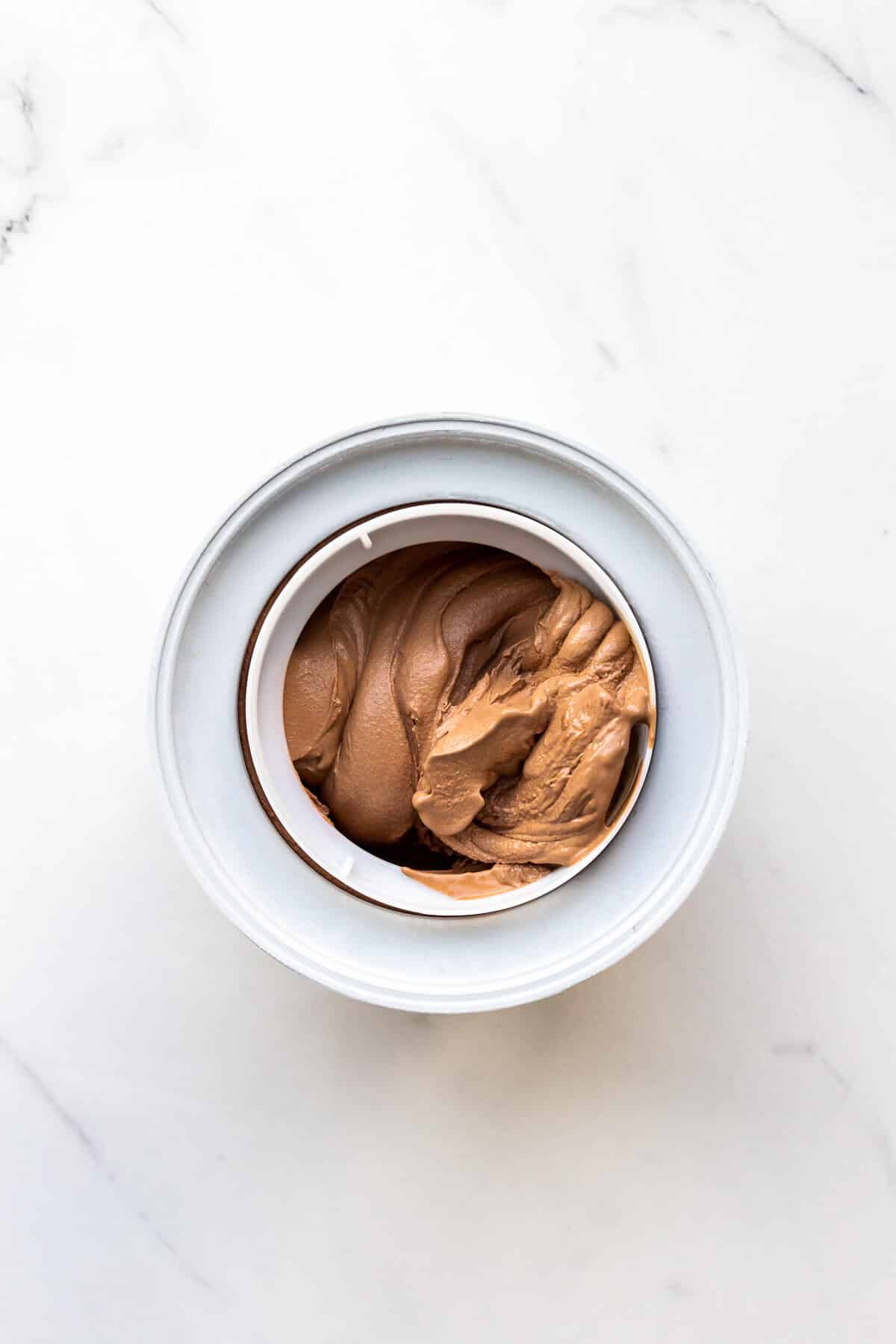 Adding brownies to ice cream
The volume of ice cream plus brownies will likely too big for your ice cream machine to handle. You have to do this step by hand.
Once you have churned the chocolate ice cream, turn off the machine and fold in the brownie pieces by hand. Or you can layer them in your storage container with the ice cream (my preferred method).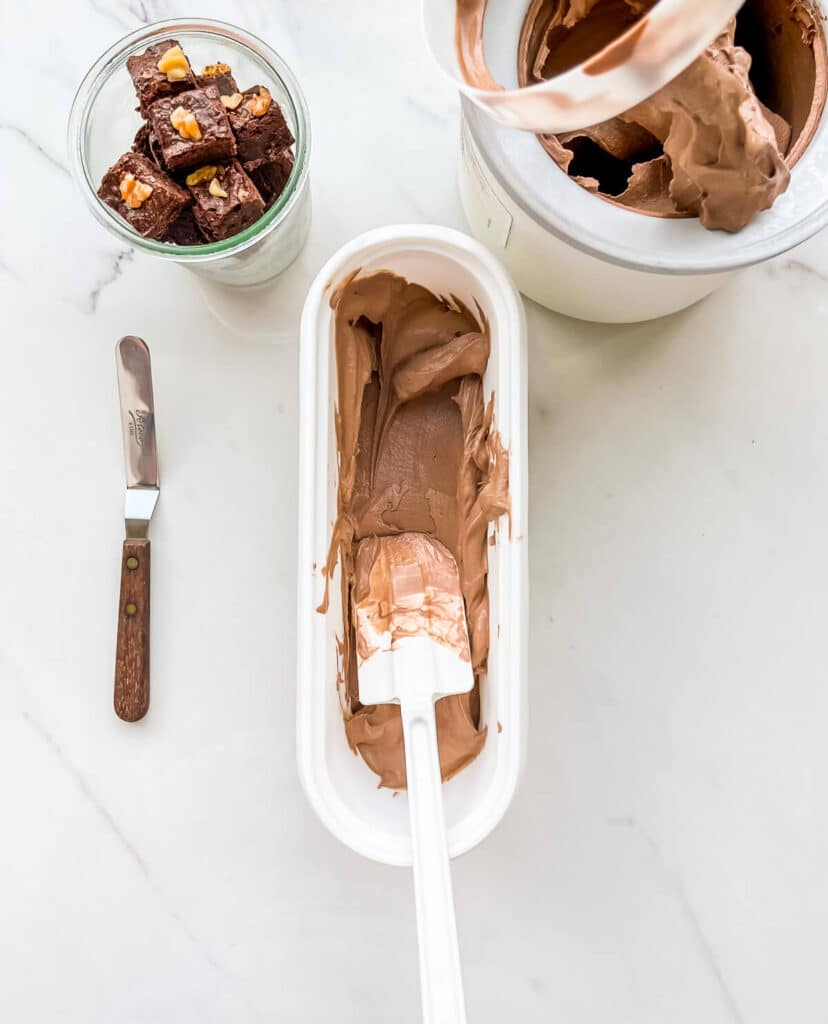 Spread a thin layer of soft chocolate ice cream at the bottom of your container to anchor the brownie pieces.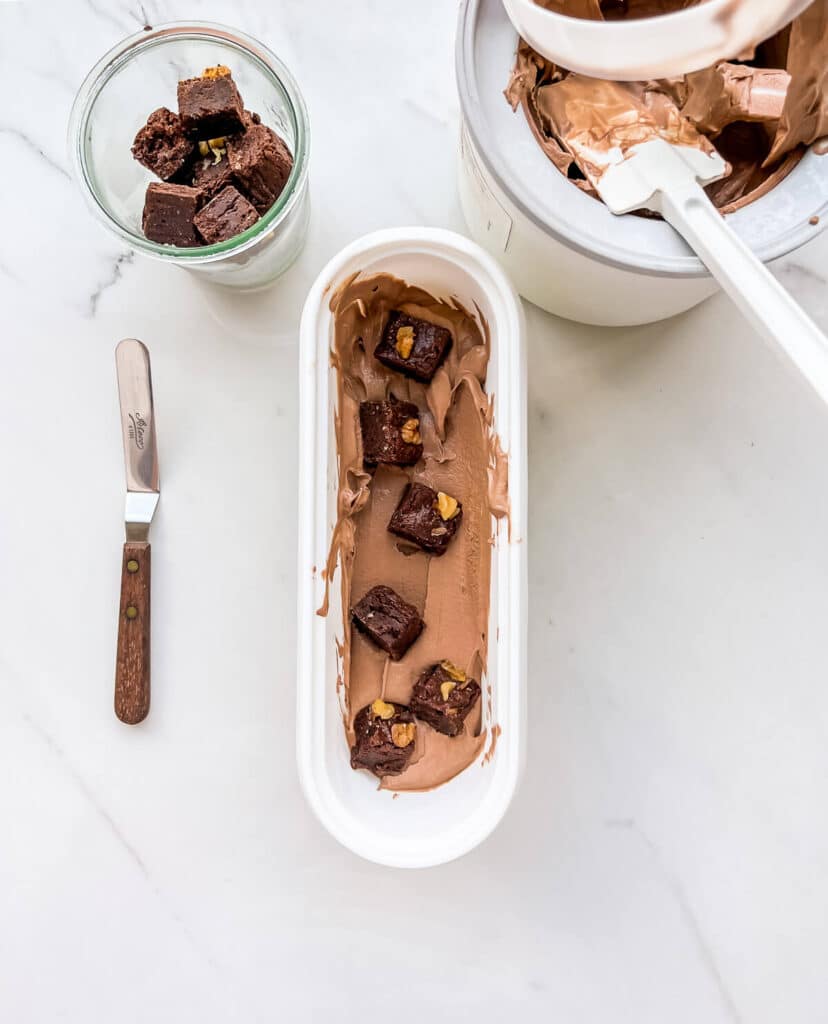 Distribute an even layer of brownie pieces, pressing them into the soft chocolate ice cream.
Keep alternating layers of ice cream and brownie pieces until you've filled your storage container.
Note: I use the Tovolo ice cream tubs to store my ice cream. This is what you see in my photos. The total volume of the tub is 1.5 L. Between the ice cream and the brownie pieces, you may need a second smaller 250 mL (1 cup) container to store the leftovers. The final volume depends on the overrun and how much your custard volume increased in the ice cream machine.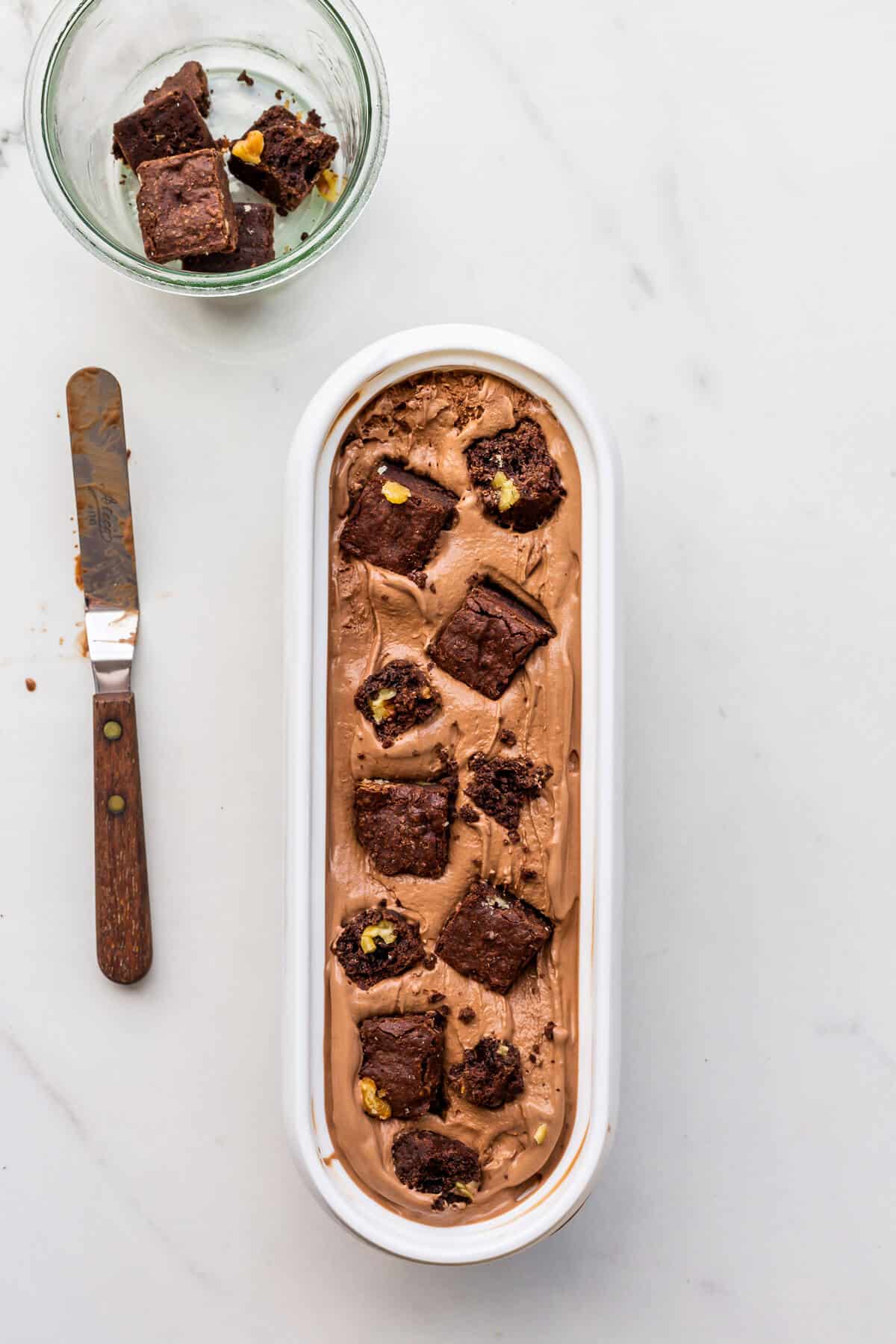 Substitutions
There aren't many ingredients in ice cream so substitutions are limited. Here are some options:
Sugar - instead of granulated sugar, you can use a mix of it and brown sugar, which will add some really interesting molasses notes to it.
Cream and milk - I use a combination of 35 % whipping cream and whole milk, you could consider replacing the total volume of cream plus milk with something like half and half or coffee cream (that is usually around 10–20% fat) and it could work well.
Dutch-processed cocoa powder - you could try black cocoa powder, which is even darker.
Remember with any variations and substitutions, I cannot guarantee the results. You may have to do a few tests and make some modifications. Take notes to learn from the experience!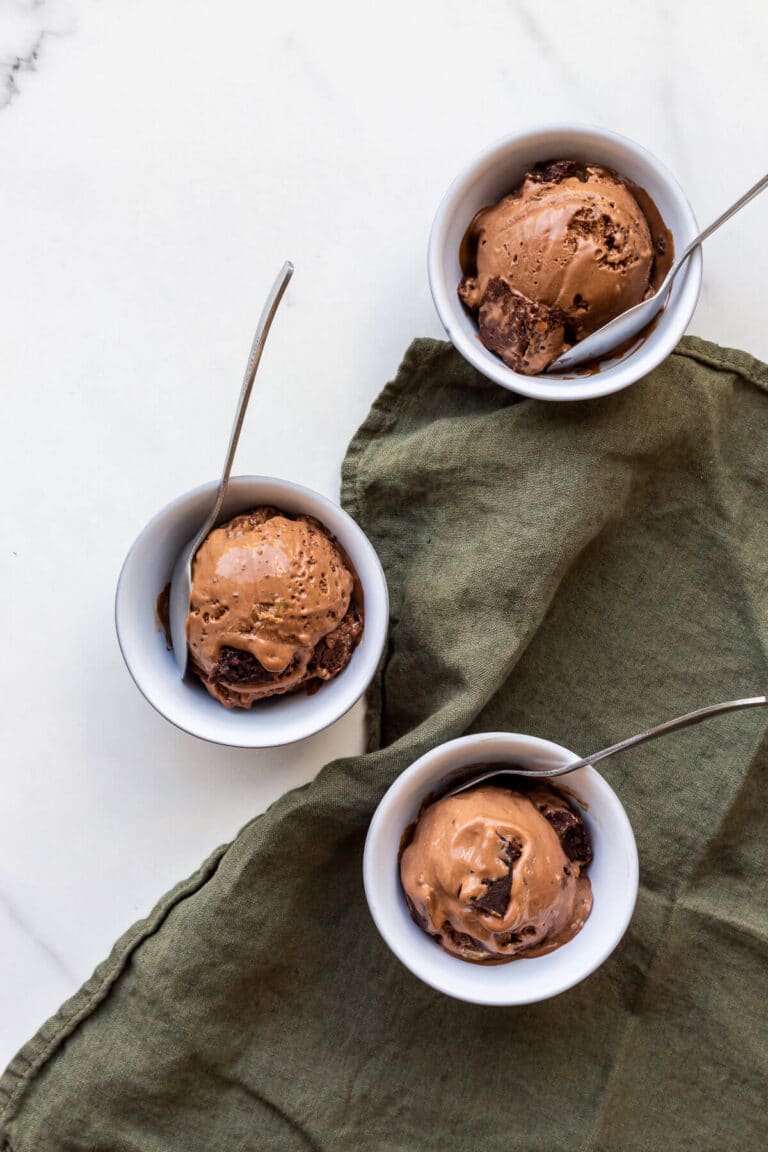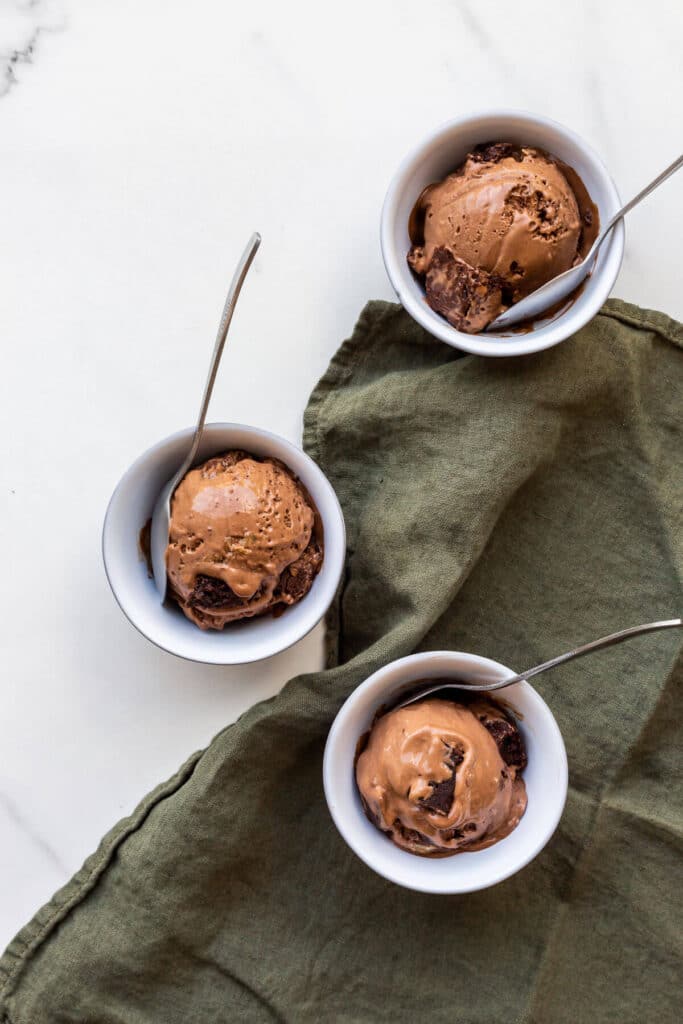 Variations
There are a lot of variations possible with this brownie ice cream:
Raspberry brownie - gently press a handful of raspberries on your next pan of brownies before baking, and fold the baked brownies with raspberries into freshly churned chocolate ice cream.
Blondie - replace the brownie pieces with pieces of these toffee blondies for a real treat!
Cookies - chop up these chocolate chip cookies with pecans to make the chocolate version of this cookie ice cream.
Mint brownie - infuse the milk for the crème anglaise with fresh mint leaves or add a few drops of mint extract before chilling the custard overnight. Checkout this mint chocolate chip ice cream recipe to find out how much mint to add.
Double chocolate brownie- drizzle a thin stream of melted dark chocolate to make chocolate ice cream with chocolate flecks or layer in some of the chocolate fudge sauce that I used to make this banana split cake
Lactose-free variation - if you can't have lactose, this recipe will work with lactose-free milk and cream
Equipment
To make the best homemade ice cream, I highly recommend getting an ice cream machine. When you are shopping, you have three choices:
a freezer bowl attachment that is compatible with your stand mixer, like this KitchenAid freezer bowl compatible with the Artisan stand mixers);
an ice cream machine with a freezer bowl that has to be frozen for at least 24 hours before using the machine—this basic Cuisinart machine that has great reviews on Amazon;
an ice cream machine with a built in compressor so you can make ice cream any time of the day and all day long if you want, without worrying about pre-freezing the bowl. This Cuisinart ice cream maker is the machine recommended by professionals.
Ice cream makers with compressors are the most expensive category of ice cream makers on the market. However, if you like to make homemade ice cream, you might want to consider one to make your life easier! The Cuisinart ice cream machine with a compressor built into it has over two thousand reviews on Amazon.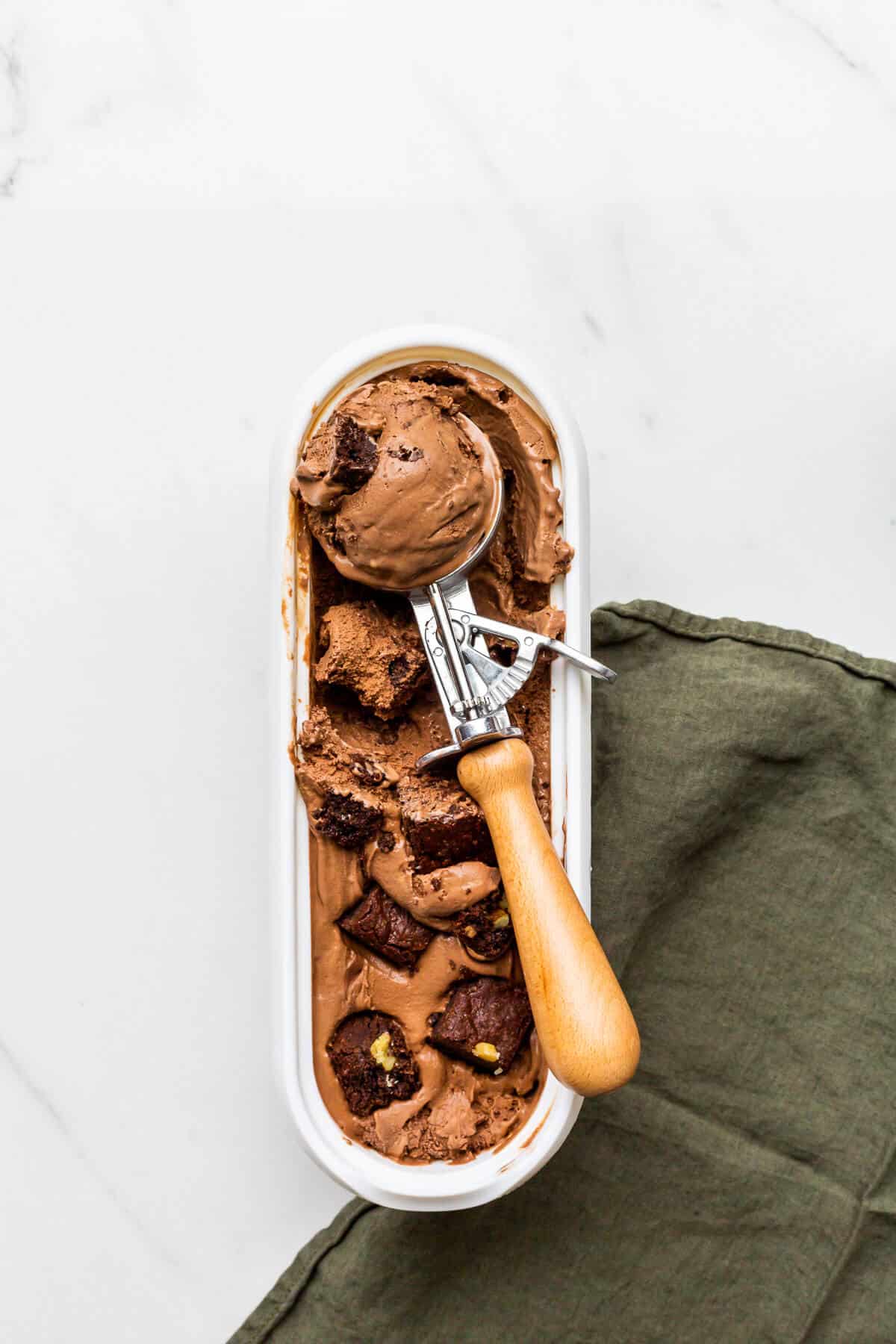 Storage
I highly recommend investing in a freezer container for your ice cream. I have a Tovolo ice cream tub. It has an elongated shape, giving you ample room to drag the ice cream scoop more easily! The base is non-slip, so you have more traction when scooping and it's double walled for better storage.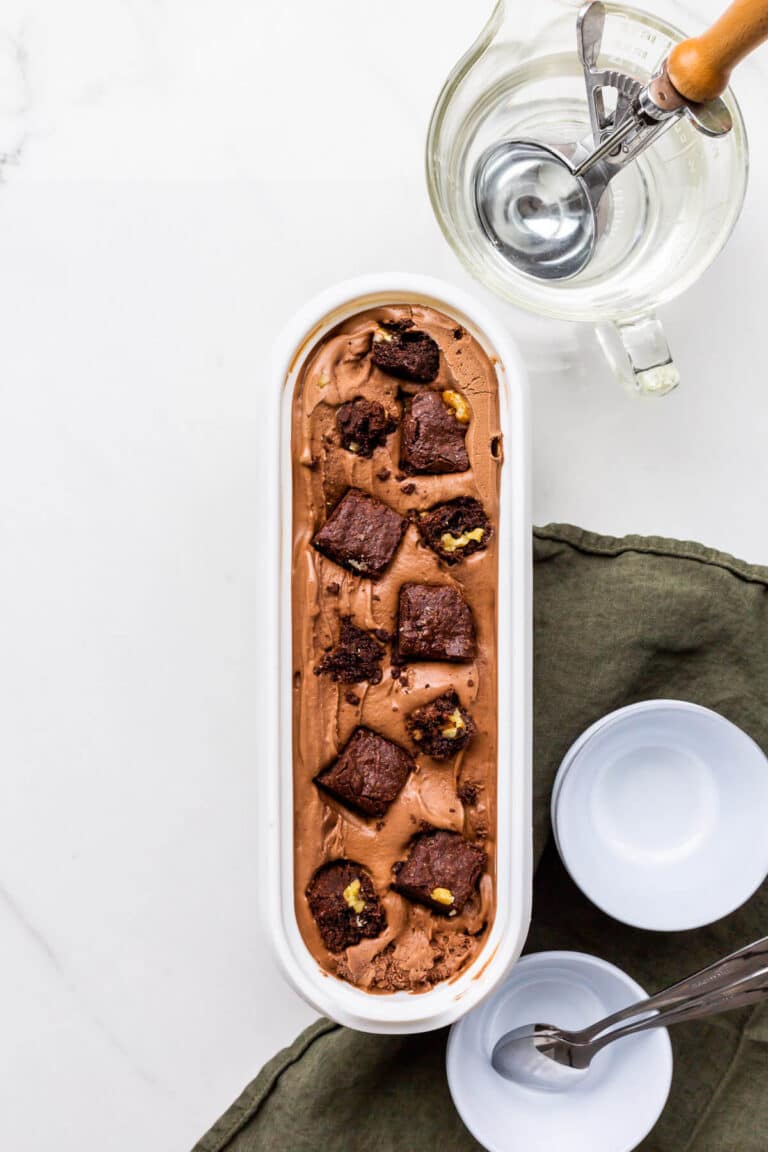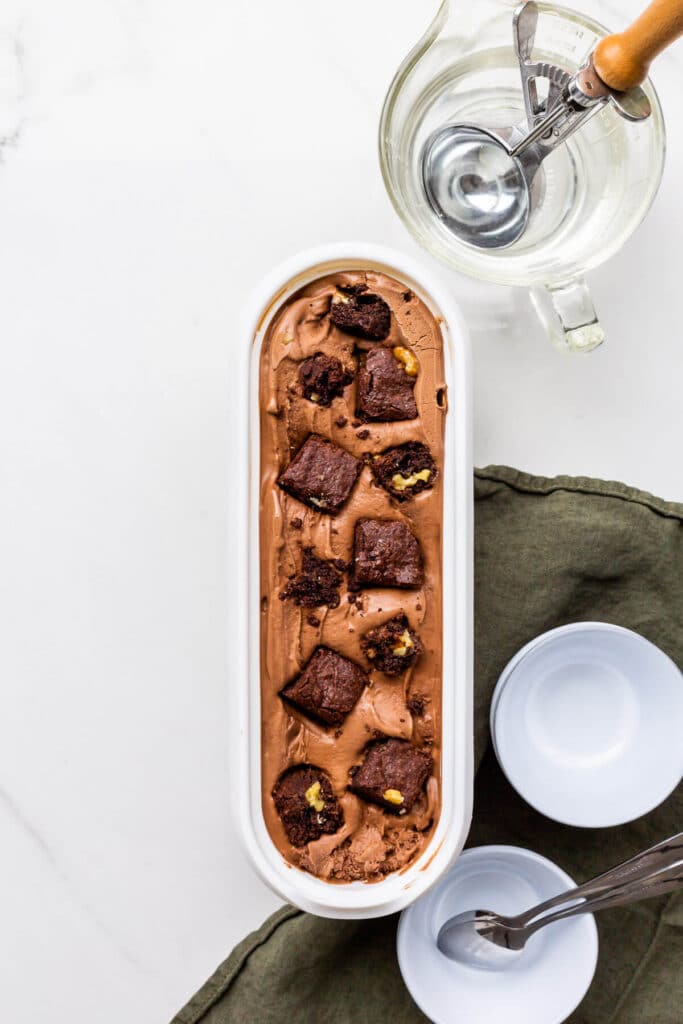 Top tips
Homemade ice cream freezes hard. That's completely normal. Here's how to make serving homemade ice cream easier:
Take it out of the freezer 10 minutes before you plan to serve it to help soften it a little.
Dip your ice cream scoop in hot water to warm up the metal, then dry it off quickly and use the warm scoop to portion out the ice cream more easily.
Use a disher or an ice cream scoop with a release to be able to scoop and release the scoop cleanly with the press of a button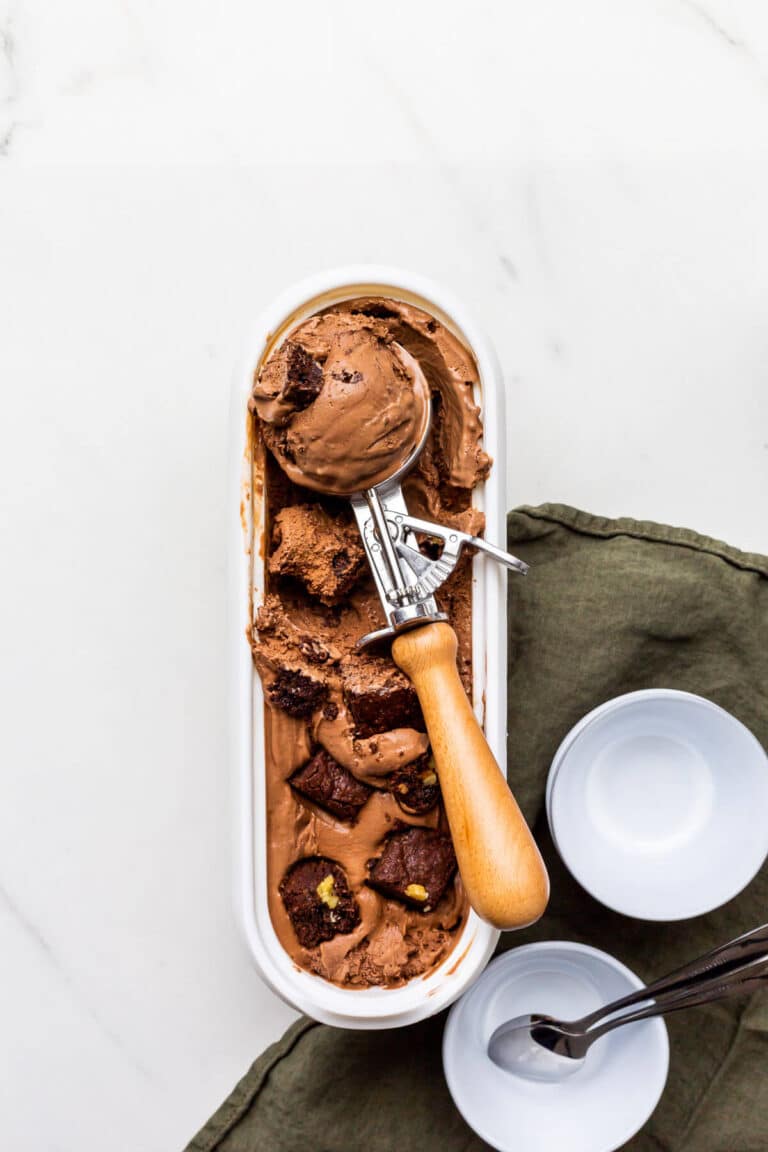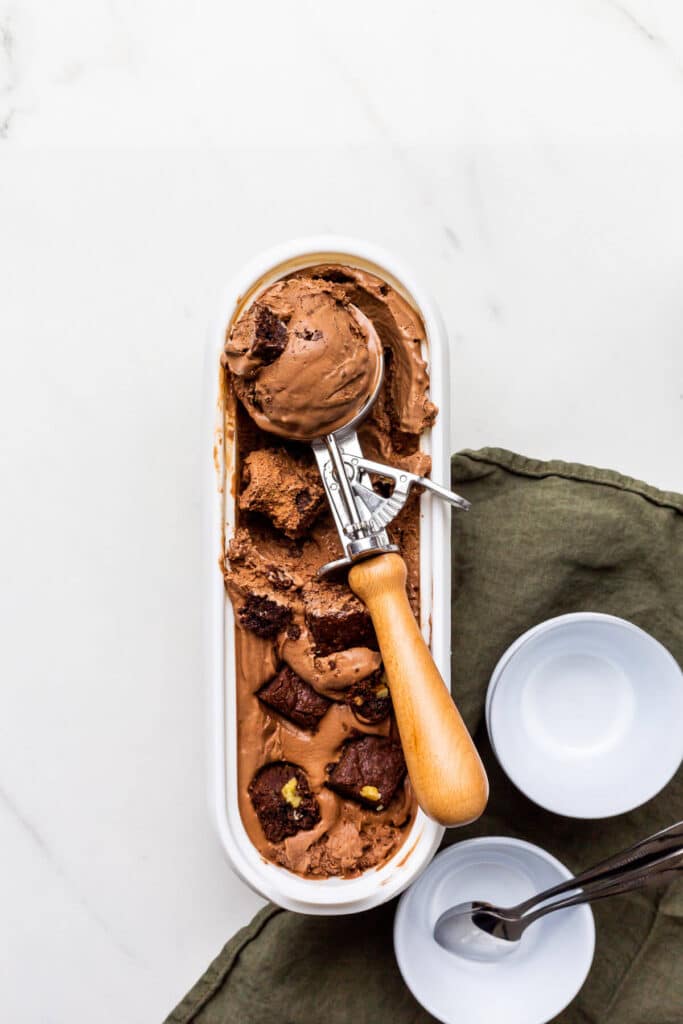 Hardening is inevitable, and it's also an important step when making homemade ice cream. If you don't properly harden the ice cream for several hours in the freezer after churning, the ice cream will be less stable, and prone to melting fast.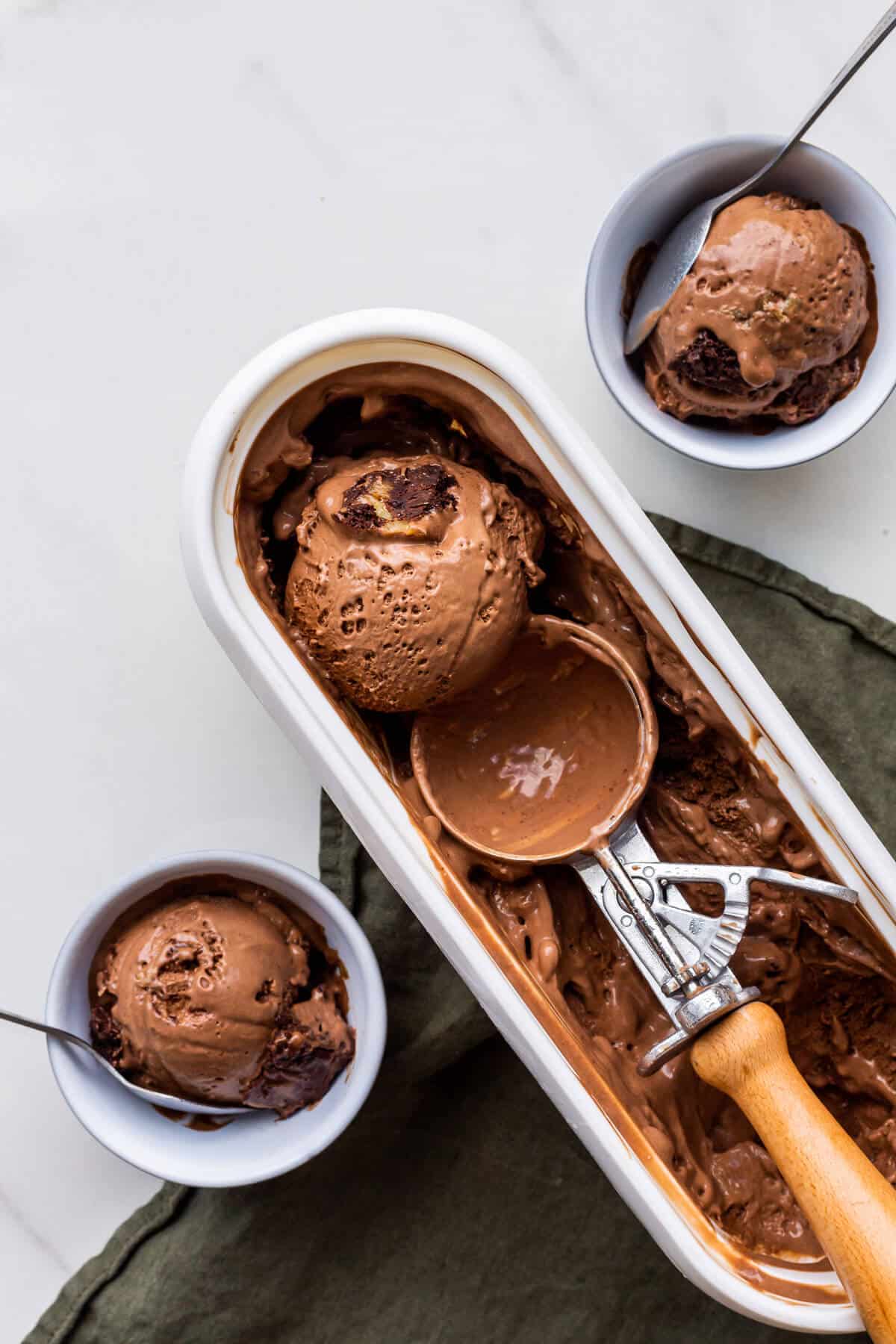 Some ice cream makers will add a little alcohol to their ice cream base so that it is softer once frozen. You can try this but be careful: too much alcohol and your ice cream won't freeze and will be too soft to serve!
📖 Recipe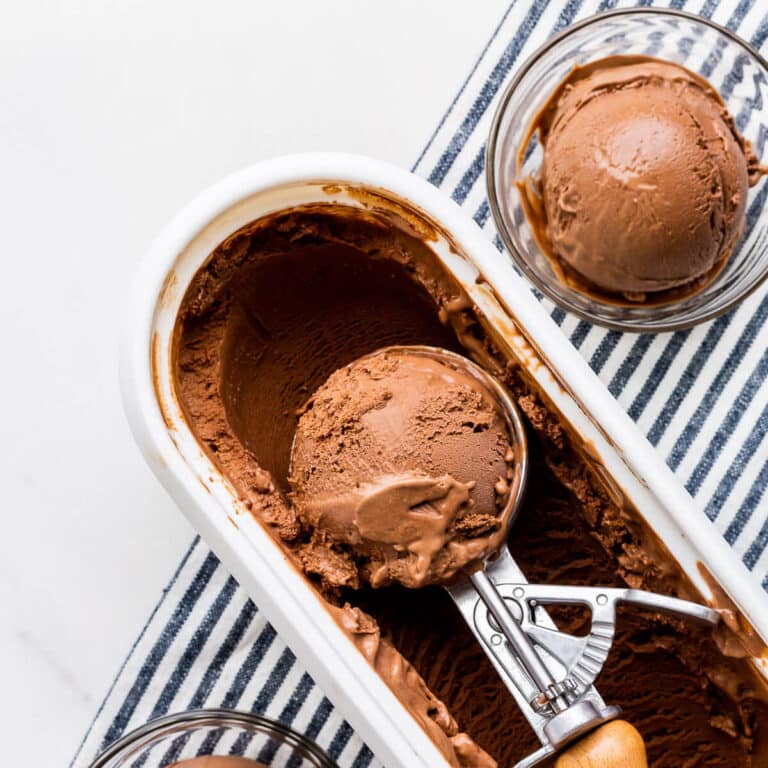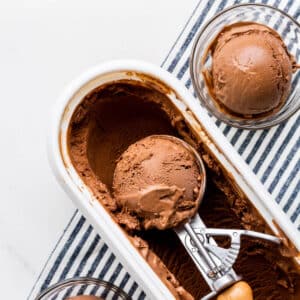 Chocolate Brownie Ice Cream
Learn how to make the best homemade chocolate brownie ice cream with this easy recipe.
Ingredients
310

mL

whipping cream (35 % fat)

divided

18

grams

Cacao Barry extra brute cocoa powder

130

grams

Cacao Barry Ocoa 70% dark chocolate

5

mL

vanilla extract

5

large egg yolk(s)

200

grams

granulated sugar

divided

440

mL

whole milk (3.25 % fat)

220

grams

brownies

chopped into small pieces and frozen in a freezer bag to store them
Instructions
Freeze the ice cream drum in the freezer for at least 24 hours before attempting to make ice cream.

In a small saucepan, combine half the cream with the cocoa powder.

Bring the mixture up to the boil, whisking constantly, then lower the heat and simmer the cocoa mixture for 1 minute.

Take the pan off the heat. Add the dark chocolate to the pan and let it stand 1 minute, then stir it in to melt it completely.

Add the rest of the cream and the vanilla, then transfer the chocolate base to a 1 L (4 cup) measuring cup or a large bowl with a pouring spout. Place a strainer over top for later. Set aside.

Prepare an ice bath that can accommodate the measuring cup or bowl with the chocolate base.

In a large bowl, whisk the egg yolks with half the sugar and the salt, until the mixture has lightened.

In a medium saucepan, whisk the rest of the sugar with the milk. Heat the mixture until it is very hot and almost comes to a boil.

Pour the hot milk mixture over the whisked yolks to temper the eggs. Whisk continuously until the mixture is homogenous, then transfer it back to the saucepan.

Switch to a wooden spoon and, stirring constantly, heat the mixture on the stove over medium—low heat until the custard has thickened and has reached 83 °C (181 °F). The goal is to slowly thickened the custard.

Pour the mixture through the strainer set over the chocolate base, pressing the custard through gently, if needed.

Use a stick blender to combine the strained custard with the chocolate base at the bottom of the bowl (or measuring cup). The mixture should be thick and homogenous.

Cover with plastic wrap and place the bowl in the prepared ice bath to cool it down faster. Refrigerate the chocolate ice cream base for several hours to cool completely (overnight is best!).

Place the frozen drum on the ice cream maker, and churn the custard according to instructions. It can take about 15 to 20 minutes to churn the ice cream.

When the ice cream is the texture of soft serve, turn off the machine and disassemble it.

Layer the frozen brownie pieces with the chocolate ice cream as you transfer the ice cream to your storage container. Place in freezer for a few hours to harden before serving.
Nutrition
Calories:
537
kcal
Carbohydrates:
51
g
Protein:
9
g
Fat:
35
g
Saturated Fat:
20
g
Polyunsaturated Fat:
2
g
Monounsaturated Fat:
10
g
Trans Fat:
0.01
g
Cholesterol:
230
mg
Sodium:
255
mg
Potassium:
381
mg
Fiber:
3
g
Sugar:
44
g
Vitamin A:
1111
IU
Vitamin C:
0.3
mg
Calcium:
167
mg
Iron:
3
mg
FAQ
Does ice cream actually go well with brownies?
Absolutely! You can't go wrong with chocolate ice cream layered with brownie pieces. Vanilla ice cream would also pair nicely with brownie pieces. If that's what you prefer, make this vanilla bean ice cream and layer brownie pieces with the ice cream after it's churned, as mentioned above.
Can I make chocolate brownie ice cream without an ice cream machine?
If you don't have an ice cream machine, you can start with your favourite store-bought chocolate ice cream (either from a local ice cream shop or a grocery store). Simply soften the ice cream enough to be able to scoop some out and layer brownie pieces within.