You're either team nuts in your brownies or team without. I am definitely pro-walnuts and this easy recipe for brownies with walnuts makes chewy brownies with lots of walnuts and a rich chocolate flavour from cocoa powder and dark chocolate.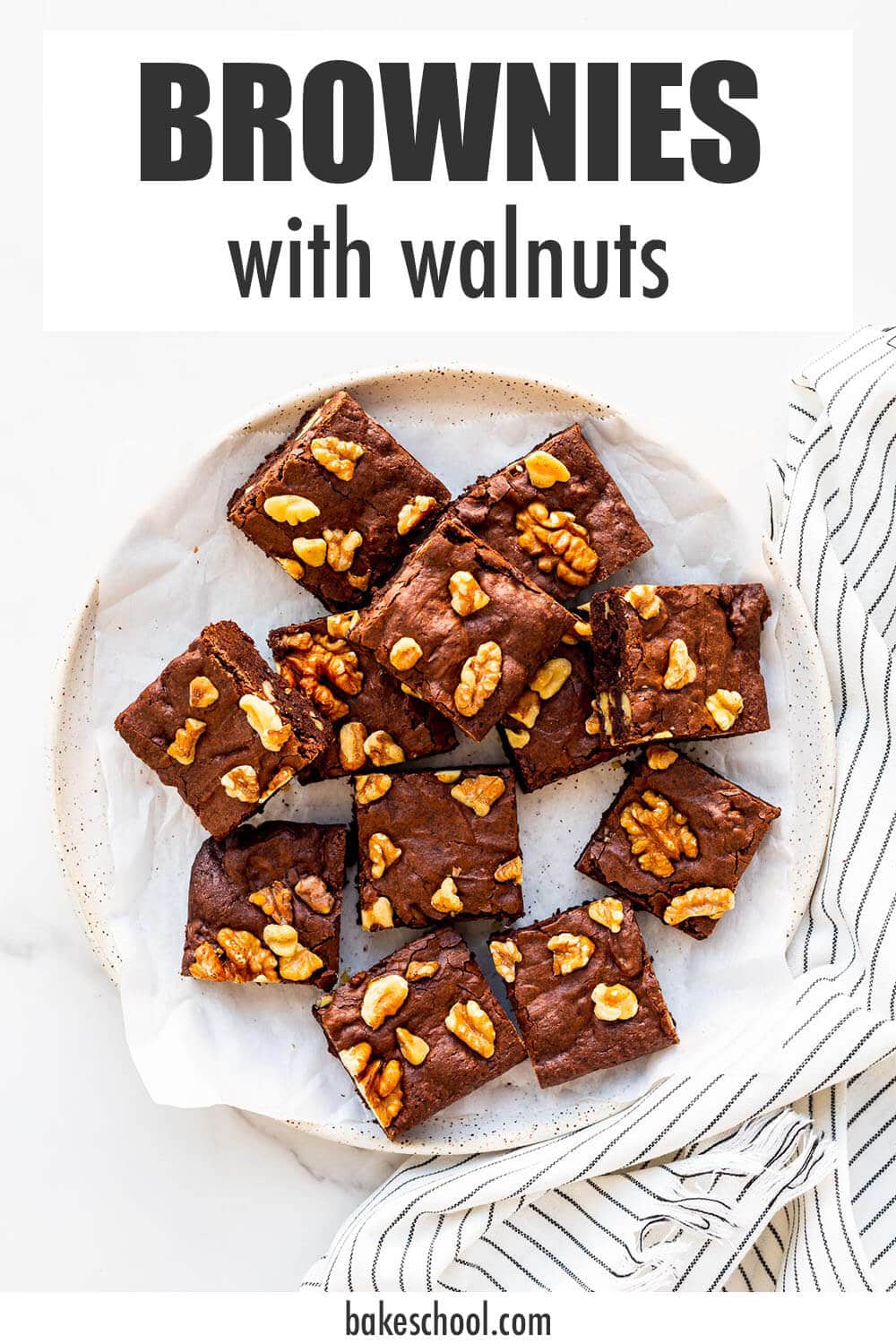 Chocolate options to make brownies
Most brownies are made with cocoa powder instead of melted chocolate. The type of chocolate you use will have a big impact on both the flavour and the texture. Dark chocolate will bring both cocoa butter and sugar to your brownies, while cocoa powder is pretty much fat free and virtually sugar free (except for the natural sugars from the cocoa bean).
Replacing cocoa powder with dark chocolate in a brownie recipe can lead to results that are too dense or overly sweet, depending on the chocolate you use and if you don't adjust the recipe to compensate for the differences between the two ingredients.
In this recipe, I combine both melted dark chocolate (70 % cocoa solids) and cocoa powder, and you'll notice the recipe has a little less butter than most brownies because the dark chocolate contributes some fat.
The resulting brownies have a very chewy edge and a fudgy, but not raw middle. The crust has a chewy/crisp texture.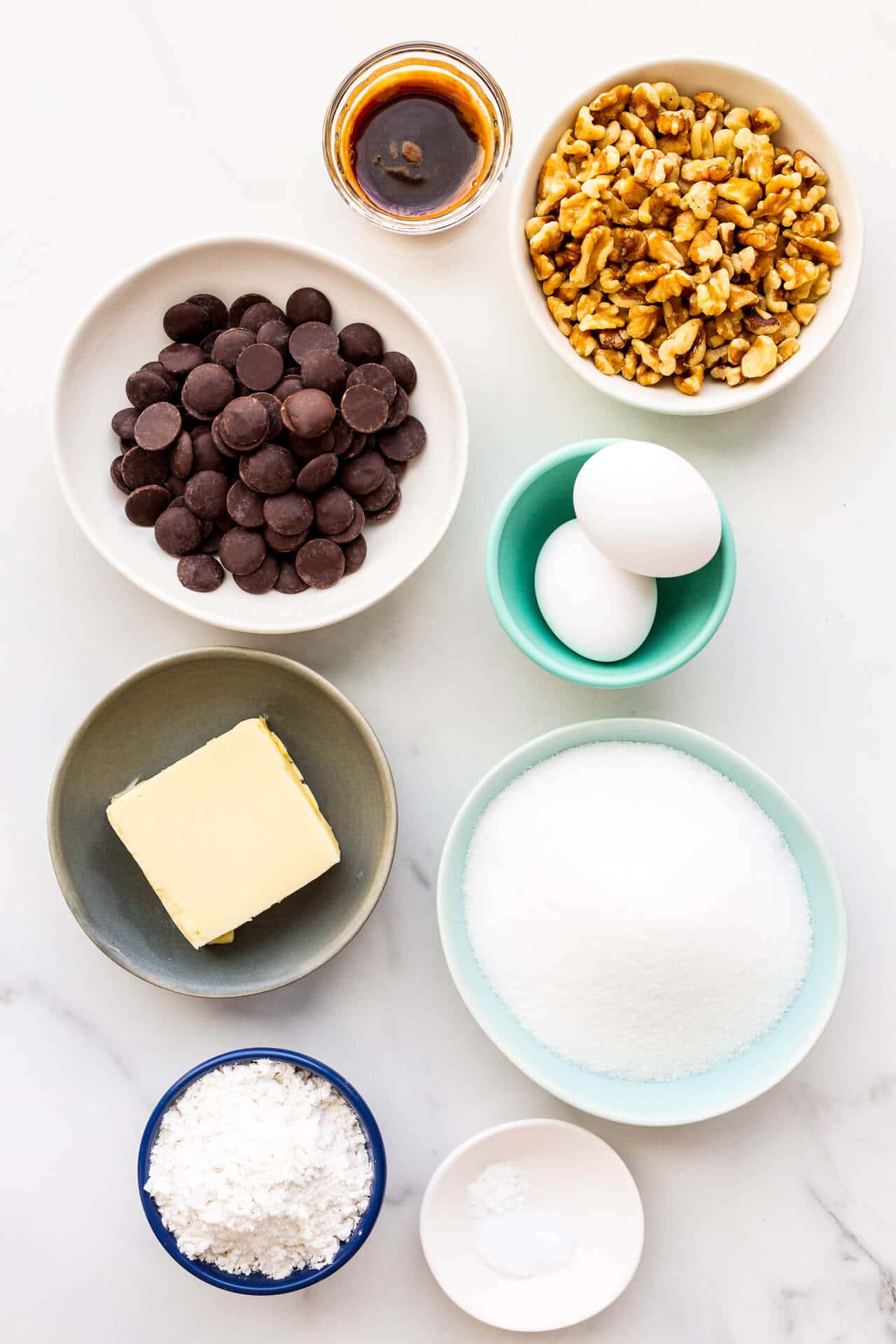 How to make shiny brownies with paper thin top
For many bakers, the shiny paper thin layer that forms when brownies bake and that cracks when you cut into them is the ultimate brownie goal.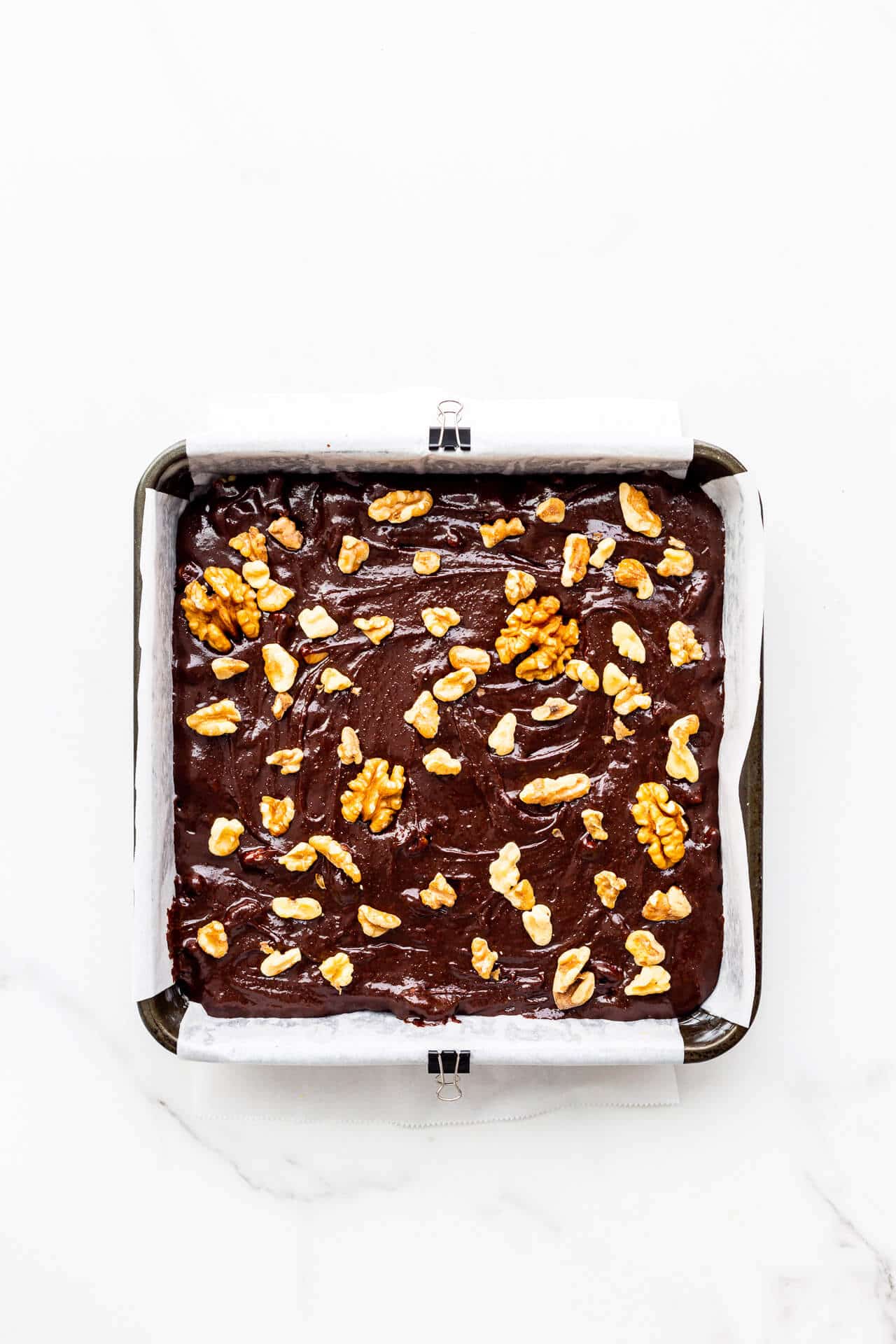 There are a few ingredients and techniques that influence whether or not you end up with shiny brownies:
the amount of sugar: if you use less sugar, it's likely that the shiny top won't form.
the type of sugar: brownies baked with brown sugar are less likely to form a shiny top than brownies made with granulated sugar. Use granulated sugar if you want shiny brownies
the amount of water: remember box brownies are made with water, which will help dissolve the sugars, leading to a shiny top. Home bakers often add more eggs to brownies from scratch than box mixes, and those eggs contribute some water to dissolve the sugars, as does the butter if you are baking with butter.
the way the sugar is added: adding the granulated sugar to the warm mixture of melted chocolate and butter helps the sugar melt into the batter, and this improves the shiny top. Whipping the sugar with the eggs can also help develop the thin crust on brownie tops. Again, it involves dissolving the sugar.
grating some of the chocolate: I've seen it mentioned in a few recipe that part of the chocolate is melted and part is grated and added to brownie batter just before baking and that this is the secret to the shiny top. This seems like a lot of work and grating chocolate means chocolate flies everywhere (because of static). Others have mentioned that stirring chocolate chips into the brownie batter before baking can also lead to a shiny top.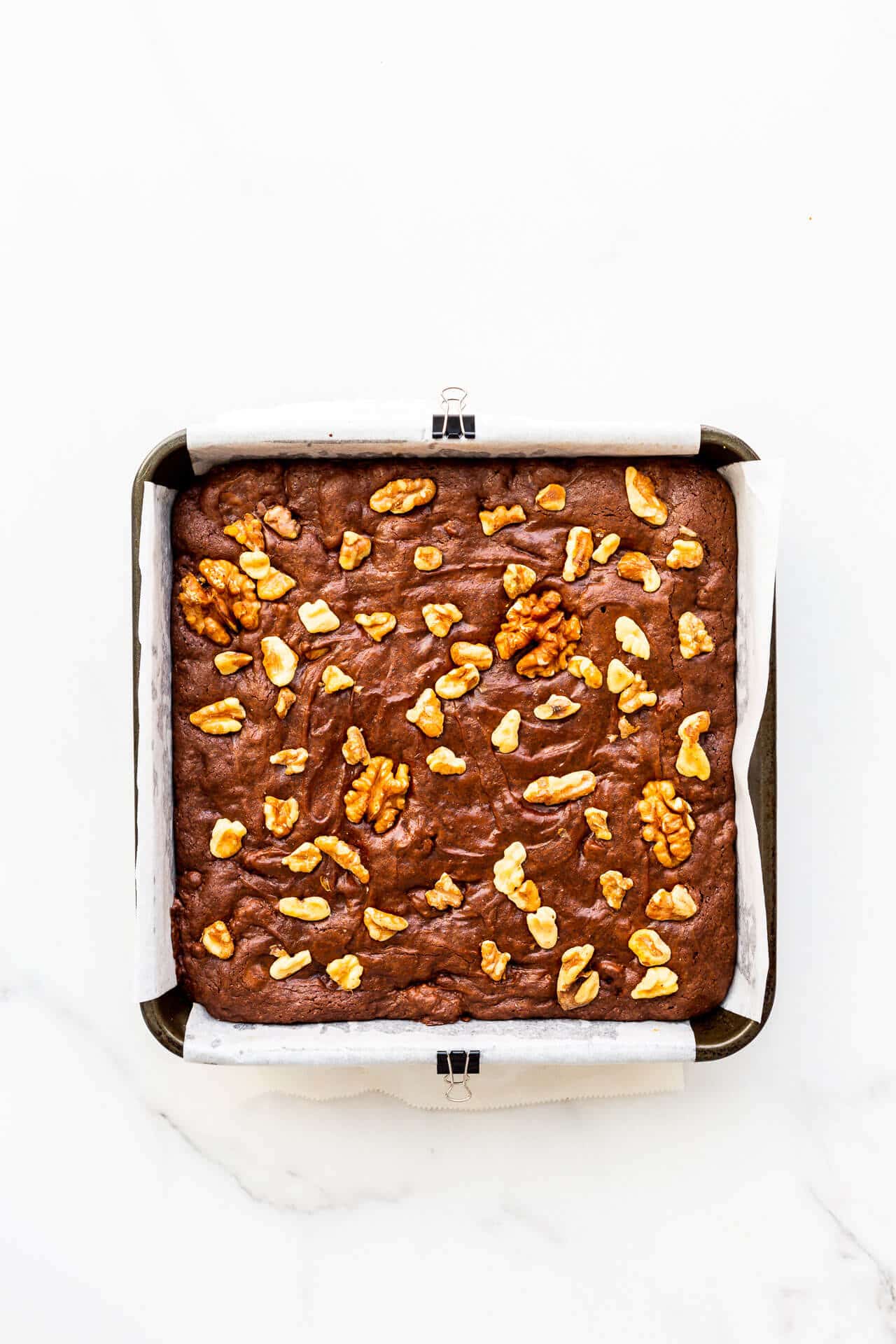 Clearly, there are a lot of opinions about how to bake brownies with a shiny top. But we know that boxed mixes consistently yield brownies with a shiny top. I suspect that, with boxed brownies, which often indicate to add water to the mix, a higher proportion of granulated sugar and dissolving that sugar is what leads to the shiny top.
And if all else fails and you don't get the shiny crust you were going for, remember you can cover the top with a rich chocolate fudge frosting, and nobody will know the shiny top is missing!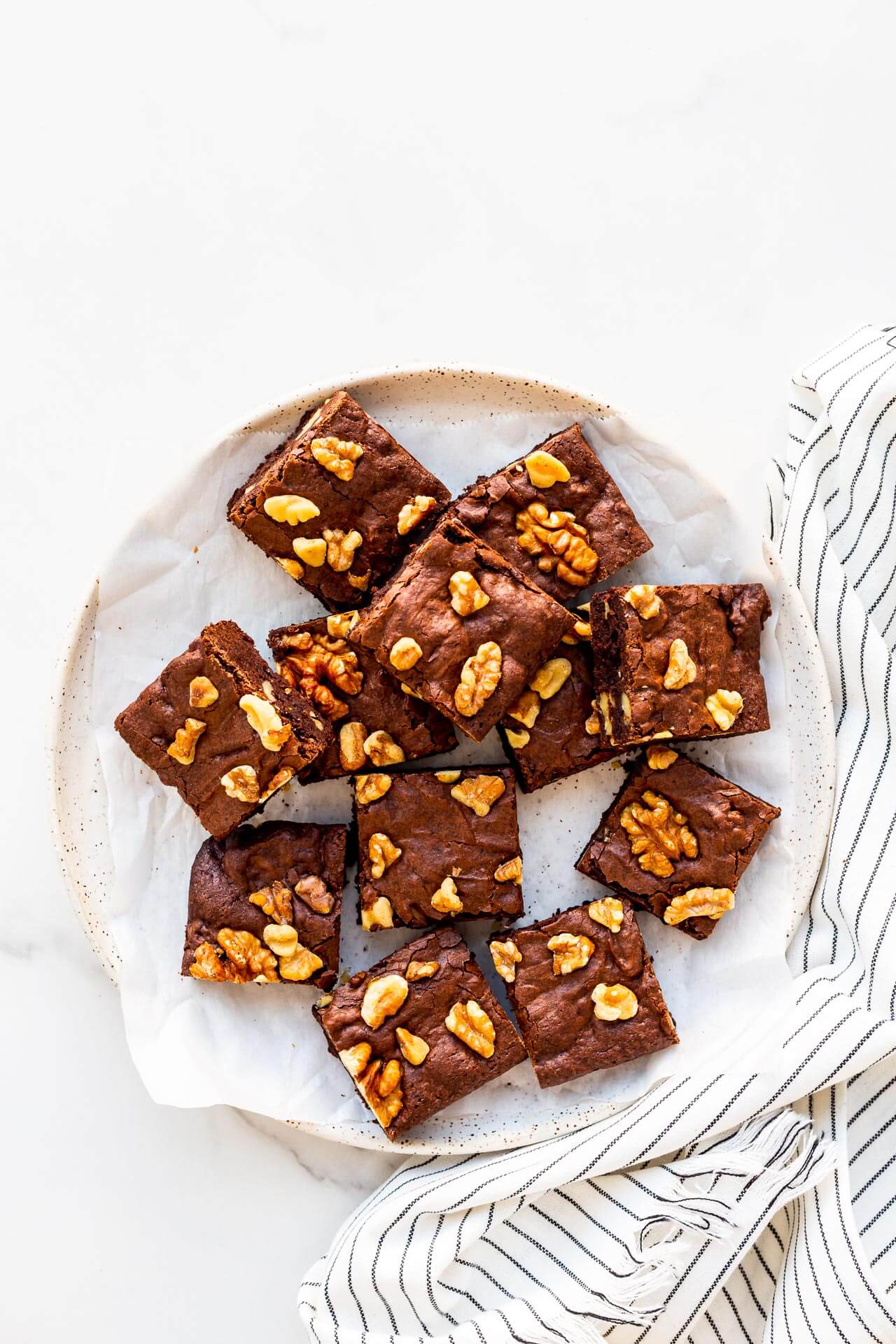 Mixing methods for brownies
There are three different ways to combine/mix ingredients to make a batch of brownies. This mixing method you use may have an impact on the final brownies in terms of texture and looks:
Creaming method where the butter and sugar are beaten together before adding the eggs, and then finishing with the dry ingredients. This method will incorporate air in the butter, leading to a more open crumb. I used the creaming method to make these popcorn brittle brownies.
Whipped eggs method where the eggs and sugar are whipped together before folding in the dry ingredients and finishing with the melted butter and chocolate. Again, this method will incorporate more air into the batter.
One bowl mixing method where the butter and chocolate are melted in a pan on the stove or in the microwave, and then the eggs and sugar are stirred in, followed by the dry ingredients. No air is mechanically incorporated with this method so the brownies may be more dense.
I like to use the one bowl mixing method to make brownies because it's easy, but in order to compensate for the lack of air incorporated into the batter, I include a small amount of a chemical leavener, specifically baking powder, to help open up the brownie crumb just a little so that it's not so dense.
Traditionally brownies do not contain any leaveners, but I like the texture better with some baking powder. It makes the brownies less dense. Feel free to skip it if you don't want to use it.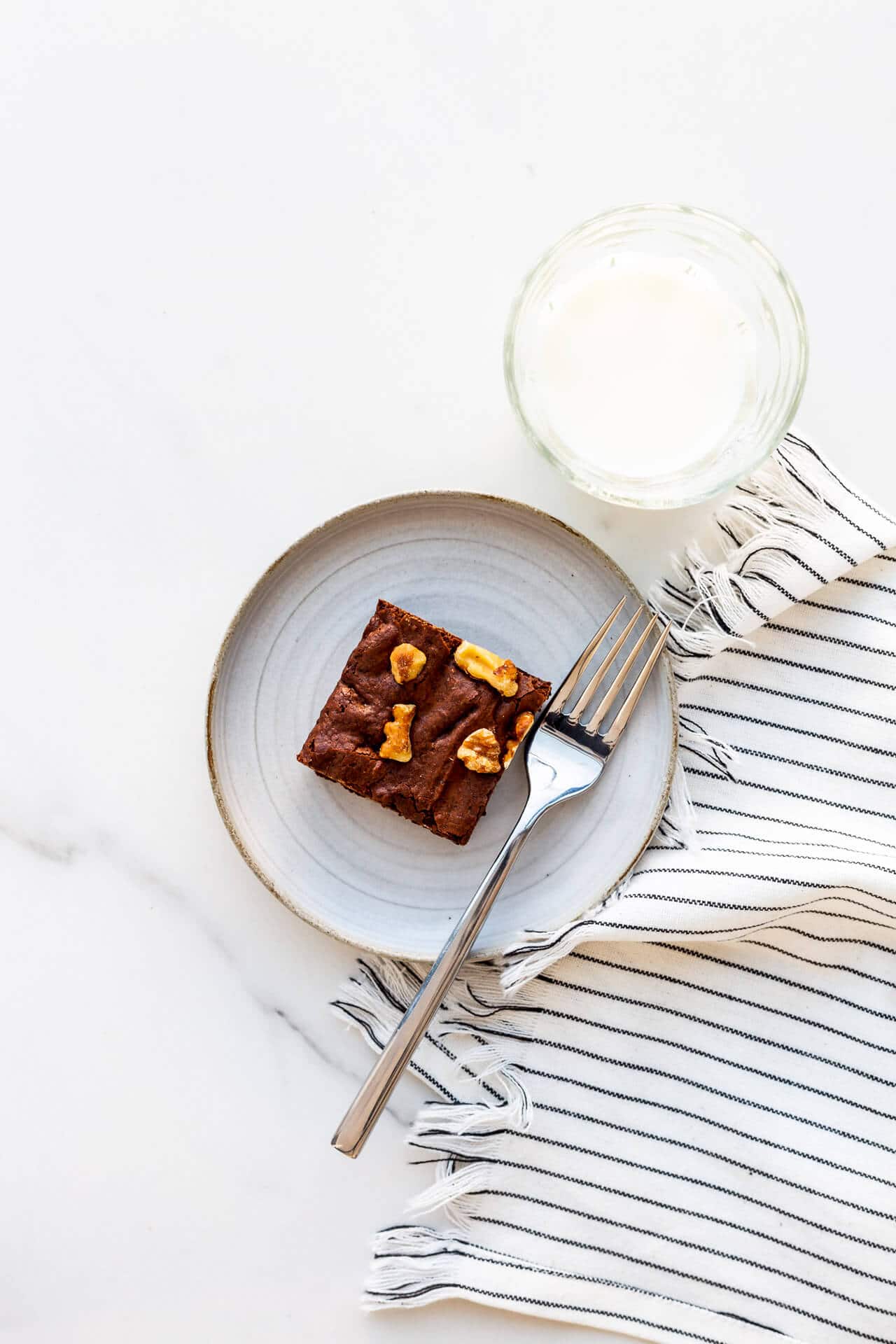 This recipe for brownies with walnuts is actually a variation on a brownie recipe I like because it yields very chewy edges. If you like fudge-y or gooey brownies, this might not be the ideal recipe for you. I've used this same recipe to make these brownies with raspberries.
Note that I used a metal pan to bake these brownies. Brownies baked in a glass pan may take longer to bake. Remember that not all baking pans behave the same and you need to account for the material of the pan when adjusting baking times.
Brownies with walnuts
The easiest brownies you can make are these one bowl brownies with walnuts. These brownies have a thick chewy edge and a fudgy centre.
Instructions
Preheat the oven to 350ºF. Butter an 9x9-inch brownie pan. Line the bottom with parchment. Set aside.

In a large bowl, melt together the butter and the chocolate. You can do this over a pan of simmering water or in the microwave at power level 5, pausing from time to time to stir a little so that the mixture heats evenly.

Add the granulated sugar to the bowl of melted chocolate and butter, and stir it in.

Add the eggs, one at a time, mixing well between each addition. Stir in the hot espresso. Dump in the flour, cocoa powder, salt, and baking powder, and stir it in. Fold in walnuts.

Pour the batter into the prepared pan and smooth the surface.

Bake for 30 to 40 minutes, or for however long it takes to achieve your perfect brownies. I like my brownies chewy so I bake them for 40 minutes. Let cool completely in the pan before cutting into squares using a plastic bowl scraper. Don't use a metal knife because it will stick.
Notes
This brownie recipe fits in an 9x9" square pan.
Use a metal pan which is a better heat conductor than glass. Brownies baked in a glass pan may take longer to bake.
To cut the brownies easily and cleanly into squares, use a

plastic bowl scraper

or a plastic knife

! Don't use a metal knife because it will stick.
Nutrition
Calories:
227
kcal
|
Carbohydrates:
26
g
|
Protein:
4
g
|
Fat:
13
g
|
Saturated Fat:
5
g
|
Trans Fat:
1
g
|
Cholesterol:
31
mg
|
Sodium:
132
mg
|
Potassium:
174
mg
|
Fiber:
2
g
|
Sugar:
18
g
|
Vitamin A:
152
IU
|
Vitamin C:
1
mg
|
Calcium:
24
mg
|
Iron:
2
mg