This easy recipe for white chocolate and raspberry blondies is made with browned butter for extra nutty flavour and brown sugar for that toffee flavour. Bake this recipe longer for chewier, firmer blondies, or less for a softer, more gooey blondie.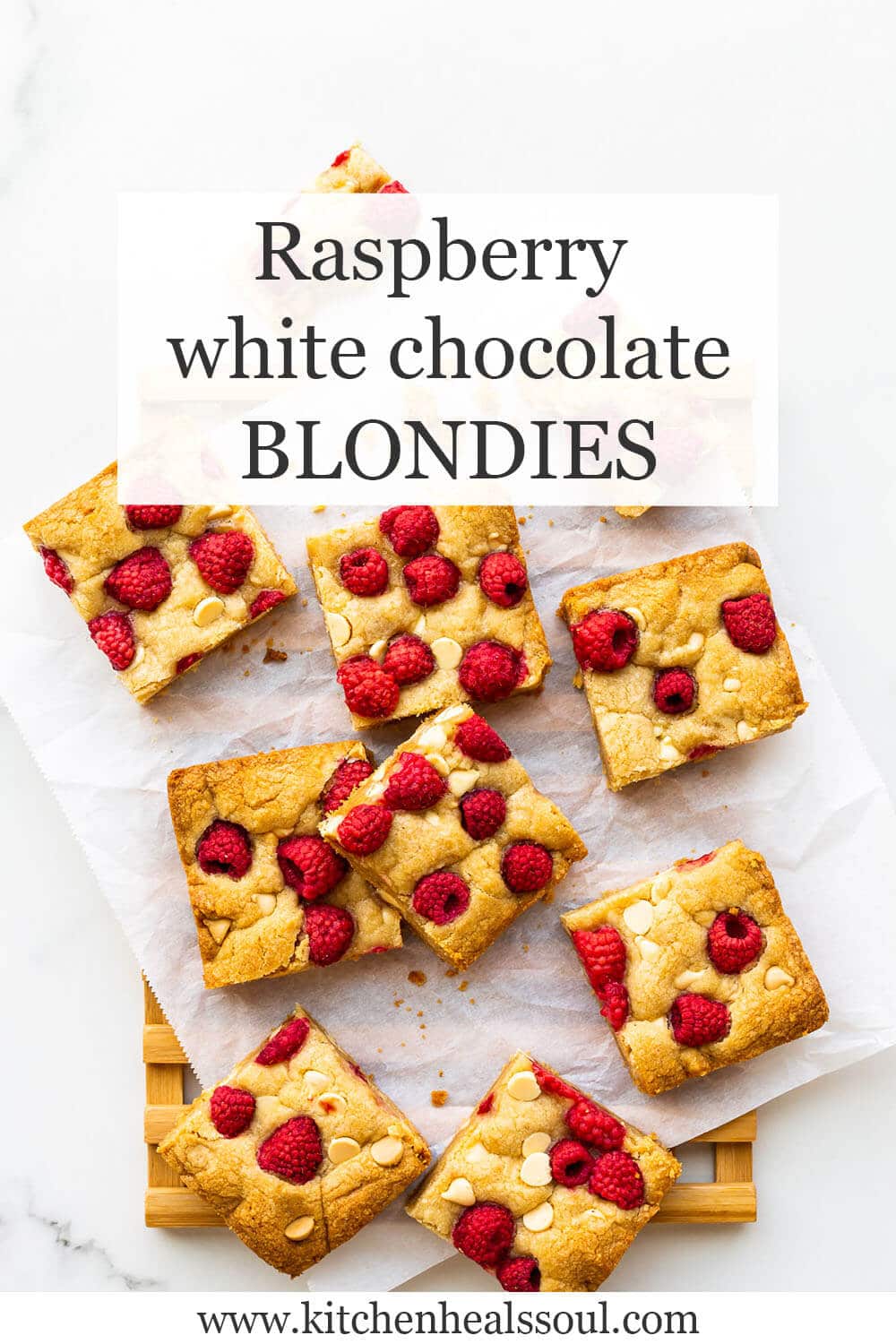 Disclosure: As an Amazon Associate, I earn from qualifying purchases.
I love the combination of sweet, vanilla flavoured baked goods and fruit. The pairing works especially well in fruit muffins like these rhubarb muffins with sour cream, honey blueberry muffins, or even low sugar blueberry bran muffins. And you can even make it work in cookies, like these blueberry oatmeal cookies with white chocolate chips.
Jump to: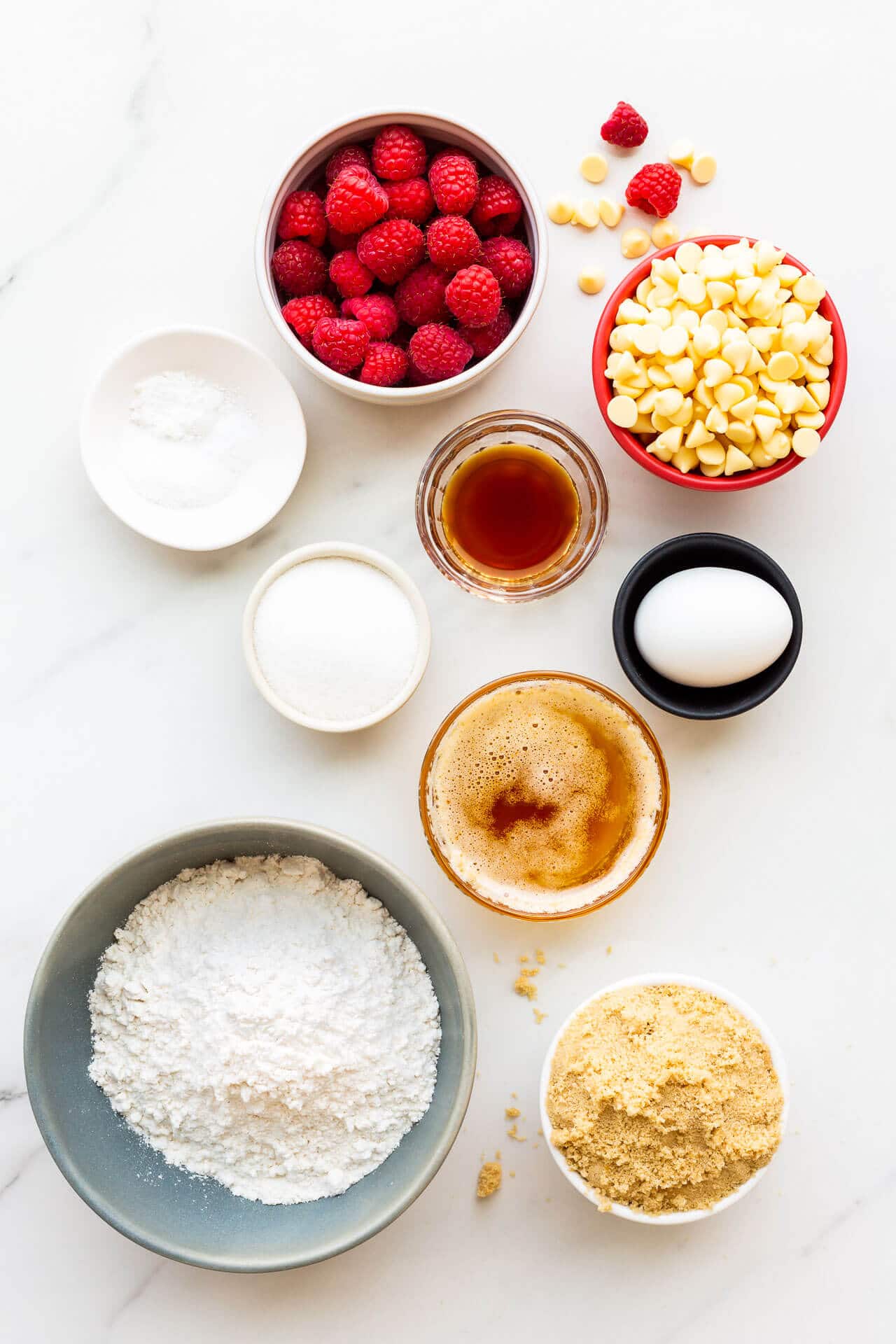 Financiers are also a great canvas for fruit because these little cakes are sweet and nutty, the perfect pairing for bright fruit flavours. I added slices of golden kiwis to these coconut financiers, cranberries to these gluten-free chestnut financiers, and raspberries to make classic berry financiers.
You simply can't go wrong with playing with fruits in baked goods!
Basic ingredients to make blondies
Blondies are made with the same basic ingredients as chocolate chip cookies, so you will need:
butter, preferably unsalted butter because you will add salt to the cookie dough, but if you have salted butter, it will work. Just adjust the salt in the recipe accordingly, otherwise, your bars may be too salty. We will be browning the butter for this recipe!
sugar, both granulated and brown sugar work here. I prefer using all (or mostly) brown sugar for the flavour and to balance out the egg in the cookie dough.
large eggs, don't use smaller eggs because your cookie dough may be too dry and your brownies may be crumbly but don't use extra large eggs because they could cause the batter to separate
vanilla extract—I use pure vanilla extract in this recipe though artificial could work (just use a little less because it's more potent)
all-purpose flour is needed to bind all the ingredients together and give the blondies structure, contributing to the chewiness of the bars as well. If you don't use enough flour, your cookie bars may be overly fudgy and dense
salt is really important to balance out the sweet chocolate flavour, especially since these brownies feature quite a bit of candy chocolate. Please don't skip it. I like to use Diamond Crystal fine kosher salt, but table salt will work, though the bars will be saltier and you may want to halve the salt in that case
leavening agents—both baking soda and baking powder are added to the mix of dry ingredients to open up the crumb of the cookie leading to a lighter texture. People who like cakey cookies tend to favour recipes with baking powder. 
white chocolate, either a chopped bar of white chocolate or white chocolate chips will work
Fresh raspberries to scatter on top of the bars before baking
Tip: Not sure about the difference between the leavening agents? Please read this post about baking soda versus baking powder.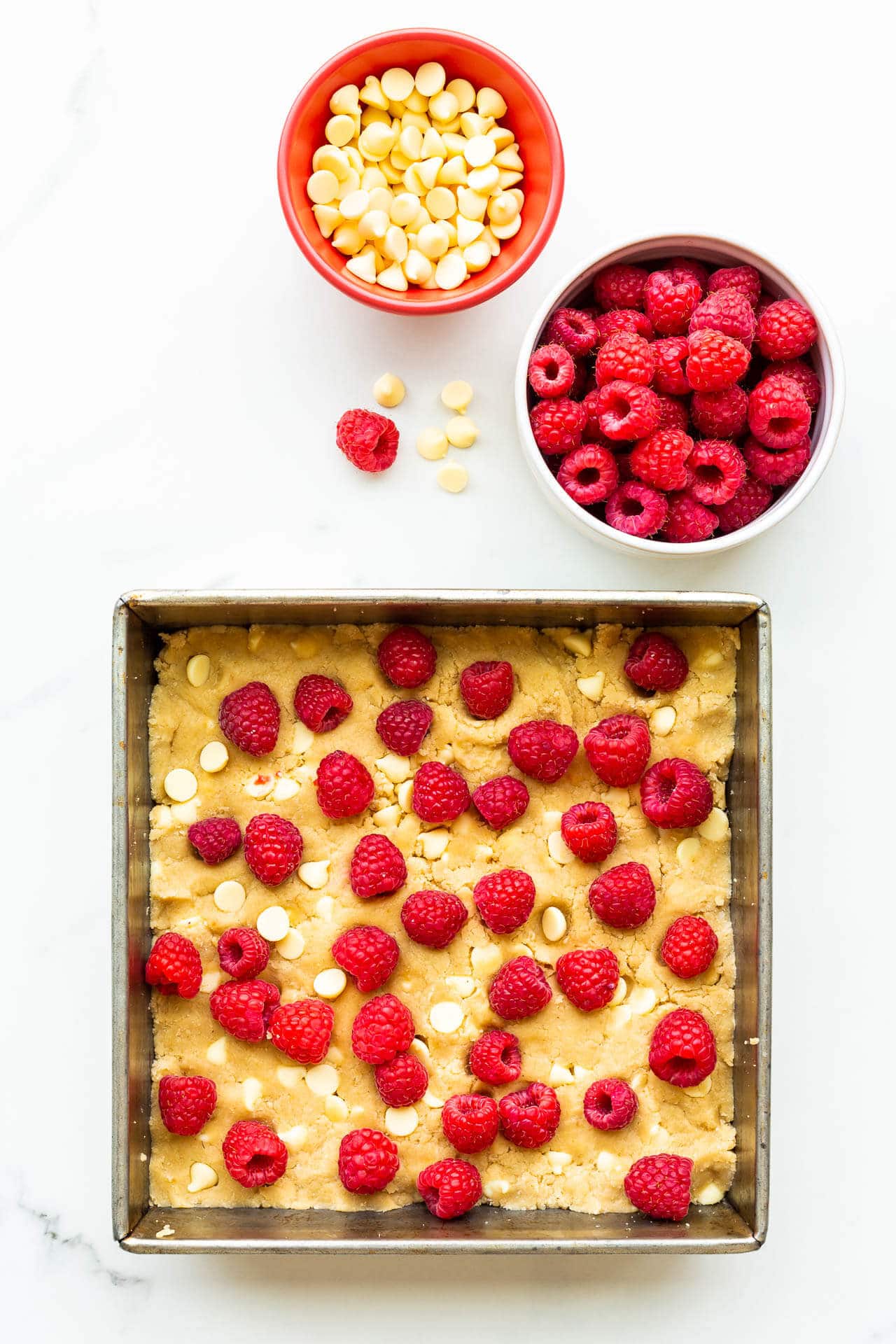 Tricks for achieving a more gooey texture
While I prefer my blondies on the chewy side and I'm an edge/corner-person, I understand that not everybody is a fan of chewy blondies. If you would prefer a more dense or gooey blondie, try reducing the flour in this recipe. You can go as low as 125 grams (1 cup) of all-purpose flour for this recipe. The blondies will be more dense and fudgy as they cool.
Make sure to slightly underbake bars and cookies if you want a gooey texture.
How to incorporate delicate berries in baked goods
The cool thing about baking with fruit is that you can also use fruit as a topping for bars, like brownies and blondies. After garnishing these one bowl brownies with raspberries just before baking, I realized how well this works.
Since it's raspberry season, I decided to take my fruity obsession one step further and make these white chocolate and raspberry blondies. When you want to add delicate berries to cake batters or cookie doughs, you have to be very careful to avoid crushing the berries, which will ooze too much juice and throw off the recipe. That shouldn't stop you because you have options:
Freeze the berries until they are solid so that you can fold them into cake batters (about an hour or more if possible). For this to work, you have to incorporate the frozen berries directly from the freezer. I did this for these honey blueberry muffins, for example. But if you decided to go this route, don't dawdle! And make sure to bake the batter right away or else the fruit will defrost and break down and make your baked goods gummy.
Scatter the berries on top before baking or layer them in stages (which is what I did to make these apple blackberry muffins, where I scooped a little batter into each muffin cup, then scattered a few berries, and then repeated to fill the cups).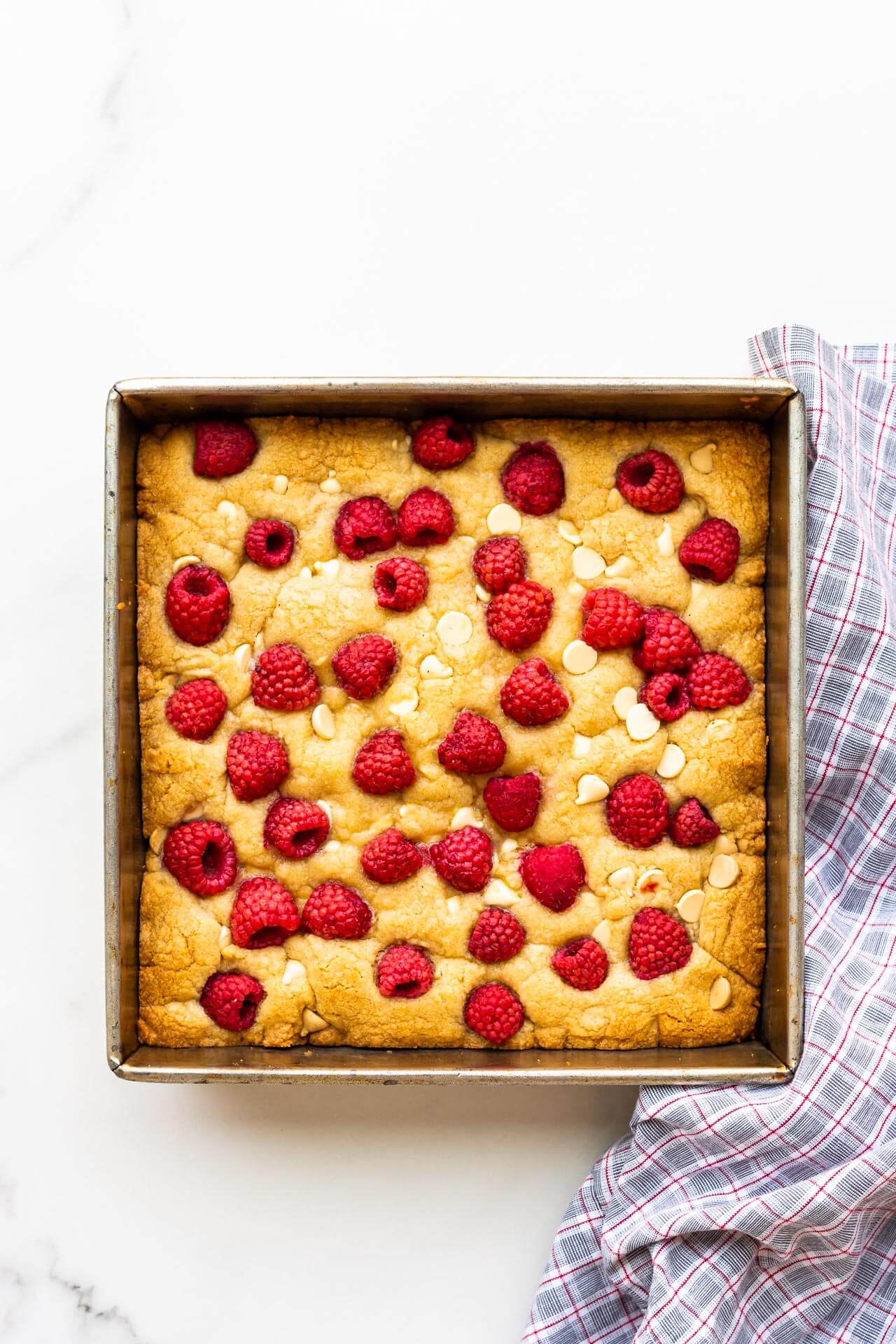 Substitutions for this recipe
If you need to make some baking substitution ideas for this recipe:
the browned butter: I love to brown the butter before making blondies because it adds a nutty flavour to the cookie dough, but by all means, just use melted!
the chocolate: feel free to replace the white chocolate with semi-sweet chocolate chips or any of your favourite chocolate chips or chopped chocolate. Any chocolate will do but try to use a good type of chocolate for baking! Dark chocolate would balance out the sweetness of these bars, while white chocolate enhances it, adding some milky notes.
the berries: Raspberries can be replaced with frozen raspberries, and blueberries would also work great.
the vanilla: you can replace the vanilla extract with a splash of bourbon or scotch, which will provide an interesting oak flavour to these blondies. Vanilla bean paste also works in this recipe.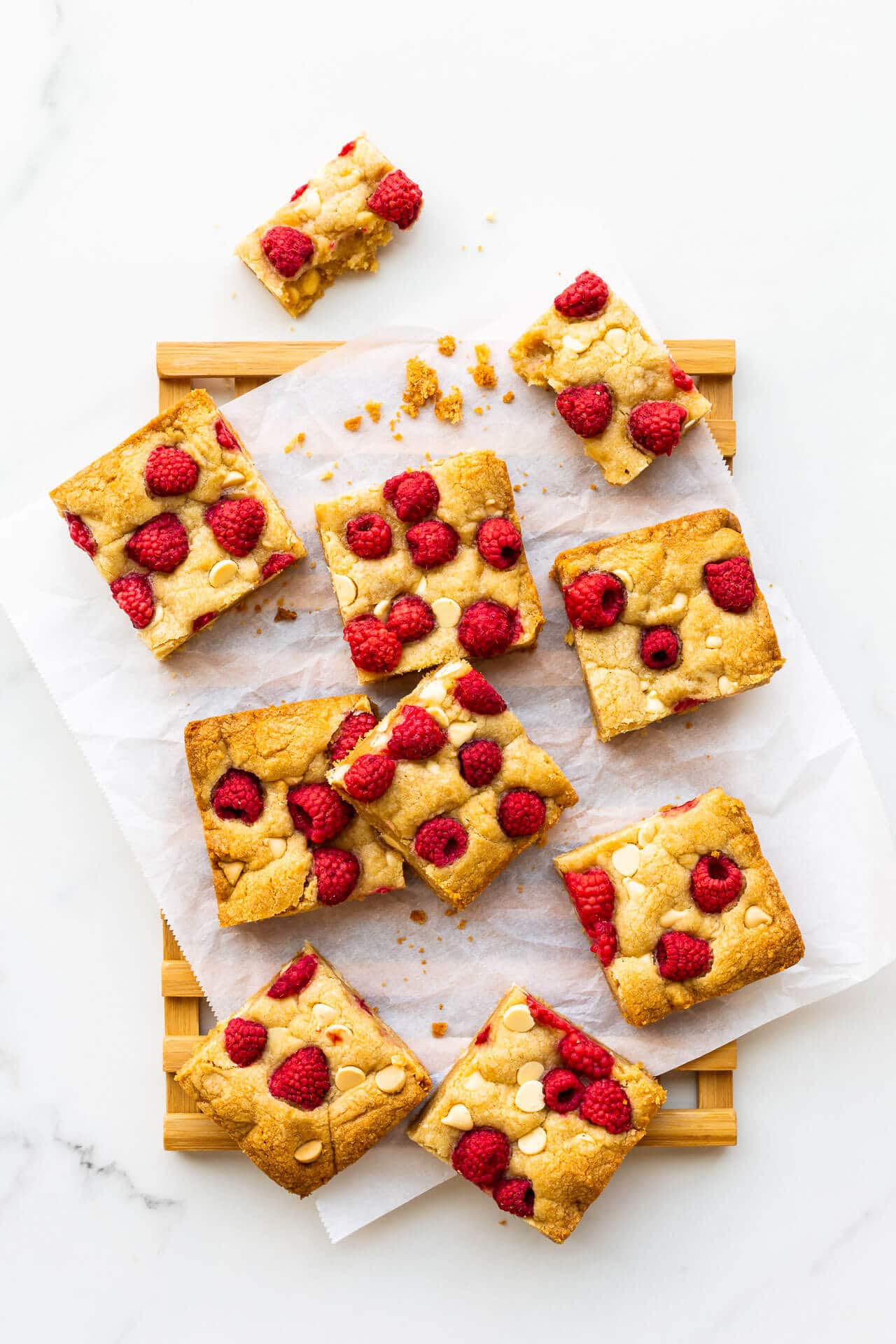 Storage
To store blondies, place them in an airtight container in a cool, dry place. Alternatively, like with chocolate chip cookies, for longer-term storage, you can freeze blondies in a single layer in a freezer bag. Defrost them, one at a time, when a craving strikes. Defrost one blondie bar in a low oven for about 10 minutes (usually at 250–275 ºF). The blondie will end up warm and taste just like it was freshly baked.
Other dessert bar recipes to try
Blondies and other cookie bar recipes are great for serving a crowd fast. You bake them all in one pan and slice to serve, making the whole process faster than scooping and baking individual cookies.
These raspberry and white chocolate blondies are the perfect summery treat when raspberries are in season!
📖 Recipe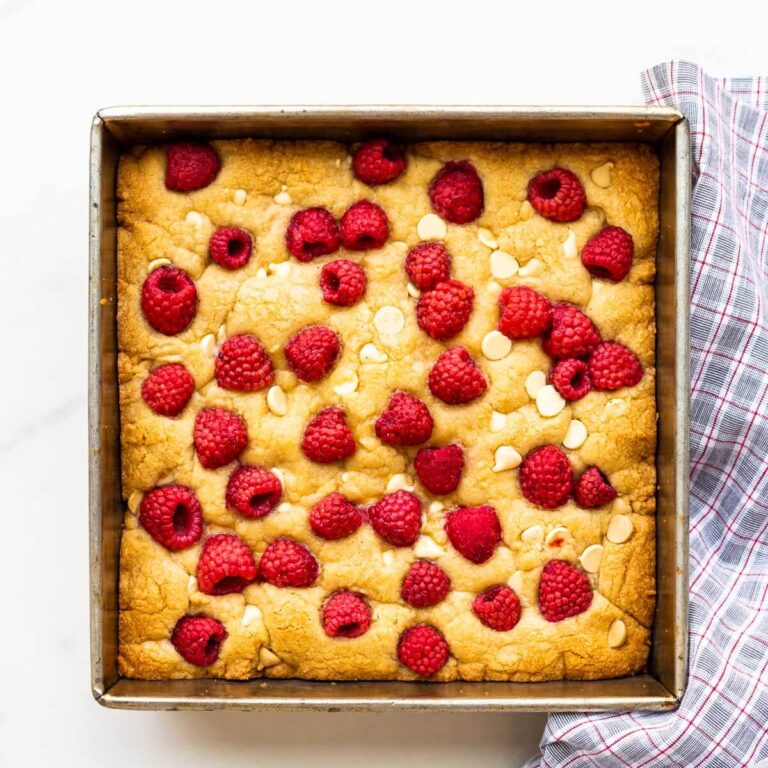 White Chocolate and Raspberry Blondies
These raspberry and white chocolate blondies are made just like chocolate chip cookies, but patted in a square pan to bake and serve as bars!
Instructions
Preheat the oven to 350 ºF (175 °C). Butter an 8x8-inch metal brownie pan and line the bottom with a square of parchment. Set aside.

In a medium bowl, whisk together the flour, salt, baking powder, and baking soda. Set aside.

In a small saucepan on medium–high heat, melt the butter, swirling the pan often. Continue heating the butter and swirling often until the milk solids at the bottom of the pan begin to brown. The browned butter will smell nutty when it's done. Set aside to cool slightly.

In a large bowl, using an electric hand mixer, whip together the browned butter, the granulated sugar, and the brown sugar until it's well mixed.

Add the egg and the vanilla, and mix well until the mixture is light and fluffy. Make sure to clean down the sides of the bowl as needed with a big spatula.

Dump in the whisked dry ingredients, and incorporate them either with the hand mixer on low, or by hand with a big wooden spoon.

Mix in the chocolate. The dough should be quite thick.

Transfer the dough to the prepared pan and pat it out from edge-to-edge so that it fills the pan completely.

Scatter the raspberries over the dough.

Bake the blondies for 30 to 40 minutes. Less for a more gooey blondie, longer for a chewy blondie. I like to bake blondies until the edges are nicely browned.

Let the blondies cool completely before cutting into squares (9 large squares or 16 smaller squares).

Store in an airtight container.
Nutrition
Calories:
377
kcal
Carbohydrates:
51
g
Protein:
4
g
Fat:
17
g
Saturated Fat:
11
g
Cholesterol:
50
mg
Sodium:
285
mg
Potassium:
154
mg
Fiber:
1
g
Sugar:
34
g
Vitamin A:
352
IU
Vitamin C:
3
mg
Calcium:
77
mg
Iron:
1
mg
Flour substitutions to consider:
I understand that you might want to bake these blondies with whatever flour you have on hand.
If you want to replace the all-purpose flour with an alternative flour, consider the following substitutions:

whole wheat flour: 190 grams (1.5 cups) whole wheat flour to make whole wheat blondies
rye flour: 190 grams (1.5 cups) rye flour to make rye chocolate chip cookies (basically replace with the same amount)—any more rye flour makes the blondies way too chewy and don't forget rye has a very pronounced flavour, so rye blondies will taste very different and you might want to experiment with a combination of flours.
spelt flour: 220 grams–250 grams (1.75 cups to 2 cups) spelt flour to make spelt blondies— at 250 grams of spelt flour. Use just slightly less if you prefer your blondies less chewy.
oat flour: 220 grams–250 grams (1.75 cups to 2 cups) oat flour depending on how chewy a blondie you want (note you can also replace the chopped chocolate with raisins to make them gluten-free oat flour raisin blondies )
buckwheat flour: 310 grams (2.5 cups) buckwheat flour to make gluten-free buckwheat chocolate chip blondies—less works, but it all depends on if you want chewy blondies (more flour) or less chewy blondies (less flour)! Note that buckwheat flour imparts quite a grassy flavour, so you might want to experiment with a combination of flours.

If you want to add nuts:

when you add in the chocolate, also mix in 110 grams (1 cup) chopped nuts like pecans, walnuts, or even peanuts or pistachios.

If you want to add seeds: when you add in the chocolate, also mix in 110 grams (1 cup) sunflower seeds or pumpkin seeds.
If you want to add sprinkles: if you want a funfetti blondie or a "birthday cake" style blondie, mix sprinkles in with the dough. I like adding rainbow jimmies to dough.
If you want to add peanut butter: when you cream the butter with the sugars, you can add 125 grams (½ cup) of all-natural peanut butter because the recipe below is VERY similar to this recipe for classic peanut butter cookies.
If you want to change the chocolate: I love to make blondies with chopped dark chocolate that is preferably 70 % cocoa and not too sweet, but you can also use milk chocolate, white chocolate, or a combination of the three. Make sure you stick to the same total quantity of chocolate though. Try adding toffee bits, butterscotch chips, or even peanut butter chips for a completely different flavour.
If you want to replace the chocolate with chopped dried fruit: you can replace the chocolate with raisins, dried cranberries, dried blueberries, dried sour cherries, chopped crystallized ginger, chopped dates, etc. Substitute cup-for-cup, or do a mixture of chocolate and dried fruit. Up to you!
If you want to add in something crazy: take inspiration from Christina Tosi's Milk Bar compost cookie recipe and her compost pound cake and throw in some salty potato chips, chopped pretzels, coffee grinds!
If you want to garnish: you can't go wrong with a sprinkle of flaky sea salt which will help balance out the sweetness of the dough—check out these toffee blondies that are finished with flaky sea salt.