This low-sugar blueberry bran muffins recipe is made with wheat bran and packed with blueberries! These blueberry muffins make a great healthy breakfast or snack.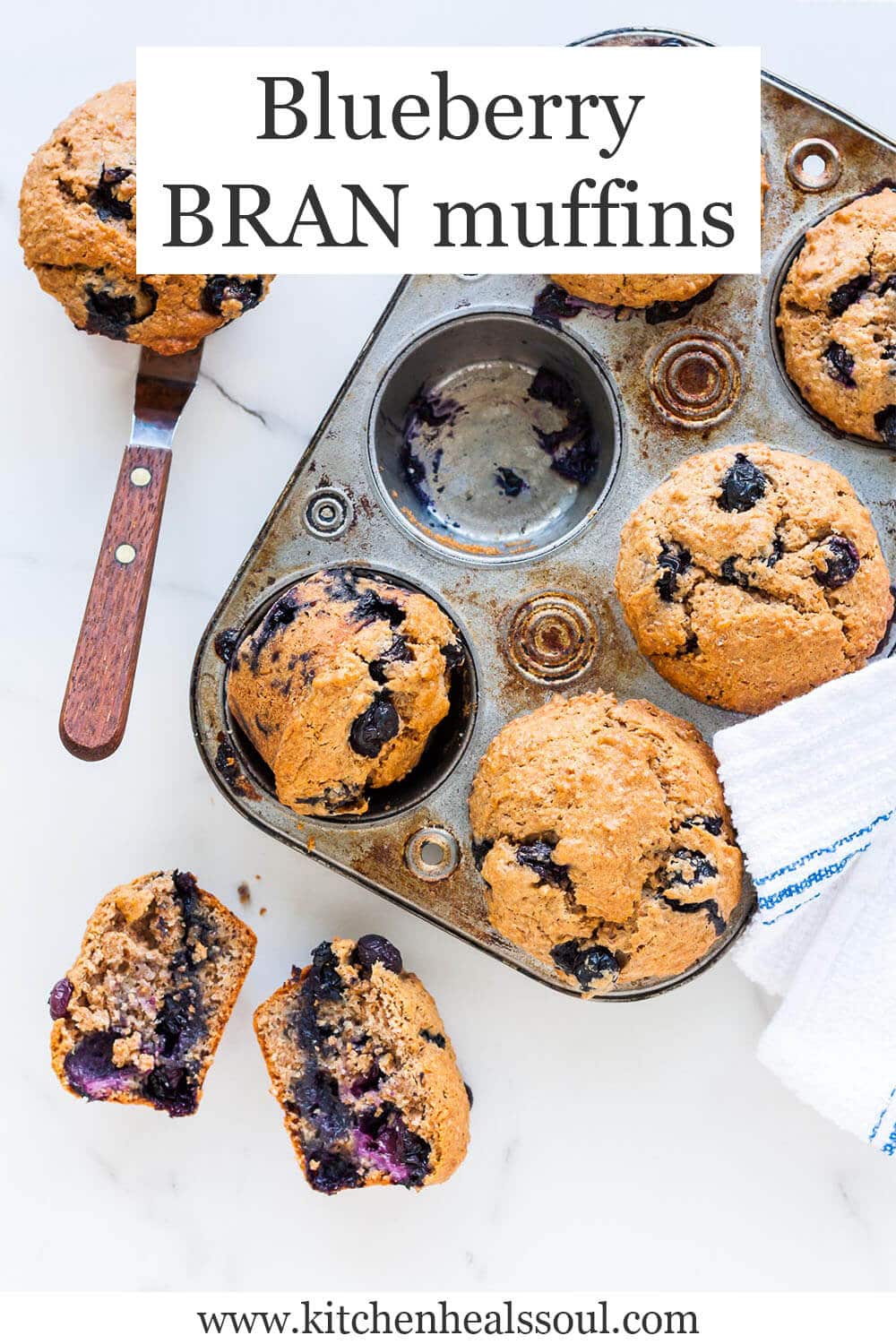 Disclosure: As an Amazon Associate, I earn from qualifying purchases.
Jump to:
There are two main ways to make a bran muffin and to incorporate bran into baked goods:
use bran cereal, like these date bran muffins, which are made with All Bran cereal that's in the aisle with the regular cereals. Date bran muffins are my favourite and my mom always made them with All bran, so that's what I still do today. And they are great!
use wheat bran, like in the blueberry bran muffins below. You'll find wheat bran in the health food aisle of your grocery store, or at your local scoop shops and bulk bin stores.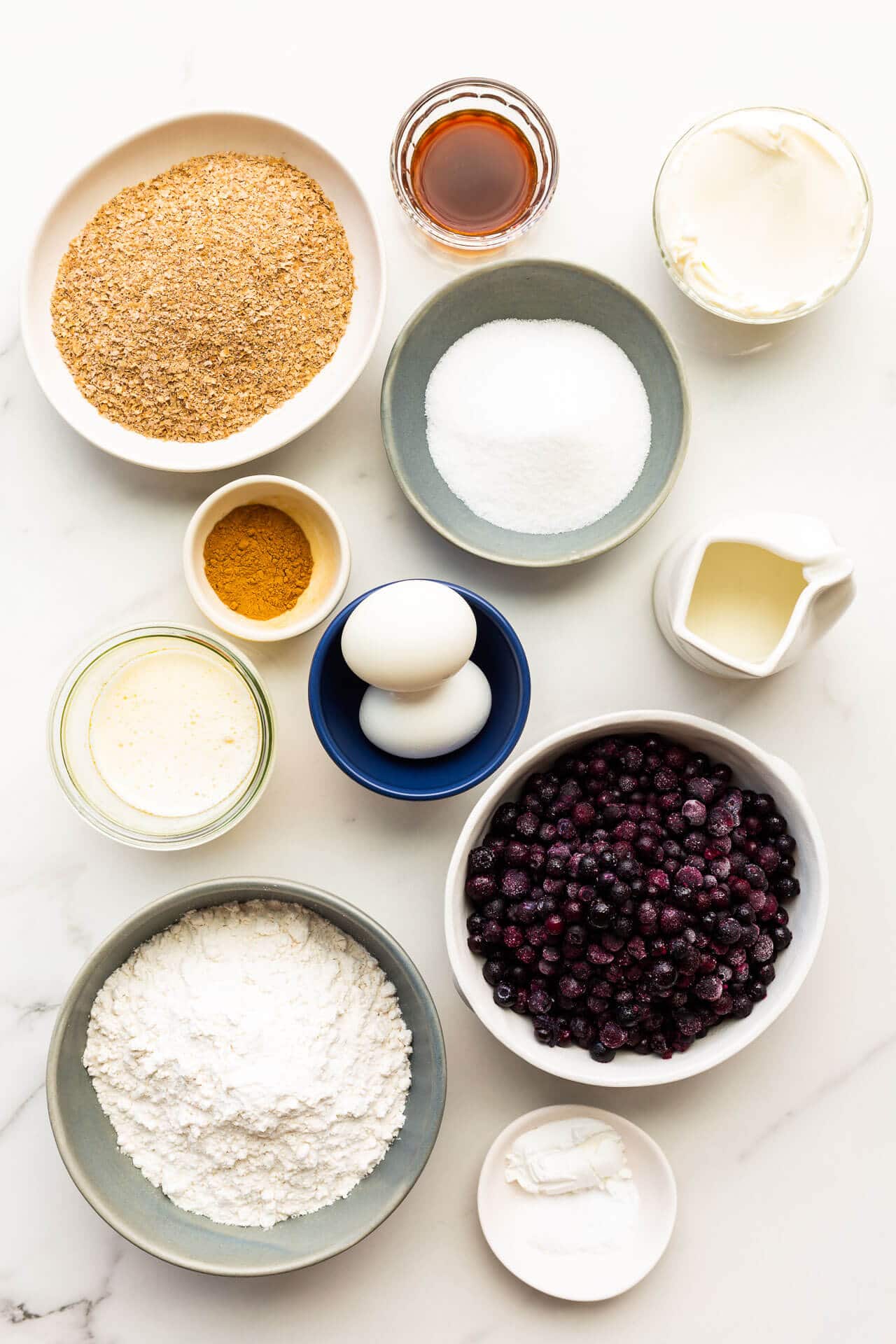 You might ask what's the difference between bran cereal and wheat bran, and the difference is rather huge. Wheat bran is the outer layer of the wheat kernel and an excellent source of dietary fibre according to most producers. It's 100 % wheat with nothing added. This is the bran you would want to use if you are making low sugar bran muffins.
On the other hand, bran cereal contains wheat bran, yes, but it also contains a lot of other ingredients, like sugar, fats, preservatives, and more. I love bran cereal and there's nothing wrong with it. I use it to make muffins, I top yogurt breakfast bowls and smoothie bowls with it, and I eat it as a snack. Bran cereal is great, but it's not a suitable substitute for wheat bran without making other changes to your recipe.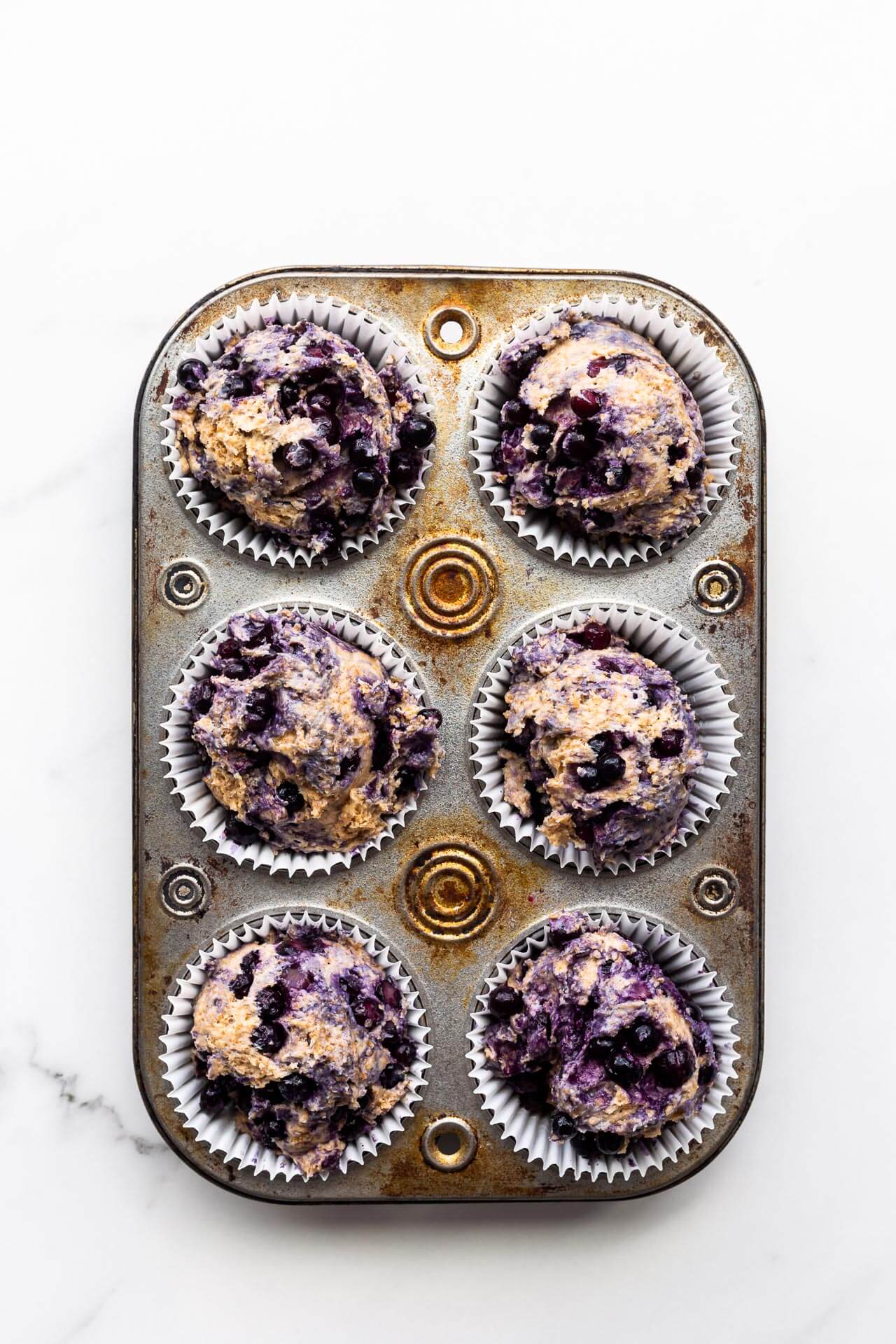 If you want a muffin that is made from wheat bran, make this low-sugar blueberry muffin recipe shown below. If you want a muffin made from bran cereal, make these All Bran muffins. If you need a baking substitution for the wheat bran in this recipe, you can try another source of bran, like oat bran, but proceed with caution as I haven't tested any substitutions.
If you can't find crème fraîche, I recommend using full-fat sour cream, but this has more moisture than crème fraîche so you will undoubtedly have to bake the muffins longer and/or adjust with a little extra bran and flour since these muffins are already quite moist.
The key to these low-sugar bran muffins is baking them with lots of fruit which adds sweetness.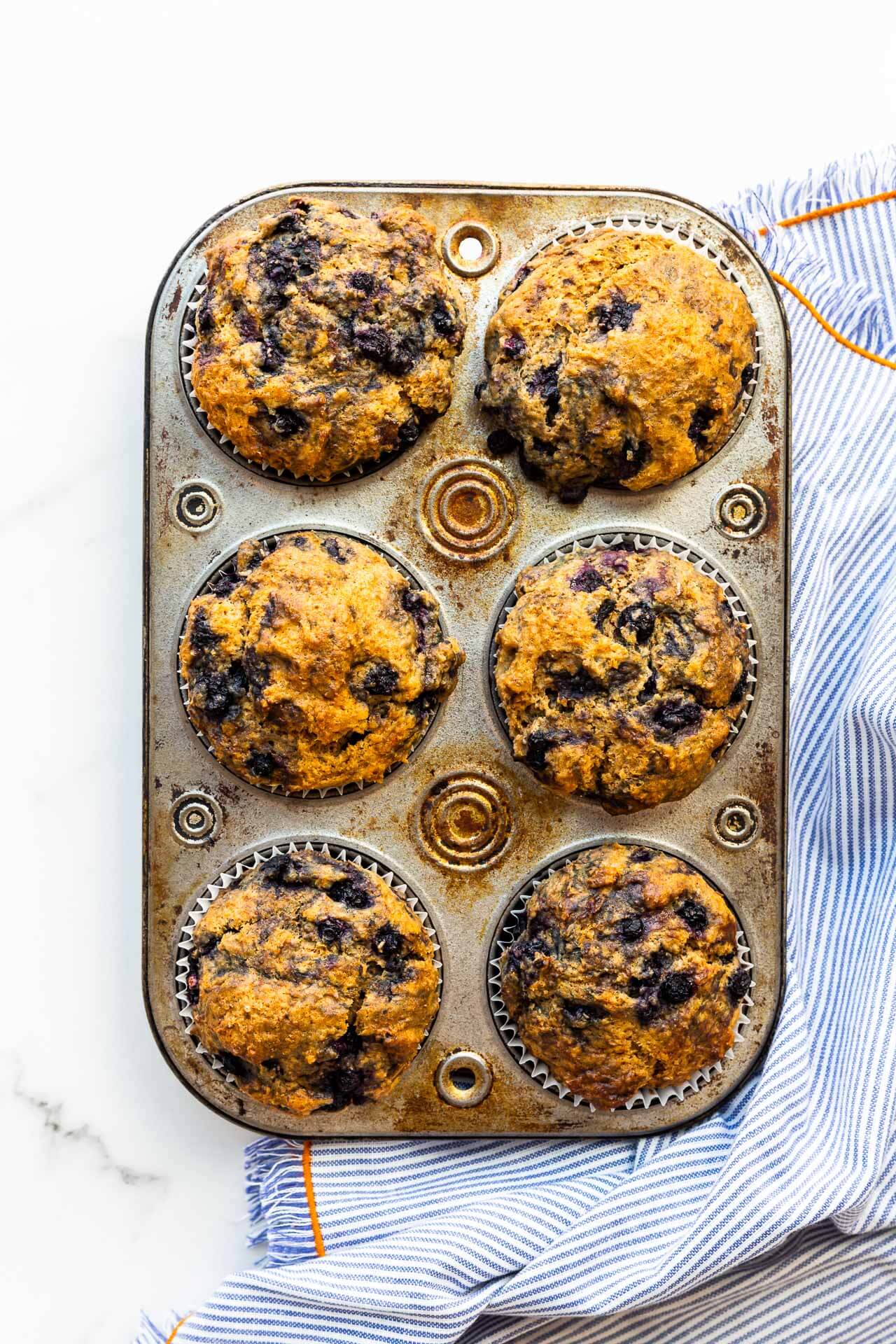 While baking a batch of these blueberry bran muffins or honey blueberry muffins, you might notice the blueberries turn green or change colour as they bake, don't panic. It's probably the pH of the batter that changed the colour of the berries, but that has zero impact on the flavour of the berries. The muffins are just as yummy and still safe to eat!
This recipe is from the book Baking with Less Sugar: Recipes for Desserts Using Natural Sweeteners and Little-to-No White Sugar by Joanne Chang, published by Raincoast Books (available on Amazon and Amazon Canada). Be sure to check out my review of Baking with Less Sugar to see the other recipes that I made.
If it's not blueberry season and you want to bake fruit muffins with another fruit, try these strawberry rhubarb muffins with streusel topping.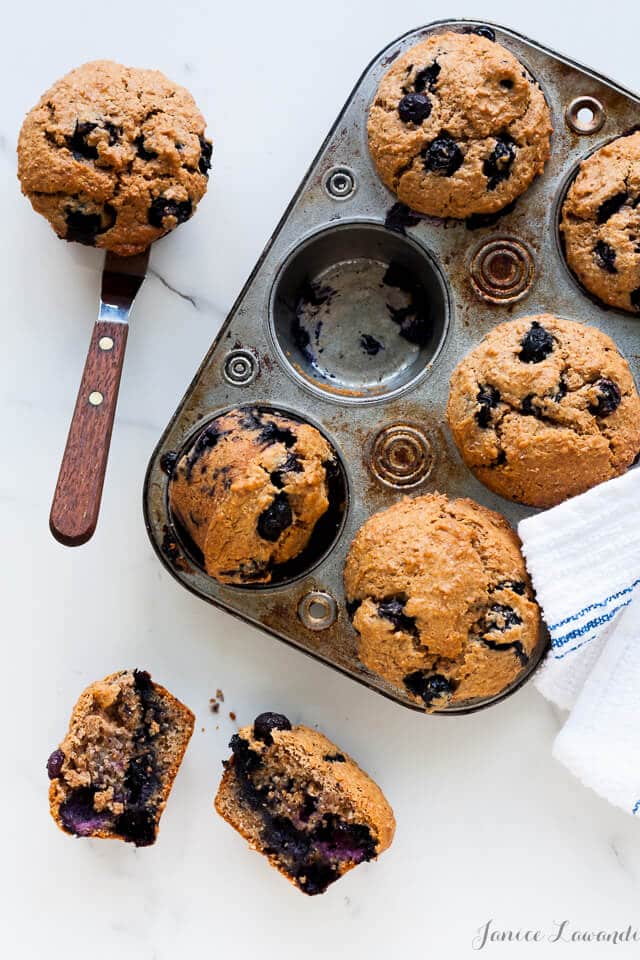 📖 Recipe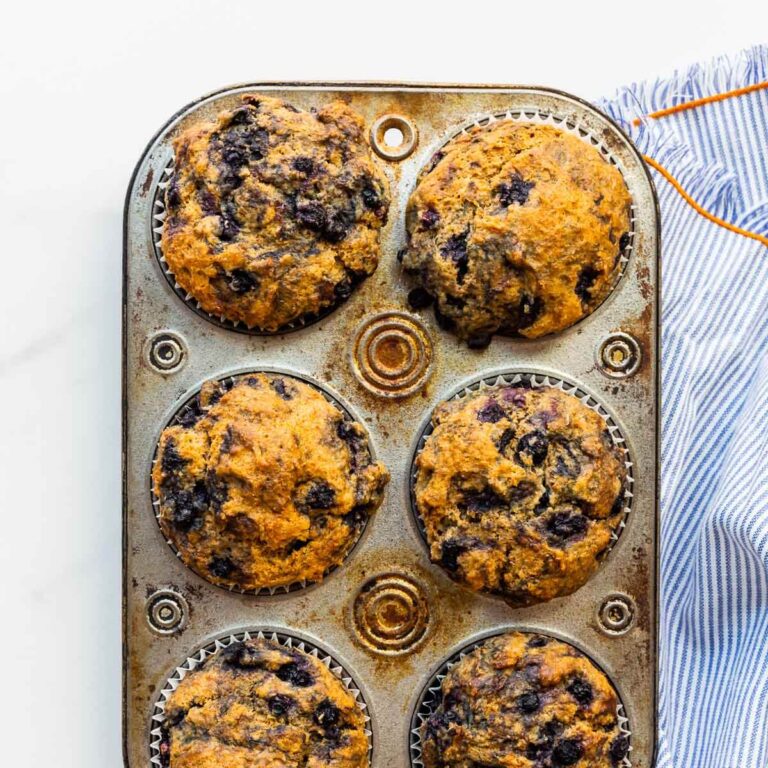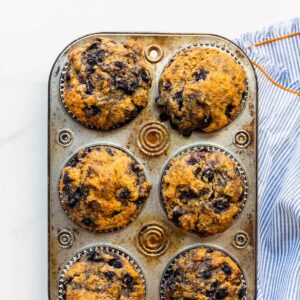 Blueberry Bran Muffins
Low sugar blueberry bran muffins are perfect for breakfasts and snacks. These blueberry muffins are loaded with blueberries, not too sweet, and include wheat bran. 
Ingredients
250

grams

bleached all-purpose flour

60

grams

wheat bran

10

mL

baking powder

5

mL

ground cinnamon

2.5

mL

baking soda

2

large egg(s)

180

grams

crème fraîche

at room temperature

125

mL

whole milk (3.25 % fat)

at room temperature

70

grams

granulated sugar

15

mL

pure vanilla extract

115

grams

unsalted butter

melted and at room temperature

300

grams

fresh blueberries

fresh or frozen (roughly 2 cups)
Instructions
Place a rack in the centre of the oven and preheat to 350 °F (175 °C). Butter and flour a standard 12-cup muffin tin, coat with nonstick cooking spray, or line with paper liners.

In a large bowl, stir together flour, wheat bran, cinnamon, baking powder, baking soda and salt.

In a medium bowl, whisk together the eggs, crème fraîche, milk, sugar, and vanilla until well-combined. Slowly pour in the melted butter while whisking.

Pour the wet ingredient mixture into the dry ingredients and fold gently, using a rubber spatula, just until the ingredients are combined. Gently fold in the blueberries until the fruit is well distributed. The batter may seem lumpy, but don't try to smooth it out.

Using an ice cream scoop or a spoon, scoop a heaping ⅔ cup batter into each prepared cup of the muffin tin, filling the cups to the brim (almost overflowing) and making sure the cups are evenly filled. You might think you have too much batter, but you can fill these to overflowing and then you will get nice tops on your muffins. (If you prefer smaller muffins, spoon about ½ cup batter into each cup and decrease the baking time to 25 to 35 minutes. You will get up to 18 smaller muffins.)

Bake for 45 to 55 minutes, or until the muffins are entirely golden brown on top and they spring back lightly when you press them in the centre. There's a lot of fruit in these muffins, so make sure you bake them enough so the insides of the muffins don't get soggy. Let the muffins cool in the pan on a wire rack for 20 minutes, and then remove them from the pan.
Notes
These blueberry bran muffins are made with wheat bran, which is NOT to be confused with bran cereals like All-Bran. They aren't the same and cannot be interchanged. If you want to use bran cereal to make muffins, try these All Bran muffins.
If making this recipe with frozen blueberries, DO NOT thaw them and make sure they are frozen solid before mixing them into the muffin batter. Otherwise they may bleed into the batter too much.
Nutrition
Calories:
245
kcal
Carbohydrates:
31
g
Protein:
5
g
Fat:
12
g
Saturated Fat:
7
g
Cholesterol:
57
mg
Sodium:
167
mg
Potassium:
234
mg
Fiber:
4
g
Sugar:
10
g
Vitamin A:
406
IU
Vitamin C:
3
mg
Calcium:
83
mg
Iron:
2
mg
Raincoast Books offered me one copy of this book, plus the opportunity to host a giveaway. As always, please know that I wouldn't work with a sponsor nor recommend a product if it wasn't worth it. I tested three recipes from the book before coming to the conclusion that this book is awesome.