These honey blueberry muffins topped with streusel crumble topping are baked at a higher temperature initially to help form a bigger muffin top, which everybody loves.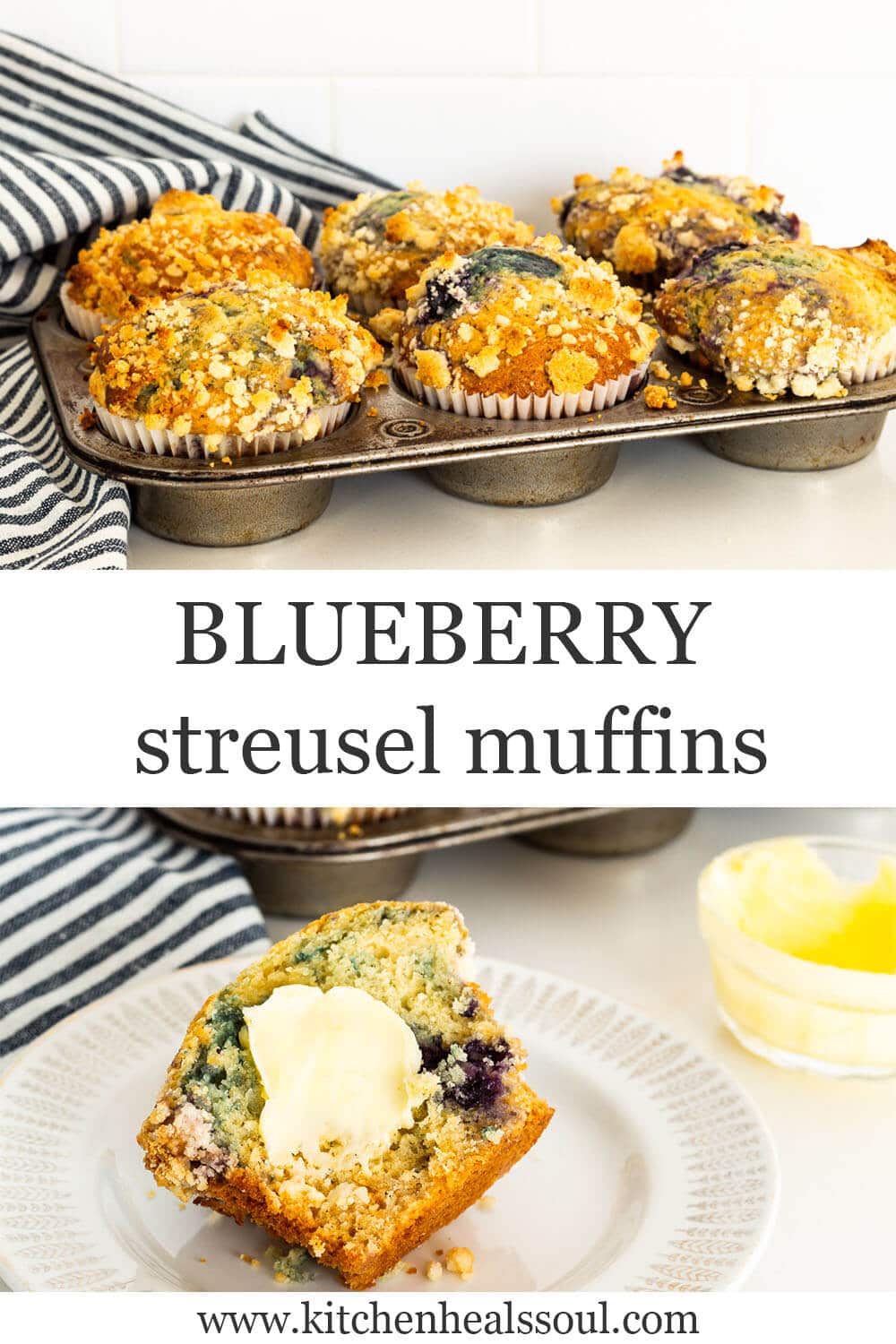 Disclosure: As an Amazon Associate, I earn from qualifying purchases.
These are some of the best fruit muffins I've made. I am a huge fan of blueberry muffins but what sends these over the top is the honey: the honey flavour is actually quite pronounced!
If it's rhubarb season, be sure to make these strawberry rhubarb muffins with streusel topping, which is almost the same recipe as this one but made with ground almond and sour cream in the muffin batter for a richer, a little more dense muffin.
Jump to: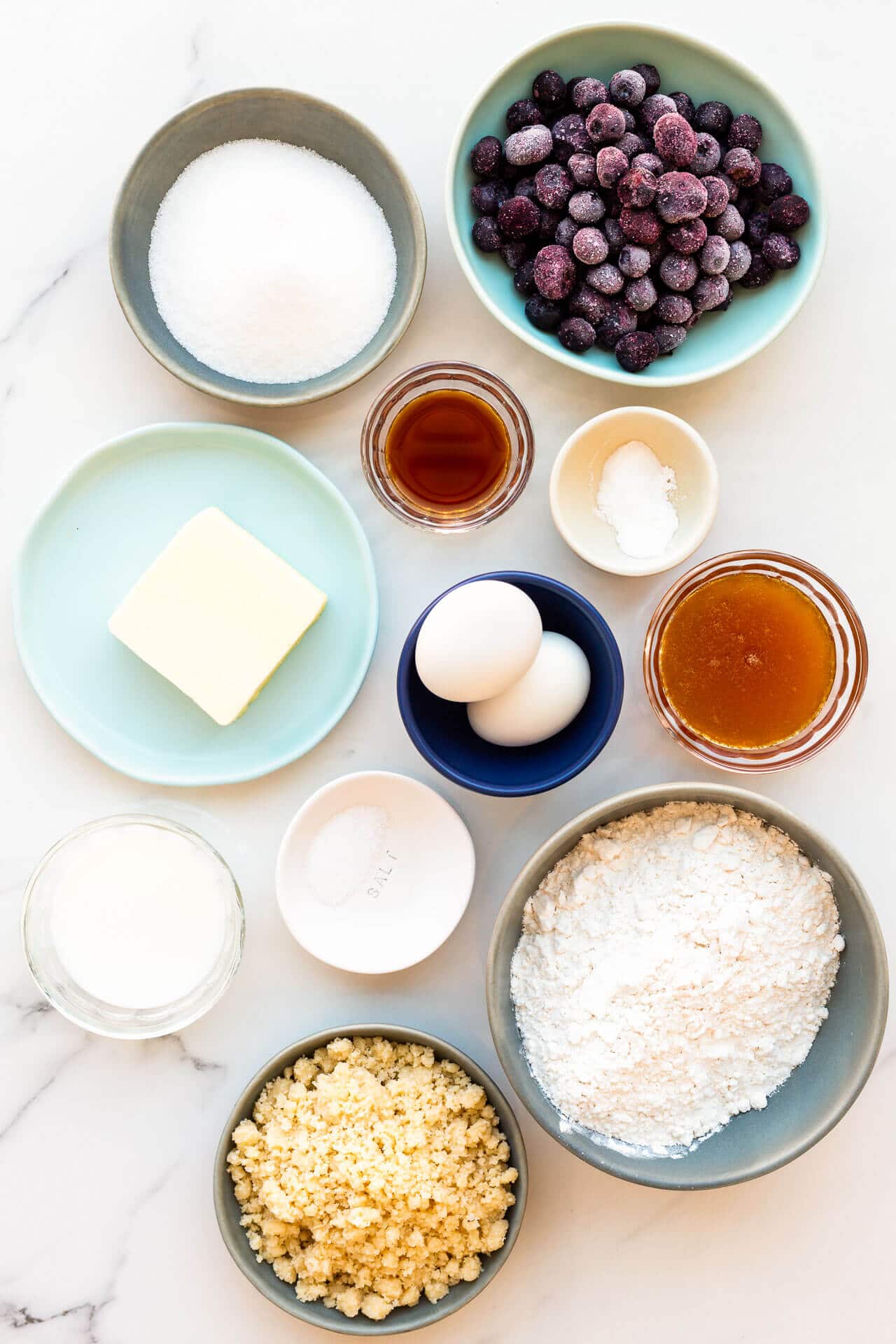 Ingredients you need to make these honey-sweetened blueberry muffins
To make the muffins

butter, preferably unsalted though salted butter will also work. You will omit the salt in the muffin batter if you choose to bake with salted butter.
granulated sugar—brown sugar could work but choose light brown sugar to avoid overpowering the honey
honey—use real honey from a local apiary if you can. The flavour is stronger and unmatched! Favour darker fall honey to give these a bolder honey flavour
large eggs, don't use smaller eggs because your batter may be too dry and the muffins won't be tender
buttermilk is included with the wet ingredients to make sure these muffins are tender but also to add flavour
vanilla extract is added to enhance the flavour in the batter—feel free to use store-bought or homemade vanilla extract!

all-purpose flour (or half all-purpose and half whole wheat flour) is needed to bind all the ingredients together and give the muffins more structure
baking powder and baking soda are needed here to improve the rise instead of just baking powder alone, without baking soda. Read up on baking soda vs baking powder if you are unsure about the difference between them

salt is really important to bring out the sweet flavour which can be very bland otherwise. Don't skip it. I like to use Diamond Crystal fine kosher salt, but table salt will work, though the muffins will be saltier and you may want to halve the salt in that case.
frozen blueberries–fresh will also work

To make the streusel topping

butter, preferably unsalted butter because you will add salt to the streusel, but if you have salted, it will work. Just adjust the salt in the recipe accordingly, otherwise, your topping may be too salty
granulated sugar though brown sugar would also work here and would add to the molasses flavour
ground almonds or almond flour
all-purpose flour or whole wheat flour will work in the streusel. It gives the streusel a little body so that the paste of butter and sugar doesn't melt all over the muffin tops
salt to balance out the sweetness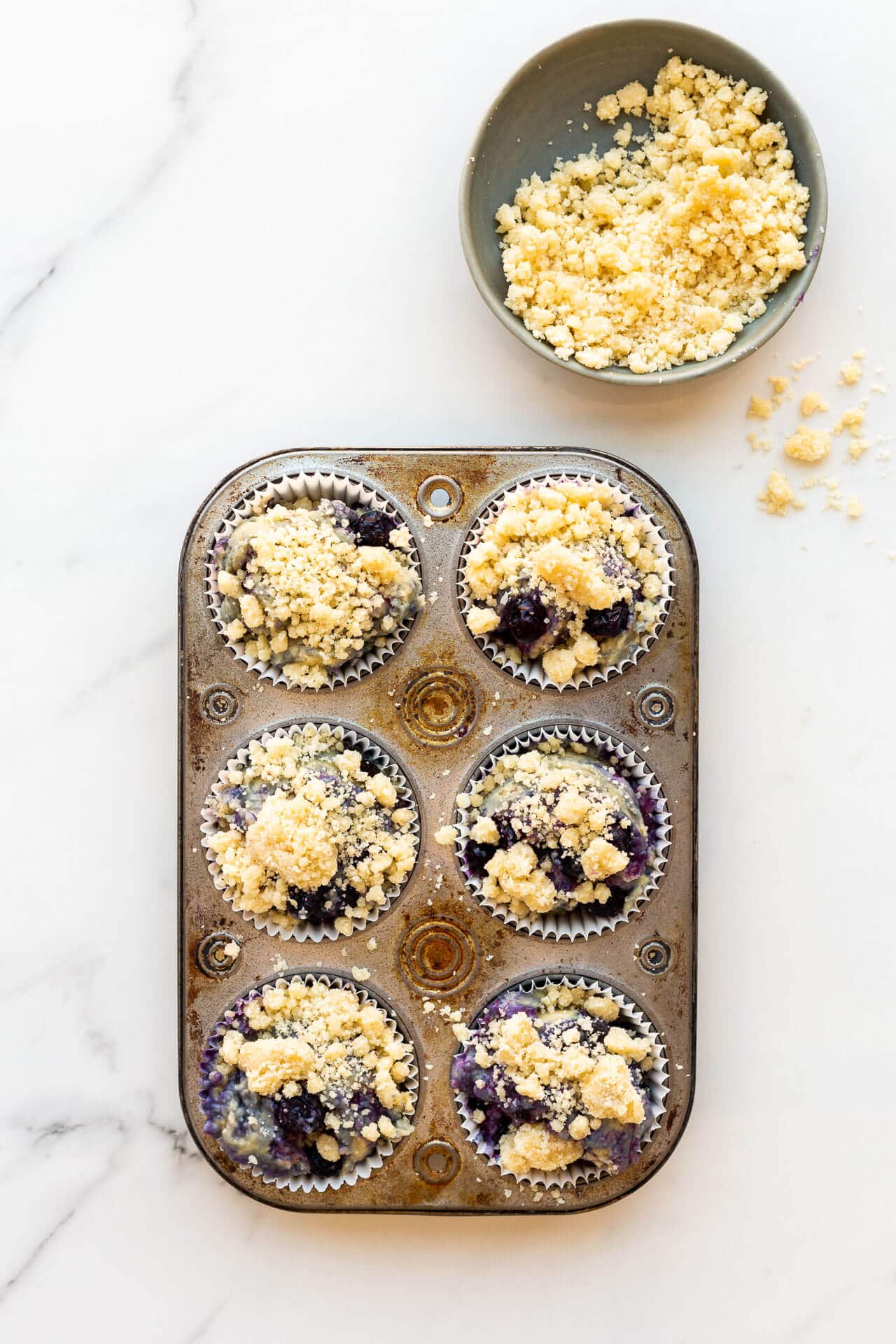 Toppings for muffins
These honey-sweetened muffins are topped with a streusel topping made with ground almonds, but you have other muffin topping options:
top with a sprinkle of oats
top with a generous sprinkle of maple sugar, granulated sugar or cinnamon sugar
top with chopped nuts or pumpkin seeds
If you prefer to top these muffins after they are baked, consider drizzling them with a glaze, as in these cranberry lemon muffins. You can make a simple icing sugar+milk glaze, for example, flavouring with a little vanilla extract or some lemon juice (replace the milk in the glaze with lemon juice if you want this option).
Equipment
Blueberry muffins are easy to make and I like to mix them by hand so no special electric mixers are required! Still, there are a few tools that will make your muffin-baking sessions a little easier: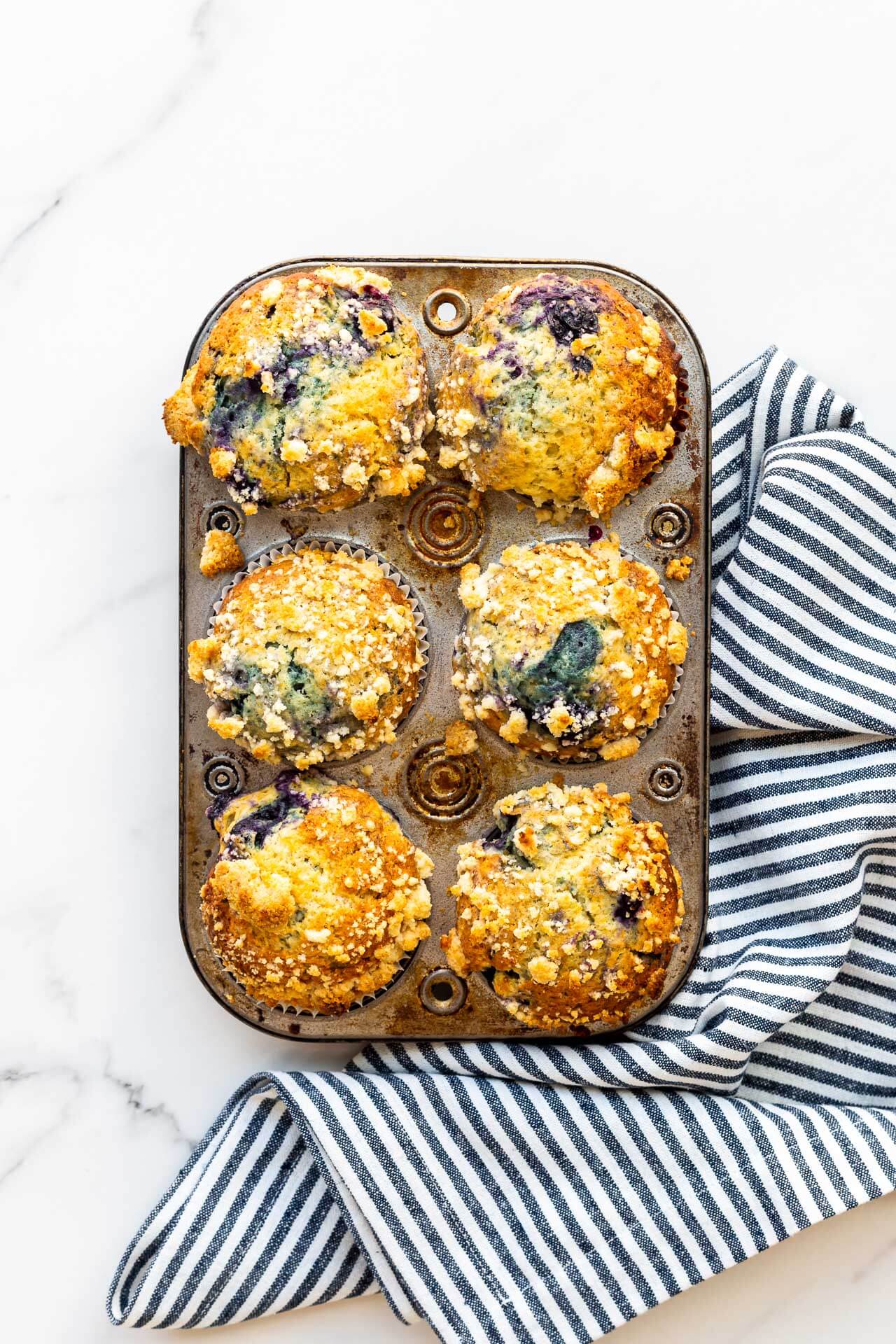 Achieving a big muffin top
I've been wondering about how coffee shops achieve the famous "muffin top." So, I did some research, and I baked a lot of muffins to find out how.
I tested 4 baking methods to see which yields the best muffin tops (this is where "I get my geek on"):
Mix batter and bake immediately at 350°F: fairly flat top, not much of a top
Mix batter and bake immediately starting at 425°F for about 8 minutes, then finishing the baking time at 350°F: pointed dome top that really peaks upward
Mix batter and store in the fridge overnight, then bake 24 hours later at 350°F: same as #1 but more puffed
Mix batter and store in the fridge overnight, then bake 24 hours later starting at 425°F, then immediately dropping oven temperature setting to 350°F when you put them in the oven (as recommended by Thomas Keller in his Bouchon Bakery book): same as #3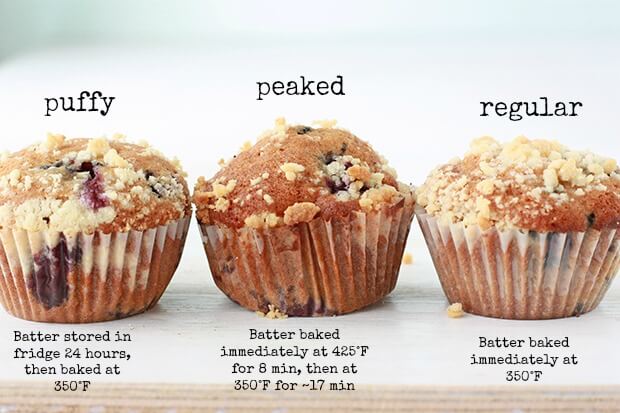 Tricks to achieving big muffin tops:
thicker batter leads to bigger muffin top. Thick batters have more structure therefore the steam from baking really pushes it up, while thin batters tend to spread out more than up, I guess.
filling the muffin cup or paper liner leads to a taller muffin. The fuller the muffin cup, the more of a top you get. There's a risk that the batter may overflow onto the pan, sticking to it. Something to keep in mind. You may want to grease the muffin pan rim all over the surface to avoid any sticking.
baking muffins at a higher temperature yields a taller muffin top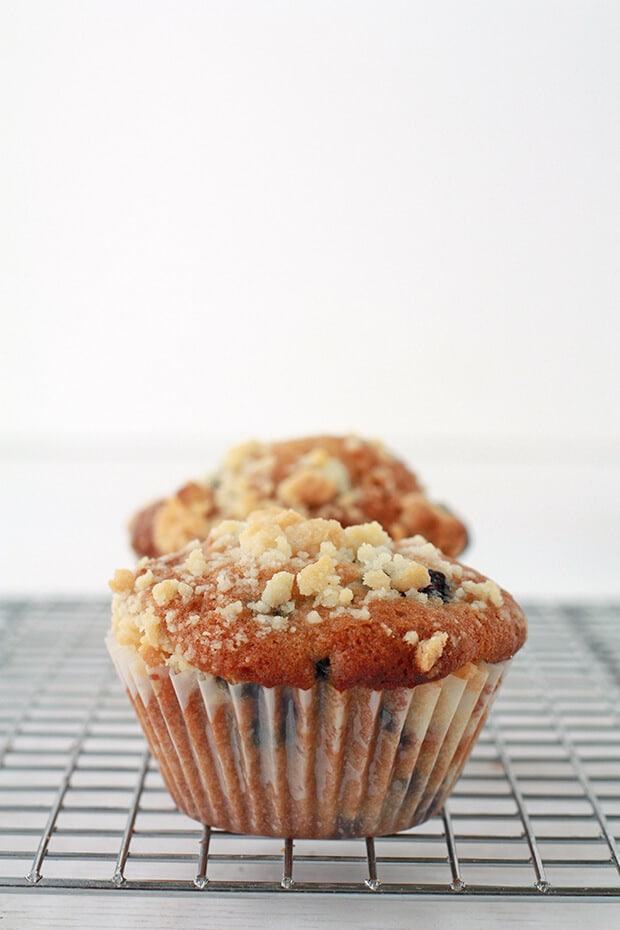 Storage
You can store these moist honey blueberry muffins for 3–4 days in an airtight container, but I prefer to freeze them.
Remember to fully cool the muffins to room temperature (for 3–4 hours) before transferring them to an airtight container or freezer bag for long-term storage (1–2 months).
How to defrost muffins
If you want to defrost frozen muffins, you have a few options depending on how much time you have:
longest method—in the fridge overnight, unwrapped to avoid moisture buildup on the surface of the muffin tops
at room temperature, unwrapped to avoid moisture buildup on the surface of the muffin tops—this will take a few hours
fastest method—in the microwave oven: place the unwrapped muffin on a napkin or a microwave-safe plate. Microwave on HIGH for about 30 seconds for each muffin. The time and results will vary according to the power of your microwave.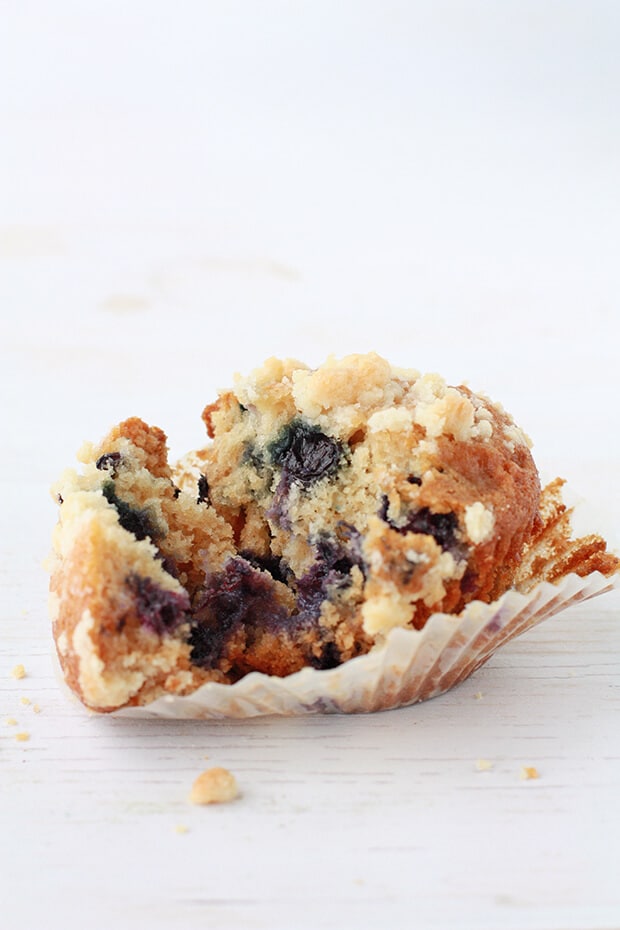 For another blueberry muffin, try these blueberry bran muffins. And if you bake a batch of muffins and you notice the blueberries in muffins turn green or changed colour as they baked, don't panic. That could be the effect of pH on the colour of the berries, but that has zero impact on the flavour of the berries. Just as yummy and safe to eat, though the green blueberries can be a little off-putting!
📖 Recipe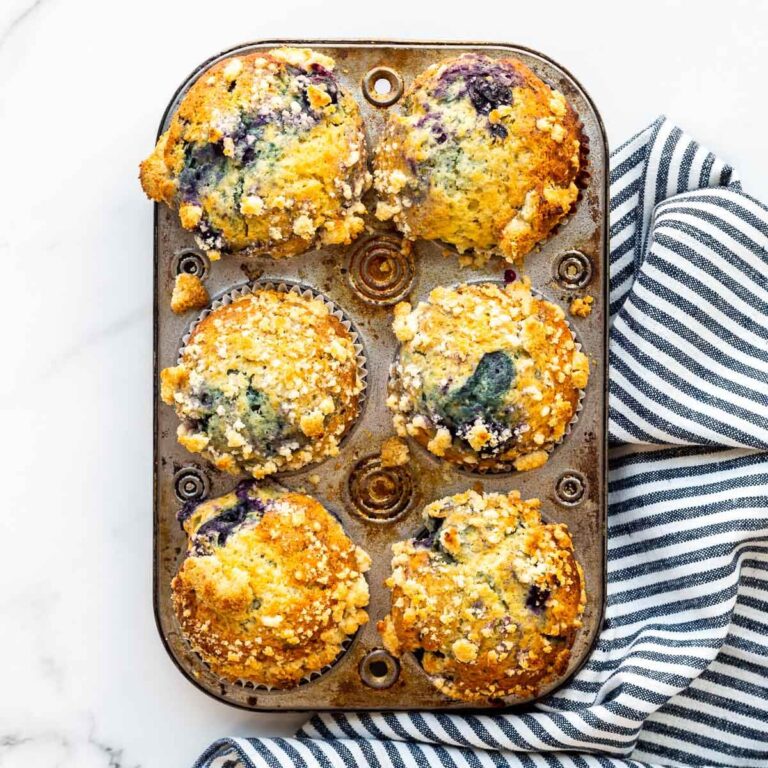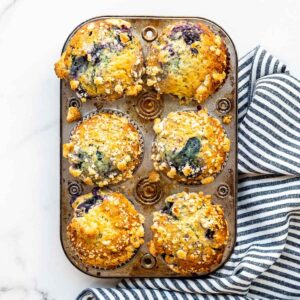 Honey Blueberry Muffins
Here's a recipe for big homemade blueberry muffins sweetened with honey and made with fresh or frozen blueberries
Ingredients
For the muffin batter
180

grams

fresh blueberries

frozen or fresh

250

grams

bleached all-purpose flour

100

grams

granulated sugar

2.5

mL

baking powder

2.5

mL

baking soda

115

grams

unsalted butter

room temperature, cut into small pieces

94

grams

honey

80

mL

buttermilk (1 % fat)

5

mL

pure vanilla extract

2

large egg(s)

8

grams

bleached all-purpose flour
Instructions
Preheat the oven to 425 °F (220 °C). Line two muffin pans with 8 to 10 muffin paper liners being sure to space them out between the two pans to allow better air flow.
To make streusel topping
In a small bowl, whisk together the flour, ground almond, sugar, and salt.

Add the melted butter and stir with a fork until a crumble forms.

Cover and refrigerate until ready to use.
To make honey blueberry muffins
If you are using fresh blueberries, place them in the freezer before beginning. If using frozen, keep them in the freezer until you need them.

In a medium bowl, whisk together the flour, sugar, baking powder, baking soda, and salt.

Add the softened butter and work it in with your hands, rubbing it in until the mixture resembles coarse sand.

In a separate bowl, whisk together the honey, the eggs, the buttermilk, and the vanilla.

Add the wet ingredients to the flour mixture and stir it in (takes about 20 stirs to get the batter mixed).

When the batter is ready, in a medium bowl, toss the frozen blueberries with the extra 8 grams of flour to coat the blueberries evenly.

Fold the floured blueberries into the batter gently with a wooden spoon or spatula to evenly distribute them.

Divide the batter between 8 to 10 paper-lined wells of two muffin pans. If you want big muffins, you'll need 8, if you want regular-sized muffins, you'll need 10. Sprinkle with streusel.

Bake at 425 °F (220 °C) for 20 minutes, then use a cake tester inserted into the middle of a muffin to check if the muffins are baked. If you are baking 8 muffins, they probably aren't baked through at this point, so rotate the pans and drop the temperature setting to 350 °F (175 °C) for the last 5 to 10 minutes or as much as necessary.
Notes
If you are using fresh blueberries, freeze them for at least 30 minutes before you start making your batter so that they are solid and less likely to bleed when you fold them into the muffin batter. 
If you are using frozen blueberries, make sure to keep them frozen until the very last minute and add them to the batter, frozen, otherwise, they will bleed into the muffin batter and the batter may turn green.
For a "regular" muffin top:
bake at 350°F for 25 to 30 minutes.
For a "domed" muffin top:
bake at 425°F for 20 minutes, then rotate the pans and drop the temperature setting to 350°F for the last 5 to 10 minutes.
For a "puffy" muffin top:
refrigerate the batter overnight, then scoop the batter into 8 to 10 muffin paper-lined wells of a muffin pan, sprinkle with streusel topping, and bake them at 350°F for about 30 minutes.
Nutrition
Calories:
392
kcal
Carbohydrates:
56
g
Protein:
6
g
Fat:
17
g
Saturated Fat:
9
g
Cholesterol:
78
mg
Sodium:
241
mg
Potassium:
117
mg
Fiber:
2
g
Sugar:
28
g
Vitamin A:
510
IU
Vitamin C:
2
mg
Calcium:
46
mg
Iron:
2
mg
Want to see more muffins? Here are a few other recipes for you to try: