This chocolate zucchini muffins recipe is made with grated zucchini and melted dark chocolate, instead of cocoa powder, for a tender, fluffy muffin that has a great muffin top.
This post was sponsored by Cacao Barry.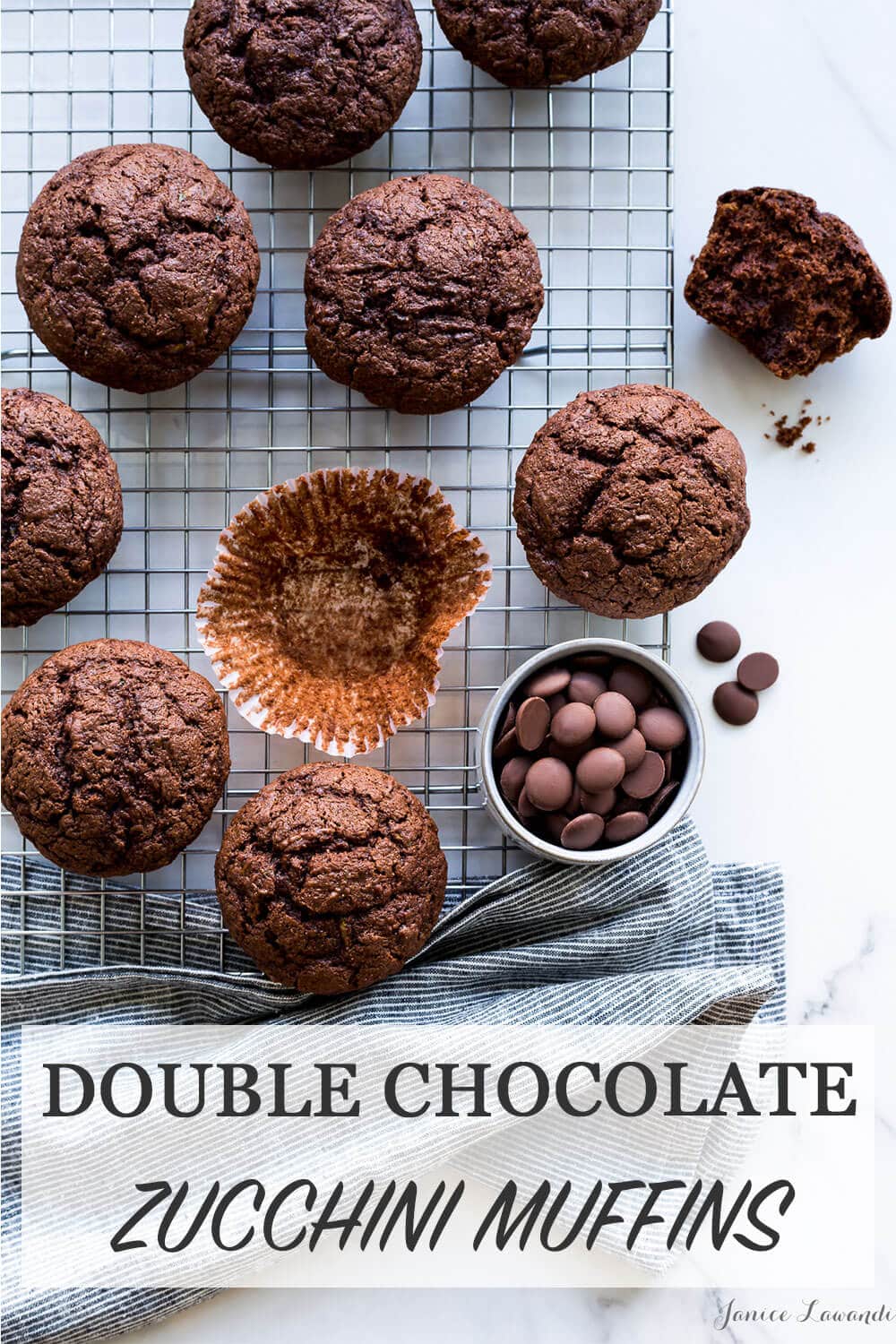 Disclosure: As an Amazon Associate, I earn from qualifying purchases.
Who doesn't love chocolate? I put chocolate to good use in lots of fun baking recipes, like cherry chocolate crumble, vanilla cake with milk chocolate frosting, chocolate drop cookies, popcorn brittle brownies, and even these muffins.
Jump to: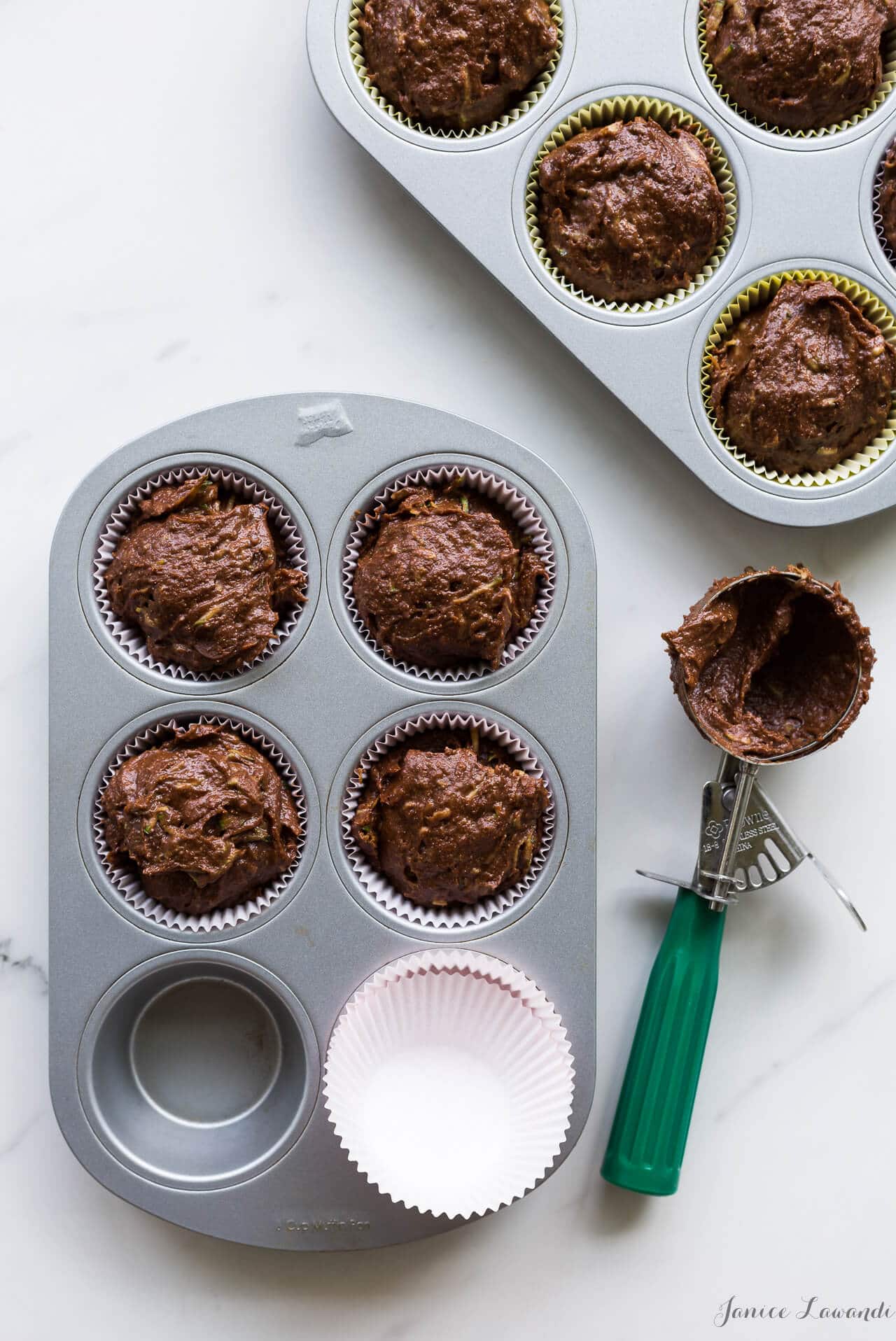 Special tools and equipment
Which chocolate should you use?
There are different types of chocolate to choose from and this can be confusing when it comes time to make chocolate muffins. Many muffins will call for cocoa powder instead of dark chocolate, but I wanted to make a muffin with melted 70 % dark chocolate.
These muffins are made with Ocoa, a 70 % dark chocolate by Cacao Barry. Ocoa is available at IGA grocery stores as well as many restaurant supply stores in Quebec in smaller 1 kilo resealable bags.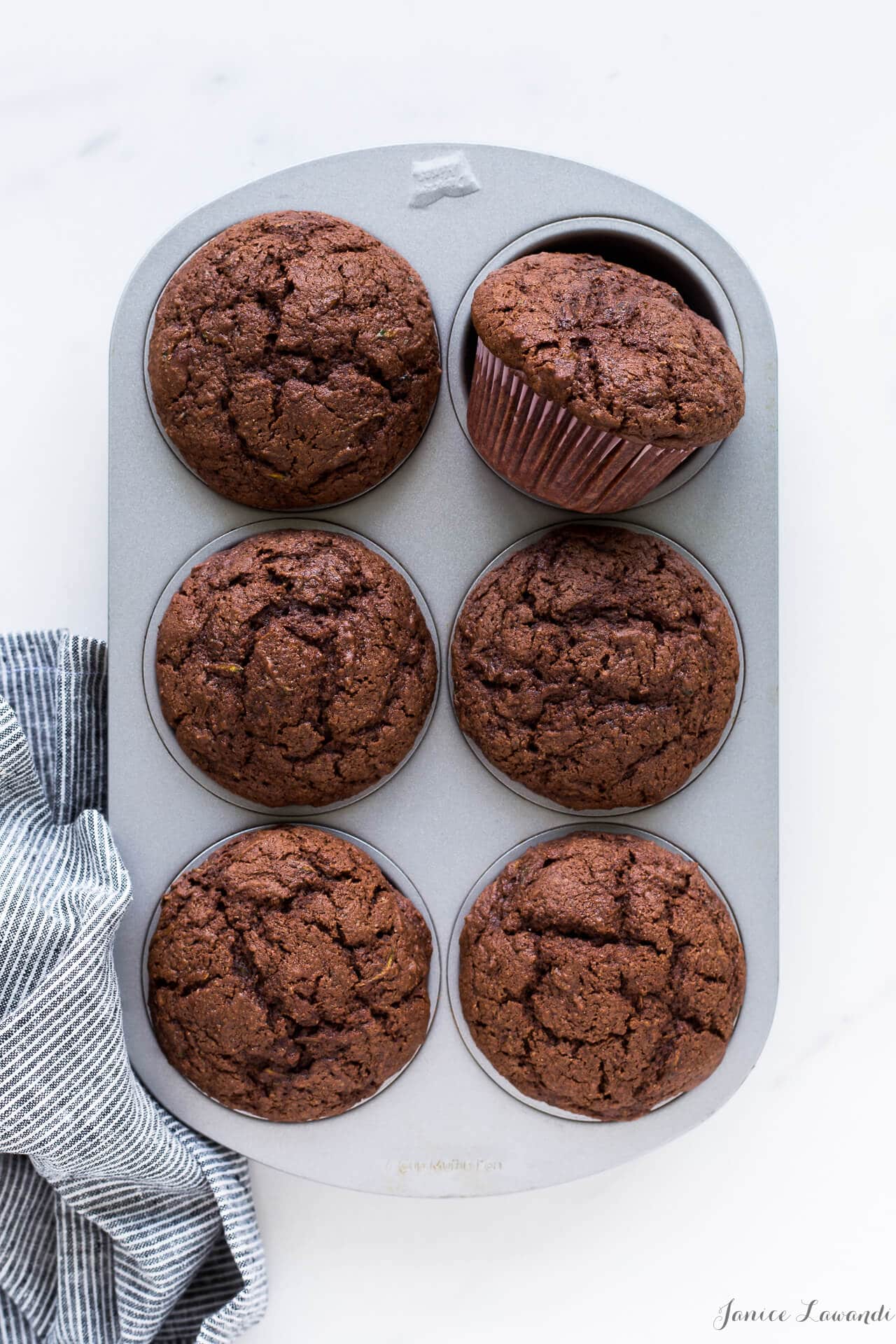 The Ocoa chocolate is a 70% cocoa dark chocolate with a deep cocoa flavour that's not too sour and not too sweet. The Alunga is a 41% cocoa milk chocolate that even die-hard dark chocolate fans love because it has just the right balance of sweet and chocolate with a lovely creamy flavour.
If you aren't in Quebec, you can order these and most Cacao Barry products online via the Vanilla Food Company website and they ship across Canada and to the United States! This means that we all have access to professional quality chocolates so we can make better baked goods at home. Just like you should always cook with a wine you enjoy drinking, you should always bake with a chocolate you would enjoy eating.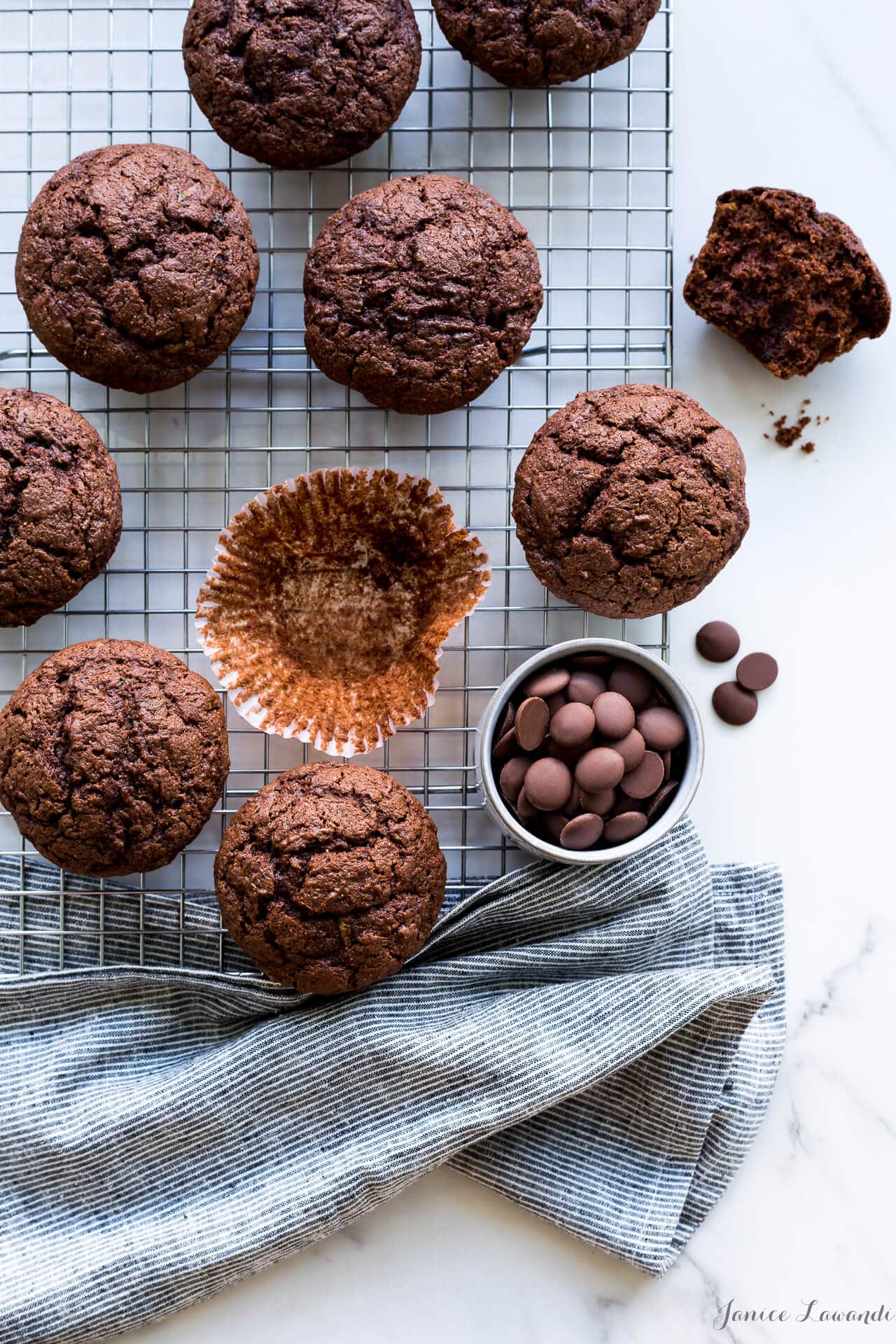 I'm celebrating back-to-school with chocolate zucchini muffins. This is actually a double chocolate muffin recipe, combining both the Ocoa dark chocolate from Cacao Barry melted into the muffin batter and the Alunga milk chocolate pistoles folded in just before baking. These zucchini chocolate muffins are pretty much my dream muffin because they combine good chocolate with a healthy dose of whole-wheat flour for nuttiness and lots of cinnamon. These muffins have a really great muffin top with a lovely crunch to it, which is something I search for in a muffin. If you like a good muffin top, this recipe is for you!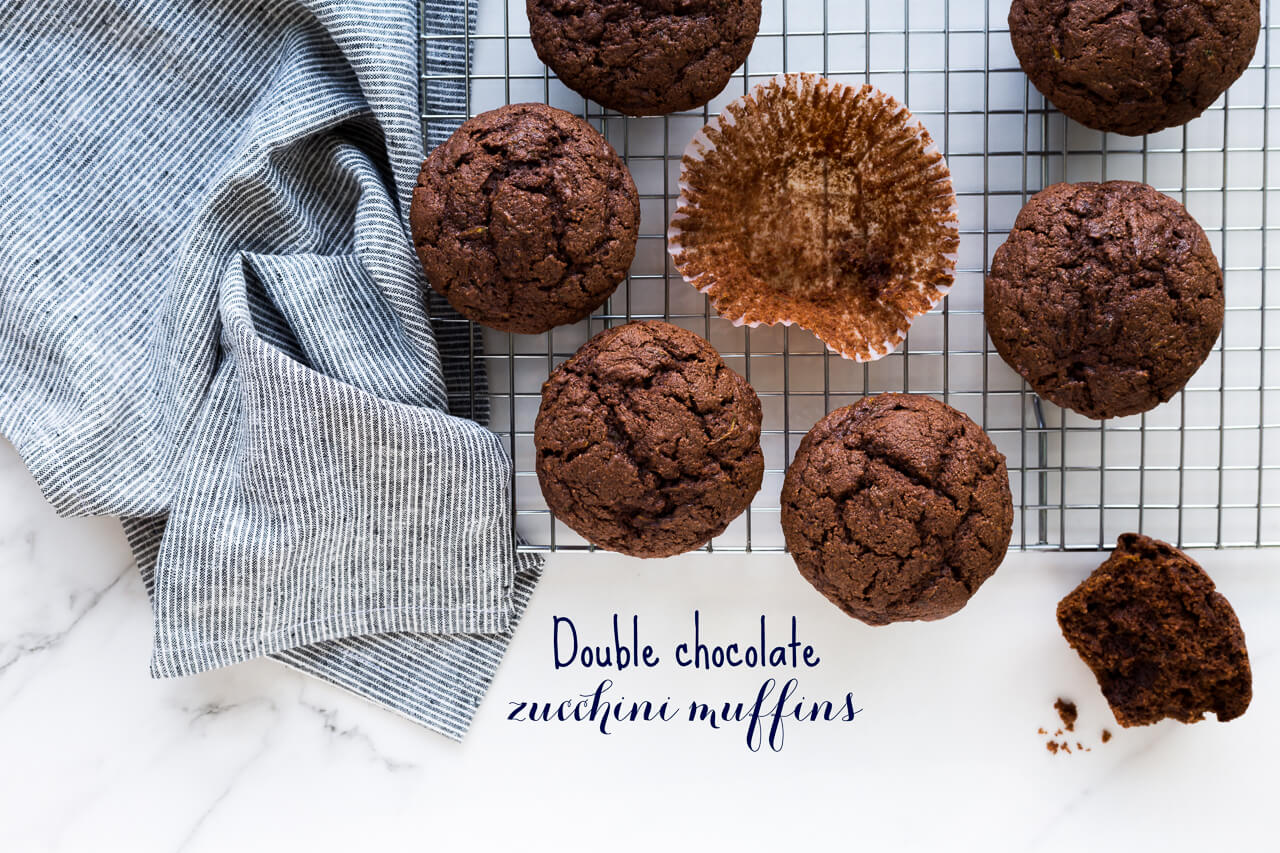 Storage
Muffins freeze well once baked. Just let them cool completely, then freeze solid on a sheet pan, then transfer them to an airtight freezer bag to store for a couple of months.
How to defrost muffins
If you want to defrost frozen muffins, you have a few options depending on how much time you have:
longest method—in the fridge overnight, unwrapped to avoid moisture buildup on the surface of the muffin tops
at room temperature, unwrapped to avoid moisture buildup on the surface of the muffin tops—this will take a few hours
fastest method—in the microwave oven: place the unwrapped muffin on a napkin or a microwave-safe plate. Microwave on HIGH for about 30 seconds for each muffin. The time and results will vary according to the power of your microwave.
Other chocolate recipes to try
Who doesn't love chocolate? You can't go wrong baking with this ingredient in all it's forms! Here are a few more chocolate recipes to try:
📖 Recipe
Chocolate zucchini muffins
These chocolate zucchini muffins are a great back-to-school treat. This easy recipe contains shredded zucchini and whole wheat flour for nuttiness. They are made with lots of cinnamon for a twist on the classic chocolate muffin.
Ingredients
125

grams

(

1

cup

)

bleached all-purpose flour

125

grams

(

1

cup

)

whole wheat all-purpose flour

2

teaspoon

(

2

teaspoon

)

Baking powder

1

tablespoon

(

1

tablespoon

)

ground cinnamon

½

teaspoon

(

½

teaspoon

) Diamond Crystal fine kosher salt

230

g

(

1 ½

cups

)

zucchini, grated

115

g

(

½

cup

)

unsalted butter

126

g

(

¾

cup

)

Cacao Barry Ocoa 70% dark chocolate

200

g

(

1

cups

)

granulated sugar

2

(

2

)

large egg(s)

1

teaspoon

(

1

teaspoon

) pure vanilla extract

125

mL

(

½

cup

)

whole milk (3.25 % fat)

75

g

(

½

cup

)

Cacao Barry Alunga 41% milk chocolate
Instructions
Preheat the oven to 350ºF. Line 10 cavities of a muffin tray with paper liners and set aside for later.

In a large bowl, whisk together the flours, baking powder, cinnamon, and salt. Set aside.

Squeeze the grated zucchini over a strainer and leave it to drain while you work on the rest of the recipe to remove as much water as possible.

In a saucepan, melt together the butter with the Ocoa chocolate pistoles on medium-low. Take your time and stir often to avoid burning the chocolate. Remove from the heat and transfer the melted mixture to a large bowl.

Stir in the sugar and the eggs, one at a time, the vanilla, and then the milk. Mix this well so it's quite smooth and evenly mixed. Pour in the dry ingredients and stir them in gently. Give the shredded zucchini a good final squeeze before adding it to the bowl with the muffin batter. Fold it in. Then fold in the Alunga chocolate.

Using a #12 scoop (like this on Amazon), divide the batter among the 10 muffin cups.

Bake on the center rack of the preheated oven until a cake tester inserted into the center of the muffin comes out clean. This takes about 20 to 25 minutes because the muffins are quite large.

Let the muffins cool about 5 minutes in the pan to set, then transfer them to a cooling rack.
Give back
If you enjoy the free content on this website, say thank you!
Notes
I baked these muffins with Cacao Barry Ocoa and Alunga chocolates, which you can find at IGA grocery stores in Quebec, or online at Vanilla Food Company.
For oversized muffins with a good muffin top, use a big #12 scooper, like this one on Amazon.
Nutrition
This post is sponsored by Cacao Barry. I was compensated monetarily and with product. Thanks for supporting the companies that allow me to create content for Kitchen Heals Soul. As always, please know that I wouldn't work with a sponsor nor recommend a product if it wasn't worth it.
Please note this post contains affiliate links to Amazon. If you buy a product I recommend, I will get a small commission, and the price you have to pay will not change in any way.