Make this easy cherry chocolate crumble from fresh Bing cherries and a chocolate crumble topping with this recipe!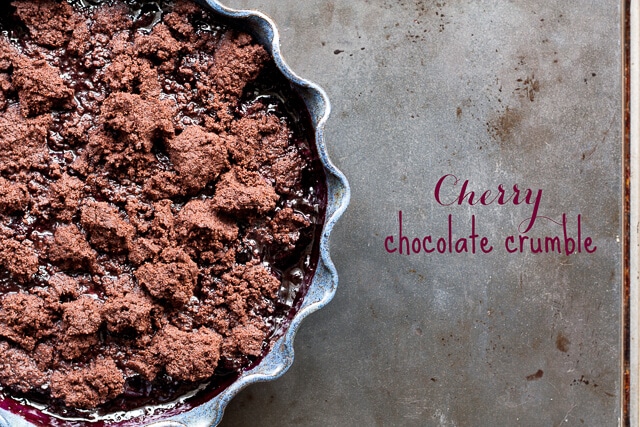 I think bittersweet chocolate and sweet cherries are a match made in heaven, and I don't think I'm the only one. I find it's important to add a little almond extract (the real kind, not the fake kind) to the cherries to help bring out their flavour and perk them up, otherwise, cooked cherries can be a bit bland. Feel free to use almond extract, if you prefer.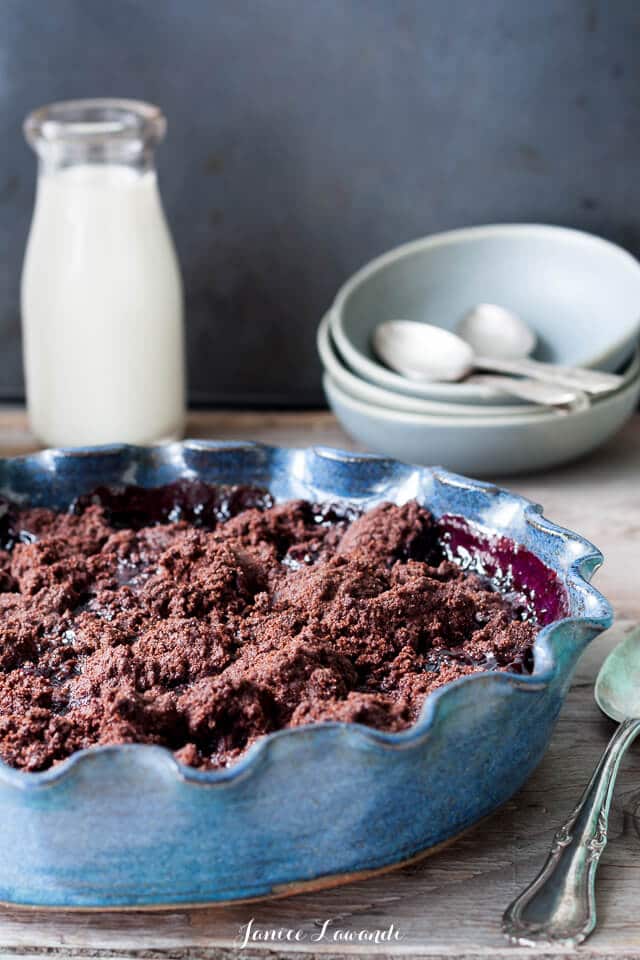 Disclosure: As an Amazon Associate, I earn from qualifying purchases.
Thickeners for cherry fillings
I used quick-cooking tapioca (the tiny kind) to thicken the fruit juices because cherries give off A LOT of liquid, as you will see when you start cooking them on the stove.
Unless you want to make a weird baked cherry chocolate soup, you should use a thickener. I tested 2 tablespoons in my first attempt at this recipe, and then 1.5 tablespoons in my second attempt. The cherry layer is still quite set, as you can see. I think this is just right, but you can try lowering the tapioca even more if you want the cherries to be a little looser.
Another option to try would be tapioca flour or even cornstarch. Both of these will make a clear filling that is properly set. Remember a little goes a long way, as long as the filling comes to a boil and bubbles!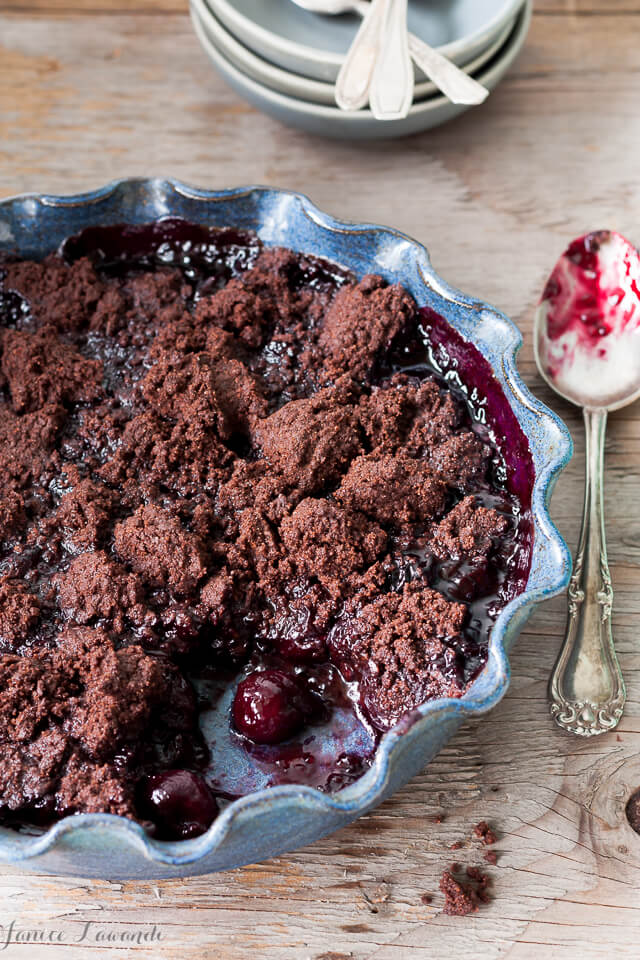 Don't forget, crumbles are fruit desserts made with a crispy topping that does not contain oats, whereas crisps contain oats. This rhubarb crumble is simple, yet a classic rhubarb dessert you can't go wrong with.
If you like unusual crumbles, be sure to check out my grape crisp with a peanut butter crumble topping. Or for something more traditional, there's always strawberry rhubarb crumbles.
Cherry chocolate crumble
Bittersweet chocolate and sweet cherries are a match made in heaven in this cherry chocolate crumble. I like to add a little almond extract to the cherries to really make them pop, but feel free to use vanilla,
Ingredients
For the cherry filling
800

grams

(

1.8

lb

)

Bing cherries

,

4 cups, pitted

100

grams

(

½

cup

)

granulated sugar

7.5

mL

(

½

tablespoon

)

fresh lemon juice

22.5

mL

(

1½

tablespoon

) minute tapioca

1.25

mL

(

¼

teaspoon

)

pure almond extract
For the chocolate crumble
Instructions
First prepare the cherries
Combine cherries with sugar and lemon juice in a medium saucepan. Heat the fruit on medium for about 10 minutes. In that time, the cherries will release their juice, the sugar will dissolve and the mixture will come to a boil.

Remove the pan from the heat and let sit for 10 minutes.

Stir in the tapioca and let the mixture sit for 1 hour, then add the almond extract.
Now make the crumble
Preheat the oven to 375ºF.

Whisk together the flour, cocoa, shredded coconut, and the sugar. Pour the melted butter over top and work it in with a fork and then your fingers to get all the ingredients evenly mixed.

Pour the cherry mixture into a 10 inch round deep dish baking dish (or equivalent). Top with the crumble, pressing the crumble mixture together as you drop it over the cherries to help form clusters of crumbs.

Bake the crumble for 30 to 35 minutes or until the cherry mixture is quite bubbly and hot. Let sit to cool on a wire rack before enjoying warm or at room temperature. It tastes amazing served with lightly sweetened whipped cream.
Give back
If you enjoy the free content on this website, say thank you!
Nutrition
I do my best to bake with the finest ingredients. Stirling Creamery, a Canadian company, has provided the butter for this post.