Learn how to make an apple and blueberry crumble with this easy recipe. The crumble topping is made with large flake oats giving it lots of texture and the filling combines juicy blueberries with apples, for a sweet variation on everybody's favourite apple dessert.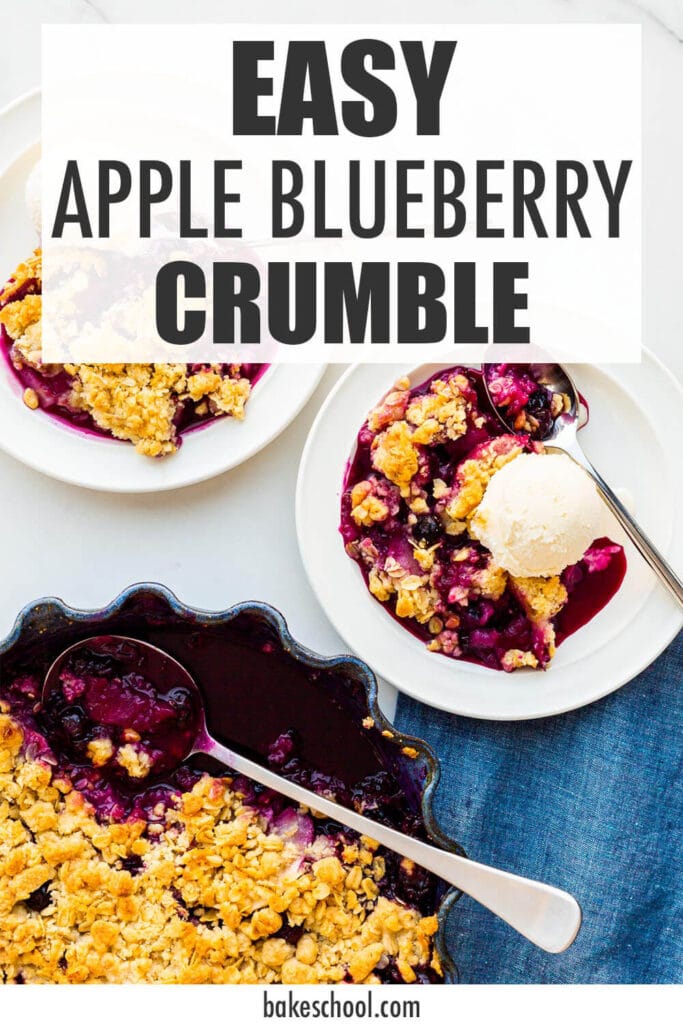 Disclosure: As an Amazon Associate, I earn from qualifying purchases.
Where I live, early apple season overlaps with the late blueberry season, and this is the dessert for that time of the year. Realistically, your grocery store will carry both apples and blueberries year-round so if you miss that late summer opportunity to make this apple dessert, you can still do it with what's at the store.
This apple and blueberry crumble combines the flavour of the best blueberry pie with the simplicity of an easy apple crisp together in one beautiful apple dessert.
Jump to: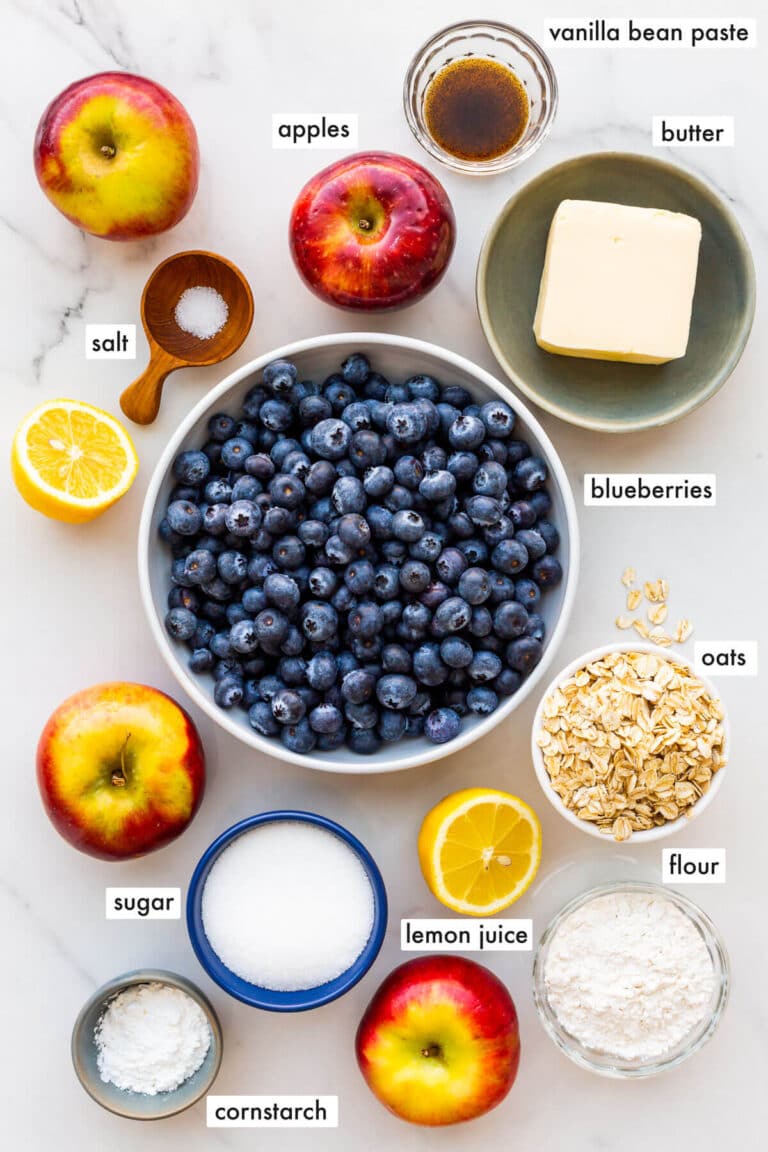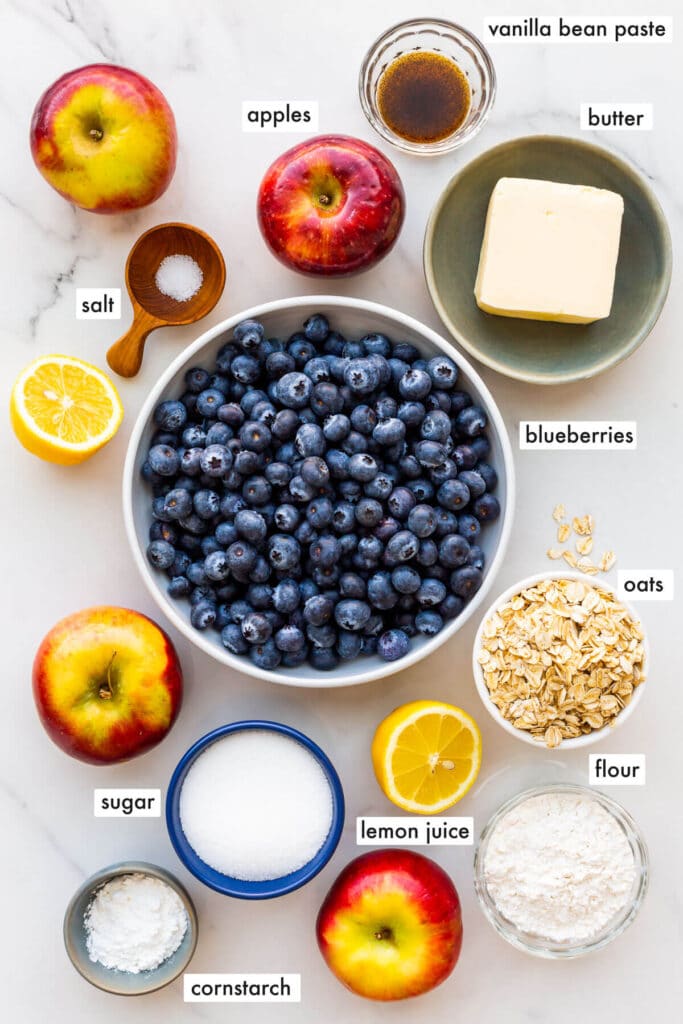 Ingredients
You don't need much to make this apple blueberry and you probably have most of the ingredients in your fridge and pantry. The dessert has two components. A fruit filling and an oat crumble topping. Here's what you need to make this:
Apple blueberry filling

apples—I prefer to use apples that keep their shape when cooked, like Cortland, Gala, or Honey Crisp apples. Macintosh apples may break down too much and turn to mush.
fresh blueberries—I prefer fresh blueberries because frozen blueberries break down more and release a lot more water than fresh
sugar—any sugar, whether white sugar or brown sugar works
cornstarch—any thickener will work, though I don't recommend using flour in this recipe because it's not strong enough to gel the blueberry juices enough
lemon juice—brightens the filling and also helps to balance the sweetness of the fruit filling.
vanilla extract or vanilla bean paste is optional but I love the sweet flavour of vanilla paired with berries and fruit.

Oat crumble topping

flour—all-purpose (bleached or unbleached) or whole wheat all-purpose will work, providing structure for the crumble topping
sugar—to help soften the texture of the crumble and also sweetens it because without it the topping will taste very bland
oats—use large flake oats, not minute oats or quick oats which are much finer and will lead to a different texture
salt—I used fine kosher salt which is less salty than table salt, but by all means, use regular salt, but you may want to use less
butter—use unsalted butter, but if you want to use salted, just skip or reduce the salt in the crumble otherwise the topping may be too salty for you.
See recipe card for quantities.
Instructions
Since there are two components to any crumble or crisp, there are two components to make before you can get this apple blueberry crumble in the oven.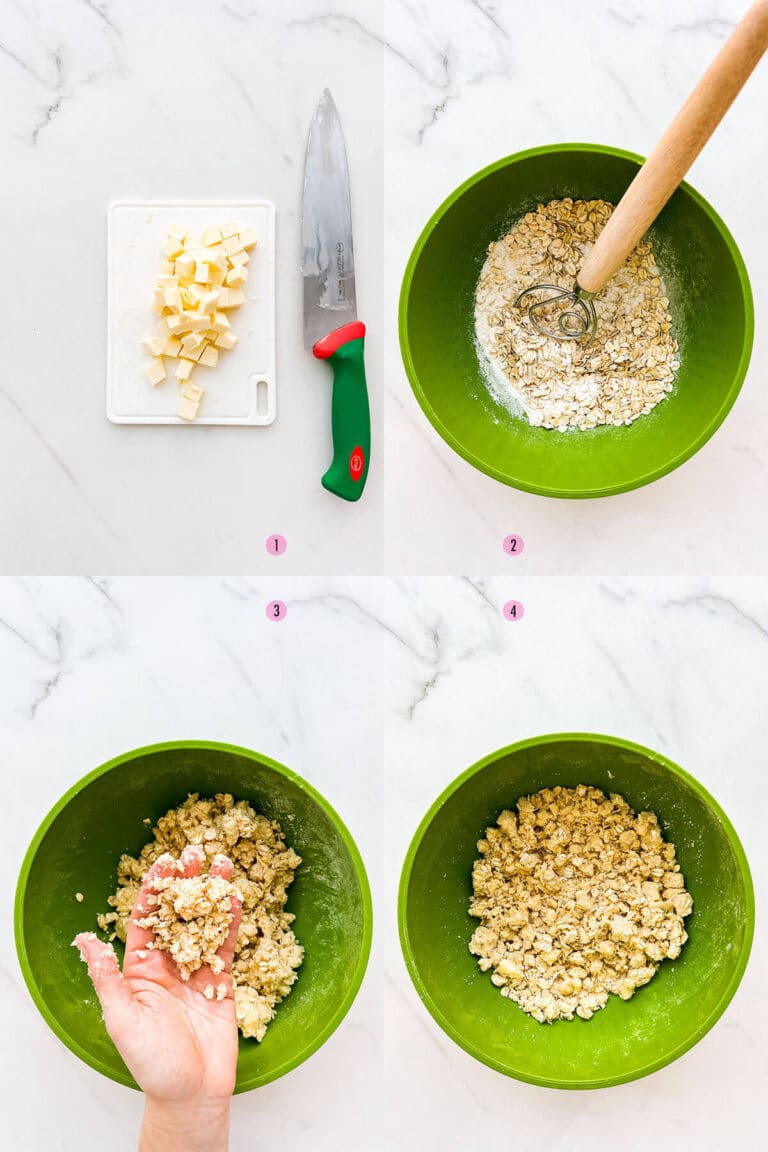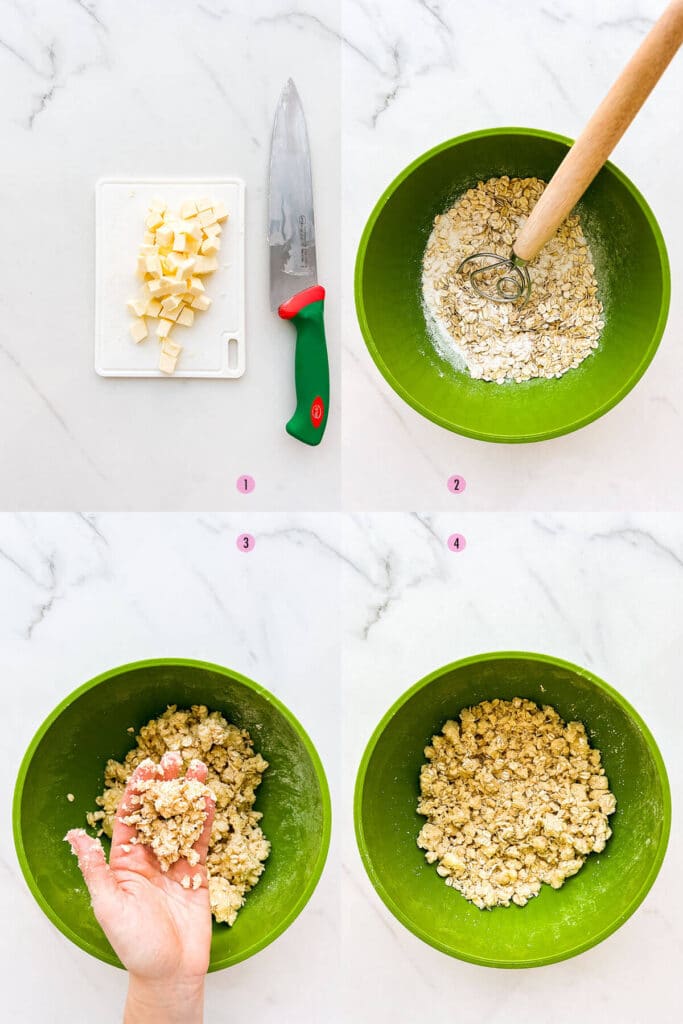 Making the oat crumble topping
Combine the dry ingredients of the crumble in a big bowl and whisk them together. Take the time to evenly distribute sugar, oats, salt, and flour before you add the butter, otherwise, you may end up with patches of salt or sugar in your crumble topping.
Once the dry ingredients are well mixed, work the butter into them with your fingertips. You can squish the cubes of butter and also rub handfuls of the mixture between your palms in order to form a chunky, crumbly mixture. If you work it too much, it will be more like cookie dough, and if you work it less, it will be more sandy and floury. The good news is all roads lead to a yummy crumble, so don't stress too much about the texture.
Keep the crumble in the fridge so it's cold.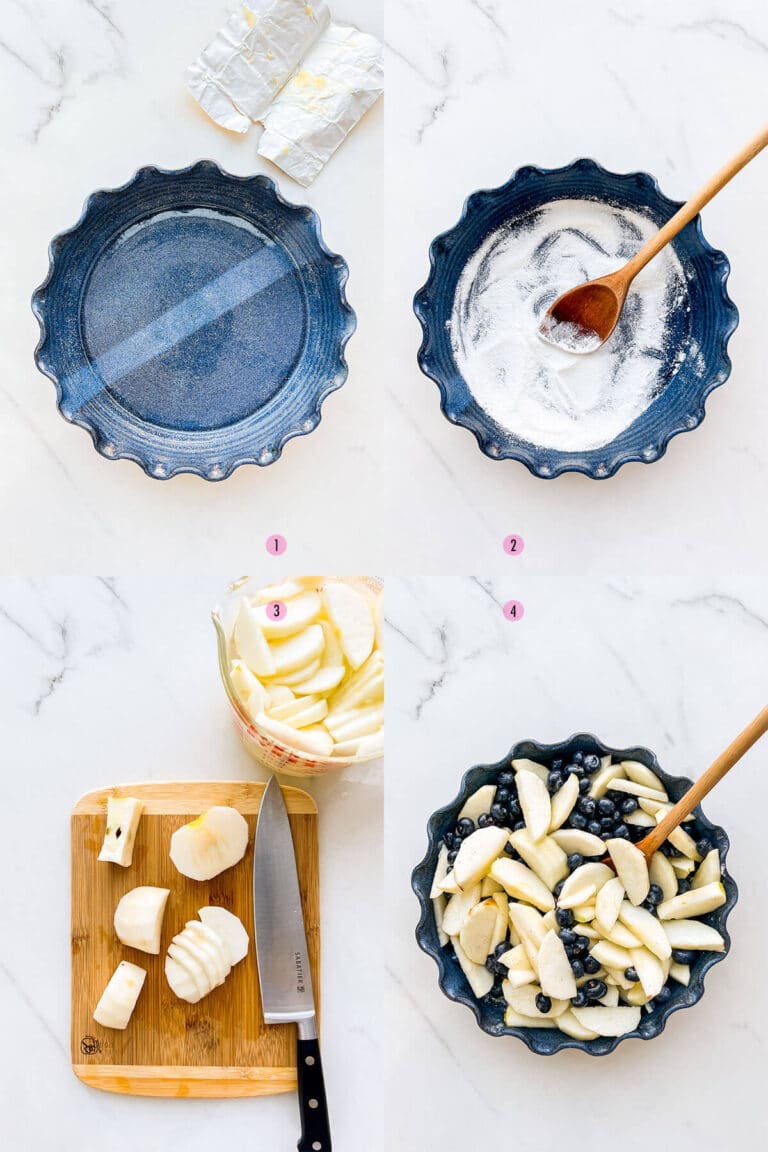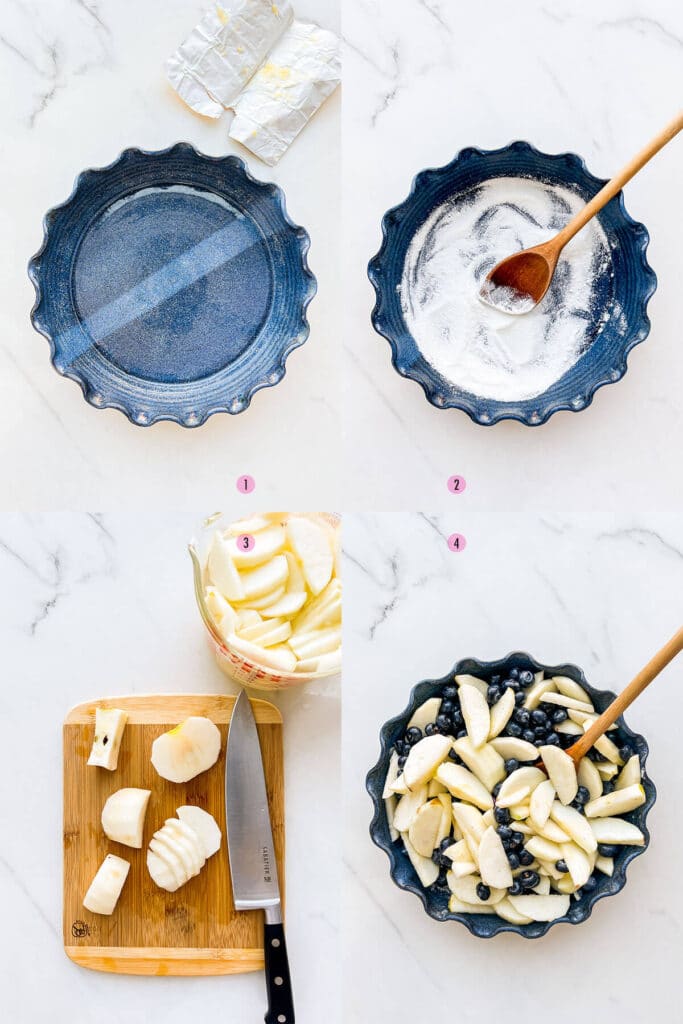 Preparing the fruit for a crumble or crisp
Before you prepare the filling for any fruit crumble, take the time to butter the baking dish. A little extra butter is always a good thing, plus I think it is easier to serve after baking in a buttered dish and filling that bubbles over the edges doesn't stick as badly if the dish is buttered.
Once the dish is prepped, all you have to do is combine the fruit with the sugar and thickener (and vanilla or spices, if using). Again, take the time to stir the filling for a long time in order to properly coat it all with the sugar and thickener.
You don't want all the sugar to sit on the bottom of the baking dish as you may end up with a lumpy, undissolved mass of sugar and starch at the bottom. Take a few minutes to do this step. You can either use a wooden spoon or your hands (which sometimes do a better job of mixing at this step).
Baking it enough
A lot of people skimp on the baking time when it comes to crisps and crumble. I've seen a lot of recipes that bake them in under 30 minutes. That's just not enough! You want the fruit to be tender, you want the berries to burst a little so that the thickeners can do their job properly. The filling ideally should come up to a boil, especially if you are working with cornstarch or flour as a thickener, which gels at a higher temperature.
Hint: check the internal temperature of a crisp or crumble right in the middle to make sure it's heated all the way through to the centre! Use a Thermapen One or a ChefAlarm.
Sometimes, I like to bake the fruit first, then add the crumble topping to bake again. This gives the fruit more time to break down and release their juices so that the thickener can do its job. Do this for the blueberry rhubarb crumble and the plain rhubarb crumble.
Equipment
You don't need any special baking tools to make this apple blueberry crumble. That's the beauty of crisps and crumbles! Still, I recommend a deep ceramic baking dish, as opposed to a pie plate, which is too shallow for the volume of filling.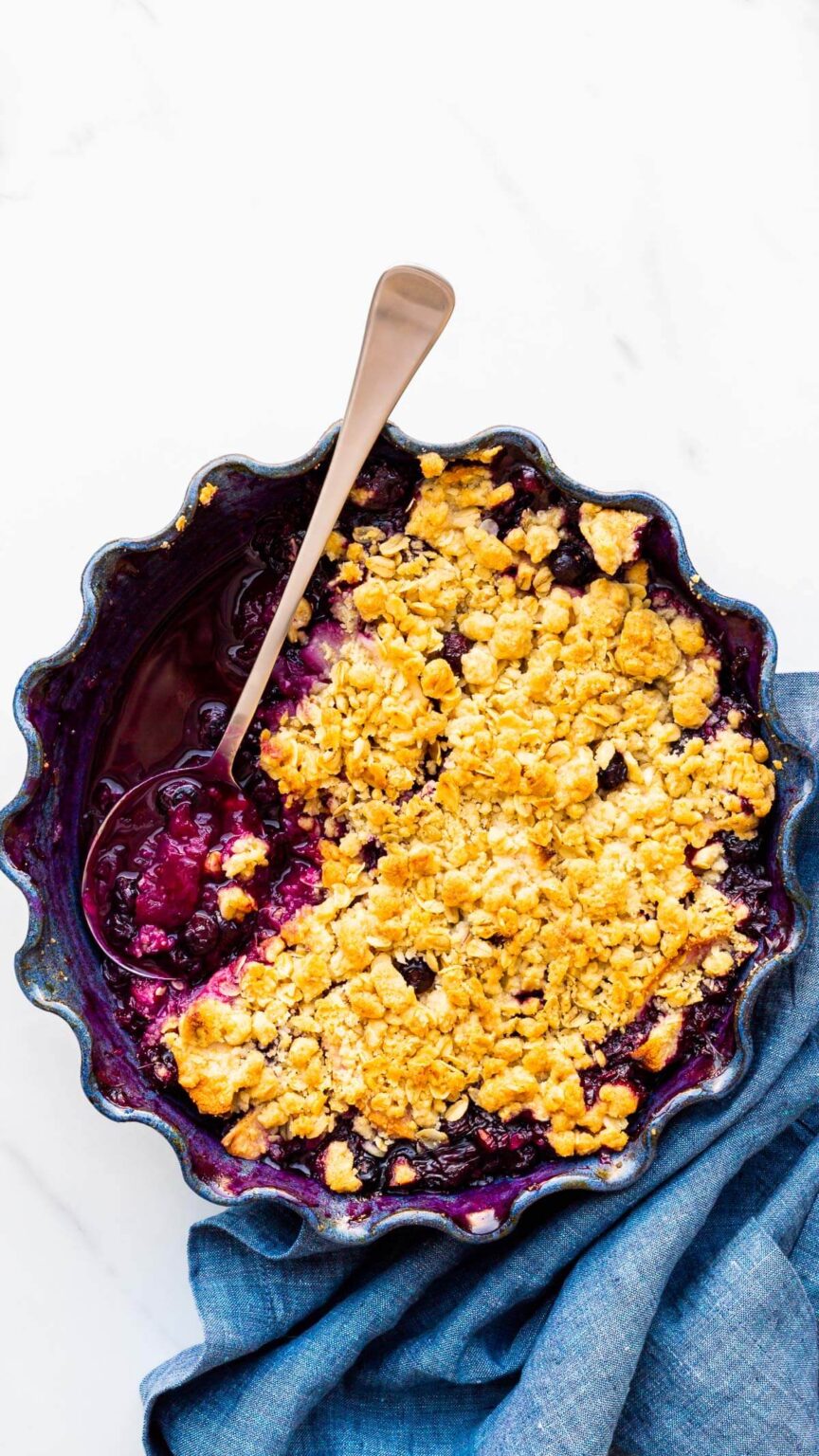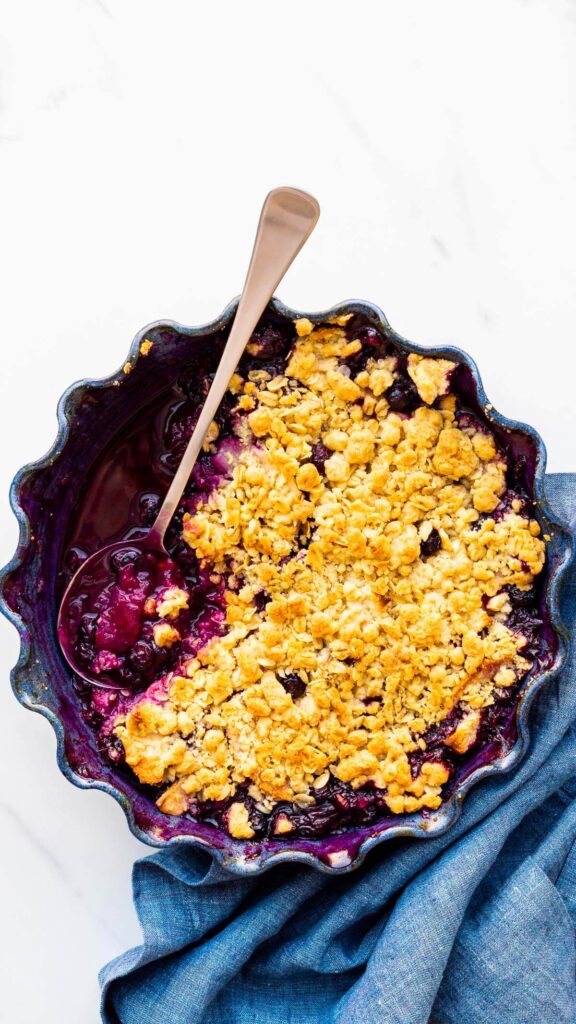 Substitutions
Crumbles are very forgiving and there are several opportunities for substitutions:
Sugar—instead of using white granulated sugar, you can use light brown sugar or a combination of the two. You can also replace a portion with maple syrup or honey for more flavour.
Apples—use Cortland, Gala, Honey Crisp, Golden Delicious, or any apple that can withstand cooking without turning to apple sauce. Granny Smith apples will work too, but you may have to up the sugar in the filling to compensate for their tart flavour
Flour—I made the crumble topping with bleached all-purpose flour, but whole wheat all-purpose will work too!
Cornstarch—you can try arrowroot or tapioca which will likely lead to a thicker filling.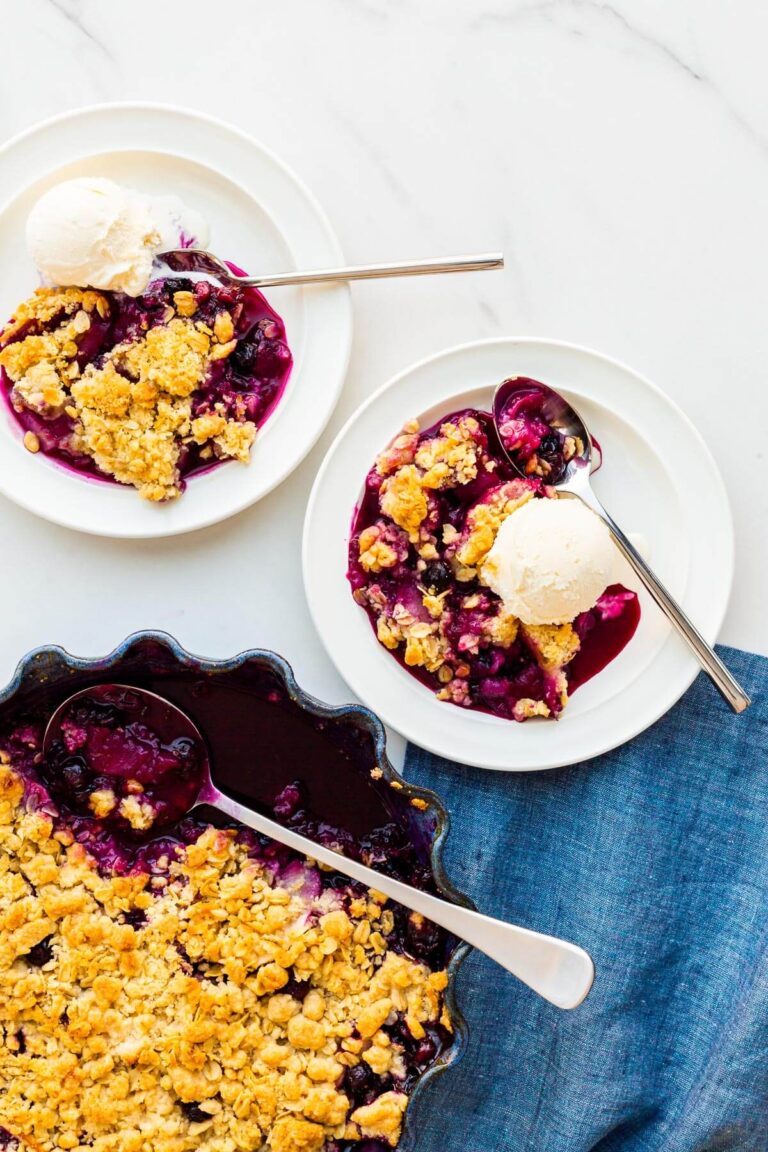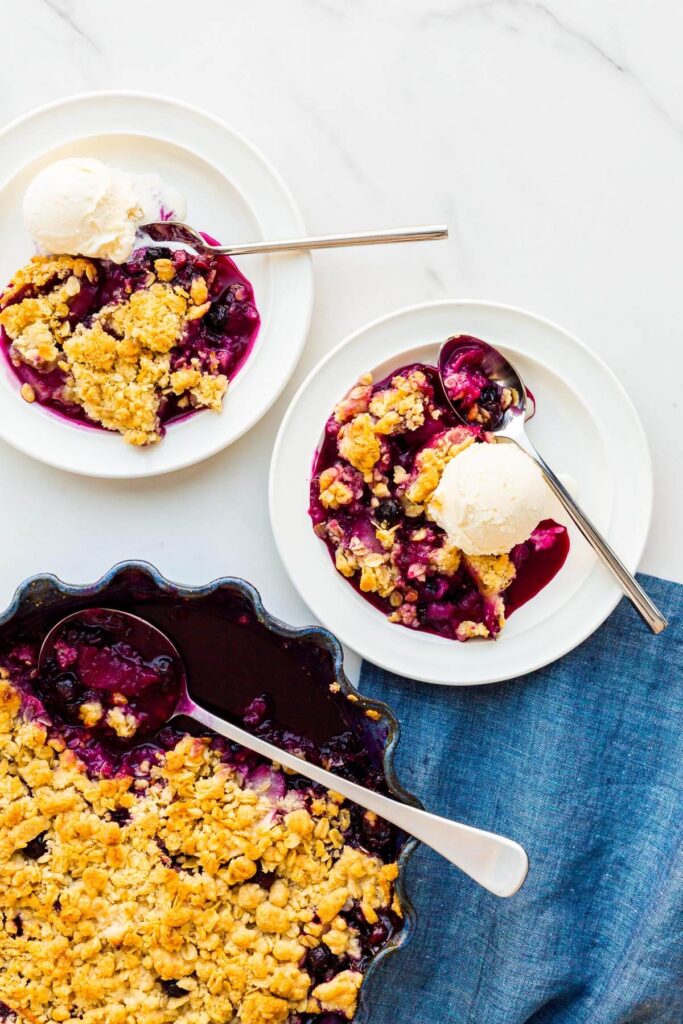 Variations
This easy apple dessert can be a jumping off for so many variations. Here are some ideas:
Pear and blueberry crumble—replace the apples with pears and will be so delicious!
Spices—add ground green cardamom seeds, which will add floral notes to the filling OR add ground cinnamon to the topping
Citrus—add lemon or orange zest to either the filling or the crumble topping—the citrus oils will add a ton of flavour, which goes so well with blueberries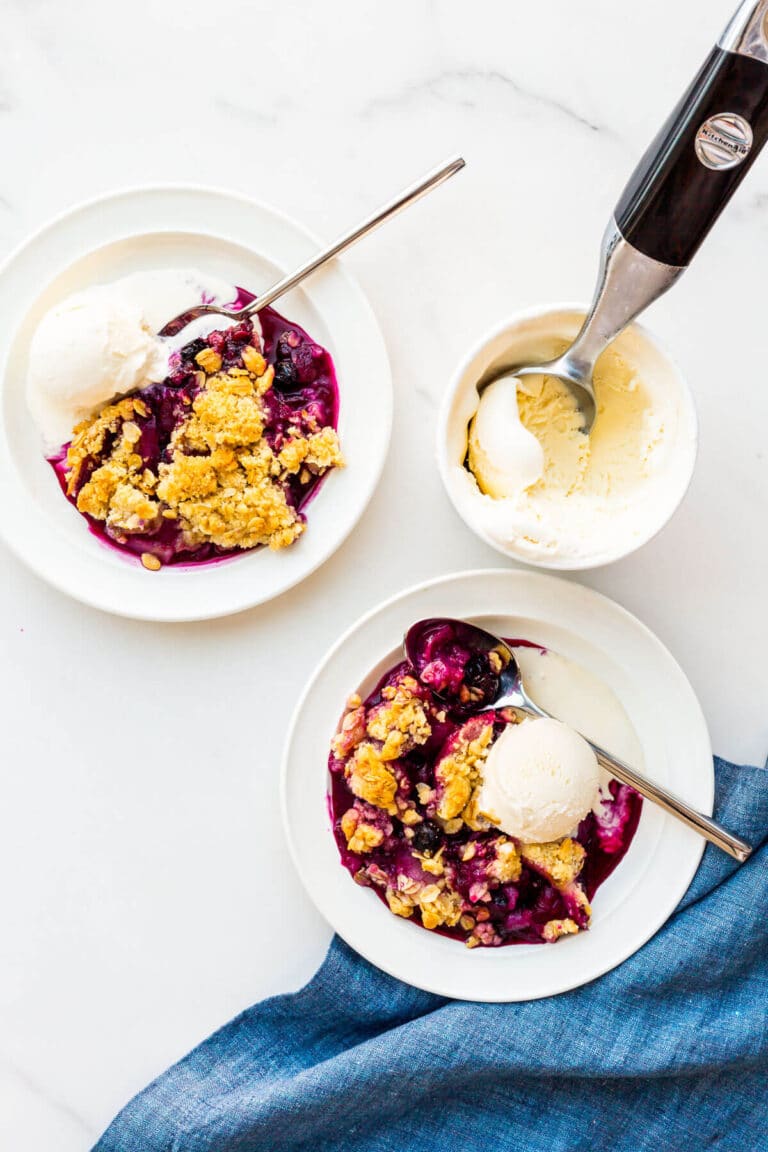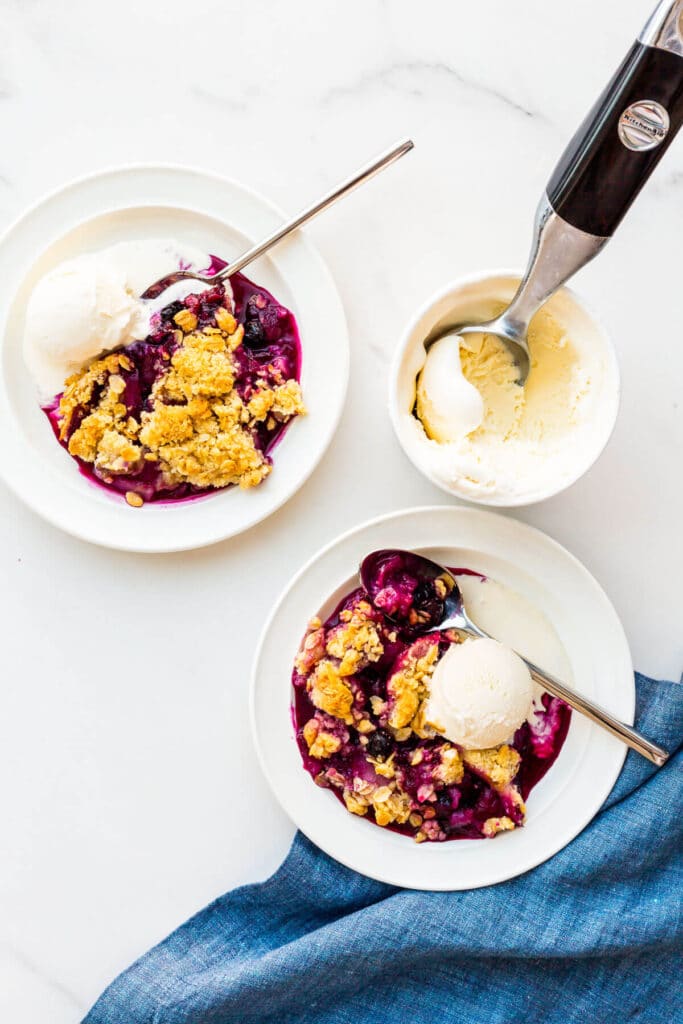 Frequently asked questions
Why is my apple crumble not crunchy?
The topping on your crumbles and crisps should be sandy, crumbly, and/or crunchy. If you aren't achieving the desired texture, check the ratio of flour:sugar:butter. It's likely that your topping doesn't have enough flour or butter. It's also possible that your crumble is underbaked and the topping doesn't have enough time to crisp up in the oven.
Also note that the topping will soften as you store your crumbles and crisps. It's inevitable because of the moisture of the fruit layer tucked below that will soften the crisp topping over time as the topping absorbs moisture.
Should you cover crumbles and crisps when baking?
You don't cover crumbles or crisps when you bake them. However, if you find the topping is browning too fast and you want to give the filling more time in the oven, cover the baking dish with foil and continue baking. The foil will shield the topping from the heat of the oven creating a more gentle baking environment, and slowing the browning process.
📖 Recipe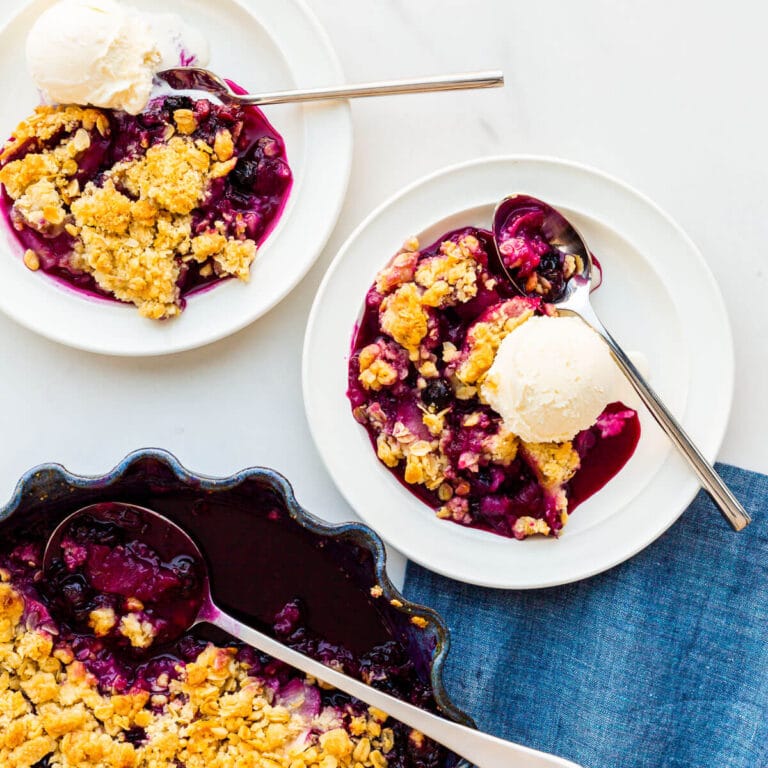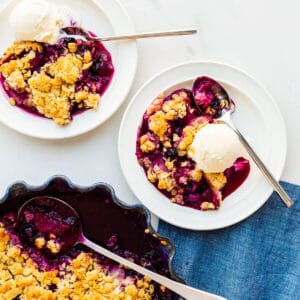 Apple And Blueberry Crumble
This easy apple and blueberry crisp, made from fresh blueberries and sliced apples, is topped with a sweet oat crumble.
Ingredients
Oat crumble topping
115

grams

unsalted butter

cold, cut into cubes

100

grams

granulated sugar

95

grams

bleached all-purpose flour

you can also use a mix of all-purpose and buckwheat, or all-purpose and whole wheat

70

grams

rolled oats (or large flake oats)

1.25

mL

Diamond Crystal fine kosher salt
Apple filling
650

grams

Cortland apple(s)

I used 4 Cortland apples

450

grams

fresh blueberries

washed, dried, and picked over

50

grams

granulated sugar

30

mL

cornstarch

15

mL

fresh lemon juice

5

mL

vanilla bean paste
Vanilla bean ice cream

optional for serving
Instructions
Preheat the oven to 400°F (200 °C). Butter a large baking dish or casserole dish (10 inch (25 cm) diameter and fairly deep) and set it on a large rimmed baking sheet lined with parchment (to catch any drips). Set aside.
Oat crumble topping
In a large bowl, whisk together the all-purpose flour, oats, sugar, and salt. Add in the cubes of cold butter and toss it in the dry mixture to coat all the pieces. You can do this with your fingertips. Press and work the butter into the dry ingredients until you have a crumbly topping with lots of texture. Set aside. You can refrigerate the crumble topping if your kitchen is warm.
Apple filling
Peel and core the apples then slice them.

Wash, dry, and pick over the blueberries to remove any stems or twigs.

Toss the apples and blueberries with the cornstarch, sugar, lemon juice, and vanilla bean paste. Make sure the fruit is evenly coated. Pour the fruit evenly into the bottom of the buttered baking dish.

Scatter globs of the crumble topping over the fruit.

Bake the blueberry apple crumble for 40 minutes, then turn down the temperature to 350 ºF (175 °C). Continue baking until the fruit layer is bubbling, the topping is golden brown. This takes another 20 minutes or so.

Let cool on a wire rack. Serve warm or at room temperature with vanilla ice cream.
Notes
Feel free to modify the amount and type of thickener. You can try using more to achieve a thicker, more set fruit filling, and try arrowroot or tapioca starch instead of cornstarch.
I don't recommend using flour as a thickener because blueberries have too much water in them and the filling will be way too soupy, and also appear cloudy, if you use flour.
Nutrition
Calories:
458
kcal
Carbohydrates:
76
g
Protein:
4
g
Fat:
17
g
Saturated Fat:
10
g
Polyunsaturated Fat:
1
g
Monounsaturated Fat:
4
g
Trans Fat:
1
g
Cholesterol:
41
mg
Sodium:
86
mg
Potassium:
241
mg
Fiber:
6
g
Sugar:
44
g
Vitamin A:
578
IU
Vitamin C:
13
mg
Calcium:
25
mg
Iron:
2
mg
Storage
Once completely cooled down to room temperature, you can store crisps and crumbles at room temperature, covered in aluminum foil for three or four days.
This recipe likely won't freeze well, but it could be worth a try.
Other recipes to bake with blueberries
Make the most of blueberry season and bake these recipes with them: