Make this easy apple crisp with an oat crumble topping that is like a crunchy cookie. It's the perfect fall comfort food any time of year and you can adapt this easy recipe with different flours like buckwheat.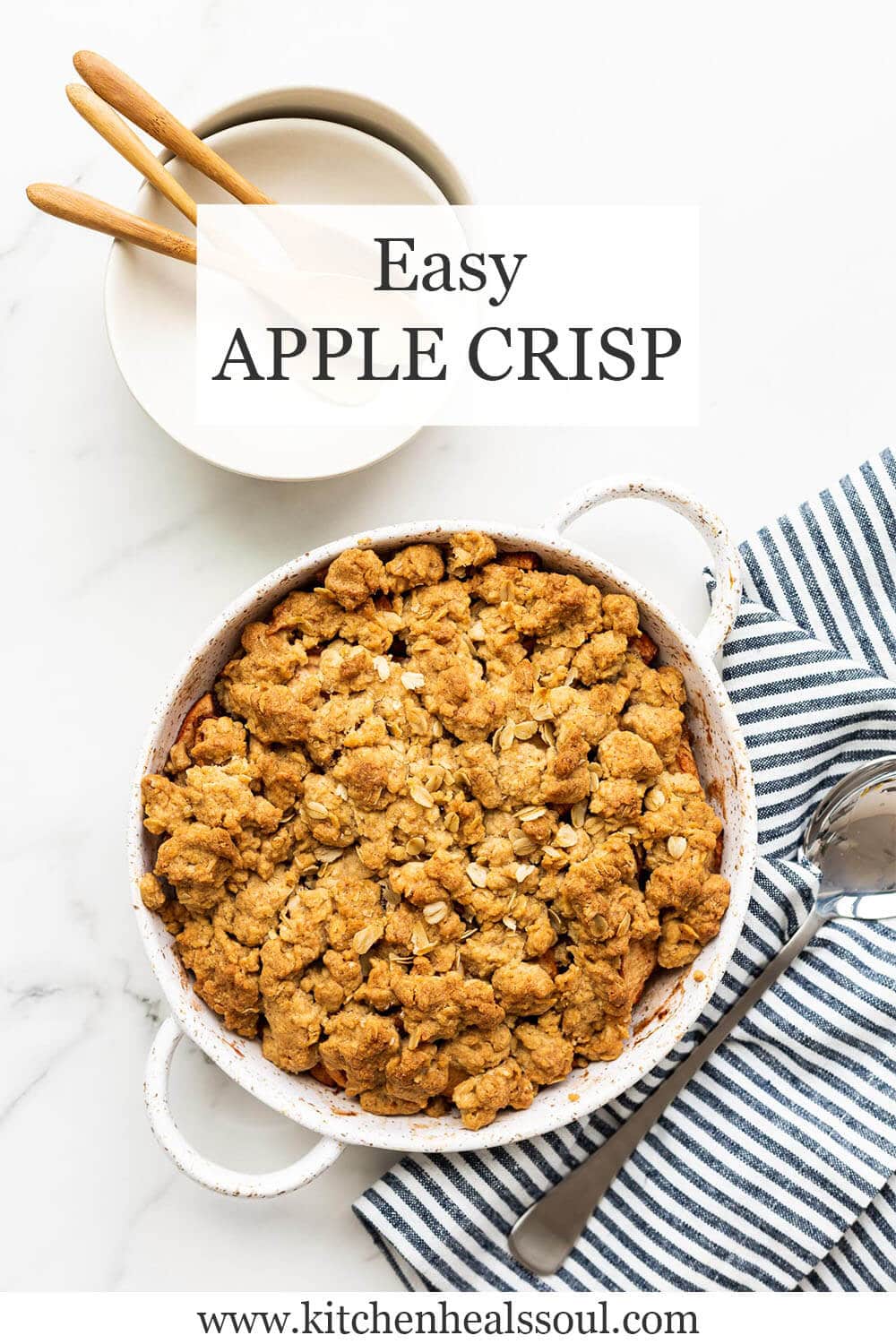 Disclosure: As an Amazon Associate, I earn from qualifying purchases.
Apple crisp vs crumble?
I know I'm not alone in the debate of crisp versus crumble. It's confusing! Some people call them apple crisps, others apple crumble. So what is the difference between the two?
It seems the two names are used interchangeably, yet fruit desserts made with an oat crumble topping should technically be called crisps, while the absence of oats makes those desserts a crumble. So if your apple crumble has oats in the topping, technically you should call it apple crisp.
Remember that apple crisps and crumbles are different than pies: pie has a crust on the bottom, and on top, either a crust or a crumble. On the other hand, crisps and crumbles are made with nothing on the bottom so the fruit filling is placed directly in the baking dish with a single layer of crumble topping baked over it.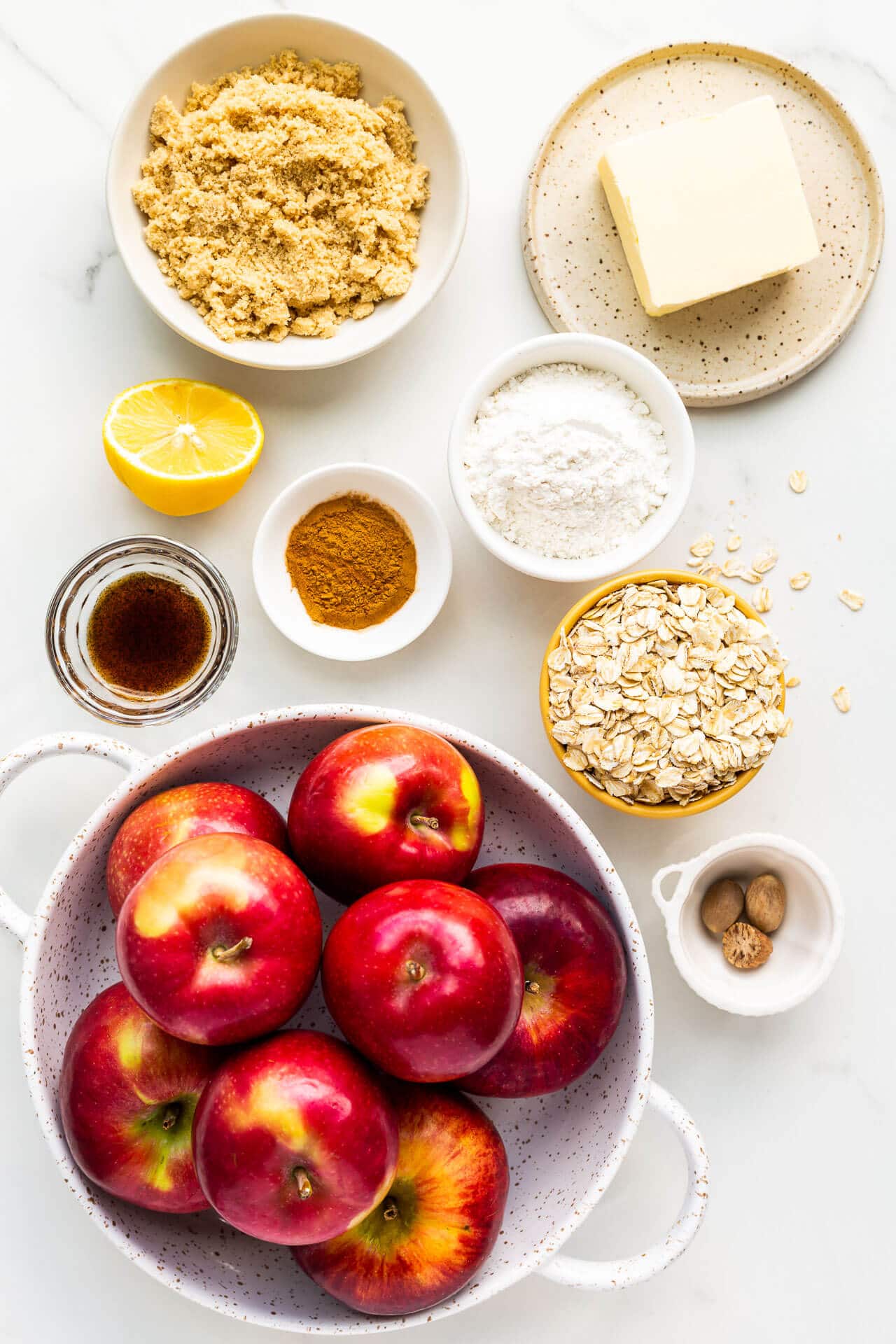 The best baking dish for the job
With fruit desserts without a bottom crust, you want to be mindful of the material of your bakeware. Avoid reactive materials like aluminum that might break down in the presence of acidic fruit. For this reason, use ceramic dishes or glass dishes to make crisps and crumbles, and save the metal pans for pies.
Which apple variety is best
The type of apple you use is entirely dependent on the recipe you are baking. For pies, I usually stick to Cortland apples which bake soft but keep their shape, even if the pie is baked for over an hour. On the other hand, if you are making apple sauce, you want to choose a variety of apple that does break down, so McIntosh apples are perfect for apple sauce because they become soft and fall apart the longer they are cooked/baked.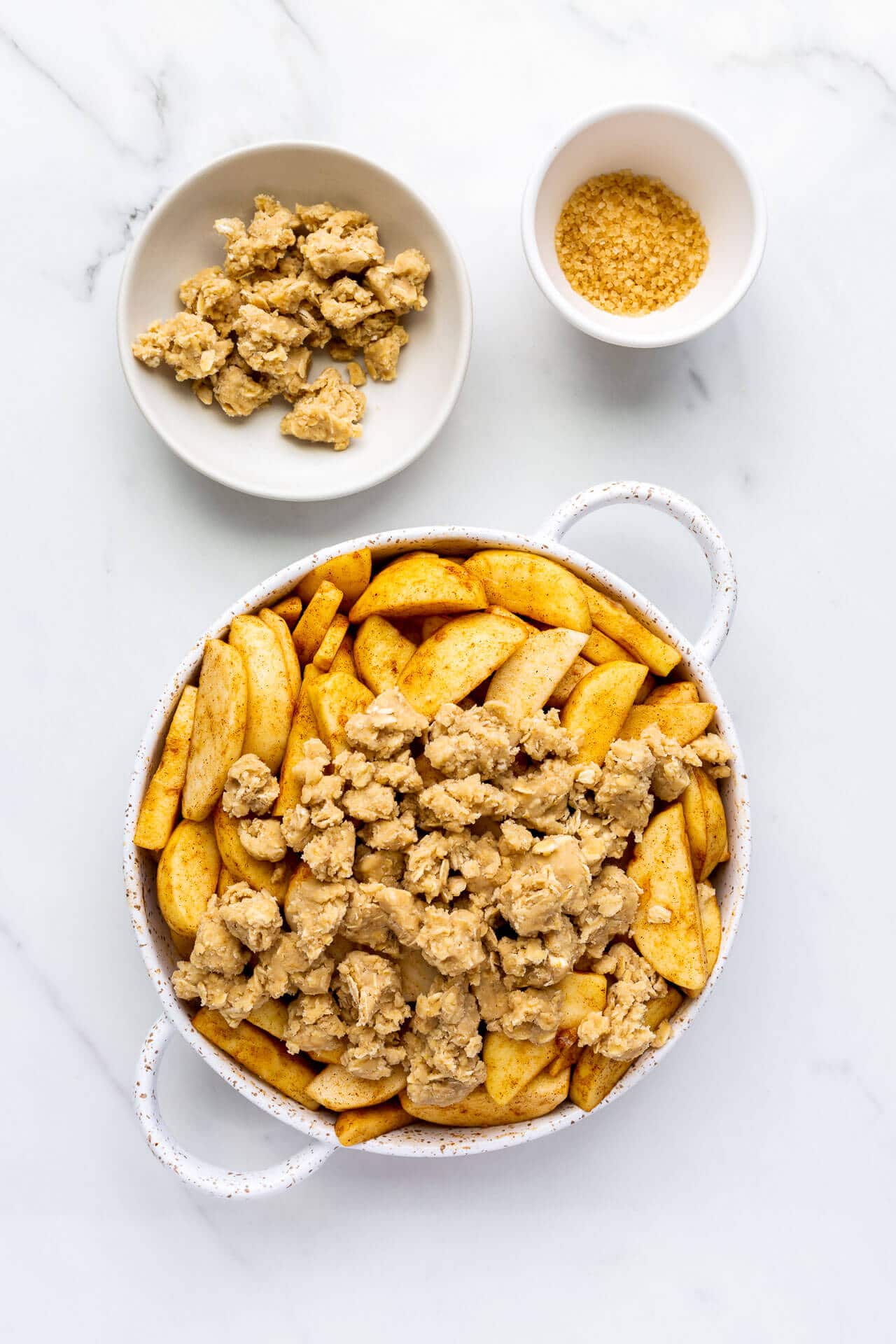 Apple crisps and crumbles are VERY forgiving and you could use any variety of apple for the filling. That being said, some varieties are better for baking, while others are known for flavour:
If you use apple varieties that break down when heated (like McIntosh apples, Empire, Jona Gold, Paula Red, etc.), you end up with a saucier apple crisp. Delish!
If you use a firmer apple that can take the heat and keep its shape (like Granny Smith, Delicious, or Cortland apples), you end up with soft pieces of fruit on the bottom of your crisp. That's great too!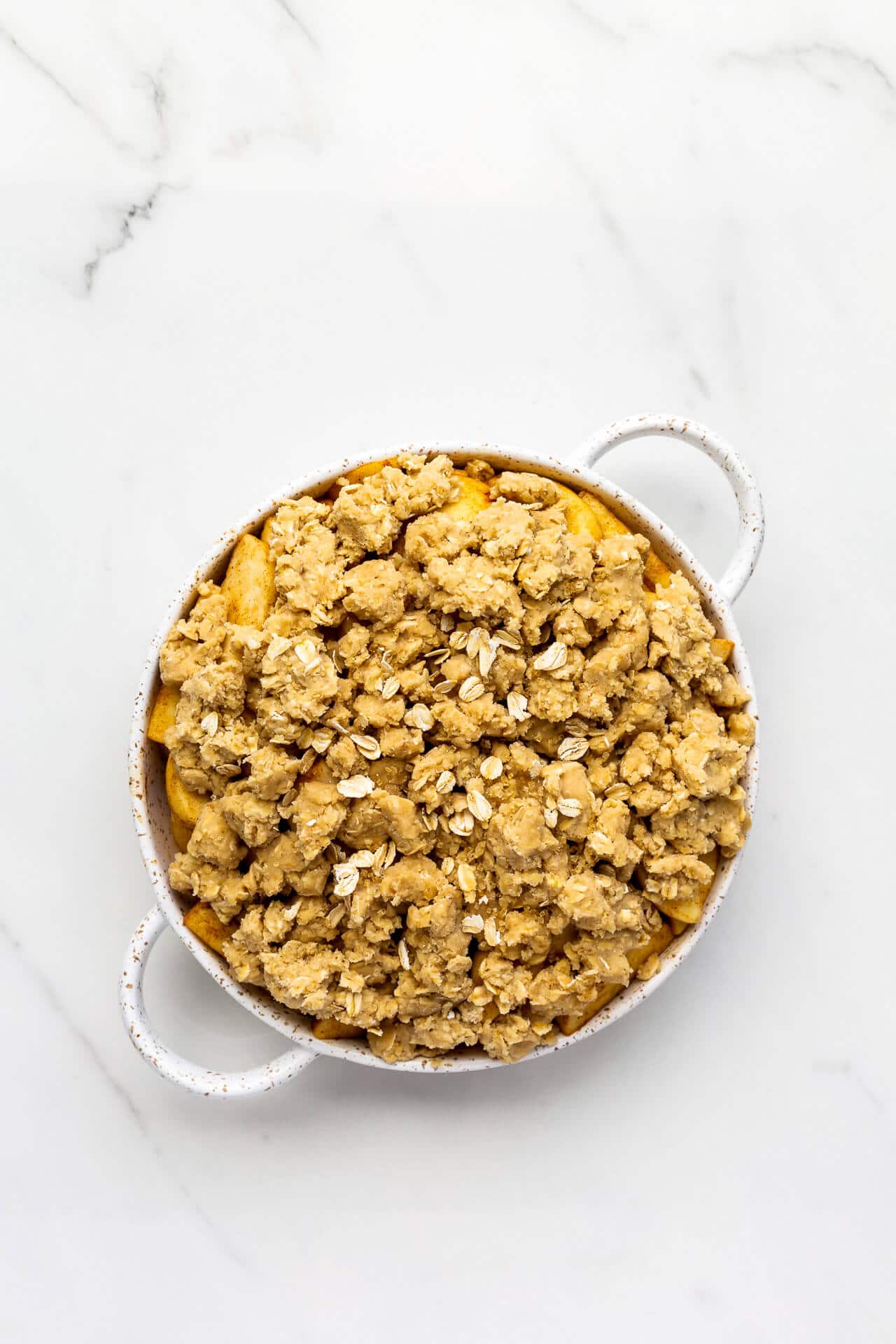 Using more than one type of apple
Combining apples that cook down and become saucy with apples that hold their shape makes for an apple crisp that is the best of both worlds, but truly, any apple will do!
I like to combine McIntosh apples with Cortlands because the McIntosh bring a lot of flavour (bright, slightly acidic) but tend to break down when cooked, while the Cortland apples are good for holding their shape when cooked though they have a milder flavour. Both of these apple varieties are readily available in my area, year round.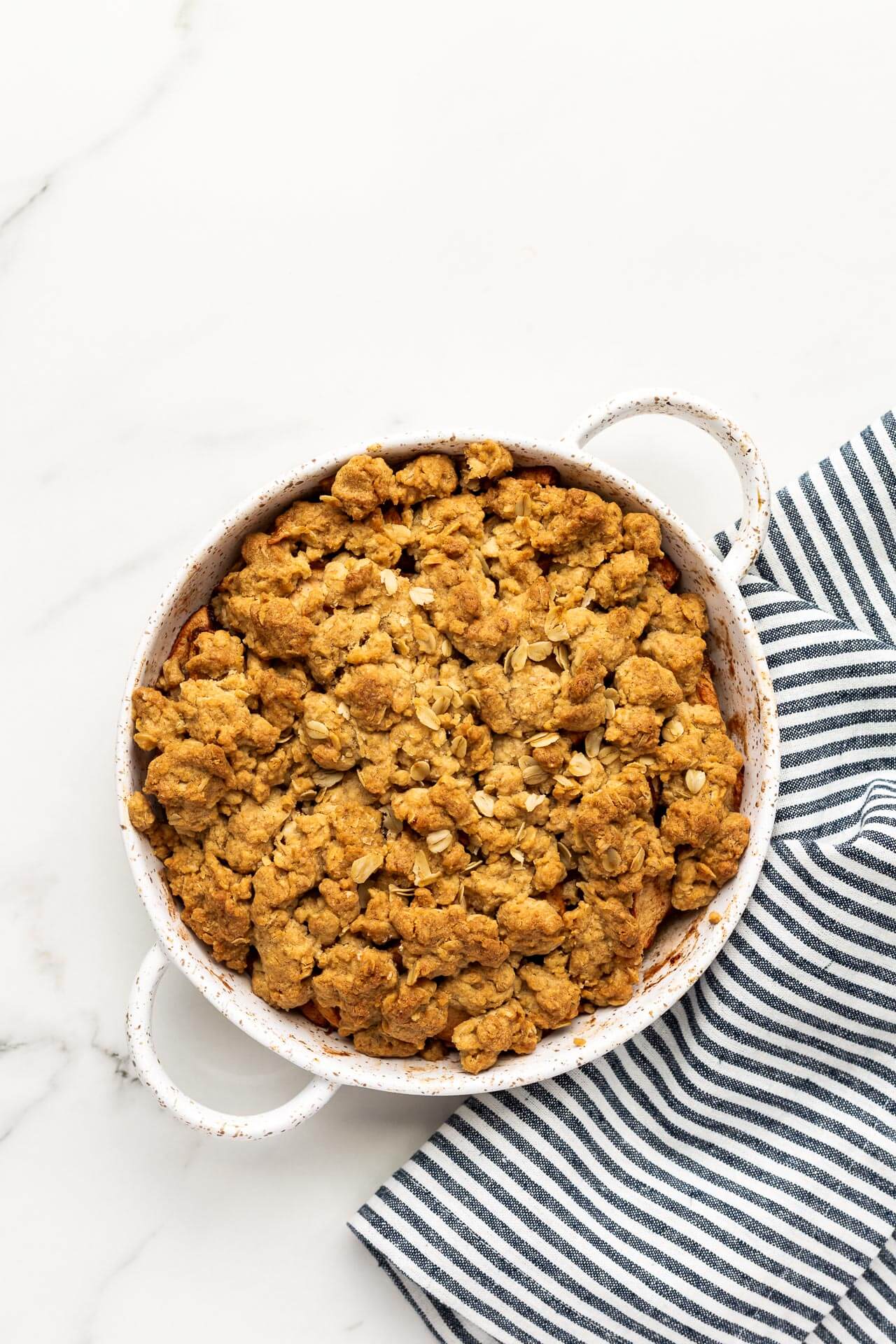 Thickeners for apple desserts
Apples require little to no thickeners and this is especially dependant on the dessert you are making and the type of apples. For example, for this maple apple pie, I used just 30 mL (2 tablespoons) of flour to thicken up the apple filling for the pie, which was made with almost 2 kilograms (4 pounds) of apples!
I don't add a thickener to the apples in an apple crisp, generally. Whether or not you do is entirely up to you, but apples aren't known for releasing so much water as they bake, so a little thickener goes a long way in a dessert like this. And given that there isn't too much water in apples, you should stick to flour as a thickener, if you want to use one. Cornstarch and tapioca are too powerful for this recipe. You'd end up with a dry, goopy filling. Save the tapioca for a dessert with berries or rhubarb, like this blueberry rhubarb crisp. In that case, you NEED tapioca because the fruit release a ton of water as they bake.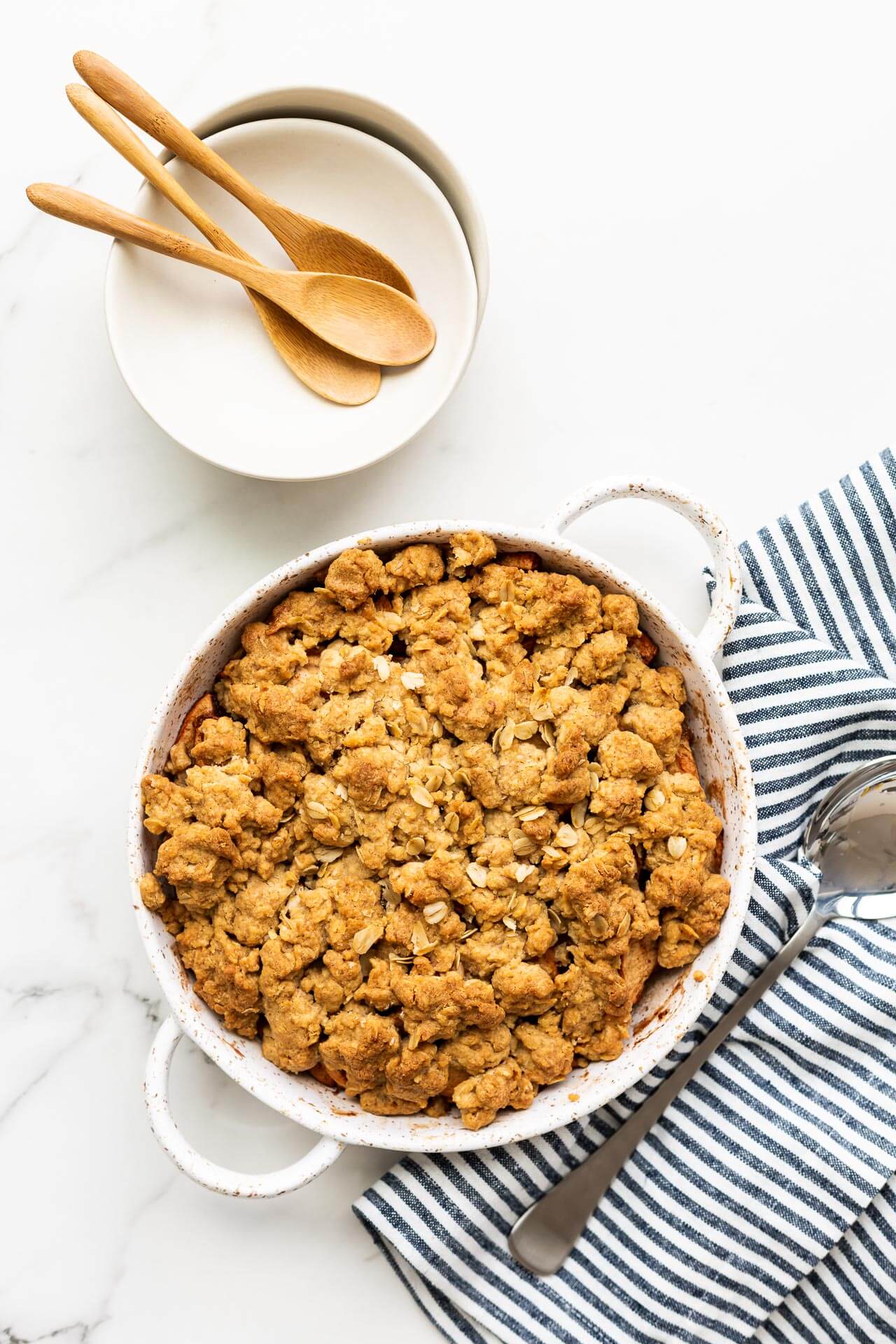 If you feel like a thickener is necessary for your apple crisp, add 15 to 30 mL (1 to 2 tablespoon) of flour to thicken apple filling with 1.25 kg (2.75 lbs) of apples. You wouldn't need much more than that. And if you find your apple crisp is watery, if you didn't use a thickener for the apples, try adding a little flour to the filling next time. The flour will help gel the water so that the filling is less loose and watery.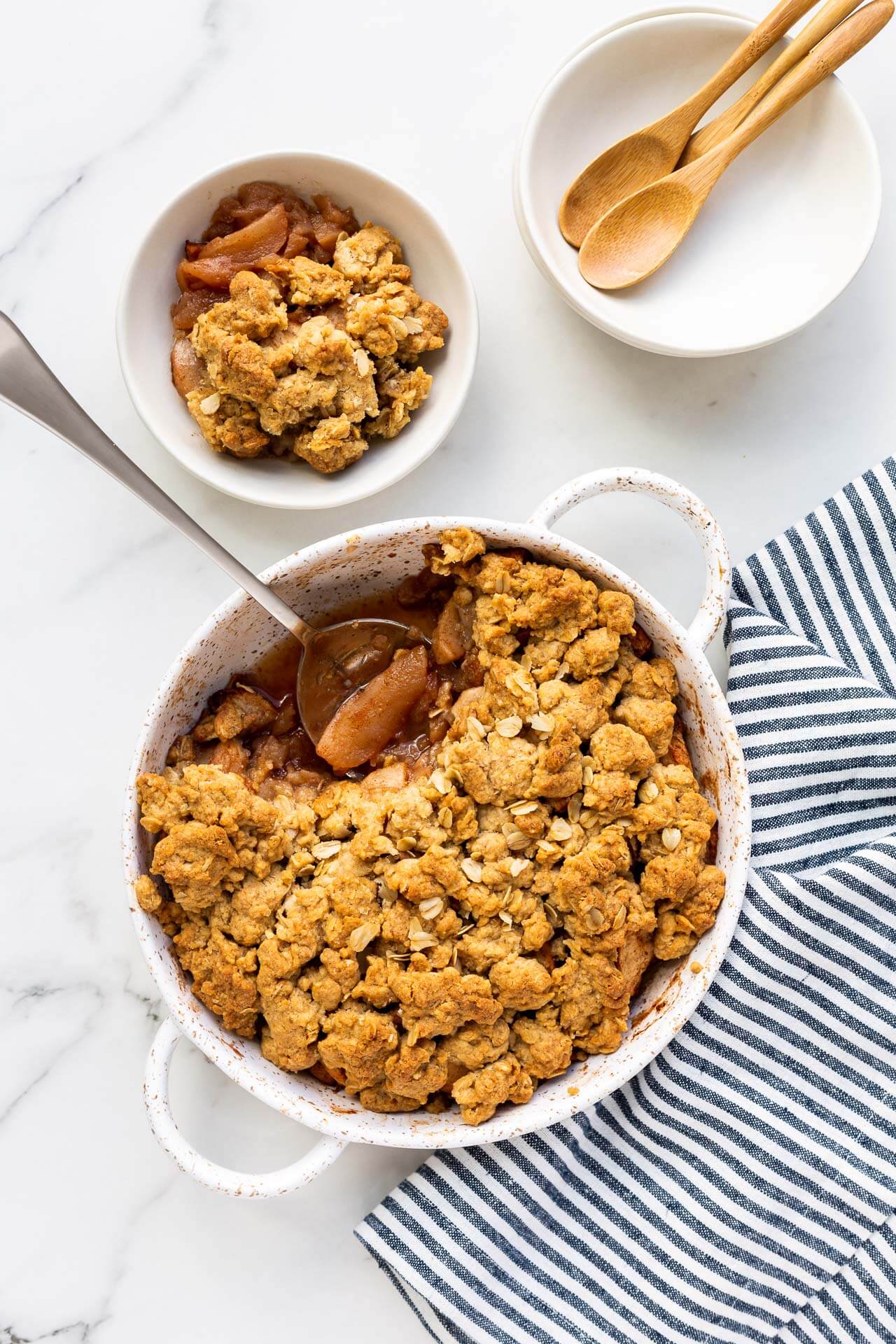 Topping for fruit crisps
Fruit crisps are a fruit dessert where the prepared fruit are baked with oat crumble on top. If there's no oats in the recipe, it's a fruit crumble. Some crisps have a very "powdery" or granular topping that is hardly held together. Other crisp toppings can be more chunky. It's a matter of personal preference.
I like to make my crispy toppings for fruit crisps and crumbles like cookie dough, as opposed to a sandy mixture. This is a similar topping to the one in this apple crumble cake. I worked the topping together until it forms a sweet cookie dough with a thick texture. Then I can drop globs of the dough over the fruit before baking.
Cold butter vs melted vs softened
Butter temperature plays an important role in baking. For most crisps and crumbles, recipes suggest to use cold butter, working it into the dry ingredients as you would for pie dough. With this mixing method, I find that the topping is less clumpy and more powdery because there is no liquid to bind the dry ingredients together and the butter is too cold to do that job well.
Lately, I've been making crumble toppings for fruit crisps with softened butter and working it into the dry ingredients until the mixture forms cookie dough, using my fingertips. This way, you can use your fingers to break it apart into larger nuggets of dough and scatter those big chunks of cookie dough over the fruit: this way you end up with larger hunks of topping over the fruit. The topping becomes very crunchy as it bakes.
You can also use melted butter to help bind the dry ingredients and this is another easy way. With this method, I think a fork would be best for mixing the ingredients together. Again the topping will form larger clumps than with cold butter, giving you a more crunchy, cookie-like topping.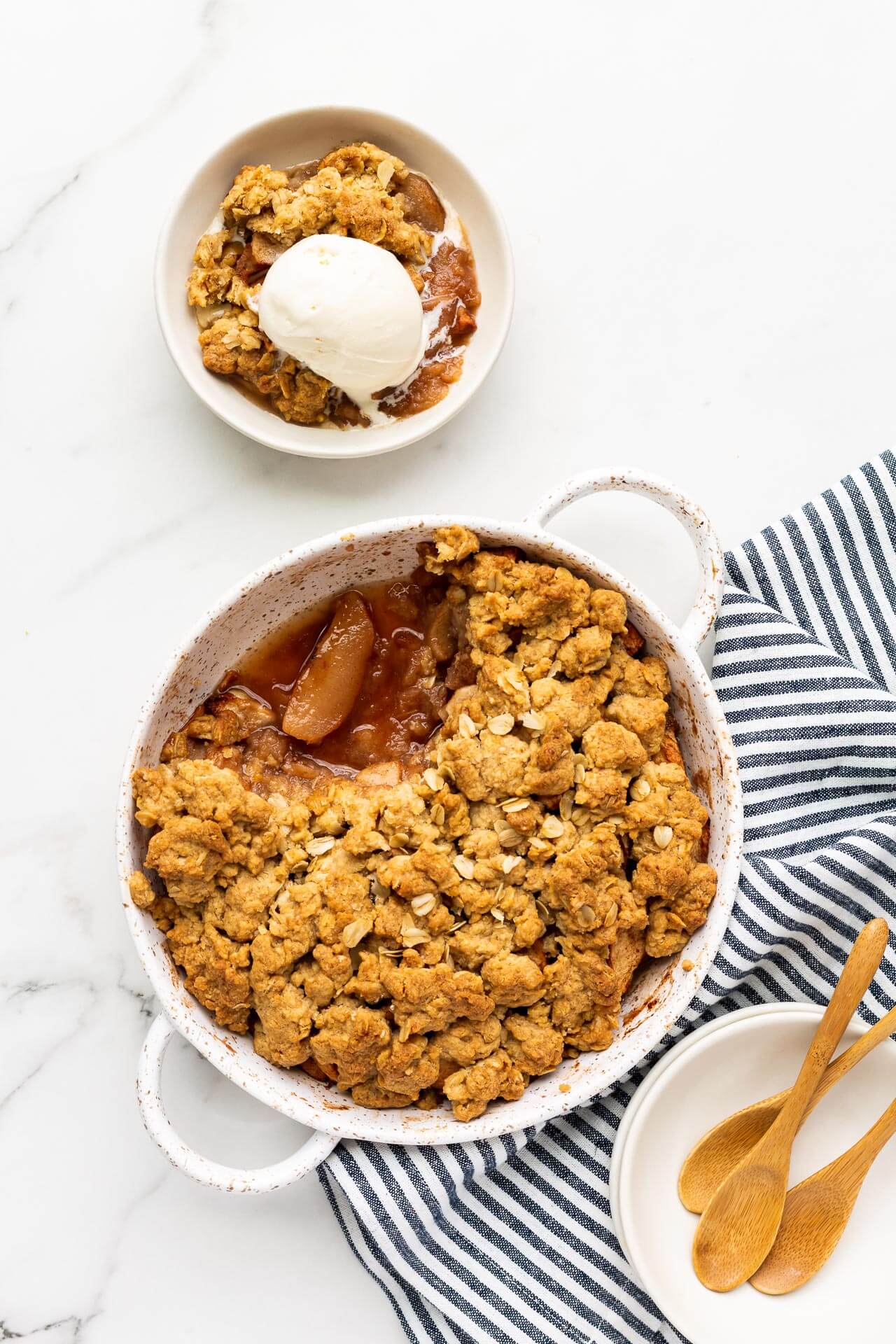 For the crisp topping, I used all-purpose flour, but feel free to explore alternatives, replacing up to half with whole-wheat or even a gluten-free flour like buckwheat (which adds a stronger, earthier flavour). You could also replace some of the flour with more oats, depending on how you like your crumble topping. Apple crisp is highly adaptable so there's room for experimenting and for tweaking the recipe to make it your own.
replace up to half the amount of all-purpose with an alternative flour, like buckwheat flour, whole wheat, or even rye:

use 30 grams all-purpose flour + 30 grams buckwheat flour (or whole wheat or rye flour)
Although the gluten in a crumb topping isn't as vital as it is in a cake, I don't suggest replacing all of the all-purpose flour with buckwheat or another alternative flour because the flavour would be very strong. If you want to make the topping gluten-free, combine half buckwheat and half oat flour or millet flour, for example.
Feel free to add nuts to the crumble topping as well. Add 60 mL (¼ cup) of chopped nuts (like pecans, walnuts, or almonds) when making the crumble topping.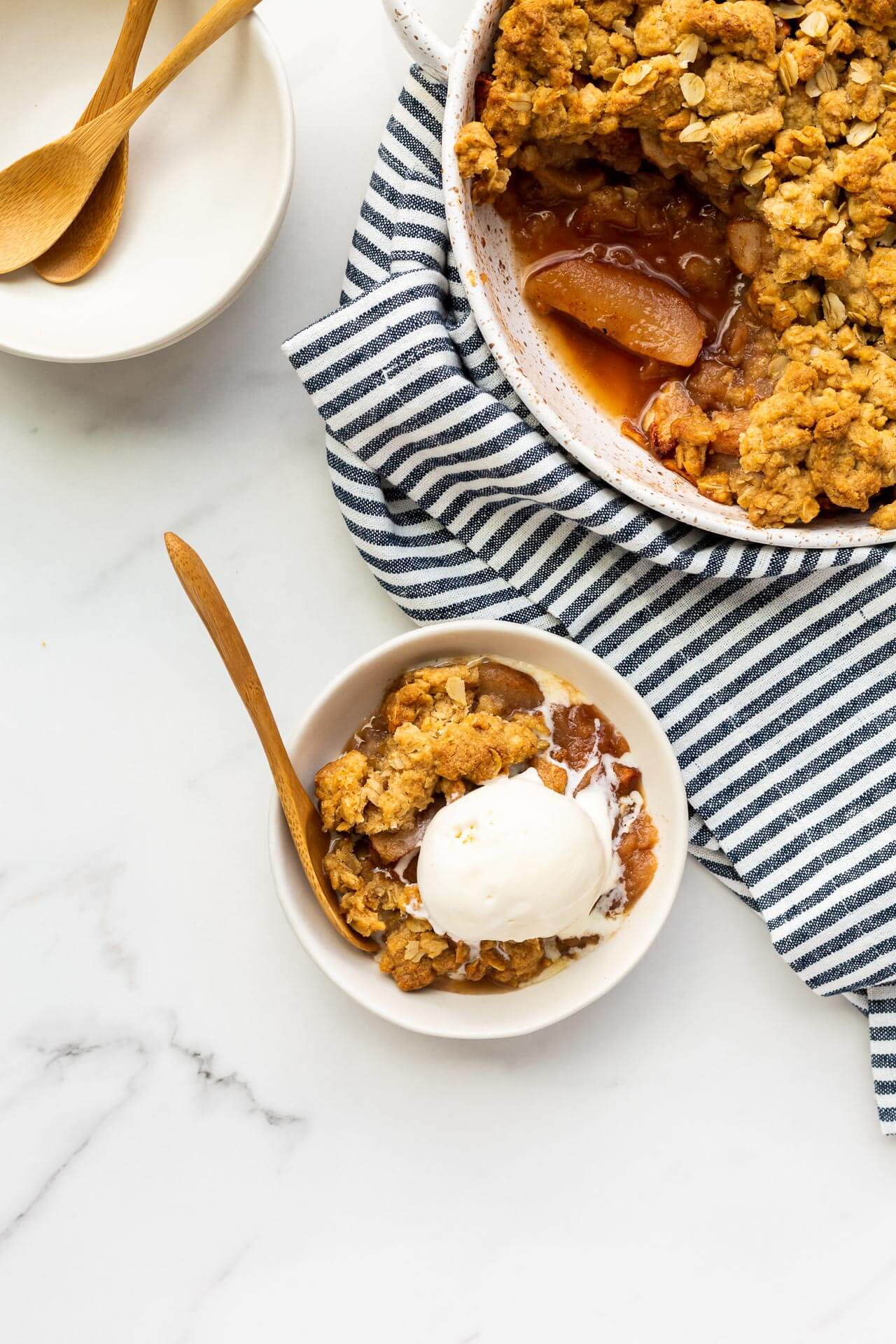 To store, cover the apple crisp with a layer of aluminum foil AFTER it's cooled completely. If you cover it when warm, your oat crumble will soften from the humidity trapped under the foil. If that happens, pop the apple crisp back in the oven at 350 ºF to warm it up and help crisp the topping. I store apple crisp at room temperature, and it gets eaten within a day or two.
This apple crisp serves 6 people (or 4 people generously), and if you only want to make a portion for yourself, try this apple crisp for one recipe that makes just one serving in under 5 minutes!
📖 Recipe
Apple crisp
This easy apple crisp is topped with chunks of sweet dough that bake into crunchy nuggets of cookie.
Ingredients
Oat crumble topping
115

grams

(

½

cup

)

unsalted butter

,

softened

100

grams

(

½

cup

) light brown sugar

63

grams

(

½

cup

)

bleached all-purpose flour

,

you can also use a mix of all-purpose and buckwheat, or all-purpose and whole wheat

70

grams

(

¾

cup

)

rolled oats (or large flake oats)

1.25

mL

(

¼

teaspoon

) Diamond Crystal fine kosher salt
Apple filling
1.25

kg

(

2¾

lb

)

Cortland apple(s)

,

I used 5 McIntosh and 3 Cortland

30

mL

(

2

tablespoon

) light brown sugar

30

mL

(

2

tablespoon

)

bleached all-purpose flour

,

optional thickener for filling

15

mL

(

1

tablespoon

)

fresh lemon juice

5

mL

(

1

teaspoon

) vanilla bean paste

3.75

mL

(

¾

teaspoon

)

ground cinnamon

1

pinch

ground nutmeg

,

freshly grated
Additional optional toppings
15

mL

(

1

tablespoon

)

rolled oats (or large flake oats)

15

mL

(

1

tablespoon

) Turbinado sugar
Instructions
Preheat the oven to 350°F. Butter a 1.5 L baking dish and set it on a large rimmed baking sheet. Set aside.
Oat crumble topping
Mix the butter, brown sugar, all-purpose flour, oats, and salt. You can do this with your fingertips, working the mixture until a cookie dough forms. Set aside.
Apple filling
Peel and core the apples then slice them.

Toss the apples with the sugar, lemon juice, flour (if using), vanilla bean paste, cinnamon, and nutmeg. Make sure the apples are evenly coated. Pour them evenly into the bottom of the prepared baking dish.

Scatter globs of the crumble topping over the apples, then sprinkle with the remaining 1 tablespoon of oats and 1 tablespoon of turbinado.

Bake the apple crisp for about 1 hour, until the apples are cooked through, the topping is golden browned, and the filling is bubbling.

Let cool on a wire rack. Serve warm or at room temperature.
Give back
If you enjoy the free content on this website, say thank you!
Nutrition
Calories:
413
kcal
|
Carbohydrates:
67
g
|
Protein:
3
g
|
Fat:
17
g
|
Saturated Fat:
10
g
|
Cholesterol:
41
mg
|
Sodium:
92
mg
|
Potassium:
305
mg
|
Fiber:
7
g
|
Sugar:
43
g
|
Vitamin A:
591
IU
|
Vitamin C:
11
mg
|
Calcium:
47
mg
|
Iron:
1
mg