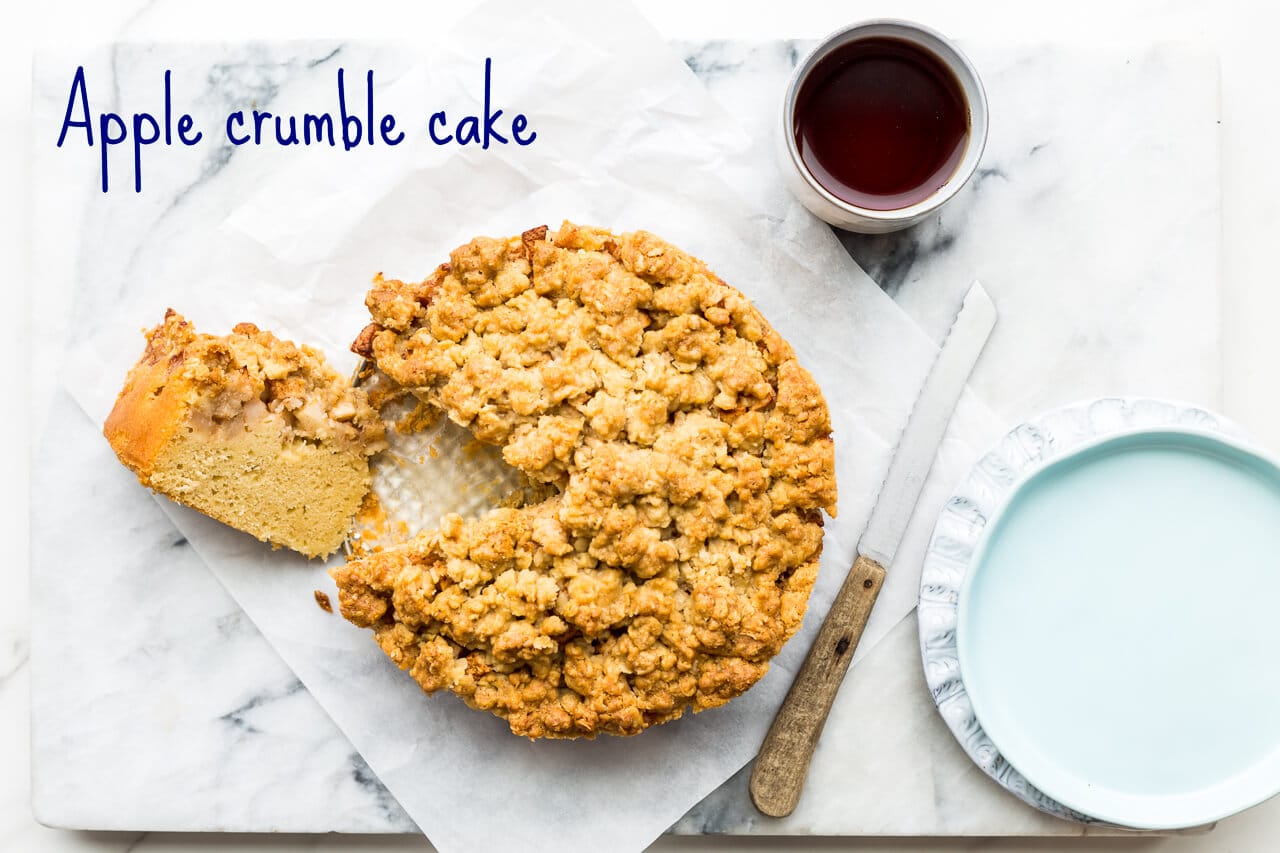 Disclosure: As an Amazon Associate, I earn from qualifying purchases.
This recipe for apple crumble cake is sponsored by Braun/De'Longhi. This apple cake recipe is mixed with a hand mixer, specifically the Braun MultiMix5 (HM5100BK).
I went apple picking, and though I planned on picking a small bag of apples, I somehow ended up lugging an overflowing 20 pound bag of apples, having consumed at least 3 or 4 while I was there. It's so difficult to practice restraint in these situations and when faced with orchards of apple trees covered in perfect, unblemished, crisp autumn fruit, I can't resist.
I drove home with 20 pounds of apples and then fretted over what to bake. Of course, there will be a maple-sweetened apple pie. I'll probably top bowls of yogurt with chopped apple and bowls of oatmeal with sliced apple for the next month. I'll probably make a single-serve apple crisp when I have a craving. And then there's this apple crumble cake recipe, for those days when you *need* both an apple crisp AND a cake at the same time. Why choose when you can combine both in one simple dessert?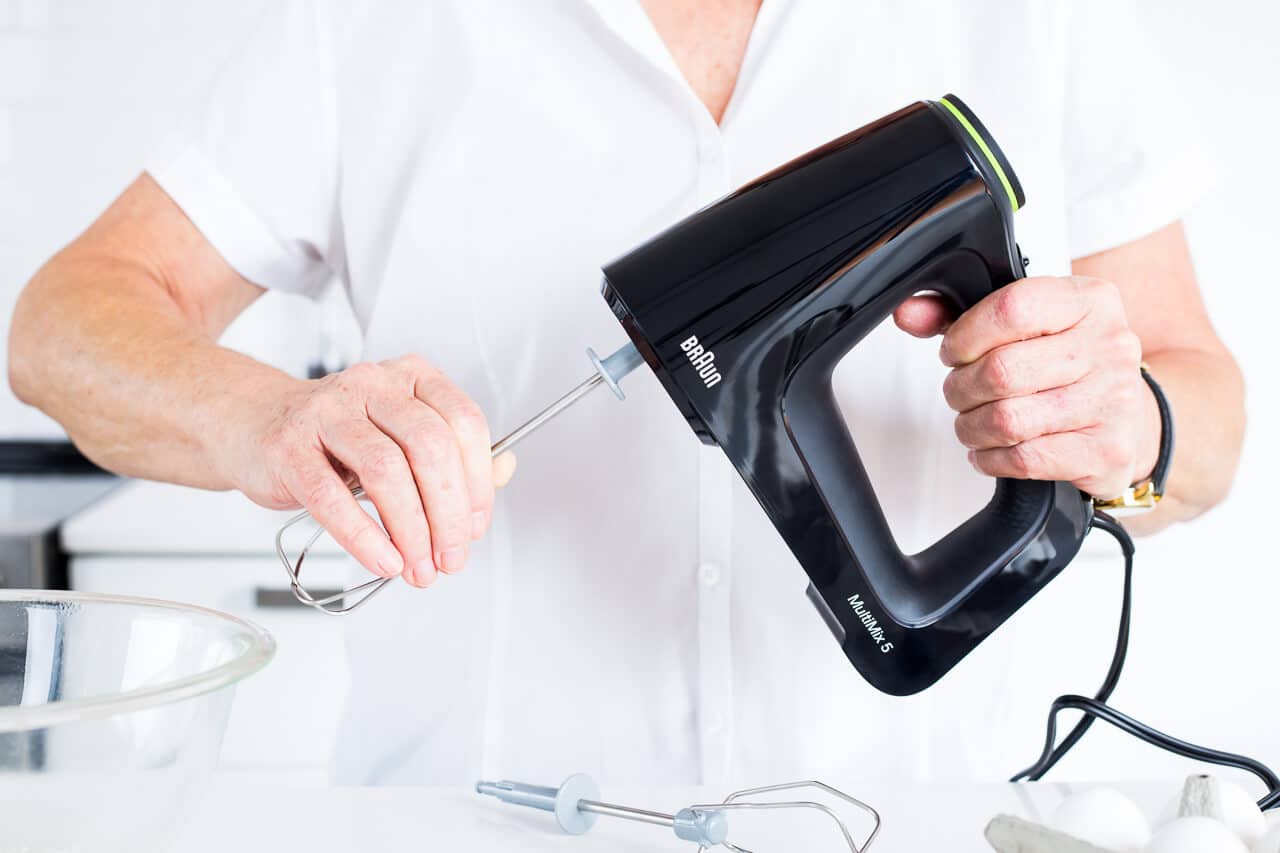 In the last year or so, I've been feeling a little disgruntled over the size of my stand mixer when I have small baking recipes to make. Cake batters for small cakes that are 6 to 9 inches in diameter tend to be a little small for my large, professional stand mixer. I run into the issue that the bowl is too big for the job at hand, so I end up having to do a lot of scraping and mixing by hand to coax the doughs and batters down to where the beaters hit. It's messy and rather frustrating.
Having switched back and forth between a variety of hand mixers and a big stand mixer, I've come to realize there are a few advantages to baking with a hand-held electric mixer, specifically this Braun MultiMix 5 Hand Mixer (model HM5100BK).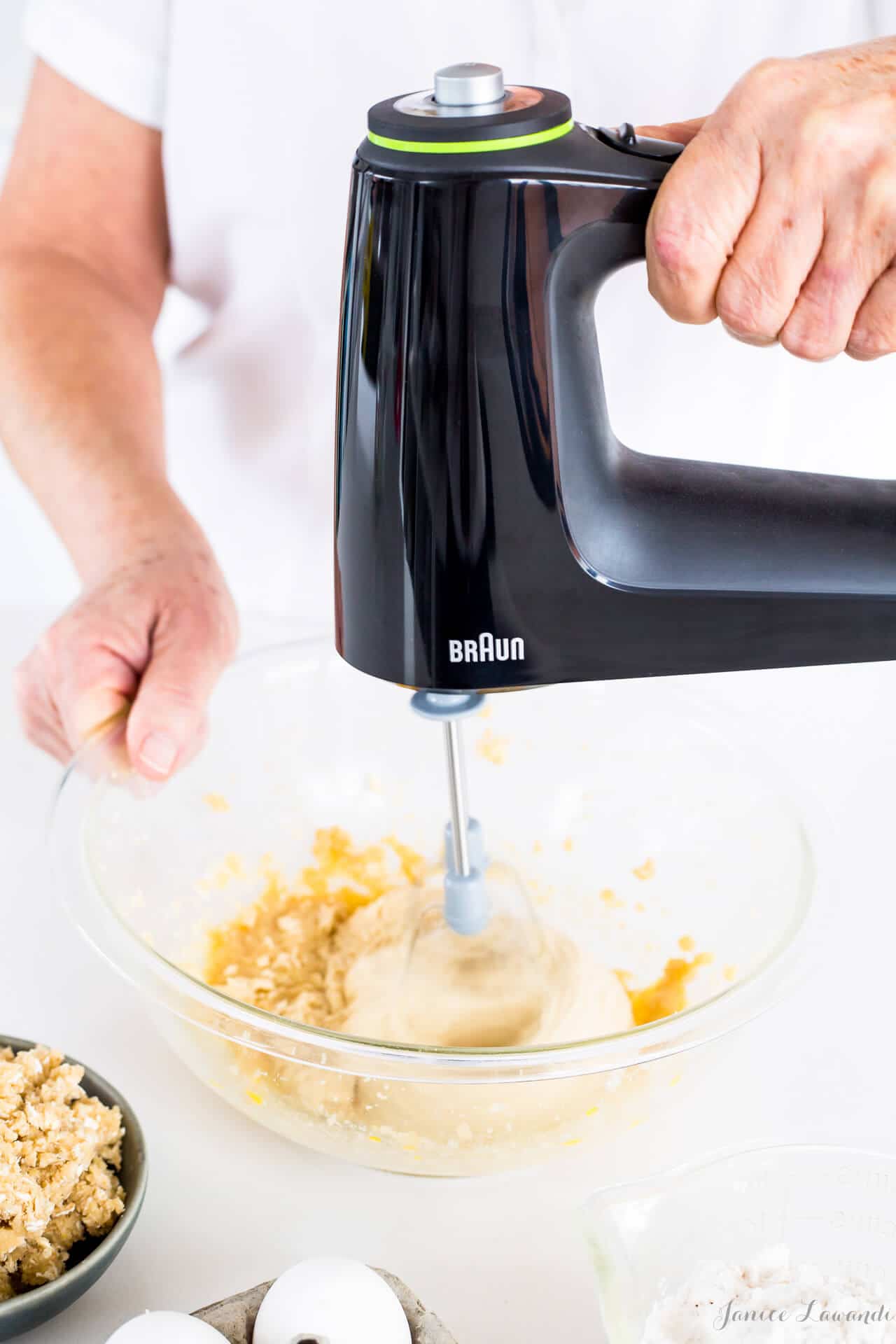 Benefits of baking with an electric hand mixer like this Braun MultiMix 5 Hand Mixer:
Bowl size: stand mixers usually come with one set bowl of a specific size and there's no deviating, really. With hand mixers, you have the flexibility of choosing the bowl you use to mix your batters and doughs. If you are making a big batch, reach for a big bowl, smaller batches can be mixed in smaller bowls. Just make sure the bowl is deep enough so the ingredients aren't flying out all over everywhere.
Any bowl will do because there's always a bowl lying around that you can mix in. Somehow, I only have 1 stand mixer bowl and it is ALWAYS dirty in the dishwasher. Sigh. Hand mixers mean you can literally use any bowl to mix in (as long as it's deep enough so you don't splatter your walls with cake batter).
Better air incorporation: I've found that the eggs incorporate better with the Braun MultiMix hand mixer. You can tilt the bowl and the mixer as you need to so you can really get into all the nooks and crannies and properly mix ingredients together, incorporating air into every ounce of batter. This means the batter or dough is better mixed but also, I've found you can really whip in the eggs resulting in a lighter, fluffier, more aerated cake batter, yielding a better cake.
More control and more even mixing because you can move the bowl and the hand mixer. This means you can tilt and reach the edges of batter better and scrape the bottom of the bowl, which means that you will end up with a more evenly mixed batter and you may be less worried over scraping down the sides with a spatula.
More stability: I noticed that the Braun hand mixer provides more stability than other hand mixers I've tested over the years. Using the Braun electric mixer, I never felt like I was going to lose control and have the mixer fly out of the bowl. It feels more grounded even at higher speed. I think we have the German designers to thank for that feature! This also means that while the mixer is running in one hand, you can easily turn the bowl with the other. You can also let go of the bowl to increase or decrease the speed on the dial without worrying. I love the clicking sound the Braun dial makes as you change speed so you can feel the click with each increase in speed and you can clearly see exactly what setting you are on. The dial might be my favourite part!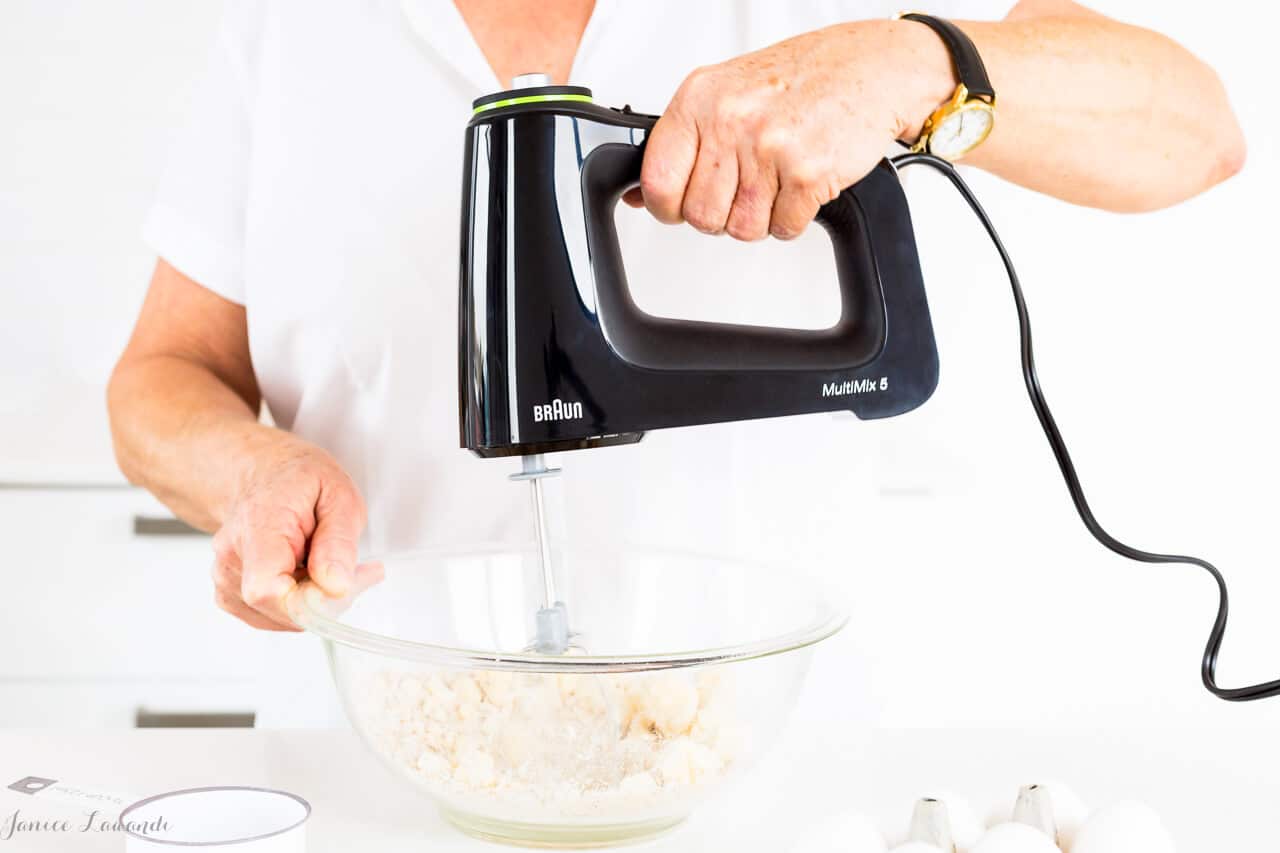 With the Braun MultiMix Hand Mixer, you can easily make a small amount of cake batter for an 8-inch cake and an even smaller amount of crumble topping in appropriately-sized bowls for the job. This model works great for small baking jobs and big ones too, so it offers more versatility and flexibility for my baking needs right now.
I love that there are no holes in the plastic casing, air vents, or nooks that can trap crumbs of food. The Braun MultiMix is easier to clean and to keep clean. Plus it tucks away into a small drawstring pouch that you can sneak into your baking drawer, neatly, until your next baking adventure.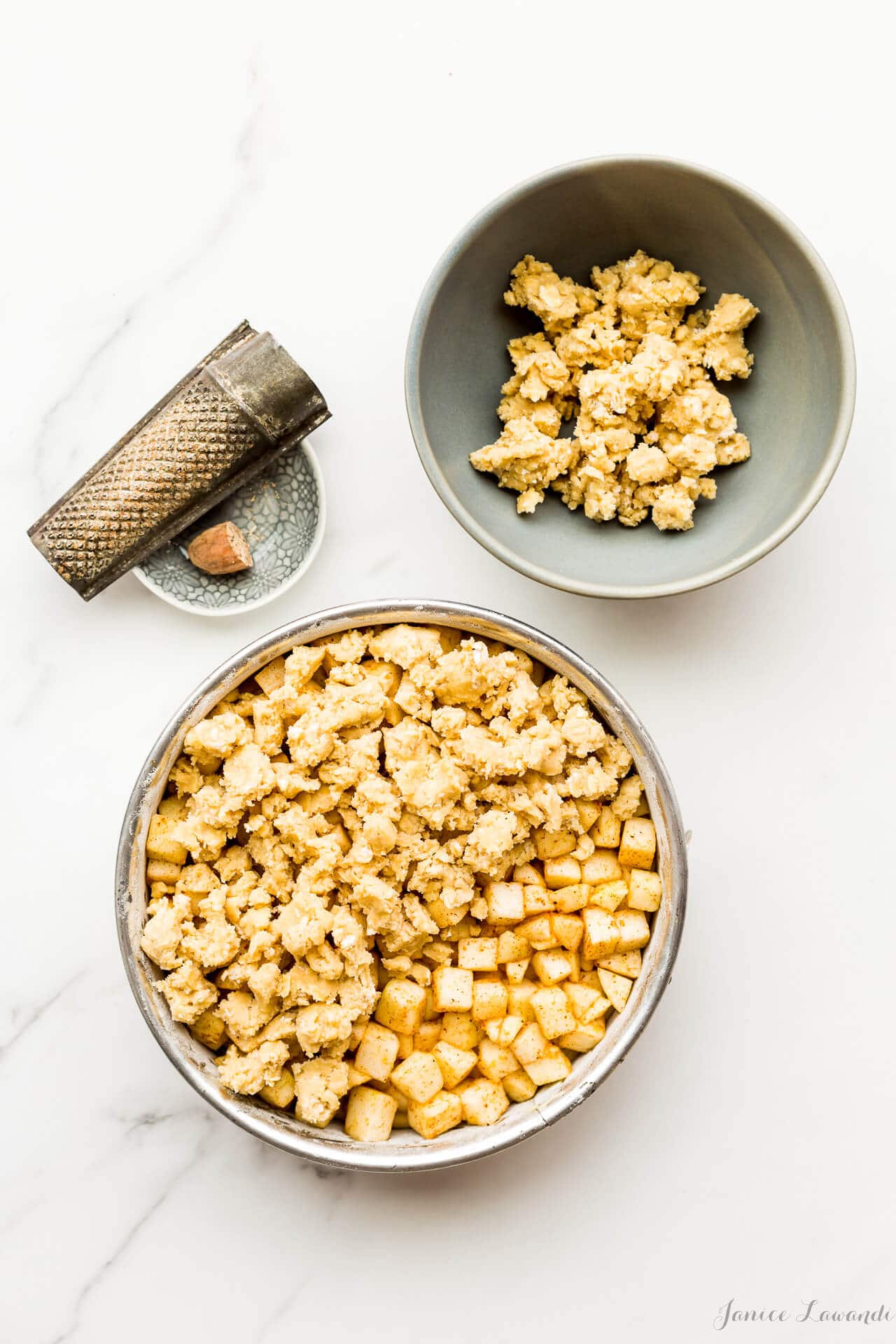 The Braun MultiMix Handheld Mixer is available online on Amazon. I tested the HM5100BK model, which comes with 2 sets of attachments: the beater/whisk attachments (for making cakes, cookies, brownies, crumbles, for whipping cream, egg whites, etc) and the dough hook attachments (for kneading bread doughs mainly). You will also get a drawstring bag for convenient storage so that all the attachments and the mixer itself get stored together.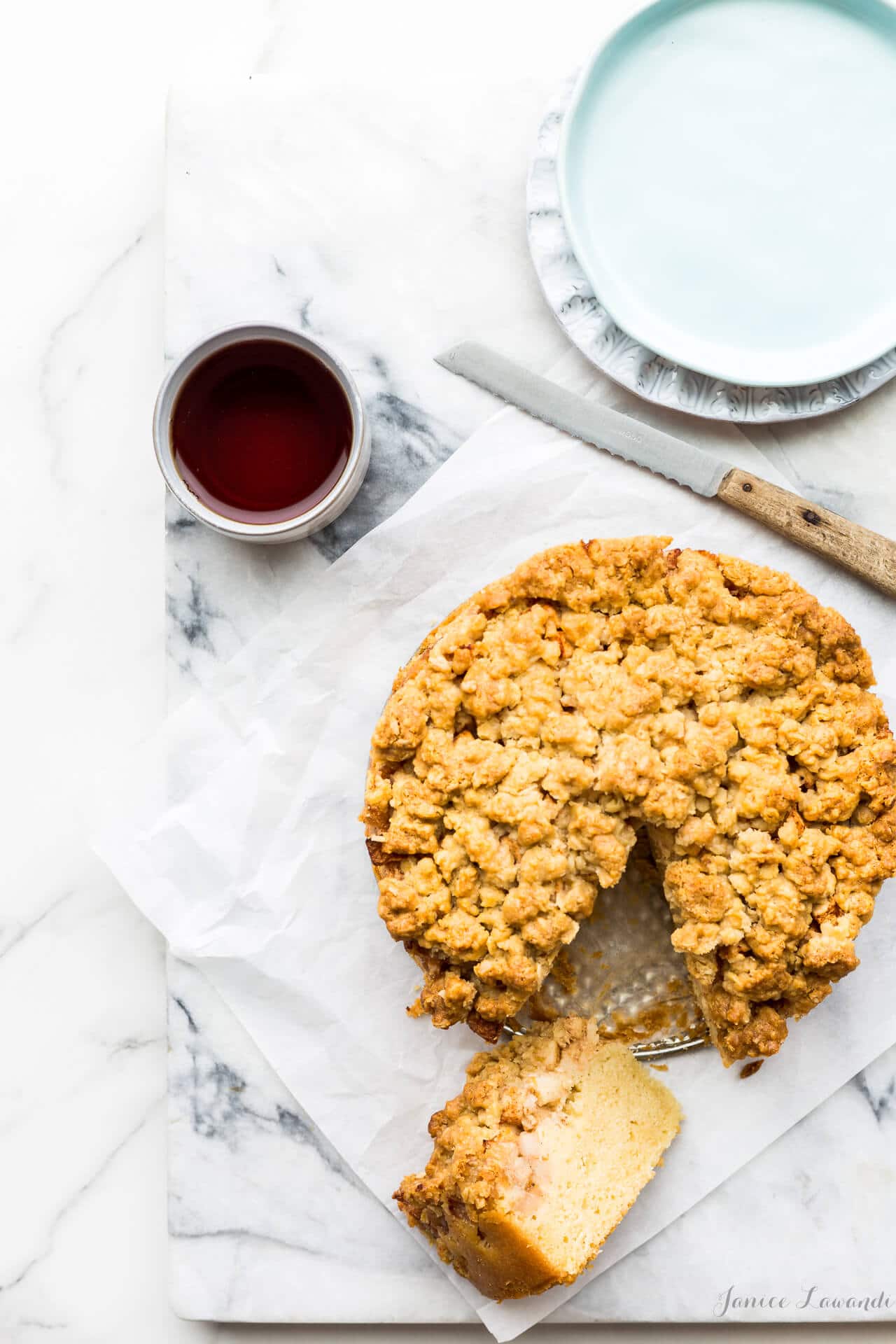 Apple crumble cake: like an apple coffee cake but better
This apple crumble cake is quite similar to a German apple crumble cake: a layer of buttery vanilla cake topped with a layer of apples and then a thick crumble topping. This recipe can be mixed with an electric hand mixer, even the crumble topping, making it easy to put together. Everybody will love you if you serve them this crumble-topped apple cake. Make it and see for yourself! This recipe would also work well with fresh pear to make a pear crumb cake.
Make sure to use pure vanilla extract and don't skimp. Vanilla in cake batters adds a lot of depth and complexity to recipes, without which some cakes may seem bland or even eggy.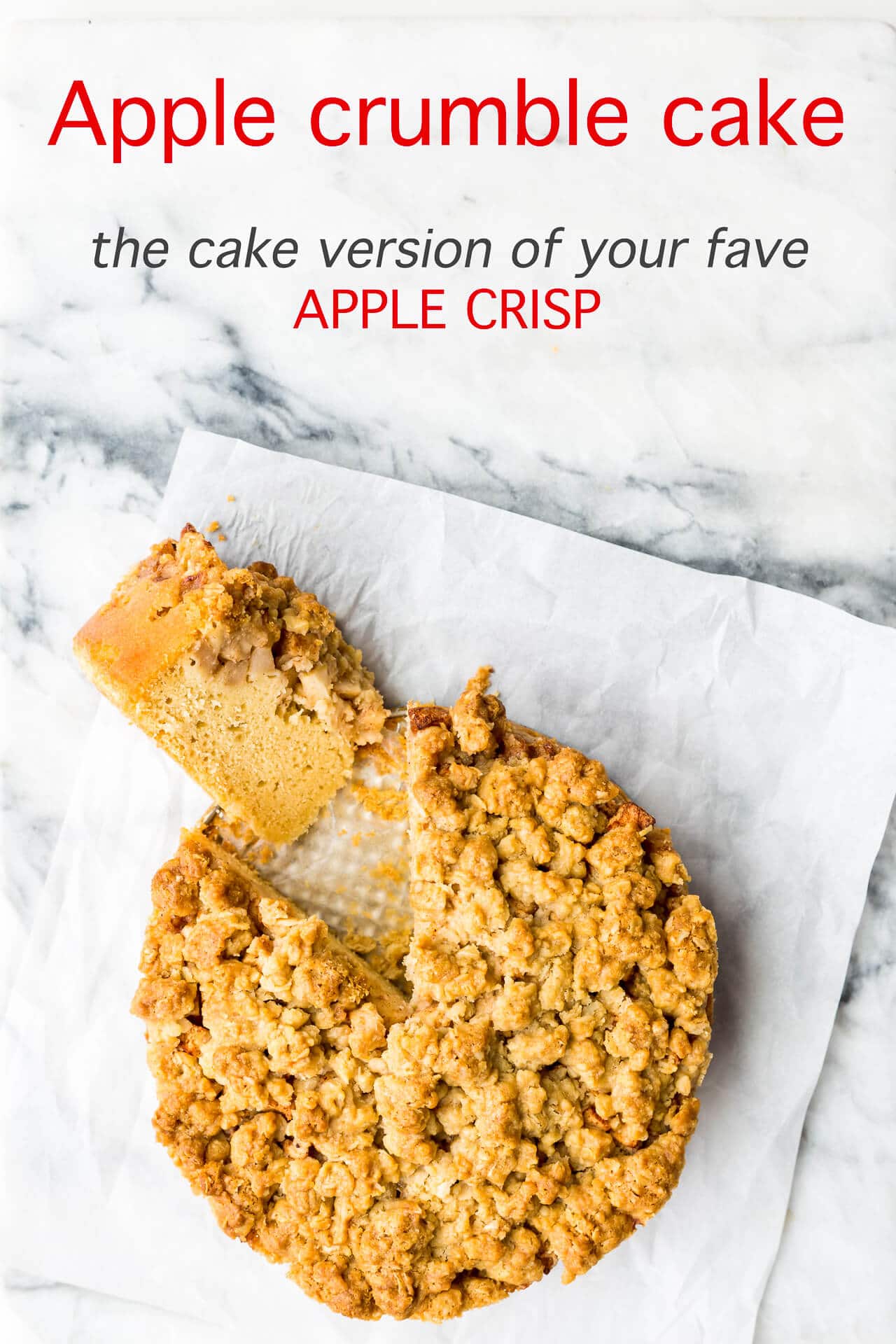 Because I wanted this apple cake to be tall, I baked it in a springform. Make sure to prepare the springform pan by greasing and flouring it. Parchment on the bottom is extra insurance and allows you to get the cake off the springform base to serve it on a plate.
📖 Recipe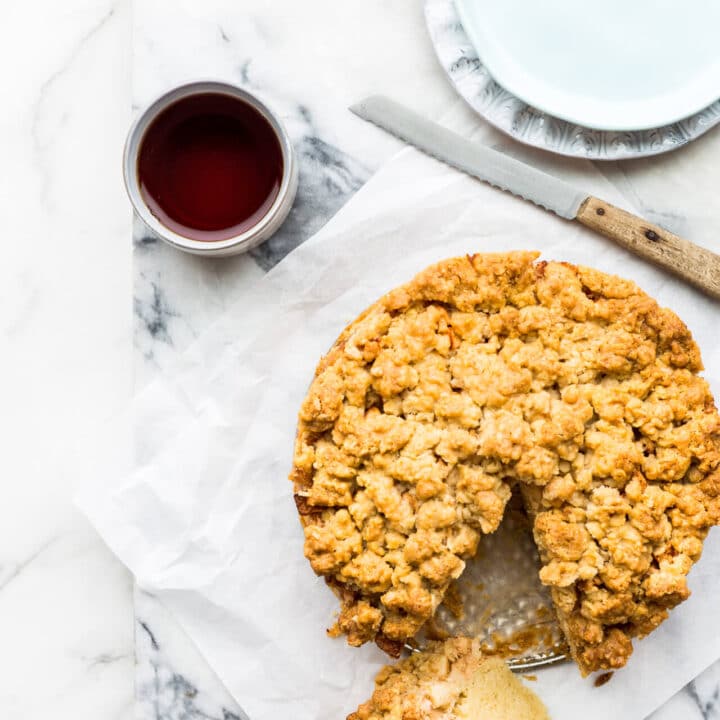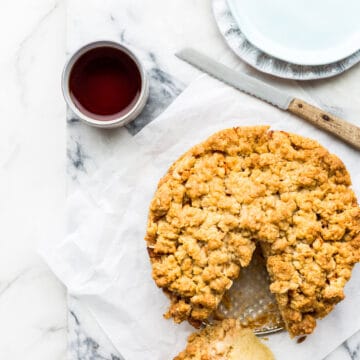 Apple Crumble Cake
Can't decide between a coffee cake or an apple crisp? This buttery vanilla cake is topped with a layer of apples and a crumble topping, transforming this simple cake into an apple crumble cake, the best of both worlds, and easily mixed with just an electric hand mixer.
Ingredients
Apple filling
2

Cortland apple(s)

400 grams, peeled and chopped (about 3 cups)

15

mL

fresh lemon juice

2.5

mL

ground cinnamon

1

pinch

ground cloves

1

pinch

ground nutmeg
Instructions
Preheat the oven to 350 ºF (175 °C). Butter and flour an 8-inch springform pan, lining the bottom with a circle of parchment. Set aside. Attach the beater attachments to the Braun MultiMix Hand Mixer to get it ready to use. 
Vanilla cake batter
In a bowl, with the hand mixer, stir together the flour, baking powder, and salt. Set aside.

In a large bowl, beat together the butter and the sugar until it is well mixed, light and fluffy. Mix in the vanilla, and then the eggs, one at a time. Be sure to move the mixer around the edges of the bowl to make sure the ingredients are well mixed.

Alternate adding the flour mixture and the milk, beginning and ending with the flour. Stir just to combine on a lower speed.

Transfer the vanilla cake batter to the prepared pan and smooth it out.
Apple filling
In a bowl, combine the chopped apple with the lemon juice and the spices. Stir well then dollop the apple filling over the cake batter, spreading it into an even layer.
Crumble topping
In a bowl using the electric mixer fitted with the beater attachments, cream together the butter, the sugar, and the salt. Make sure it is creamy and well mixed before adding the flour and oats. The crumble will have the texture of cookie dough.

Using your fingers, crumble chunks of cookie dough over the apple layer so that it is completely covered.

Bake the cake for about 1 hour 15 minutes or until a cake tester inserted into the middle comes out clean.

Let the cake cool on a wire rack for 20 to 30 minutes before removing the springform ring. The cake should unmold quite cleanly. You may need to release the sides with the help of a thin knife.
Notes
This cake recipe was developed to work well with an electric hand mixer like this Braun MultiMix 5 Hand Mixer (available to order from Amazon).
For baking, I like to use Cortland apples, but use any tart apple, though some like the McIntosh might break down a little more in the oven (that's okay!).
Nutrition
Serving:
1
slice of cake
Calories:
342
kcal
Carbohydrates:
48
g
Protein:
4
g
Fat:
14
g
Saturated Fat:
8
g
Cholesterol:
68
mg
Sodium:
142
mg
Potassium:
181
mg
Fiber:
2
g
Sugar:
26
g
Vitamin A:
485
IU
Vitamin C:
2.2
mg
Calcium:
68
mg
Iron:
1.6
mg
This post is sponsored byBraun/De'Longhi. I was compensated monetarily and with product. Thanks for supporting the companies that allow me to create content for Kitchen Heals Soul. As always, please know that I wouldn't work with a sponsor nor recommend a product if it wasn't worth it.
Please note this post contains affiliate links to Amazon. As an Amazon Associate I earn from qualifying purchases. If you buy a product I recommend, I will get a small commission, and the price you have to pay will not change in any way.
This is a sponsored conversation written by me on behalf of Braun. The opinions and text are all mine.