This healthy yogurt parfait recipe post is sponsored by SweeTango apples.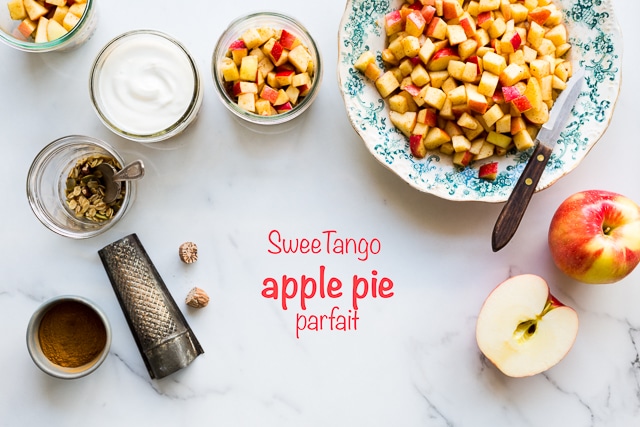 Disclosure: As an Amazon Associate, I earn from qualifying purchases.
The best yogurt breakfast bowls must have 3 components:
Yogurt or Greek yogurt: I stick to plain yogurt for my yogurt bowls because it's more versatile and it means you can add toppings to bring flavour and control the level of sweetness (and of sugar) in your breakfast. The fat content of the yogurt you use is entirely personal preference. I always have 2% plain yogurt or 0% to 5% Greek yogurt in my fridge. I use 9% fat greek yogurt if I'm looking for a more decadent treat. It's really up to you (and your dietary needs and preferences) which yogurt you choose.
Fruit: I usually stick to summer berries, but now that the local summer fruit have all just about disappeared from the market stands, I found myself wondering how to handle this when it comes to my infamous yogurt bowls. Normally, I switch to frozen berries, but that seems like the laziest answer to this "problem." Plus, I feel as though I got my fill of berries this summer. I am ready to move on to something different. Apples and fall fruit, diced and spiced, work great in this recipe.
Crunchy toppings: this is the fun part, where you can really go crazy and get creative. As a rule, I like to add granola (preferably homemade), nuts (such as almonds, cashews, pistachios, and peanuts), and seeds (like chia seeds, pumpkin seeds, sunflower seeds, and sesame seeds) . I keep a batch of granola clusters in a jar on my counter at all times for my yogurt breakfast bowls. During the Christmas season, I even make gingerbread granola for the ultimate healthy holiday breakfast. If I am feeling lazy, I have been known to top my yogurt bowls with dry cereal, like plain Cheerios or All Bran.
Sweetener (optional): I usually don't add any other ingredients to yogurt bowls to sweeten them. If you are layering in granola, granola has plenty of sugar, maple syrup, or honey that you don't need to add anything else. If you use ripe berries, orchard fruit, or stone fruit, usually the fruit brings enough sweetness to the bowl too. Making the bowl with sweetened plain or vanilla yogurt is another great way to add a little sweetness without too many calories (if you're counting).
What makes the best yogurt bowls?
A better solution would be to use what's in season: SweeTango apples, which are a cross between the beloved Honeycrisp and the tangy Zestar! apple varieties. SweeTango is a premium apple variety, some of which are grown in Nova Scotia and parts of the U.S.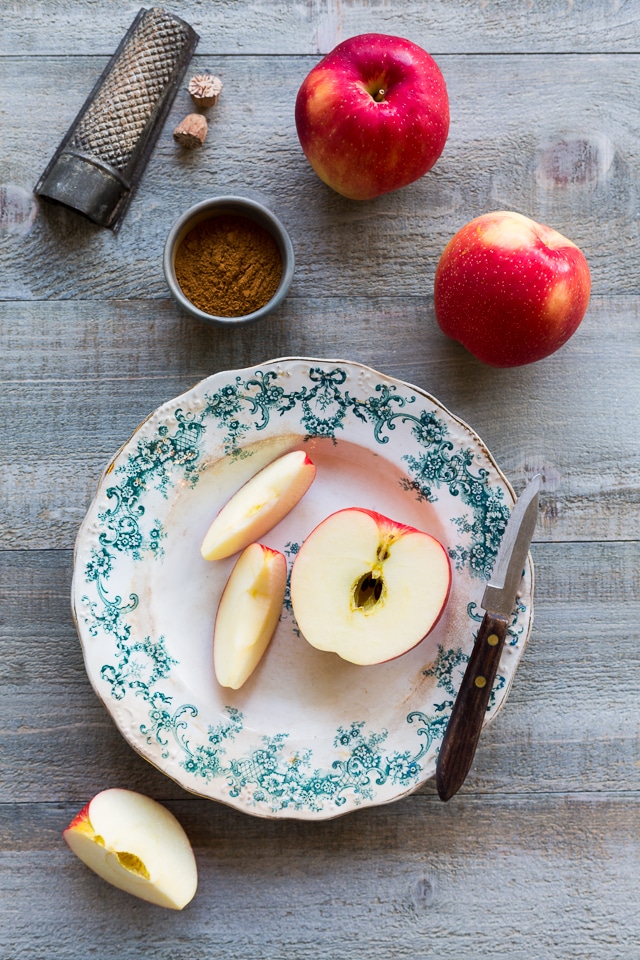 The season starts in early September and ends when they're gone, typically in December, and they are available in many grocery stores across the U.S. and Canada. What I love about SweeTango apples is that they are juicy and crunchy, which makes them perfect for a sweet apple pie filling that I can serve over a big bowl of yogurt for breakfast or even as a yogurt parfait.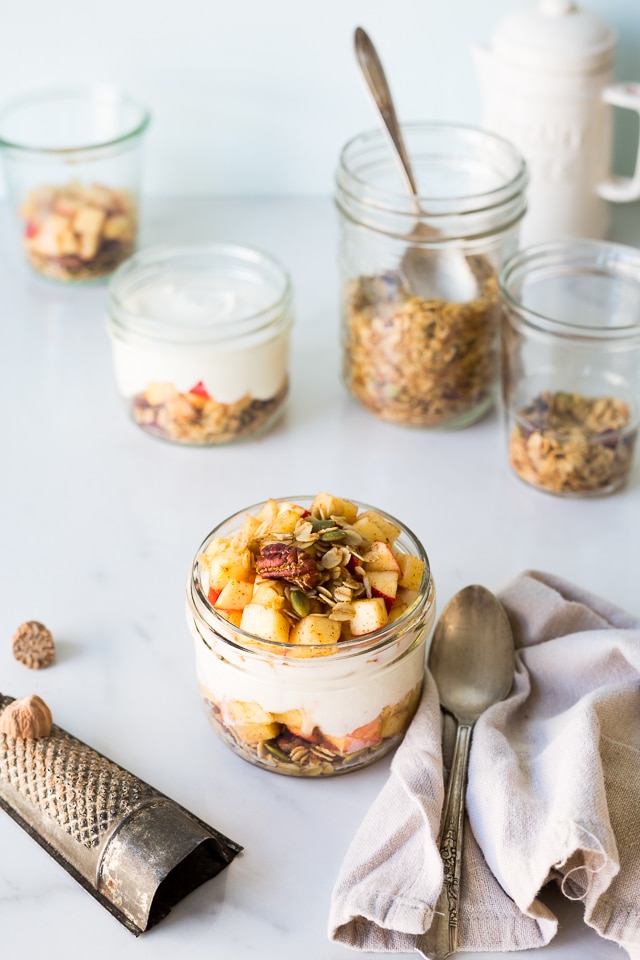 For this apple pie parfait recipe, visit the SweeTango recipe page. And for more information about SweeTango apples, visit the SweeTango website.
If you need a granola recipe to get you started, try this recipe for granola clusters.

This post is sponsored by SweeTango apples. I was compensated monetarily. Thanks for supporting the companies that allow me to create content for Kitchen Heals Soul. As always, please know that I wouldn't work with a sponsor nor recommend a product if it wasn't worth it.