I know you saw the title of this post and thought to yourself: "Not another granola recipe," but if you struggle to get clusters of granola and to make crispy clumps of granola, as opposed to loose granola, this post is for you!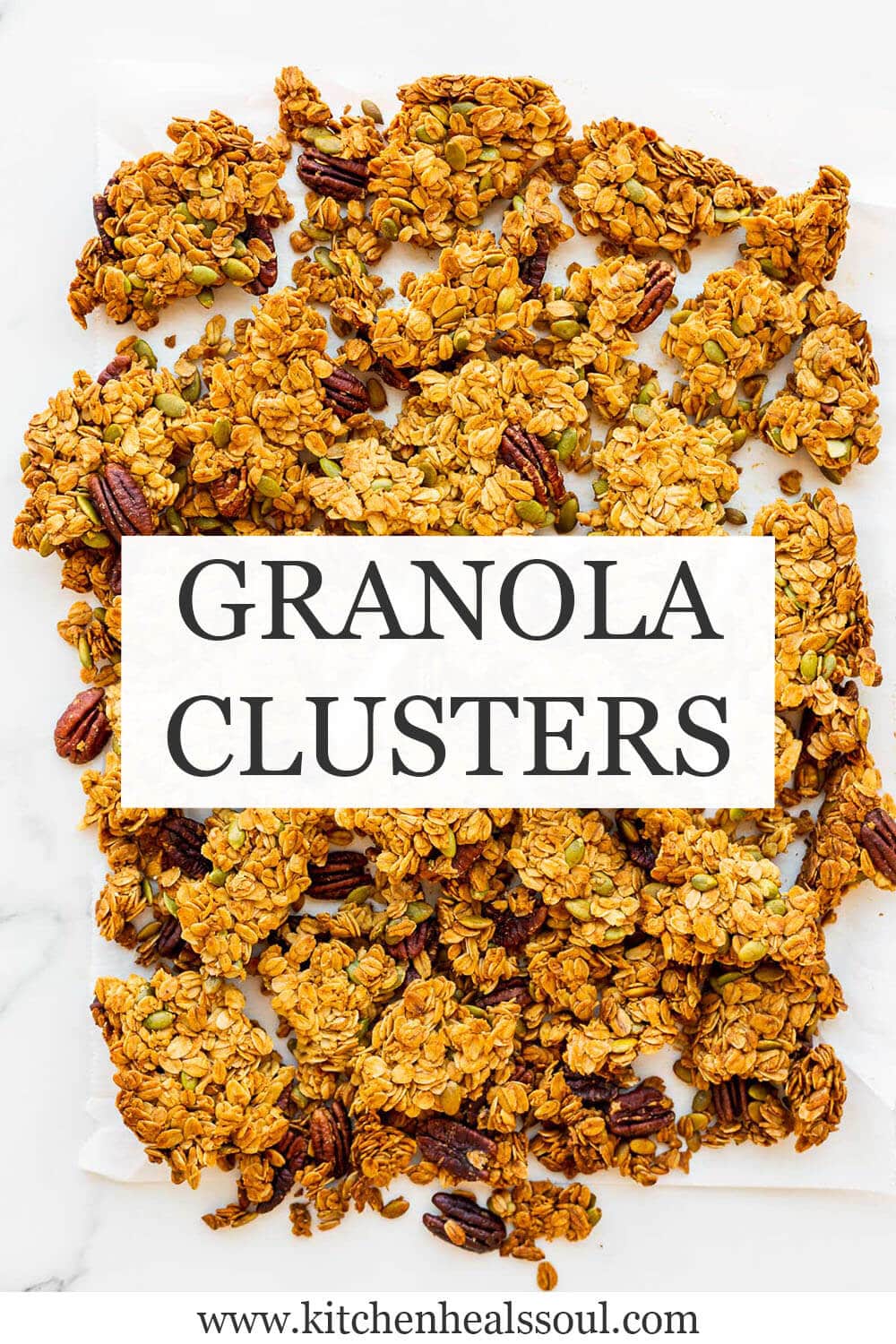 Disclosure: As an Amazon Associate, I earn from qualifying purchases.
I have been looking for a baking method that yields clusters of granola as opposed to a loose mix. I tried stirring a lot as the granola bakes, and I tried stirring a little, but none of my methods made truly clumped granola. It was always tasty, but never as clustered or clumped as I wanted.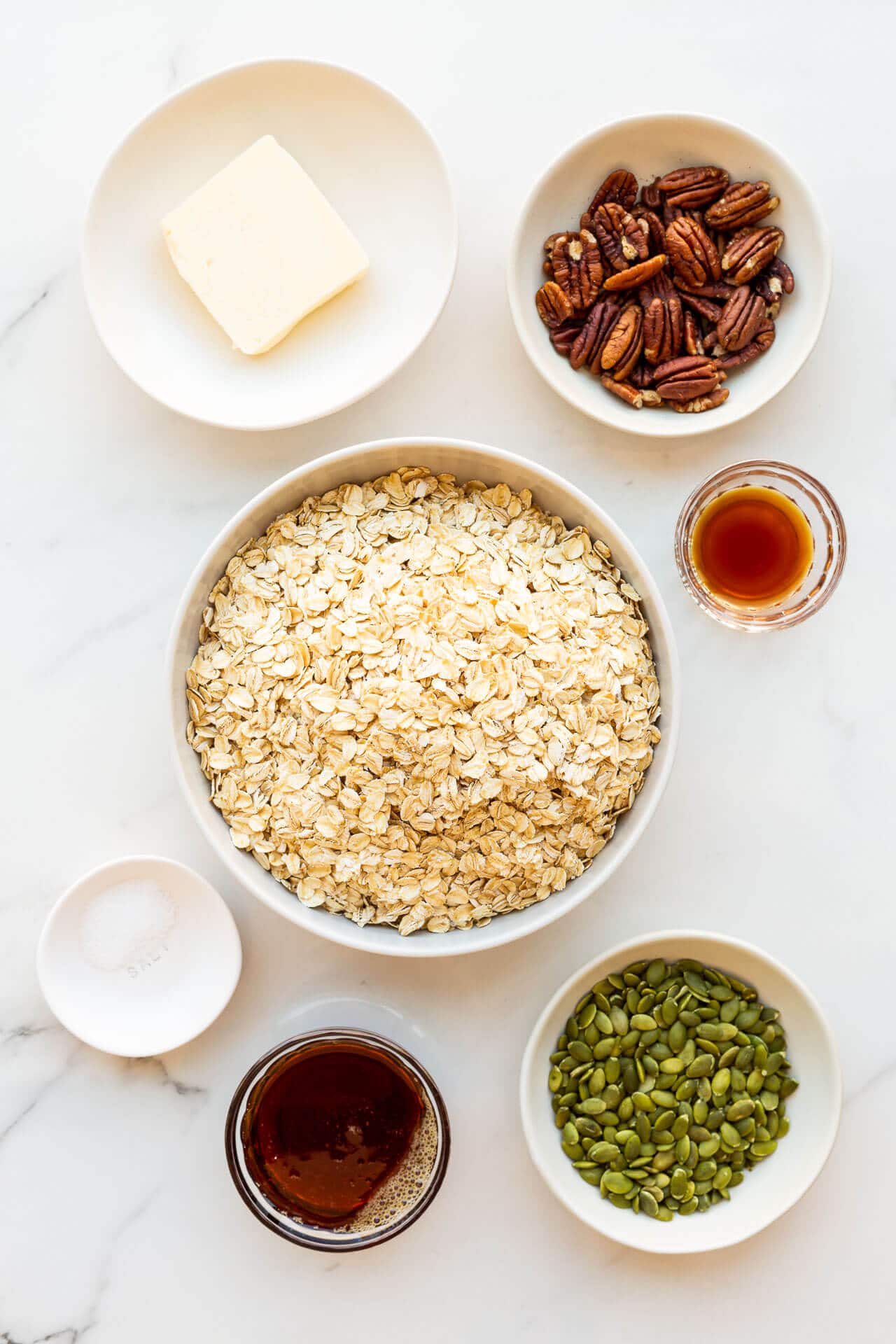 Then, I tried using a smaller rimmed cookie sheet (a quarter sheet pan to be exact), and I patted out and pressed the granola into a thick, dense, even layer from rim to rim. I baked it for 40 minutes straight without stirring. Then I cooled it completely in the pan on a wire rack.
That's it, that's all. Seriously. That's the secret to get clusters of granola. It's THAT simple! I just patted it tight and baked it for a long time without touching it.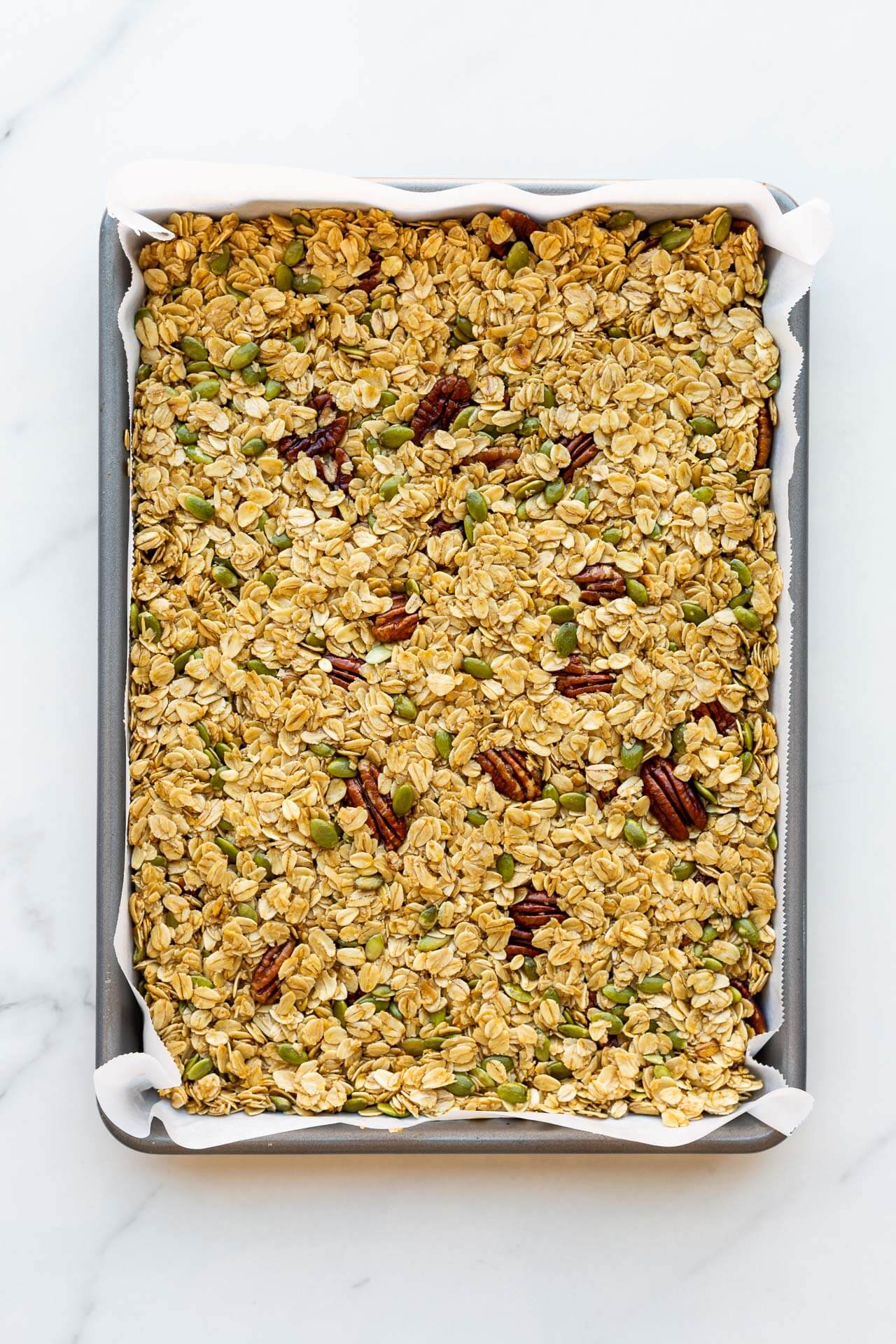 Ways of making granola clusters
There are actually 4 ways of getting granola to cluster as it bakes:
add egg whites to your granola before baking: the egg whites will glue the oats together as the granola bakes, yielding a shiny, crunchy granola that is clustered
add flour or starches and water to your granola recipe: this is a trick many use for granola bars, but I wasn't interested in adding more ingredients to my granola recipe
stir the granola less and use lots of sugar or syrup: the sugar, maple syrup, or honey that is coating all the oats will act as a glue as it melts and dries up, making crispy granola clusters
press the granola in a smaller sheet pan: pretend you are making one giant granola cookie, or like you are making the base to a batch of date squares, so you just spread the granola so that it fills the pan in one even layer from rim to rim, then press it firmly so that there are no holes or gaps, and bake like this, untouched. Let it cool without touching it, and you will have a sheet of granola that you can break up in clusters of the size you want!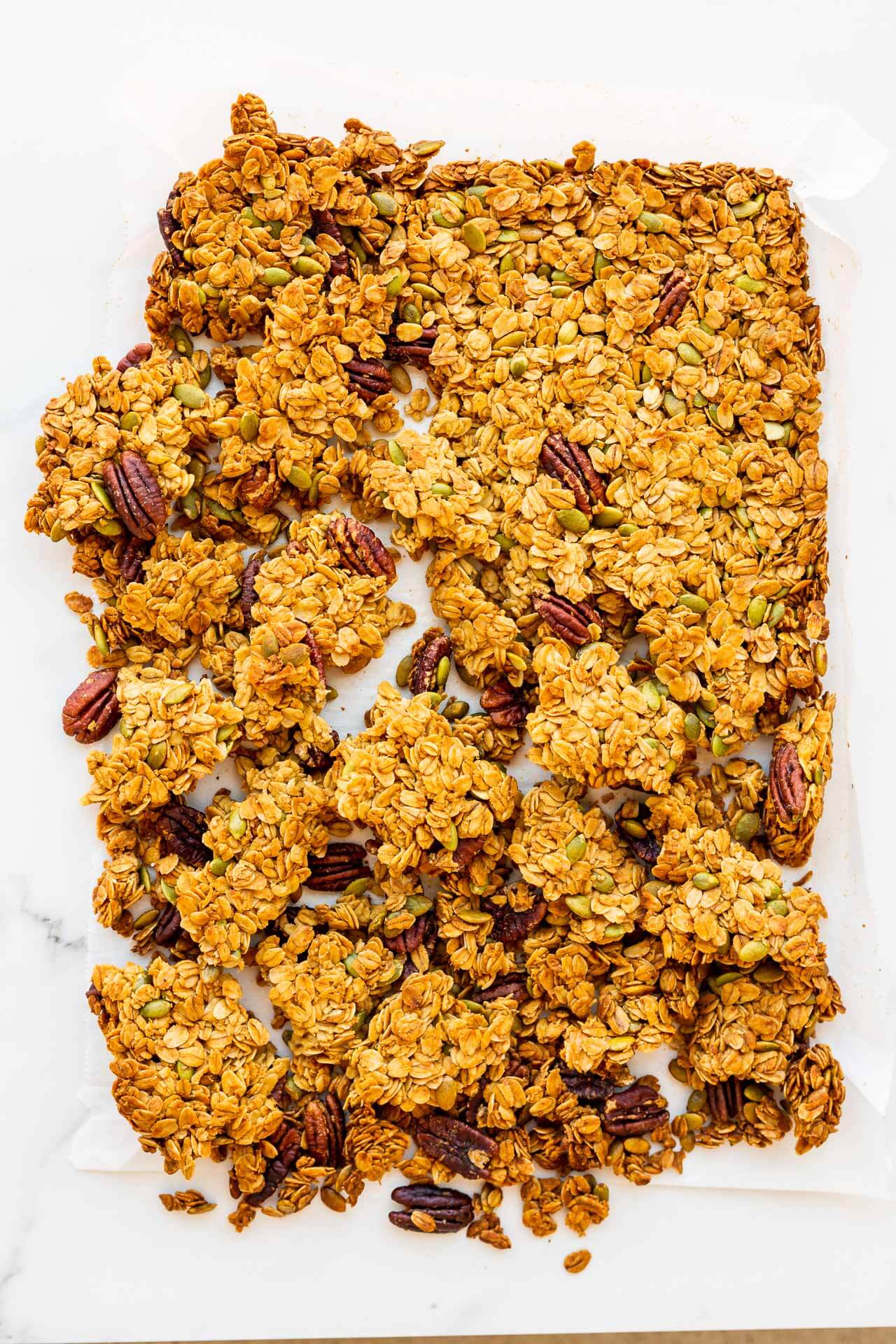 Formula for customizing granola clusters
Because I'm a scientist, I like to turn most of my recipes into formulas that are easy to customize, so here is the formula for clustered, clumpy granola that can be customized according to what you've got in your pantry.
4 cups oats: this is your base and it's the constant in the formula. Don't mess with this ingredient, though if you are gluten-free, make sure to buy certified gluten-free oats because regular oats may be contaminated. Use large flake oats, also called rolled oats or old-fashioned oats.
1 cup nuts & seeds: this can be almonds, pistachios, walnuts, pecans, flaked coconut, sunflower seeds, pumpkin seeds... it all works, just make sure to use roughly 1 cup. For larger nuts, you can chop them!
½ cup fat: this can be butter, canola oil, coconut oil, or even a flavourful fruity olive oil to make olive oil granola!
½ cup sugar: this can be brown sugar (light or dark), maple syrup, or honey. I've even used molasses to make gingerbread granola. Coconut sugar is also great here, but maybe combine it with another sugar because coconut sugar is expensive and very flavourful
½ teaspoon salt: start with this and adjust to your taste. Some people like a "saltier" granola. Salt brings out the other flavours and makes granola taste less bland. Don't skimp on the salt!
¼–1 teaspoon spices: these are optional, unlike the salt. The amount you use will vary according to the spice. Use more ground cinnamon and ground ginger than you would use nutmeg for example. Start with 1 teaspoon cinnamon, but ¼–½ teaspoon nutmeg, for example. You can try cardamom or allspice in this recipe too.
¼–2 teaspoons flavour extracts: you can add extracts, like vanilla extract or almond extract. Use 1–2 teaspoons of vanilla, or ¼ teaspoon of almond extract (it's potent so don't use too much). If you have vanilla paste, you can replace vanilla extract with vanilla bean paste in this recipe, or even artificial vanilla (but use less!).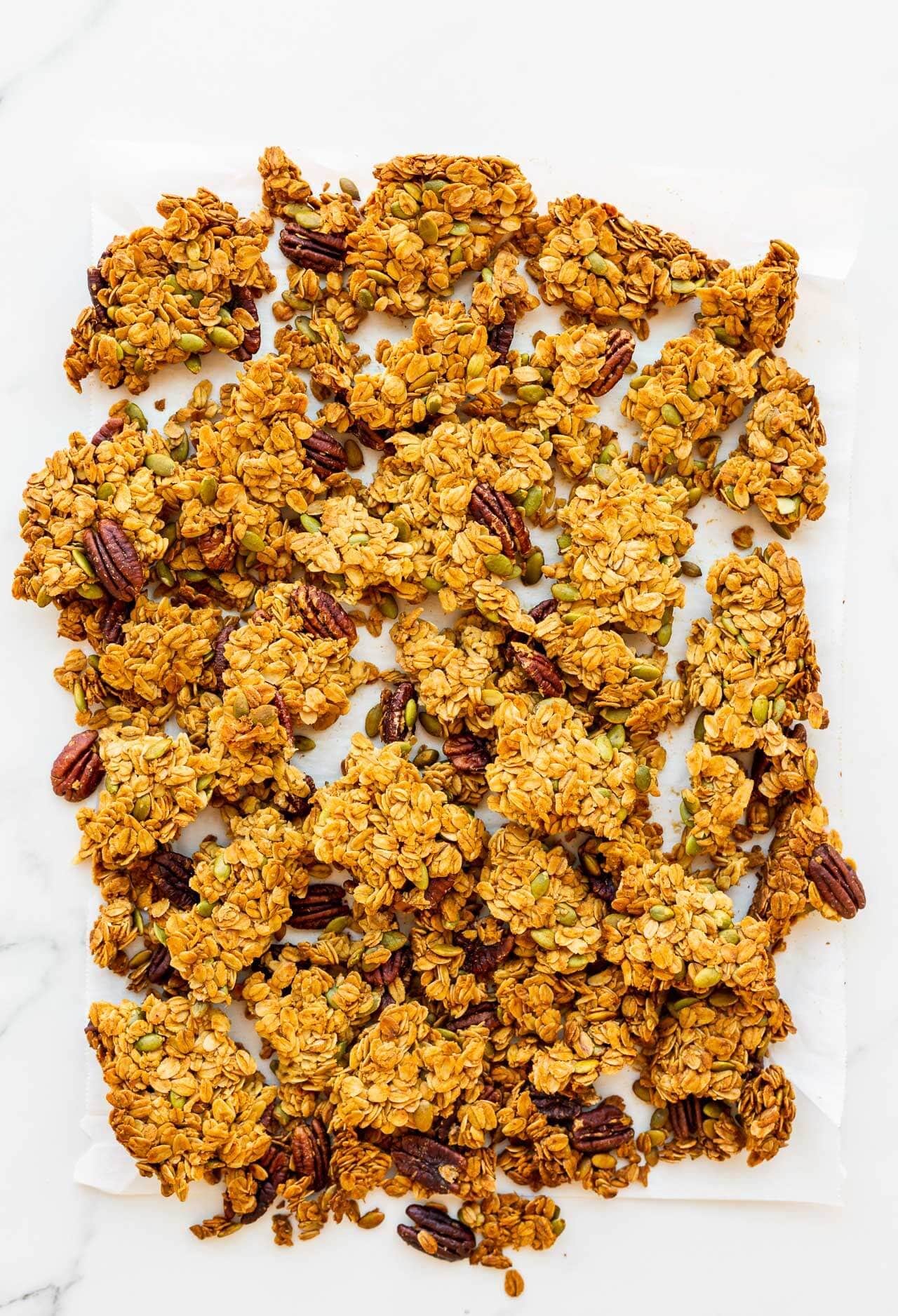 Now you can finally make perfectly clustered granola just the way you like it. And that is why I had to blog about granola, yet again.
Feel free to use this granola to make an apple pie yogurt parfait or to add to a yogurt bowl.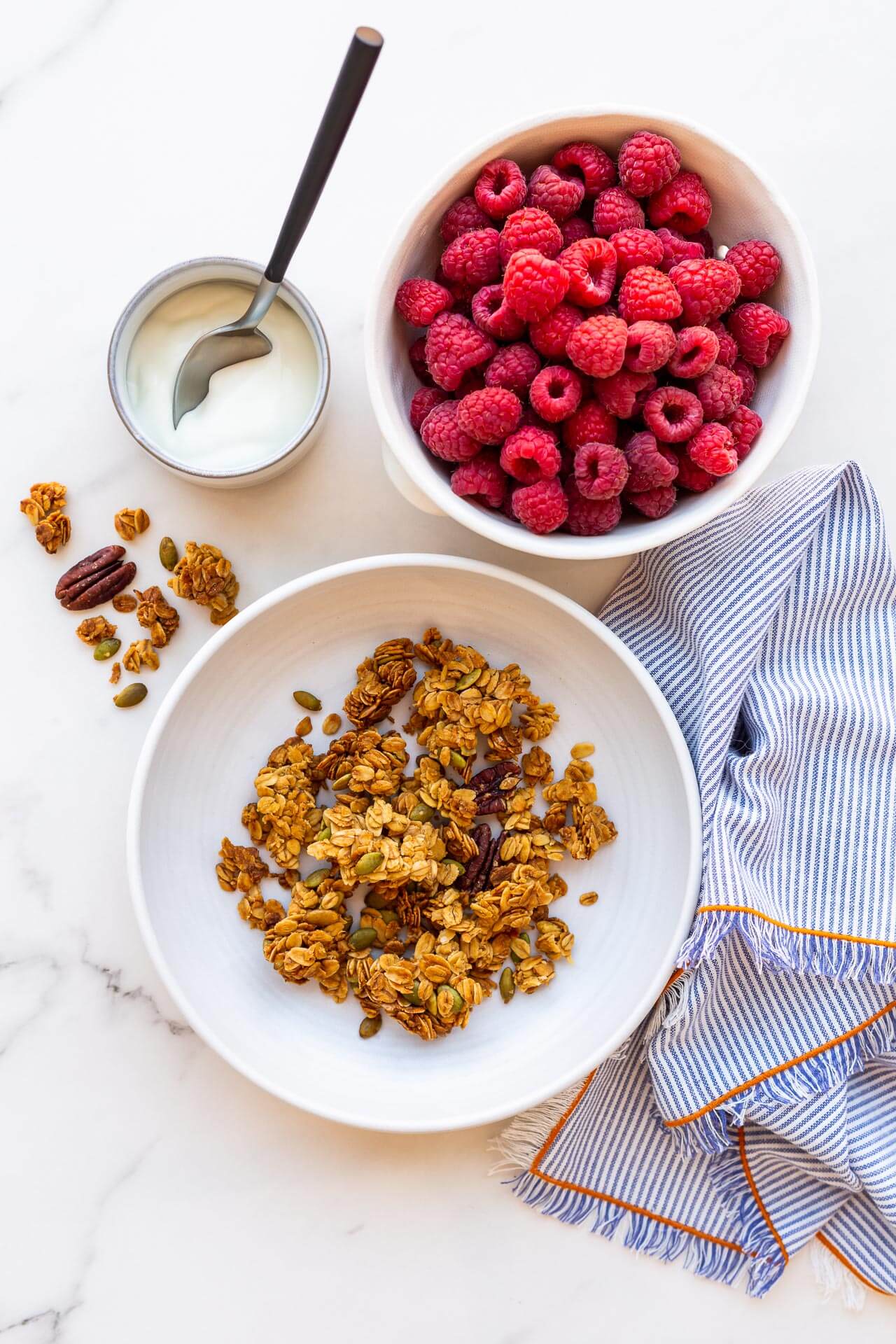 📖 Recipe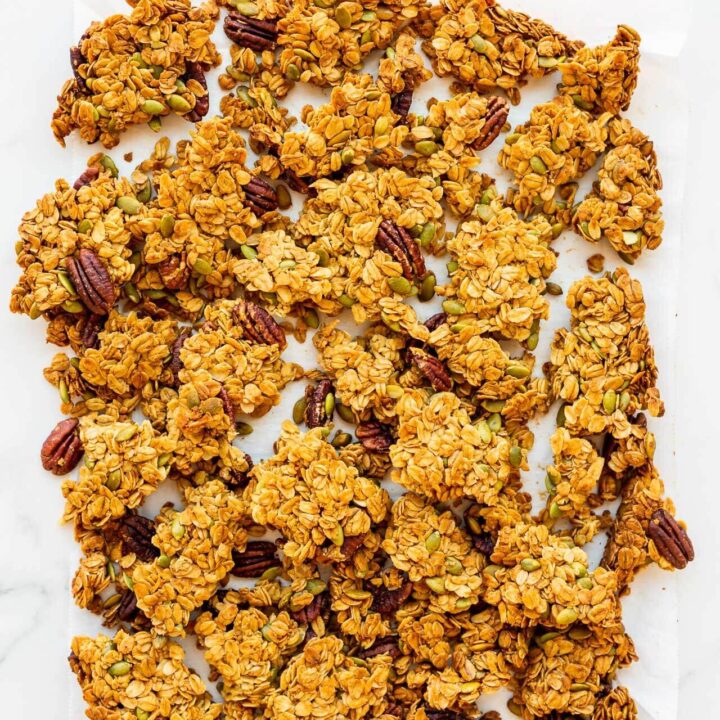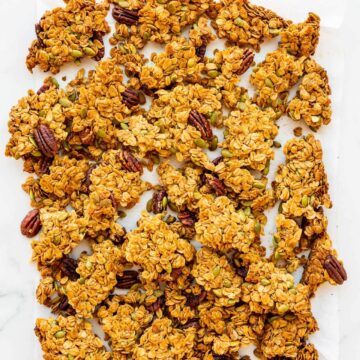 Granola Clusters
Learn how to make granola clusters, for real, with this easy recipe and formula so you can customize it to make your version of perfect granola!
Instructions
Preheat the oven to 325°F (165 °C). Line a rimmed quarter sheet pan with parchment and set aside.

In a medium bowl, combine the oats and the nuts.

In a 1 cup measuring cup, combine the coconut oil (melted) with the maple syrup, salt, and vanilla, and then pour it over the oat mixture.

Stir the oat mixture to evenly coat all the dry ingredients then pour it out into the prepared sheet pan.

Spread the mixture from rim to rim and compact it/press it flat with a flat-bottomed glass.

Bake for about 40 minutes or until the edges begin to brown.

Cool the granola completely, then break up the granola slab into clusters and transfer to a large container to store.
Nutrition
Calories:
348
kcal
Carbohydrates:
37
g
Protein:
7
g
Fat:
20
g
Saturated Fat:
11
g
Sodium:
121
mg
Potassium:
239
mg
Fiber:
5
g
Sugar:
10
g
Calcium:
44
mg
Iron:
2
mg