Everybody loves waffles. Here's a super quick and easy waffle recipe made from ingredients you most definitely have already, but you will need to invest in a waffle maker or a waffle iron to make these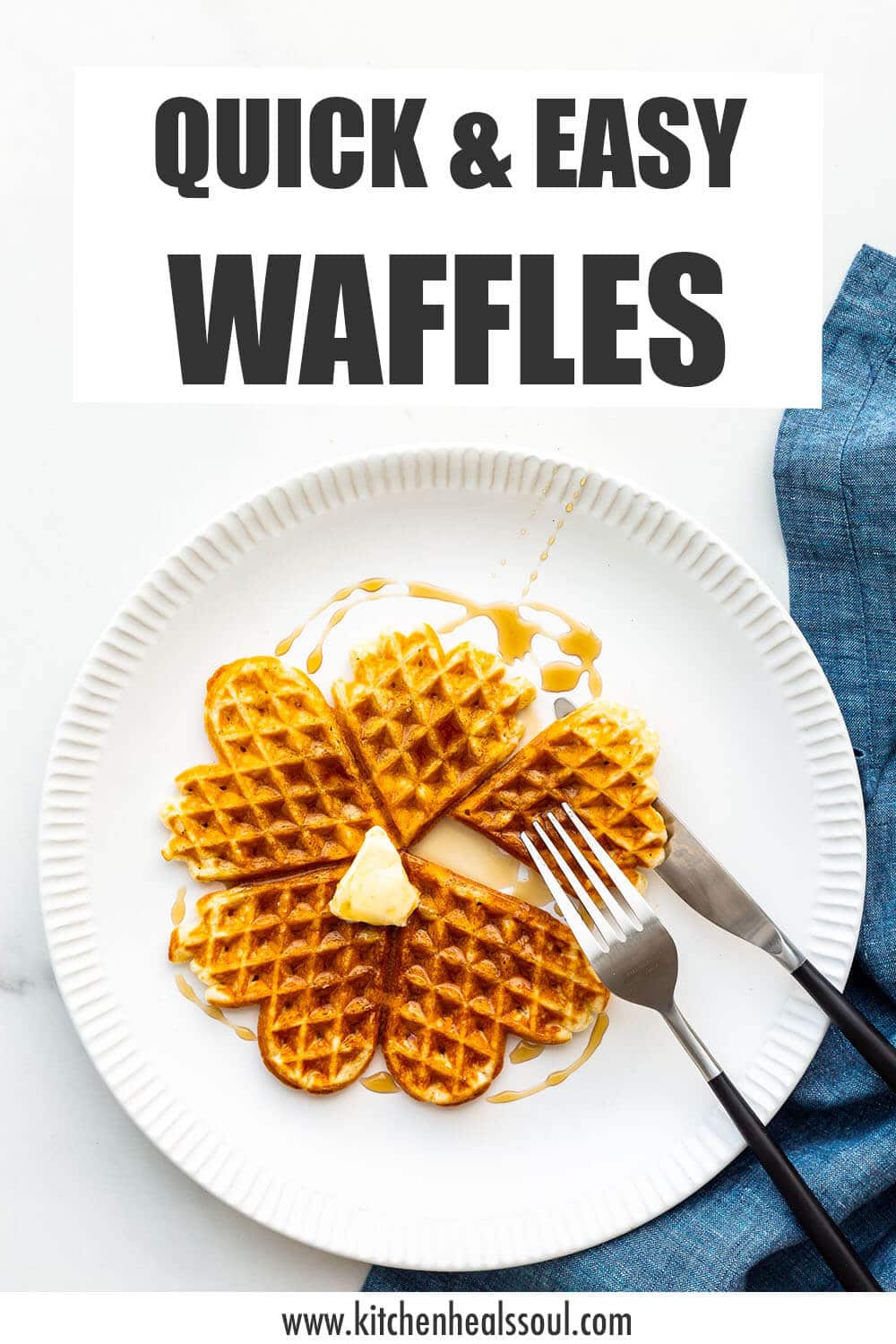 Disclosure: As an Amazon Associate, I earn from qualifying purchases.
The ingredients for most waffles are pretty much the same, flour, eggs, leavening agents (usually baking powder, though sometimes yeast) milk, sugar, and a little fat, whether that's from oil or melted butter. Sometimes you might add a little vanilla for flavour, or some spices. You may bake with whole grain flours to make multi-grain waffles or all-purpose. Still the basic recipes are often very similar.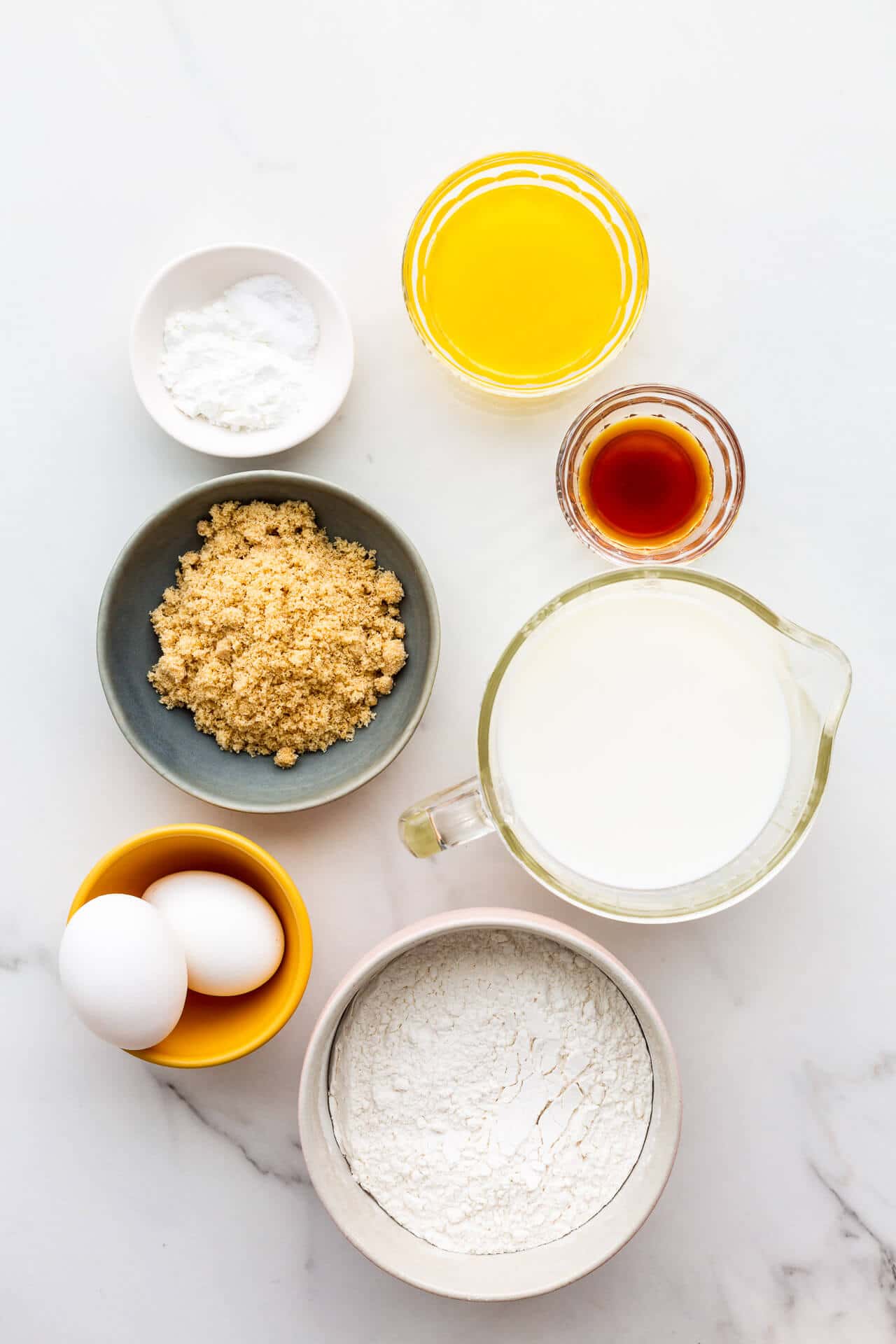 Though the ingredients from one recipe to another are pretty much the same, the mixing method to make the batter is where you will notice big differences.
Some recipes will have you use the two bowl method, also called the muffin method where all the wet ingredients are mixed in one bowl and the dry in another bowl before combining the two. It's that easy.
Actually you could bypass the second bowl and mix everything in one bowl and nobody will notice the difference, to be honest. Start with a very big bowl and combine all the dry. Make a well in the centre and pour all the wet ingredients in the well so that you can mix them together first before incorporating in the flour.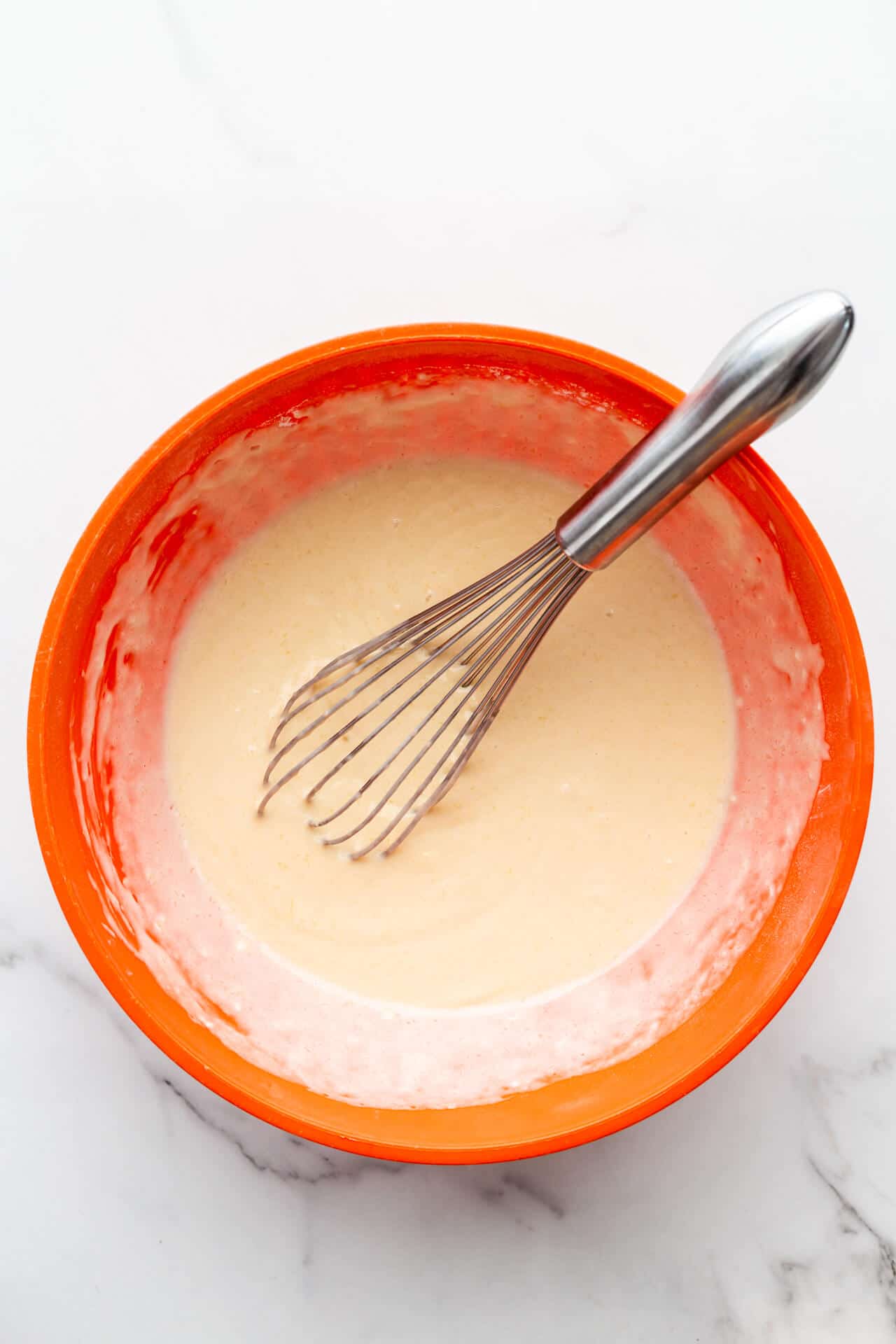 While chemical leaveners and water are responsible for much of the rise in waffles, some recipes will go to the trouble of separating the egg yolks from the whites.
The yolks get mixed with the other wet ingredients, while the whites are beaten until firm peaks form. An extra step to mechanically incorporate more air into the whites before folding them into the batter. Some claim this step is essential. I am indifferent on the subject, and quite frankly, I just want waffles and I don't feel like whipping egg whites in the morning.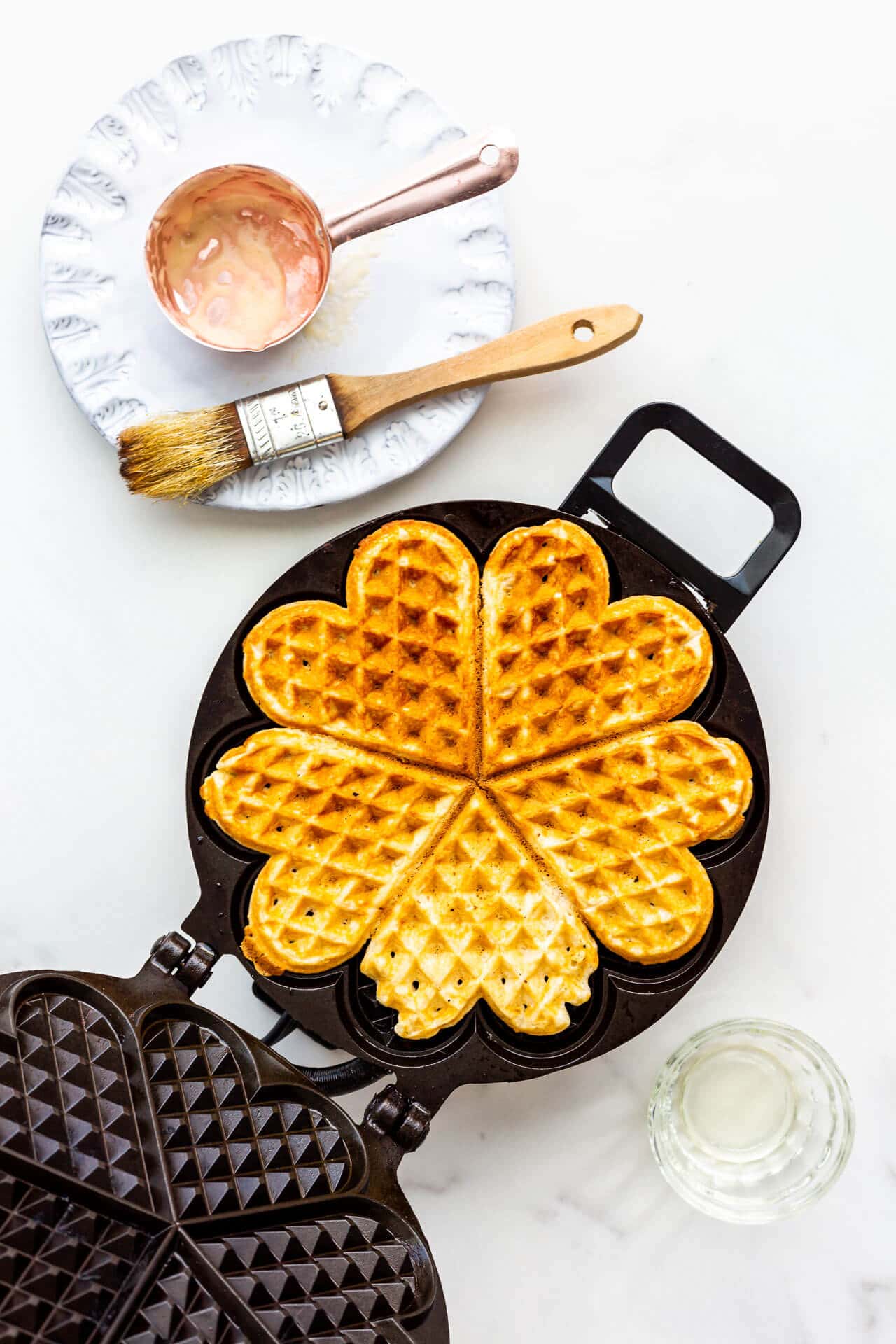 The number one trick for making waffles is using a good waffle maker. I use a very old waffle maker from the '90s. It gets the job done though you can see from my photos that the heat is uneven at times. If I were to replace it with something affordable, the Cuisinart has the best reviews on Amazon.
If you are looking to invest and want to make waffles often, I highly suggest the Breville waffle maker which is equipped with a moat on the sides: this way you can overfill the waffle maker with batter, making sure that you cook big, thick waffles, without wasting the excess batter, which flows down the moat allowing you to reuse the leftovers. I got to play with this model once on a photoshoot and I was blown away. Plus it makes 4 waffles at a time!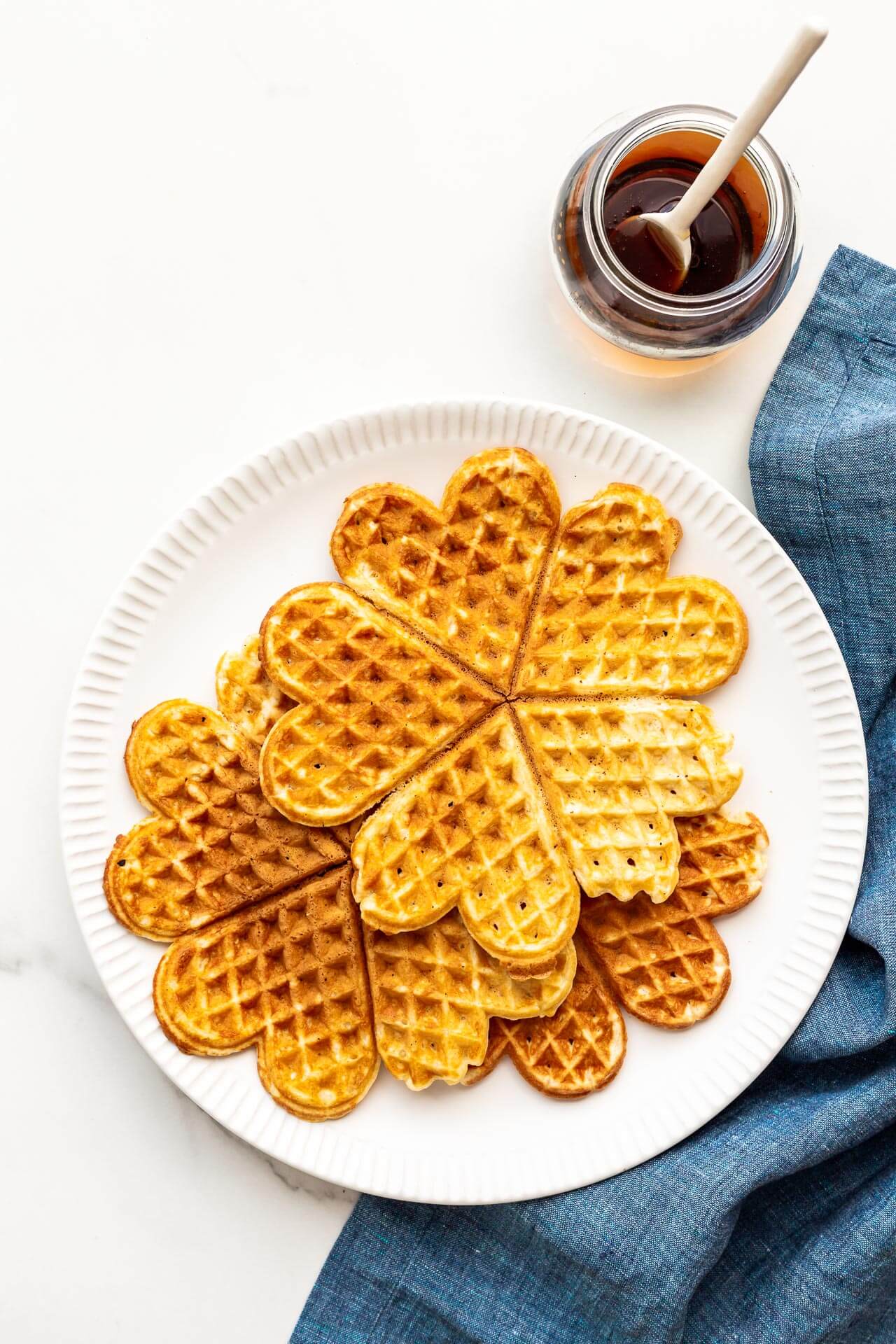 The Breville waffle maker makes Belgian style, square waffles that are very thick. This means it requires more batter than most basic waffle makers. You will have to double or triple the batter to have enough if you want to make a big batch of them.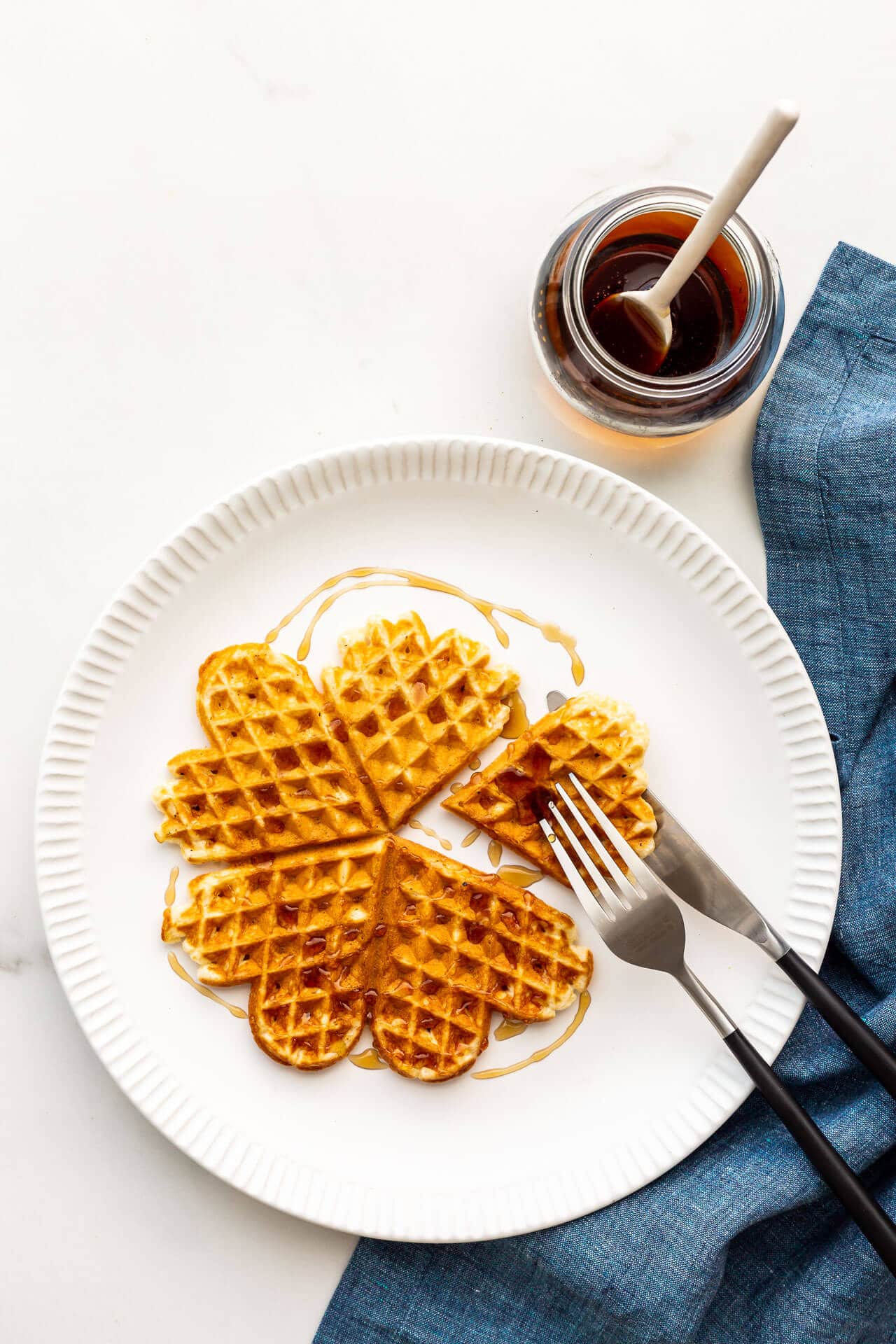 If you just want to throw together some batter and make a batch of plain waffles, this is the recipe for you because it's very easy. Feel free to jazz it up and sprinkle some berries over the battle before closing the lid! I've added cranberries to this recipe to make cranberry waffles to serve with eggnog crème anglaise over the holidays.
📖 Recipe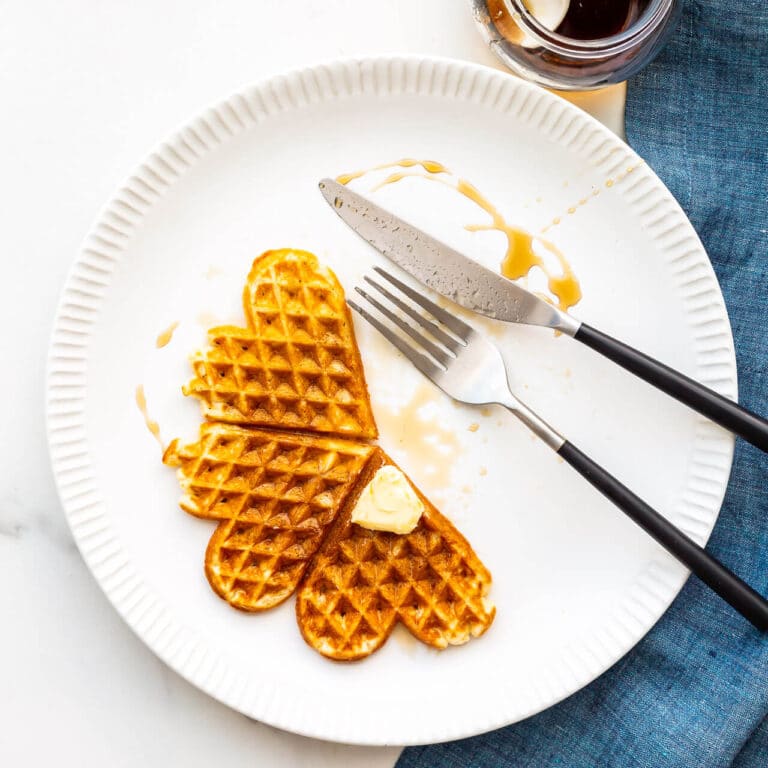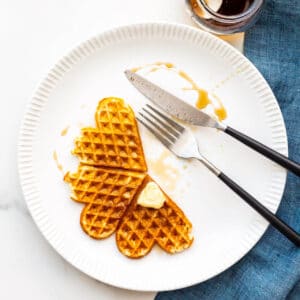 Plain Waffles
These plain waffles are the perfect easy breakfast when you want waffles quick, without any fuss!
Ingredients
250

grams

bleached all-purpose flour

15

mL

baking powder

375

mL

whole milk (3.25 % fat)

50

grams

light brown sugar

2

large egg(s)

5

mL

pure vanilla extract

58

grams

unsalted butter

melted and cooled slightly

Cooking spray or melted butter to grease the waffle iron
Instructions
In a large bowl, whisk together the flour, the baking powder, and the salt.

In a separate bowl, whisk together the whole milk, brown sugar, eggs, and the vanilla.

Pour the wet ingredients over the dry, along with the melted butter, then stir to combine.

Let the batter sit for 30 minutes.

Preheat a waffle iron. Grease the waffle iron then cook waffles according to waffle maker instructions. The amount of batter per waffle varies according to the capacity of the waffle iron.

Keep the cooked waffles on a cookie sheet in a preheated low temperature oven until you are ready to serve.
Notes
The number of waffles you make is entirely dependant on the type of waffle maker you use and the amount of batter per waffle.
Feel free to sprinkle berries over the batter just before closing the lid.
Calories calculated for 1 waffle
Nutrition
Calories:
190
kcal
Carbohydrates:
27
g
Protein:
5
g
Fat:
7
g
Saturated Fat:
4
g
Trans Fat:
1
g
Cholesterol:
49
mg
Sodium:
129
mg
Potassium:
249
mg
Fiber:
1
g
Sugar:
7
g
Vitamin A:
253
IU
Calcium:
122
mg
Iron:
1
mg
Frequently asked questions
How do you store waffles?
Once cooled, store waffles in the refrigerator in an air-tight bag. For longer storage, I recommend freezing them on a sheetpan, then once frozen solid, transferring to an air-tight bag. This way you can remove one frozen waffle at a time and warm it in the microwave, the toaster oven, or even the toaster (if it fits).
Why are my waffles soggy?
Once you have cooked your waffles, if you stack them one on top of the other when still hot, they will release steam, which will soften them and make them quite soggy. If you want them to stay crispy, you should place the cooked waffles in a single layer on a wire rack fitted over a baking sheet and keep them in a warm oven until you are ready to serve them. Do not stack them or they will become soggy.