The best Dutch baby pancake recipe from The Vanilla Bean Baking Book by Sarah Kieffer. This Dutch Baby is easy to make and rises beautifully in the oven into the most impressive pancake. This recipe works well, even if you don't have a cast-iron skillet! You can bake it in a regular non-stick fry pan! This is a fantastic, very easy recipe to make for weekend brunch or breakfast.
As an Amazon Associate I earn from qualifying purchases.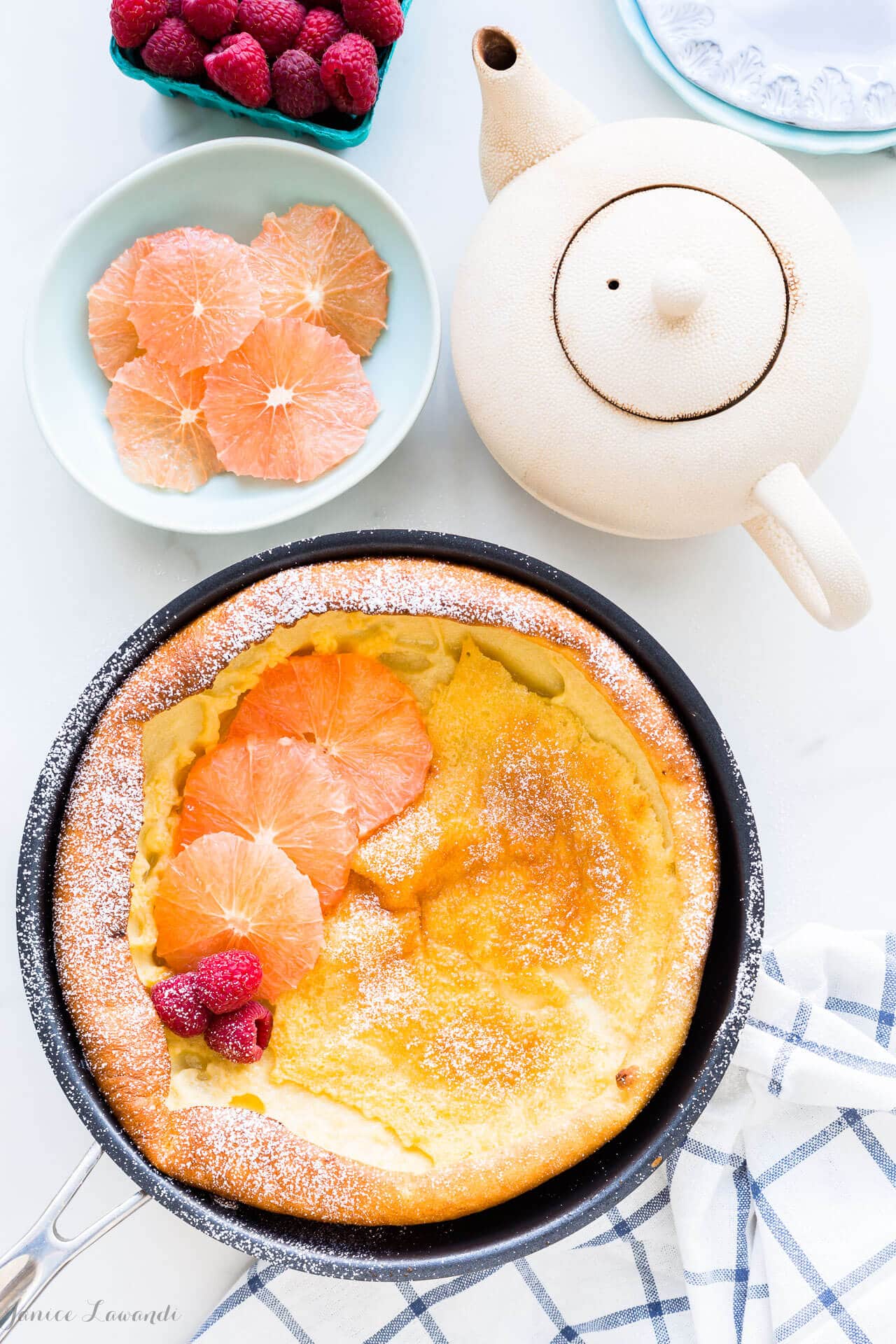 Disclosure: As an Amazon Associate, I earn from qualifying purchases.
After spending a lot of time baking through The Vanilla Bean Baking Book, I debated over which of the recipes I would share with you because I thoroughly enjoyed each and every one of the recipes I tried: the cookies for the crazy pan-banging technique, the bundt cake because it turned out so beautifully...
In the end, I decided I had to share the Dutch Baby pancake recipe (page 48) because it was really life-changing for me. I made Dutch Baby pancakes every weekend for a month and consumed an entire can of maple syrup in the process (which is like 540 mL of syrup, I am embarrassed to admit). I was obsessed!
Why is it called a Dutch Baby?
The Dutch Baby is quite different from the usual greek yogurt pancakes or spiced pancakes we've all made before. The Dutch Baby reminds me of a giant Yorkshire pudding, to be honest. It's also known as a Bismarck or a German pancake. Dutch probably refers to the word Deutsch meaning German, go figure. The Dutch Baby is made from a batter of eggs, flour, milk, and a little sugar, baked in a skillet.
So what do I think of The Vanilla Bean Baking Book? It's a trustworthy go-to book for classic baked goods done well and it is definitely worth the investment. The chapters cover most baked goods, from Morning Bakes (like scones and breads) to Pies + Tarts, Cookies + Bars, Party Cakes, and even No Churn Ice Cream. The recipes are clearly written and they work beautifully. To purchase a copy of The Vanilla Bean Baking Book by Sarah Kieffer, visit Amazon.
Toppings for Dutch baby pancakes
In terms of toppings, you have many options. I like to top them or serve them with fresh fruit, especially berries. Sautéed apple would work great, as well as poached quince or roasted rhubarb. I can imagine filling a Dutch baby pancake with sliced bananas and chocolate sauce too. The Dutch baby is just a base that you can get very creative with when it comes time to serve it.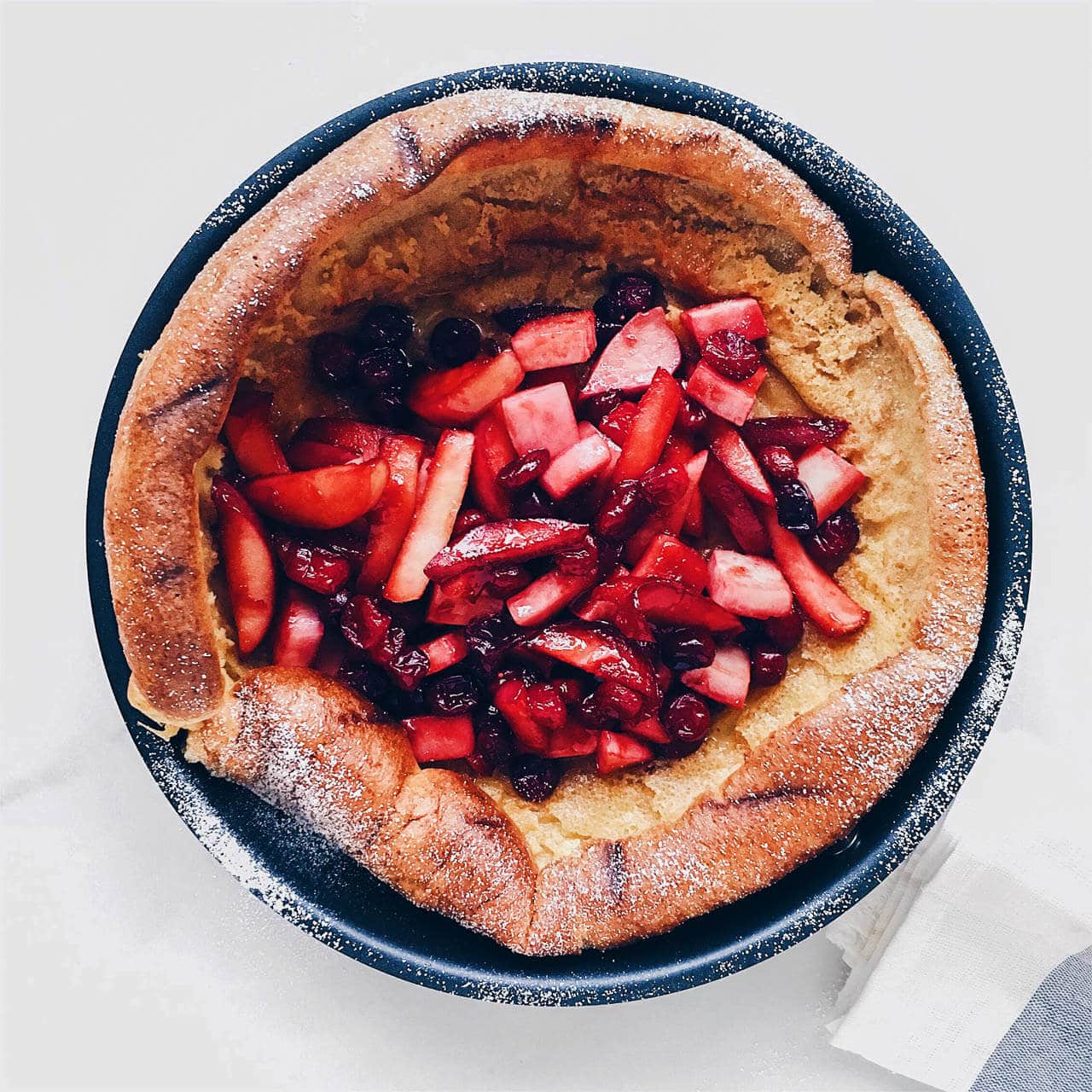 Here's how to make a Dutch Baby pancake at home.If you ever asked yourself "can you make pancakes in the oven?", this Dutch Baby pancake recipe is the answer to your question because it's a big puffy pancake that is cooked in a skillet in the oven. This recipe is easy and takes a lot of the stress out of serving pancakes for brunch!
📖 Recipe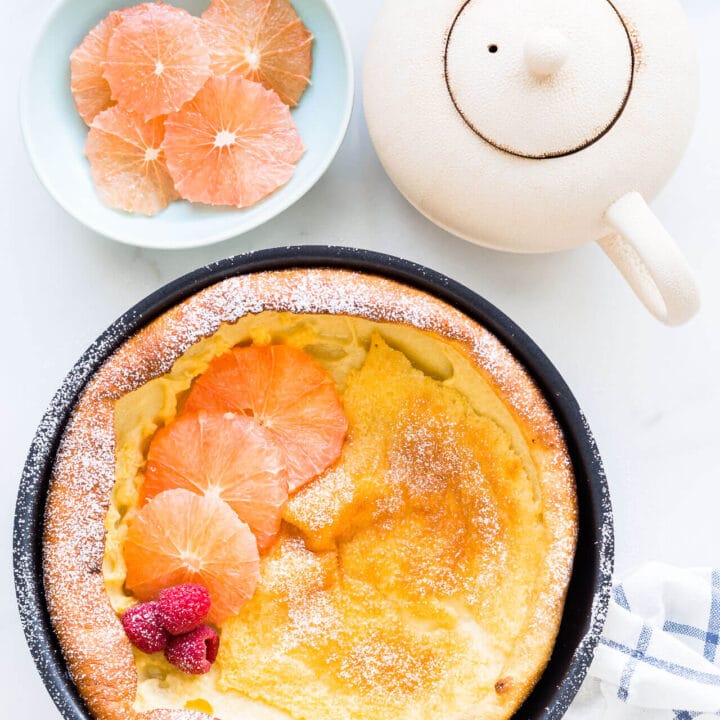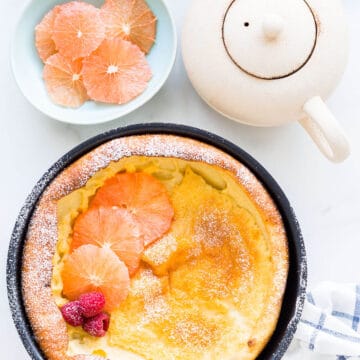 Dutch Baby Pancake
This Dutch baby pancake recipe works every time. It's easy to make for breakfast or brunch and it's a great alternative to pancakes.
Instructions
Make sure one of the oven racks is set in the middle, then preheat the oven to 450ºF (230 °C). 

In a large bowl, whisk together the flour, cornstarch, sugar, and salt.

In a large measuring cup, whisk together the milk, eggs, and vanilla extract.

Whisk one third of the wet mixture into the flour mixture until it's smooth, then slowly add the rest of the wet mixture, whisking until smooth.

Place the butter in a 10 inch cast iron skillet (see note!) and place it into the oven for 3 to 4 minutes or until the butter has melted and starts to sizzle.

Remove the cast iron skillet from the oven (watch out because the handle is burning hot so make sure to wear oven mitts) and pour the batter into the pan. Immediately return the skillet to the oven and bake for 16 to 20 minutes, until the edges are golden brown and crisp, and the pancake has puffed all around.

Remove the skillet from the oven and dust the Dutch Baby pancake with powdered sugar. Serve, cut into wedges, with berries, sliced citrus, bananas, whatever you like. Serve with maple syrup.
Notes
Though Sarah Kieffer recommends using a seasoned cast-iron pan, I used a non-stick Cuisinart fry pan that is ovenproof. This worked beautifully and every Dutch Baby I made in my fry pan rose tall and puffed beautifully. You can check out the pan I used on Amazon.
Nutrition
Please note this post contains affiliate links to Amazon. If you buy a product I recommend, I will get a small commission, and the price you have to pay will not change in any way.