Warm poached quince served with vanilla ice cream: it's the best of both summer and fall, all in one dessert bowl. Here's a lesson on how to poach quince fruit in a simple syrup.
I love poaching fruit. I've poached pears with red wine to make a gorgeous pear tart and I've roasted rhubarb to serve with multigrain waffles, which yields a very similar result to poaching. It's a simple way of bringing out the best in fruit and turning them into something very special.

Disclosure: As an Amazon Associate, I earn from qualifying purchases.
The hardest part of this recipe is prepping and peeling the quince fruit. Honestly, that takes some elbow grease. I find quince are hard to peel with a peeler, but not much easier with just a knife. And the core of the quince is even harder to cut out. David Lebovitz even warns in his rosy poached quince post from 2008 that you must be "very careful with the knife." No kidding. But once the job done, you need just sit back and let the simmering poaching liquid do the work.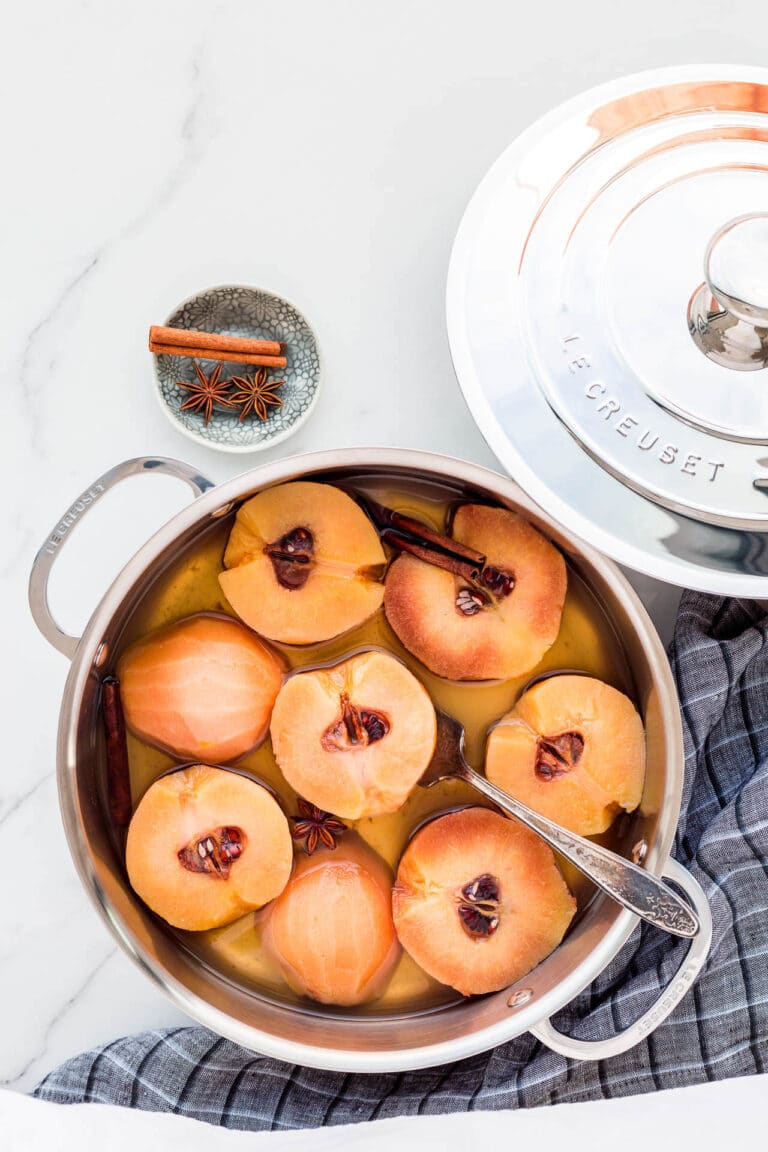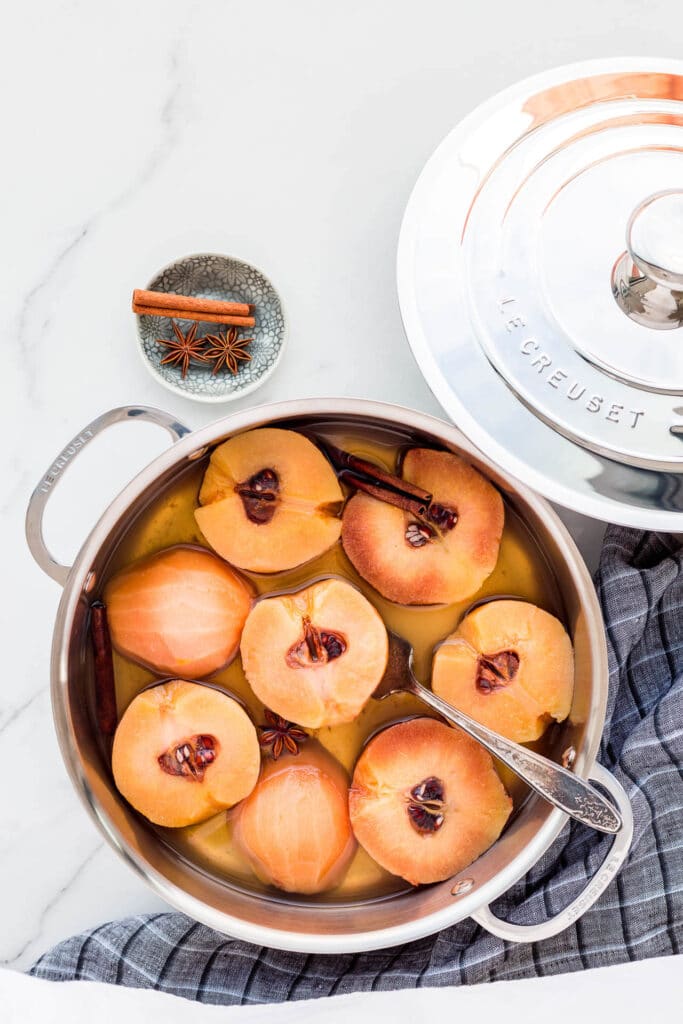 The poaching liquid is sweet, but not too sweet, and the quince flavour is just right. The aroma that fills your kitchen as the quince poach is all fall, minus the usual spices. I kept the flavouring here very simple: just a touch of maple syrup and a vanilla bean. I've also tried star anise and cinnamon sticks to add more flavour.
The slices of poached quince are on the firm side, yet absolutely fork tender: you can even easily cut through them with a spoon as you gobble them up with vanilla ice cream. Quince have a slightly grainy texture, but less so than a pear, yet the flavour is more apple, I think.
If you've never tried a quince before, I think this is the ideal way to discover them. And really, you can't go wrong with a poached fruit served with vanilla ice cream, can you? To infuse this recipe with as much vanilla flavour as possible, use a vanilla bean because the syrup is heated for a long time, ample time to extract a ton of flavour from the bean. And remember to save the used bean and use it to make vanilla sugar. If you don't have it, a good substitute for vanilla bean would be vanilla bean paste. Use at least 1 teaspoon!
If you own an ice cream maker and you're feeling motivated, you can make homemade vanilla bean ice cream or even cardamom ice cream to serve with these poached quince! Otherwise, try to get the best you can find.
📖 Recipe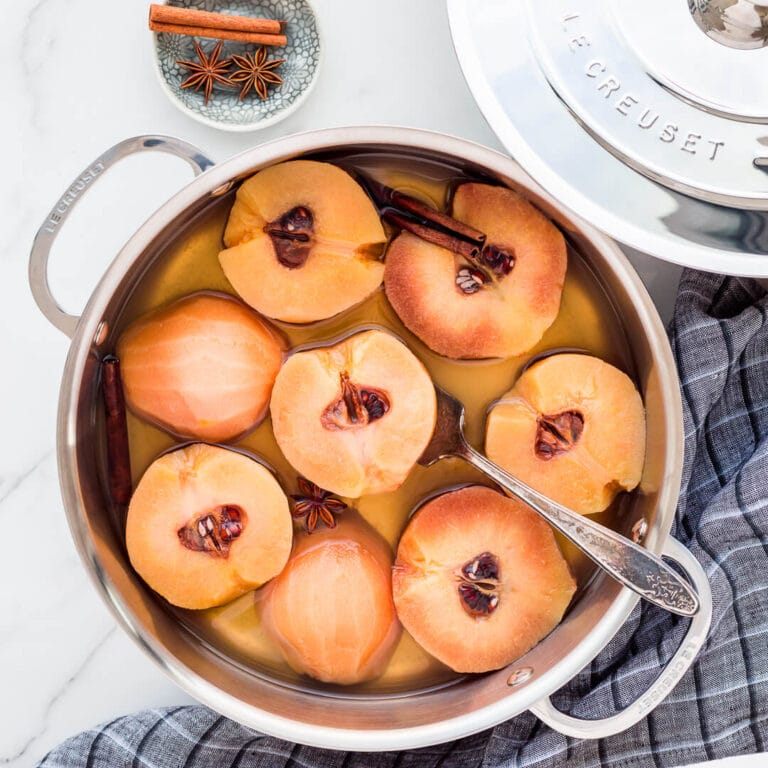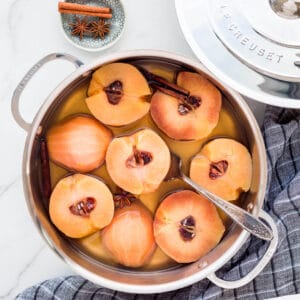 Easy Poached Quince
The poaching liquid for this recipe is a simple syrup, not too sweet. The flavouring here is very simple: just a touch of maple syrup and a vanilla bean. I highly recommend serving the poached quince with vanilla ice cream or greek yogurt.
Ingredients
1.25

L

water

100

grams

granulated sugar

100

mL

pure maple syrup

I used dark maple syrup for more flavour

½

lemon

½

vanilla bean

split and scraped, saving the seeds

4

large quince
Instructions
Heat the water, sugar, maple syrup, lemon and vanilla bean (being careful to scrape the seeds first and add them to the liquid) in a large heavy-bottomed pot on medium–high.

Meanwhile, working on the quince one at a time, peel, cut in quarters, then cut each quarter in half again. Then trim and remove the fibrous core/seeds from each one and pop the slices into the warming poaching liquid ASAP. Don't worry about browning. It actually disappears during the cooking.

When all the quince are in the poaching liquid, bring them to a boil, then reduce heat to simmer.

Cut out a large piece of parchment and poke a walnut-sized steam hole through the middle. Fit it over the pot, using the lid to fit it in place. Simmer the mixture covered with just this piece of parchment for about 45 minutes to an hour, until the quince slices are fork tender.

Let them cool slightly before serving over vanilla ice cream with a drizzling of the poaching liquid.
Nutrition