Learn how to make salted caramel sauce from a very simple list of ingredients. It takes less than 20 minutes and it's definitely worth every second.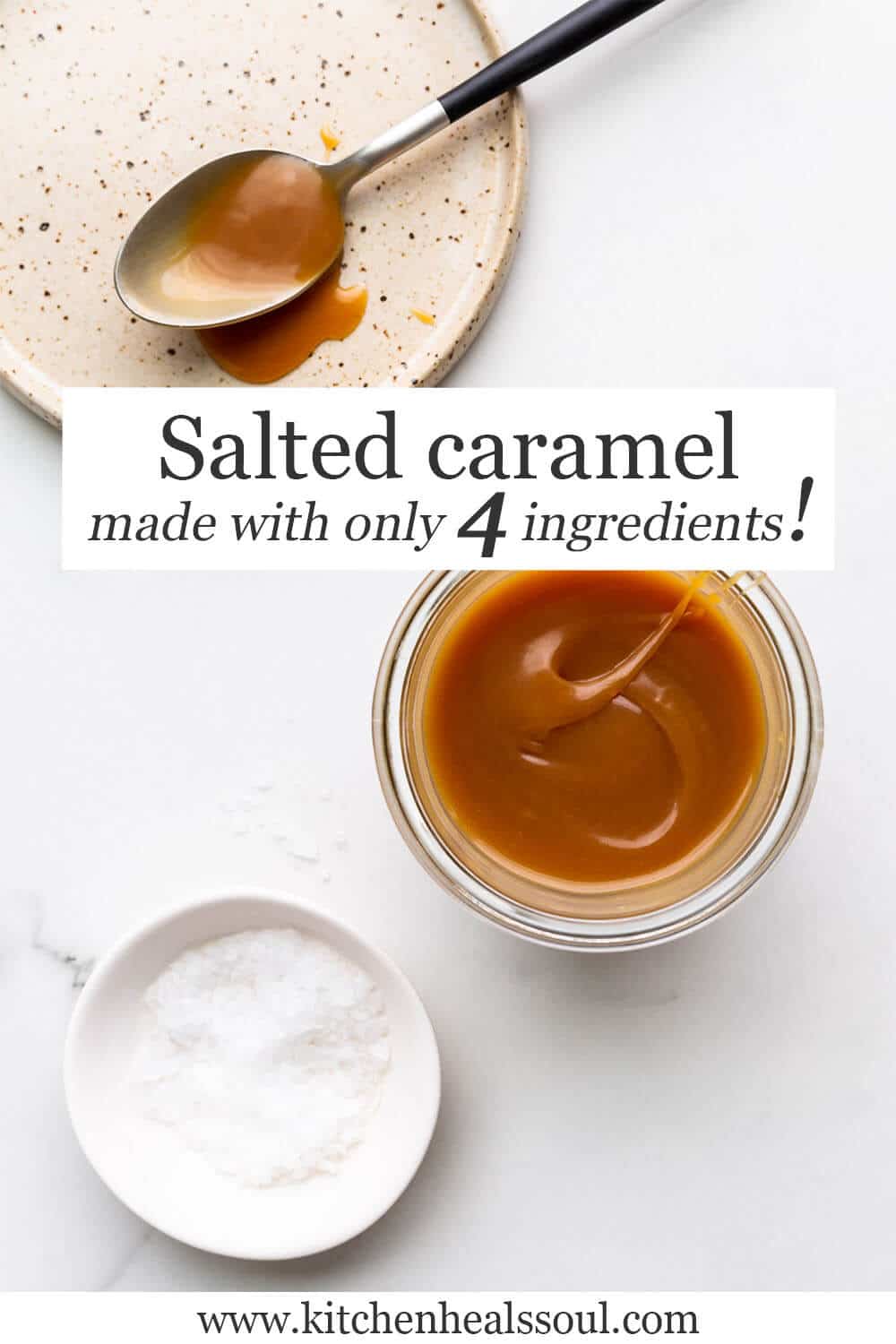 Disclosure: As an Amazon Associate, I earn from qualifying purchases.
Salted caramel sauce is made from just 3 ingredients (4 if you count water)
All you need to make caramel sauce is a lot of sugar, whipping cream, butter, and a little water, which helps dissolve the sugar to form a syrup that is easier to work with, especially for beginner bakers. Other optional ingredients include vanilla extract (to give the caramel sauce more flavour), and salt (often sea salt), but you may skip the salt if you make your caramel sauce with salted butter.
Some recipes may include a splash of lemon juice or vinegar, or they may include a little glucose, corn syrup, or honey. These ingredients are optional and they are added to reduce the risk of the caramel sauce crystallizing at any point in the process. Florentine cookies are made with a little honey, not only adding flavour, but also preventing crystalllization.
Unsalted butter versus salted for making caramel sauce
The French baking term for salted caramel sauce is "caramel au beurre salé" because this is a recipe that can be made with salted butter. If you use salted butter, feel free to taste and adjust with a little extra salt (making sure to let the sample cool down BEFORE you try to eat it!). I find with most brands of salted butter, they provide plenty of salt.
If you make this recipe with unsalted butter, you will have to add salt. Use up to 5 mL (1 teaspoon) of flaky sea salt or fine kosher salt (such as Diamond crystal). If you are using table salt, add less salt! Use half that amount, so 2.5 mL (½ teaspoon) of salt because table salt is saltier than sea salt and the baking substitution table salt and sea salt isn't 1-to-1.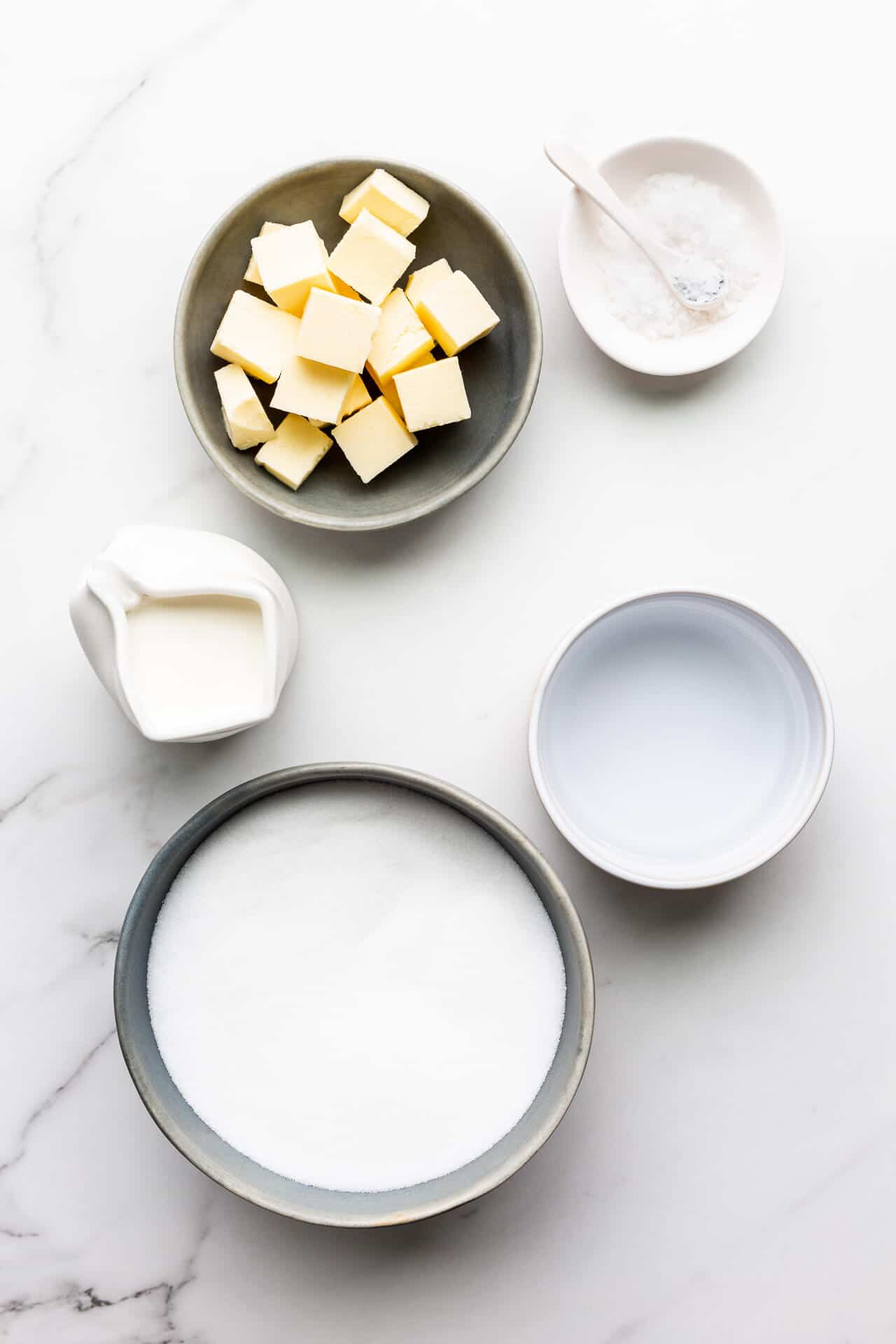 The impact of temperature on flavour
The sugar in caramel sauce contributes the caramel flavour but that sugar has to be heated, otherwise it doesn't contribute much of any flavour and actually will make a sauce cloyingly sweet. The sugar breaks down when it's heated above a certain temperature, causing it to change colour (to amber-brown) and change flavour. Caramelization occurs above 330 ºF (165 ºC), at which point there is very little water left in the hot sugar syrup. Below this temperature, the mixture contains enough water that the sugar doesn't break down, but above that temperature, it does, leading to a colour change and also the development of flavour compounds.
Making caramel starts with dissolving the sugar in water, with the help of a gentle heat. The goal is to dissolve all the crystals to avoid any crystallization down the road. Once the sugar is dissolved, the syrup is heated past 330 ºF (165 ºF), at which point the water has mostly evaporated and the sugar begins to caramelize, changing colour and developing flavour.
The high temperature of hot caramel means that when you add the cream and the butter, the milk solids brown almost immediately, leading to even more flavour in the sauce.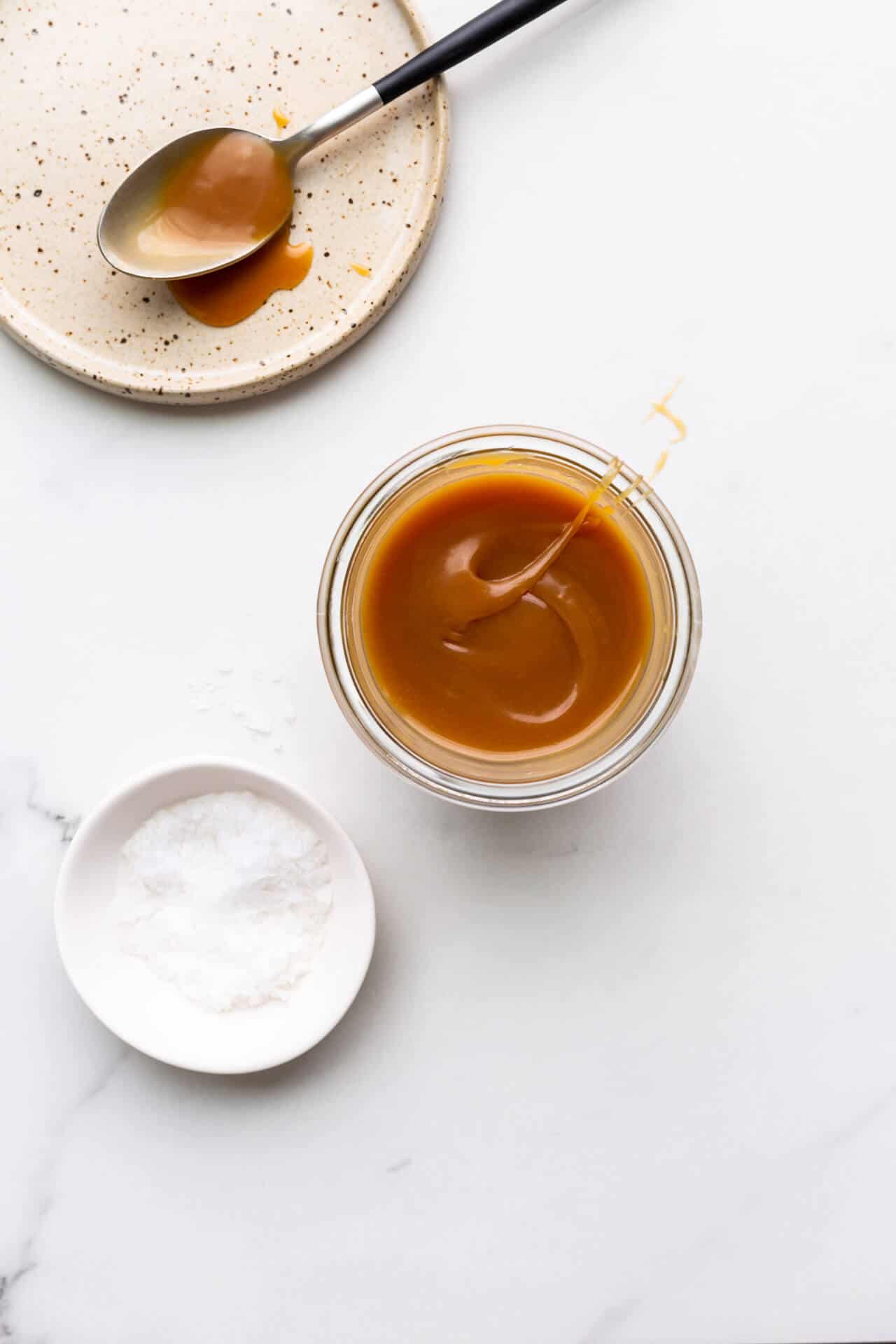 Using a thermometer for caramel sauce
While I always recommend using a thermometer when you are making recipes that are sensitive to temperature, like those made by heating sugar, in this case, you don't need a thermometer. When you are making preserves, I always suggest using a digital instant-read thermometer to make sure you've hit the jam setting point. The same goes for if you are heating a sugar syrup to the soft ball temperature to make an Italian meringue buttercream or a batch of vanilla marshmallows.
For caramel sauce, I've found over the years that some thermometers aren't very accurate at higher temperatures and using a thermometer can be misleading and lead you to turning off the heat before the sugar has caramelized enough, leading to a blonder caramel that is more cloyingly sweet and less flavourful. For this reason, I encourage you to watch the sugar syrup as it boils. You will see it turn a pale yellow colour at the beginning of the process, and that colour will develop and deepen into a rich, dark amber, at which point you can safely turn off the heat and add the butter and the cream. You will obtain a rich tasting dark caramel sauce that is full of flavour.
While I suggest you don't use a thermometer to make caramel sauce, I do suggest you use one to make soft, chewy caramels. You can make caramels by heating caramel sauce (made from caramelized sugar, cream, and butter) to 250 ºF or 121 ºC, which is the firm ball stage of sugar syrups (which is in the middle of the hard ball temperature range which spans from 240 ºF and 265 ºF or from 116 ºC to 129 ºC). So if you cook the recipe below for caramel sauce to 250 ºF (121 ºC), and pour it in a buttered pan. Let the boiled caramel set in the pan and then cut into squares so you can share your chewy sea salt caramels.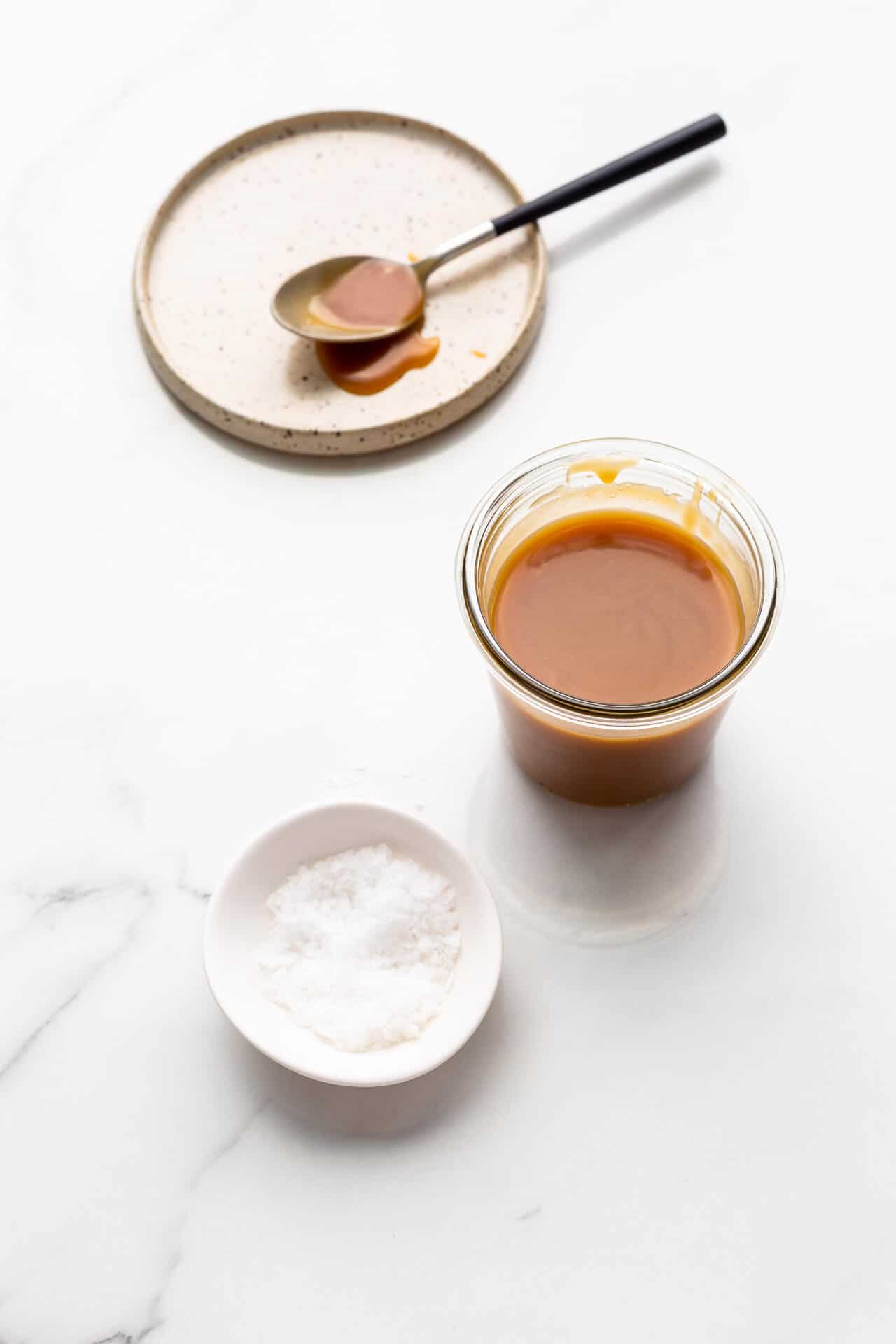 Salted caramel sauce is a little different than dulce de leche, which is another flavourful sauce made from sweetened condensed milk that is heated until the sugar and milk solids caramelize. Both dulce de leche and caramel sauce make great glazes for bundt cakes, like to glaze this apple bundt cake, as well as fillings for layer cakes, like in this chocolate caramel cake. You can also swirl it into a batch of homemade vanilla bean ice cream or serve it with crêpes.
📖 Recipe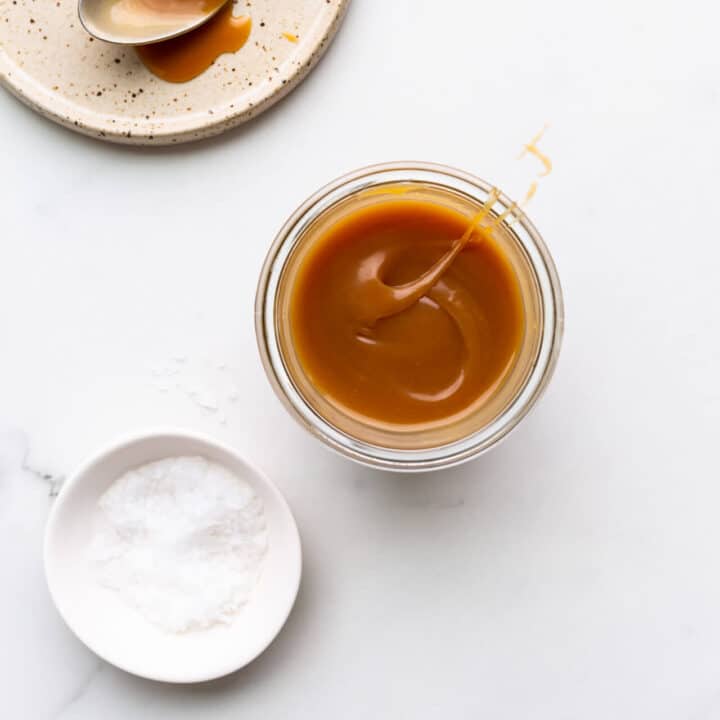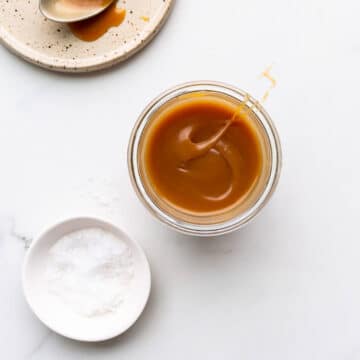 Salted Caramel Sauce
Salted caramel is easy to make from just sugar, water, salted butter, and whipping cream with this recipe!
Ingredients
125

mL

water

plus more for brushing sides of pan

400

grams

granulated sugar

115

grams

salted butter

cut into cubes

250

mL

whipping cream (35 % fat)
Instructions
Measure all your ingredients before beginning and have them ready. This is very important.

In a deep 3 quart saucepan, pour the water, and then the sugar. Don't stir it.

Bring the mixture to a boil over medium heat. If there's sugar stuck on the sides of the pan, carefully brush it with a heat-resistant silicone brush dipped in a little water. Feel free to swirl the pan to give the mixture a stir, but when you set it back on the burner, brush the edges of the pan with water to dissolve the sugar crystals from the walls of the pot.

Once the sugar is completely dissolved and the mixture starts to bubble, you can increase the heat on the stove to medium–high, or you can leave it on medium. The only difference is that on medium, it will take longer for the mixture to caramelize.

Continue to boil the caramel until it turns amber in colour. As soon as the caramel has reached the desired colour, slide the pan off the heat, and turn the burner off.

Slowly and carefully drop in the cubed butter (it will bubble and erupt so be careful!). Pour in the cream, slowly and carefully.

When the bubbling has calmed down, begin to gently whisk the caramel until it is smooth and homogeneous.

Poor the salted caramel in a large jar and cover loosely. When the caramel has cooled to room temperature, you can tighten the lid and store it in the refrigerator. It will thicken as it cools.
Notes
I highly recommend watching the colour change closely to determine if your caramel has cooked enough, but if you want to check the temperature, aim for somewhere between 350°F and 360°F with a candy thermometer before adding the butter and cream.
Nutrition
Calories:
98
kcal
Carbohydrates:
12
g
Protein:
1
g
Fat:
6
g
Saturated Fat:
4
g
Cholesterol:
18
mg
Sodium:
28
mg
Potassium:
6
mg
Sugar:
12
g
Vitamin A:
198
IU
Vitamin C:
1
mg
Calcium:
6
mg
Iron:
1
mg