Learn how to make florentines with this foolproof recipe. These cookies are made from sliced almonds and candied fruit, coated in sugar–honey syrup and baked until golden brown so that they are nutty and a little chewy. These cookies can be served plain or dipped in melted chocolate.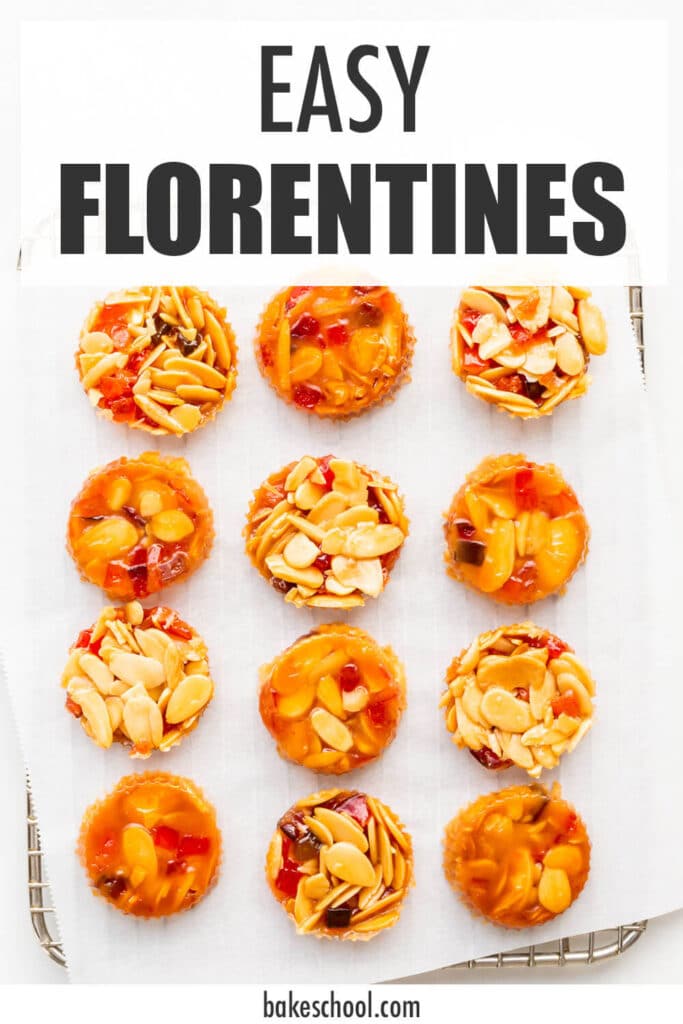 Florentine cookies are mostly nuts and candied fruit, bound together with sugar and honey. They are a crossover between caramels and cookies, and usually they are made with little to no flour. Though the name would suggest they are an Italian treat, it's likely that they were developed in France.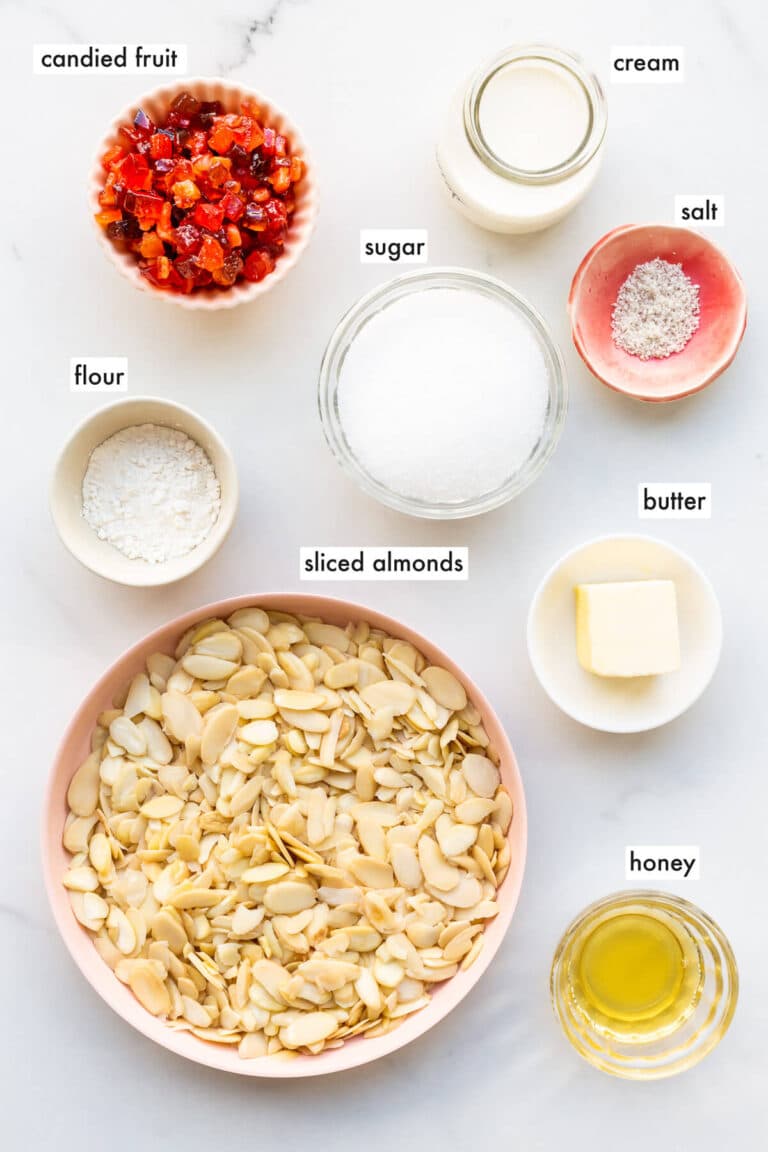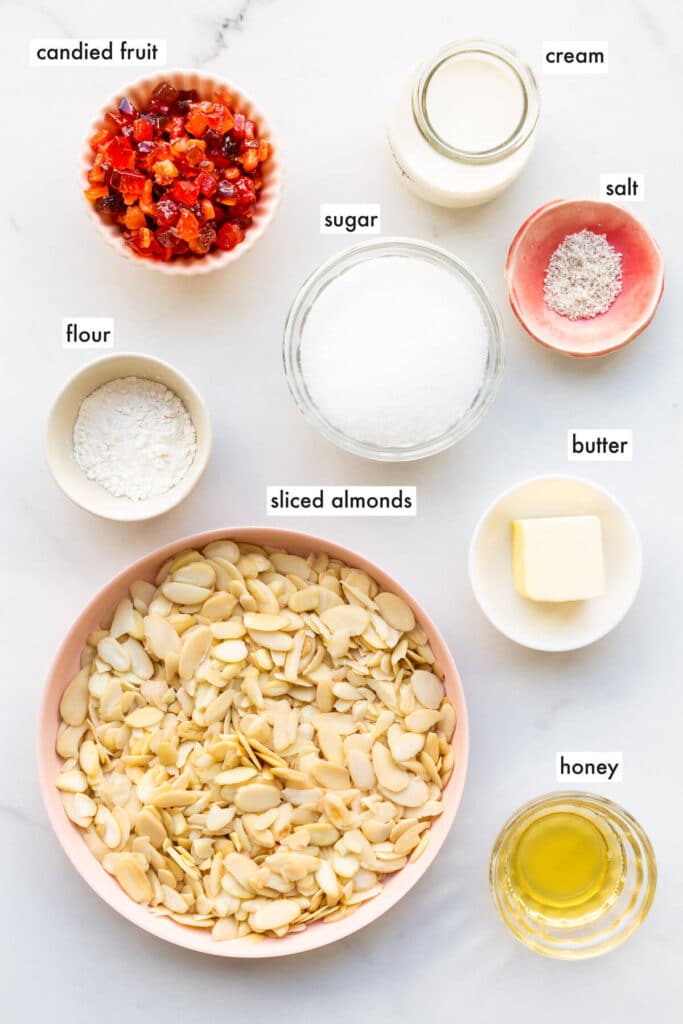 Disclosure: As an Amazon Associate, I earn from qualifying purchases.
What you need to make florentine cookies
I'm pretty addicted to florentine cookies. They are cookies made from nuts, sugar, and candied fruit. What's not to love? Plus you can coat them in chocolate, which makes them even more enticing. To make these, you will need:
sliced almonds, either blanched almonds without the skin or sliced almonds with the skin. It doesn't matter in this recipe
chopped candied peel or candied fruit mix, like you would add to fruitcake, but make sure the mix you buy is made from cherries, citrus peel, and pineapple (as opposed to melon rind and rutabaga)
a tiny amount of flour to help keep the nuts and candied fruit separate and distinct so that you can properly coat them in syrup. The flour also helps bind these together
fine kosher salt to balance out the sugar (I prefer Diamond Crystal kosher salt)
whipping cream (35 % fat) for richness
granulated sugar to make the syrup
honey, which adds flavour to the syrup but also helps prevent crystallization
butter for richness
You'll notice the ingredients for the syrupy coating for the nuts is a mixture of sugar, butter, cream, and salt, just like salted caramel sauce and sea salt caramels. That's because these cookies are basically that: caramel coated nuts and candied fruit!
Optional ingredients
I love florentine cookies plain, but most people prefer anything dipped in chocolate, so if you would like chocolate-dipped florentines, you should also have on hand chocolate (I like 70 % dark chocolate, though milk chocolate or even white chocolate would be great). And also have some canola oil or even coconut oil to help thin out the chocolate and give it a better texture and shine when set.
Special equipment
To make florentine cookies, you will need a candy thermometer (preferably a fast-reading digital thermometer) because the syrup is cooked to 114 ºC (237 ºF). While some recipes don't call for a thermometer and instead recommend cooking the syrup for a specific short period of time, this isn't ideal. A time-based guideline will lead to textural issues and possibly to florentines that are too soft to pick up and hold together. You need to cook the syrup enough to go up to (if not beyond) the soft ball syrup stage. This helps the florentines hold their shape. Use a thermometer!
Besides a thermometer, I also recommend using silicone bakeware, either a silicone muffin pan, silicone muffin liners, or a silicone baking mat.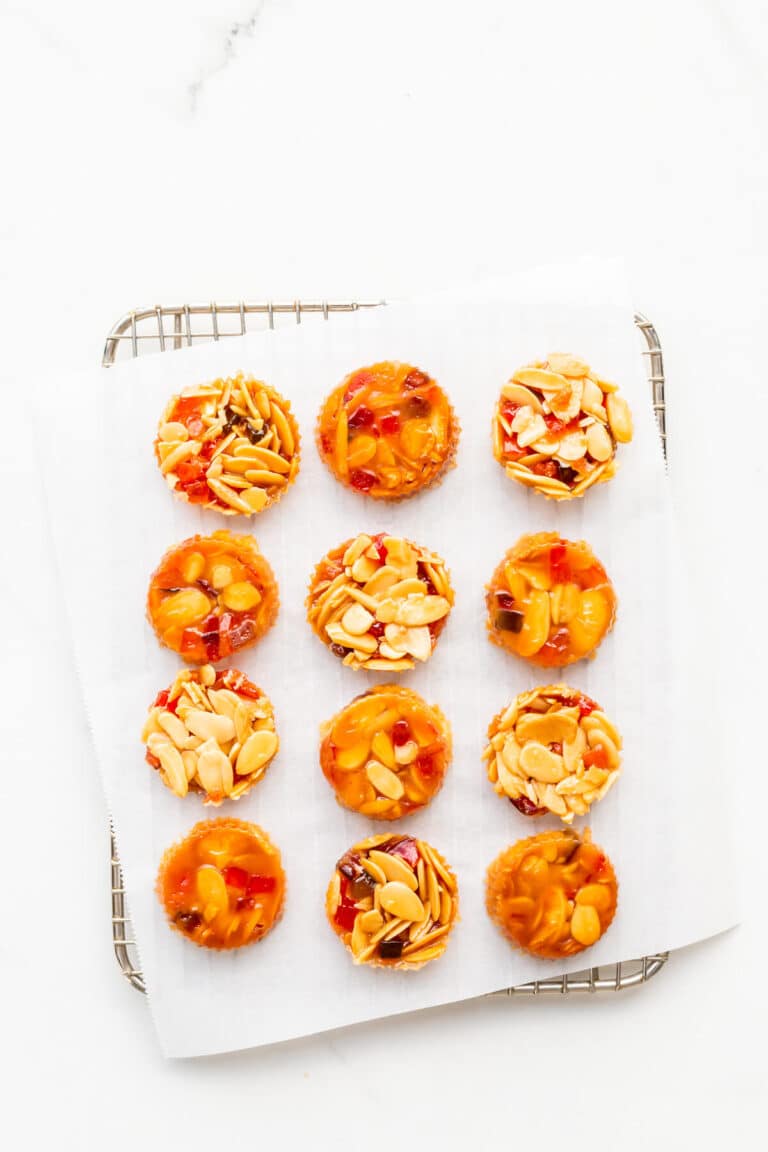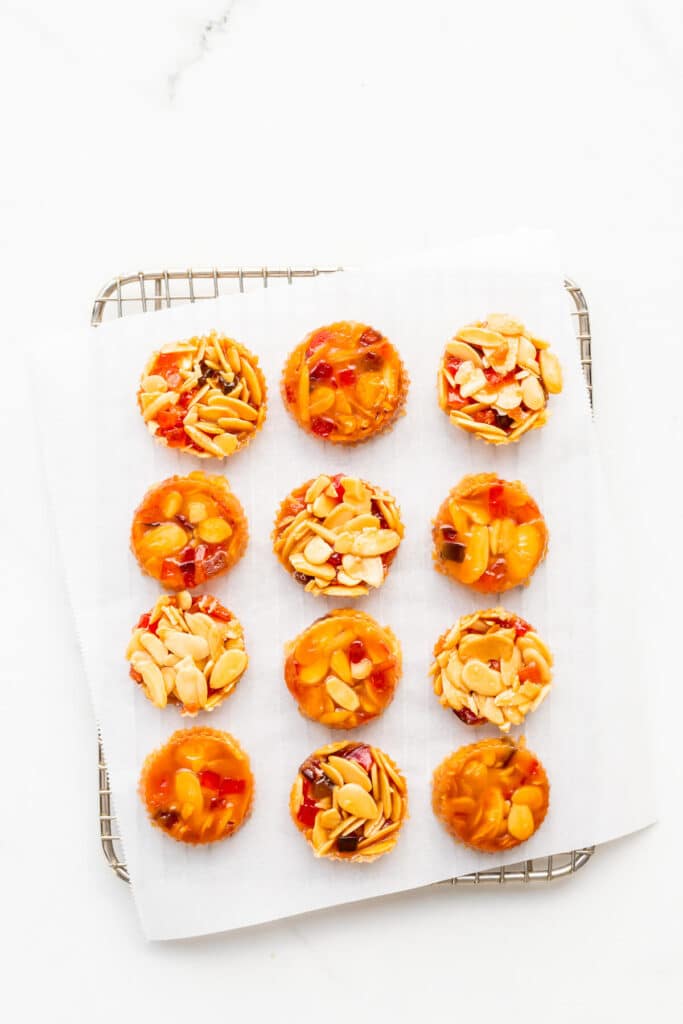 Techniques to stop spreading
When it comes to baking florentines at home, silicone bakeware is a must to avoid the sugar sticking! Here's how to shape florentines:
Bake them in a silicone muffin pan or moulds
Florentines should be fairly thin and caramelized, but they should not be so thin that they are lacy and paper thin. For the longest time, I couldn't figure out how to make a florentine that wasn't a lace cookie because, no matter what I tried, they'd spread out thin in the oven and burn too quickly. Turns out, all you have to do is bake the cookies in silicone muffin liners or silicone muffin pans. The silicone prevents sticking and the walls of the liner prevent spreading! Such an easy trick!
Scoot them back together
If you don't have access to silicone muffin pans or liners, try parchment liners. Worst case scenario, chill the dough to set it and then bake the dollops of the mixture on a Silpat-lined sheet pan. They will spread as they bake so immediately when you take the pan out of the oven, push the edges back towards the centre with a heatproof silicone spatula (like this one from OXO on Amazon). That's the secret. It takes no time and as long as you do this when they are still hot from the oven, this technique works well, and once cooled, the cookies hold their shape nicely.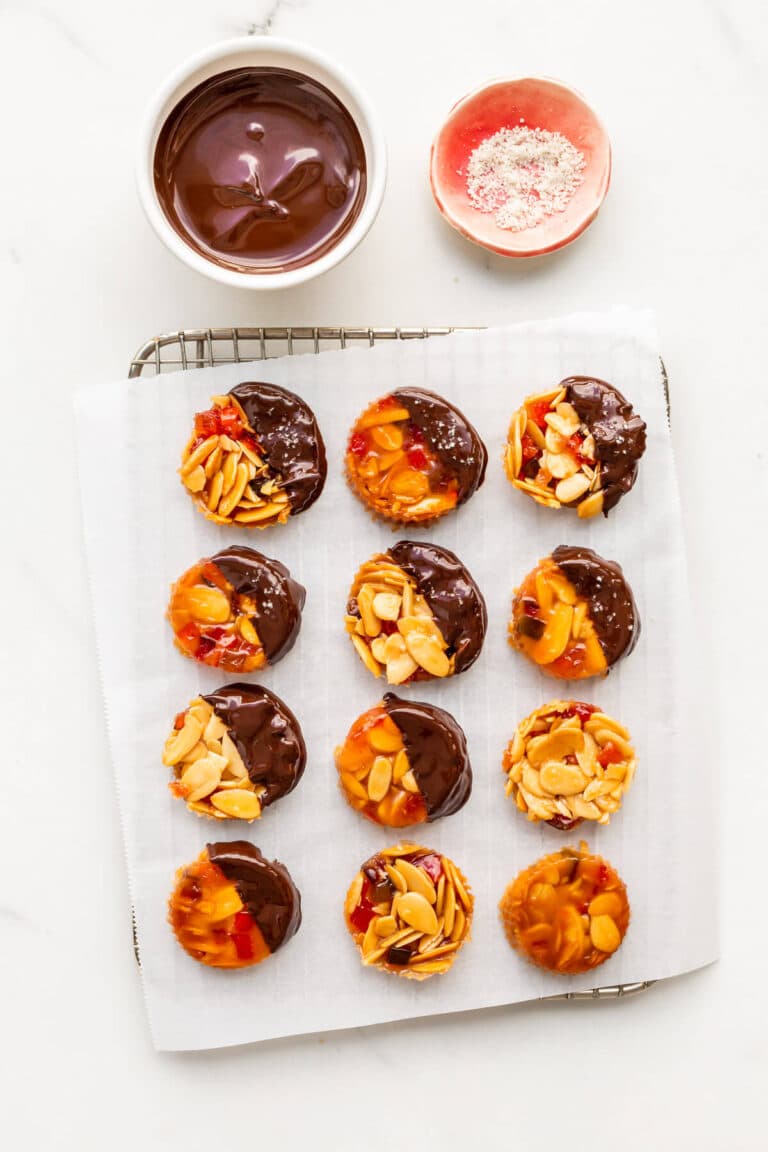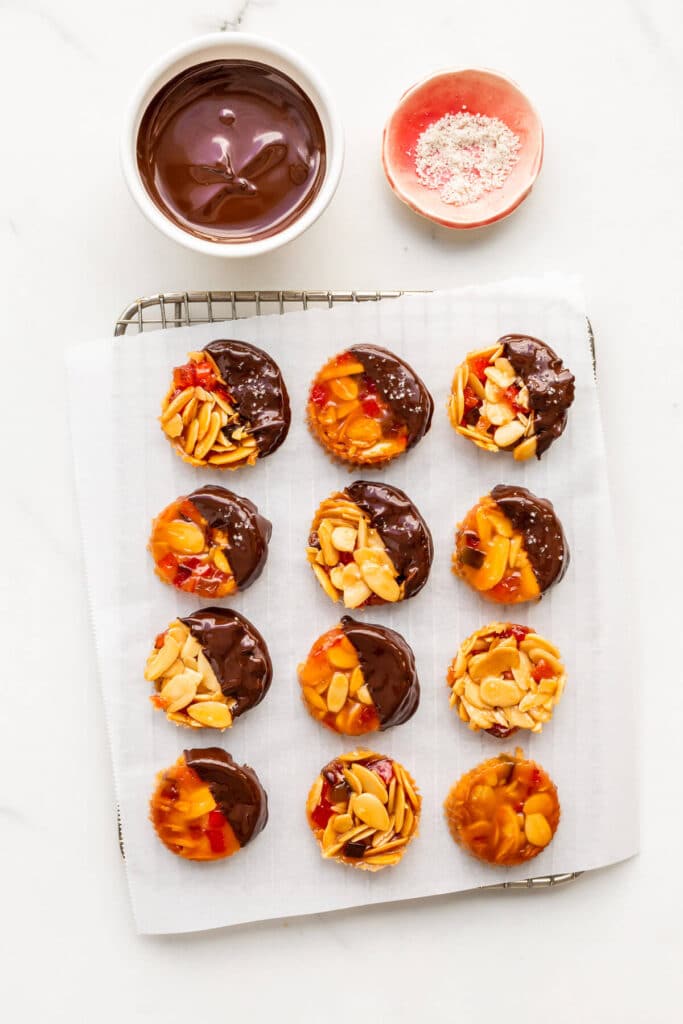 Bake them as one giant cookie to be broken after
If you are feeling lazy, you have another option for these florentine cookies. You can pat out the mixture in a parchment-lined rimmed pan and let it bake into one giant cookie that you can break into pieces when it's cooled. In this case, I'd let the florentine mixture bake until it's coloured throughout and eat it like brittle.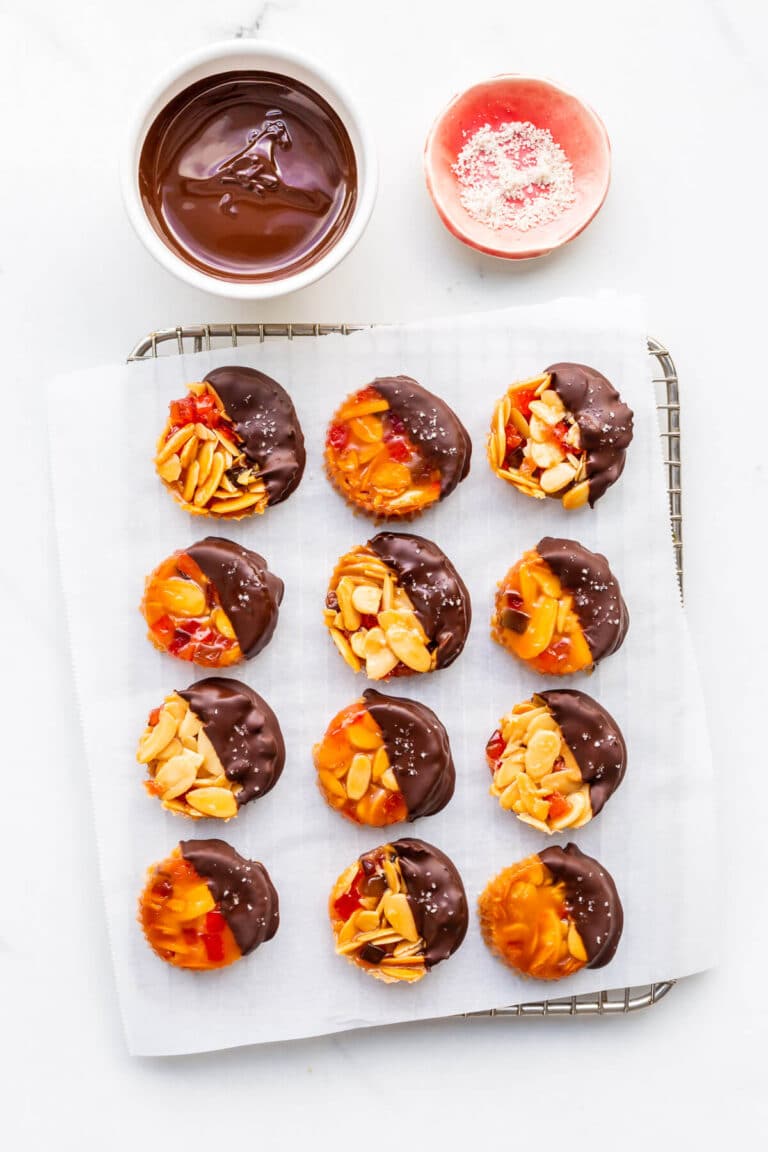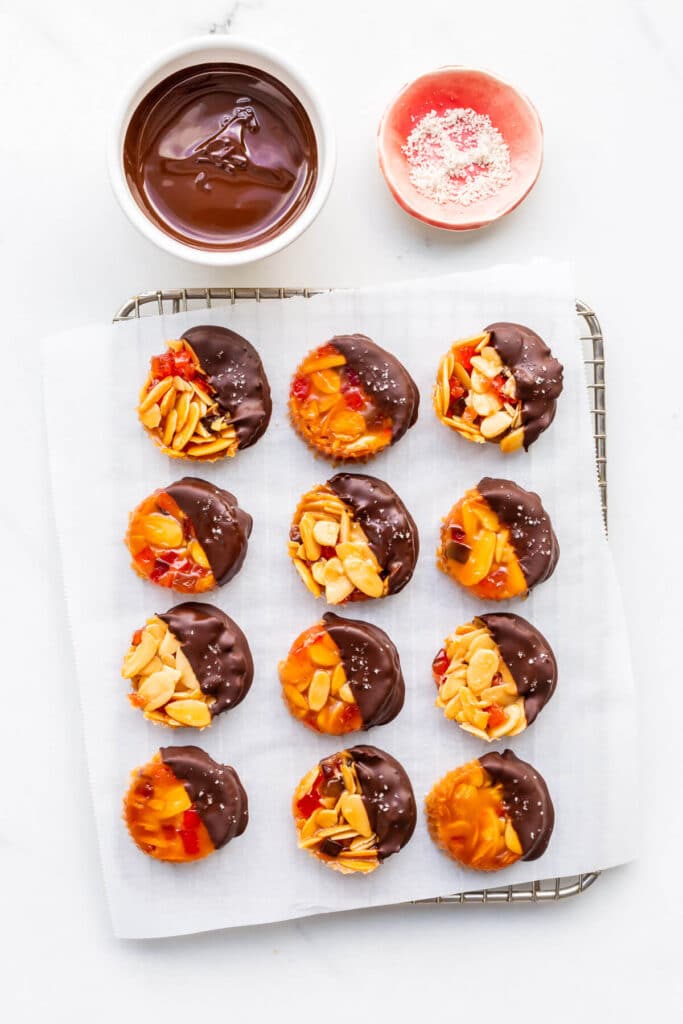 Decorating florentines
Though this is optional, pastry chefs often brush the bottom of florentines with a very thin coating of chocolate, dragging a fork through it just before it sets to create a wavy pattern. I find this can be quite messy so I prefer either to drizzle the melted chocolate on top of the cooled cookie or to dip them in chocolate to coat only half. I find this gives a very pretty look to them.
I like to sprinkle the chocolate with a little sea salt before it sets. The salt balances out the sweetness of the cookie.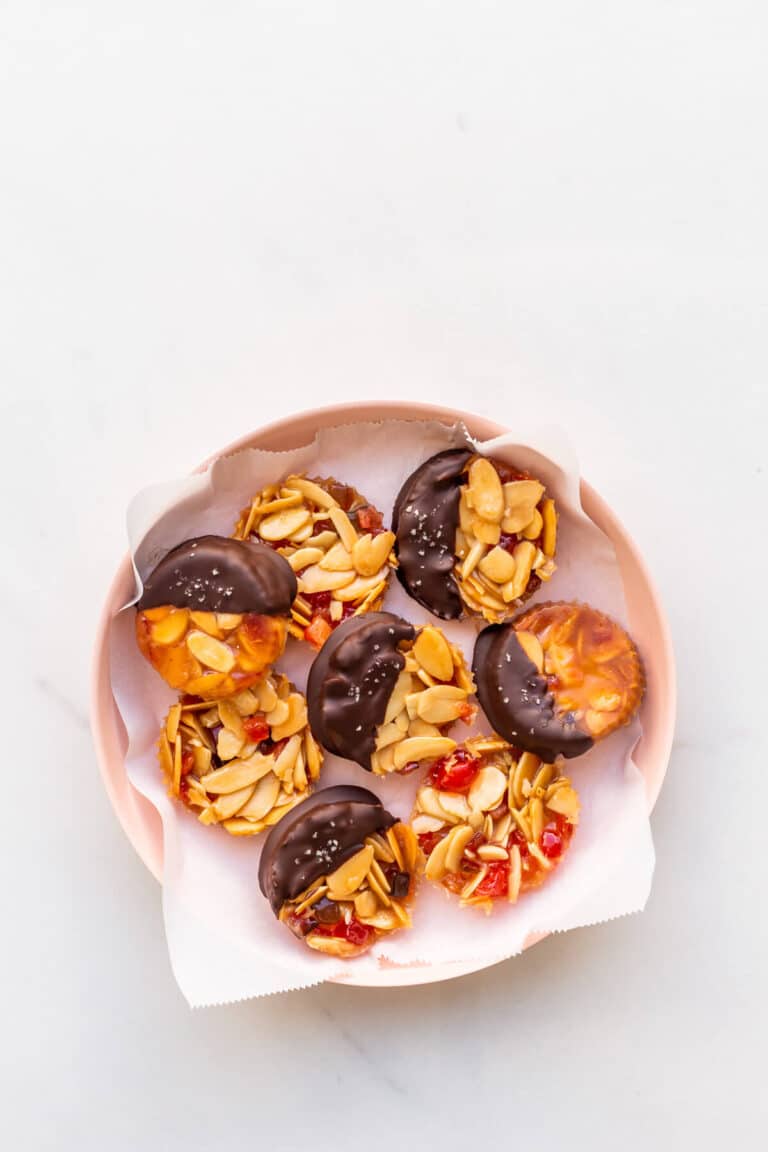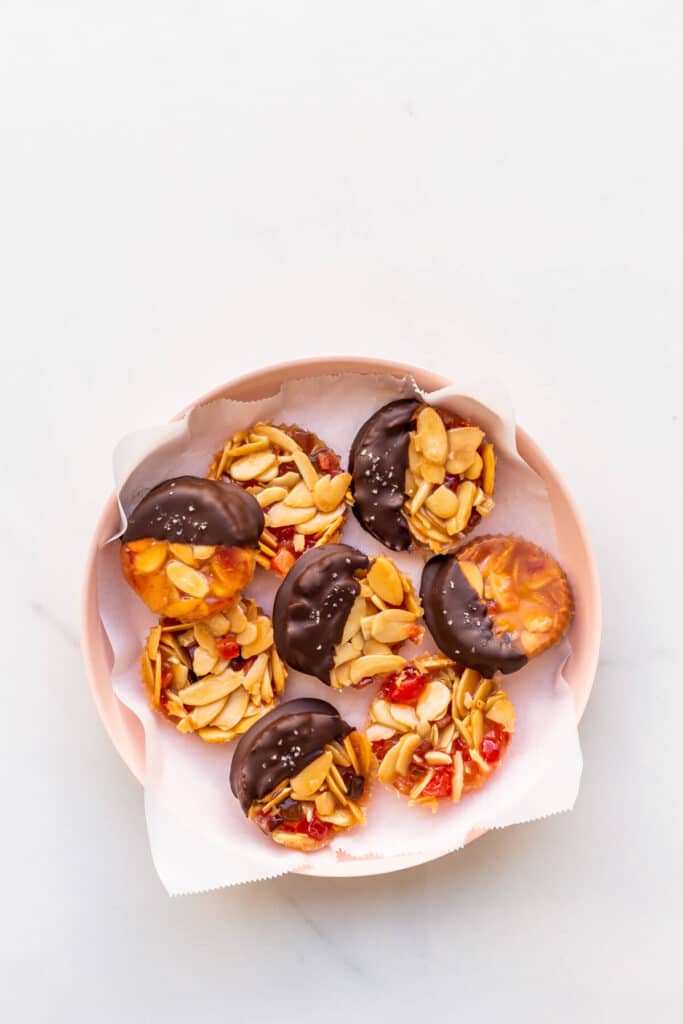 You'll notice that the chocolate coating includes a tiny amount of canola oil. That's the secret to getting a shiny chocolate coating when set, without having to temper the chocolate!
📖 Recipe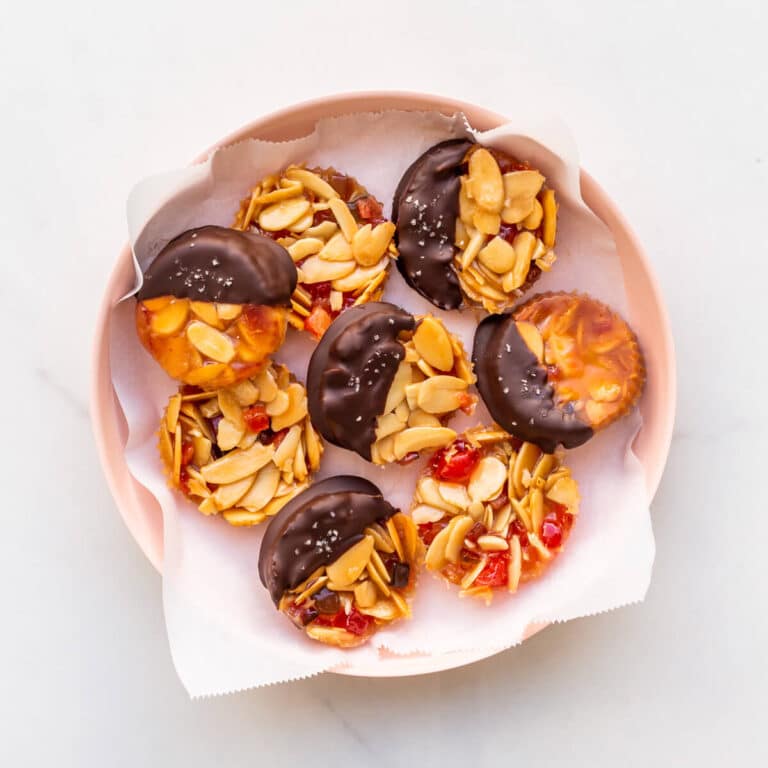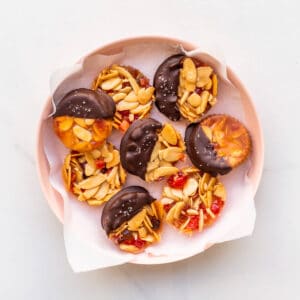 Florentine Cookies
Florentines are sweet cookies loaded with sliced almonds and candied fruit & peel. The honey in these cookies gives them a delightful flavour.
Ingredients
Chocolate coating (optional)
175

grams

Cacao Barry Ocoa 70% dark chocolate

7.5

mL

canola oil

or coconut oil
Instructions
Preheat the oven to 325ºF (165 ºC). Set three dozen silicone muffin liners (or silicone muffin pans) on a sheet pan (or on two sheet pans depending on how they fit). Set aside

In a large bowl, toss together the almonds, candied fruit and flour with a pinch of salt until everything is evenly mixed and coated. Set aside.

In a small saucepan, heat together the cream, sugar, honey, and butter. Bring to a boil and cook to 114ºC (237 ºF).

Remove the saucepan from the heat and immediately pour the boiling sugar mixture over the nuts and fruit. Stir quickly so that all the ingredients are well mixed and the nuts and fruit pieces are evenly coated.

Scoop heaping teaspoons of the mixture and place in the muffin liners. Don't worry if this seems like it isn't enough to fill the base of the cups necessarily. Bake for about 14 or 15 minutes until the florentines have turned a nice light caramel colour. Remove the pan(s) from the oven and let cool to firm up before you transfer the cookies to a parchment-lined wire rack. Cool completely.

Florentines like other sugar-based candies are sensitive to moisture and humidity so store them in a closed air-tight container. I place a sheet of parchment between the layers of cookies so they don't stick together.
Chocolate coating (optional)
If you decided to dip or coat your baked florentines in chocolate, simply place the chopped chocolate and canola oil in a heat-proof bowl over a pan of simmering water (a double boiler). Stir until melted.

Line a large sheet pan with parchment paper.

Dip each cookie in the warm chocolate and set on the parchment paper.

To get the chocolate to harden faster, place the sheet pan in the freezer for 5 to 10 minutes.
Notes
If you don't have enough silicone muffin liners or muffin pans, simply bake a dozen or two at a time, and just keep the rest of the unbaked cookie mixture in the mixing bowl, covered, at room temperature.
If you prefer to bake free-form florentines directly on a Silpat, you should:
before baking: chill the mixture first. Cover the mixing bowl with plastic wrap and let the mixture chill in the fridge for 30 minutes to an hour or until cold before scooping and baking. This will help them hold their shape

after baking: as soon as you remove the sheet pan from the oven, immediately push the edges back towards the centre of each cookie using a heatproof silicone spatula to tighten the edges if the cookies spread.
Nutrition
Calories:
74
kcal
Carbohydrates:
6
g
Protein:
1
g
Fat:
5
g
Saturated Fat:
2
g
Polyunsaturated Fat:
1
g
Monounsaturated Fat:
2
g
Trans Fat:
1
g
Cholesterol:
5
mg
Sodium:
3
mg
Potassium:
58
mg
Fiber:
1
g
Sugar:
5
g
Vitamin A:
54
IU
Vitamin C:
1
mg
Calcium:
13
mg
Iron:
1
mg