Find out the best store-bought dulce de leche in this comparison of three brands from the grocery store.
Jump to:
What it is
Dulce de leche is a sweet, caramelized milk spread that is very common in Latin America. It's also called milk jam. You can smear it on toast, especially brioche, or you can use it as a filling for cakes and cookies.
How it's different than caramel
Dulce de leche and salted caramel sauce are not the same thing. With dulce de leche, milk and sugar (or sweetened condensed milk) are cooked to make a thick, spreadable caramelized milk jam. On the other hand, for caramel sauce, the sugar is cooked alone, sometimes with water and corn syrup or glucose to prevent crystallization. The dairy (cream and/or butter) is added after sugar caramelization occurs.
Caramel has a deeper flavour coming from the burnt sugar notes from the different cooking process. Some love it and some hate it for that reason. Though the processes can seem quite similar, the flavour and outcome of making dulce de leche versus caramel are quite different.
Note that you can further cook caramel sauce to make a thicker filling or soft caramels, and it's likely that you could do the same with dulce de leche.
Disclosure: As an Amazon Associate, I earn from qualifying purchases.
Ways of making it from scratch
There are several ways of making dulce de leche at home. Some start with cans of sweetened condensed milk, others start from milk and sugar. It's a delicate process to caramelize sweet milk and it takes time. The goal is to darken the colour of the milk to a deep mahogany, while also caramelizing the sugars and milk solids, developing the flavour, and thickening the mixture to a spreadable, thick consistency.
Whether you start with cans of sweetened condensed milk or a combination of milk and sugar, all of these methods work fine. But some require constant stirring and all of them take at least an hour.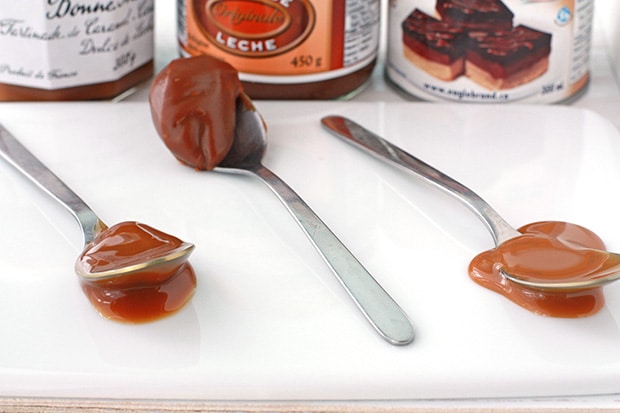 Comparing store-bought dulce de leches
You might not have a couple of hours to make dulce de leche, and that's okay! I compared three brands of dulce de leche that were available at my local supermarket to find the best:
Bonne Maman (available on Amazon), a brand from France that is known for its jams
Caramella (available on Amazon), from Argentina, and one I had high expectations for because of where it's made.
Eagle Brand, from Canada, a brand that is better known for the evaporated and sweetened condensed milks
Comparing consistency and flavour
Caramella was the thickest, while Eagle Brand was really too runny. I felt like the Caramella dulce de leche had the best texture: thick and spreadable enough that it would probably make a good cake filling Unfortunately, the Caramella dulce de leche didn't taste great, but it wasn't the worst flavoured. Interestingly, the Caramella brand was the only one that contained vanilla, which made it taste artificial and just didn't work on my taste buds.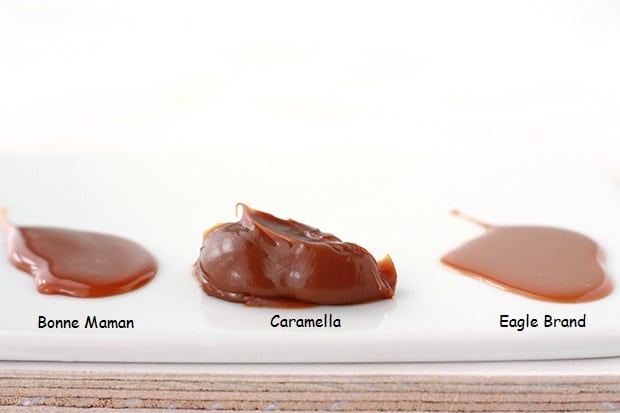 My least favourite was the Bonne Maman dulce de leche. It had a pudding-cup-like consistency, and it had a tangy taste. Turns out that this dulce de leche is thickened with pectin and contains sodium citrate. My guess the latter is the cause of the "tangy", uncharacteristic flavour. Honestly, Bonne Maman dulce de leche isn't great. I would never buy it again. Sorry, Bonne Maman. I still like your jams (especially your rhubarb jam), but your dulce de leche kind of sucks.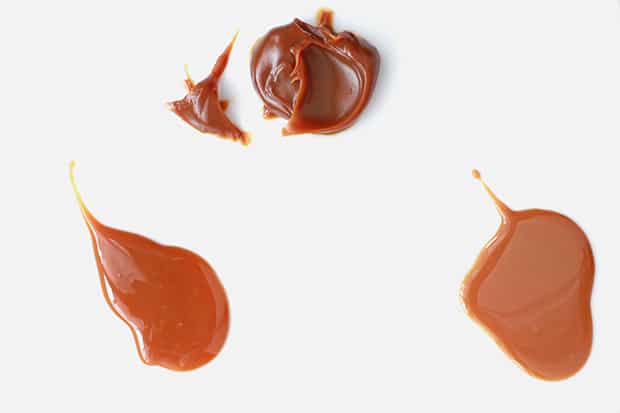 Hands down, between the three, there's only one dulce de leche I'd buy again: Eagle Brand. The flavour was great with a sweet, "natural" flavour: no weird tanginess from sodium citrate and no pectin added. However, it was so thin it would just run off a spoon. In the end, I much preferred the Eagle Brand dulce de leche, which I ranked as the best dulce de leche brand, even if it was more of a sauce than a spread.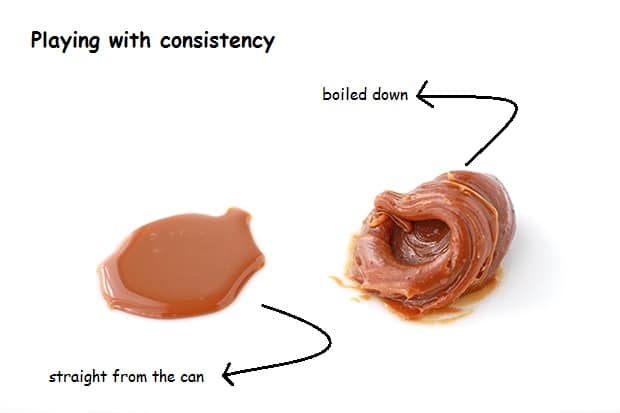 My solution to the consistency problem: boil it down, stirring constantly over medium–high heat (don't put it on high because it will catch and burn on the bottom, and if you think you are going to get pulled away from your simmering dulce de leche, best to lower the temperature of the stove or do this step later). In about 8 minutes, with constant stirring, I managed to turn the puddling liquid dulce de leche into a very thick caramel. For a caramel that is more spreadable, I'd probably simmer it for 6 minutes.
Tip: If your store-bought or homemade dulce de leche is too thin to use as a cake filling, boil it down to thicken it!
How it's used
Dulce de leche has a caramelized flavour and a thick, gooey texture. It makes a great spread at breakfast served with this easy brioche kneaded in the stand mixer (after all, it is called milk jam for a reason!). It's also a great filling for cake recipes and cookie recipes. You can pipe dulce de leche onto cake layers you are stacking to make a layer cake. You can also sandwich it between shortbread cookies to make the most delicious alfajores cookies.
Storage
You can keep dulce de leche sold in a sealed jar or can, unopened, for several years, but always check the label for an expiry date (or use by date). Once opened, store the jar in refrigerator. You can keep it in the fridge for up to 2 weeks.
📖 Recipe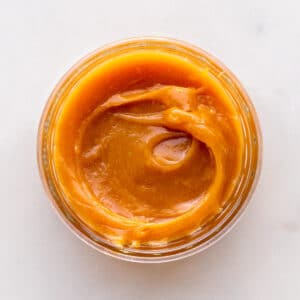 How To Thicken Dulce De Leche
If you want to use dulce de leche to fill cakes or cookies, it has to be thick. Here's a trick for achieving the right consistency in just a few minutes!
Instructions
Pour the dulce de leche sauce into a medium saucepan and place over medium-high heat.

Stirring constantly, bring the mixture to a boil for 5 to 8 minutes or until the desired consistency is reached (if you get to the point where the mixture is bubbling like thick, hot lava, your caramel will be very thick).

Transfer the mixture to a deep bowl and then blitz it with an immersion blender to get rid of any lumps (if you have any), while the mixture is still warm.

Transfer to a jar and store in the fridge.