It's important to have a recipe for something that makes an easy, homemade holiday gift that friends and family will enjoy. My gingerbread granola recipe is it. I've served it at brunches with friends during the holidays, and I've gifted mason jars of the homemade gingerbread granola to my gym instructors (who spend a ridiculous amount of time trying to help me balance out all that butter and sugar I love so much).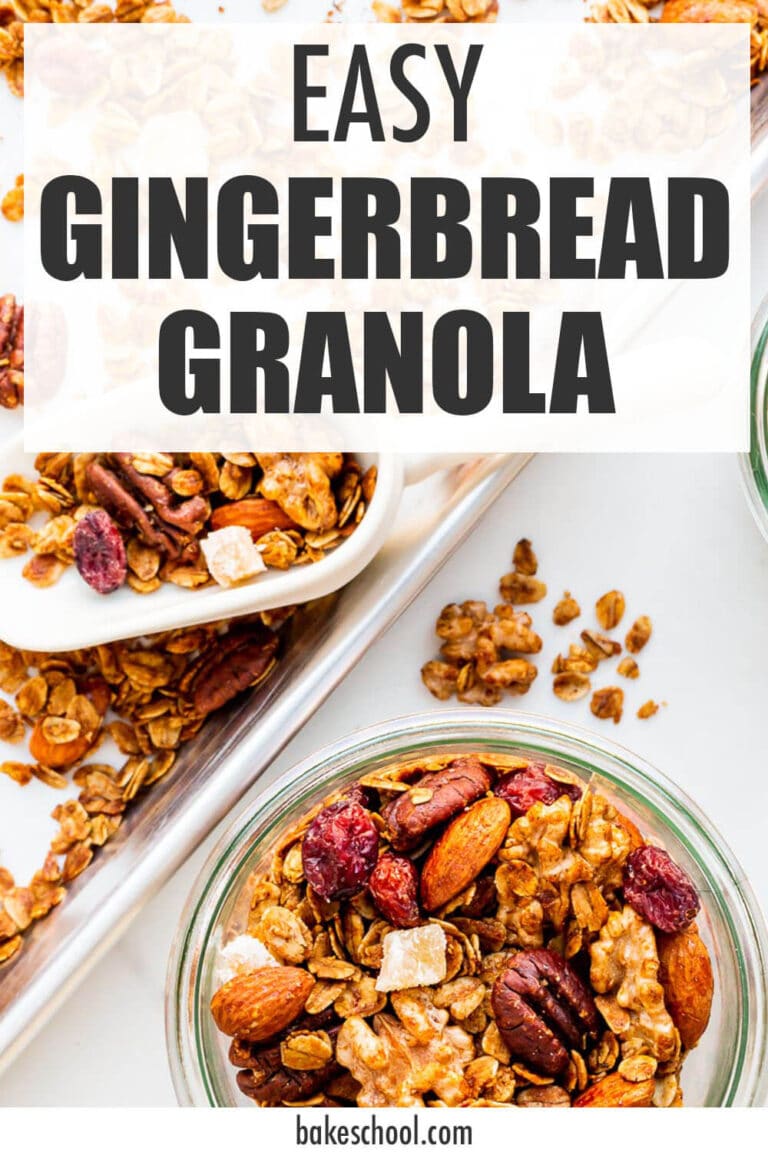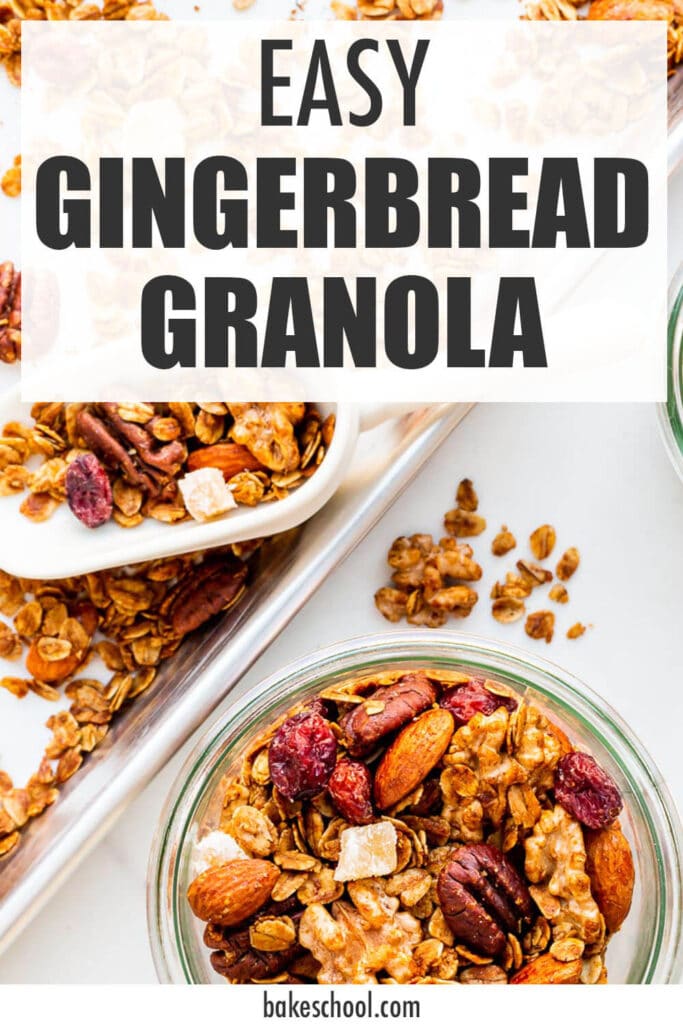 Disclosure: As an Amazon Associate, I earn from qualifying purchases.
What you'll need to make this Christmas granola recipe
The key to good granola is finding the right balance of sugar, fat, and spices. For this recipe, I sweetened the mix of oats and nuts with a mixture of fancy molasses and maple syrup, and spiced it with ginger, cinnamon, cloves, and nutmeg, which are the spices you'd find in a classic recipe for gingerbread people.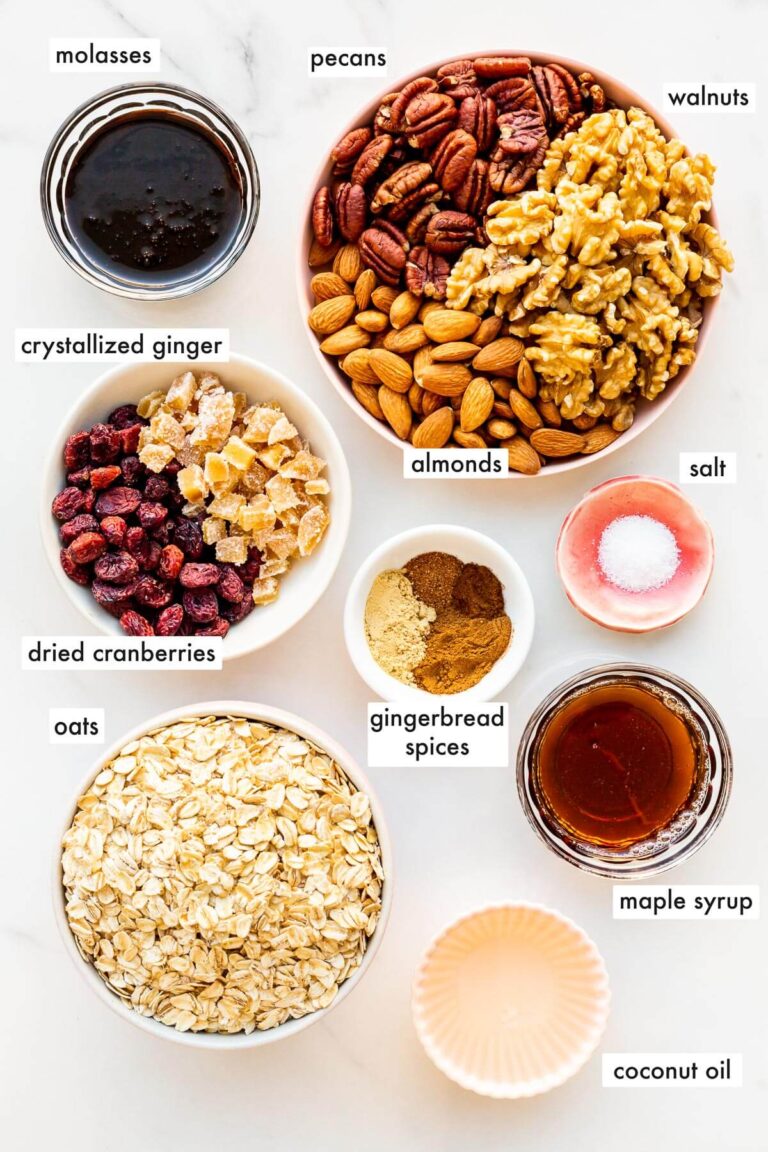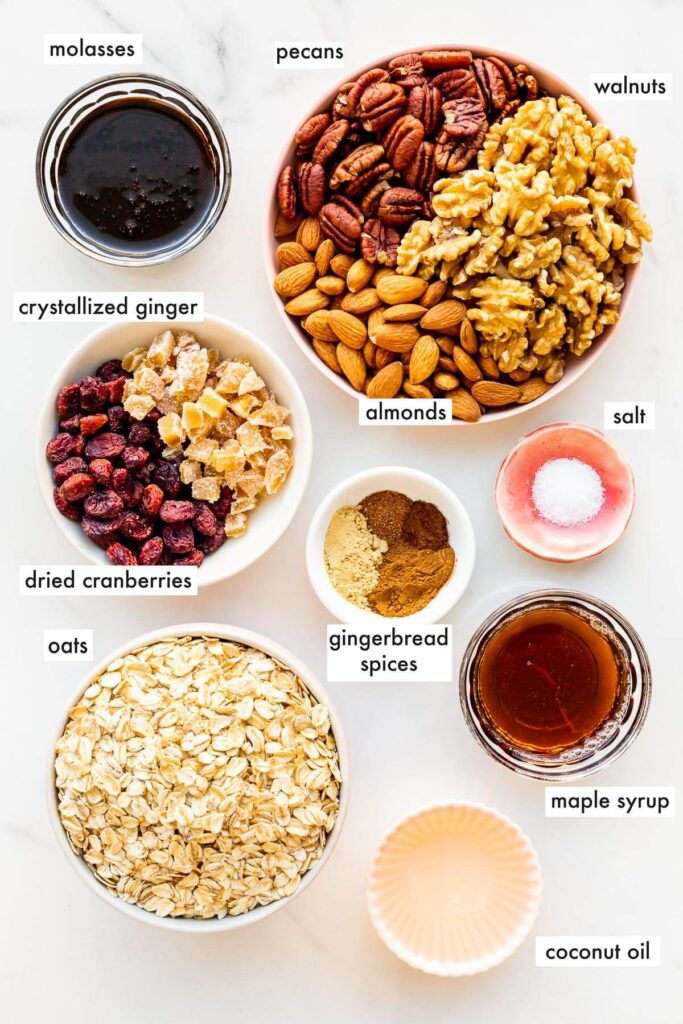 If you want your granola to taste like gingerbread, you need to bake it with all the key ingredients that make gingerbread taste like gingerbread. To make this easy recipe, you will need:
oats, preferably old fashioned oats, also called large flake oats or rolled oats
whole shelled nuts because it's the holidays and if there's one time of the year to splurge on fancy whole nuts, it's Christmas! Make sure to use raw and untoasted nuts because the granola bakes for 40 minutes and if you start with toasted nuts, they will burn. Feel free to replace the whole nuts with chopped nuts if that's what you've got.
maple syrup and fancy molasses (baking molasses) to give the granola a rich flavour and a stronger molasses taste. Don't use blackstrap molasses in this recipe!
gingerbread spices, like ground ginger, cinnamon, nutmeg, and cloves. Feel free to make your own mix or buy a gingerbread spice mix from the grocery store. You can substitute pumpkin spice mix in this recipe!
add-ins like dried cranberries and chopped crystallized ginger make this granola mix extra special. You could also add white chocolate chips or any other candied/dried fruit. Get creative and make sure to choose ingredients that you and your family enjoy!
Substitutions
This gingerbread granola recipe isn't overly sweet and it has a good level of gingerbread spices. Feel free to tweak it to make it your own:
If you aren't a fan of molasses, replace it with the same volume of maple syrup
If you aren't a fan of walnuts, replace them with more pecans, or try shelled raw pistachios
If you aren't a fan of the nutmeg and cloves in gingerbread or pumpkin spice mixes, replace them with any warm spices like cinnamon or ginger
If you don't want to use dried cranberries, replace them with raisins, chopped pitted dates, or even dried blueberries or dried cherries
If you don't have crystallized ginger, replace it with more dried cranberries, or even raisins, chopped pitted dates, dried blueberries or dried cherries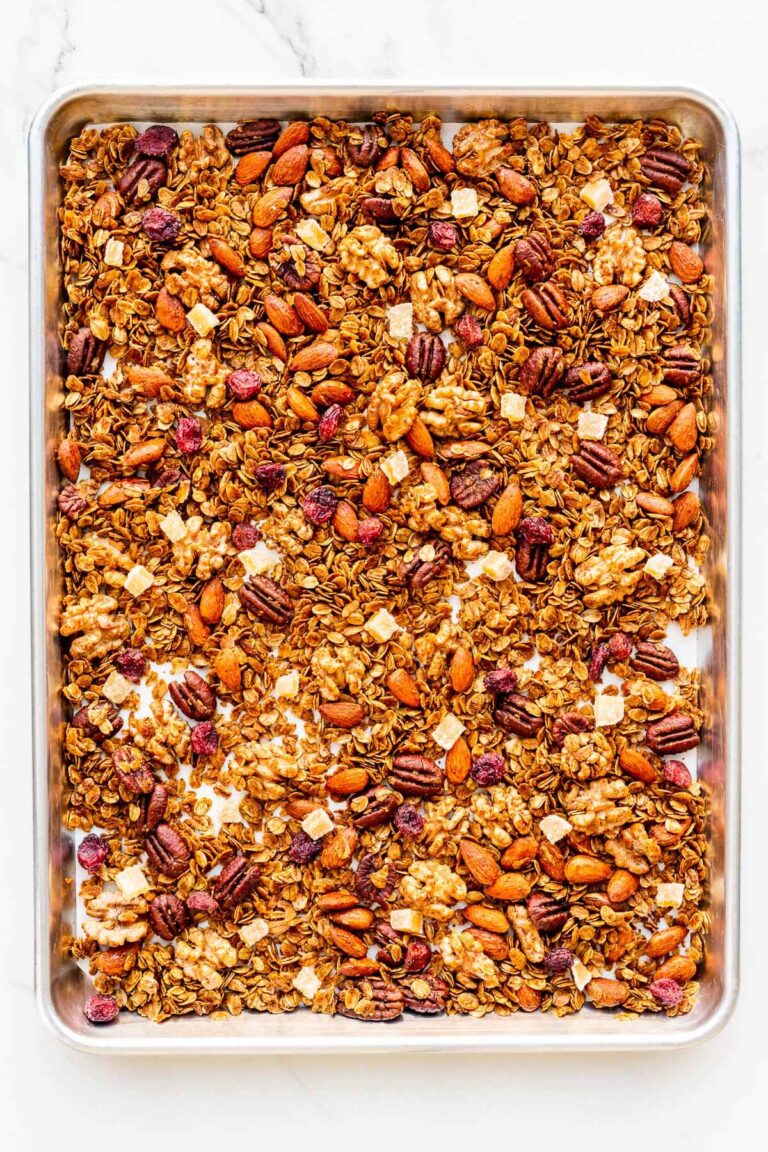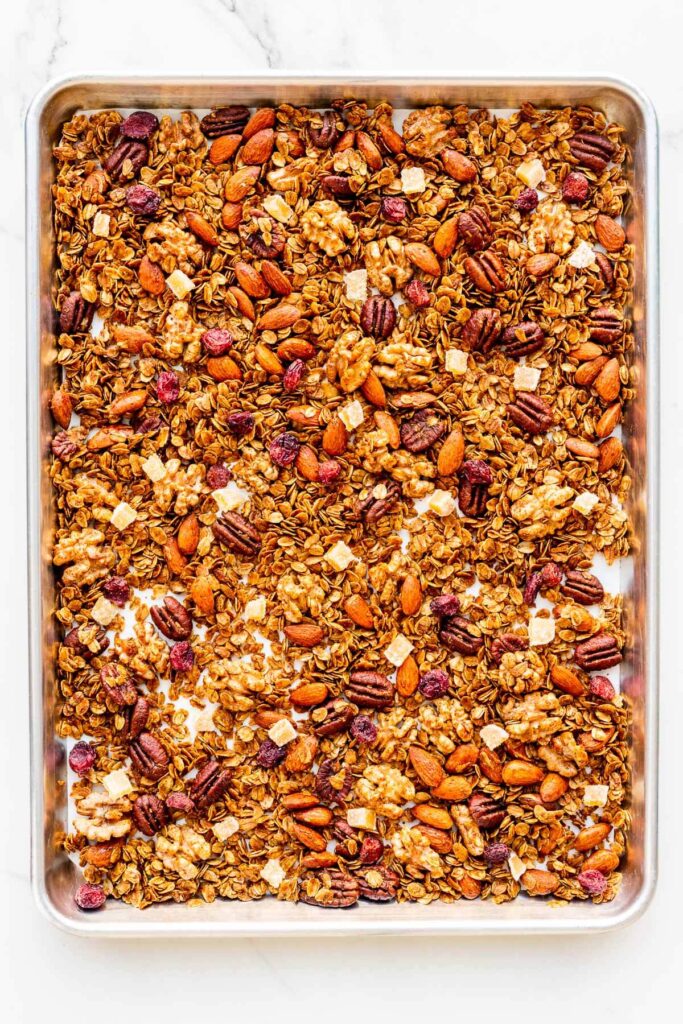 Technique for preventing granola from clumping
This granola is baked on two sheet pans and stirred a few times as it bakes. This is the trick to making granola that is not clumped in clusters: spread it out so there's lots of space and stir it often.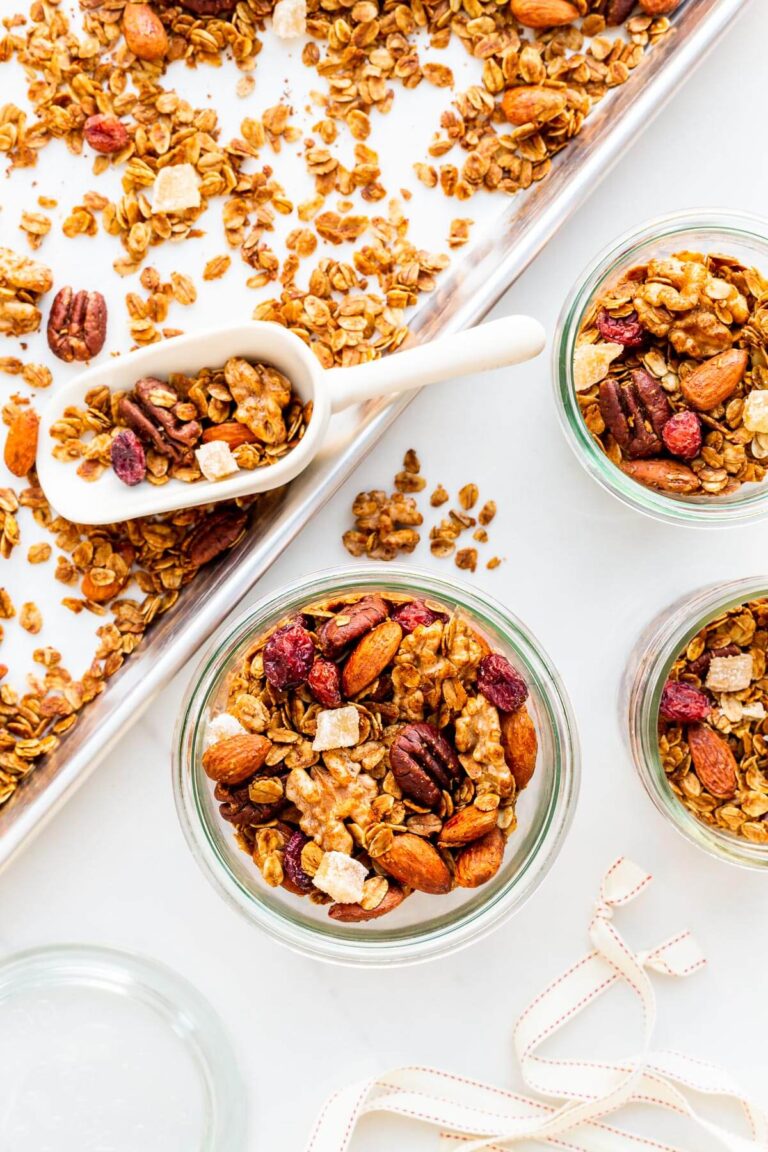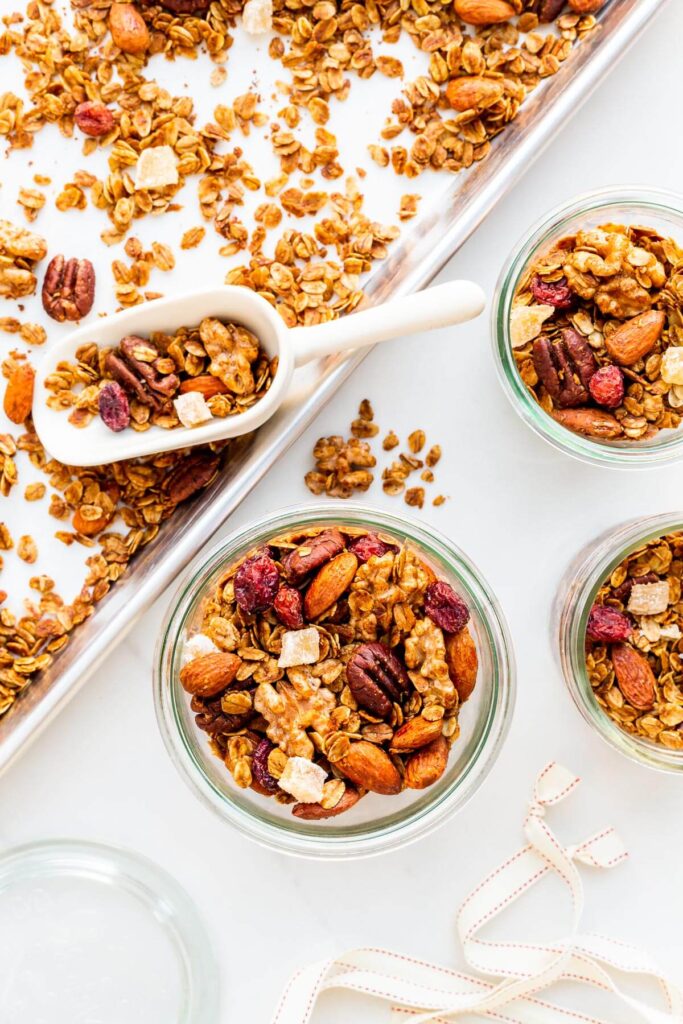 On the other hand, if you prefer clumpy granola that has distinct clusters of oats, follow the tricks for the maple-flavoured granola clusters, baking it on a single sheet pan, pressed firmly to pack it tightly before baking! This way you are essentially baking a giant granola cookie and breaking it apart when it's cooled down.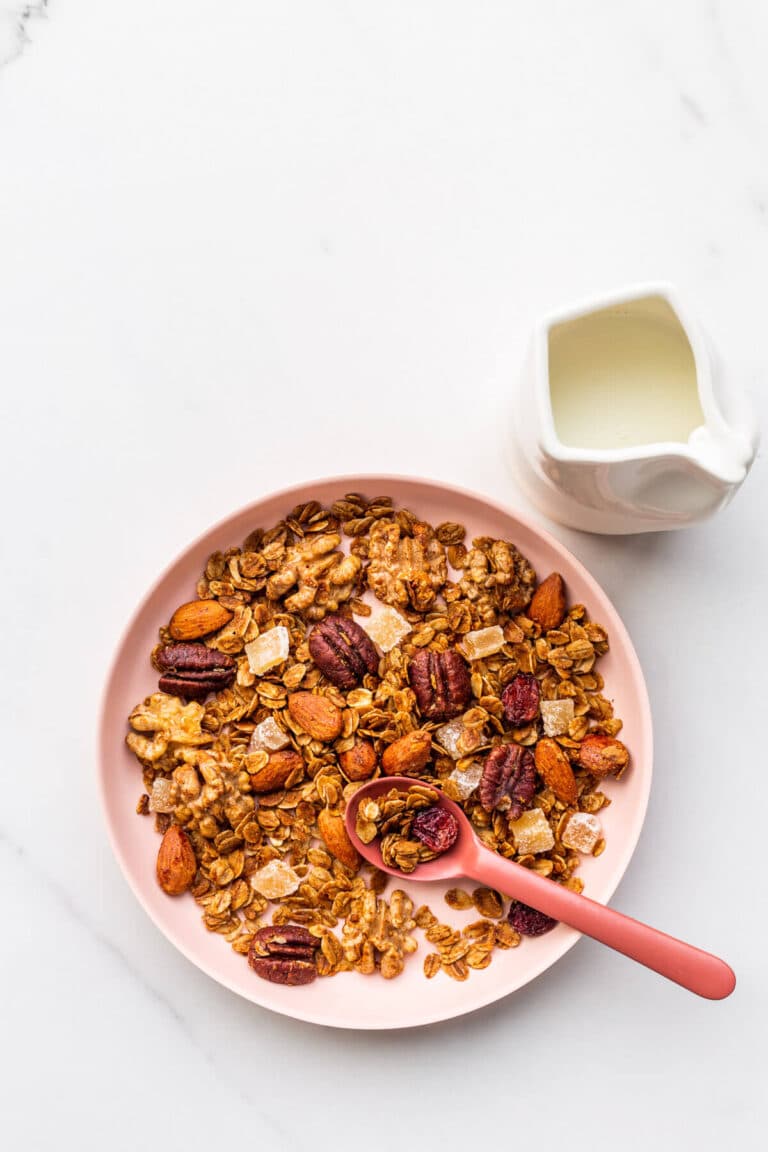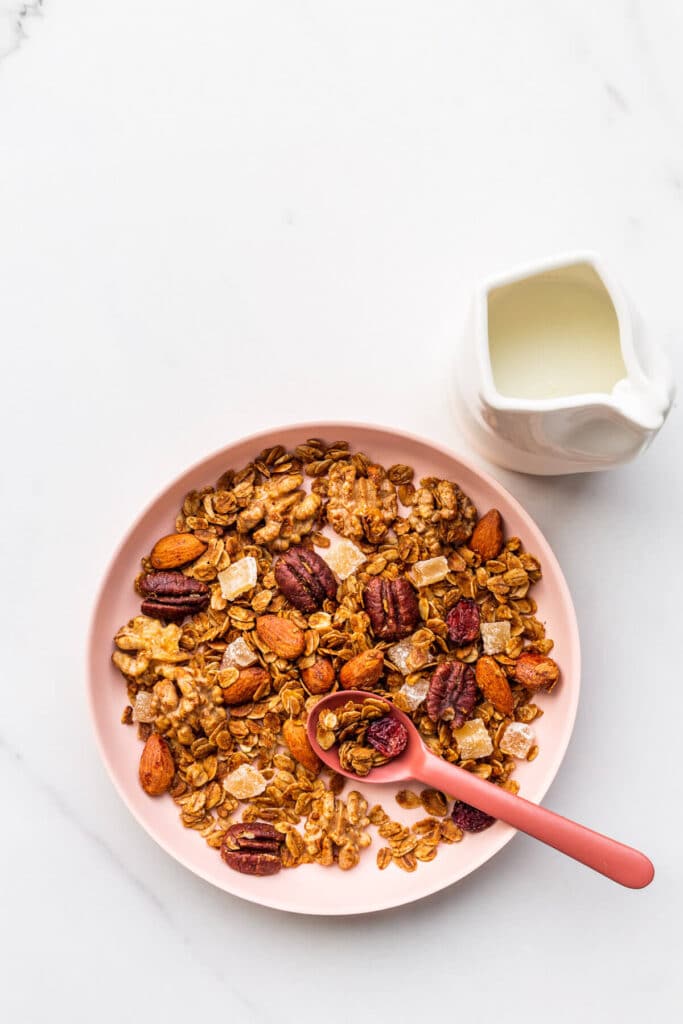 This gingerbread granola is a festive take on classic breakfast oats. This would make great edible gifts for Christmas, packed in decorative jars with fancy ribbon and a pretty gift label. I like to serve it with yogurt or milk for holiday breakfasts and brunches!
📖 Recipe
Gingerbread granola
This gingerbread granola is perfect for Christmas, sweetened with molasses and a mix of gingerbread spices. Chopped crystallized ginger, nuts, and cranberries are mixed in after baking for a festive breakfast treat
Ingredients
460

grams

(

5

cups

)

rolled oats (or large flake oats)

140

grams

(

1

cup

) almonds

120

grams

(

1

cup

) walnuts

100

grams

(

1

cup

) pecans

7.5

mL

(

1½

teaspoon

)

ground cinnamon

5

mL

(

1

teaspoon

)

ground ginger

2.5

mL

(

½

teaspoon

)

ground cloves

2.5

mL

(

½

teaspoon

)

ground nutmeg

2.5

mL

(

½

teaspoon

) Diamond Crystal fine kosher salt

80

mL

(

⅓

cup

)

coconut oil

,

or unsalted butter

80

mL

(

⅓

cup

)

pure maple syrup

80

mL

(

⅓

cup

)

Fancy molasses

60

grams

(

½

cup

) dried cranberries

40

grams

(

¼

cup

) chopped crystallized ginger
Instructions
Preheat the oven to 325ºF. Line two large baking sheets (18x13 in) with parchment paper. Set aside

In a large bowl combine the oats, nuts, spices and salt. I like to use a Danish dough whisk to mix granola (you can buy it on Amazon). It works well. Set the mixture aside.

Meanwhile melt the coconut oil with the maple syrup and molasses in a small saucepan over medium heat. Stir well then pour over the oat mixture. Stir to coat all the ingredients with the syrup.

Transfer the mixture to prepared pans. Spread into an even layer from edge to edge.

Bake the mixture for 30 to 40 minutes, stirring it every 10 minutes and moving the pans around in the oven.

Let cool before adding the dried cranberries and candied ginger. Store in a jar.
Give back
If you enjoy the free content on this website, say thank you!
Notes
Recipe makes almost 9 cups of granola
Calories calculated based on ¼ cup serving. 
Recipe makes 28 x ¼ cup servings.
Nutrition
Calories:
198
kcal
|
Carbohydrates:
21
g
|
Protein:
4
g
|
Fat:
12
g
|
Saturated Fat:
3
g
|
Polyunsaturated Fat:
4
g
|
Monounsaturated Fat:
4
g
|
Trans Fat:
1
g
|
Sodium:
38
mg
|
Potassium:
182
mg
|
Fiber:
3
g
|
Sugar:
7
g
|
Vitamin A:
4
IU
|
Vitamin C:
1
mg
|
Calcium:
41
mg
|
Iron:
1
mg