German gingerbread are sweetened with honey instead of molasses, and flavoured with a little cocoa powder, ginger, cinnamon, nutmeg, anise, cardamom, pepper, and cloves. These iced gingerbread cookies are a simple holiday treat!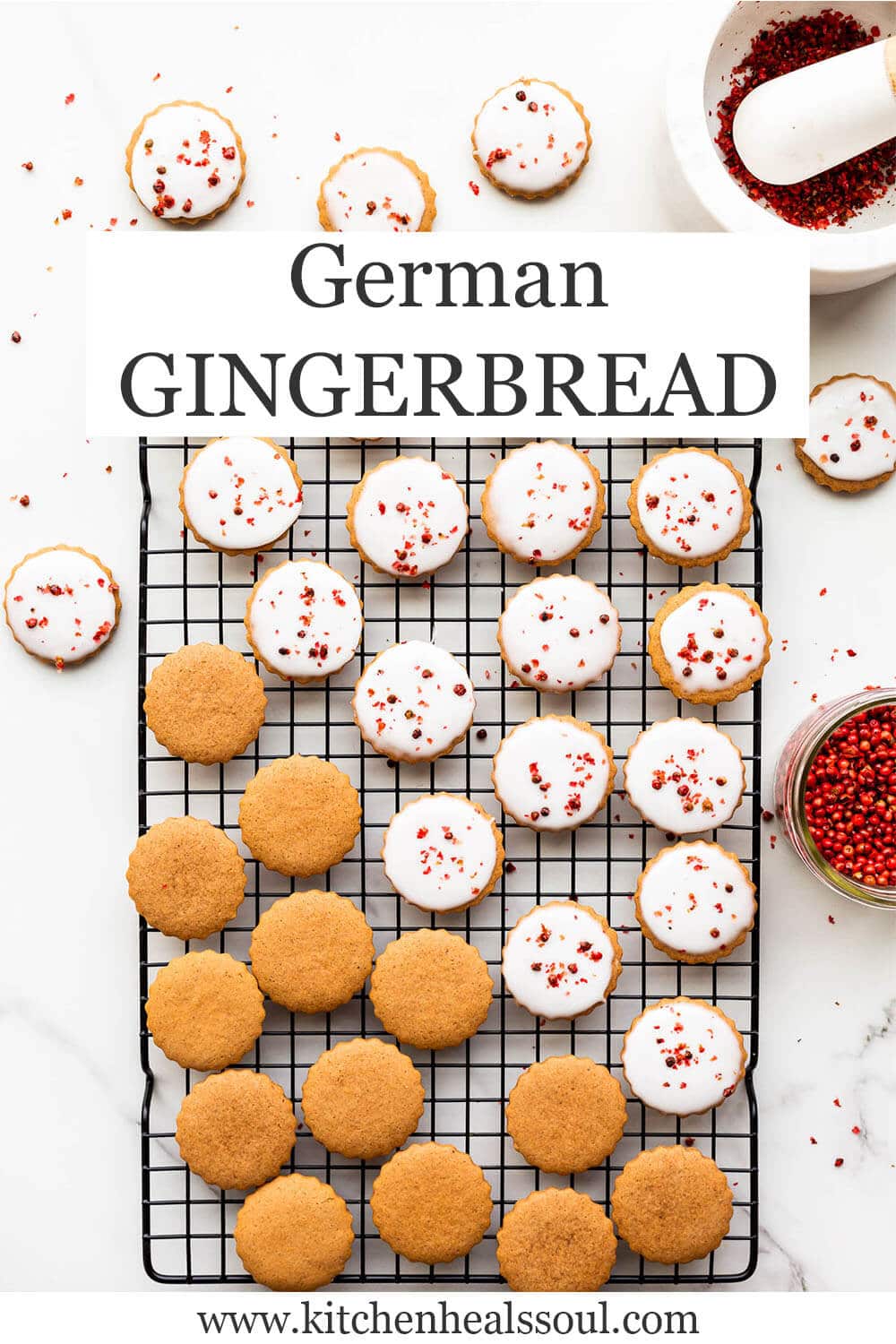 Disclosure: As an Amazon Associate, I earn from qualifying purchases.
German gingerbread cookies are a little different than North American gingerbread cookies. They are made with honey instead of molasses, and have a little cocoa powder. The spices are similar to the usual ginger, cinnamon, nutmeg, and cloves, but you also add cardamom, anise, and even ground pepper. They are often called "Lebkuchen," but also "Honigkuchen" (because they are sweetened with honey) or"Pfefferkuchen" (if they are made with pepper). Remember that "Kuchen" means cake in German.
Actually, this recipe is quite similar to the soft gingerbread cookies from Helen Goh+Ottolenghi's baking book called Sweet!
Many recipes for German gingerbread include ground nuts and some will also include chopped candied citrus peel. They are usually glazed in a thin icing that is a little more translucent than what you see here and they may be garnished with blanched almonds. This German gingerbread cookie recipe is adapted from a recipe shared by a German work colleague. I changed a few things, like the spices, and also doubled the butter. Still, her version didn't have any nuts or citrus peel, so I stayed true to the original.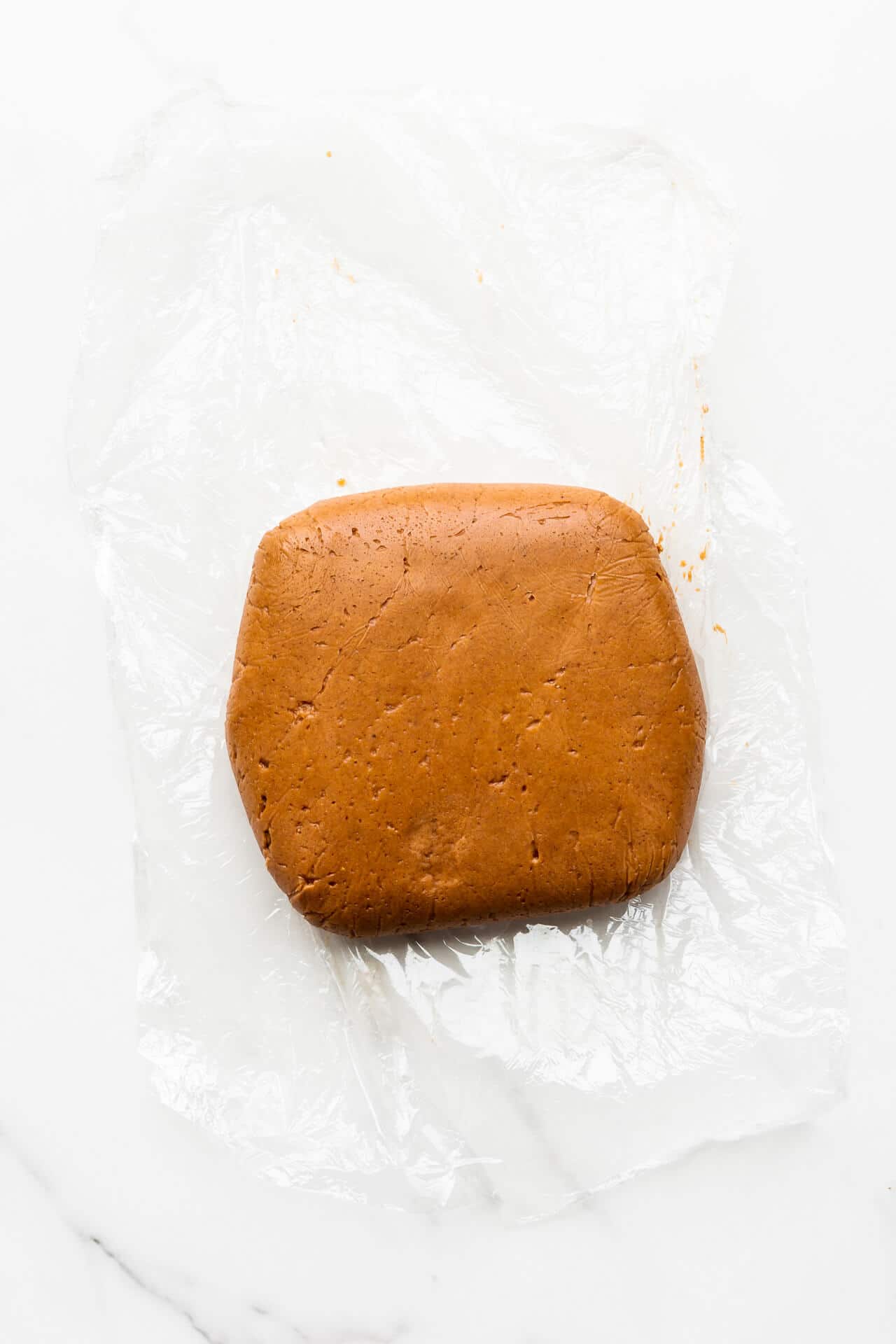 The beauty of this cookie dough is that it is made from melted butter, so you don't have to worry about letting your butter come to room temperature because you can take the cold butter and melt it in a pot. The resulting dough is soft and might be too warm to roll, so I highly recommend letting it chill for 1 hour wrapped in plastic wrap to keep it from drying. The cold will help the cookies keep their shape when baked.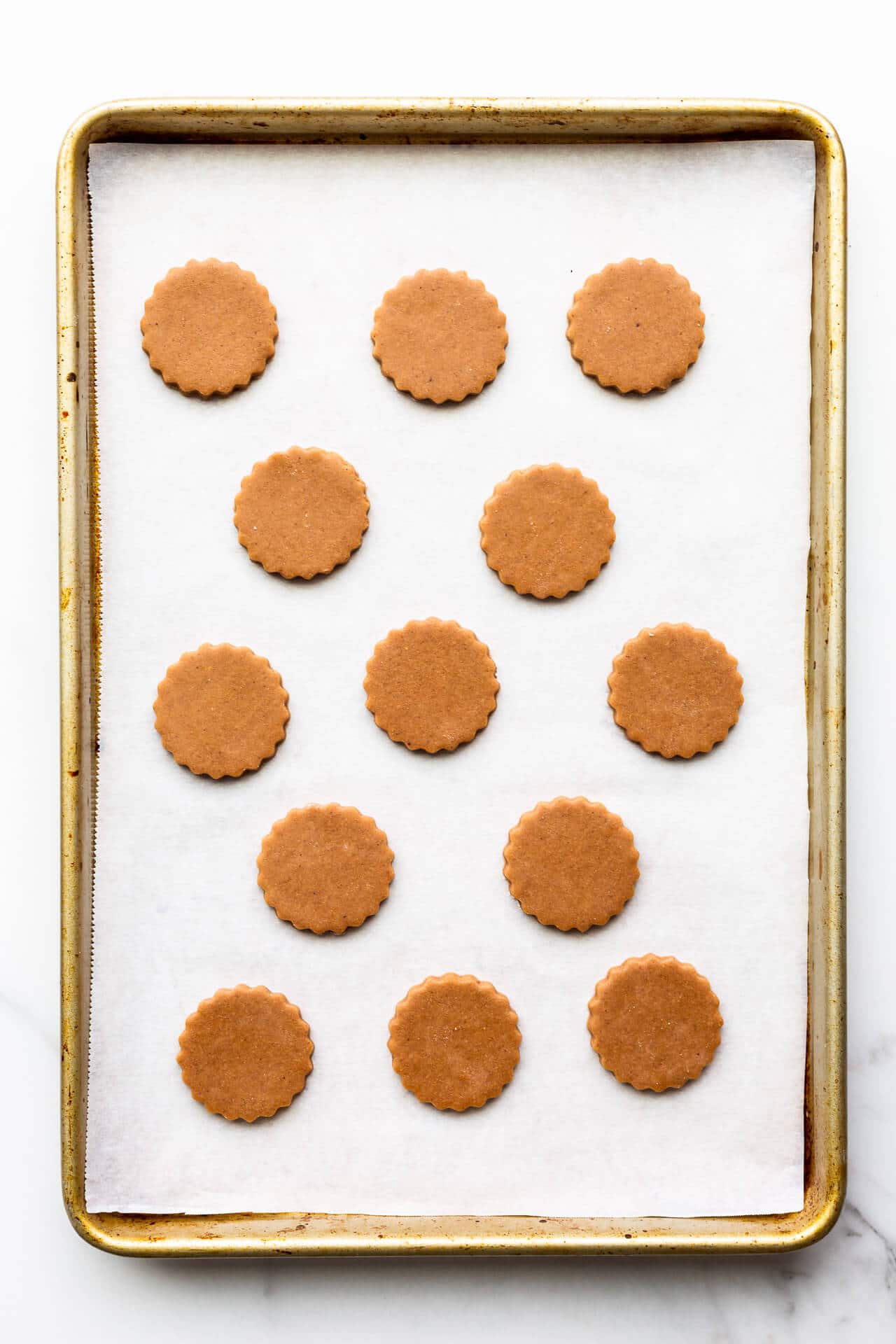 Since these gingerbread are sweetened with honey instead of molasses, the flavour is quite distinct. I find you can really taste the honey and even the small amount of cocoa, which helps give these cookies a darker colour and also a more complex flavour that is a little more earthy and less sweet.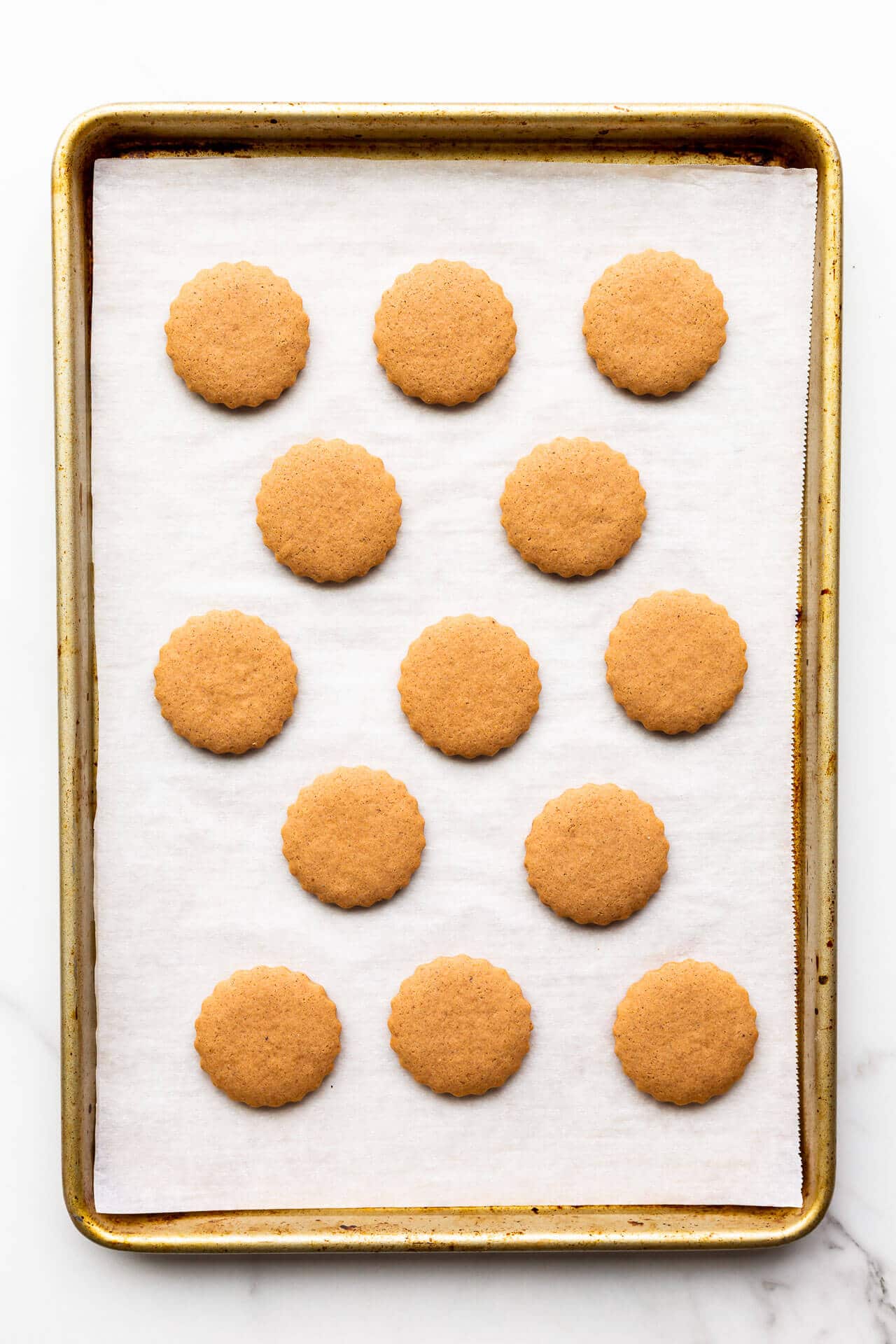 The spices in gingerbread vary widely, some focus heavily on ginger only, but in this case, I combined it with a little cinnamon, nutmeg, anise, cardamom, and a small amount of ground cloves. If your spices are very old, I highly recommend composting them and replenishing your stash with a new batch. Old spices have less flavour and the aroma is mostly gone. I like to add a little pepper to gingerbread dough, which adds a little zip to them, but feel free to tweak the spices to suit your tastes.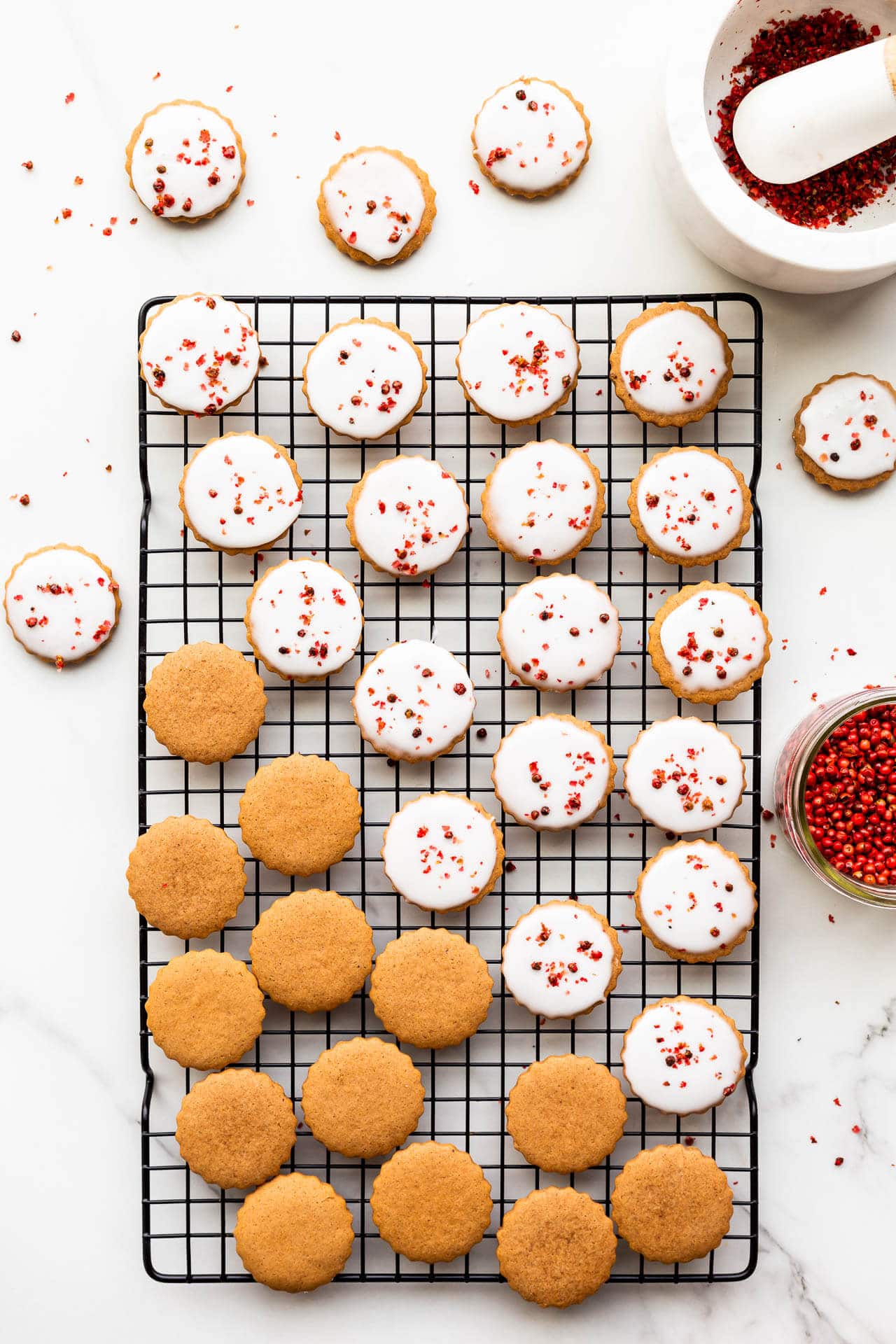 Traditionally, German gingerbread are coated in a very thin icing sugar glaze, which keeps the cookies fresh for longer, but I prefer to ice only the tops and with a thicker icing. I decorate them very simply, with pink peppercorns and green cardamom that I crush in a mortar and pestle. It's a nice, natural way of garnishing cookies without too much fuss.
Pink peppercorns have a more fruity flavour than black pepper so a little goes a long way. Don't overdo the garnish or it's all you will taste in the end.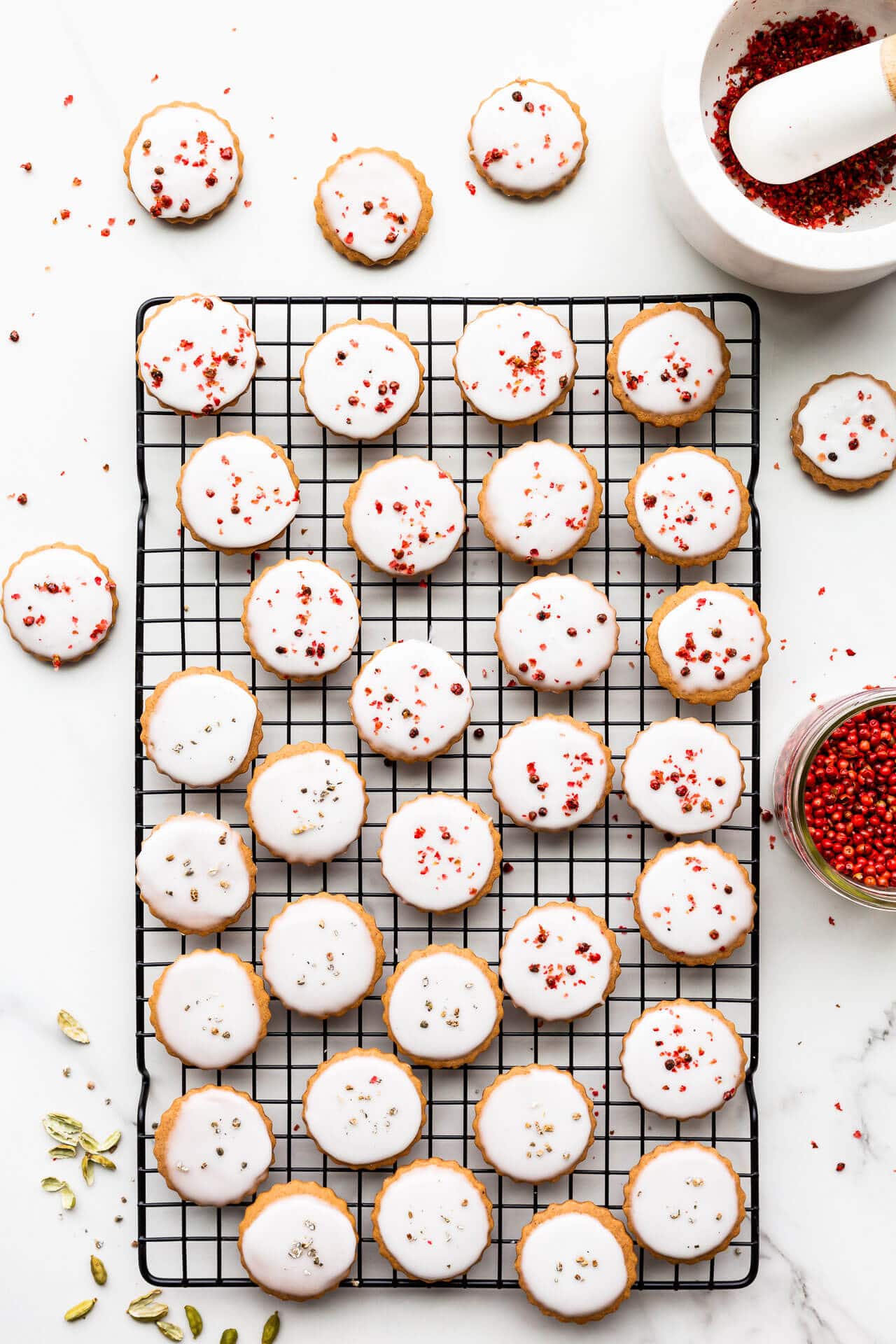 I find these cookies taste better the day after they are made. This gives time for the flavours to develop and mingle. The cookies have a soft texture, a little toothsome, and the icing sets hard so you can easily store them without ruining your decorations!
Want more gingerbread recipes? Try gingerbread granola, slice-and-bake gingerbread cookies, gingerbread muffins, or even matcha gingerbread!
📖 Recipe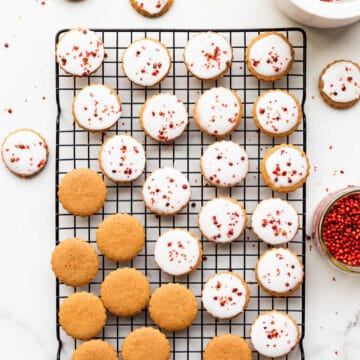 German Gingerbread Cookies
Ingredients
250

grams

bleached all-purpose flour

5

mL

baking powder

5

mL

ground ginger

2.5

mL

ground cinnamon

1.25

mL

ground nutmeg

1.25

mL

ground anise

1.25

mL

ground cardamom

1.25

mL

Diamond Crystal fine kosher salt

0.625

mL

ground cloves

0.625

mL

freshly ground black pepper

58

grams

unsalted butter

113

grams

honey

50

grams

light brown sugar

1

large egg(s)
Icing
125

grams

icing sugar

30

mL

whole milk (3.25 % fat)

more or less to achieve a thick consistency like donut glaze

green cardamom pods

seeds removed and crushed, husk discarded/composted

pink peppercorns

crushed
Instructions
Whisk together the flour, baking powder, ginger, cinnamon, salt, nutmeg, anise, cardamom, and cloves. Set aside.

In a medium saucepan on medium–low heat, melt the honey, butter, and brown sugar, stirring occasionally with a wooden spoon. When the mixture is completely melted and homogeneous, remove from the heat and transfer the mixture to a large mixing bowl to cool until it is lukewarm.

Using an electric mixer, beat the cooled honey-butter mixture with the egg until combined. Scrape down the sides of the bowl as needed.

Add the dry ingredient to the mixer bowl. Beat until combined, scraping down the sides of the bowl to incorporate every last bit of flour. The dough will be soft and a little sticky.

Line your work surface with a large piece of plastic wrap. Dump the dough on top and work it with your hands, with the help of the plastic wrap, to shape it into a disk. Wrap and place in the refrigerator to chill for 1 hour.

Preheat the oven to 375°F. Line two baking sheets with parchment paper. Set aside.

Take the disk of dough out of the fridge, unwrap it, and roll it out on a lightly-floured surface to ¼-inch. Using lightly floured 2-inch cookie cutters, cut out and transfer them to the baking sheet.

Bake the cookies until set, but still soft, for 6 to 8 minutes. They shouldn't brown and you don't want them to dry out.

Cool slightly before transferring to a wire rack.

Continue with the rest of the dough. The dough scraps can be rerolled a few times to make more cookies.

Store the baked cookies in an airtight plastic container to keep them soft.
Icing
Whisk together the icing sugar with 1 tablespoon (15 mL) of milk. Add a little more milk until you reach a very thick, smooth consistency that allows you to dip the tops of the cookies in the icing to glaze them, without the icing running off the edges. I needed a total of 30 mL (2 tablespoon of milk) but you may need 37.5 mL (2.5 tablespoon of milk) even.

Dunk the top of each cooled cookie in the icing, shaking off excess, and flip over onto a wire rack. Sprinkle with crushed pink peppercorns or crushed cardamom and allow the icing to dry before storing in an airtight container.
Nutrition
Calories:
70
kcal
Carbohydrates:
13
g
Protein:
1
g
Fat:
2
g
Saturated Fat:
1
g
Cholesterol:
8
mg
Sodium:
17
mg
Potassium:
36
mg
Fiber:
1
g
Sugar:
7
g
Vitamin A:
47
IU
Calcium:
11
mg
Iron:
1
mg