Is it possible to fall in love with a cookie? I think so. These lemon glazed soft gingerbread cookies are perfection. The texture and the flavour are just what you want in a soft gingerbread cookie. The glaze gives a hint of tang that contrasts nicely with the deep molasses flavour of these gingerbread cookies.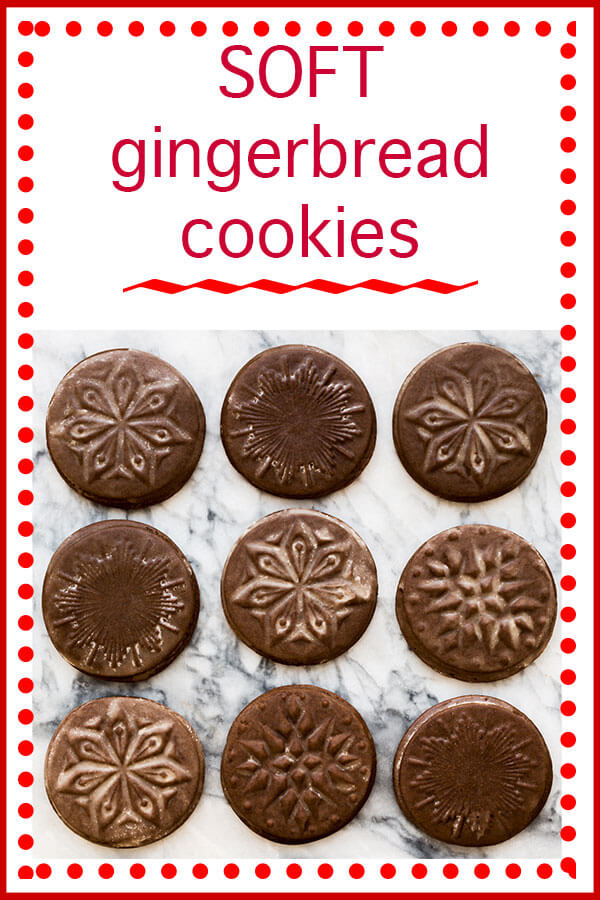 Disclosure: As an Amazon Associate, I earn from qualifying purchases.
What is black treacle?
The original recipe calls for black treacle (or dark treacle), which is a dark molasses-like syrup from Britain. Black treacle is a by-product of the sugar refining process and has a very distinctive, pronounced earthy molasses flavour, on the verge of burnt even.
The only black treacle I've ever found here is from the brand Lyle's (they also make golden syrup, which is another British ingredient used in baking) and it comes in a cute red tin. If you can't find Lyle's Black Treacle in stores near you, you can find it on Amazon. Another option would be to replace the black treacle with blackstrap molasses, which is more readily available in North America. Usually, you can find blackstrap molasses at the grocery store in the baking aisle (should be next to the fancy molasses), or in the organic section. You may also find it in health food stores and organic grocery stores.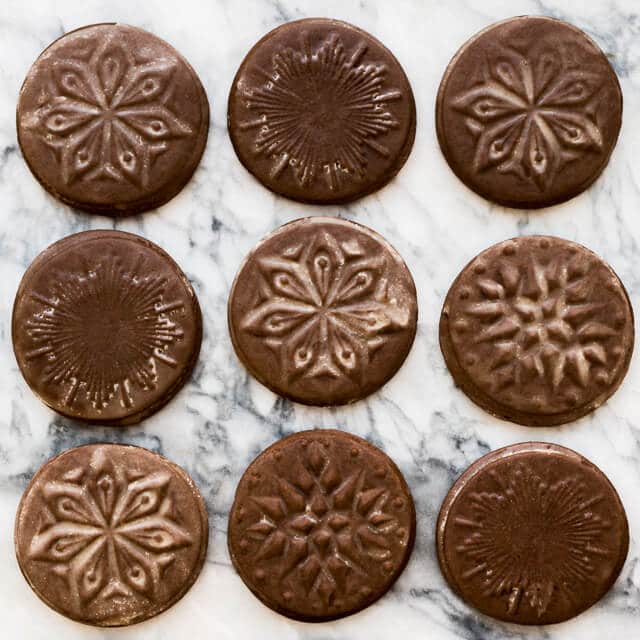 Making stamped cookies
There are 2 methods to make stamped cookies:
Form balls of cookie dough, then press down with the stamp to stamp out the pattern onto each cookie, using floured cookie stamps. This is the method I used for these stamped chocolate cookies. This method can lead to scraggly, uneven methods, and there's nothing wrong with that, but if you want a clean edge, use the other method.
Roll out the cookie dough into a sheet, stamp out the pattern on the sheet of rolled dough as many times as you can, and then take a round cookie cutter that is the same diameter as the stamp and cut out the stamped rounds. Make sure to leave a thin between stamps to allow for space for the cookie cutter. This method is more tedious and takes much longer, but this will lead to the cleanest, most professional look. This is the method I used for these lemon shortbread cookies.
The recipe comes from the book Sweet by Yotam Ottolenghi and Helen Goh. I highly recommend this baking book and you can order it from Amazon.
📖 Recipe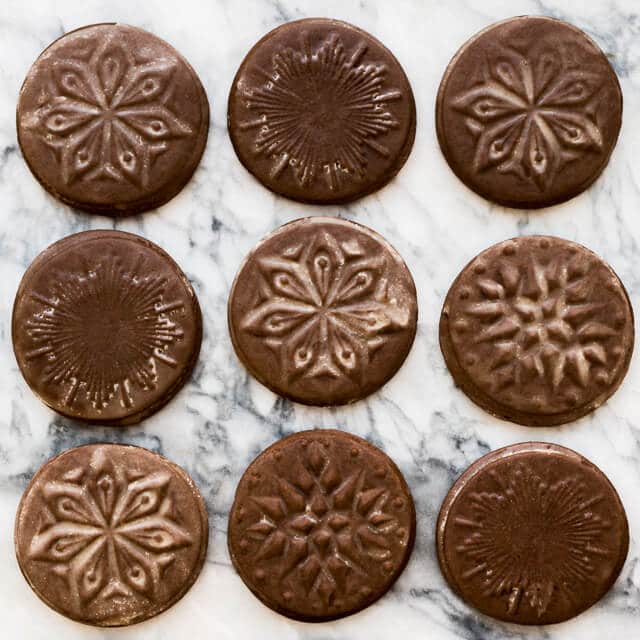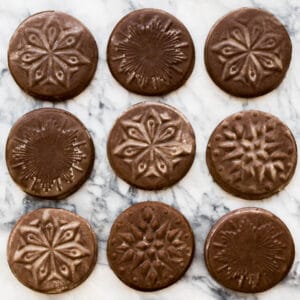 Soft Gingerbread Cookies
These soft gingerbread cookies are made using Nordic Ware cookie stamps and then finished with a lemon glaze for a festive holiday treat. Recipe by Yotam Ottolenghi & Helen Goh from the baking book Sweet
Ingredients
Lemon-Butter Glaze
80

g

icing sugar

15

g

unsalted butter

melted and warm

1

tablespoon

fresh lemon juice

1

teaspoon

warm water
Instructions
Place the butter, sugar, and treacle in the bowl of an electric mixer with the paddle attachment in place. Beat on medium speed until smooth and incorporated. Add the egg yolk and continue to beat until fully combined.

Sift the flour, cocoa powder, baking soda, ginger, cinnamon, cloves, salt and pepper into a separate bowl. Turn the speed of the mixer to low, and add the dry ingredients to the butter mixture. Once the mix comes together, tip the dough onto a lightly floured work surface and knead gently. Refrigerate the dough if it's too soft to roll. Roll out the dough so that it is about ¼ inch/ 0.5 cm thick. Remember, if the dough is very soft, you will need to chill it.

Preheat the oven to 375°F (190°C). Line two baking sheets with parchment paper and set aside.

Dip the cookie stamps in a small bowl of flour, shake off any excess and then press them firmly into the dough, one at a time, to create a deep imprint. How far you need to press to get an imprint will depend on your stamp; the patterns on some are more deeply cut than others. Bear in mind that the cookies rise a little when cooked, so any soft imprints will disappear. Using a round cookie cutter that is slightly larger than the pattern, cut out the pieces of imprinted gingerbread. Transfer the cookies to the lined baking sheets, spaced about ¾ inch–½ cm apart. Reroll the dough and continue to stamp and cut cookies until all the dough is used up.

Bake for 9–10 minutes, rotating the sheets halfway through, until firm to the touch. They will continue to firm up as they cool, so don't be tempted to bake them for any longer.

To make the lemon-butter glaze while the gingerbreads are in the oven, as the glaze needs to be brushed onto the cookies while they are still warm, sift the confectioners' sugar into a small bowl. Add the melted butter,  lemon juice, and water, and mix with a spoon until smooth. The glaze will thicken slightly if it sits around, so stir through a little more warm water if you need to—it should be the consistency of runny honey.

Remove the cookies from the oven, leave them to cool for 5 minutes, then brush the glaze all over with a pastry brush. Transfer to a wire rack to cool completely.
Notes
Dark treacle:

I used Lyle's black treacle, which comes in a can, but you can use blackstrap molasses if you can't find treacle. Treacle is a British product that is quite similar to molasses. You can order Lyle's black treacle from Amazon.

Cookie stamps:

I like Nordic Ware cookie stamps. They have a wooden handle, are easy to use, and easy to clean. I like to stamp out as many of the designs as possible, then using a round cookie cutter of the same diameter, I cut out the cookies. The Starry Nights Nordic Ware cookie stamps I used for this post are available on Amazon. I also love the All Season stamps available on Amazon. I used those to make these stamped chocolate cookies.

Glaze:

Feel free to replace the lemon juice with some rum to brush these gingerbread cookies with a rum glaze instead. Up to you!

 Make-Ahead:

Once the dough is made, it can be covered in plastic wrap and kept in the fridge for up to 2 days before baking.

Storage:

These will keep for several days in an airtight container. The glaze will whiten, and may dry out and crack a little, but the cookies will still taste great!
Nutrition
Calories:
186
kcal
Carbohydrates:
30
g
Protein:
2
g
Fat:
6
g
Saturated Fat:
3
g
Cholesterol:
29
mg
Sodium:
90
mg
Potassium:
139
mg
Sugar:
16
g
Vitamin A:
195
IU
Vitamin C:
0.4
mg
Calcium:
48
mg
Iron:
2
mg
Please note this post contains affiliate links for Amazon. If you buy a product I recommend, I will get a small commission, and the price you have to pay will not change in any way.