Make an apple crisp for one by microwaving the apples while you cook a tiny batch of crumble topping in a fry pan on the stove. It's easy with this recipe and it cooks in 2 minutes!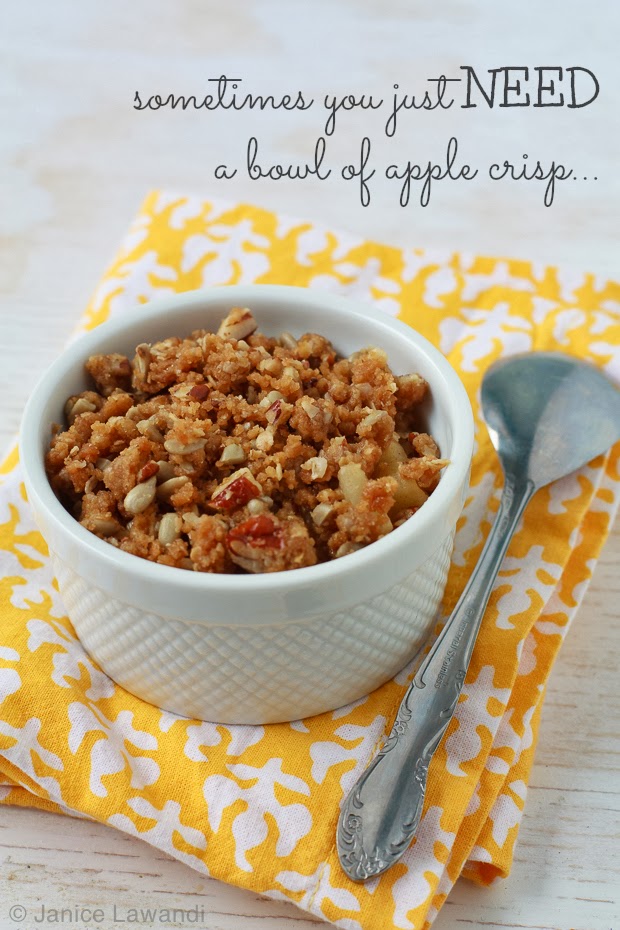 I love making big fruit crisps, like this traditional strawberry rhubarb crumble, or crazy flavour combos like this cherry chocolate crumble and this Concord grape crisp with peanut butter crumble (so good!). But fruit desserts tend to make a lot of servings, and I am only one person who probably shouldn't eat an entire apple crisp by herself.
Disclosure: As an Amazon Associate, I earn from qualifying purchases.
Ingredients you need to make this dessert
If you want to make just one serving of apple crisp, you will need small amounts of the same ingredients that go into a full sized dessert:
apple, preferably a variety that holds its shape, like Cortland or Empire. Macintosh apples will also work but they break down more.
sugar, either granulated or brown sugar or a combination of both is needed to sweeten the fruit layer and to make the crumble topping
warm spices, like cinnamon, nutmeg, cloves, or ginger work well in this easy dessert
oats give texture to the crumble topping
flour binds the topping together
butter adds richness to the topping and helps caramelize and toast the crumble, bringing out nutty flavours
nuts, like pecans, add texture to the crumble topping and flavour (you could substitute walnuts, almonds, sunflower seeds, etc)
salt is always great for balancing the sweetness of desserts and bringing a little depth so that it isn't one-noted
This method is perfectly timed: the crumble topping takes 2 minutes to cook on the stove, while the apple takes 2 minutes to cook in the microwave. GENIUS.
I don't think a recipe can be easier than this. If you can chop an apple and microwave it, and in the meantime, cook some crumble topping on the stove for 2 minutes, then you can make this.
The apples are warm and comforting, and the crumble topping is crisp and sweet. It's everything an apple crisp should be, without having to commit to a whole pan. I think we could all use a little apple crisp in our lives, at a moment's notice. Treat yourself. If you need more dessert for one inspiration, try this chocolate cake in a mug, baked in a mug in the microwave.
📖 Recipe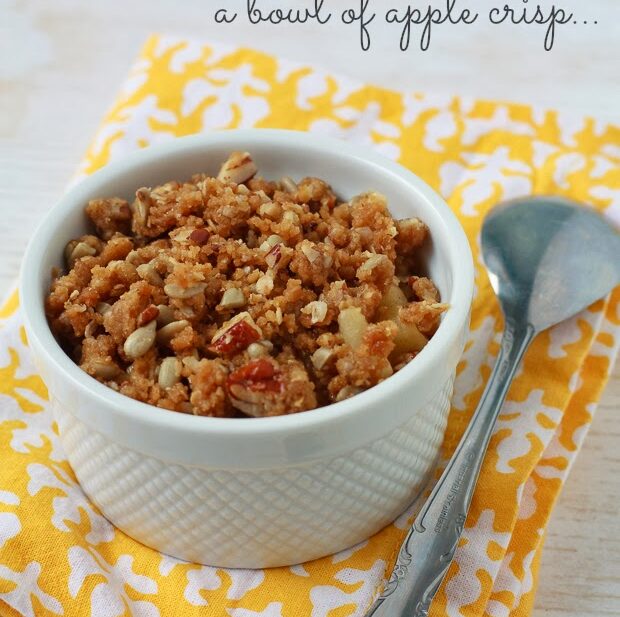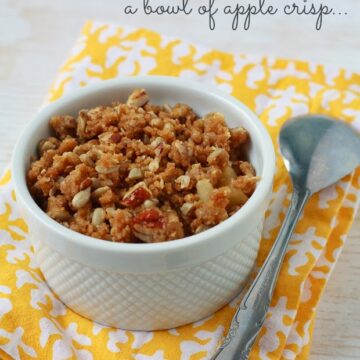 Apple Crisp For One
You are literally less than 10 minutes away from a serving of apple crisp with this recipe, and it's everything an apple crisp should be, without having to commit to a whole pan.
Ingredients
Apple base ingredients
1

Cortland apple(s)

I used an Empire apple, peeled, cored and diced

2

pinches

ground cinnamon

2.5

mL

granulated sugar

10

grams

unsalted butter

cut into pieces

5

grams

bleached all-purpose flour

10

grams

dark brown sugar

5

grams

rolled oats (or large flake oats)

5

grams

Nuts

like 2 pecans and a few sunflower seeds

1

pinch

Diamond Crystal fine kosher salt

10

grams

unsalted butter
Instructions
In a microwave safe bowl, combine the apple base ingredients, dotting with the pieces of butter. Microwave on high for 2 minutes, stopping it to stir halfway through the cooking time.

Meanwhile, in a fry pan, combine the crumble topping ingredients. Cook the crumble on medium–high heat for about 2 minutes, swirling the pan every so often and stirring with a wooden spoon to evenly distribute the butter as it melts and to form clusters of crumble topping. The nuts will toast during this step so be careful not the burn them. Take the pan off the heat when the topping is cooked.

Top the cooked apple with crumble topping and enjoy.
Nutrition
Calories:
358
kcal
Carbohydrates:
48
g
Protein:
3
g
Fat:
20
g
Saturated Fat:
11
g
Polyunsaturated Fat:
1
g
Monounsaturated Fat:
6
g
Trans Fat:
1
g
Cholesterol:
43
mg
Sodium:
47
mg
Potassium:
275
mg
Fiber:
7
g
Sugar:
31
g
Vitamin A:
605
IU
Vitamin C:
8
mg
Calcium:
51
mg
Iron:
1
mg