Make an apple crisp for one by microwaving the apples while you cook a tiny batch of crumble topping in a fry pan on the stove. It's easy with this recipe and it cooks in 2 minutes!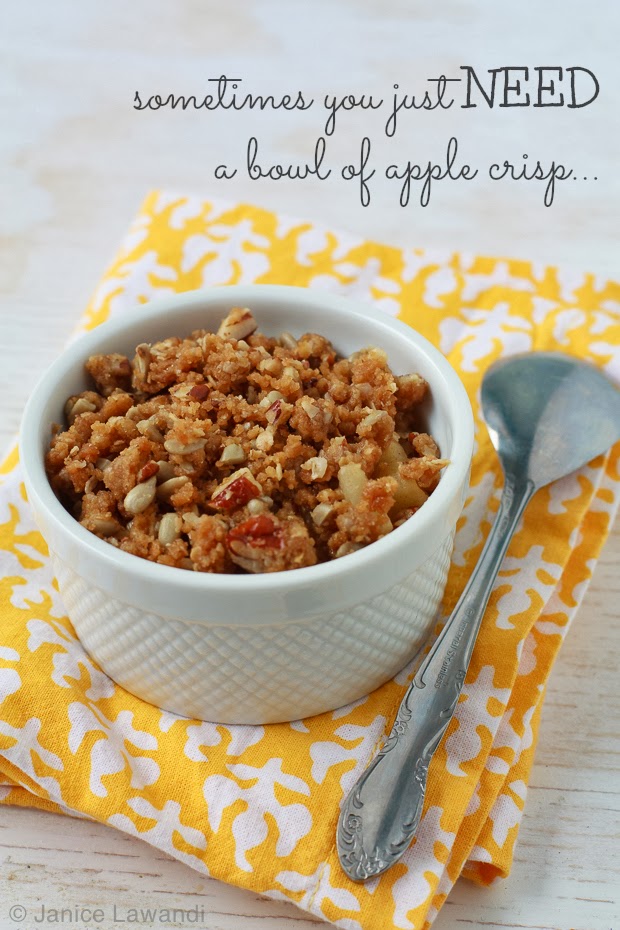 For the record, I love making fruit crisps, like this traditional strawberry rhubarb crumble, or crazy flavour combos like this cherry chocolate crumble and this Concord grape crisp with peanut butter crumble (so good!). But fruit desserts tend to make a lot of servings, and I am only one person who probably shouldn't eat an entire apple crisp by herself.
This recipe I came up with is pure genius, well, genius in an apple crisp for one person kind of way. See, somehow when I was developing this recipe for a mini apple crisp, I wound up with a perfectly timed method: the crumble topping takes 2 minutes to cook on the stove, while the apple takes 2 minutes to cook in the microwave. GENIUS.
I started developing this recipe when I somehow found myself with a container of leftover unbaked crumble topping. I know what you are thinking: what kind of a weirdo actually ends up with leftover crumble topping? That weirdo is me because I got excited about crumble topping and then I ended up making more crumble topping than a little loaf cake could handle. If I had been smart, I would have layered the crumble in between layers of the batter, kind of like a coffee cake and streusel. Unfortunately, I was not so smart.
On the bright side, leftover crumble topping led me to develop this, and I am quite proud of my recipe for apple crisp for one. I don't think a recipe can be easier than this. If you can chop an apple and microwave it, and in the meantime, cook some crumble topping on the stove for 2 minutes, then you can make this.
The apples are warm and comforting, and the crumble topping is crisp and sweet. It's everything an apple crisp should be, without having to commit to a whole pan. I think we could all use a little apple crisp in our lives, at a moment's notice. Treat yourself.
Apple crisp for one
You are literally less than 10 minutes away from a serving of apple crisp with this recipe, and it's everything an apple crisp should be, without having to commit to a whole pan.
Ingredients
Apple base ingredients
1

apple

I used an Empire apple, peeled, cored and diced

2

pinches

ground cinnamon

½

teaspoon

granulated sugar

10

grams

unsalted butter

2 teaspoon, cut into pieces
Crumble topping ingredients
Instructions
In a microwave safe bowl, combine the apple base ingredients, dotting with the pieces of butter. Microwave on high for 2 minutes, stopping it to stir halfway through the cooking time.

Meanwhile, in a fry pan, combine the crumble topping ingredients. Cook the crumble on medium–high heat for about 2 minutes, swirling the pan every so often and stirring with a wooden spoon to evenly distribute the butter as it melts and to form clusters of crumble topping. The nuts will toast during this step so be careful not the burn them. Take the pan off the heat when the topping is cooked.

Top the cooked apple with crumble topping and enjoy.
Nutrition
I do my best to bake with the finest ingredients. Stirling Creamery, a Canadian company, has provided the butter for this post.