When it comes to baked fruit desserts, there are many variations and most seem to revolve around the same theme: a fruit layer baked with a dough on top and/or on bottom. The dough can be a pie dough, a yeasted dough, a biscuit dough, or even cake batter.
The naming varies by region or by family tradition, and can lead to some arguing within communities. Here's a list of fruit desserts that are common in North America to help mitigate some of the confusion. If you've ever wondered if you're baking a crisp or a crumble, a grunt or a slump, this list is for you!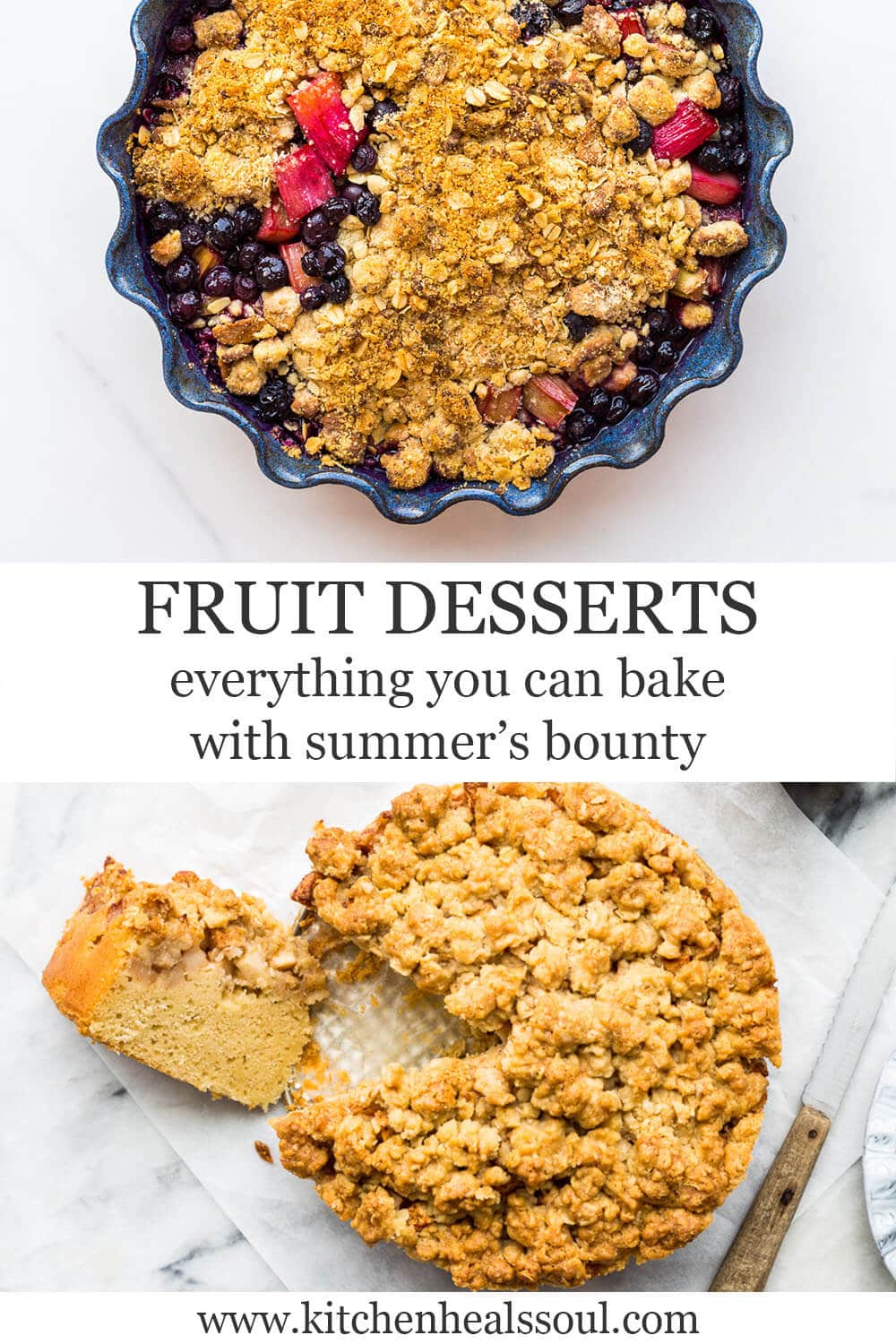 Disclosure: As an Amazon Associate, I earn from qualifying purchases.
Fruit desserts with crust or cake on the bottom
Some fruit desserts are made with a fruit filling and a crust on the bottom, usually made from an all-butter pie dough. The fruit filling combines lots of fruit, sugar, and a thickener. The thickener helps to gel the fruit juices released with the dessert bakes so that the dessert isn't soupy.
Pies
Pies are made from a fruit filling surrounded by crust, usually on top and on bottom, though you can have single crust pies with a crust only on the bottom of the pie and topped with a crumble or crisp topping. You can find many examples of fruit pies on this site, especially sweet pies like this rhubarb lattice pie and this maple apple pie, both of which are double crust fruit pies. On the other hand, this whiskey peach pie is a single crust pie and topped with a crumble topping.
Galettes
Fruit galettes are usually free-form pies that can be baked on a sheet pan, without a pie plate or tart pan. Galettes tend to be open-faced: a thick layer of fruits are piled on top of a sheet of pie dough, which is folded over the edges before baking to seal in the fruit juices. It's the easiest pie you can make. Here's an apple galette and a recipe for raspberry galettes to illustrate how easy they are to make!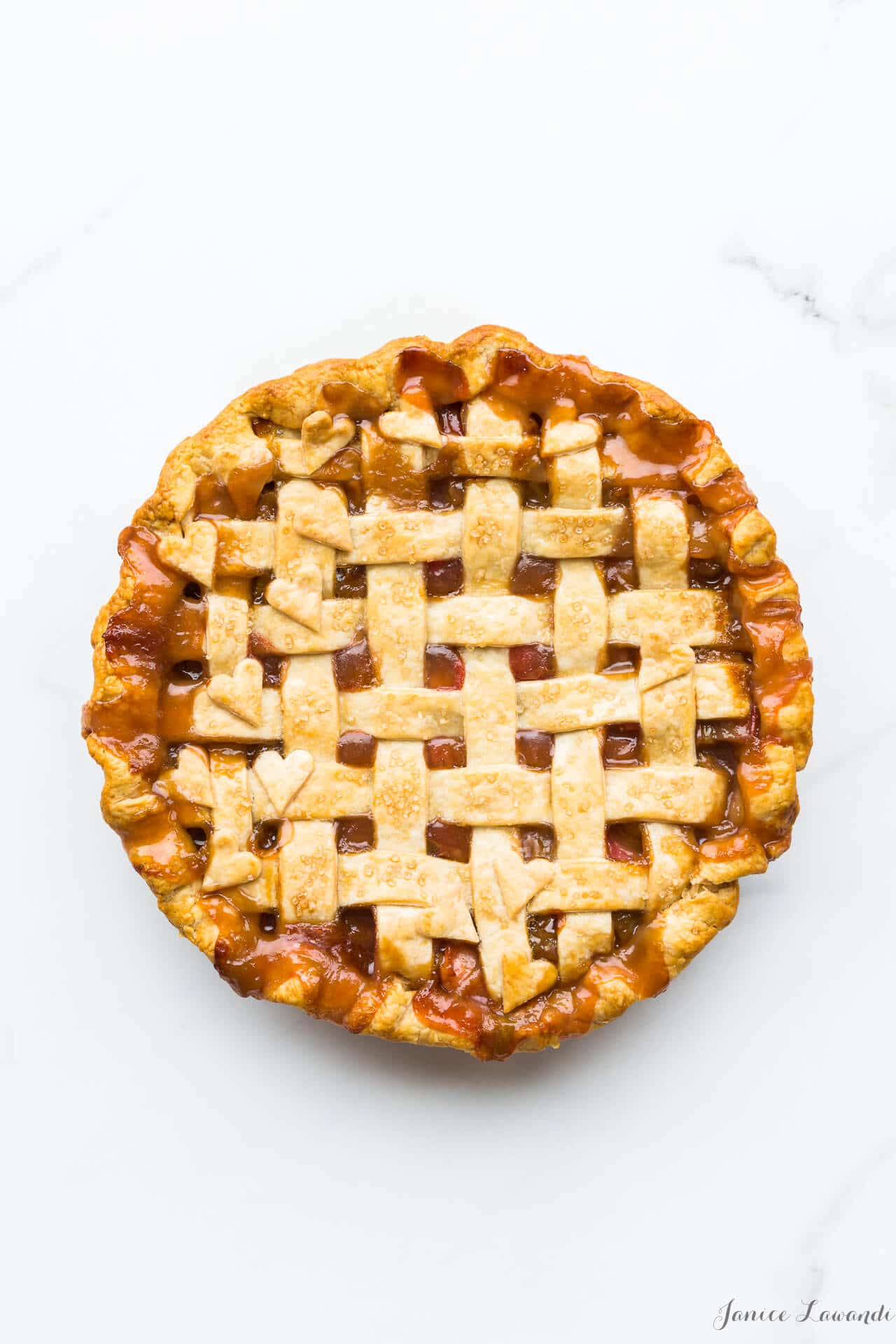 Tarts
Fruit tarts are made with a sweet crust, like pâte sucrée that is blind baked in a ring mould or tart pan with removable bottom. Once baked, the tart is filled with custard, curd, ganache, or other fillings, and then topped with fresh berries. Examples of this type of fruit dessert include this raspberry chocolate tart, this strawberries and cream tart, or these cute mini matcha tarts with passion fruit curd.
Upside-down cakes
Though the fruit is baked on the bottom of this retro dessert, upside-down cakes are flipped after baking so that the fruit is on the top in the end. The classic upside-down cake is made with rings of canned pineapple and bright red maraschino cherries, arranged in a decorative pattern. Today, bakers make this dessert with all kinds of summer fruit and even fall/winter fruit. This rhubarb raspberry upside-down cake is a beautiful example of a twist on the retro recipe.
Shortcakes
We can't forget shortcake desserts from the list, though they are a fruit sandwich of sorts because it's made from a biscuit that you split open and fill with fresh berries and whipped cream. Variations include this raspberry shortcake and this ice cream strawberry shortcake, filled with ice cream instead of whipped cream. All shortcake desserts are delicious and a great way to celebrate summer berries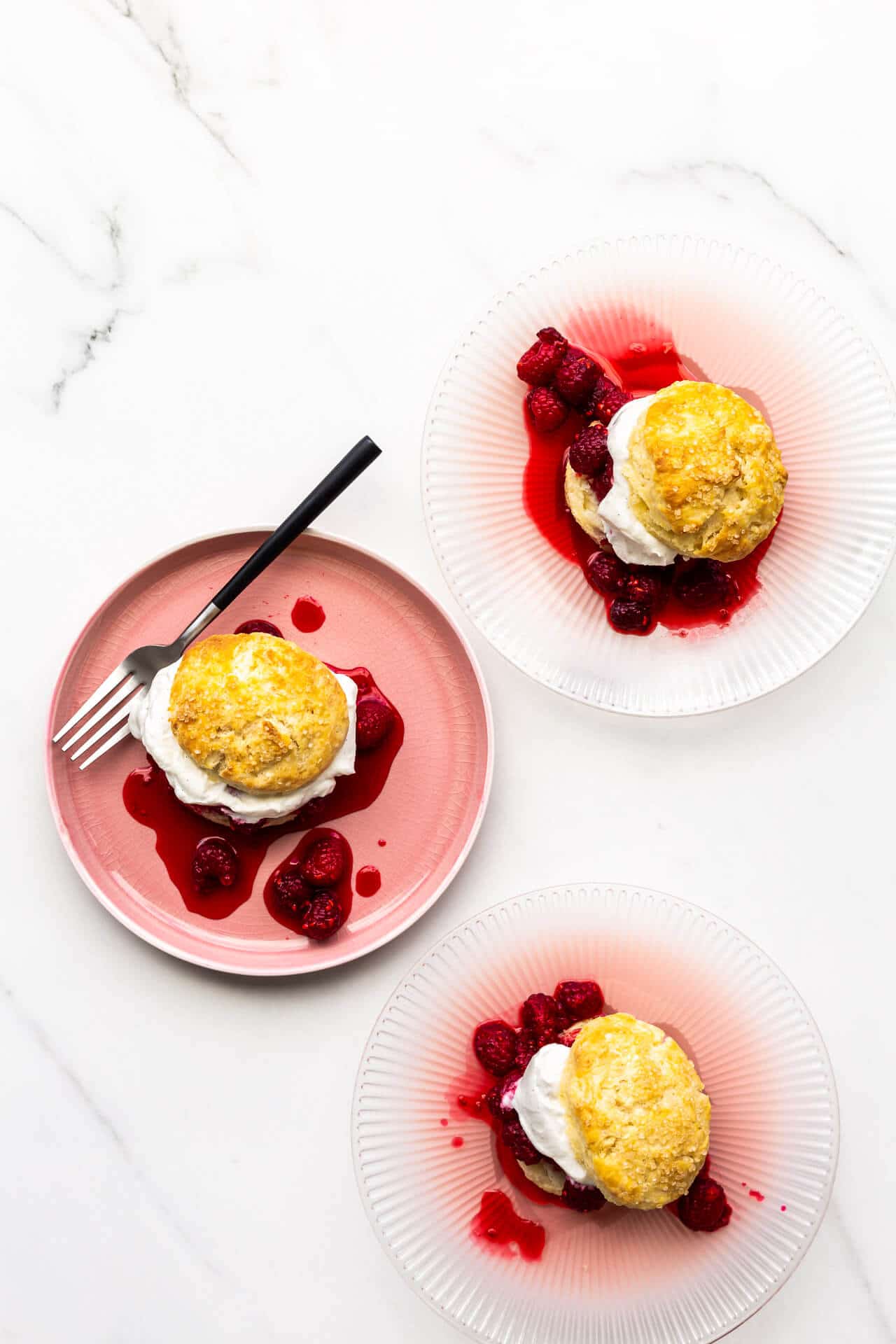 Fruit desserts with a crust on the top only
When fruit desserts only have a crust on top, the fruit filling also has to be thickened to make the fruit on the bottom less soupy. The dough on top can be a streusel of sorts, a crumble topping made with oats, dollops of buttery biscuit dough, or even an all-butter pie dough.
Crisps
Crisps are made with fruit on the bottom and a buttery crisp topping of sugar, flour, nuts, oats, and butter. Crisp topping has oats. Some examples include these strawberry rhubarb crisps, sweetened with honey, this blueberry rhubarb crisp, and even this grape crisp with a peanut butter topping to show how creative you can get with the toppings.
Crumbles
Crumbles are like crisps but the crumble topping doesn't have oats, though it could still have nuts. The fruit is on the bottom in crumbles, as it is in crisps. This apple crumble doesn't have oats in the topping, so it's definitely a crumble. So is this cherry chocolate crumble. Again, you don't have to limit yourself to butter, sugar, and flour for the topping and you can come up with some fun variations!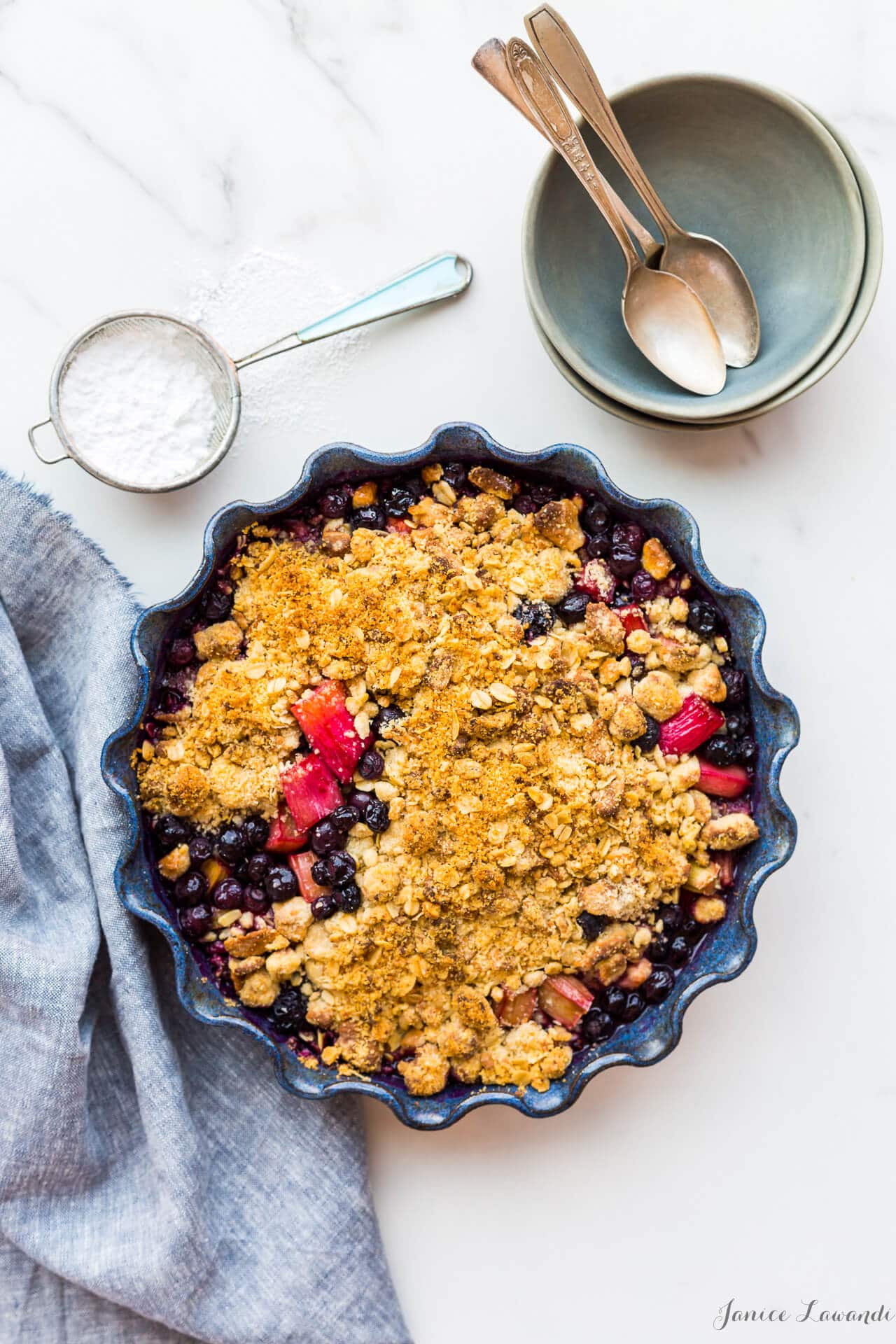 Cobblers
Cobblers have a biscuit top or a cake-like top with fruit on the bottom. Some may use bisquick mix to make the biscuit topping. This wild blueberry cobbler is a great example of a cobbler topped with cake layer. It seems whether the cobbler is topped with biscuits or cake is a regional distinction and can lead to some arguing.
Pandowdy
Pandowdy got its name because it is made from fruit baked under pieces of dough in a pan. Apple pandowdy seems to be the most popular and most common, though one can imagine it with any fruit. Some use torn up store-bought puff pastry dough to make their pandowdy, though if you dare, you could use homemade puff pastry!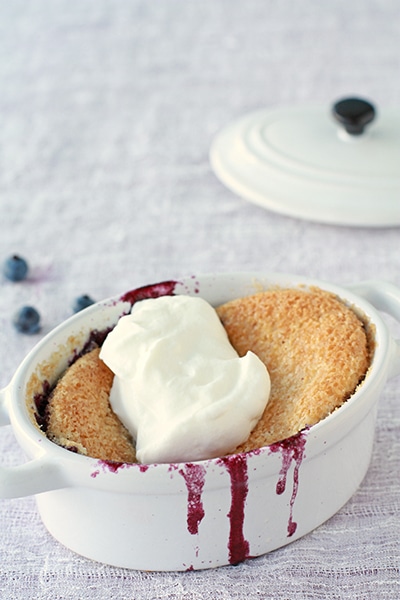 Grunts
Grunts are cooked on the stove in a cast iron skillet, and they have a fruity bottom topped with dollops of biscuit or dumpling dough. The dish is steamed and gets its name from the sound it makes as it cooks, when the steam escapes, it may make a grunting sound. It's commonly cooked on the East Coast. To make a grunt, the fruit filling is cooked on the stove first until it's very hot and bubbly, then the dough is dolloped on top and the dish is covered to trap the steam. The dough is steamed to cook it.
Slump
Slump is named because the dessert slumps down as it cooks, and it's also cooked on the stove. The apple slump is mentioned in Little Women by Louisa May Alcott. The slump is sometimes topped with a yeasted dough (leavened with yeast), though others may top with a baking powder biscuit dough of sorts. The leavener used depends on the recipe. To make a slump, like for grunts, the fruit filling is cooked on the stove first until it's very hot and bubbly, then the dough is dolloped on top and the dish is covered. The dough is steamed to cook it.
Sonker
Sonker is only made in North Carolina in Surry County specifically and they even have a festival dedicated to this fruit dessert. The sonker is a deep-dish fruit dessert that has crust only on the top. It is not a cobbler. And it's not a pie as it doesn't have a crust on the bottom. The fruit layer is usually quite juicy.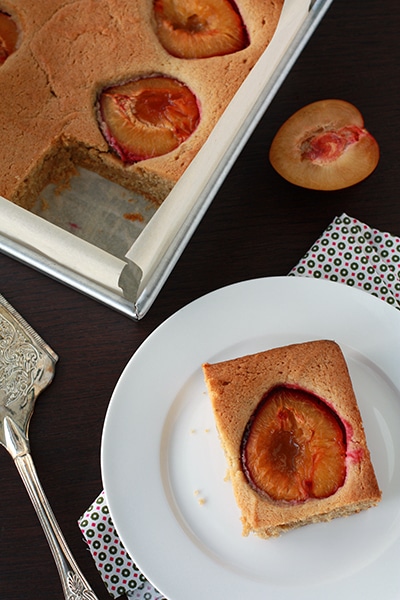 Desserts where the fruit is mixed into a batter
If you want to make a fruit dessert where the fruit is folded into a batter, it's important to either leave the fruit whole or to limit the amount of fruit used. Otherwise, the fruit may release too much water into the batter, which will make for a gooey or even gummy dessert.
Betty
Betty (also called brown betty) is a simple fruit dessert where the streusel is layered with the fruit in the baking dish, so the streusel adds sweetness but also thickens the fruit layer because the streusel is made with flour. Some will make the streusel with cinnamon sugar and ground or torn bread (instead of flour). This was a dessert that helped stretch the life of bread and so could be made with old bread so none goes to waste.
Buckle
Buckle is like coffee cake but with fruit, as is the "boy bait" cake, which originates from the Pilsburry baking competition: a 15 year old entered this cake into the competition and won. The cake has fruit and is topped with a crumble or streusel topping. The most common fruit for this dessert is blueberry. In retrospect, I should rename this apple crumble cake recipe as an apple buckle because it's basically what it is: coffee cake + fruit.
French pie cake
The French pie cake is a cake where fruit is baked in the cake batter. I suppose these black currant cakes and this plum spice cake could fall into this fruit dessert category because they are both made from fruit baked in a cake batter.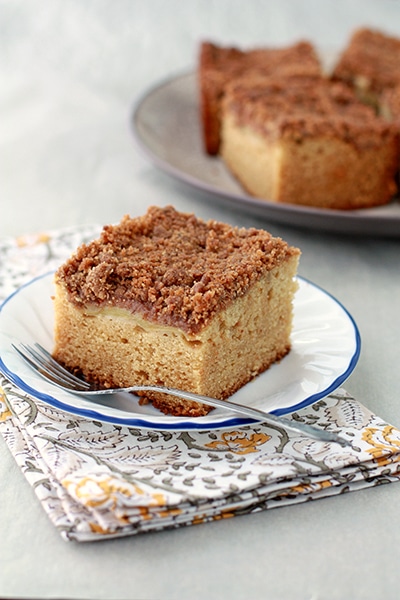 Bird's nest pudding and clafoutis
The bird's nest pudding seems to be a close relative of the clafoutis, a French baking term for a baked custard with cherries. Bird's nest pudding and clafoutis are made from fruit, cooked within an eggy batter, similar to a custard. Cut up fruit loose a lot of juice and the best way to avoid making a soggy or water-logged clafoutis custard is to keep the fruit whole. For example most French clafoutis are made with whole cherries, pits and all. Both the bird's nest pudding and the clafoutis are made with a lot of eggs and milk, and a little flour, and they have a firm custard texture.
I've made apple clafoutis with chunks of apple, but technically a clafoutis made with fruits other than cherries is actually called a flaugnarde in French.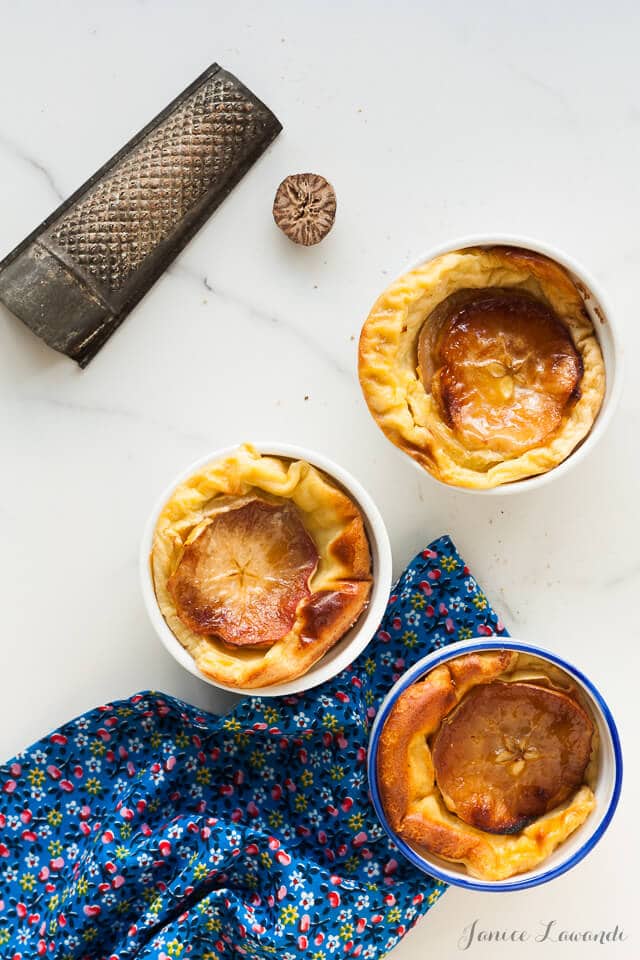 Fruit muffins
Of course, we can't forget fruit muffins, which are a very popular snack in the summertime when summer fruit is folded into muffin batter before scooping and baking. Yes, they are considered more snacks than fruit desserts, but we can't forget about them on this list. You can make red currant muffins, honey blueberry muffins, rhubarb muffins with sour cream, strawberry rhubarb streusel muffins, and even plum coffee cake muffins with cardamom. So many variations are possible and so easy to make!
Baking fruit desserts with frozen fruit
During the off season, you may want to bake some of these desserts with frozen fruit and you can:
All the desserts with fruit on the bottom can easily be baked with frozen fruit and you technically don't have to defrost the fruit (so fruit crisps, crumbles, and cobblers, as well as sonkers, grunts, slumps, and pandowdies). Just prolong the baking time and make sure to bake the dessert long enough that the filling becomes very bubbly, even in the centre.
Pies can be made with frozen fruit: in fact, during the summer months, many bakers will assemble big batches of pie filling (mixing fresh fruit, sugar, and thickener) and freeze these in airtight freezer bags. This can make it much easier to use later on. If your filling is frozen, you can defrost it in the refrigerator over night and since the filling will be cold and quite juicy:

make sure to increase the baking time to make sure the filling is bubbly and hot, even in the centre of the pie so that you are sure it will thicken and set properly.
if your defrosted filling or fruit is very "saucy," strain the juices and place them in a saucepan to cook them down on the stove. Add the reduced fruit juices back to the fruit and proceed to fill the pie.
Storing fruit desserts
I store fruit desserts tightly wrapped with foil in a cool place, but not the fridge. This way, they can easily last 4 days without any problems. If your kitchen runs hot, you may have to refrigerate the dessert to preserve it longer. Muffins and cakes can be frozen and quickly defrosted, especially if they are portioned out.