This fresh strawberry cream tart is the easiest summer tart you can make. The base of the tart is just a big shortbread cookie and the filling is made with yogurt whipped cream, and then all you have to do is top it with fresh berries or maple syrup macerated strawberries and a little basil or mint. This tart is proof that elegant desserts don't have to be complicated.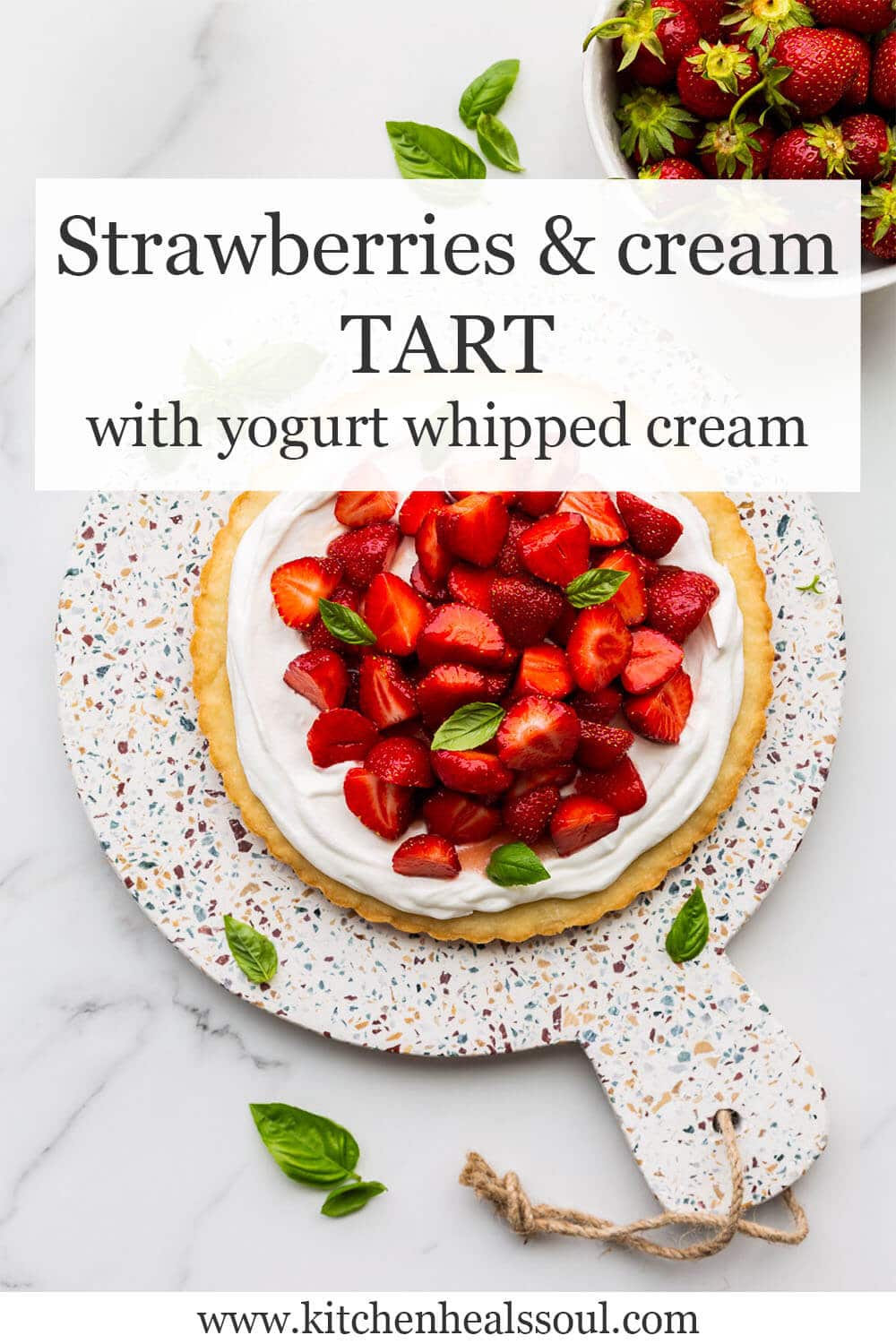 Disclosure: As an Amazon Associate, I earn from qualifying purchases.
The best way to enjoy the local strawberries is with cream and maple syrup, and this strawberry cream tart is a variation of that, but still keeping it simple.
This isn't a traditional French strawberry tart (the proper French baking term for this would be "tarte aux fraises"), which has a pâte sucrée crust (a sweet cookie crust made with ground almonds), crème mousseline filling (which is a vanilla bean pastry cream "lightened" with butter), fresh strawberries and a glaze on top (usually melted apricot jelly or melted apple jelly).
French strawberry tarts are gorgeous, but they can be a bit fussy. A fruit tart can take quite a bit of time as you have to make the crust and pastry cream, and there's a lot of chilling involved (overnight even) before being able to make the filling and assemble it. There's definitely more cooking and more waiting involved. 
Jump to:
Why you should make this
The idea behind this strawberry cream tart recipe is to take the fuss out of strawberry tarts:
The crust: a simple shortbread cookie dough is pressed into a fluted tart pan and baked into a giant cookie with golden-brown edges. The ratio used for this crust is high in butter, just like for the jam-filled shortbread cookies because we want a crust that is tender and easy to slice, which means we need equal parts butter and flour by weight. This is quite different than the traditional crunchy shortbread with a 1-2-3 ratio where you have 1 part sugar, 2 parts butter, and 3 parts flour by weight.
The filling: when the cookie is cooled, it is topped with whipped cream (in this case, I made a yogurt cream that is to die for, but plain sweetened whipped cream is fine too!)
The fruit topping: fresh local berries—I opted for strawberries macerated in maple syrup and garnished with a little basil. 
This dessert is all about showcasing strawberries and cream in the simplest possible way. I love the slight tang of the yogurt cream that is nestled between the salty-sweet sugar cookie and the layer of sweet strawberries and basil. But if you prefer, by all means just use regular sweetened whipped cream.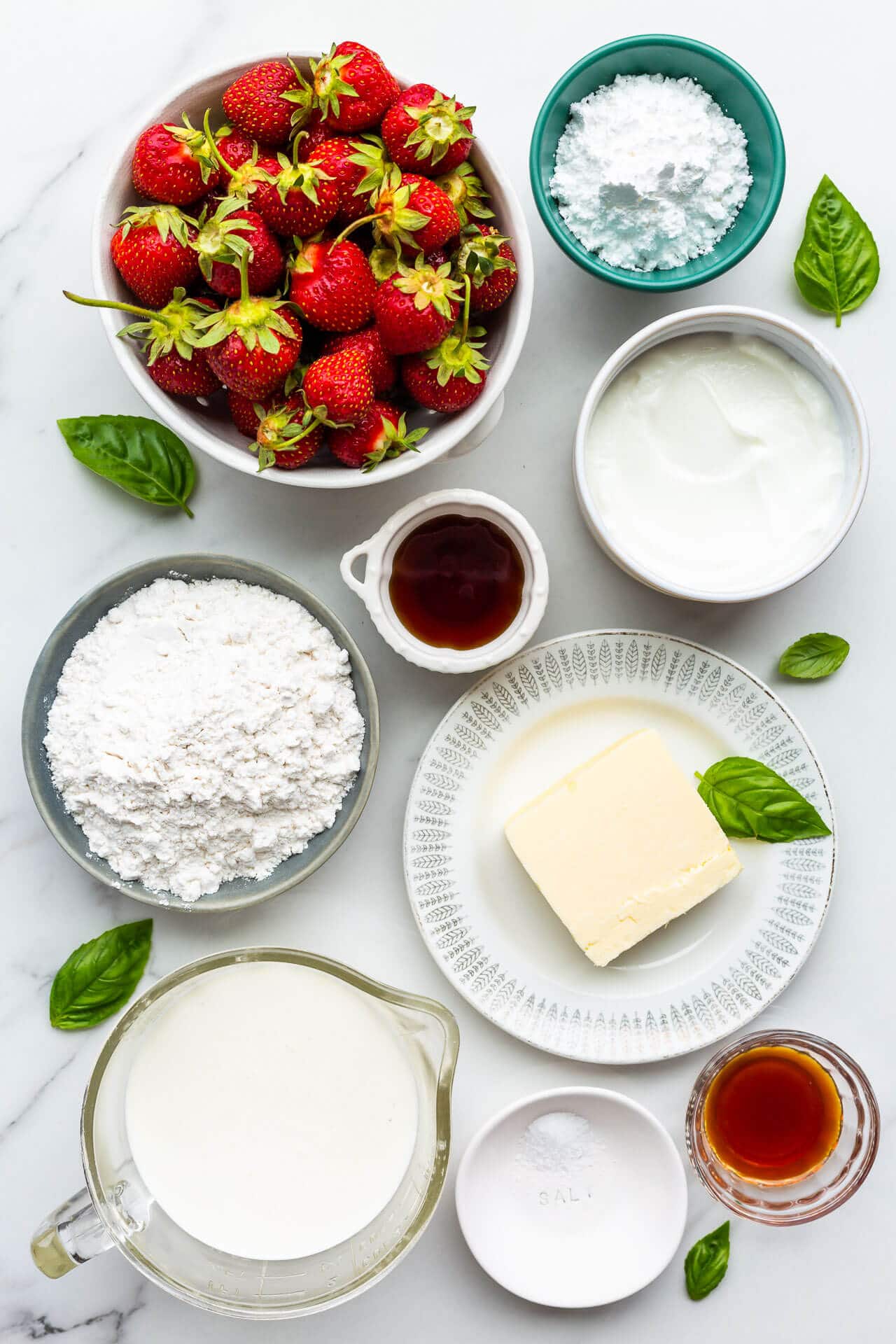 What you need to make this dessert showcasing strawberries and cream
For this recipe, you will be making a giant shortbread cookie, as well as yogurt whipped cream before assembling and topping it with berries. Here's what you need to make this strawberry dessert:
butter—use unsalted butter, though salted could work as we aren't using much in this recipe
sugar—you need icing sugar for the shortbread tart crust and for the whipped cream topping
vanilla extract—use pure vanilla extract if you can for a gentler flavour
flour—all-purpose works well in this recipe
salt to balance out the sweetness of this dessert—I bake with Diamond Crystal fine kosher salt, which is less salty than regular table salt. Adjust accordingly if you use table salt instead
maple syrup—to macerate the berries and lightly sweeten them
whipping cream—full fat 35 % whipping cream so that the topping is more stable and thick
greek yogurt—at least 2 % fat
fresh strawberries—I prefer to bake with local seasonal strawberries whenever possible because they are smaller and more flavourful
herbs—fresh basil or mint leaves work great to garnish strawberry recipes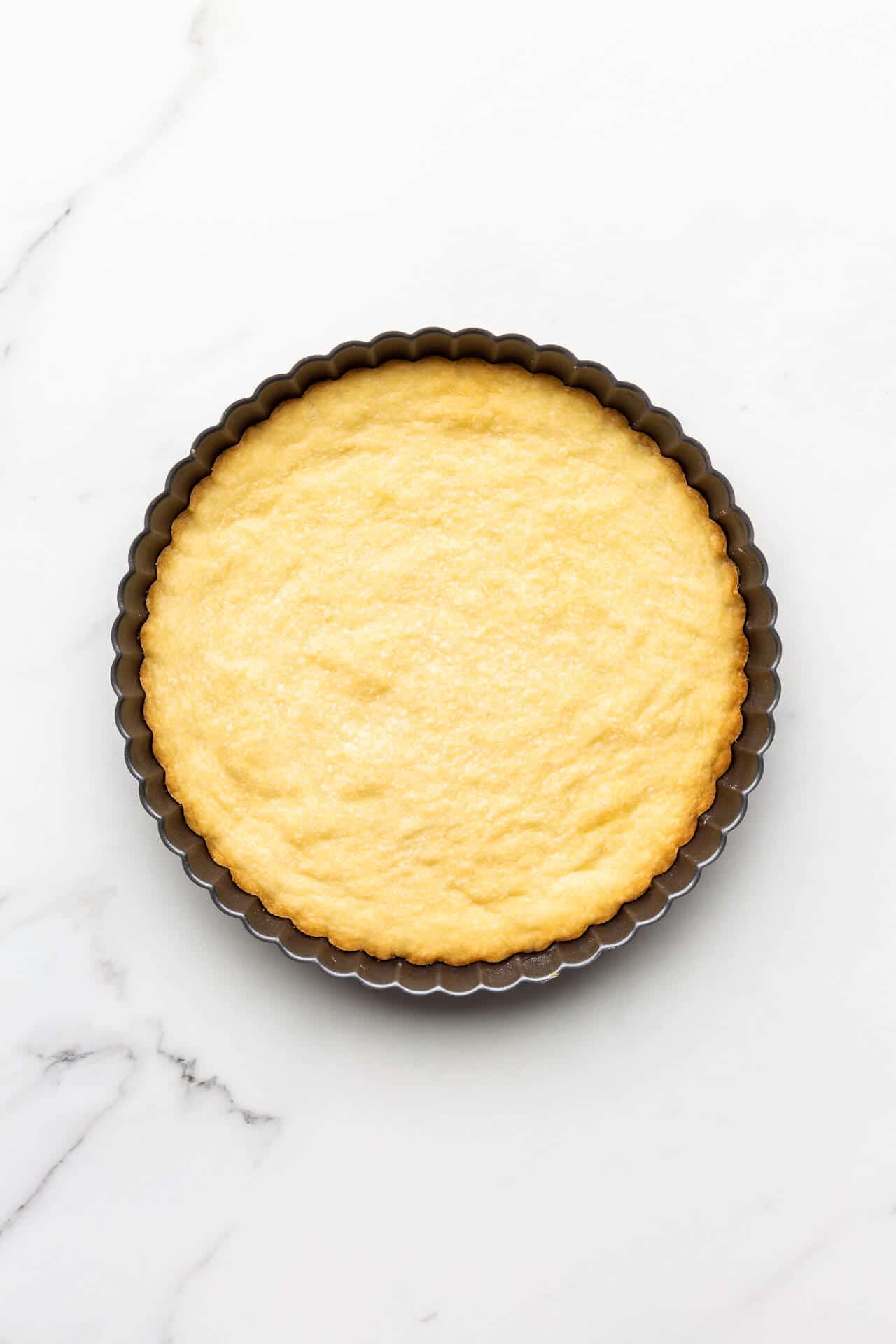 Variations
Italian strawberry tart recipes might have a mascarpone filling instead of custard or whipped cream. The mascarpone is sweetened with a little sugar and flavoured with vanilla extract, citrus zest (either orange or lemon), and sometimes a little booze might be mixed in too.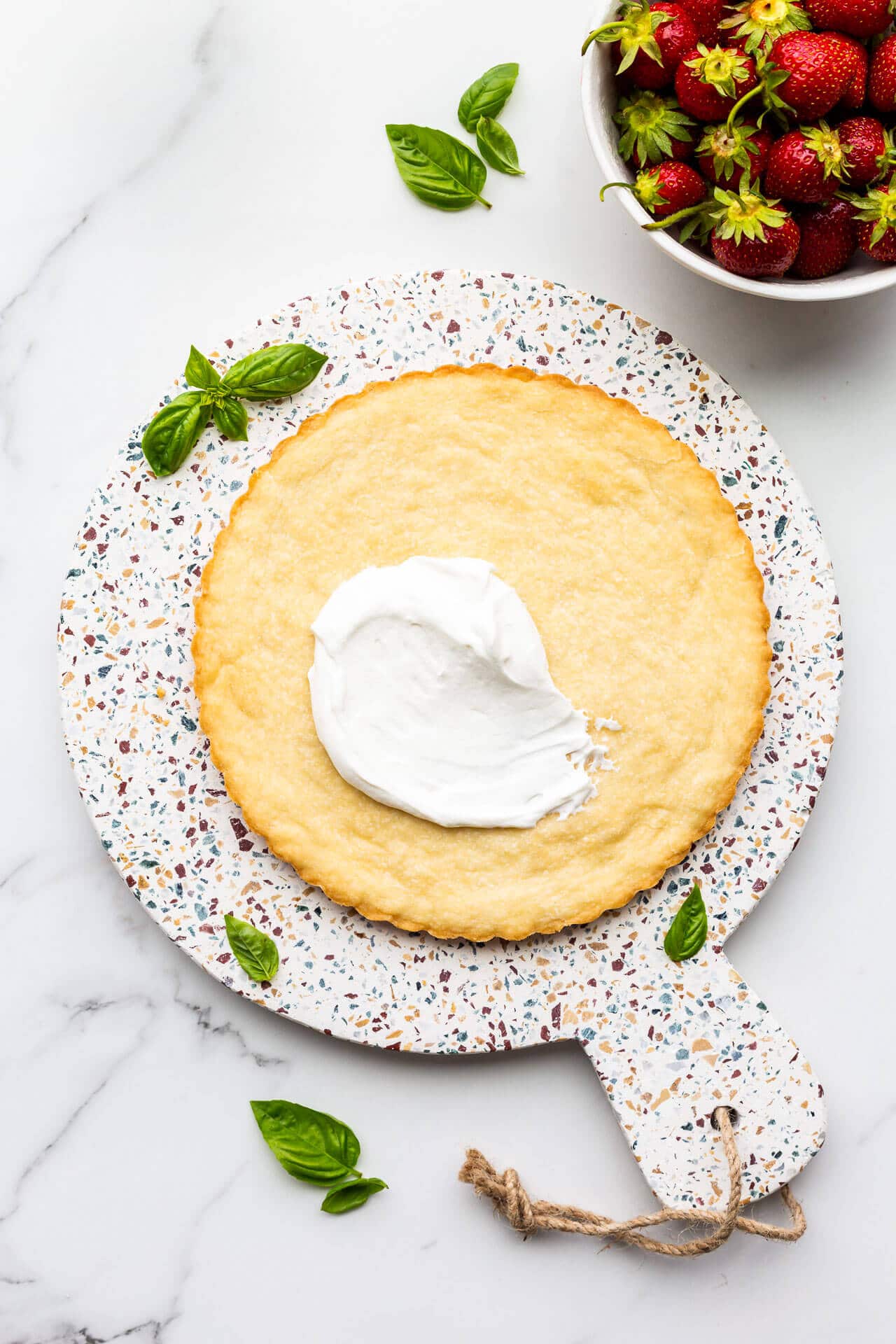 Make ahead tips
You might be wondering if you can make this dessert ahead of time:
You can make the shortbread cookie base days ahead without any issues. Just let it cool completely and then store it in an airtight container or really well-wrapped. Remember because it's a shortbread cookie tart, the crust is a little more fragile, so you might want to store it in the tart pan to protect it. And make sure to use this trick for removing a tart from the tart pan.
The strawberries can macerate for a few hours in maple syrup, just store them in the fridge until you are ready to serve.
For the whipped cream, personally, I like to whip it just before assembling the tart and serving. While you could assemble the tart a few hours ahead and store it in the fridge until you are ready to serve, more than that would make the crust a little soggy. So use your best judgment but know that whipping cream and assembling the tart takes under 10 minutes, especially if you use an electric mixer to do the whipping!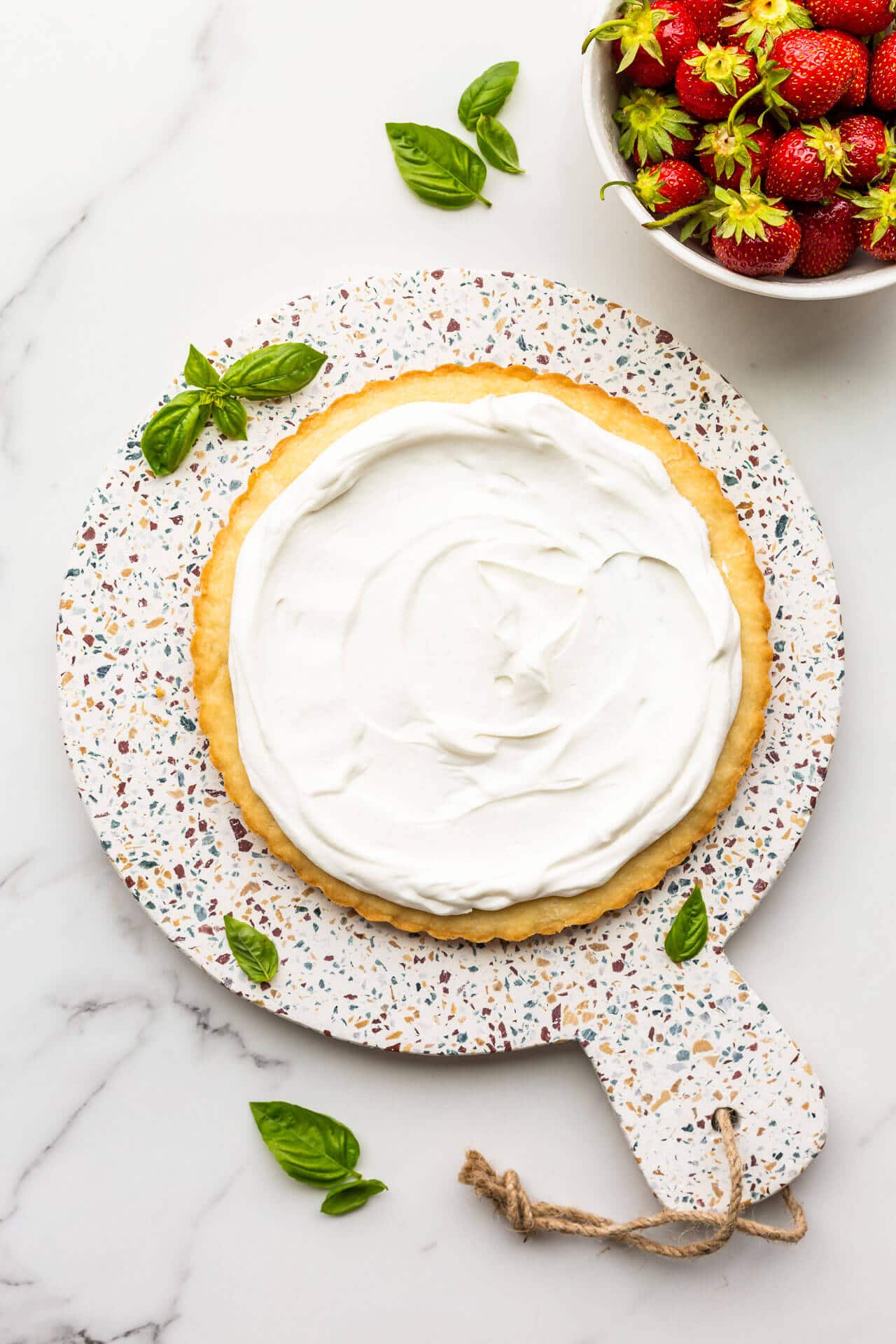 Strawberries and cream is a classic combination that everybody enjoys and if you are as big a fan as I am, try this simple gluten-free buckwheat chocolate cake, which is also topped with strawberries and cream. To flavour the whipped cream, you can add vanilla extract or a suitable vanilla extract substitute like vanilla bean paste.
And if you aren't a fan of whipped cream and strawberries, try these other fun berry-baking recipes, including a raspberry chocolate tart made with milk chocolate ganache or this pistachio tart topped with fresh raspberries and sliced peaches!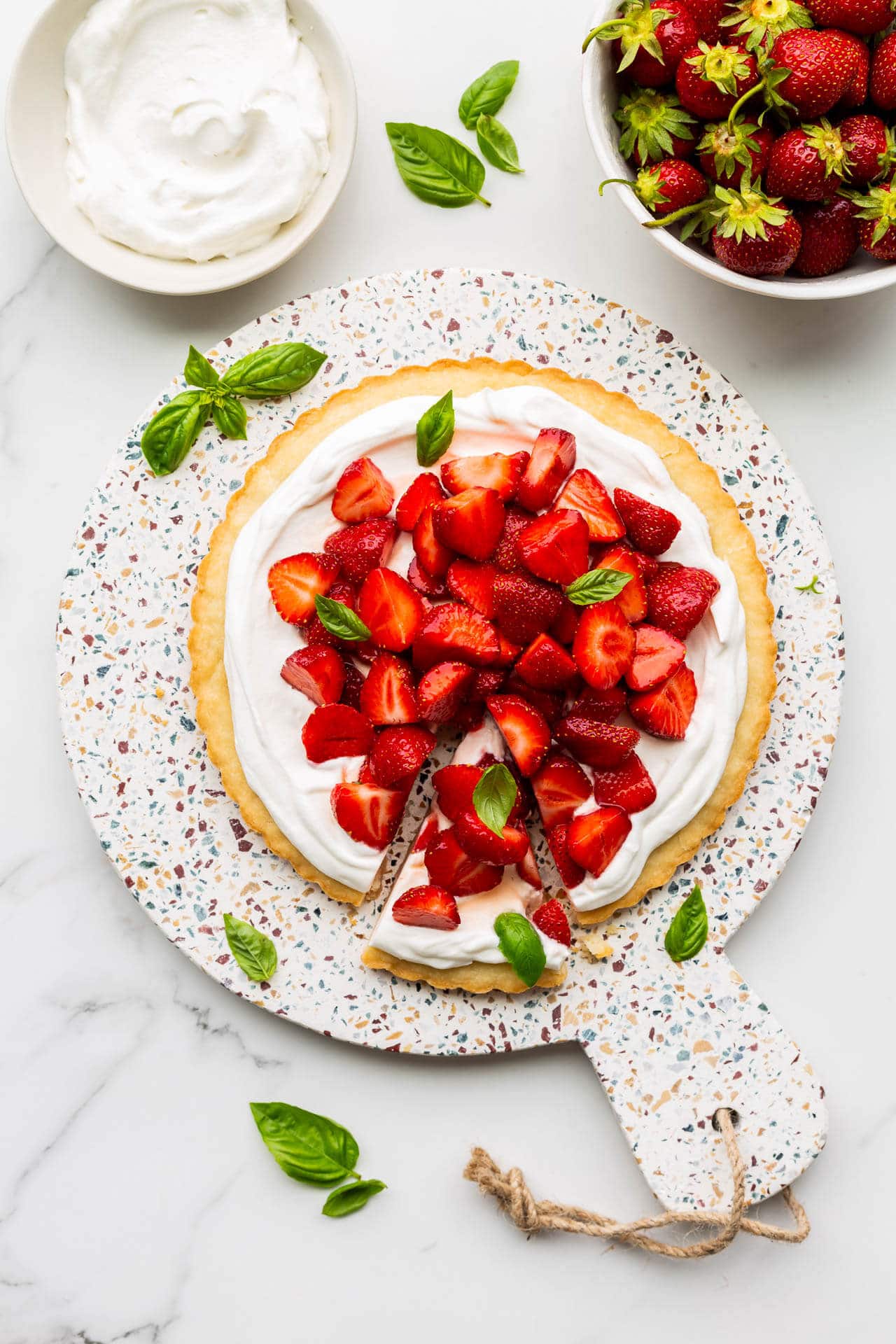 Yogurt whipped cream
For this recipe, I decided to flavour the whipped cream filling with plain Greek yogurt which is thick and has a nice tangy sour taste to it. When you combine it with the cream and a little icing sugar and vanilla, the whipped filling tastes a lot like a cheesecake filling of sorts.
Proportions for the yogurt whipped cream: I used 60 mL (¼ cup) of Greek yogurt for 125 mL (½ cup) of whipping cream, so 1 part Greek yogurt to 2 parts whipping cream. And though for most whipped cream recipes, you would use add icing sugar, roughly 10 % of the weight of the cream, because the yogurt is sour, I added 20 % by weight.
Really, you should add as much or as little sugar as you like and don't forget the berries are macerated in maple syrup, which also adds a lot of sweetness to this dessert!
📖 Recipe
Strawberry cream tart with yogurt whipped cream
This fresh strawberry cream tart is so simple to make because it starts off with a big shortbread cookie that is topped with dollops of yogurt whipped cream and a mound of summer strawberries, with a little basil to tie it all together.
Ingredients
Shortbread cookie tart crust
Maple macerated strawberries
450

grams

(

1

lb

)

fresh strawberries

,

washed, hulled, and sliced

30

mL

(

2

tablespoon

)

pure maple syrup
Yogurt whipped cream
125

mL

(

½

cup

)

whipping cream (35 % fat)

60

mL

(

¼

cup

)

greek yogurt

,

use at least 2% fat greek yogurt

25

mL

(

5

teaspoon

)

icing sugar

5

mL

(

1

teaspoon

) pure vanilla extract

5–6

basil leaves

,

for garnish (use the cute small leaves to decorate the tart or chop larger leaves)
Instructions
For the shortbread cookie tart crust
Preheat the oven to 175 ºC (350°F).

In the bowl of an electric mixer fitted with the paddle attachment, cream the butter and the sugar until it is well mixed.

Add the vanilla and stir it in.

On low speed, slowly add the flour and the salt. When the flour is mostly incorporated, increase the speed of the mixer until the ingredients come together to form a nice cookie dough.

Press the cookie dough flatly and evenly into a fluted tart pan with removable bottom (you don't want to have an edge. This should look like a giant flat cookie). You can use a flat-bottomed glass to press the dough and spread it out evenly. You may need to use a little flour to prevent the glass (or your fingertips) from sticking to the dough.

Place the tart pan in the oven, and bake the cookie until the edges turn golden, about 20 to 25 minutes.

Let the tart cool completely before un-molding onto a serving plate (check out my trick for removing a tart from a tart pan!). Do not top with the whipped cream or the strawberries until you are sure the tart has cooled completely.
For the strawberries
Mix the sliced strawberries with the maple syrup in a medium bowl. Let them macerate while you prepare the cream.
For the yogurt cream
In the bowl of an electric mixer fitted with the whisk attachment, whip the yogurt and the cream into soft peaks.

Add the sugar, and continue whipping until the cream has reached the desired thickness.
Assembly
Spread the cream over the cooled cookie base, leaving a half-inch edge.

Top with the macerated strawberries, and garnish with a few fresh basil leaves.
Give back
If you enjoy the free content on this website, say thank you!
Nutrition
Calories:
354
kcal
|
Carbohydrates:
33
g
|
Protein:
4
g
|
Fat:
24
g
|
Saturated Fat:
15
g
|
Cholesterol:
74
mg
|
Sodium:
78
mg
|
Potassium:
147
mg
|
Fiber:
2
g
|
Sugar:
17
g
|
Vitamin A:
973
IU
|
Vitamin C:
34
mg
|
Calcium:
49
mg
|
Iron:
1
mg