This fresh strawberry cream tart is the easiest summer tart you can make and an ode to strawberries and cream. The base of the tart is just a big shortbread cookie topped with yogurt whipped cream and a mound of strawberries. This strawberry tart is proof that elegant desserts don't have to be complicated.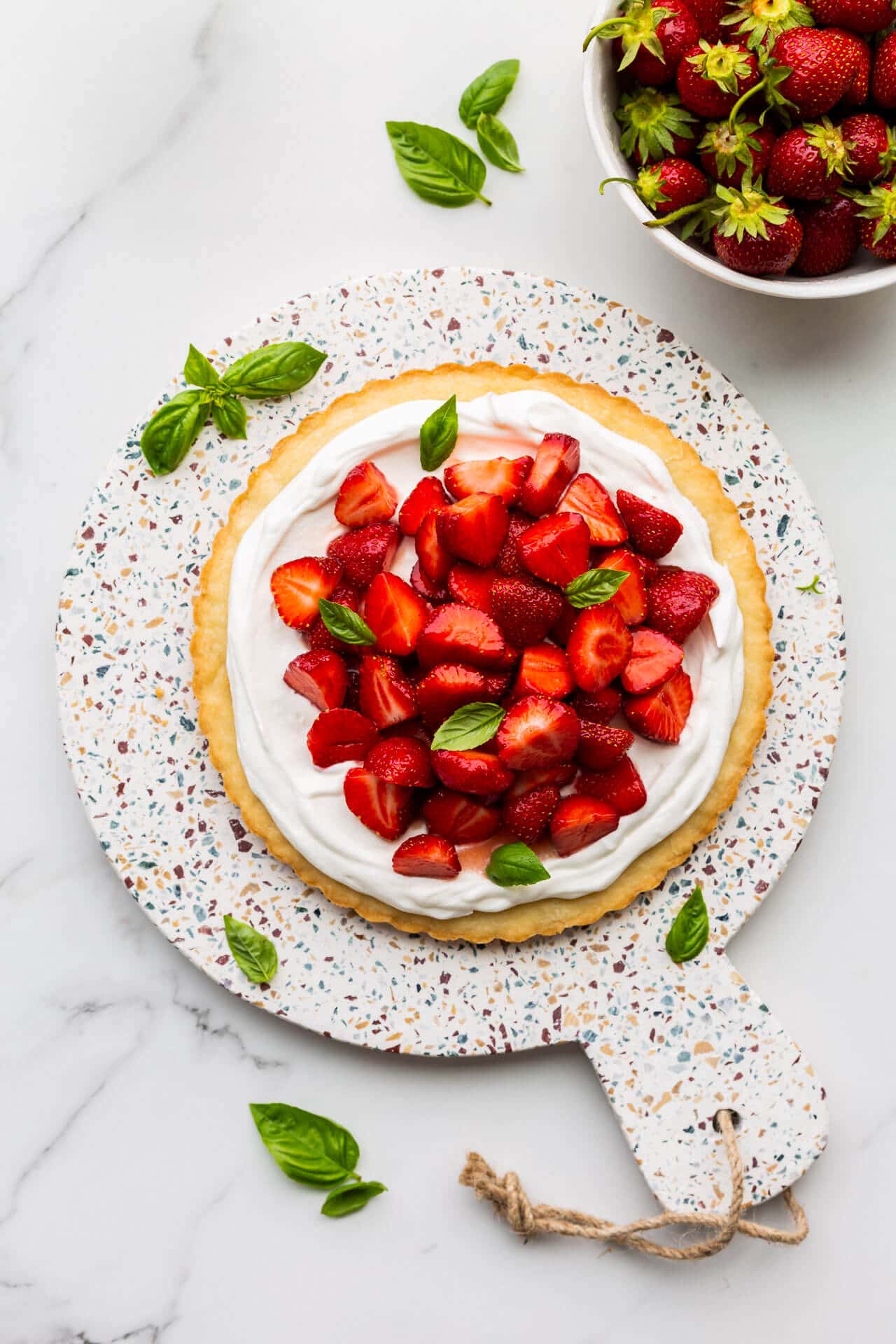 Disclosure: As an Amazon Associate, I earn from qualifying purchases.
If you are looking to truly showcase strawberries this season, this strawberry cream tart is for you! This dessert is very simple to make with an easy shortbread cookie crust, whipped cream, and lots of strawberries.
The ratio used for this crust is high in butter, just like for the jam-filled shortbread cookies because we want a crust that is tender and easy to slice, which means we need equal parts butter and flour by weight. This is quite different than the traditional crunchy shortbread with a 1-2-3 ratio where you have 1 part sugar, 2 parts butter, and 3 parts flour by weight.
Jump to:
What You Need To Make The Best Strawberry Cream Tart
For this strawberry cream tart recipe, you will be making a big shortbread cookie in a tart pan, yogurt whipped cream, and macerated fresh strawberries before assembling the tart.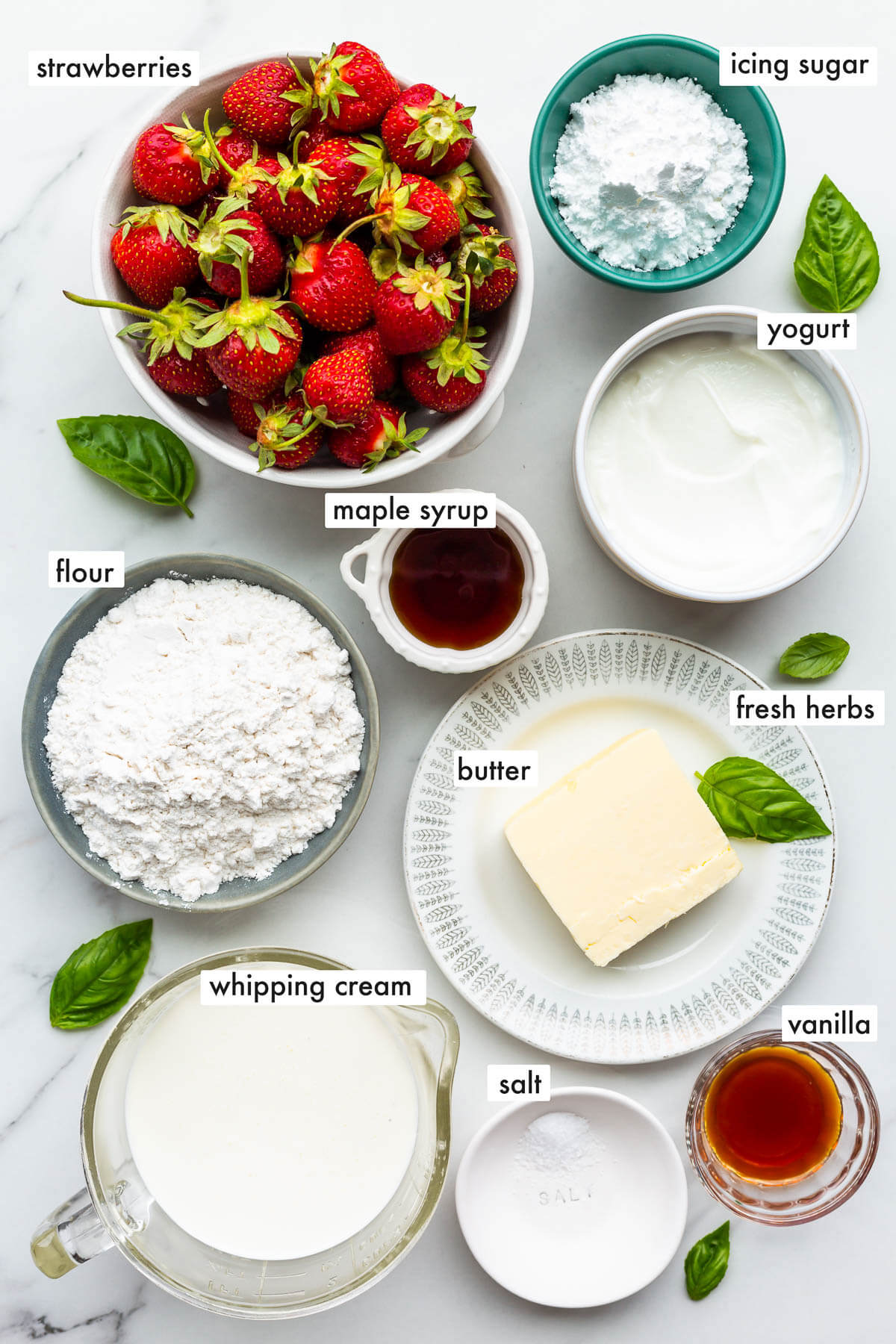 Here's what you need to make this strawberry tart recipe:
butter—use unsalted butter, though salted could work as we aren't using much in this recipe. You may omit the salt in the cookie dough if you bake with salted butter
sugar—icing sugar makes the shortbread tart crust more tender and fine and the whipped cream topping much smoother than granulated would
vanilla extract—use pure vanilla extract if you can for a gentler flavour
flour—all-purpose works well in this recipe and I wouldn't substitute another
salt to balance out the sweetness of this dessert—I bake with Diamond Crystal fine kosher salt, which is less salty than regular table salt. Adjust accordingly if you use table salt instead
maple syrup—to macerate the berries and lightly sweeten them
whipping cream—full fat 35 % whipping cream so that the topping is more stable and thick
yogurt—specifically Greek yogurt which has less water. Please opt for yogurt that has at least 2 % fat for better taste and creamier texture
fresh strawberries—I prefer to bake with local seasonal strawberries whenever possible because they are smaller and more flavourful
herbs—fresh basil or mint leaves work great to garnish strawberry recipes
Please read the recipe card for more information on quantities and ingredients.
Substitutions And Variations
Here are a few ways to tweak this recipe. Remember that any drastic changes beyond these may require more testing.
Yogurt:

mascarpone cheese—replace the yogurt with full-fat mascarpone
plain whipped cream: replace the yogurt with extra whipping cream if you aren't a fan of yogurt and its tangy flavour
vanilla pastry cream: you can use the pastry cream filling from this fruit tart recipe instead of the whipped cream filling

Whipped cream flavouring—along with vanilla extract, you can also add a little citrus zest (either orange or lemon), or even replace the vanilla with a sweet flavoured liqueur, like Amaretto or Grand Marnier.
Strawberries—try another berry, like blackberries or raspberries, depending on what's in season and available!
Fresh herbs—instead of garnishing with mint or basil, you can also sprinkle with chopped toasted almonds for a strawberry almond tart or pistachios for a strawberry pistachio version.
Tip: use fresh strawberries in season! This is not a good recipe for frozen berries, which will become very soft and lose a lot of water when defrosted. If you must use frozen strawberries, you will have to cook them into a compote or even strawberry jam and drizzle that over the cream instead!
Instructions
There are three components to this strawberry tart recipe: making the shortbread cookie crust (using the creaming mixing method), macerating the strawberries, and whipping the cream.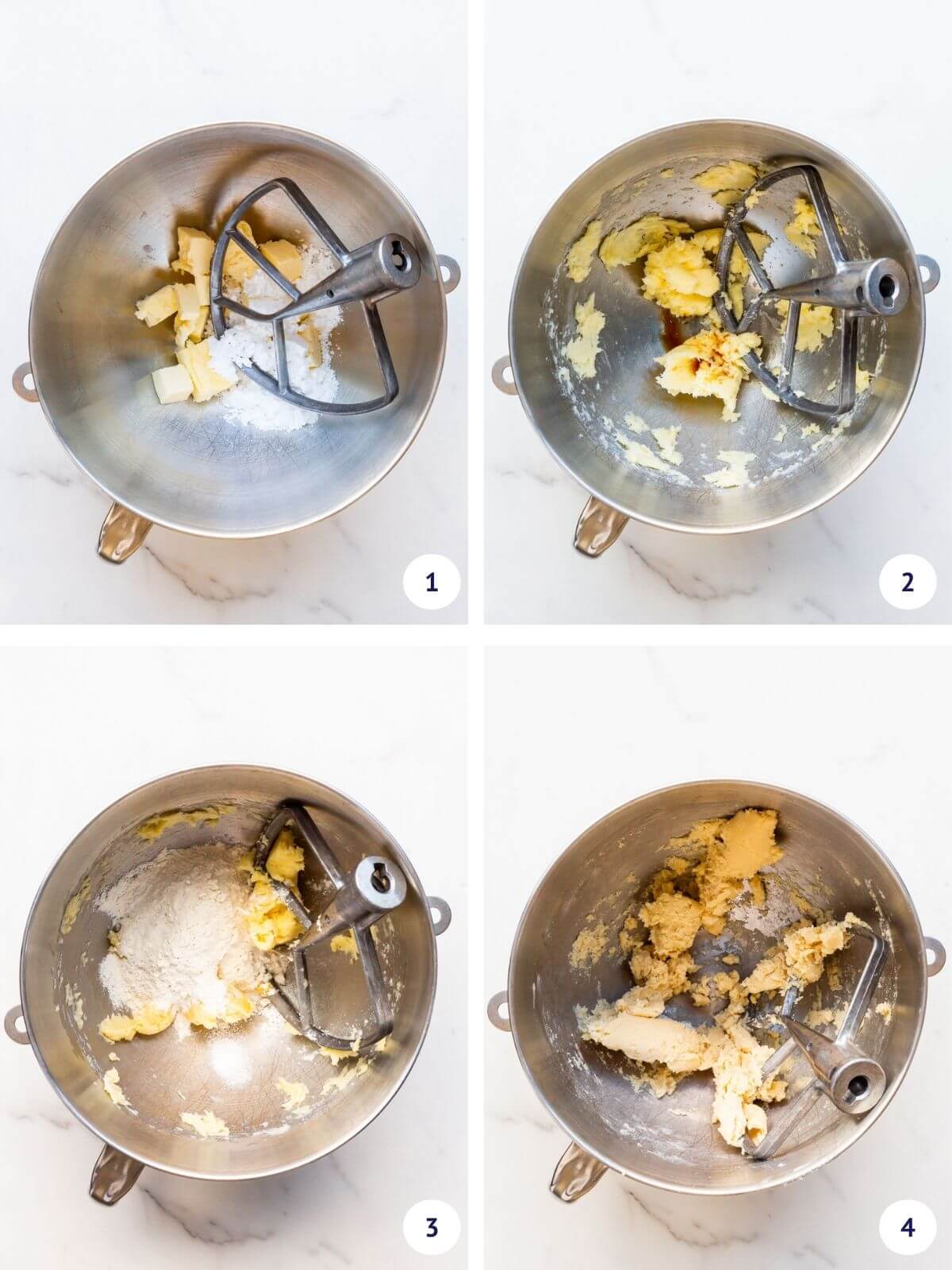 Step 1: make the shortbread cookie dough in the bowl of a stand mixer or with an electric mixer by first creaming the butter with the sugar (image 1), then adding the vanilla (image 2) and finally the flour (image 3). Mix the dough until it comes together and the flour has disappeared (image 4), but don't overmix it.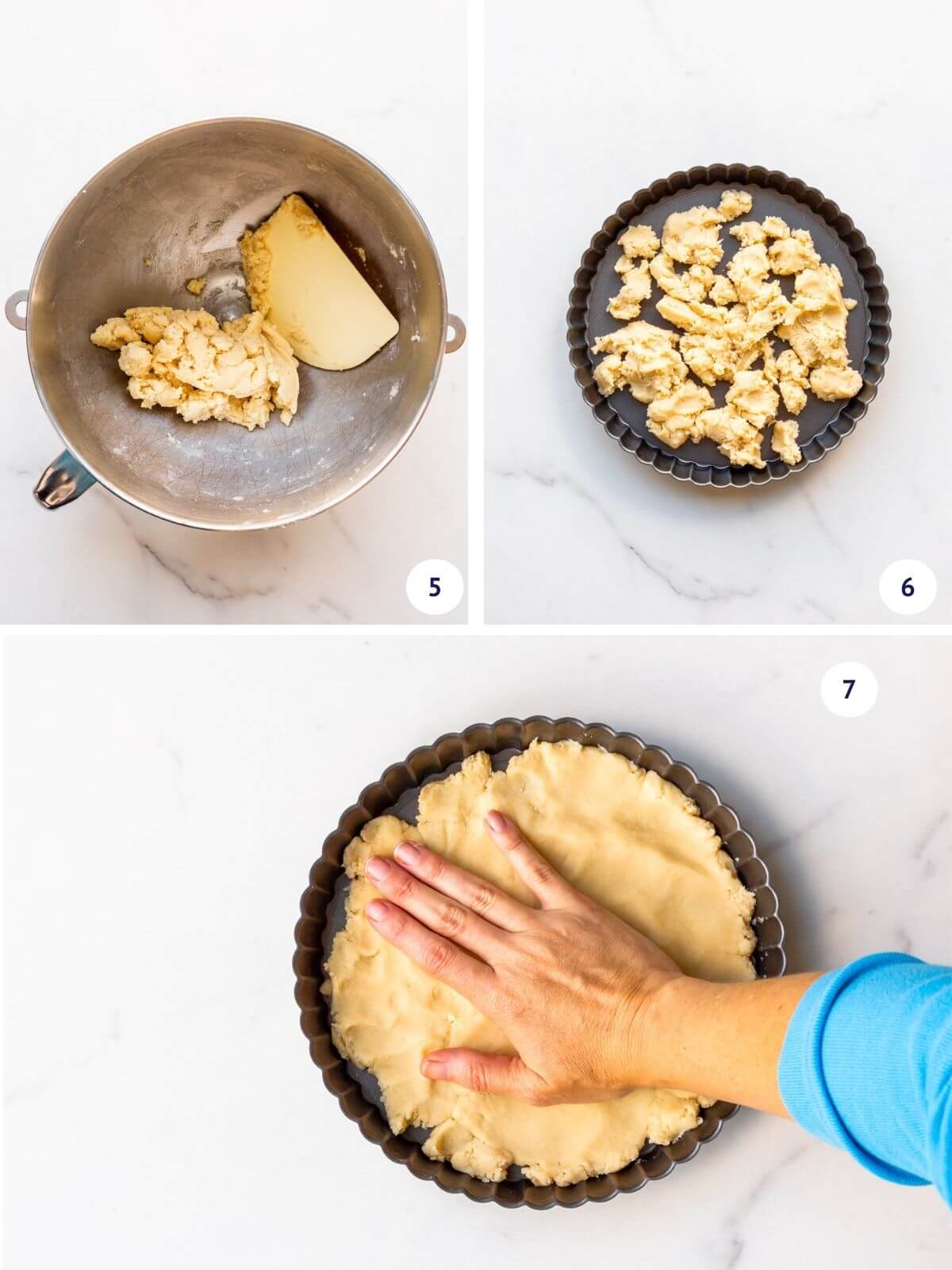 Step 2: prepare the tart crust by scraping the dough out of the mixer bowl with a bowl scraper (image 5) and crumbling it evenly into a 9-inch tart pan (image 6). Use the palm of your hand to flatten the dough out evenly (image 7).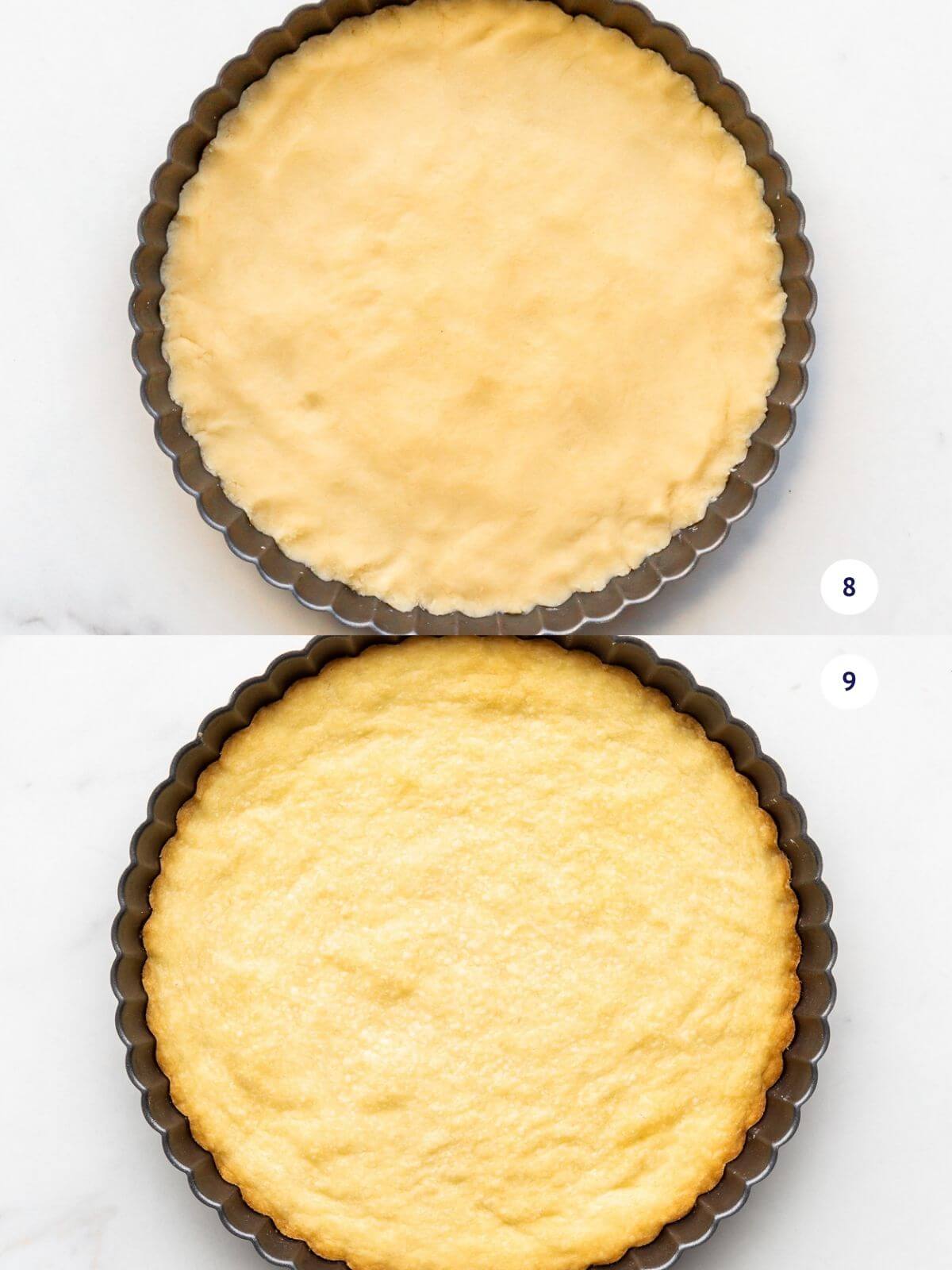 Step 3: The shortbread cookie dough should fill the tart pan from edge to edge (image 8). Bake the tart until the edges are golden brown (image 9) then cool it on a wire rack in the pan.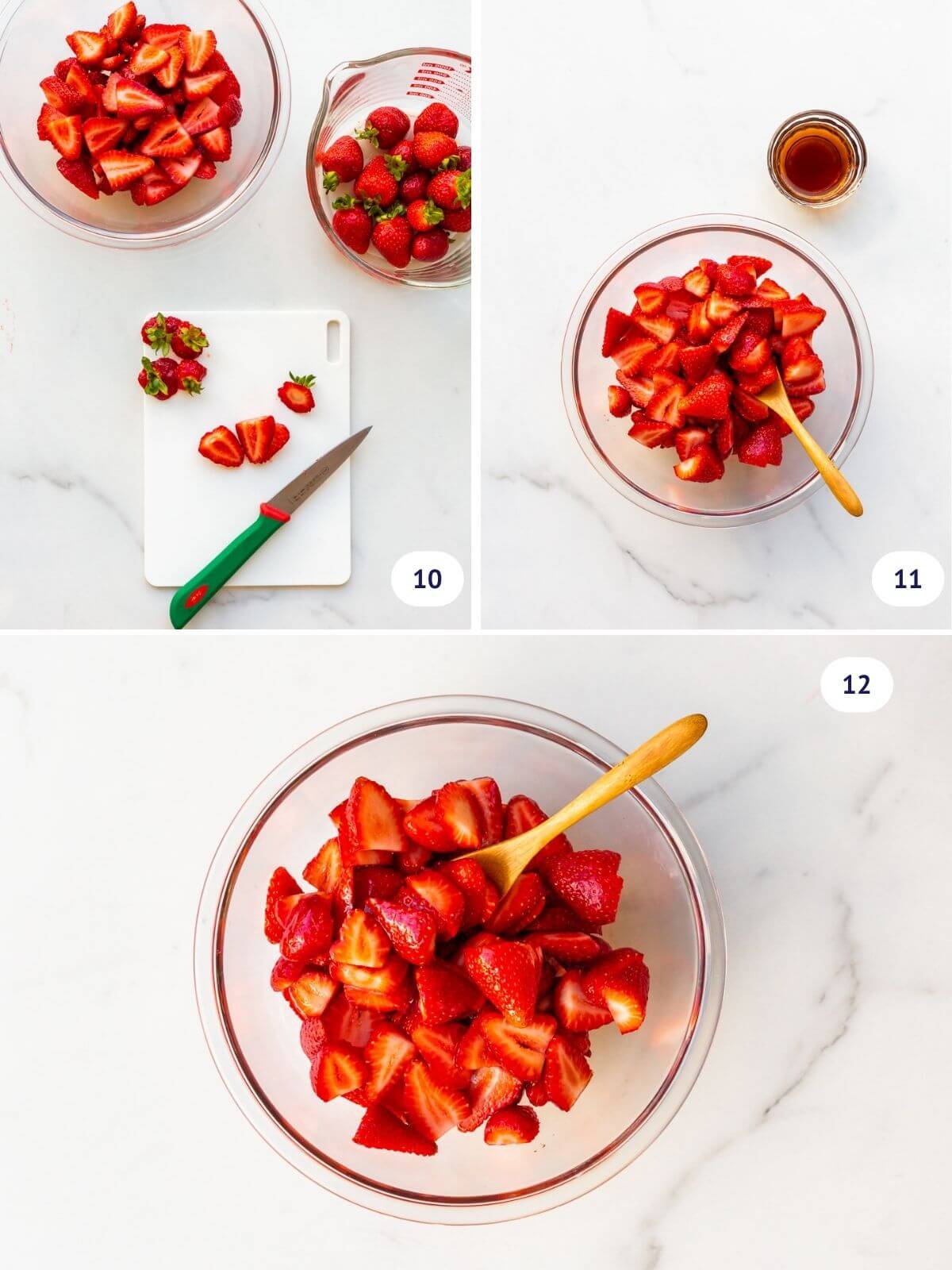 Step 4: Prepare the strawberries while the tart is baking and cooling. Hull the washed berries to remove the stem and slice them in half or thirds (depending on the size of the berries) (image 10). Place the sliced berries in a bowl (image 11) and stir in maple syrup (image 12).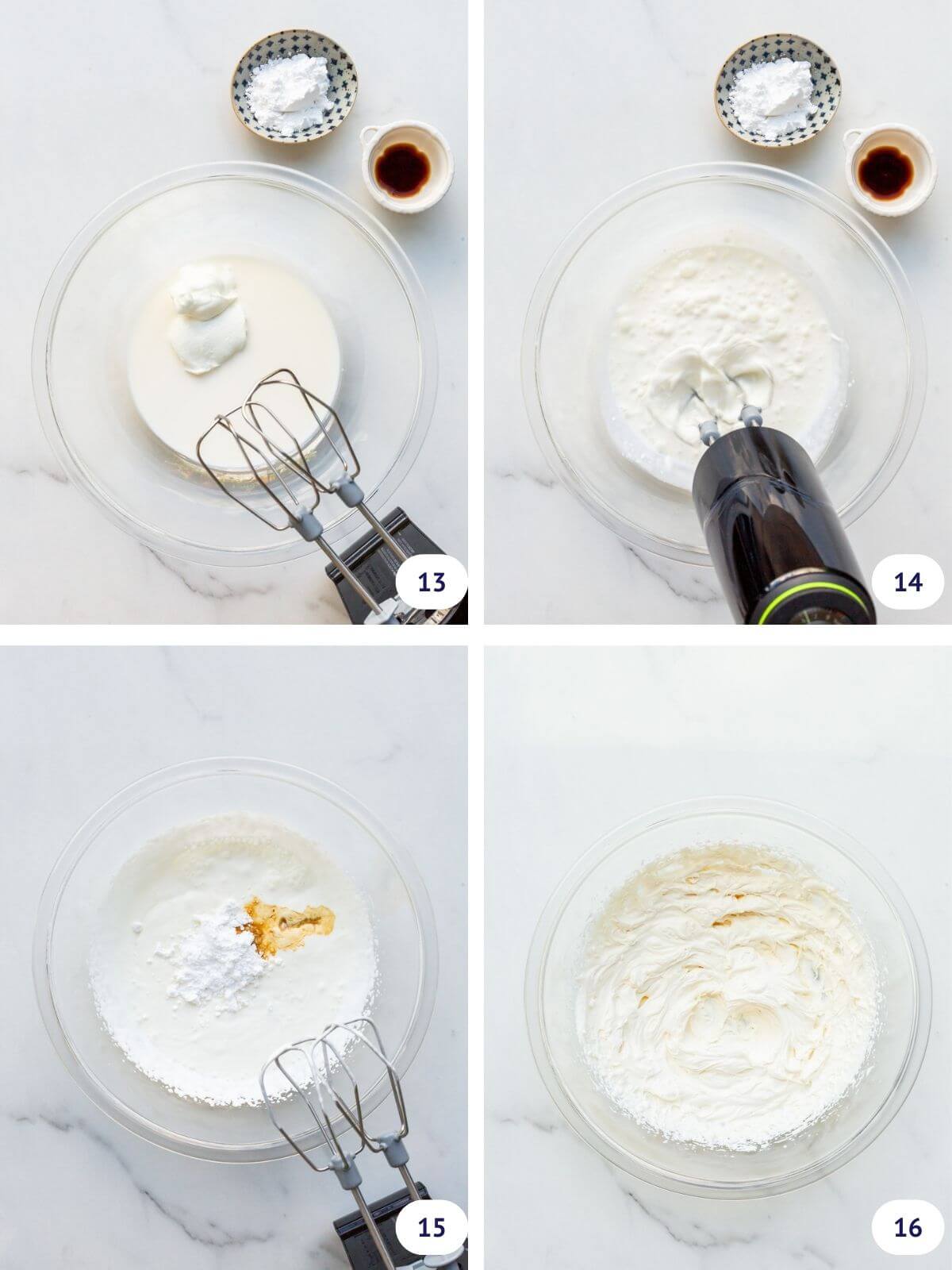 Step 5: Just before serving, place the cream and yogurt in a large bowl (image 13). Whip it with an electric hand mixer (or with a balloon whisk by hand) until the mixture is thickened but still soft (image 14). Add the icing sugar and vanilla to the bowl (image 15) and continue whipping until the whipped cream is thick and spreadable (image 16).
Proportions for the yogurt whipped cream: I used 60 mL (¼ cup) of Greek yogurt for 125 mL (½ cup) of whipping cream, so 1 part Greek yogurt to 2 parts whipping cream. The rule of thumb for sweetening whipped cream is to use 10 % of the weight of the cream, so in this case, we used about 10 % of the total weight of yogurt and cream combined.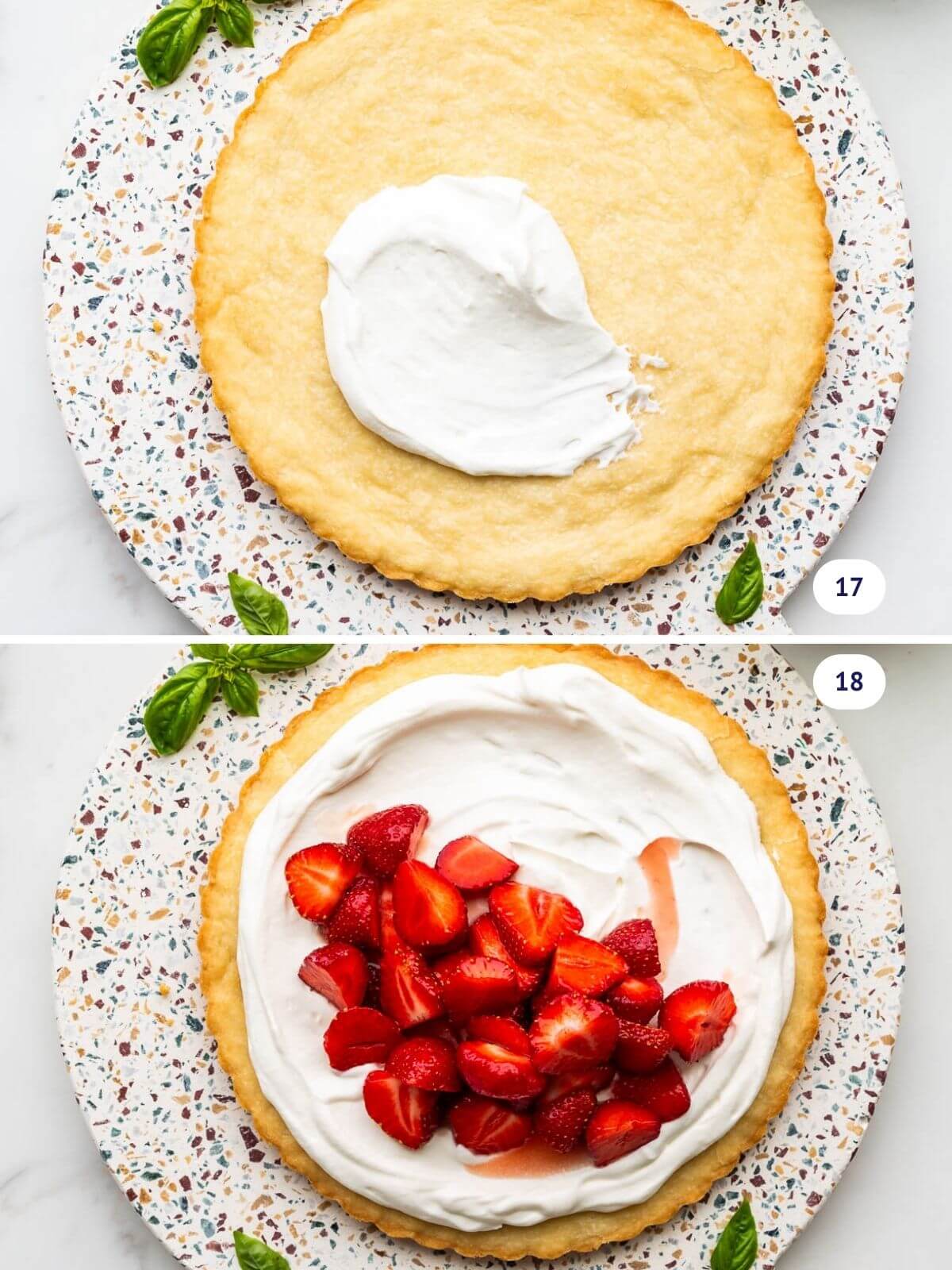 Step 6: Place the shortbread crust on a serving plate and spread the whipped cream filling over top (image 17), leaving a little border around the edge, then top with macerated strawberries (image 18).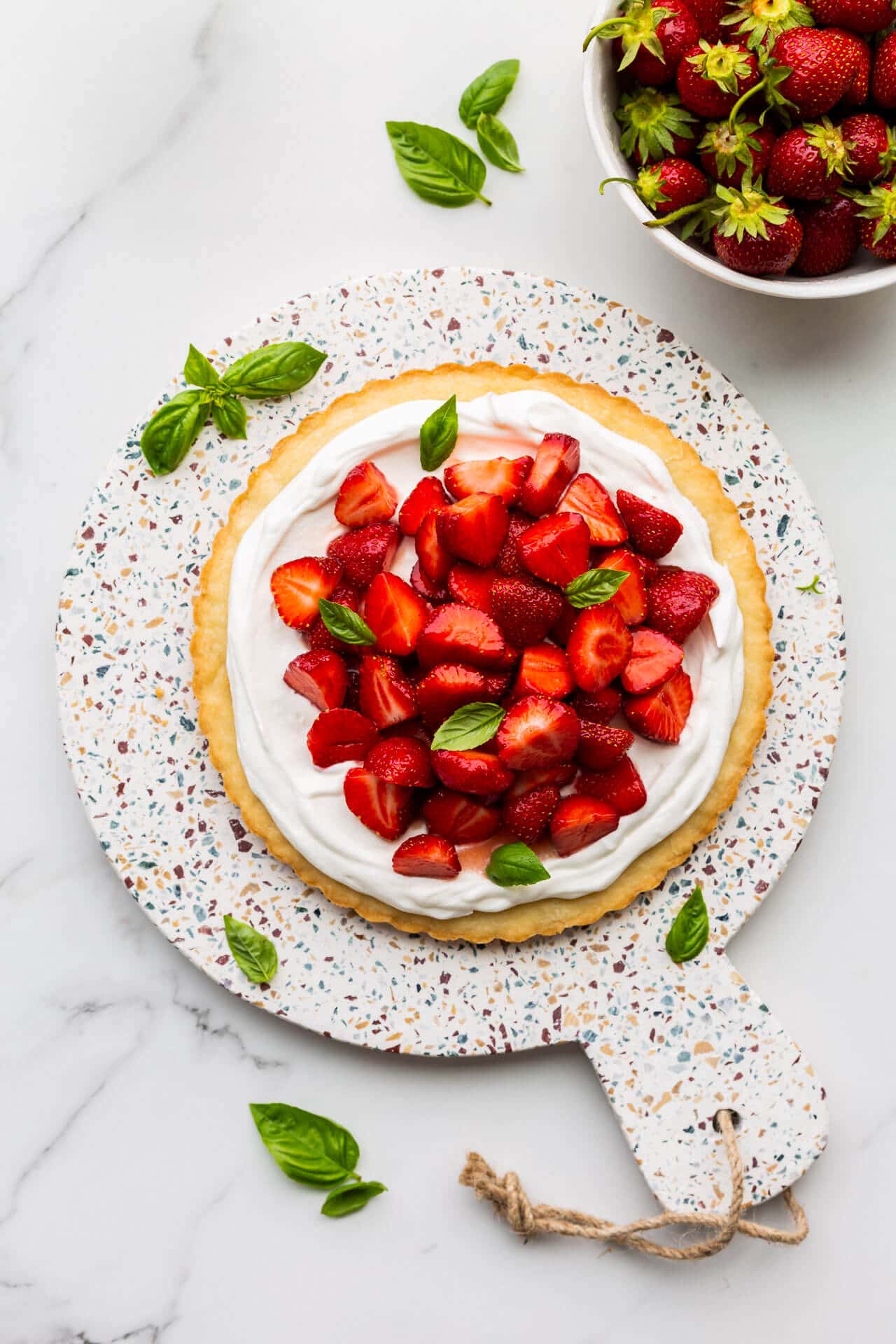 Hint: Make it cute! Garnish the tart with fresh herbs like mint or basil leaves, or even some lavender buds or elderflowers.
Equipment
This is a simple recipe and because it doesn't require too many ingredients, you don't actually have to use any small appliances, though an electric hand mixer or a stand mixer will save you time and make the process easier.
Of course, you absolutely need a 9-inch tart pan to make this tart!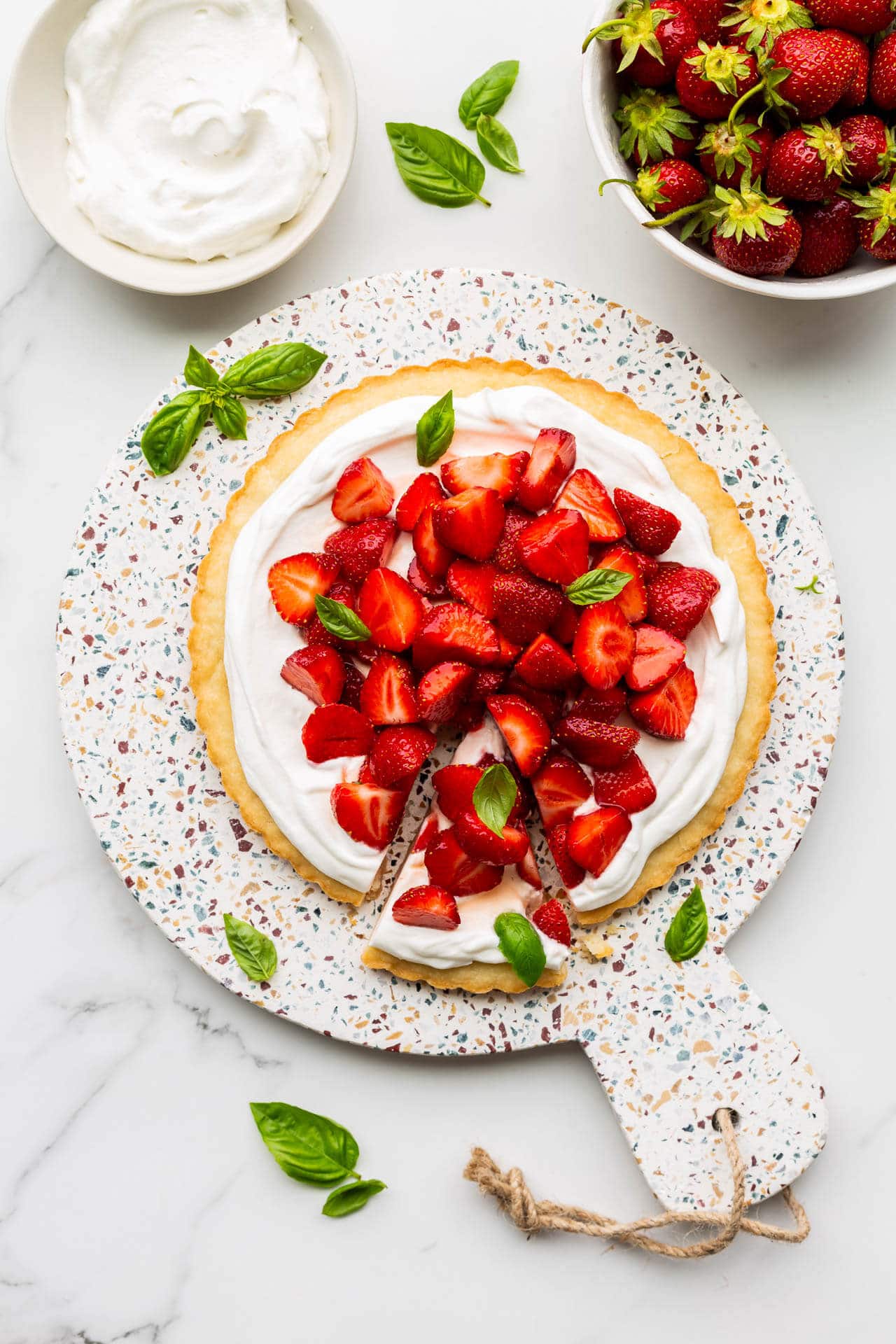 Cool the crust before assembling! Make sure to cool the shortbread tart crust completely before spreading the whipped cream over top. If you don't, the whipped cream will melt and the fats will loosen, making the filling more liquidy and creating a messy look and a soggy bottom.
Top Tip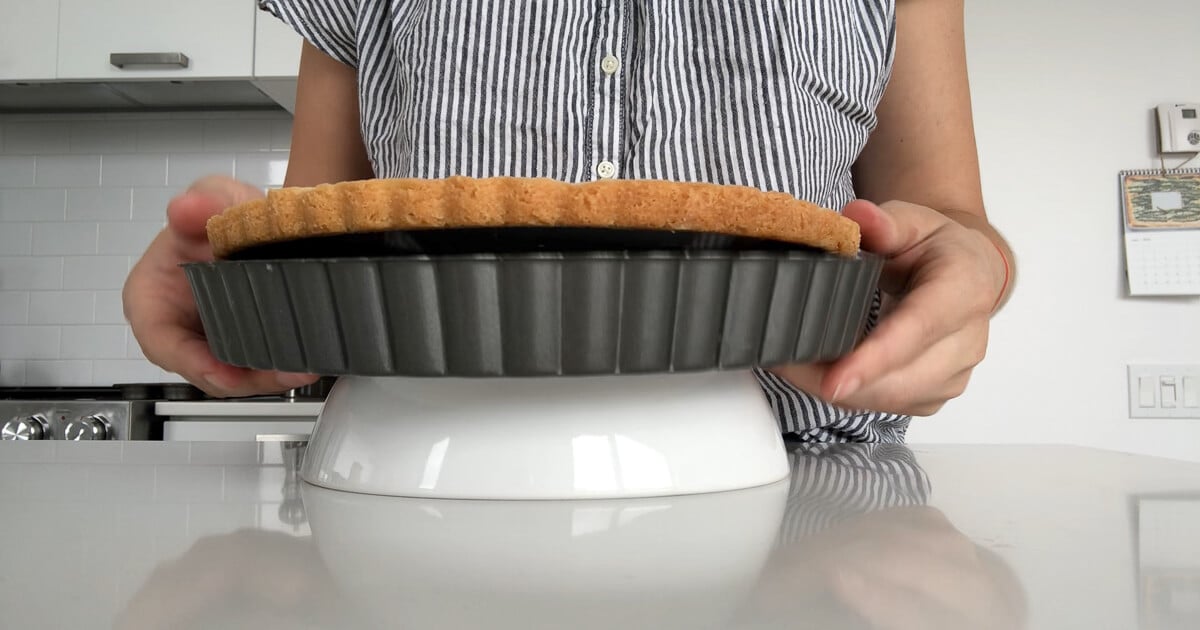 Use a small bowl to unmould the tart from the tart pan: invert the bowl and place the tart pan over it. The ring will drop down and you can lift the base of the pan up with the crust. Use an offset spatula to loosen the tart crust from the base and then slide it onto your serving plate.
Baking Recipe FAQs
What is a strawberry tart made of?
A classic strawberry tart in French pastry is made from a sweet shortcrust (pâte sucrée), filled with either pastry cream (crème pâtissière) or crème mousseline (pastry cream lightened with butter) and topped with strawberries and glazed with melted apple jelly, apricot jam, or even "glaçage neutre" (a thick gelled sugar syrup).
This strawberry cream tart is a variation of this concept, made with a sweet shortbread cookie crust, a whipped cream filling, and strawberries macerated in maple syrup.
What cream is good for strawberries?
Strawberries and cream is a classic dessert pairing and you really can't go wrong! Use whipping cream or heavy cream (or double cream in the UK) with at least 35 % fat so that you can whip it into a stable sweetened whipped cream that makes a great filling for a tart topped with strawberries.
How do you make whipped cream stay thick?
Whipping a thick dairy like mascarpone or Greek yogurt with whipping cream will produce a thick, more stable whipped cream that doesn't break down as quickly. For longer storage, you may incorporate a little melted gelatin to ensure the whipped cream doesn't weep.
What is the difference between pie crust and tart crust?
A pie crust is unsweetened, made from flour and butter with a little water to bind it together. It may be flaky or sandy/mealy. A tart crust is usually a sweet crust made from cookie dough. It may have ground almonds or could be based on a simple shortbread recipe (as in this recipe).
How do you store this strawberry cream tart?
I suggest making the components ahead of time and then assembling the strawberry dessert when you are ready to serve the strawberry tart. It only takes a few minutes to assemble and this will ensure your shortbread crust will have a nice crisp texture and not be soggy!
Store the macerated strawberries and the yogurt whipped cream covered in the refrigerator until you are ready to assemble and serve the tart. The baked crust should be stored in a cool dry place to keep it dry and crisp.
Other Tarts To Bake
Looking for other beautiful tart recipes like this? Try these:
If you tried this strawberry cream recipe (or any other recipe on my website), please leave a ⭐ star rating and let me know how it went in the comments below. I love hearing from you!
📖 Recipe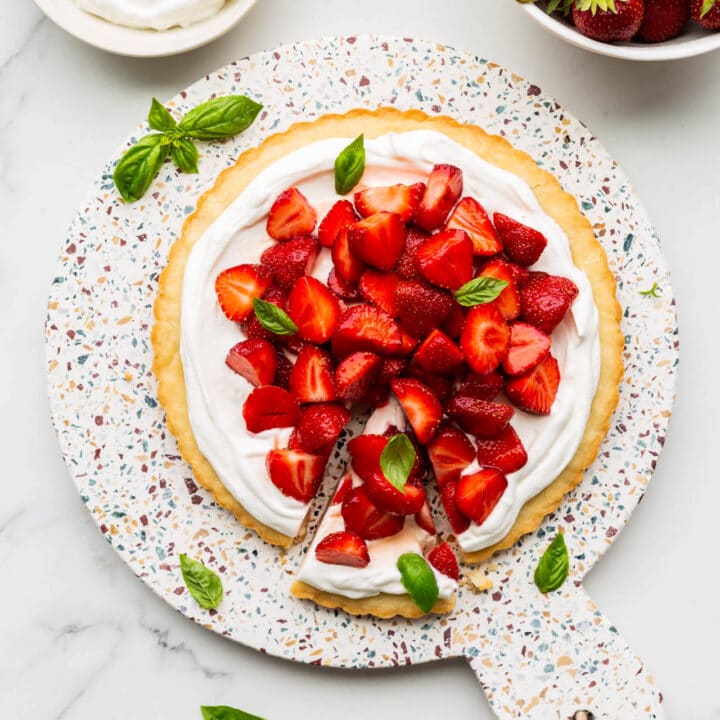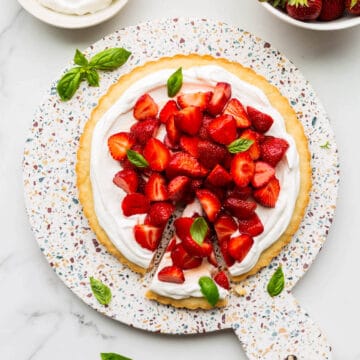 Strawberry Cream Tart with Yogurt Whipped Cream
Learn how to make a gorgeous strawberry cream tart with this easy recipe with a shortbread tart crust, yogurt whipped cream and fresh strawberries macerated in maple syrup.
Ingredients
Shortbread cookie tart crust
Maple macerated strawberries
450

grams

fresh strawberries

washed, hulled, and sliced

30

mL

pure maple syrup
Yogurt whipped cream
125

mL

whipping cream (35 % fat)

60

mL

greek yogurt

use at least 2% fat greek yogurt, see notes for substitute

20

grams

icing sugar

5

mL

pure vanilla extract

5–6

basil leaves

or mint leaves (for garnish)
Instructions
For the shortbread cookie tart crust
Preheat the oven to 350°F (175 ºC).

In the bowl of an electric mixer fitted with the paddle attachment, cream the butter and the sugar until it is well mixed.

Add the vanilla and stir it in.

On low speed, add the flour and the salt. When the flour is mostly incorporated, increase the speed of the mixer until the ingredients come together to form a cookie dough.

Crumble the dough in an even layer into a fluted tart pan with removable bottom. Press the cookie dough flatly and evenly. The dough should fit the pan from edge-to-edge. Use a flat-bottomed glass (or your palm) to press the dough and spread it out evenly.

Place the tart pan in the oven, and bake the cookie until the edges turn golden, about 20 minutes.
For the strawberries
Mix the sliced strawberries with the maple syrup in a medium bowl. Let them macerate while you prepare the cream. Store them in a bowl, covered, in the fridge.
For the yogurt cream
In the bowl of an electric mixer fitted with the whisk attachment (or using. an electric hand mixer), whip the yogurt and the cream until thick but soft.

Add the sugar and vanilla, and continue whipping until the yogurt whipped cream is thick and spreadable. Store in the fridge until ready to use.
Assembly
Spread the thick whipped cream over the cooled cookie base, leaving a half-inch edge.

Top with the macerated strawberries, and garnish with a few fresh basil or mint leaves.
Notes
Before tackling this recipe, please read through the blog post, including the recipe card and tips so you know what you are doing. Here are a few things to note:
Press the dough in the pan: You may need to use a little flour (or even a little water) to prevent the glass (or your fingertips) from sticking to the dough.
Cool the crust completely! Do not top with the whipped cream or the strawberries until you are sure the tart has cooled completely.
Unmould the tart easily: Don't stress about unmoulding your cookie tart crust from the tart ring: use my tricks for

removing a tart from a tart pan

, like an inverted bowl (see photo above)

! Works like a charm!

Making the whipped cream: If you don't want to add yogurt to make the whipped cream topping, replace it with the same amount of whipping cream or even mascarpone cream, if you have it!
Make ahead tips: You can make the components ahead of time, bake the crust and let it cool, macerate the berries in maple syrup, and prepare the whipped cream ahead of time. Store the berries and whipped cream covered in the fridge, and keep the cookie crust in a cool dry place until you are ready to assemble the dessert, preferably just before serving so that the crust doesn't get soggy.
Nutrition
Calories:
281
kcal
Carbohydrates:
28
g
Protein:
3
g
Fat:
18
g
Saturated Fat:
11
g
Polyunsaturated Fat:
1
g
Monounsaturated Fat:
4
g
Trans Fat:
0.5
g
Cholesterol:
49
mg
Sodium:
85
mg
Potassium:
151
mg
Fiber:
2
g
Sugar:
14
g
Vitamin A:
745
IU
Vitamin C:
34
mg
Calcium:
43
mg
Iron:
1
mg