Learn how to make the best blueberry scones from a simple list of ingredients. This recipe makes cream scones with blueberries in them. Serve them with clotted cream and jam for breakfast, brunch, or afternoon tea. You can use fresh or frozen blueberries to make these!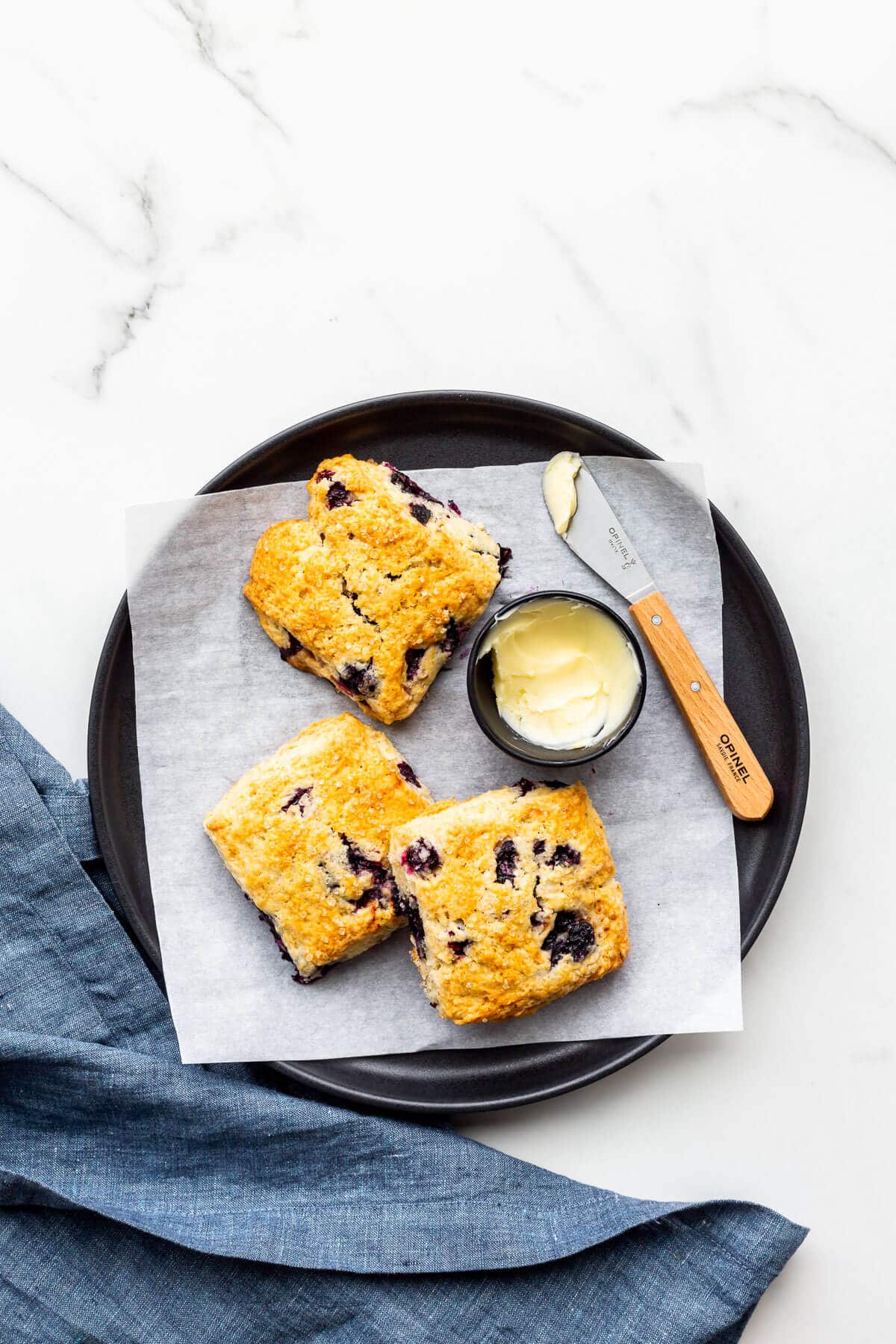 Disclosure: As an Amazon Associate, I earn from qualifying purchases.
Is there anything better than a freshly-baked blueberry scone during peak blueberry season? These blueberry scones are easy to make starting with a cream scone base that comes together quickly. If you've never made scones before, please read about how to make the best scones for all my tips and tricks.
The crunchy turbinado sugar topping sprinkled on before baking makes them completely irresistible! Serve them with butter or clotted cream and homemade blueberry jam.
Jump to:
Ingredients To Make Blueberry Scones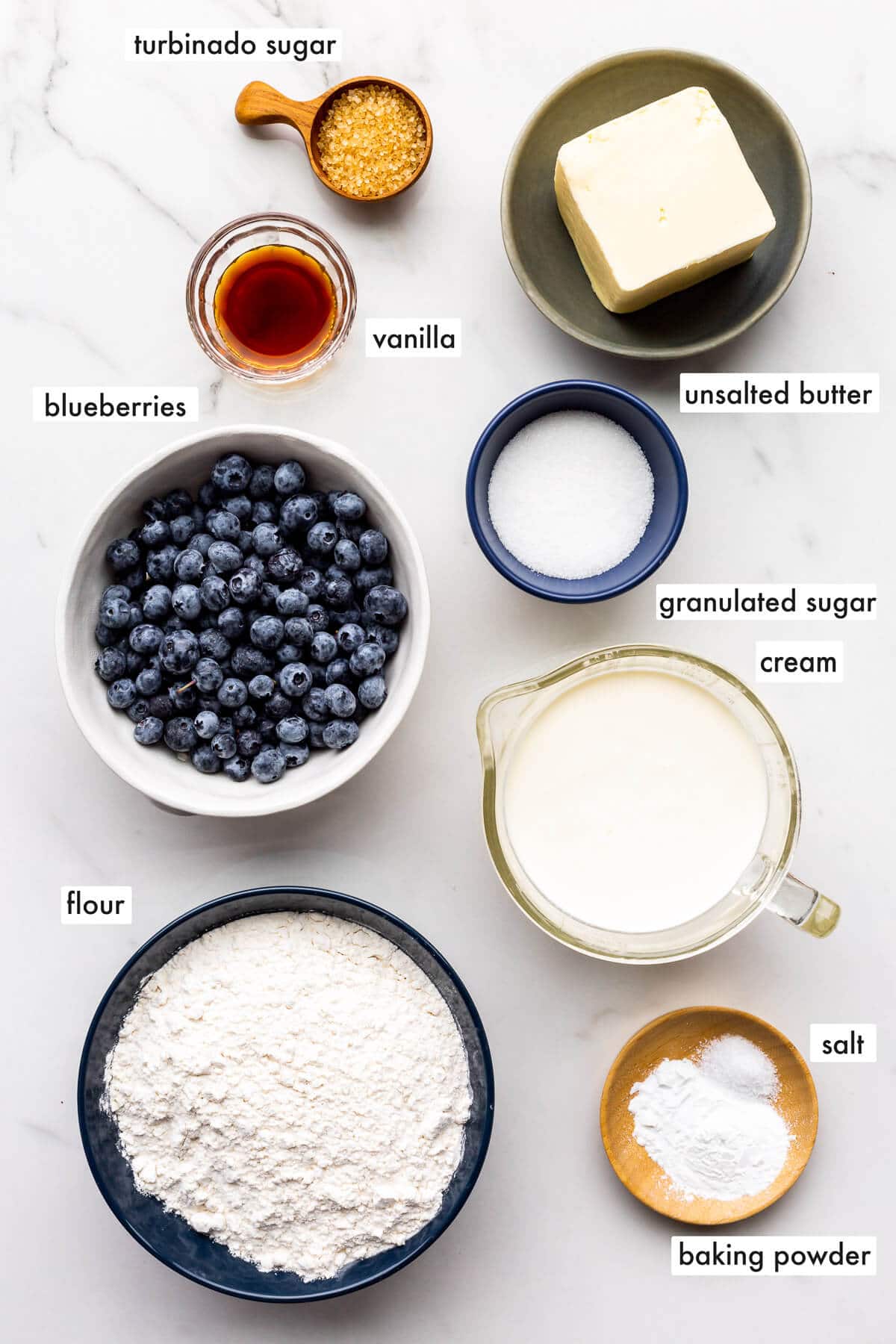 If you want to make cream scones with blueberries, you will need the following ingredients:
all-purpose flour to bind the ingredients together and give the scones structure. If you don't use enough flour (or the right flour), your scones may spread too much as they bake
granulated sugar though used sparingly in this recipe will help tenderize and preserve the scones so they don't dry out too fast
baking powder is a complete chemical leavening agent that doesn't require any special ingredients to work, as long as you add moisture (in this case from butter and cream) and heat (when you bake the scones in the oven). Do not use baking soda, which requires adding an acid to help baked goods rise. Read up on baking soda vs baking powder if you are unsure of the difference
salt is really important to enhance flavour and also balance it out. Don't skip it. I like to use Diamond Crystal fine kosher salt, but table salt will work, though the scones will be saltier and you may want to halve the salt in that case
butter, preferably unsalted butter because you will add salt to the dough, but if you have salted, it will work. Just adjust the salt in the recipe accordingly, otherwise, your scones may be too salty
fresh blueberries, though frozen will work here too. Use frozen blueberries straight from the freezer. Don't defrost them because they will release a lot of water, which will mess with the scone texture
whipping cream (35 % fat) adds moisture and fat to the dough, leading to more tender and light scones that don't go stale too quickly.
See recipe card for full information on ingredients and quantities.
Substitutions
With its simple list of ingredients, there isn't much room for substitutions when you make these eggless blueberry scones. Still, here are a few options:
Fresh blueberries: I much prefer to use fresh blueberries but you can also use frozen. Do not allow them to defrost and work quickly so that you get the scones into the oven without giving the frozen berries a chance to thaw.
All-purpose flour: If you prefer to use self-raising flour, use the same weight of flour, but omit the baking powder and salt since self-raising flour contains both. You may need to adjust the amount of liquid you use to form the dough as self-raising absorbs more liquid than all-purpose does.
Cream: The liquid used to bring the dough together can be cream, milk, or buttermilk, but which one you use is entirely dependent on the chemical leaveners you will be using:

If you are using baking soda, you will want to use buttermilk, an acidic ingredient that will react with the leavener to help the scones rise.
If you use cream or milk, you'll want to use baking powder because it combines the acid needed with baking soda all in one complete powder.
If you want to make this scone recipe without cream and use milk instead of cream, this is how to do it: add an extra 58 grams (¼ cup) extra butter for a total of 173 grams (¾ cup) cold butter and replace all of the 35 % cream in the recipe with 250 mL (1 cup) milk (so slightly less milk than cream)
Variations
Lemon blueberry: incorporate the zest of a lemon with the dry ingredients
Orange blueberry: incorporate the zest of an orange with the dry ingredients
Blueberry white chocolate chip: mix white chocolate chips or chopped white chocolate with the blueberries before adding the cream (these blueberry white chocolate cookies are a prime example of this flavour combo!)
As for garnishing these scones:
Before baking, I like to brush the tops of unbaked scones with cream or milk (or an egg wash) and then sprinkle with turbinado sugar. Turbinado is a coarse golden cane sugar that adds a lovely crunch to the tops of baked goods, and a little sweetness. Please read about the different types of sugar used in baking for more information.
After baking, you can drizzle the scones with a simple glaze made from milk and icing sugar, or you can make a lemon glaze from lemon juice and icing sugar (like the glaze on these lemon shortbread cookies).
How To Make This Recipe
Scones are fairly easy to make and the process of making scones is quite similar to making pie dough!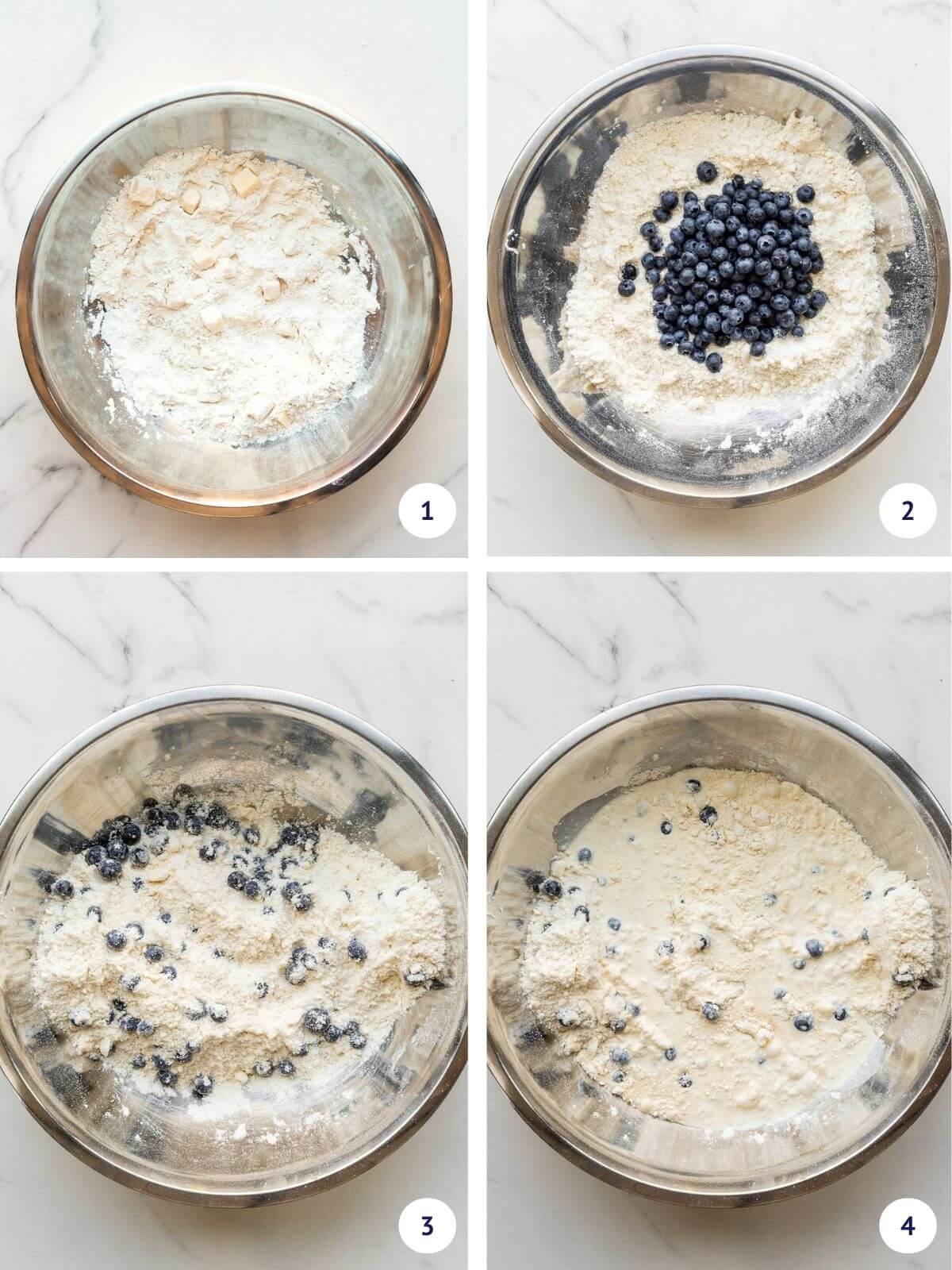 Step 1: use your fingertips to work the diced cold butter into the dry ingredients (flour, sugar, baking powder, salt). The mixture will resemble a coarse crumble (image 1).
Step 2: Stir in the fresh blueberries (image 2). Make sure the blueberries are evenly distributed (image 3) before adding the liquid.
Step 3: Add the cold cream and vanilla to the bowl (image 4). You can use a Danish dough whisk (or a wooden spoon) to stir everything together.
Pro Tip: Remember to keep the ingredients cold, especially the butter and the cream to avoid overworking the dough. If the dough is too warm, the scones will lose their shape as they bake.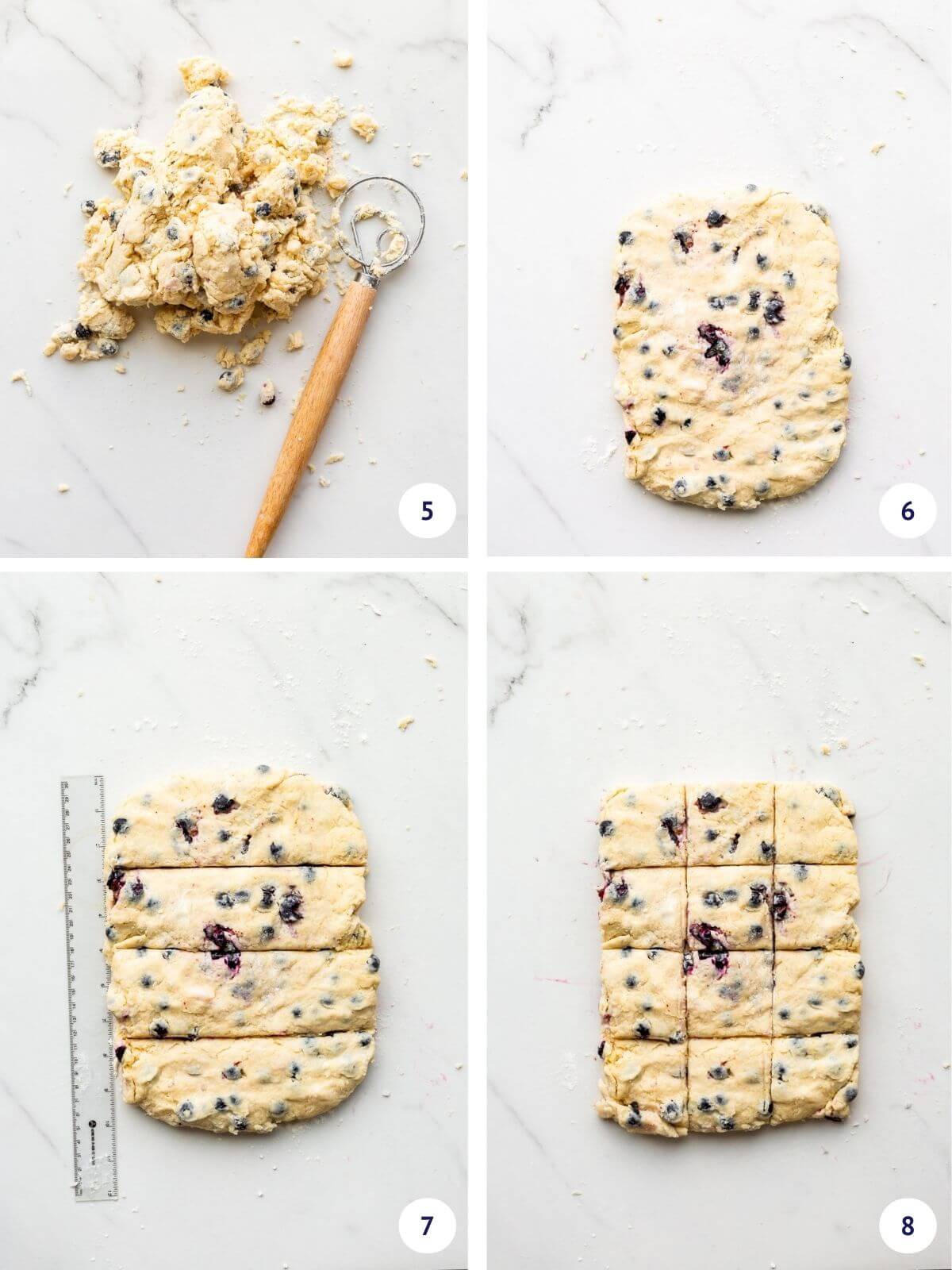 Step 4: Transfer the shaggy dough to a clean work surface. You can very lightly dust the surface with flour to prevent sticking (image 5).
Step 5: Pat out the dough into a thick even rectangle (image 6)and then, use a ruler and a chef's knife or a metal bench scraper to cut the dough into 4 wide strips across the width (image 7).
Step 6: Cut the dough crosswise into 12 equal portions (roughly 2x2 inches each) (image 8).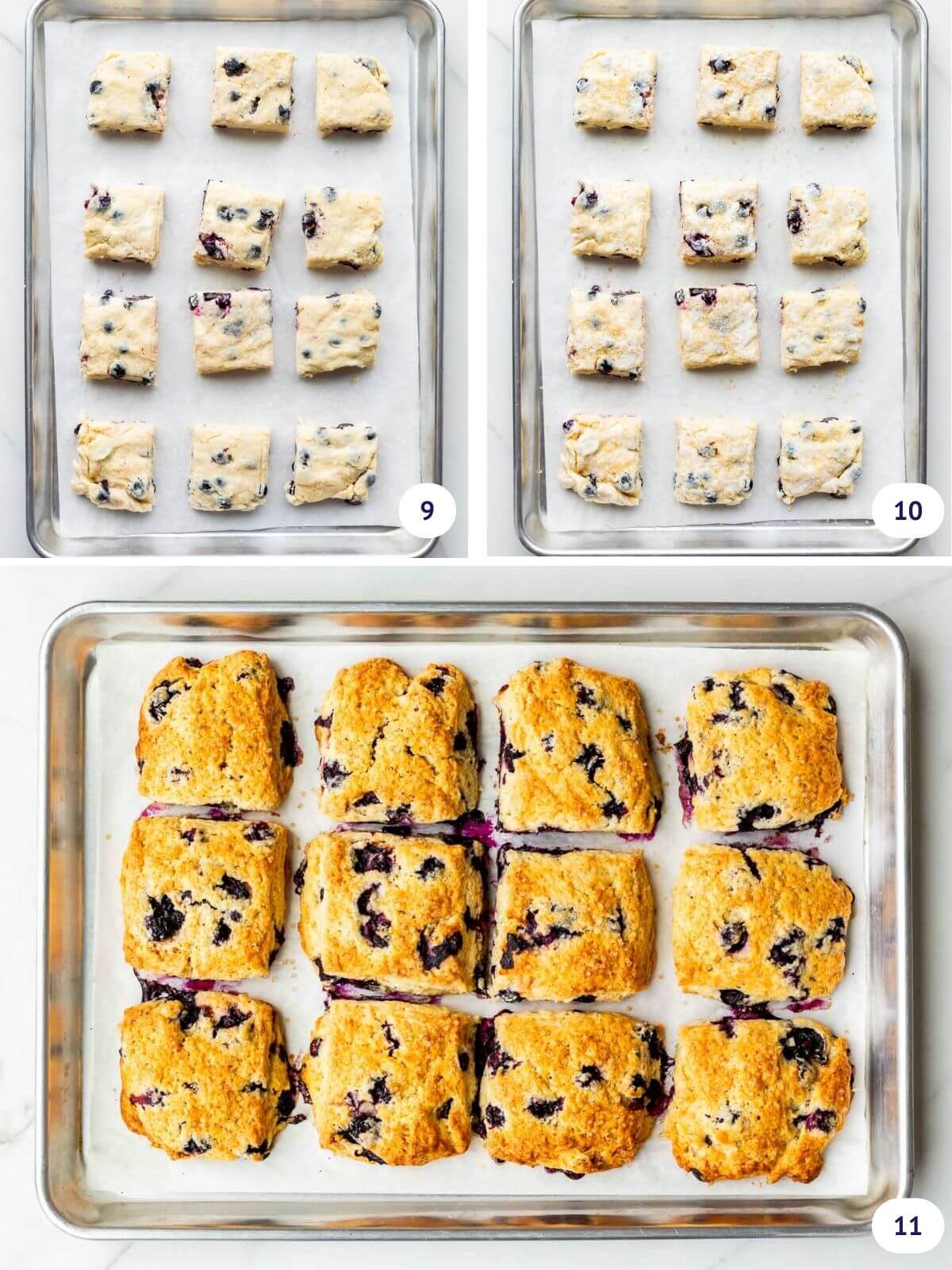 Step 7: Transfer the scones to a parchment-lined half-sheet pan (image 9). You can brush the tops of the scones with a little cream and sprinkle with turbinado sugar before baking (image 10)
Step 8: Bake the scones until golden brown (image 11).
Expert Baking Tips
Keep the ingredients cold, especially the butter and the cream to avoid overworking the dough
Bake scones in a hot oven (400 °F or higher) to help set the edges and prevent them from spreading too much.
Reduce the oven temperature after the edges have set if you need to bake for longer and don't want too much browning.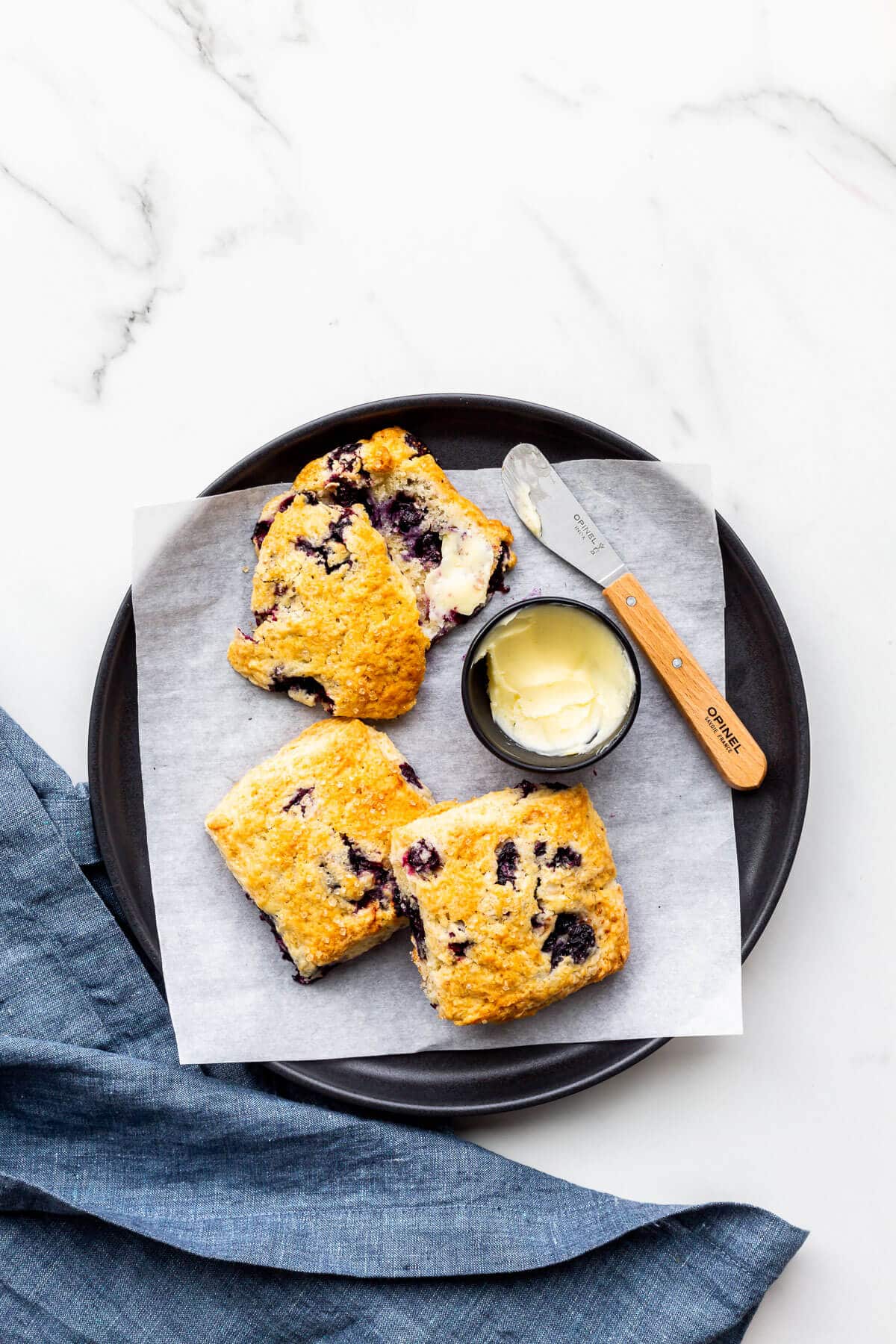 Equipment
You don't need any special equipment to make scones. The mixing is done in a bowl and you can use your hands for all of it!
To incorporate the cream, I like to use a Danish dough whisk, which is great for dough and easier to clean than a regular whisk
To cut the scones, I prefer to use a metal bench scraper, which you can also use to clean up your work surface when you are done
To cut your scones evenly, use a ruler to guide you.
More Scones To Bake
Looking for other scones to try? Here are a few to inspire you!
Blueberry Scones Recipe FAQs
Why do scones rise sideways instead of upright when they bake?
If you find your scones bake crooked, rising sideways instead of upward, it could be the way you are cutting them. With biscuits and scones, small changes to the cutting movement can have a big impact. If you don't cut straight down and release straight up, or if you twist or drag the dough in any way while cutting, this can lead to crooked scones and biscuits. Modify how you cut the dough and you will see a big difference in how they bake!
Why do scones spread out instead of rising tall?
Take the time to analyze your recipe and the ratios of ingredients. If scones spread, your dough may have too much liquid. Use less liquid next time for a firmer dough that holds its shape.
Also consider the temperature of the dough, like for cookies and pies: chilling cookie dough prevents spreading and chilling a pie before baking helps the crust hold its shape! Bake cold scones in a hot oven. This is one of the many secrets to making the best scones!

How do you store freshly baked scones to keep them fresh?
Cream scones like this recipe with blueberries can be stored at room temperature. You can reheat them in the oven or a toaster oven to serve them warm, but I find that scones made with heavy cream, butter, and some sugar, don't go stale too quickly.
How do you freeze scones?
You can freeze scones unbaked or baked. To freeze the unbaked scones, do so on a parchment-lined sheet pan until frozen solid, then transfer them to a freezer bag to store long-term. If you are baking scones from frozen—note that they will take longer to bake.
You can also freeze baked scones in a freezer bag. Defrost them overnight in the refrigerator and warm them in a toaster oven to serve or defrost and warm the frozen scones directly in the oven
What do you serve with them?
Serve blueberry scones with butter, clotted cream and jam. If you want to double down on the blueberries, serve them with homemade blueberry jam!
Other Recipes To Bake With Blueberries
Make the most of the season and bake these blueberry recipes:
If you tried this recipe for scones with blueberries (or any other recipe on my website), please leave a ⭐ star rating and let me know how it went in the comments below. I love hearing from you!
📖 Recipe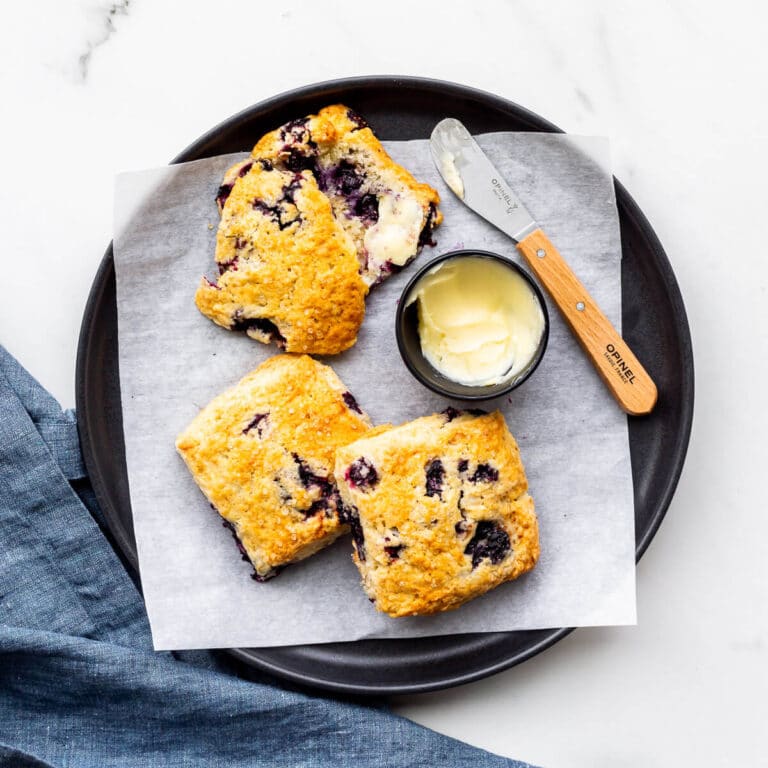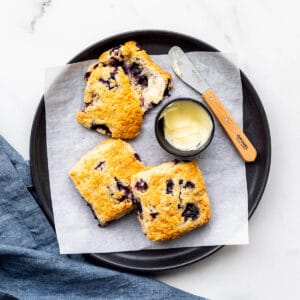 Scones with Blueberries
These tender blueberry scones are made with a traditional cream scones recipe made with butter and cream.
Ingredients
375

grams

bleached all-purpose flour

100

grams

granulated sugar

15

mL

baking powder

115

grams

unsalted butter

very cold, cut into small pieces

300

grams

fresh blueberries

310

mL

whipping cream (35 % fat)

plus a little extra for brushing on the scones before baking

15

mL

Turbinado sugar
Instructions
In a large bowl, whisk together the flour, granulated sugar, baking powder, and salt.

Drop the cold butter cubes into the dry ingredients, and press the cubes of butter into the flour with your fingertips to get large flour-covered flakes (approximately the size of corn flakes).

Incorporate the blueberries carefully so that they don't burst.

With a big fork or a Danish dough whisk, stir in the cold cream until the dough clumps (don't over-mix it!). The dough should be a clumpy, floury mess at this point.

Using your hands, press and gently squeeze the dough together, working it just enough to be able to gather the dough into a fat disk. Watch the blueberries!

On a lightly floured surface, pat out the dough into a 10 x 7.5 inch rectangle.

Cut the dough into 12 equal scones (2.5 x 2.5 inch squares).

Place the scones on a parchment lined sheet pan, spaced out evenly. Chill for 15 minutes.

Preheat the oven to 400 °F (200 °C) while the scones are freezing.

Just before baking, you can brush the tops of the scones with a little cream. Sprinkle with turbinado.

Bake the scones for 25 to 30 minutes, until the edges and tops are golden brown. Serve warm
Notes
For more information, please read about how to make the best scones before you get started!
This scones recipe is made with all-purpose flour, also known as plain flour, which is why we have to add baking powder and salt to the dry ingredients. If you are in the UK or other countries that regularly use self-rising flour:
use 375 grams of self-rising flour and skip the baking powder and the salt in the recipe.
Want to make this scone with whole milk instead of cream? This is how to do it:
Add 58 grams (¼ cup) extra butter for a total of 173 grams (¾ cup) cold butter
Replace the 35 % cream in the dough with 250 mL (1 cup) of milk. 
Nutrition
Calories:
305
kcal
Carbohydrates:
33
g
Protein:
4
g
Fat:
18
g
Saturated Fat:
11
g
Cholesterol:
56
mg
Sodium:
93
mg
Potassium:
179
mg
Fiber:
1
g
Sugar:
8
g
Vitamin A:
619
IU
Vitamin C:
1
mg
Calcium:
78
mg
Iron:
2
mg