Make perfect blueberry hand pies from scratch including the easy pie dough with butter and a homemade blueberry pie filling.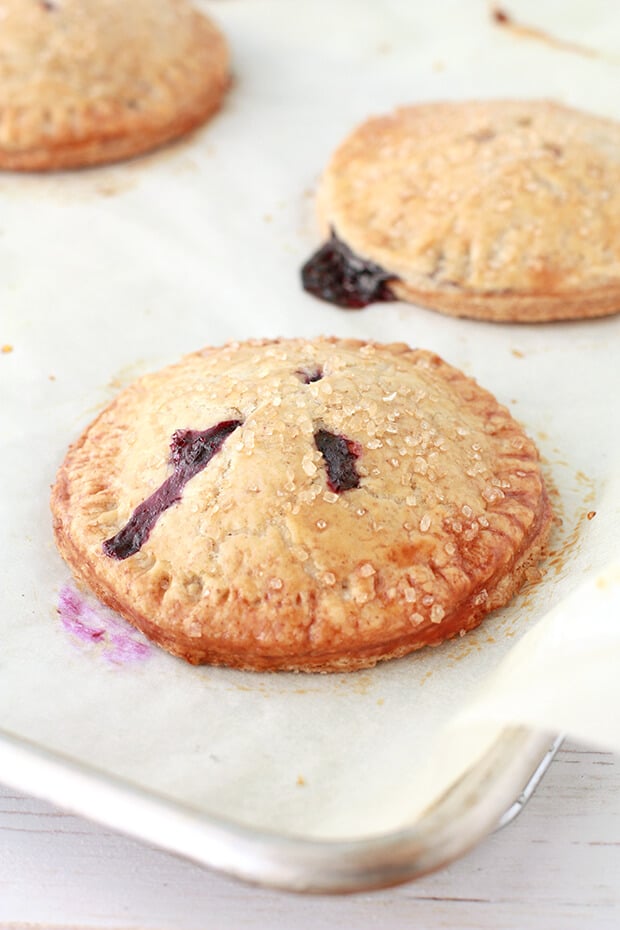 This blueberry hand pie recipe is easy, but it does have a few steps to it. Here's a rough schedule to break up the tasks and make the recipe less overwhelming or daunting:
Day 1: prepare the filling and the pie dough, and then let everything chill overnight. Chilling the dough gives it time to rest/relax and also helps moisten the flour a little more so that the dough is more "together". Chilling the filling is essential so that you can fit a nice mound of it when you assemble without having it ooze all over everywhere.
Day 2 (i.e. baking day): all you have left is to roll out the dough and assemble the pies so that you can bake them.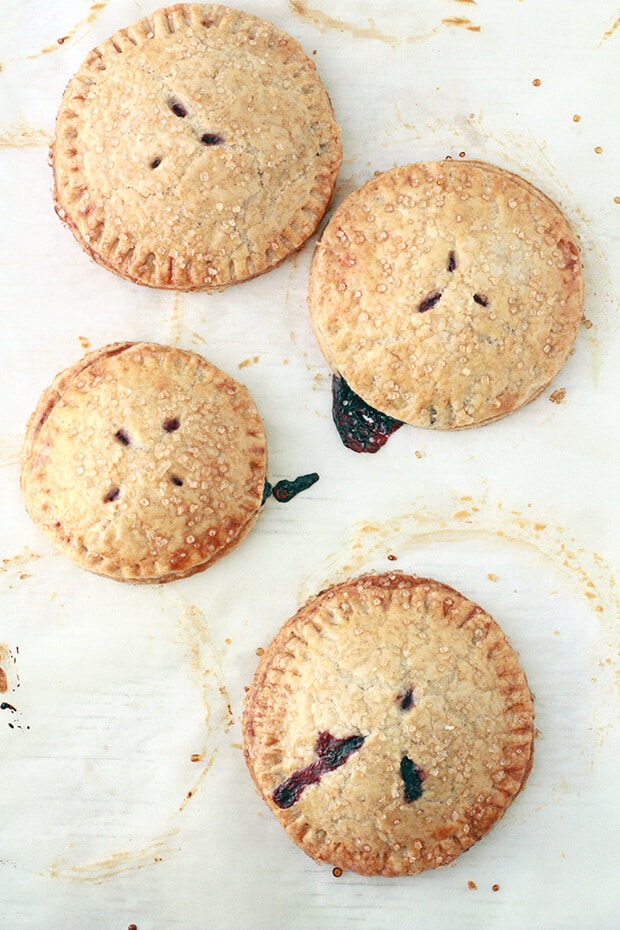 Disclosure: As an Amazon Associate, I earn from qualifying purchases.
I experimented here by adding a little rye flour to the crust. If you don't want to work with rye flour, you can replace it with the same weight of all-purpose flour or whole wheat flour.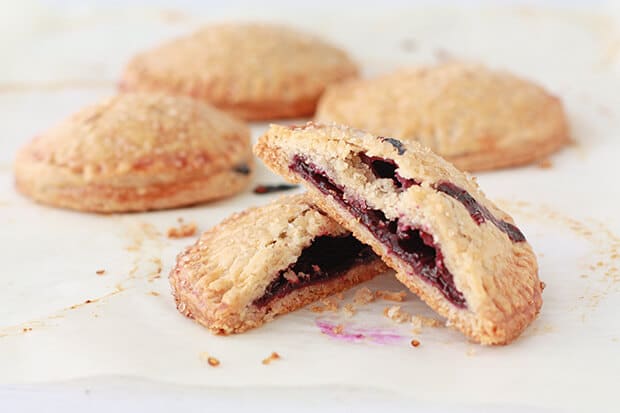 You can made the dough with regular unsalted butter and or a higher fat, European style butter (like Stirling Churn 84). The final pies will be very similar, but I'd definitely say the higher fat butter yields a more flaky, delicate crust, which I quite enjoyed.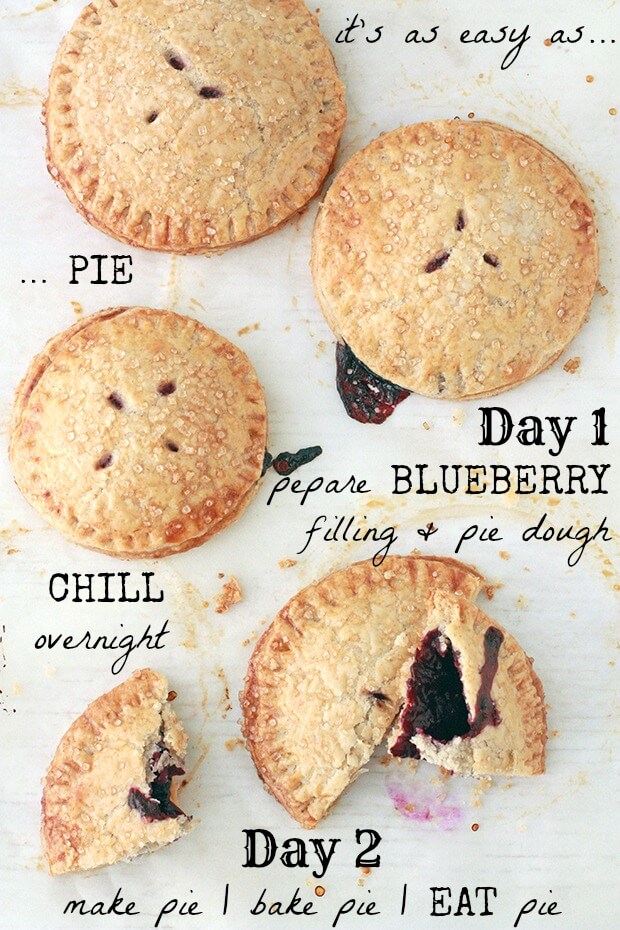 I strongly suggest eating the pies the day you baked them. They're still tasty the next day, but the crust is truly amazing when it's freshly baked. It's tender, flaky and a little delicate. And if you are looking for other things to bake with blueberries, try these honey blueberry muffins or these blueberry bran muffins. Or you could even bake blueberry white chocolate cookies or blueberry almond mini pies!
What to do with pie dough scraps
Inevitably, when you make a pie, you will be left with a pile of pie dough scraps. Gather them up and press them together to shape them into a disk and use them to make pie crust cookies!
Serving suggestions
You can't go wrong serving these blueberry hand-pies à la mode with a scoop of the best homemade ice cream. These mini blueberry pies will taste great with classic vanilla, but also cardamom ice cream or even this creamy lemon custard ice cream.
If hand-pies are too much work or too fussy for you, consider making a full-sized pie with my best blueberry pie recipe!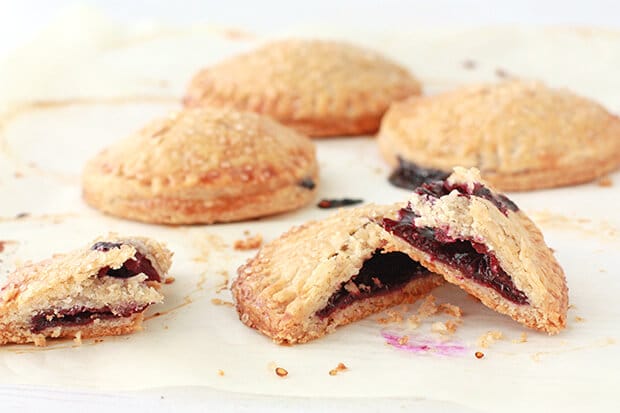 📖 Recipe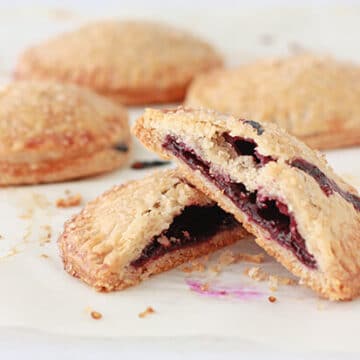 Blueberry Hand Pies
A recipe for blueberry hand pies made with a homemade all butter pie crust and a fresh blueberry filling
Ingredients
Blueberry filling ingredients
330

grams

fresh blueberries

50

grams

granulated sugar

8

grams

cornstarch

5

mL

fresh lemon juice
Rye crust ingredients
250

grams

bleached all-purpose flour

63

grams

rye flour

26

grams

granulated sugar

230

grams

unsalted butter

cut into small pieces, cold

30

mL

cold water

more or less
Instructions
To make the blueberry filling
Combine all the filling ingredients in a medium saucepan and bring it to mixture to a boil on medium–high heat.

Cook the filling for about 8 minutes (it will thicken at around 5 minutes then loosen up again, but don't worry it will set/thicken overnight in the fridge), stirring often to make sure it doesn't catch and burn on the bottom.

Transfer the filling to a heat-proof bowl, cover with plastic wrap pressing it down so that it touches the filling surface. Chill overnight.
To make the pie crust dough
In a giant bowl (yes, the GIANTer, the better!), whisk together all the dry ingredients of the filling.

Scatter the butter chunks over top, then with your hands, toss them so they are all coated with flour. Now, turn the chunky mixture to sand by working it quickly. Basically pick up and rub (a.k.a. "sand) it between your palms. Do not use force. Be gentle. You can also use your finger tips if you prefer, just don't let the butter get too warm.

Make a well in the center and add the water, working it into the mixture gradually with your finger tips or a fork, then quickly working it in with your hands.

As soon as the dough is mostly moistened and clumps when squeezed, stop. Press it into two equal disks (there may be dry bits. That's okay), wrap with plastic wrap and chill overnight.
To assemble the blueberry hand pies
Preheat the oven to 400 °F (200 °C) with a baking sheet placed on the middle rack, upside down. Take the dough out of the fridge about 20 minutes before you roll it.

Roll half the dough out to about ⅛ inch thickness on a lightly floured surface. Using a 4″ round cookie cutter, cut out as many rounds as you can. Re-roll the scraps and cut out more.

Transfer the rounds on two parchment lined baking sheets (you should have 9 or 10).

Brush a ½ inch border around the edge of each round with the egg and place about 1 tablespoon of chilled filling in the middle of each. These are your "pie bottoms".

Roll out the rest of the dough and cut out 9 or 10 more rounds. Brush a ½ inch egg wash border on each and flip each onto a pie bottom. Press the edges together with your finger tip and then use fork tongs to press/mark the edge even more.

Brush the assembled hand pies with egg wash and sprinkle with turbinado. Cut slits into the top.

Bake the pies (1 sheet at a time), setting the baking sheet directly on the one that is preheated in the oven for 20 to 25 minutes til the tops are evenly golden brown.

Let cool slightly (or completely) before serving.
Notes
I used European-style Churn 84 unsalted butter from Stirling Creamery for this recipe.
Nutrition
Calories:
439
kcal
Carbohydrates:
51
g
Protein:
5
g
Fat:
24
g
Saturated Fat:
15
g
Polyunsaturated Fat:
1
g
Monounsaturated Fat:
6
g
Trans Fat:
1
g
Cholesterol:
82
mg
Sodium:
162
mg
Potassium:
112
mg
Fiber:
3
g
Sugar:
19
g
Vitamin A:
770
IU
Vitamin C:
4
mg
Calcium:
20
mg
Iron:
2
mg
I do my best to bake with the finest ingredients. Stirling Creamery, a Canadian company, has provided the butter for this post.