These blueberry oatmeal cookies are just like chocolate chip cookies, but made with white chocolate, frozen blueberries, and a little chopped fresh rosemary.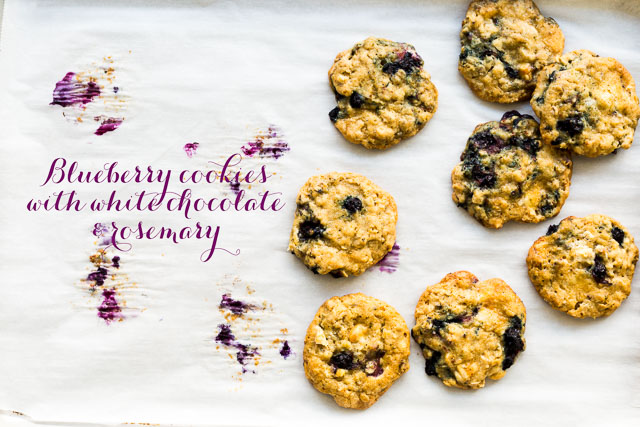 Disclosure: As an Amazon Associate, I earn from qualifying purchases.
When I came up with the recipe for my version of the best chocolate chip cookies, my goal was to have a recipe that can easily be tweaked to modify it. This blueberry oatmeal cookies recipe is just one of many creative ways you can adapt that recipe with chunks of white chocolate and fresh or frozen blueberries.
If blueberries aren't your thing, you can always try these thick chewy oatmeal cookies with chunks of milk chocolate and peanuts. Other options if you are big on oatmeal are these plain thick oatmeal cookies baked in a muffin pan so that they all have a round uniform shape and to limit the spread of the cookie dough as they bake, or even crispy oatmeal raisin cookies, which are old-fashioned oatmeal cookies from my grandmother's recipes.
Baking cookies in ring moulds or a muffin pan is a great way to stop cookie dough from spreading without making any other changes to your recipe, like in this thick oatmeal cookie recipe. For these cookies, I wanted a recipe that didn't require a ring mould to stay thick when the dough bakes in the oven.
If you want to bake cookies that are thicker, without having to use a muffin pan or ring moulds, the simplest solution is to add more flour to the cookie dough, which yields a thicker dough that doesn't spread.
The higher the proportion of flour you have in your recipe, relative to the butter, sugar, and eggs, the less the cookies will spread.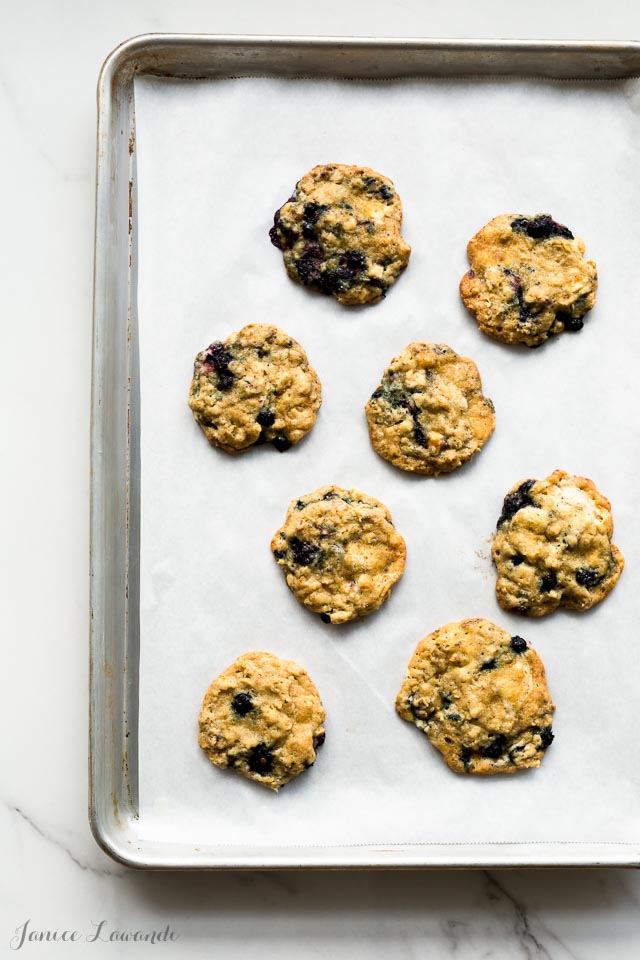 These cookies are a variation on the classic chocolate chip cookie recipe, adding oats and replacing the dark chocolate with white chocolate, while also incorporating blueberries into the cookie dough. Make sure to take the time to properly measure your ingredients before mixing the dough: a little extra butter or a little more oats may drastically change the texture, resulting in thinner or dryer cookies if you aren't careful. The French baking term for this is called mise-en-place.
When you want to add berries to cake batters and doughs, especially when they are very thick. It can be helpful to freeze the berries so that when you mix them in, they don't burst open, adding too much water to your mixture. This is a trick I learned for the honey blueberry muffins and it works well, even in the dough for these blueberry white chocolate cookies!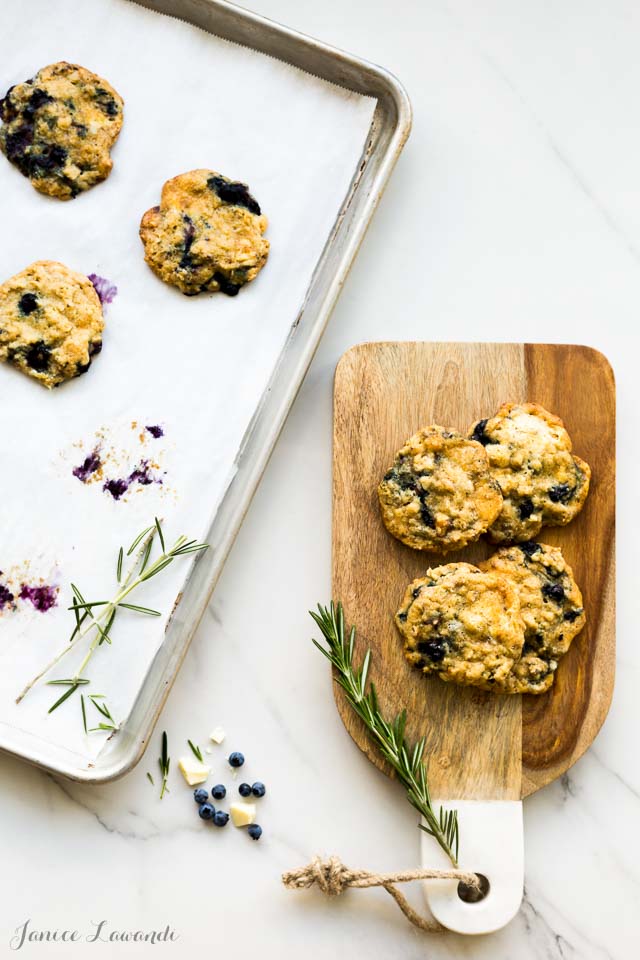 Remember when baking with blueberries, the pH of the cookie dough, muffin mix, or cake batter will have an impact on the colour of the blueberries and you might find that the blueberries turn green as they bake.
Tools to bake the best oatmeal blueberry cookies
There are tools, equipment, and bakeware that I use when I make these oatmeal cookies. If you plan to make cookies often or bake more regularly, these are some of the baking tools you might want to consider investing in. This short list of items will make your baking sessions easier and more successful!
📖 Recipe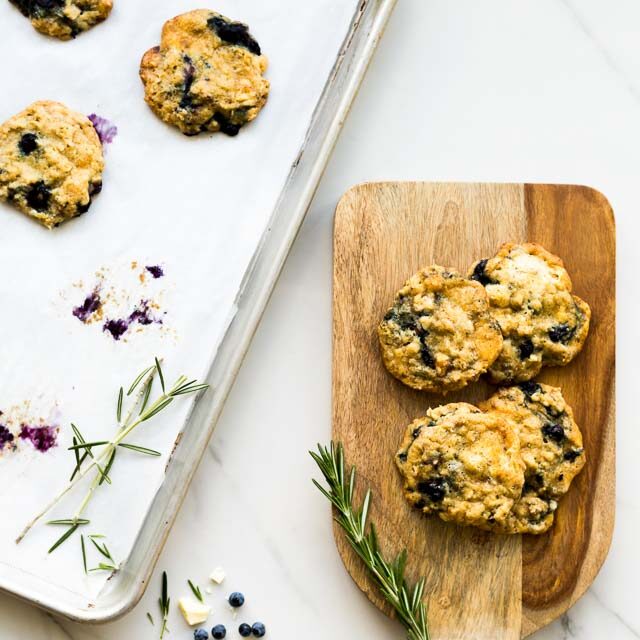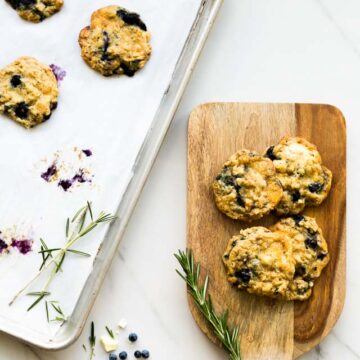 Blueberry Oatmeal Cookies with White Chocolate and Rosemary
These blueberry oatmeal cookies with white chocolate and rosemary are as easy to make as a regular chocolate chip cookie. They are the perfect summer cookie made with frozen blueberries (or fresh local berries that were frozen prior to mixing).
Ingredients
150

grams

fresh blueberries

preferably wild blueberries which are smaller and sweeter

188

grams

bleached all-purpose flour

95

grams

rolled oats (or large flake oats)

also called old fashioned oats

2.5

mL

baking soda

10

mL

finely chopped fresh rosemary

115

grams

unsalted butter

softened

100

grams

granulated sugar

100

grams

light brown sugar

1

large egg(s)

5

mL

pure vanilla extract

45

mL

pure maple syrup

90

grams

chopped white chocolate
Instructions
Preheat the oven to 350 °F (175 °C). Line a couple of sheet pans with parchment paper.

Place the blueberries on a parchment-lined rimmed baking sheet and freeze while you make the cookie dough.

In a medium bowl, whisk together the flour, oats, baking soda, salt, and fresh rosemary. Set aside.

In a large bowl, cream together the butter with the two sugars until they are well mixed with a wooden spoon (or in the mixer if you prefer).

In a small cup, whisk together the egg, vanilla, and maple syrup.

Drop this mixture into the bowl with the creamed butter, a little at a time, stirring well with each addition.

When the egg mixture has been incorporated, pour the dry ingredients into the bowl. Stir to combine.

Dump in the white chocolate chunks and the frozen blueberries, folding them in carefully.

Scoop heaped tablespoons of the cookie dough onto a big parchment-lined sheet. Chill the cookies for 15 minutes.

Bake the cookies for 12 to 16 minutes in the oven or until the edges are beginning to brown. Note the baking time is entirely dependent on your oven and how cold the cookie dough is.

Let cool before transferring to a rack. I stored these on the wire rack, uncovered, overnight, so that the cookies dried out a little. The next day you will have perfectly chewy blueberry cookies, whereas fresh from the oven, they were a little moist and cakey.
Nutrition
Calories:
114
kcal
Carbohydrates:
17
g
Protein:
2
g
Fat:
5
g
Saturated Fat:
3
g
Cholesterol:
14
mg
Sodium:
62
mg
Potassium:
43
mg
Fiber:
1
g
Sugar:
10
g
Vitamin A:
116
IU
Vitamin C:
1
mg
Calcium:
16
mg
Iron:
1
mg