Learn how to make alfajores made with shortbread cookies and filled with dulce de leche with this easy recipe. You can use either homemade or store-bought dulce de leche.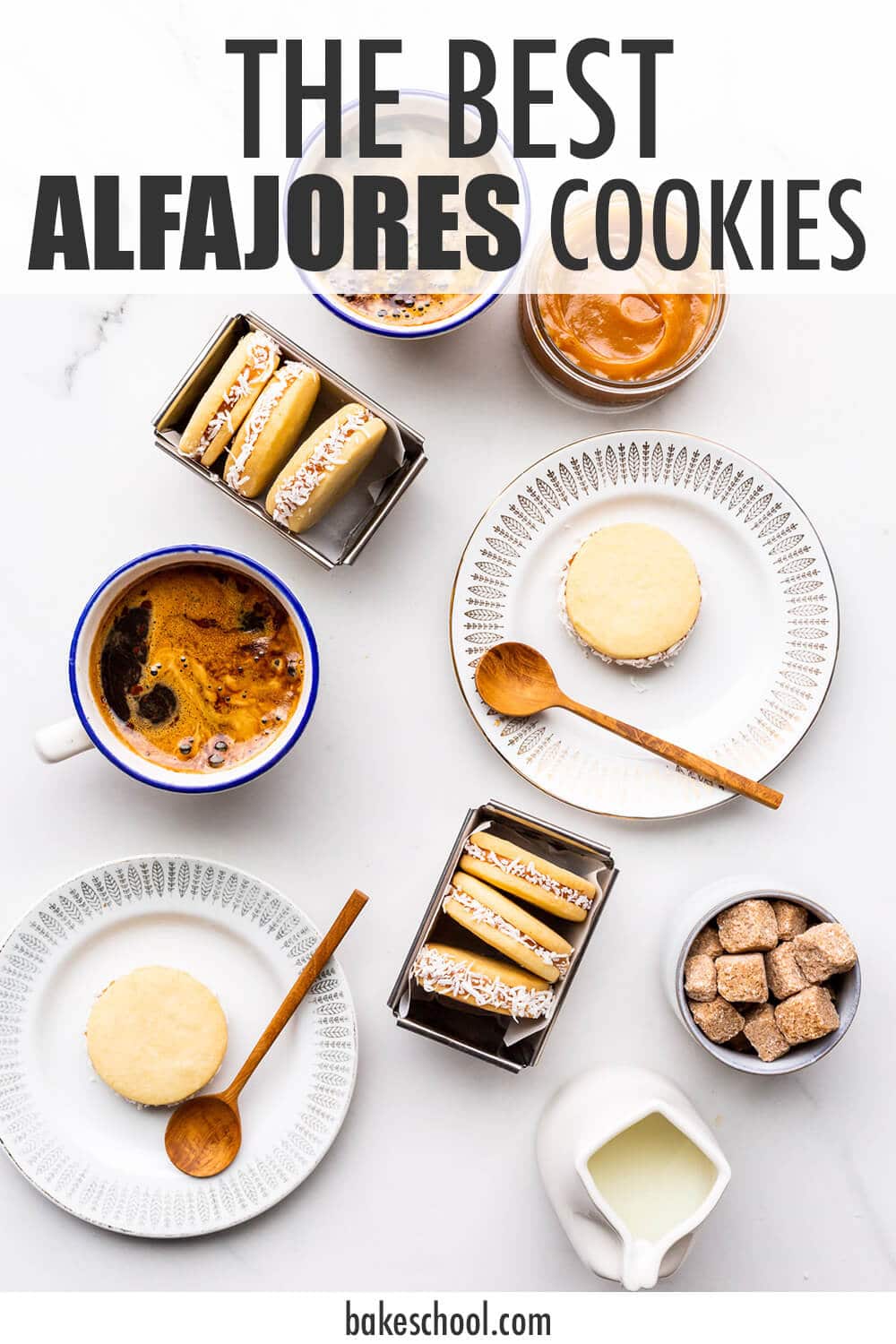 Disclosure: As an Amazon Associate, I earn from qualifying purchases.
Jump to:
What are they
Alfajores are a delicious sandwich cookie popular in many Latin American countries. They are made from shortbread-like cookies and filled with dulce de leche. The sandwich cookies are rolled in shredded coconut (or chopped nuts) to coat the edges. Alternatively, they may be coated in a thin layer of chocolate (either white, milk, or dark). A popular brand of Argentinian alfajores cookies coated in chocolate is Havanna and they are very yummy!
The recipe below is a homemade version. It's adapted from this recipe for jam-filled shortbread cookies and filled with homemade dulce de leche made without condensed milk. You can also use store-bought dulce de leche. Here's a comparison of store brands of dulce de leche and how to thicken it if it's too thin to fill cookies.
What you need to make these
Like the classic 1-2-3 ratio shortbread cookies, you don't need many ingredients to make these sandwich cookies. They are mostly made from pantry staples! This recipe has more butter than the classic shortbread, which gives it a lovely, richer flavour.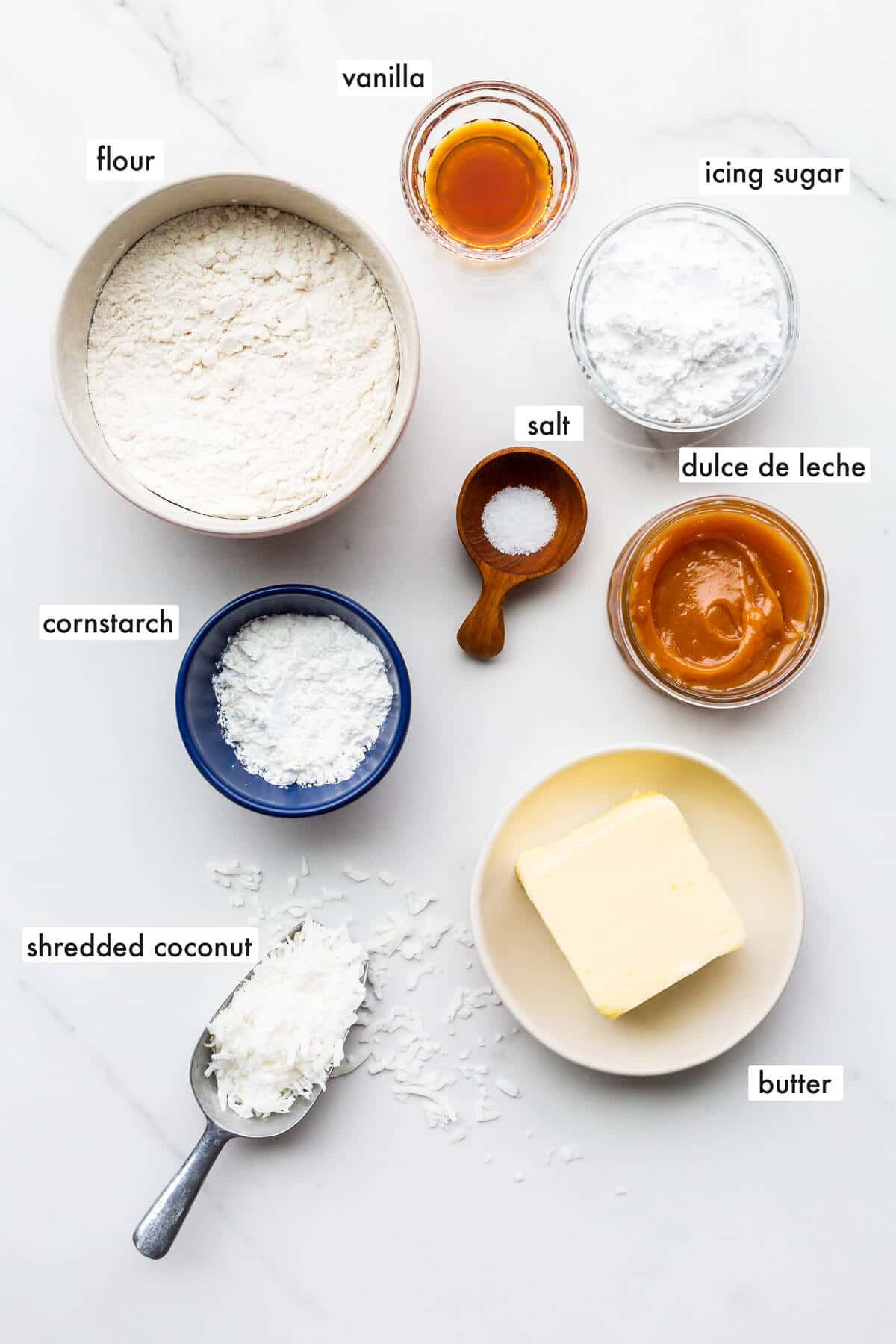 butter, specifically unsalted, is needed to make the shortbread cookie dough, though salted butter could work, but then skip the salt
icing sugar, adds sweetness to the cookie without adding flavour because we want the butter in the cookie and the dulce de leche in the filling to shine through
vanilla extract to flavour the cookies without overwhelming the dulce de leche
salt, preferably Diamond Crystal kosher salt is necessary to balance out the sweet dulce de leche filling—if using table salt, you may want to halve the salt to avoid these cookies being too salty
flour gives these cookies structure so that they hold their shape and don't spread as they bake
cornstarch helps create a lighter textured cookie because it has no gluten
dulce de leche, either homemade or store-bought but make sure it has a thick consistency that it doesn't ooze out of the cookie. If it's too thin, you will have to boil it down to thicken it.
shredded coconut, or other garnishes like chopped nuts or even melted chocolate
See recipe card for quantities.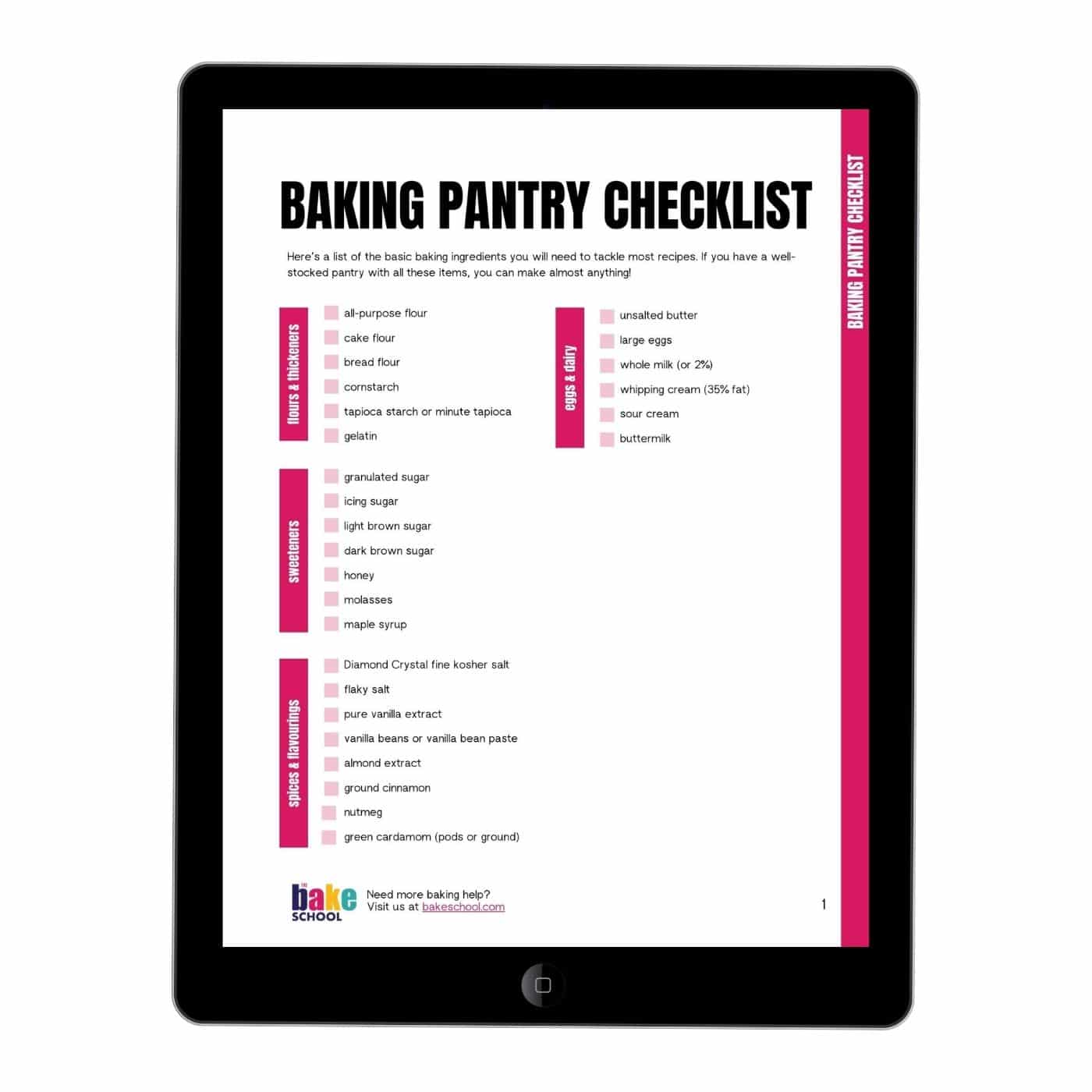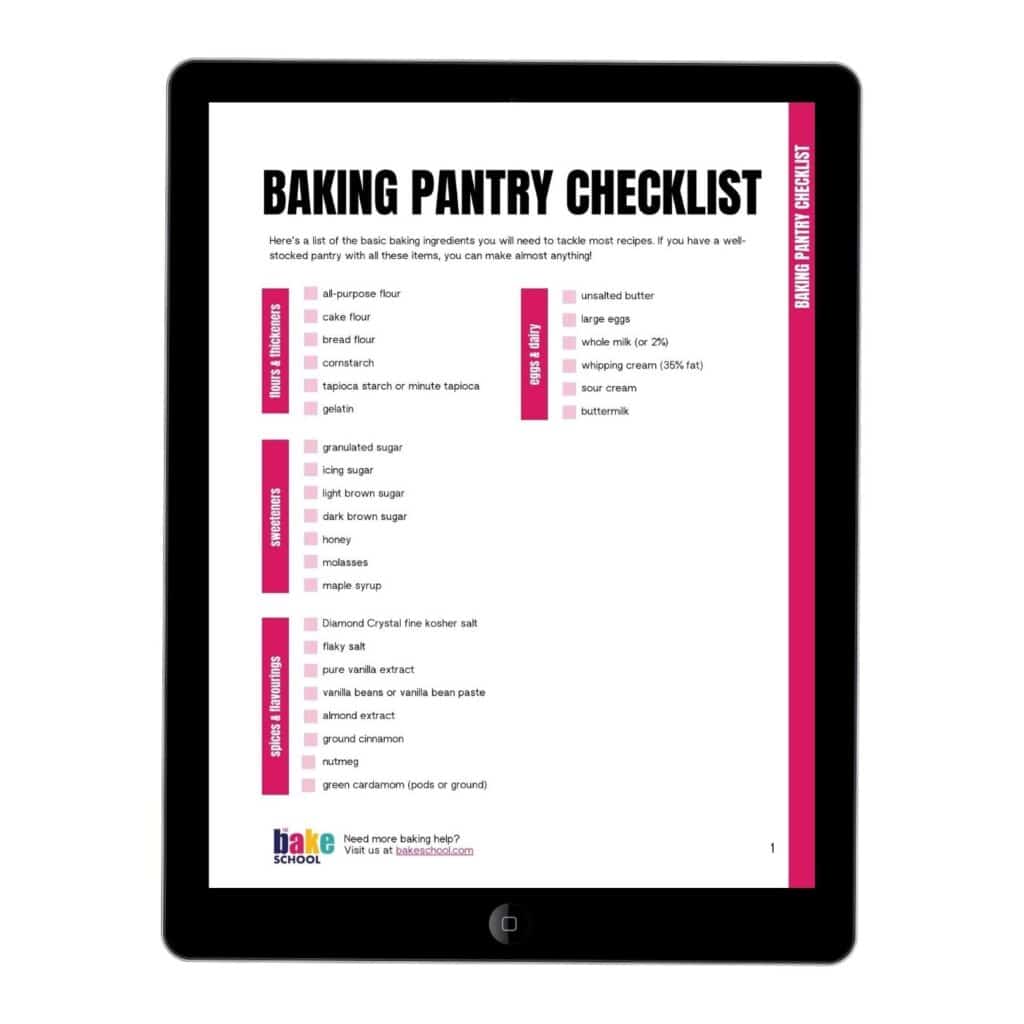 Pantry checklist
Use this pantry checklist to make sure you have the baking ingredients you need to tackle any recipe.
Instructions
To make alfajores, you need to bake a batch of shortbread cookie cutouts first. Then you can fill them and sandwich them together.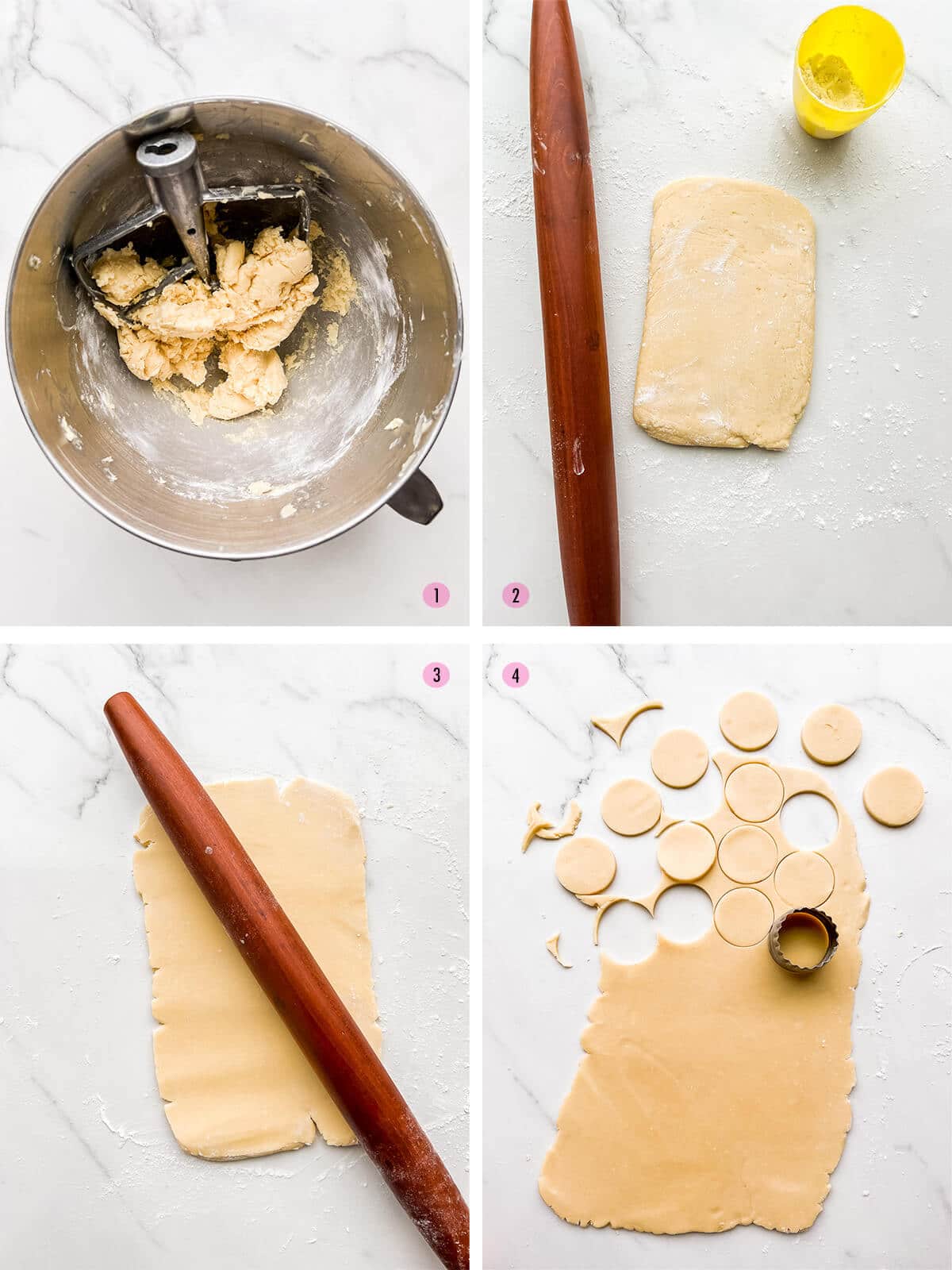 The cookie dough is made with the creaming mixing method. You start with softened butter and sugar that you combine until smooth and creamy before stirring in the dry ingredients.
Remember to chill the cookie dough to make it easier to roll. Otherwise it may be too soft to work with. At any point, if you find the dough is getting too soft to handle, you may need to put it back in the fridge.
Hint: in the summer months, if your kitchen is warm, you may need to roll the dough between two sheets of parchment. This way, you can easily slide it onto a sheet pan to chill when necessary!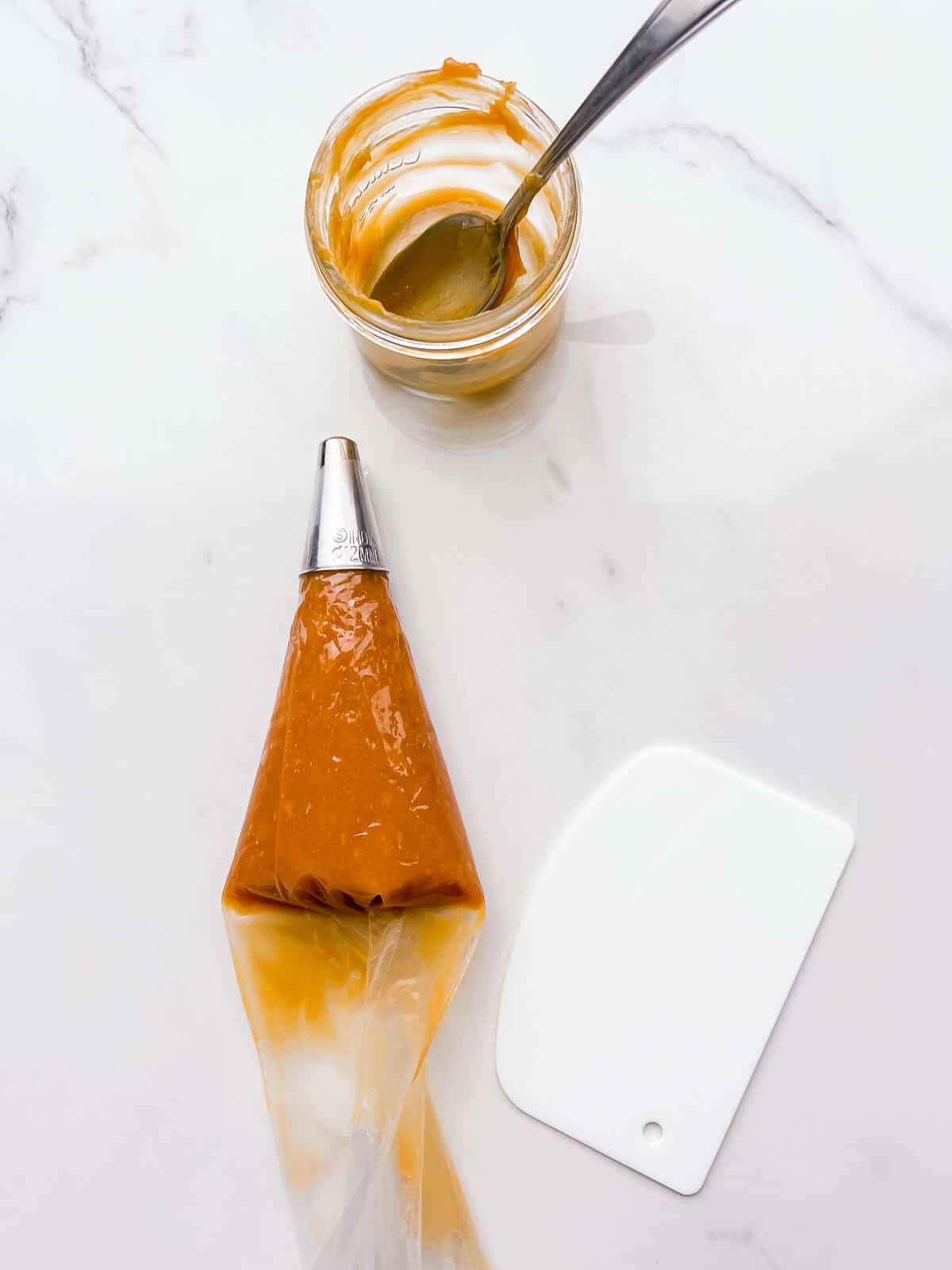 Once the cookies are baked and cooled, you flip half over to reveal the underside. Then you can dollop or pipe dulce de leche to assemble sandwich cookies. I like to put all the cookies on one sheet pan (or two) and proceed stepwise for all the cookies:
transfer all the baked cookies to a sheet pan
flip half of all cookies over to reveal underside
pipe filling onto all of the flipped cookies
top them all with another cookie and sandwich together, twisting each to anchor the two cookies together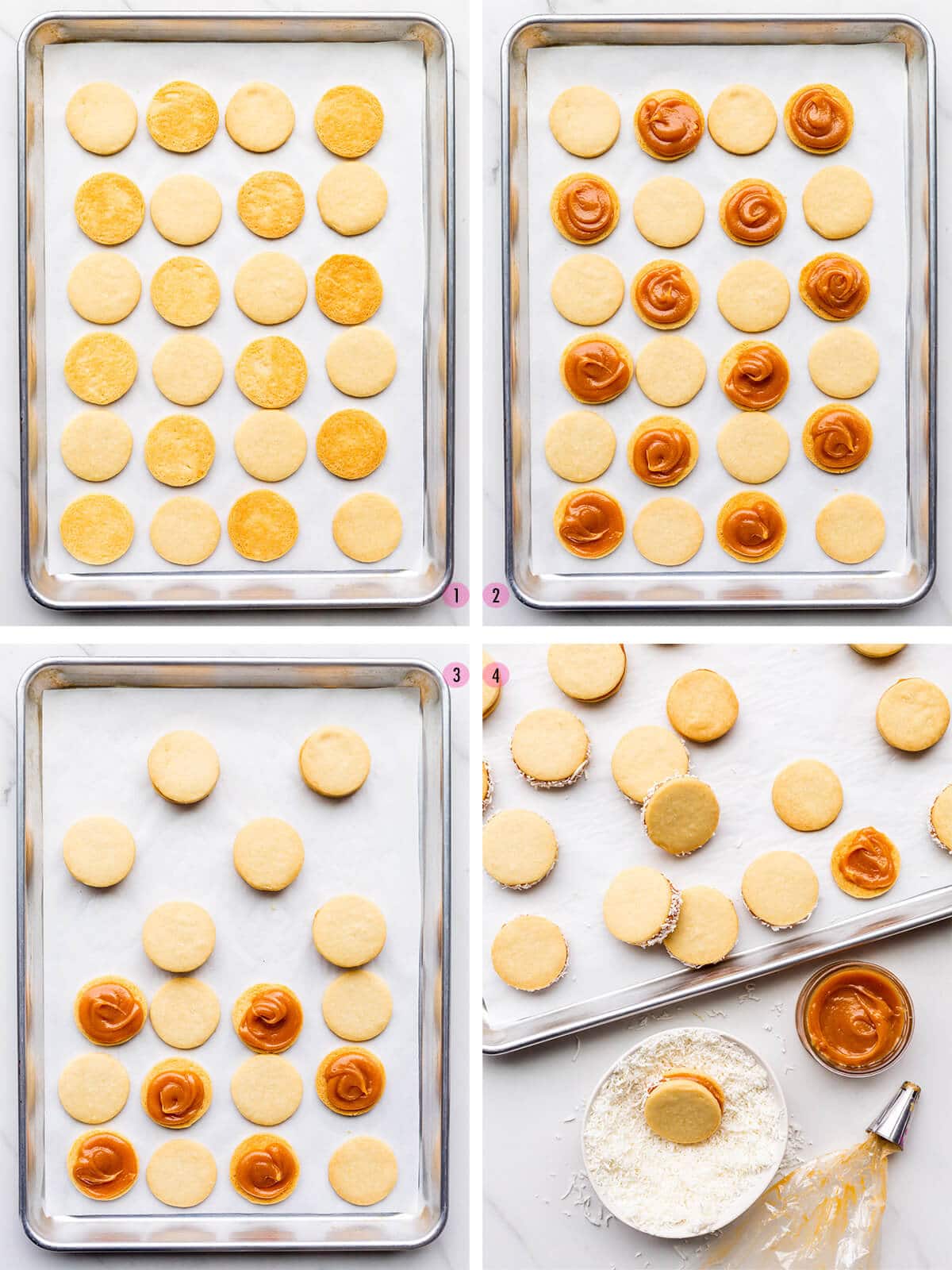 Substitutions
The ingredients in this recipe are fairly simple. You still have a few options for substitutions, depending on what is in your pantry:
Coconut - instead of shredded coconut, you can use finely chopped toasted nuts or even sprinkles, or omit them entirely and leave the cookies plain
Dulce de leche - use homemade dulce de leche or store-bought, or you can fill the cookies with cajeta (a thick milk jam made from goat's milk)
Cornstarch - the cornstarch can be replaced with the same amount of flour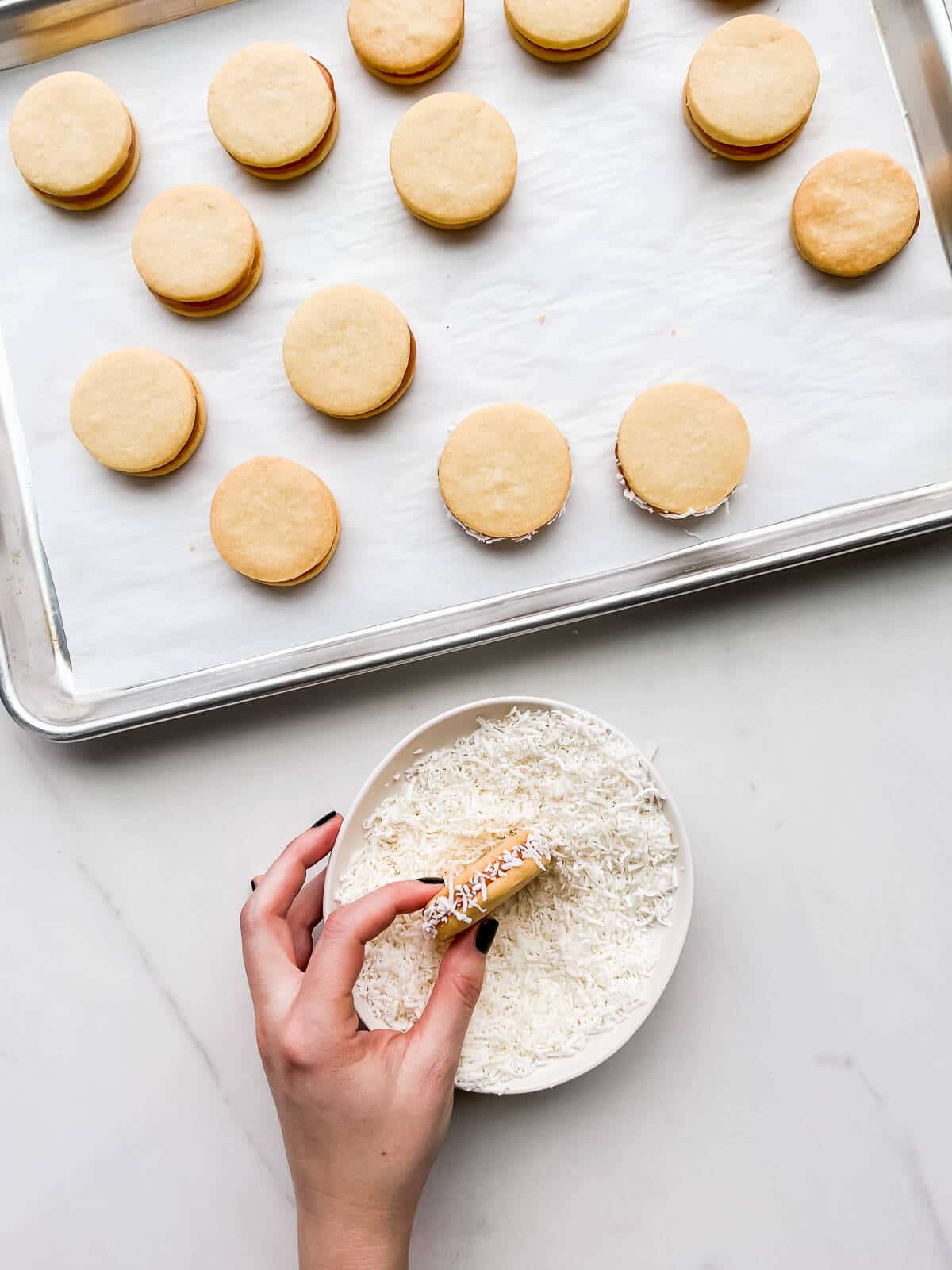 Variations
The most popular filling for alfajores is dulce de leche, but that doesn't mean you can't deviate!
Check out these coconut cookies filled with grapefruit curd for an example of a sandwich cookie filled with citrus curd. You could fill that coconut shortbread with dulce de leche to achieve a similar result!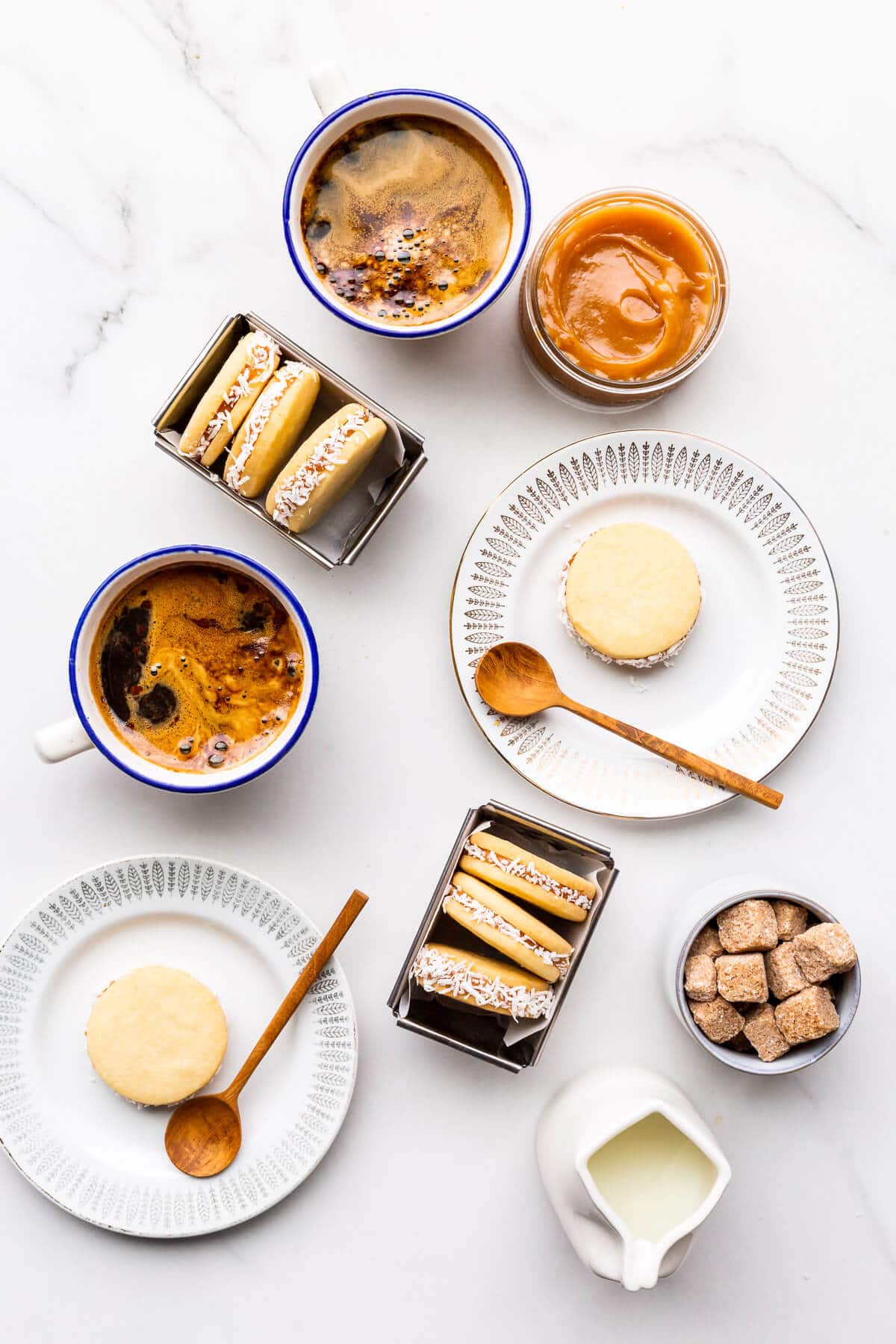 Equipment
Like for most cookies, you don't need many tools to make this recipe. Here are a few suggestions to make your life easier when you tackle this recipe: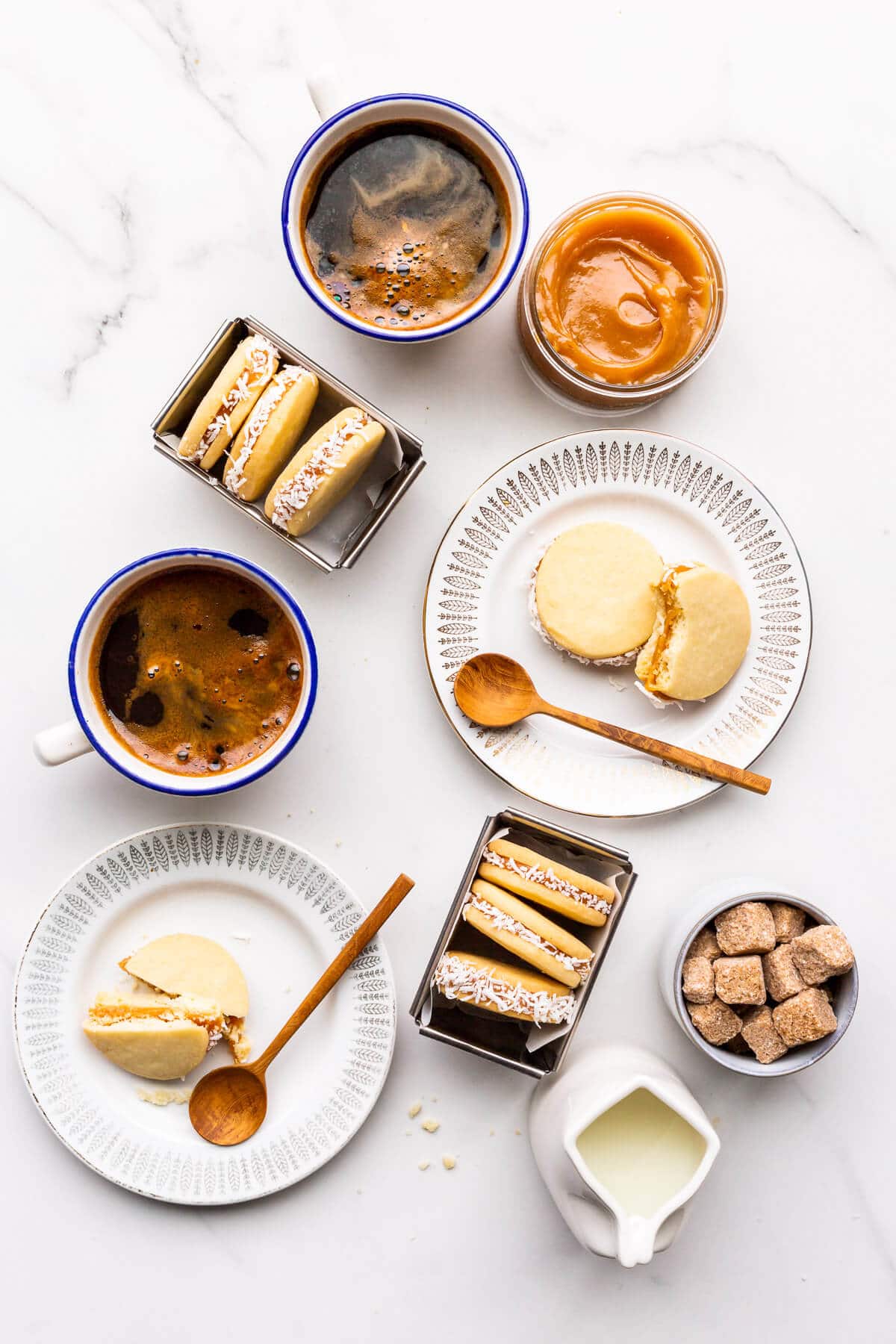 Top tip
The key to making neat sandwich cookies with dulce de leche as a filling is to ensure that the filling is thick enough, not runny. Also, use a piping bag to cleanly and evenly dispense the filling onto each cookie, without making a sticky mess
Storage
Normally, I would suggest storing these cookies in a container at room temperature. However, dulce de leche needs to be stored in the refrigerator since it is a dairy product, so you should store alfajores in the refrigerator for up to 2 weeks in an air-tight container.
📖 Recipe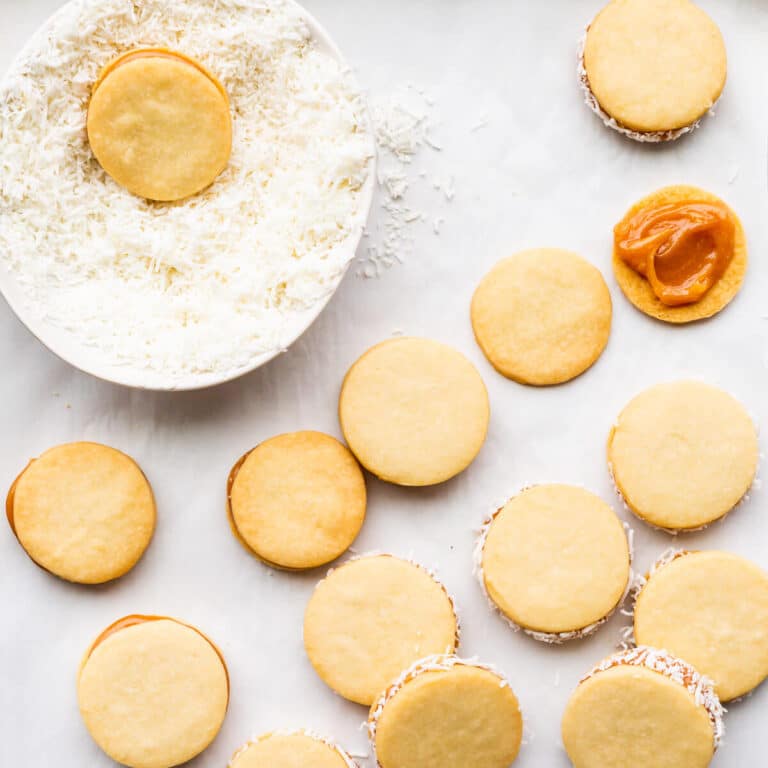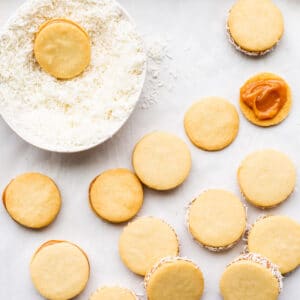 Alfajores Cookies
Learn how to make alfajores with this easy recipe for shortbread cutout cookies fililed with dulce de leche.
Ingredients
Cutout shortbread cookies
230

grams

unsalted butter

softened

63

grams

icing sugar

5

mL

pure vanilla extract

220

grams

bleached all-purpose flour

30

grams

cornstarch
Instructions
Shortbread cookies
In the bowl of a stand mixer fitted with the paddle attachment, beat the butter, icing sugar, and salt on medium–low speed until light and well mixed, about 2-3 minutes.

Mix in the vanilla until combined.

Sift in the flour and cornstarch. Mix on low speed until just incorporated.

Gather and form a dough. Shape it into a disk, wrap tightly with plastic wrap and refrigerate 30 minutes or until firm.

Preheat oven to 325 ºF (165 °C). Line two large half-sheet pans with parchment paper (I love the big Nordic Ware cookie sheets that you can get on Amazon).

On a lightly floured surface, roll out the dough to ¼-inch thickness. Cut out circles with 2-inch cookie cutter. Re-roll scraps to cut out as many circles as possible. You should get about 40 circles. If the dough gets too warm, chill it again to firm it up before rerolling, otherwise it may be too soft and sticky.

Place cookies on prepared cookie sheets, spacing them out. Chill them in the fridge for 15 minutes before baking until they are very firm

Bake 15 to 18 minutes. Let the edges brown just a touch. Not too much! Let cool completely before filling.
How to assemble alfajores cookies with dulce de leche
Transfer the dulce de leche to a piping bag. Cut a wide opening, about ½ inch diameter. (Alternatively, you can fit the piping bag with a 12 mm or ½ inch tip, if you prefer, but that isn't necessary!)

Pipe a couple of teaspoons of dulce de leche on the bottom side of half of the cookies. Top each with another cookie to sandwich them together. You may twist the top and bottom cookie in opposite directions to help spread the filling to the edges.

Place the shredded coconut in a shallow wide bowl and roll the edges of the cookies in it, pressing the coconut in place.

Store in the refrigerator for up to 2 weeks in an air-tight container.
Notes
Recipe makes approximately 40 cookies, but if you sandwich them together with a filling, that would make roughly 20 sandwich cookies once assembled.
You may need more or less dulce de leche, depending on how much you pipe onto each cookie before closing. I tried to put roughly 10-15 mL (2–3 teaspoons) per cookie, so I used about 250 mL (1 cup)
If you follow this dulce de leche recipe, made without condensed milk, you will have plenty to fill all the cookies in this recipe, plus you will have some leftover to spread on your morning toast!
Nutrition
Serving:
1
cookie
Calories:
158
kcal
Carbohydrates:
14
g
Protein:
1
g
Fat:
11
g
Saturated Fat:
7
g
Polyunsaturated Fat:
1
g
Monounsaturated Fat:
2
g
Trans Fat:
1
g
Cholesterol:
25
mg
Sodium:
51
mg
Potassium:
29
mg
Fiber:
1
g
Sugar:
3
g
Vitamin A:
287
IU
Vitamin C:
1
mg
Calcium:
5
mg
Iron:
1
mg
Frequently asked questions
Where do alfajores come from?
Alfajores sandwich cookies filled with dulce de leche are very popular in Latin American countries.
In Spain, alfajores are quite different, made a thick paste of honey, nuts, and breadcrumbs, shaped into a cylinder and rolled in powdered sugar. This would be similar to ma'amoul served in many Middle Eastern. In Egypt, they are called kahk. This version are a shortbread dough stuffed with dates or a filling of chopped nuts and honey before baking, then coated in powdered sugar after baking.
Can you freeze alfajores?
For longer term storage, you can freeze alfajores, just like any other cookie. I would freeze them on a sheet pan until frozen solid, then transfer to a freezer bag, removing the air. They will keep for several months like this. Defrost in the refrigerator overnight before eating.