Cookies are usually pretty simple to bake, but sometimes, you'll notice that the cookie dough spreads when your cookies go in the oven. Why do some cookies spread and others don't? Why do we chill cookie dough before baking it? And how come the spread can vary from one batch to another? Here's everything you need to know about why cookies spread and why we chill some cookie doughs.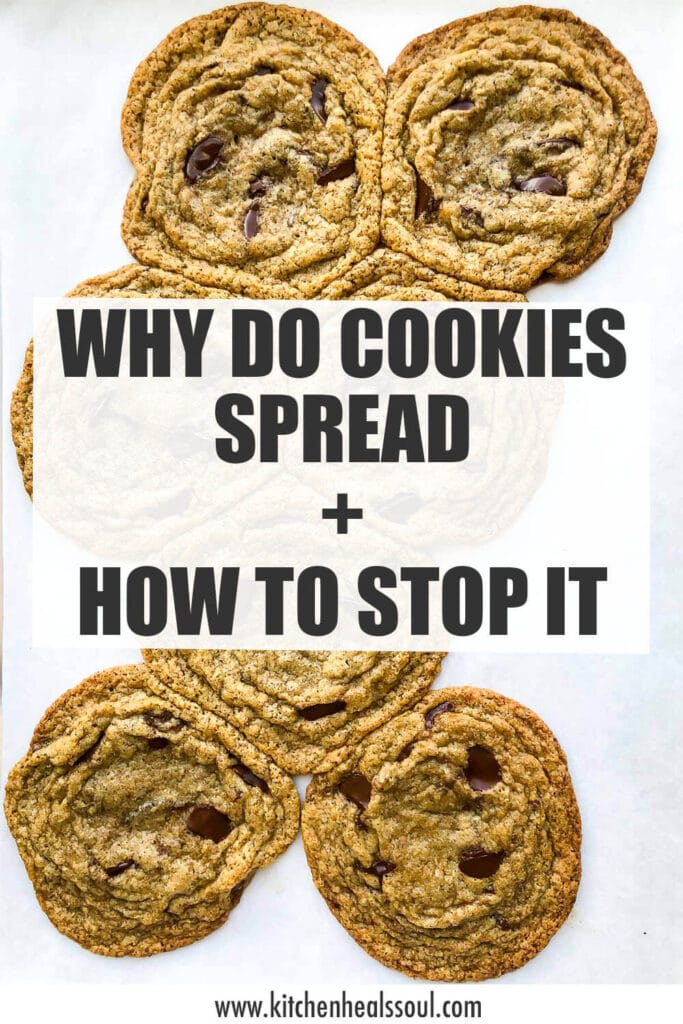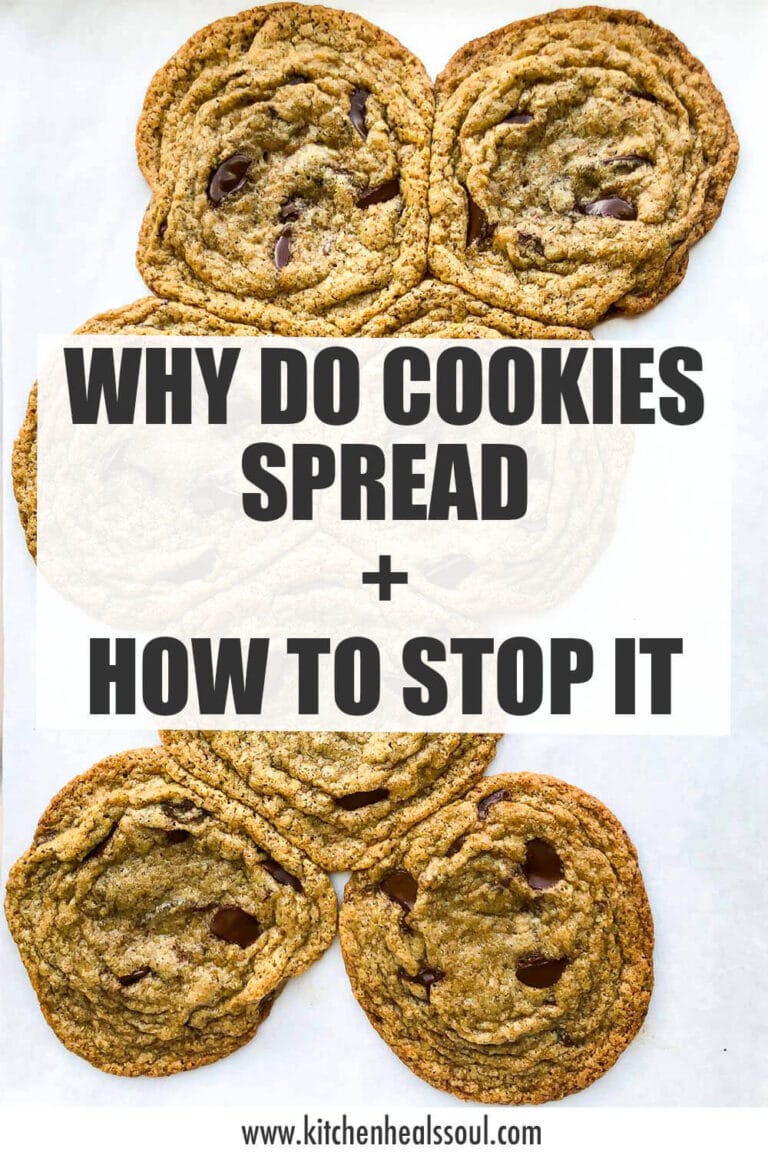 Disclosure: As an Amazon Associate, I earn from qualifying purchases.
Jump to:
Reasons a cookie spreads while baking
A little spread is a good thing and with many recipes that's normal. But if you are making cutout cookies, like classic gingerbread cutout cookies or cut-out sugar cookies that you will be decorating with royal icing, you need them to hold their shape as they bake! Even with drop cookies, it can be a real problem if they spread out too thin. They become too delicate to even pick up in some cases or multiple cookies will melt into one.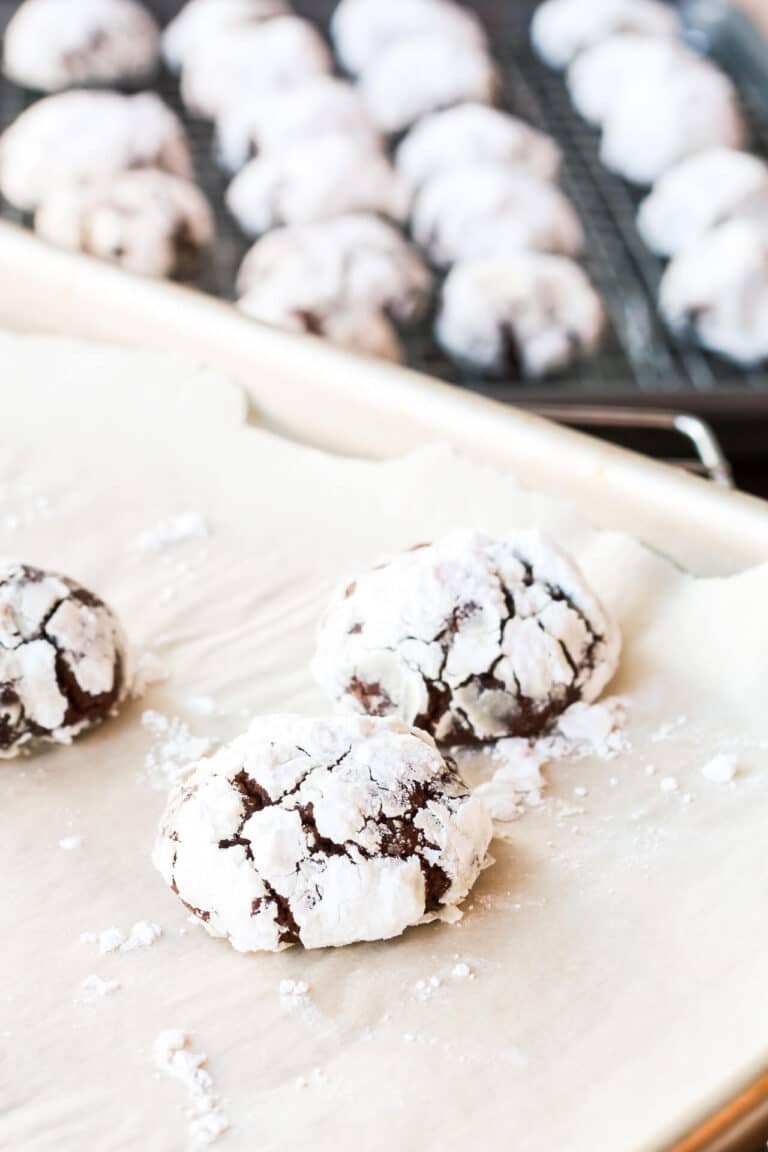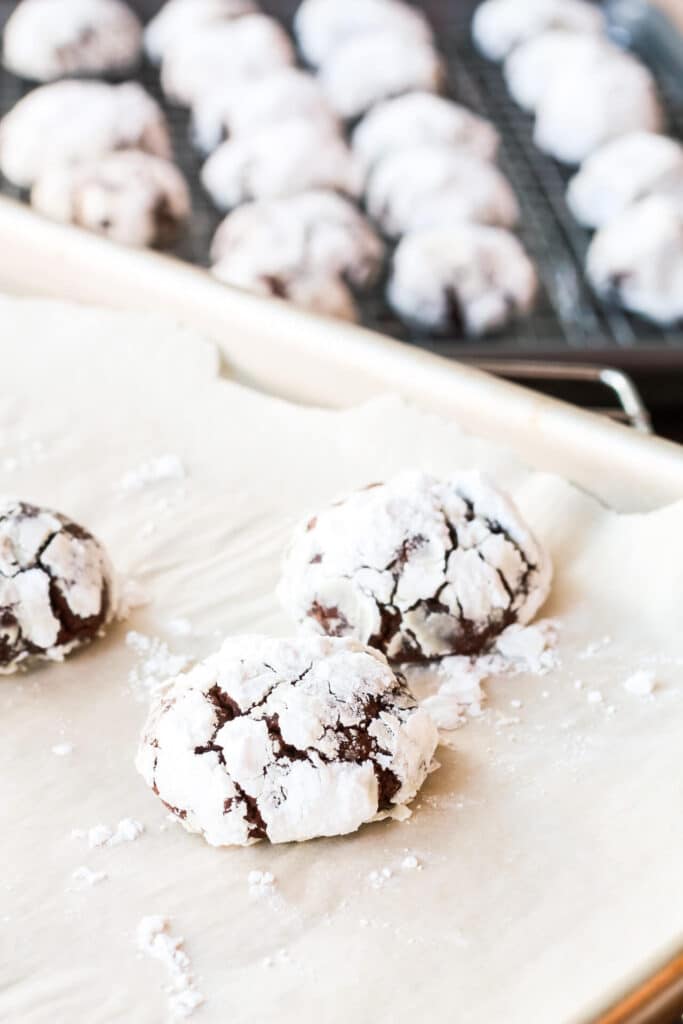 If you find your cookies spread too much, here are the main reasons why:
too much air in cookie dough
too much sugar/butter in recipe
not enough flour
too much baking soda
dough is too warm
the fat used has a lower melting point
the oven is not hot enough
the bakeware is insulating or a poor heat conductor
silicone baking mat was used
Too much air in the cookie dough
In cake recipes, you usually want to incorporate air into the cake batter when you cream the butter and the sugar. It's the first step in most cake recipes and often you will take at least 5 minutes to do this simple step because you are trying to beat in air and trap it into the soft, but not too soft, butter.
While air helps cakes, making them less dense and more fluffy, too much air in a cookie can be problematic: the air bubbles will expand in the oven and will cause your cookies to spread and lose their shape. Air in cookie dough can also lead to bubbles that might look like lumps in a baked cookie, like shortbread and cut-out sugar cookies.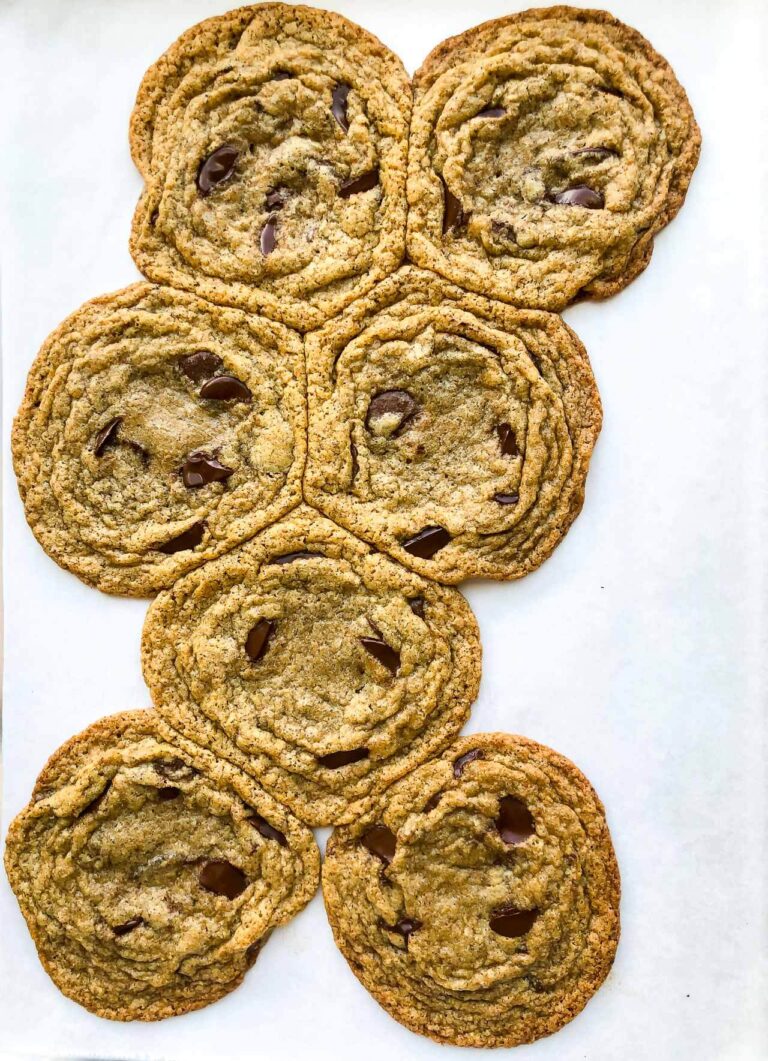 Too much sugar and/or butter
When butter melts as the cookies bake, the cookies will spread, especially if the structure and outer edges of the cookies haven't dried and set yet. Too much butter will promote spread and the loss of shape.
Too much sugar is also problematic in most cookies recipes and actually promotes spread when the sugar absorbs moisture and liquifies, causing cookies to thin out in the oven.
Remember that when we refer to "too much" of an ingredient, we are finding that the recipe's ingredient ratios are off or unbalanced, and that there's too much butter or sugar relative to the flour, for example.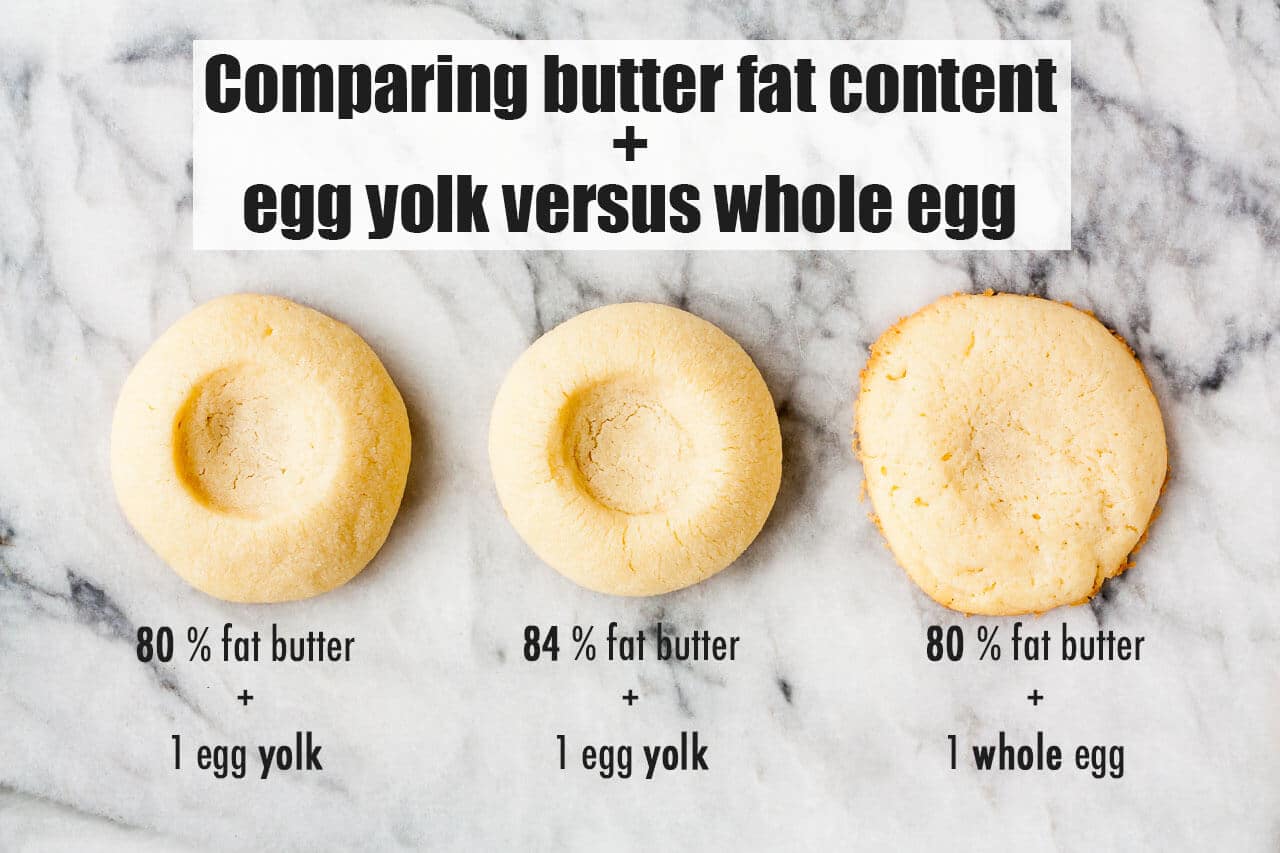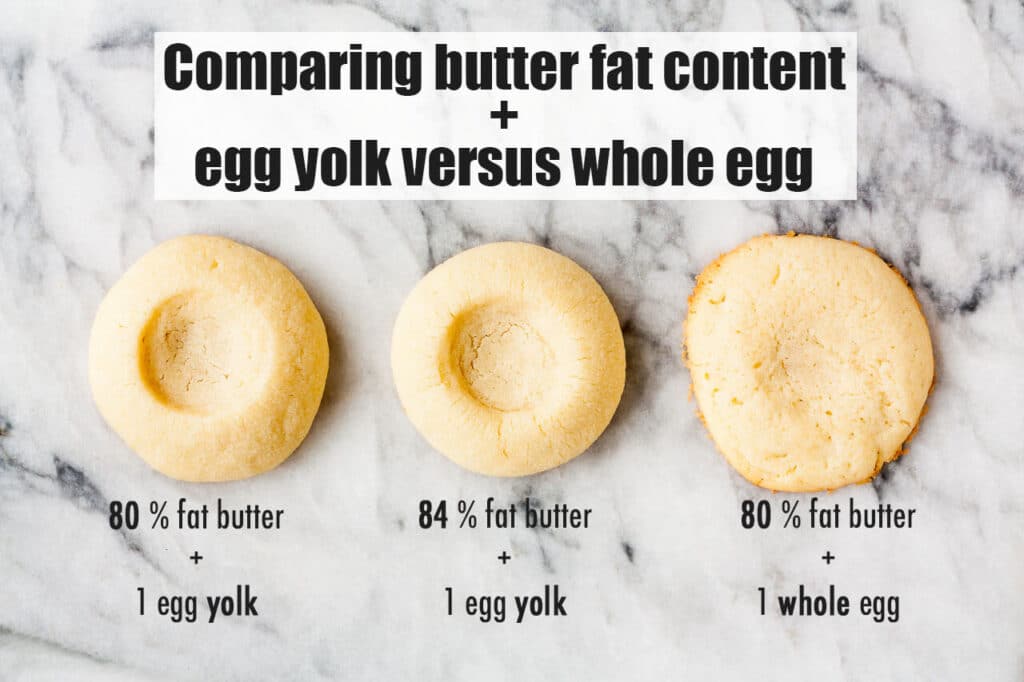 Not enough flour
I see this a lot: chocolate chip cookies that spread out and become thin and crispy as they bake. More often than not, it's a sign there isn't enough flour in the recipe as compared to the amount of butter, sugar, and eggs.
Flour is an important ingredient that binds all the other ingredients together. It absorbs moisture and gives baked goods structure. Not enough flour, compared to the butter and sugar, means your cookies will spread out and may even merge into one if there isn't enough space between them!
If your baked cookies are too thin or lacy, you probably need to add more flour!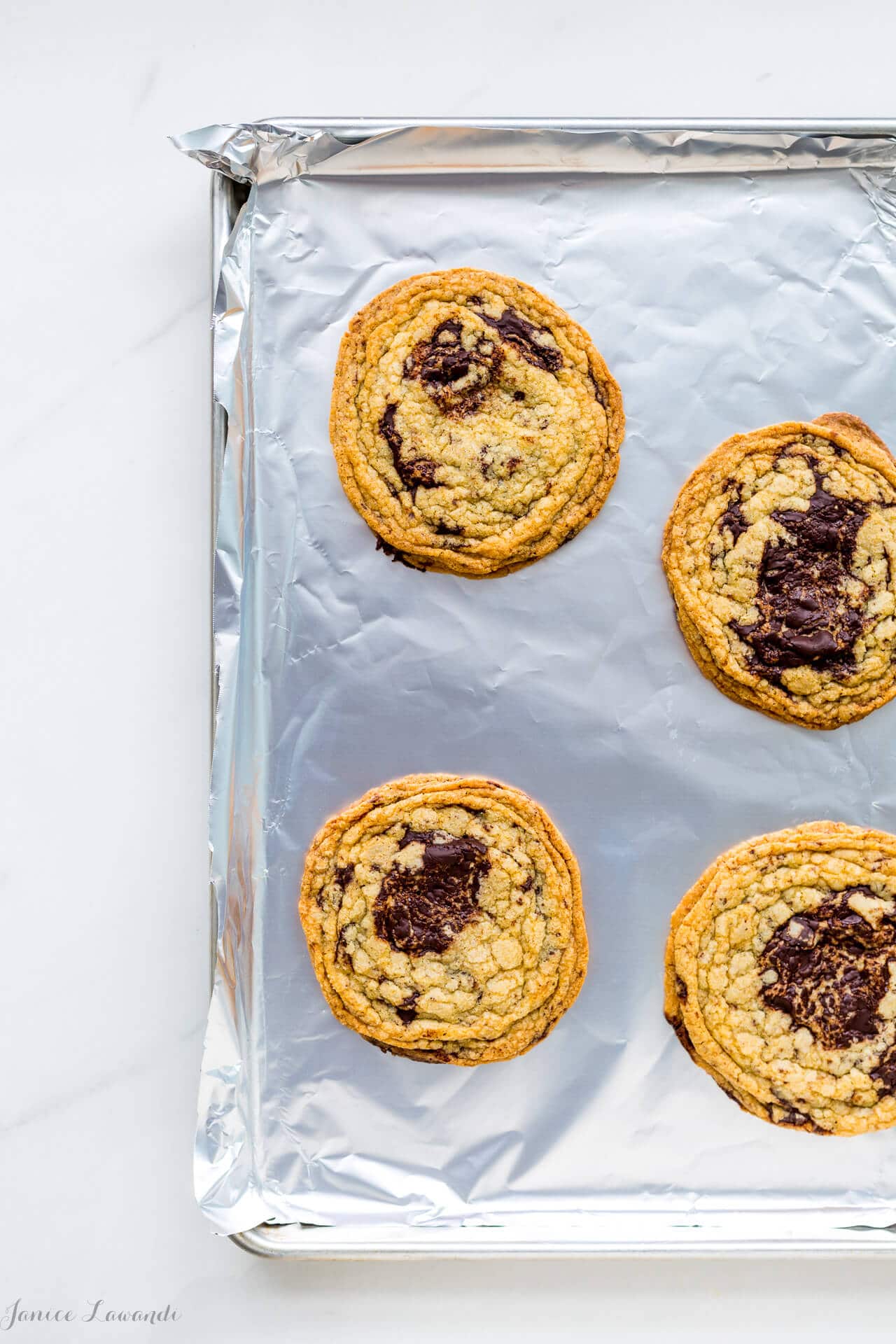 Too much baking soda
In some recipes, baking soda will increase the pH of the cookie dough, so much so that it might actually increase cookie spread by weakening the gluten network that helps hold the cookie dough together.
The dough could be too warm or too soft
The dough could also be too warm or too soft because your butter was warm when you mixed it or because the friction of the beaters of your mixer against the bowl heated up the dough.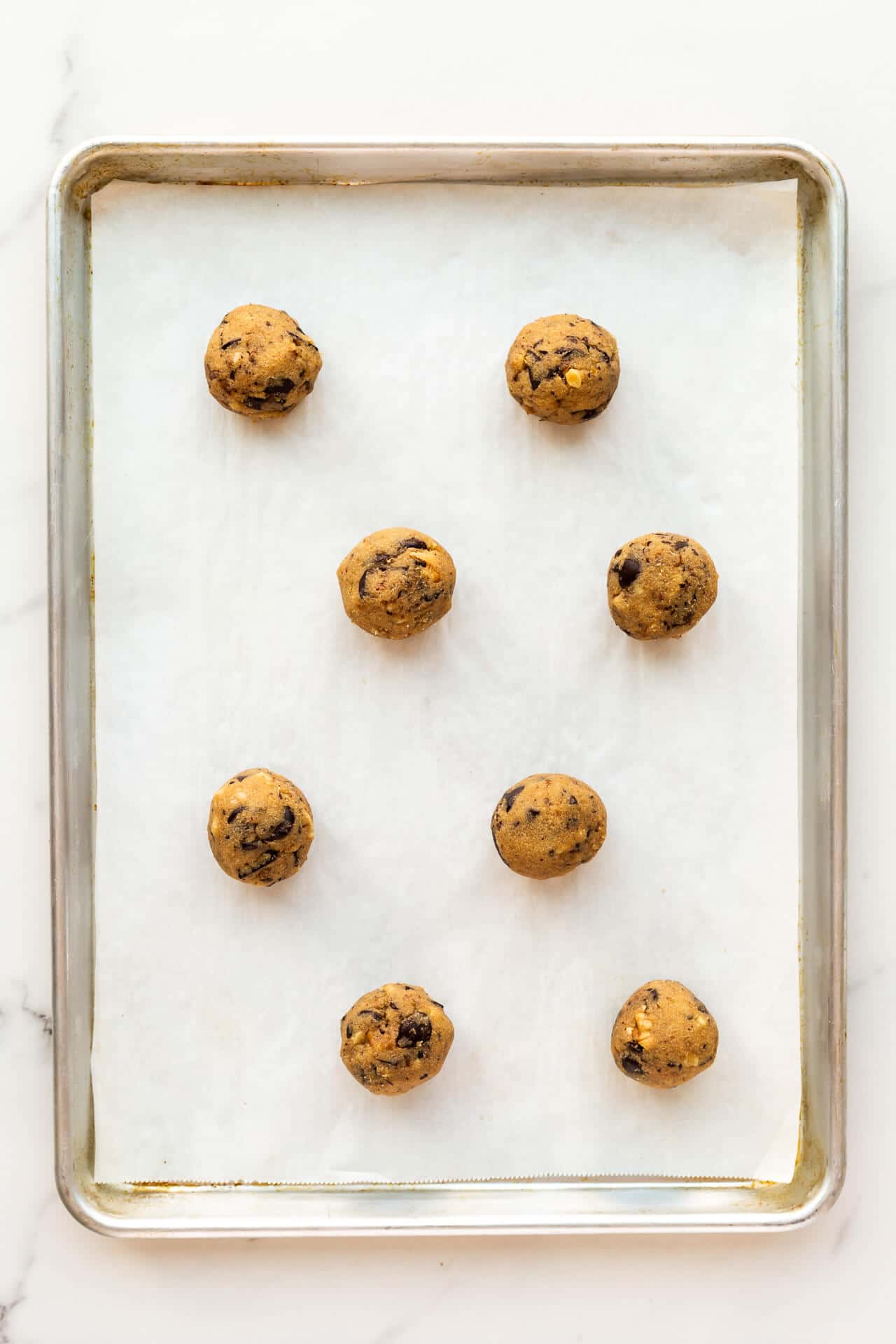 The type of fat
The melting point of butter is 35 ºC (95° F), whereas the melting point of shortening is 47ºC (117ºF). This means that butter will melt at a lower temperature than shortening, meaning cookie dough made with butter will spread faster than cookies made with shortening. Cookies with shortening are usually thicker than cookies made with butter because the outer edges have time to dry out and set before the fat has a chance to completely melt.
Oven temperature too low
If your oven isn't hot enough, the cookie dough will melt and spread out faster than the edges set. This will lead to thinner cookies that are more spread out. Just baking at 25 °F lower temperature can cause this to happen.
Bakeware material
If you bake with insulated cookie sheets or cookie sheets that are made of a metal that is a less good heat conductor, you will notice your cookies spread too much before the edges set. Again this is because the dough will "feel" a lower temperature that causes the fats and sugar to melt before the edges dry out and stiffen. You will end up with thinner cookies.
Baking cookies on silicone baking mats
Using silicone baking mats instead of parchment paper may cause your cookies to spread. Silicone is not a good heat conductor, and as mentioned above, this means the mounds of cookie dough won't feel the temperature of the oven on the bottom, which will lead to the bases spreading before the edges set.
Reasons why cookies don't spread enough in the oven
Sometimes you want a cookie to spread, at least a little, but they don't and end up looking more like a big lump or even like a round scone and not a proper cookie. There are many reasons for this:
Not enough egg (or wet ingredients)
Not enough butter/sugar
Not enough baking soda
Too much flour
Oven too hot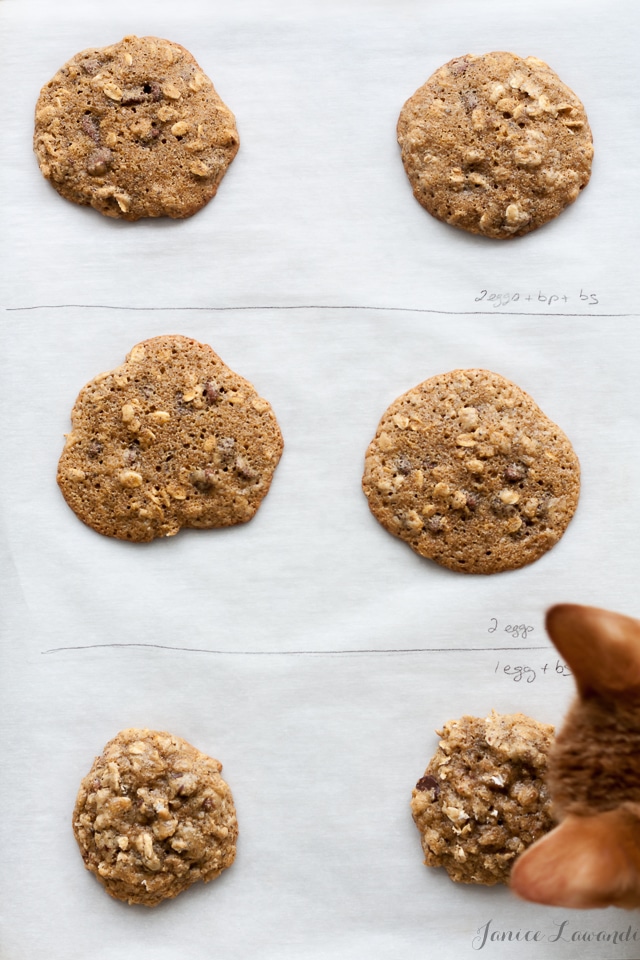 Not enough egg
Egg is an emulsifier, but it's also a source of moisture and water in recipes, which turns to steam in the oven, which helps baked goods puff and spread. Not enough moisture and not enough egg means your scoops of cookie dough won't budge as they bake, which can be problematic.
Not enough butter and/or sugar
Both sugar and butter cause cookies to spread and not enough of either of these will lead to a dry cookie dough that won't spread enough in the oven. You may have seen this in cookie recipes with less sugar and less fat, they tend to look more lumpy, like the shape of the scoop of dough didn't soften at all in the oven. That's probably a lack of sugar and fat at play.
Not enough chemical leaveners
Remember that chemical leaveners, specifically baking soda and baking powder, are essential ingredients that help your baked goods rise. You'd expect that without them, a cookie might spread out instead of puffing up. And that's definitely true in some cases, but it depends on the recipe.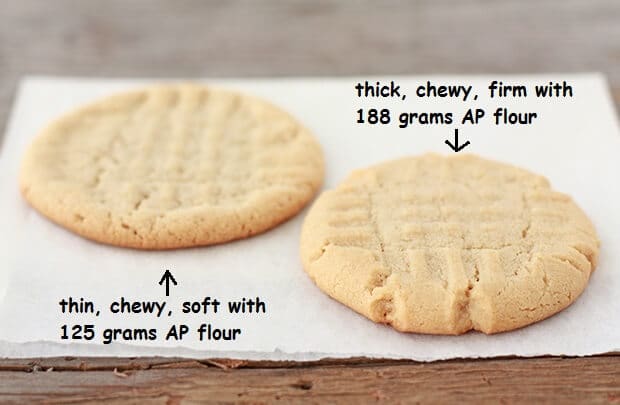 Too much flour or cookie dough is too dry
If you overshoot the flour and add too much to a cookie dough, the dough may end up so dry that the melting butter in the heat in the oven isn't enough to get the cookies to spread.
You might also have trouble scooping the dough if you add too much flour because there aren't enough binding ingredients to hold the dough together.
Oven temperature too high
The higher the oven temperature, the faster the edges of your cookies will set in the oven. And the faster the edges set, the less they spread. Faster setting edges may also lead to the surface of the cookie cracking as it dries out.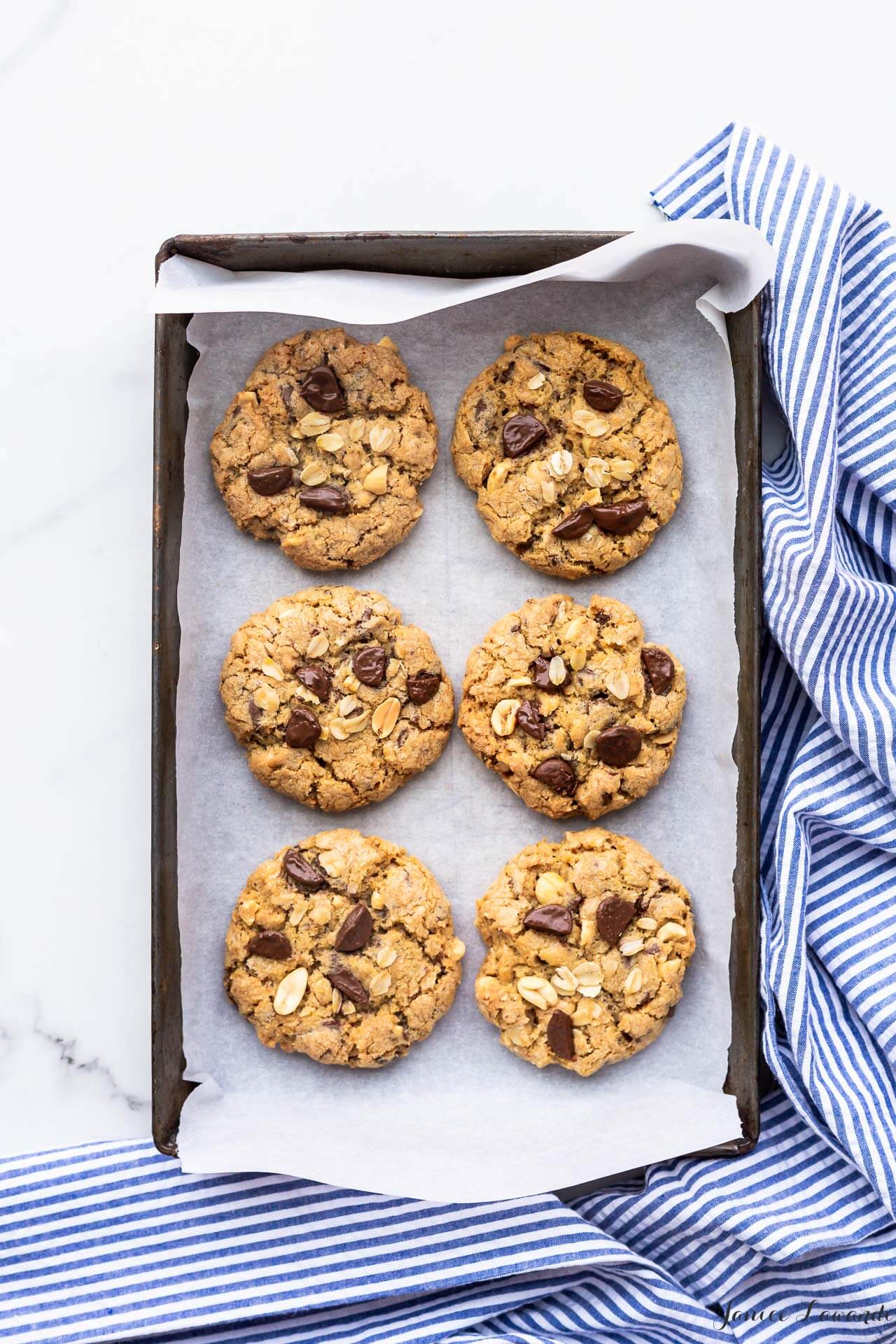 How to control and prevent cookie spread in the oven
There are small changes in your technique and your recipe that you can make today to control the spread of your next batch of cookies in the oven.
Incorporate less air in the cookie dough: air pockets will expand when the cookie dough bakes, which will lead to spread. Incorporate less air will lead to a more stable cookie dough that spreads less. Save all that whipping for when you make a warm milk sponge cake or other fluffy baked goods.
Use a little less sugar in the cookie dough: sugar actually promotes spread because it's hygroscopic, meaning it absorbs humidity and water. When sugar liquifies, the dough will become softer, leading to cookie dough spread when baked. Sometimes using just a little less sugar in a recipe can help with spread.

On that note, remember to properly measure out baking ingredients, preferably using a kitchen scale!

Consider baking with a fat that has a higher melting point, or combining butter and shortening to get the best of both worlds: good flavour and higher melting point
Adjust chemical leaveners in your recipe to control how much (or how little) cookies spread when baked.
Add more flour to a cookie recipe to reduce spreading: if your cookie dough is too soft, too buttery, or too wet, it's likely your cookies will spread when they bake. I tend to add a little more flour in my chewy chocolate chip cookies to reduce spreading because I prefer thick, chewy chocolate chip cookies. Want a thinner cookie? Add less flour.
Chill the cookie dough well: cold cookie dough means the butter in the dough is cold, solid and hard. It takes more energy to melt the butter when it's cold, than when the cookie dough (and the butter) is at room temperature. Cold dough will take longer to spread in the oven, which means the surface of the cookie may set and dry out faster than the dough spreads, leading to a tighter, rounder cookie that is thicker. This is true for rolled cookies that are cut out with cookie cutters and pie dough as well!
Bake cookies at a higher temperature and they will spread less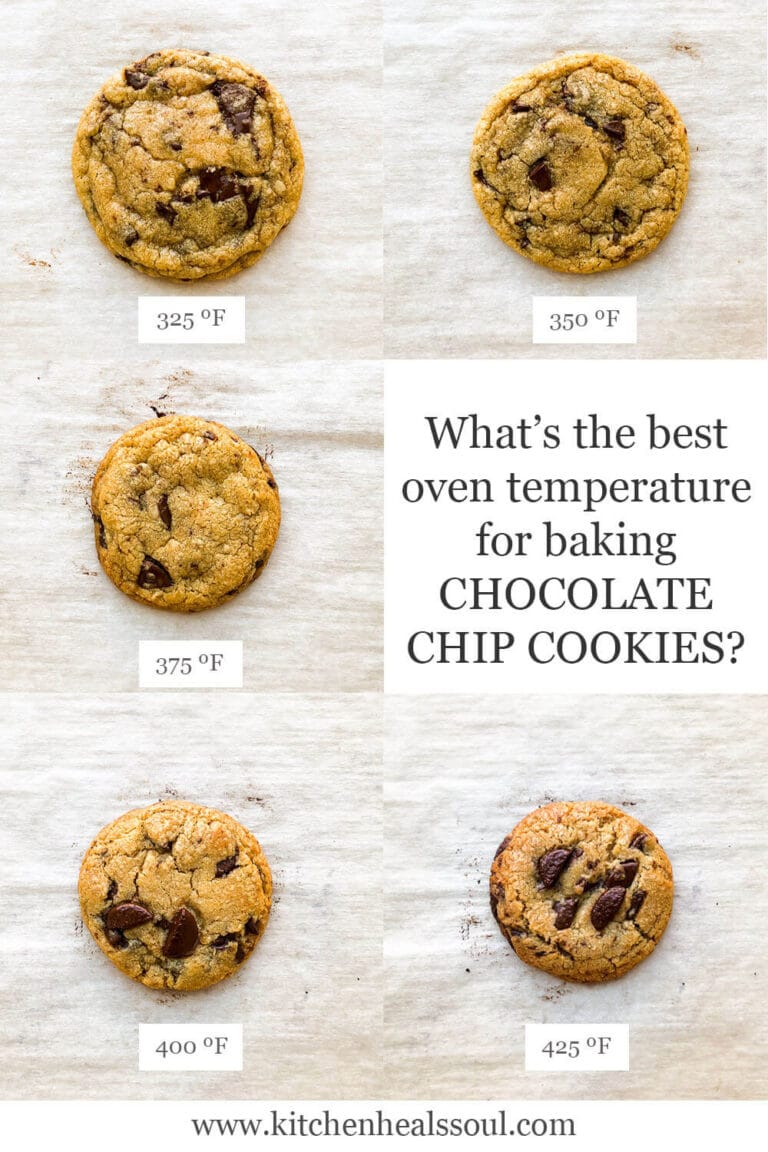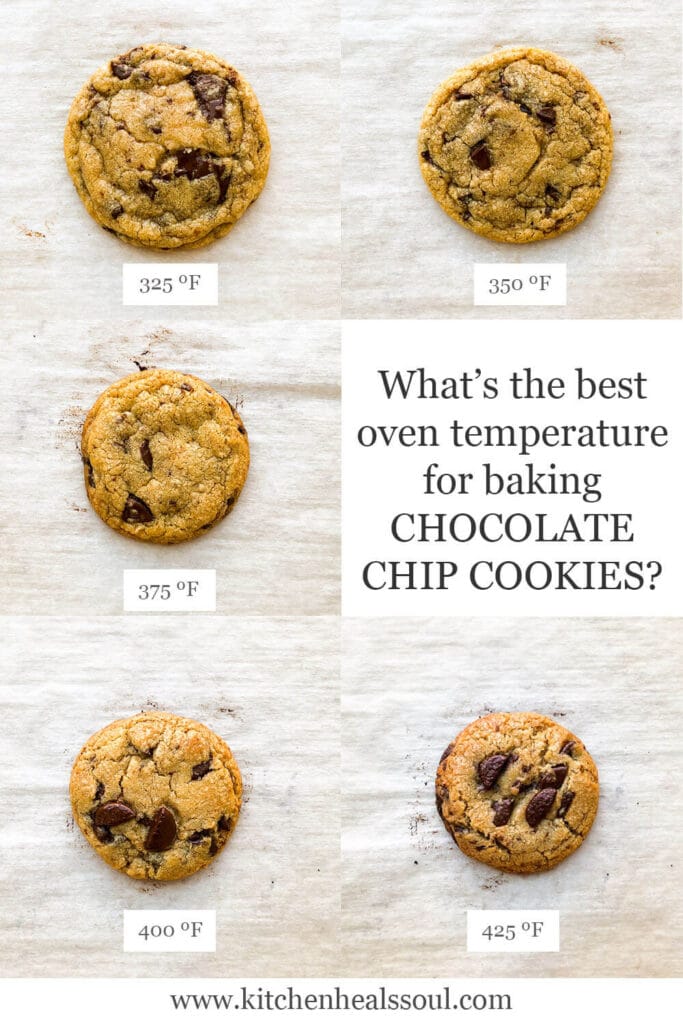 Sometimes you want a cookie to spread and sometimes you don't. Take the time to analyze your recipes so that you can predict the results and troubleshoot when your cookies don't turn out the way you want them to.
To prevent cookies from spreading you have options, like baking at a higher temperature, chilling the cookie dough thoroughly, increasing the amount of flour in the recipe, reducing the sugar slightly, playing with the amount of egg in the recipe, changing the fat used, and many more!