Royal icing is made from icing sugar and egg whites (or meringue powder and water, if you prefer). It's a very simple, basic icing that is perfect for cookies and can act as a glue for gingerbread houses that is safe to eat and completely edible. You can colour it or keep it white, and use it to decorate cookies with fine lines using a piping bag or to cover cookies entirely using a technique known as flooding.
Use royal icing to decorate simple plain sugar cookie cutouts, spiced sugar cookies, or classic gingerbread cookie cutouts. You can also use it to decorate these cutout matcha cookies. Really any dry cookie can be decorated with royal icing.
Because royal icing dries hard, I don't recommend using it on softer cookies because the icing will crack if the cookies are pliable or soft. The moisture content in softer cookies can also disrupt the firm set of the icing. Stick to hard, dry cookies for this reason.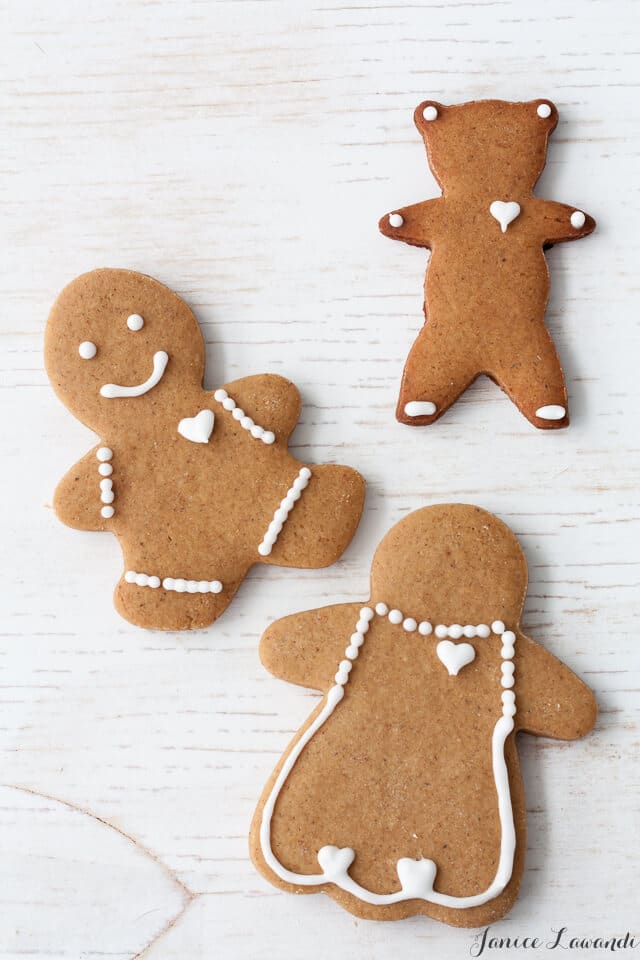 Disclosure: As an Amazon Associate, I earn from qualifying purchases.
If you ever see decorated cookies in cafés, they are decorated with royal icing. Royal icing is the most commonly used cookie icing because it dries hard and it adheres so well to cookies.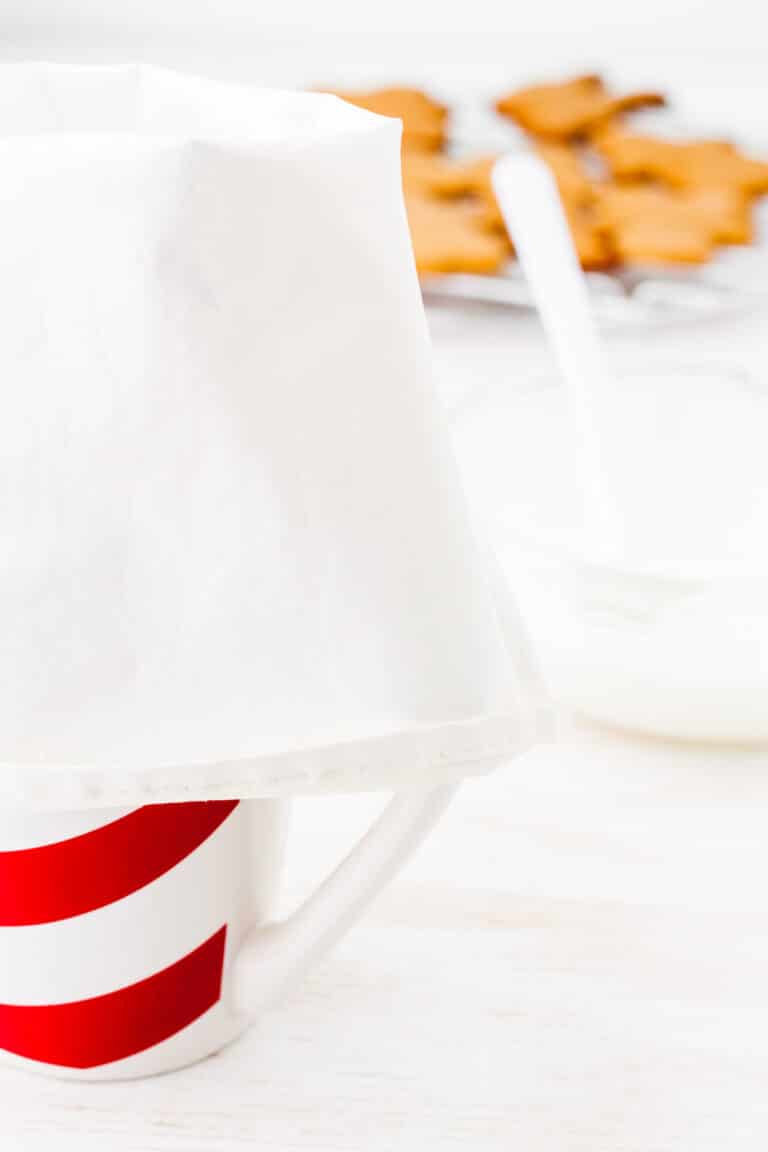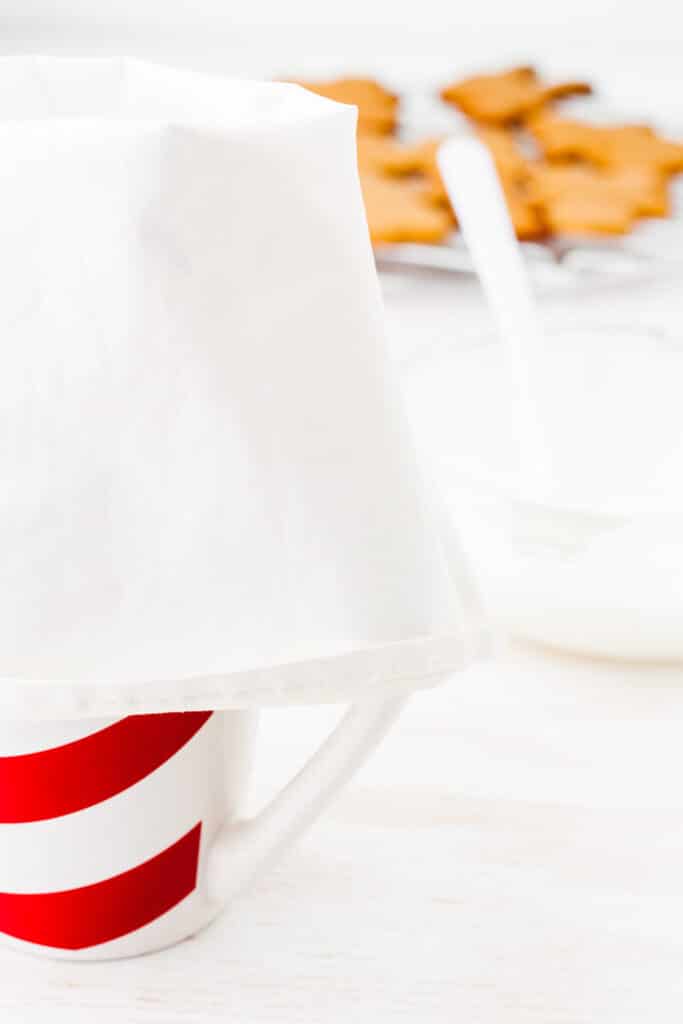 Easy method to fill piping bags
Piping bags are a real challenge for many bakers, especially beginners: how do you fill a floppy bag that's open on both ends with an icing that is liquid without spilling it all over everywhere? Here's how
Clamp the bottom "piping end" of the bag shut, either by twisting the short end of the bag and stuffing it into the open end of the tip or by using a food saver clip like this one to clip the end shut.
Stand the bag upright in a heavy mug or a tall, sturdy glass and fold the edges over the rim of the mug. This way, you now have both hands free to focus on getting the icing into the bag.
Fill the bag only ⅔ full max (or even just halfway!). Less is better in this case because you need room to twist the top of the bag shut and to hold the bag. Always grip the bag and squeeze from the top downward, never the middle or bottom.
📖 Recipe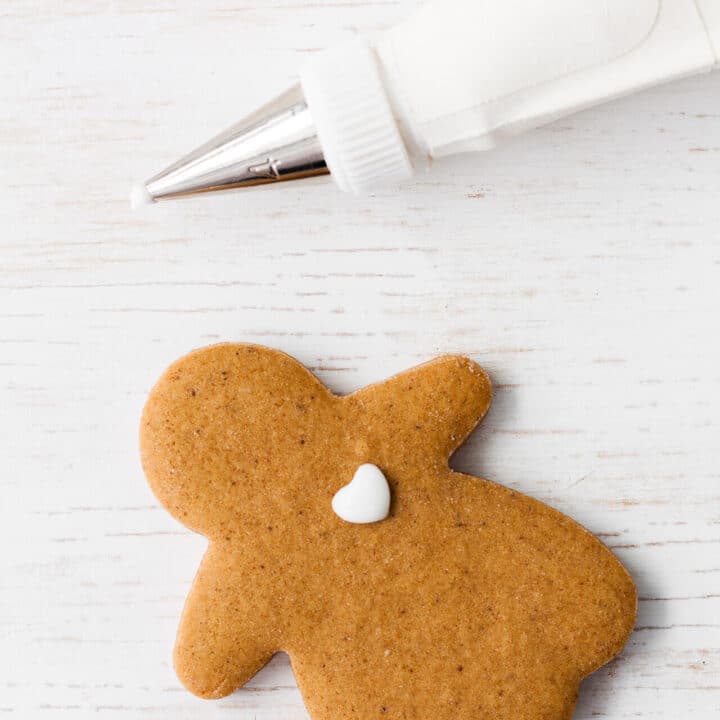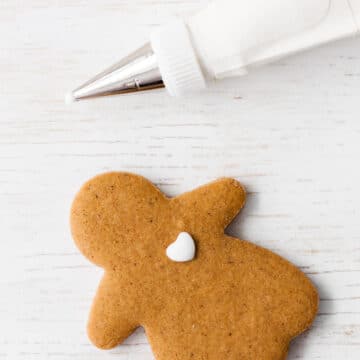 Royal Icing with Egg Whites
This royal icing can be placed in a piping bag to decorate cookies with fine lines or thinned out to flood the surface of cookies. Great for gingerbread and other firm cutout cookies.
Ingredients
1

large egg white(s)

1

pinch

cream of tartar

or use a few drops of lemon juice

188

grams

icing sugar
Instructions
In the bowl of an electric stand mixer fitted with the whisk attachment, whip the egg white and cream of tartar or a few drops of lemon juice, until soft peaks form.

Gradually add the icing sugar, continuing to whisk, over 5 to 10 minutes, until the icing is very thick.

If you want to colour your icing, divide the frosting among several small bowls and add a small amount of gel food colouring and mix well.

Transfer the (coloured) icing(s) into piping bags fitted with small, simple piping tips and decorate your cookies.

Allow to dry at room temperature for a few hours before transferring them to an airtight container.
Notes
If you would prefer to use meringue powder, replace 1 egg white with 15 mL (1 tbsp) meringue powder and 15 mL (1 tbsp) of water. Proceed with the steps of the recipe as written above.
Nutrition
Calories:
15
kcal
Carbohydrates:
4
g
Protein:
1
g
Fat:
1
g
Sodium:
1
mg
Potassium:
4
mg
Sugar:
4
g
Substitutions for royal icing recipe
Royal icing is pretty unique as it's made from icing sugar and egg whites. You can't replace it with buttercream or other recipes because it dries and sets very hard, making the royal icing-decorated cookies perfect for shipping and packaging.
When you are making royal icing there are a few baking substitutions you can make:
Replace the egg whites with meringue powder plus water: use 15 mL (1 tbsp) of meringue powder with 15 mL (1 tbsp) of water to replace 1 large egg white.
Replace cream of tartar with a few drops of fresh lemon juice: remember cream of tartar is an acidic ingredient (in fact you can use it to make homemade baking powder!)
There is no substitution for the icing sugar in this recipe: icing sugar is powdered sugar with a very fine, powdery consistency. It also contains a small amount of starch (usually tapioca or corn starch) which helps keep the texture powdery and the starch is added to help prevent clumping.
Troubleshooting royal icing
Royal icing is mostly used for decorative purposes more than for flavour. In fact, it has little to no flavour and is mostly sweet with a crunchy texture. The consistency is important to be able to decorate cookies and make them look professional.
If you're royal icing is too thick
If you find that your royal icing isn't adhering properly to cookies or if you are struggling to get the icing out of the piping bag, your icing is probably too dry. You may have to adjust the consistency with a little cold water but beware: add a teaspoonful (or up to 1 tablespoon) at a time, then mix it in and check the consistency. Otherwise you might end up with the opposite problem, an icing that is too runny to pipe and hold finer lines.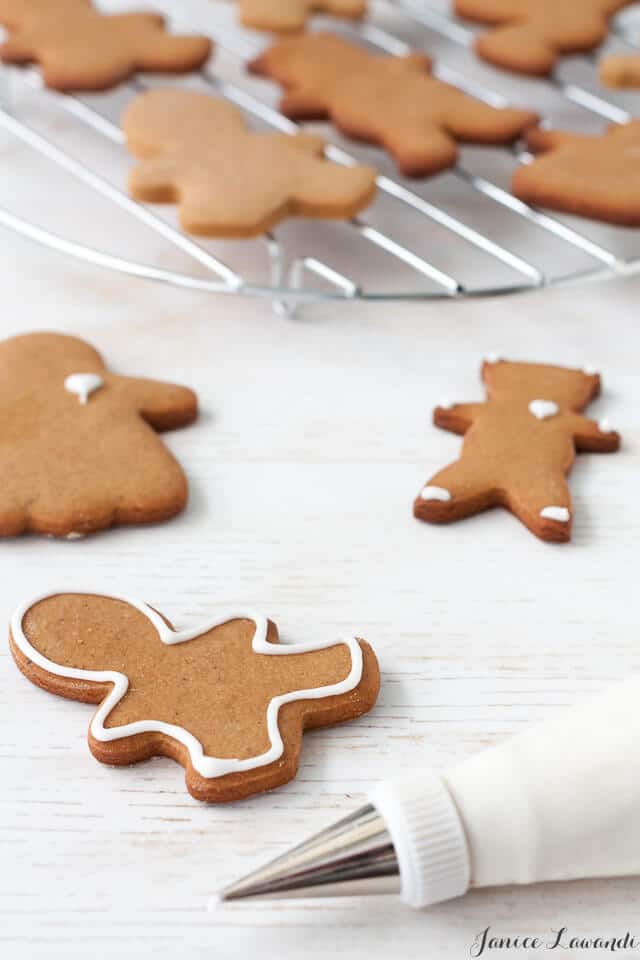 If you're royal icing is too thin
If you find your icing is so thin that it runs right off your cookies or if it's so thin, you can't handle the piping bag without it dripping all over everywhere, this means your royal icing is too wet or doesn't have enough icing sugar. You will need to adjust the consistency with more icing sugar.
Another reason why your royal icing might be too thin: you didn't whip it enough. Remember that royal icing is a variant of meringue, made with whipped egg whites. In order to give the icing body and structure, you need to whip it for a long time, which incorporates air and leads to a thick, glossy icing that is pipeable and holds its shape.
Make ahead tips
Royal icing can be prepared ahead and stored in an airtight container until you are ready to use it:
If you are storing it in a container, I like to place a piece of damp paper towel directly on the surface of the icing to prevent it from drying.
If you are storing it in a piping bag:

make sure the wide end of the bag is twisted tight to seal it and you can secure that end tightly with an elastic band.
make sure the piping tip doesn't dry out. I like to wrap it in a small square of damp paper towel and then wrap that in plastic wrap to hold in the moisture as much as possible.
place the piping bags in a large airtight container and seal it shut to lock in moisture
Once you've found an airtight way of storing royal icing, you can store it for about 2 weeks at room temperature, though I prefer to keep it in the fridge.
If you've stored it in a piping bag, you can just go ahead and use it whenever needed. If you've stored it in a container, you can always give it a good whip before transferring to a piping bag to decorate cookies.
If you want to decorate cutout sugar cookies or cutout gingerbread men, you'll need an icing that sets hard so that you can package them up easily, without smudging: that's the beauty of Royal icing. This recipe to make it at home in a stand mixer or with an electric mixer. This royal icing recipe is also great to use when you are building a gingerbread house.