I think every baker should have a recipe book filled with the tried-and-true basics. Sure, you could find a zillion sugar cookies if you googled it, but you need to find the recipe that works for you, in your kitchen, with your ingredients, baked in your oven. This is my best sugar cookie recipe that makes cut-out sugar cookies that don't spread and are perfect for decorating and even shipping.
This recipe makes sugar cookies that are crisp and that you can cutout with cookie cutters and decorate. For other kinds of cutout cookies, there are these honey sugar cookies (sweetened with honey instead of granulated sugar), matcha gingerbread cookies, or more gingerbread cookie cutouts.
If you want something simpler, slice and bake is the way to go. Try these crystallized ginger sugar cookies, vanilla sablés.
Disclosure: As an Amazon Associate, I earn from qualifying purchases.
What are sugar cookies made of
This easy recipe makes sturdy crisp sugar cookies that are firm enough that they store well and can be shipped. Here are the ingredients you need to make these:
butter, preferably unsalted butter because you will add salt to the dough, but if you have salted, it will work. Just adjust the salt in the recipe accordingly, otherwise, your cookies may be too salty
granulated sugar though brown sugar would also work here and would add a mild caramel/molasses flavour. Brown sugar may also lead to a slightly more chewy cookie
large eggs, don't use smaller eggs because your cookie dough may be too dry and your cookies won't spread enough, but don't use extra large eggs because they could cause the cookie dough to puff too much as it bakes, leading to a more cakey cookie
vanilla extract adds vanilla flavour to the cookies. You could use artificial vanilla extract, but use about half the amount since it may be more potent
all-purpose flour is needed to bind all the ingredients together and give the cookies structure. If you don't use enough flour, your cookies may spread too much as they bake
salt is really important to balance out the sweet flavour. Don't skip it. I like to use Diamond Crystal fine kosher salt, but table salt will work, though the cookies will be saltier and you may want to halve the salt in that case.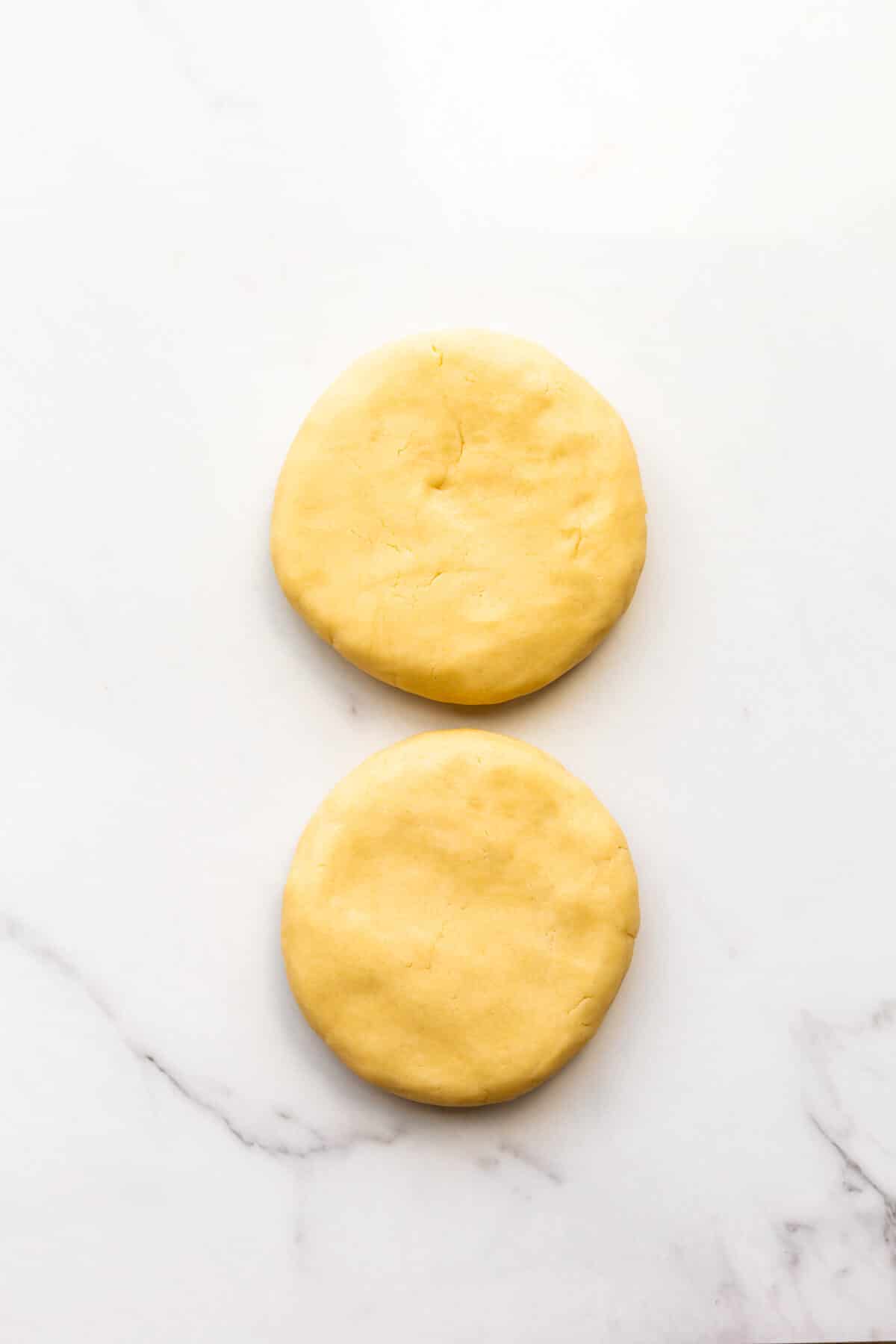 Baking sugar cookies that don't spread
First of all, you will notice that there are no chemical leaveners in this recipe. That's because we don't want to encourage the cookies to puff and rise up (from baking powder) or spread (which baking soda could cause).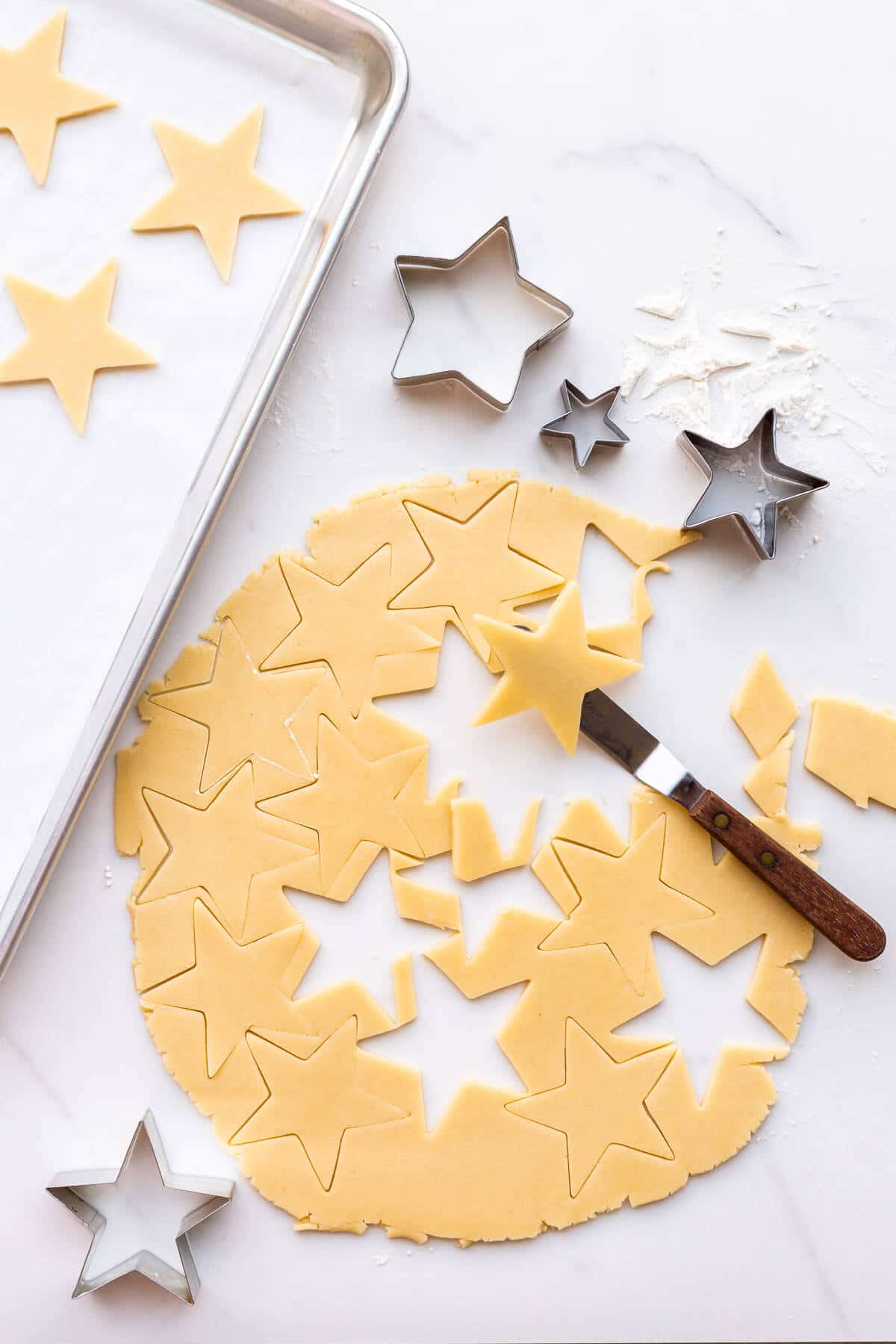 Another trick: get the ratio of butter, sugar, eggs, and flour right to prevent cookies from spreading. Too much butter, sugar, or eggs can lead to cookies spreading as they bake. Not enough flour relative to those ingredients can also lead to cookies spreading. Make sure to measure your ingredients carefully.
The final key step: chill the cookie dough. You can do this before rolling out the cookie dough and cutting your shapes, especially if the butter was quite warm or your kitchen is hot. Or you can chill the cutout cookies before baking. Chill them until they are very firm.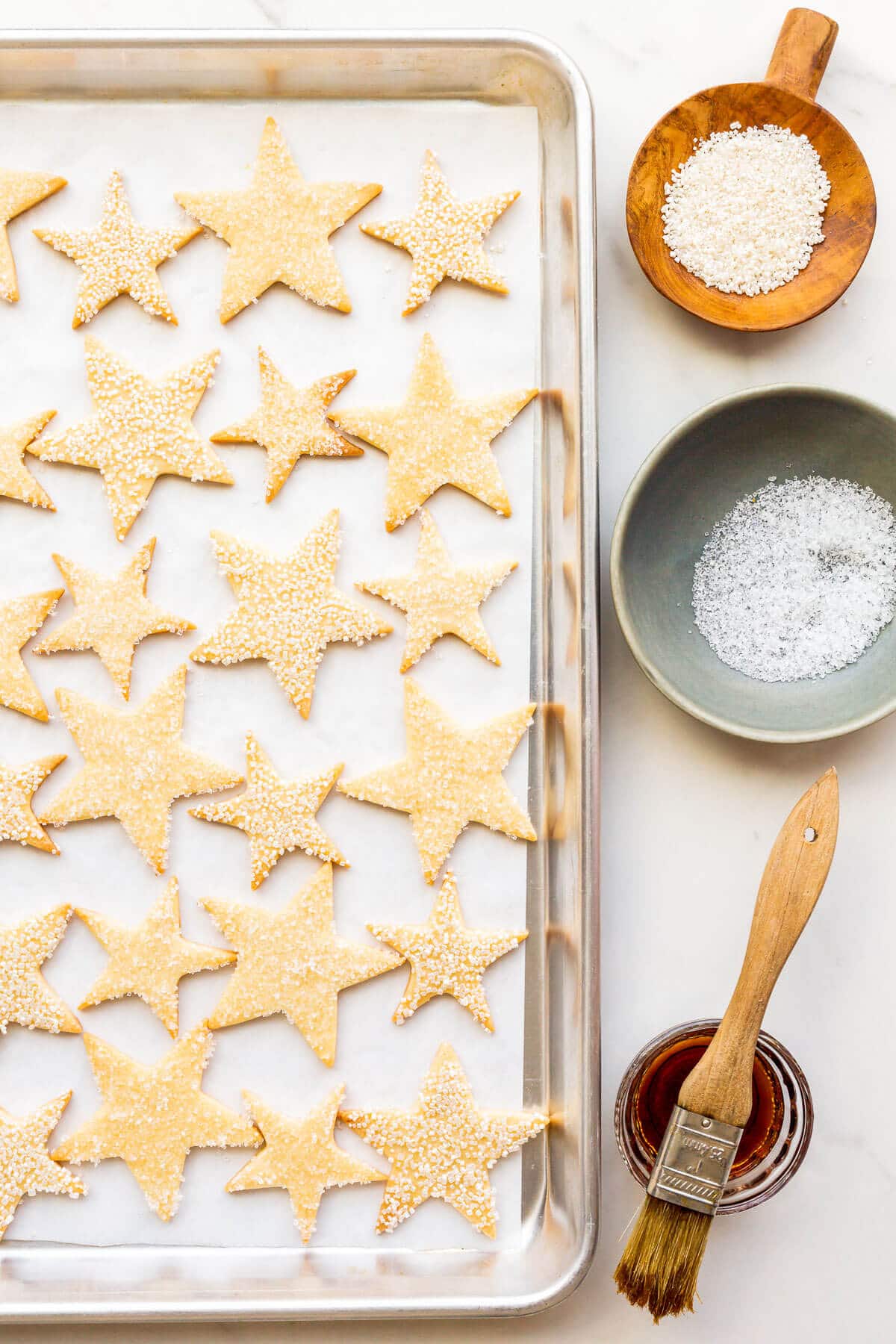 As you can see from the photos, these sugar cookies do not spread at all, especially if you chill the cookie dough properly.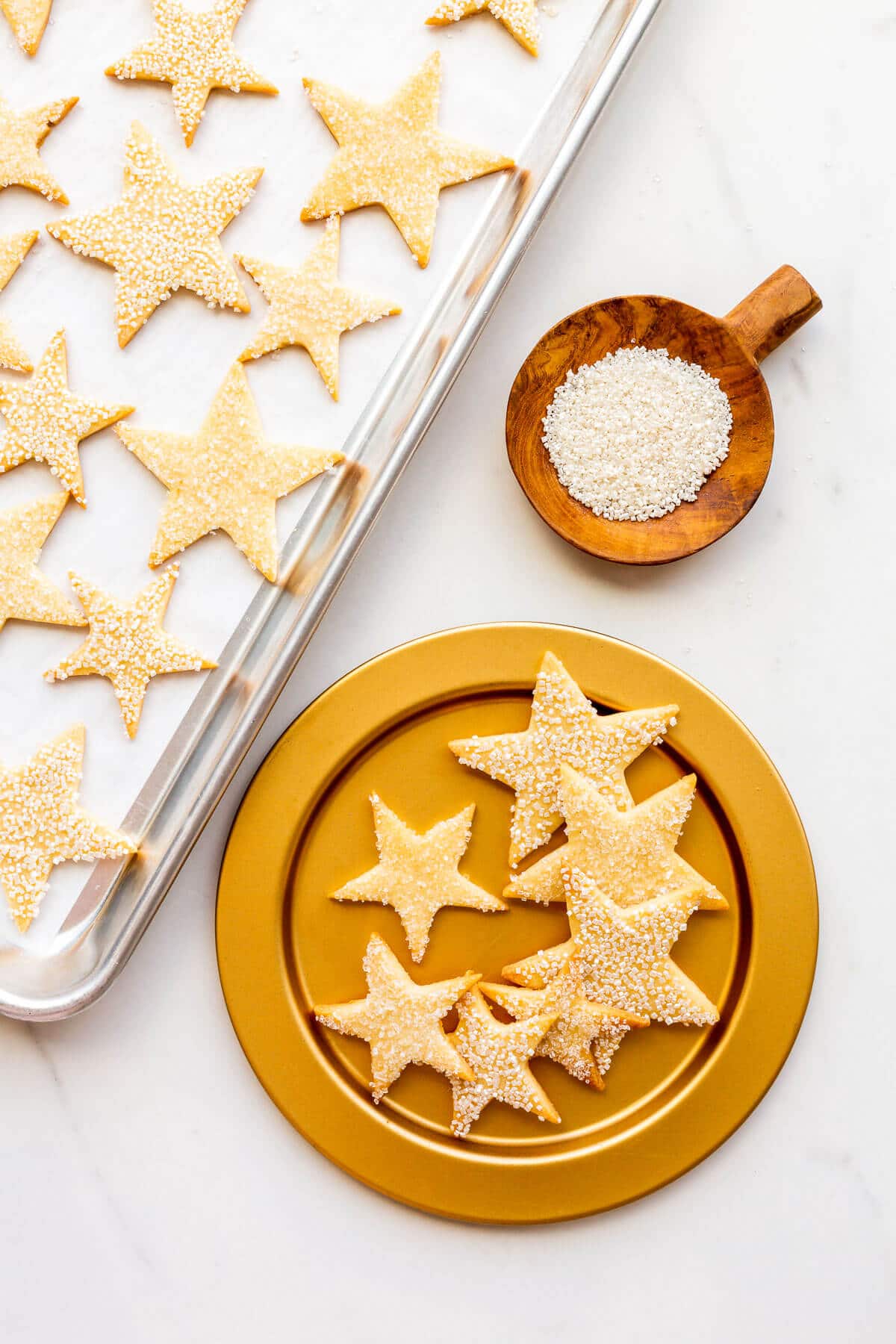 Ways to decorate them
I usually like to keep sugar cookie cut-outs plain because I like to dip them in hot cups of tea, but if you would prefer to garnish or embellish them, you can:
decorate them with royal icing using gel colours to dye the icing and a piping bag. This is a good technique if you want to ship the cookies in the mail.
smear them with simple American buttercream frosting, the crusting kind made from butter, icing sugar, and a little cream or milk to achieve a smooth consistency.
brush them while still hot with maple syrup (or even honey could work) and then garnish with sprinkles. The heat will set the syrup, drying it out and glueing the sprinkles. It also works on cold cookies, but not as well.
dip them in melted chocolate, like I did with these matcha gingerbread cookies and then garnish with sprinkles (if you'd like).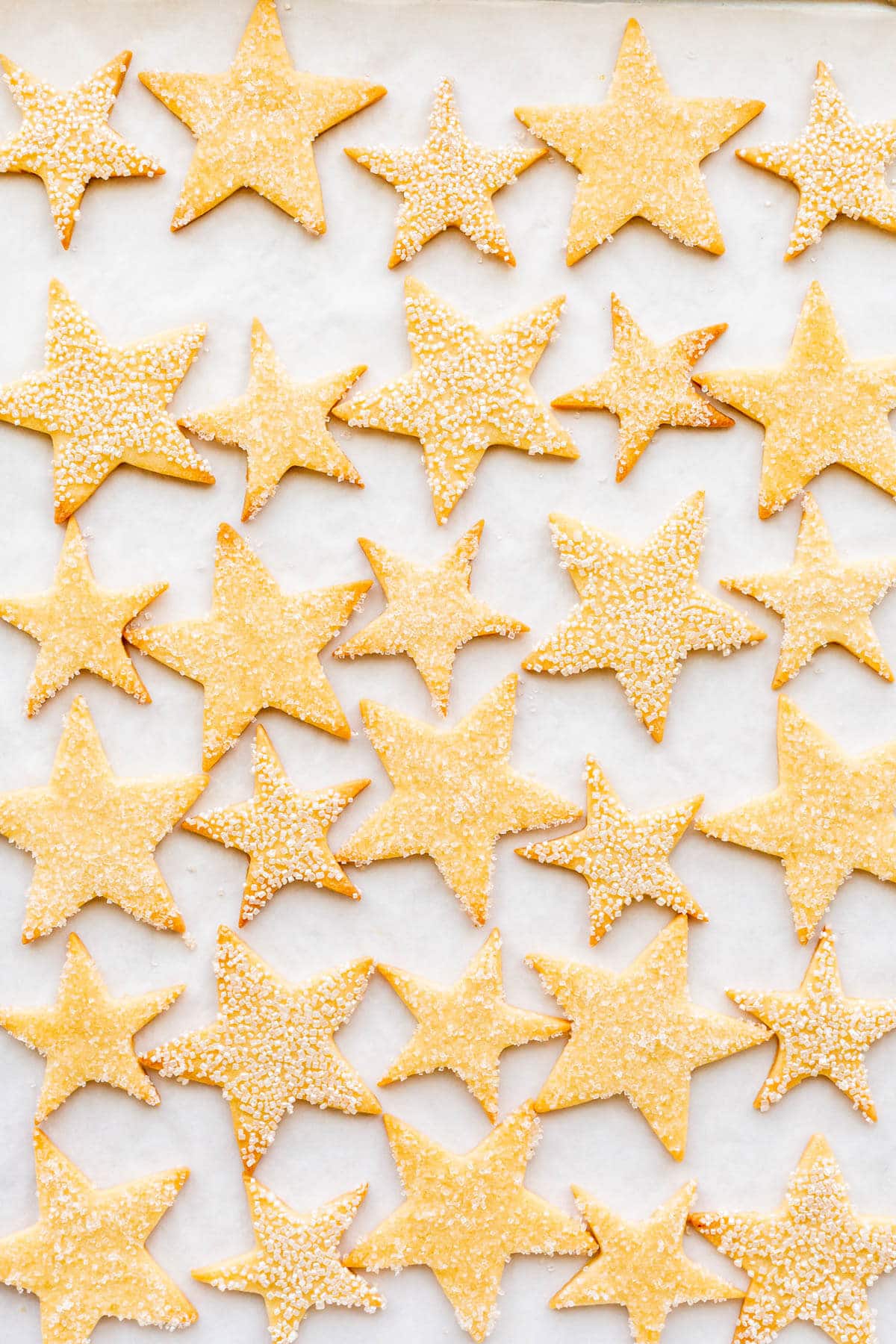 Frequently asked questions
How do you store the cookie dough?
If you want to make the sugar cookie dough ahead of time, before the holidays, you can make the dough, shape it into two disks, then wrap tightly with plastic wrap. Place the tightly wrapped doughs in a freezer bag and freeze for at least a month, if not two months.
When you are ready to bake cookies, defrost the cookie dough overnight in the fridge, then set it on the counter 30 minutes before rolling to allow it to soften a little to make rolling easier. Make sure your kitchen isn't too hot though. If it's too hot (like in hot/humid summer months), reduce the time you leave the dough at room temperature.
How do you store sugar cookies?
Cut-out sugar cookies like these should be stored in an airtight container at room temperature. You don't need to refrigerate them. This type of cookie is not soft and therefore won't dry out, but if it's humid, make sure to get them into an airtight container as soon as they have completely cooled to avoid them becoming soggy. You can freeze these cookies too. If stored correctly, these can last a month.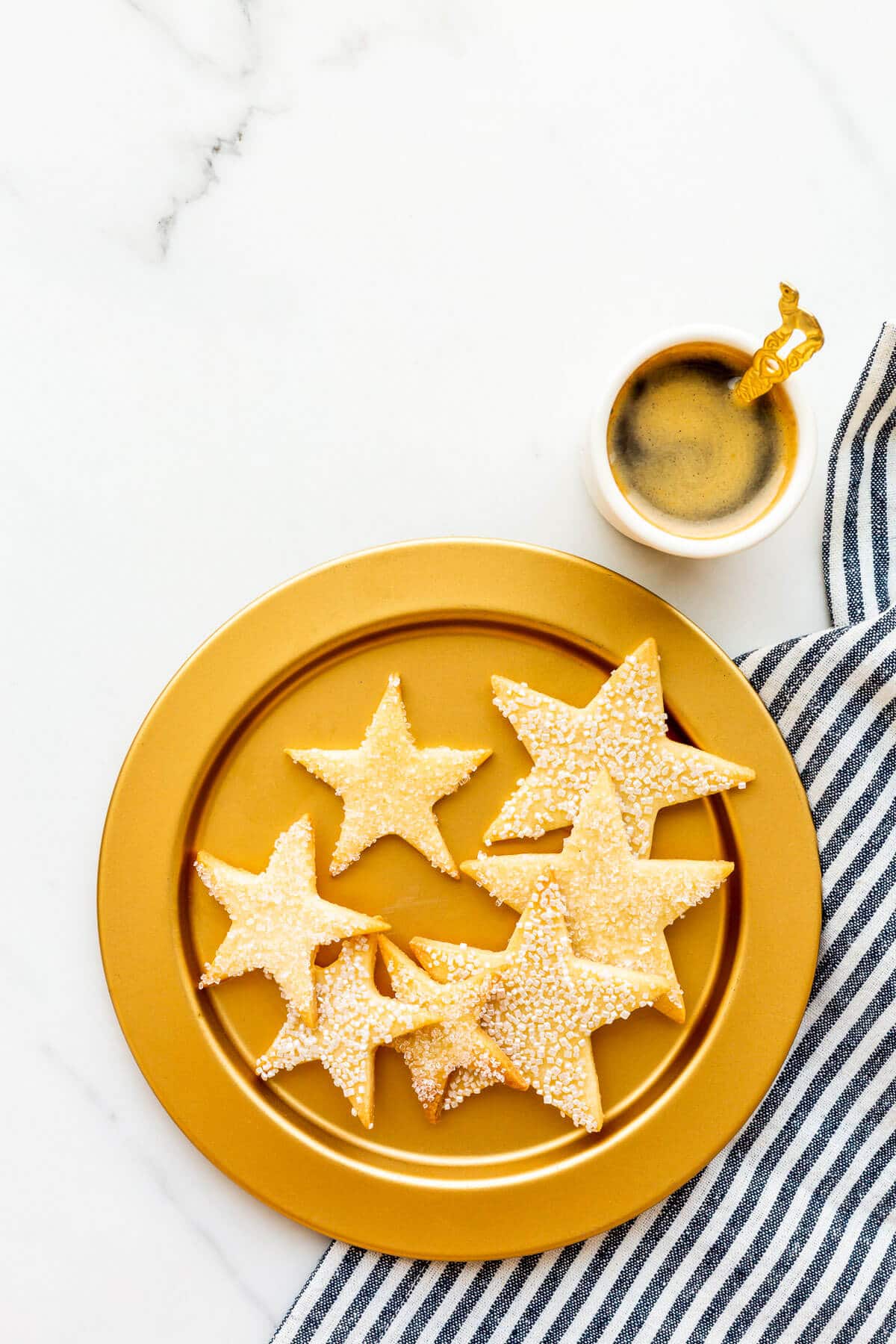 📖 Recipe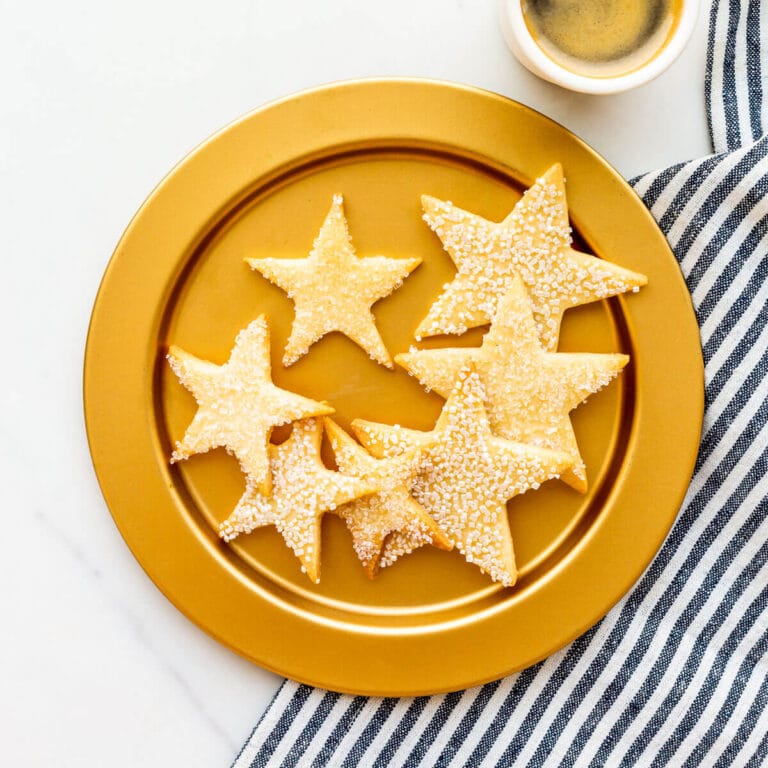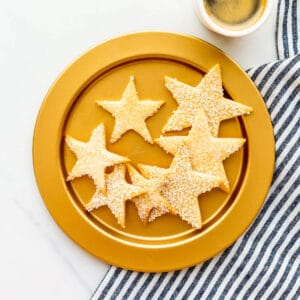 Sugar Cookies
This easy recipe makes classic sugar cookies that aren't overly sweet and that bake well without losing their shapes in the oven. This is the perfect sugar cookie for cutting out fun shapes and decorating for the holidays, but they also taste great plain.
Ingredients
200

g

unsalted butter

softened

200

g

granulated sugar

1

large egg(s)

room temperature, lightly beaten

5

mL

pure vanilla extract

400

g

bleached all-purpose flour
Instructions
In the bowl of an electric mixer fitted with the paddle attachment, beat together the butter and sugar.

Add the egg and vanilla. Beat well until creamy and well mixed. Scrape down the sides of the bowls as needed to make sure the ingredients are evenly mixed.

Add the flour and the salt. Mix until a dough forms.

Divide dough in half and form two disks.

Working with 1 disk at a time, roll out to ~¼-inch thickness (or however thin you want).

Cut out shapes, and transfer them to a parchment-lined baking sheet. Be sure to place similar sized cookies on same baking sheet for even baking time. Chill for at least 30 minutes to prevent cookies from spreading as they bake.

Preheat oven to 350 °F (175 °C).

Bake chilled cookies until the edges begin to brown (for crisp cookies). This takes 10 to 15 minutes depending on size and thickness.
Notes
If you would like to decorate these cookies:
royal icing dries hard and stores well.
brush the freshly baked hot cookies with maple syrup and sprinkle with sanding sugar.
Nutrition
Calories:
47
kcal
Carbohydrates:
6
g
Protein:
1
g
Fat:
2
g
Saturated Fat:
1
g
Polyunsaturated Fat:
0.1
g
Monounsaturated Fat:
1
g
Trans Fat:
0.1
g
Cholesterol:
7
mg
Sodium:
16
mg
Potassium:
7
mg
Fiber:
0.1
g
Sugar:
3
g
Vitamin A:
65
IU
Calcium:
2
mg
Iron:
0.2
mg