I have wanted to make sugar cookies with honey that tasted like honey, but obviously, I worried about a lot of things, like would a cutout hold its shape even if I replaced the granulated sugar with a liquid sweetener? The answer is yes! Learn how to make honey sugar cookies with this easy recipe!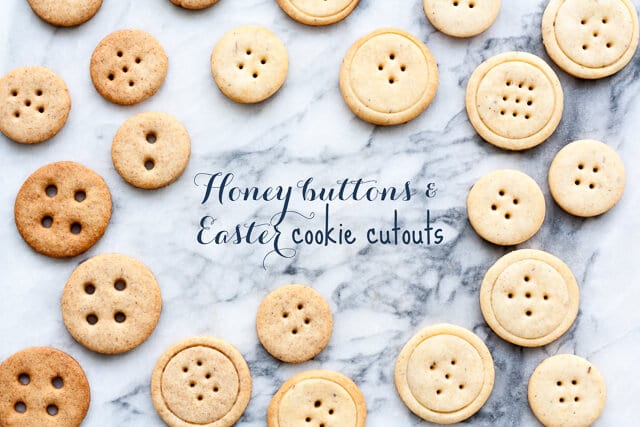 These cookies scream honey (and lavender if you are using it). Having munched my way through 3 test batches of these babies, I can honestly say that for the lavender honey cookies, it's best to bake them until the edges are just beginning to brown, whereas I thought the honey rye cookies tasted awesome when they were over-baked and quite coloured, bringing out the nuttiness in the butter and rye flour, and a deep, dark brûléed honey flavour that I quite liked.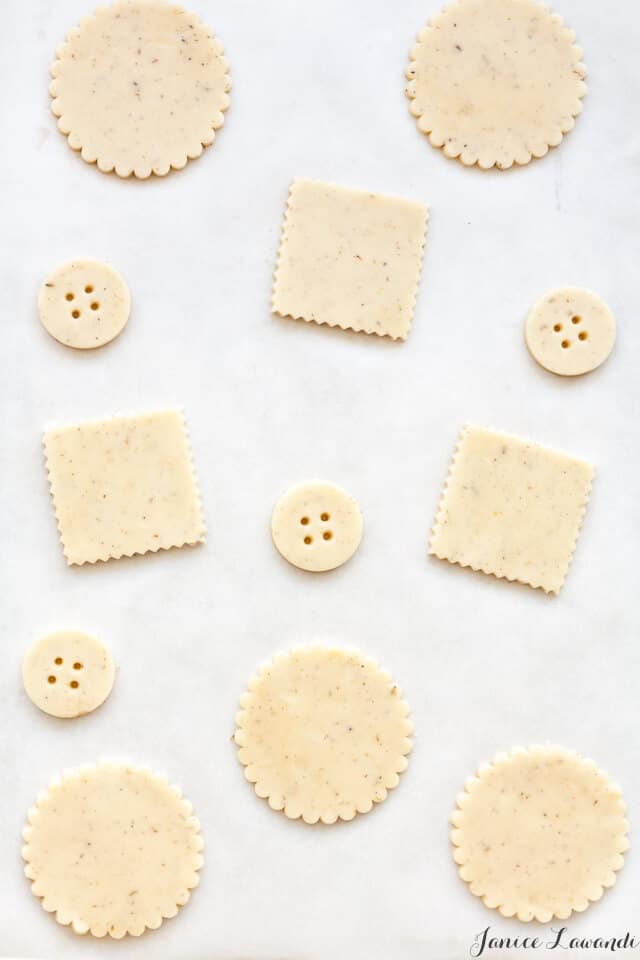 Disclosure: As an Amazon Associate, I earn from qualifying purchases.
They are a little more tender when just baked through, and a little dryer when they are baked to a deeper colour. However you make them, these will work. If you aren't a fan of honey, you can stick with the more traditional sugar cookie dough for cutouts. If you want something with more chocolate and mix-ins, try these toffee chocolate coconut cookies.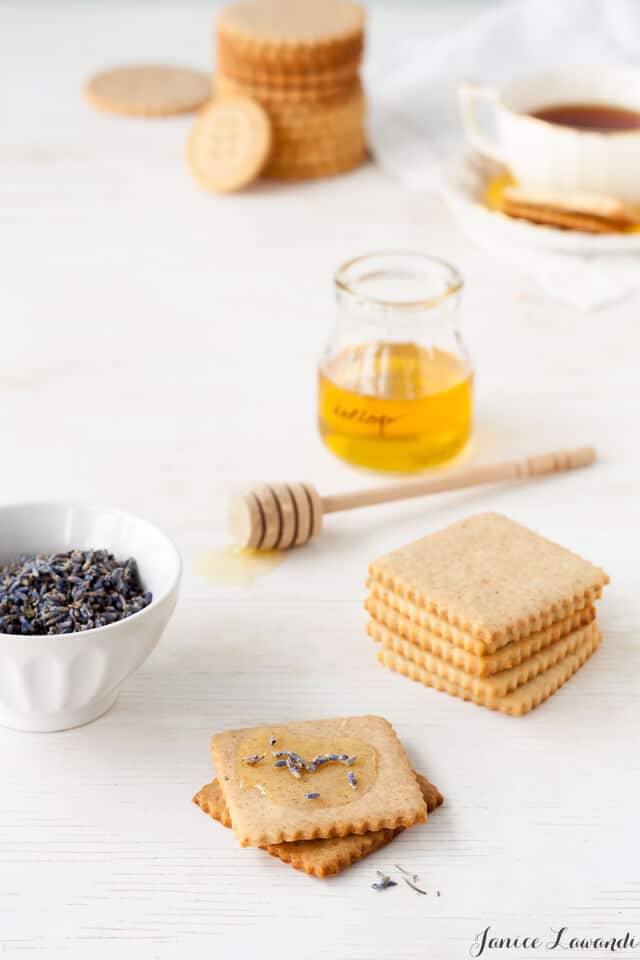 Easy decorating with stencils
To stencil the tops of the cookies, I used powdered sugar and Williams-Sonoma Easter Linzer Cookie Cutters, similar to these cookie cutters on Amazon. I roughly taped all the gaps with regular scotch tape so that only the Easter shape would get stencilled on as you can see from my pictures. Stenciling baked goods is an easy alternative to decorating. I used this same technique to stencil the top of a cake with cookie crumbs.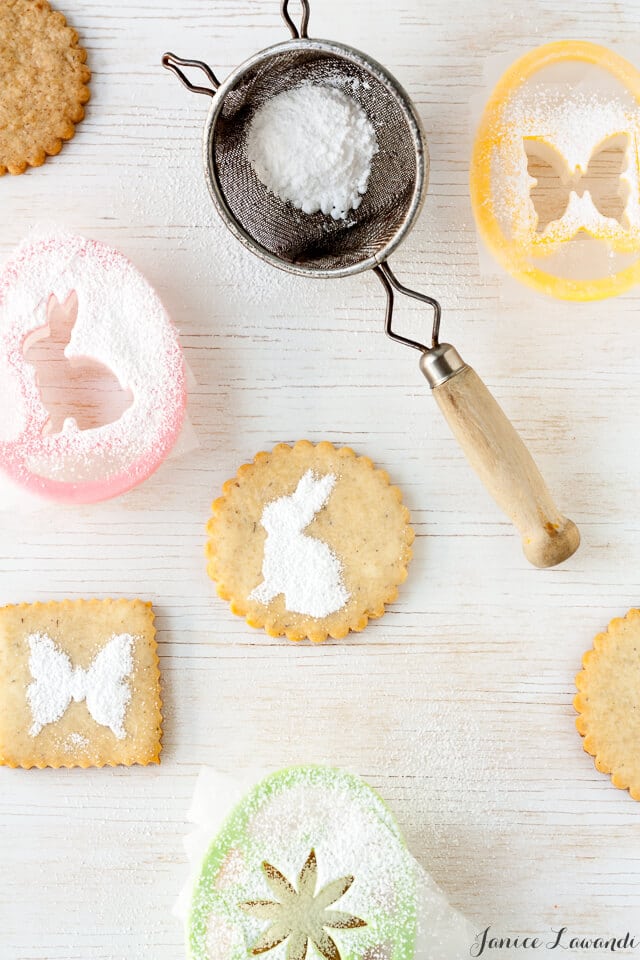 Serving suggestions
You can also fill and sandwich these cookies together with jam (like I did for these jam-filled shortbread cookies. I recommend filling with any of these homemade preserves, which pair well with honey:
📖 Recipe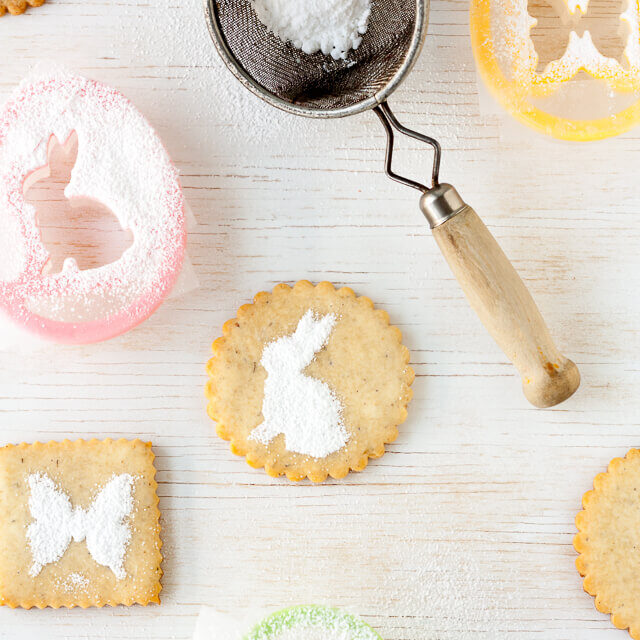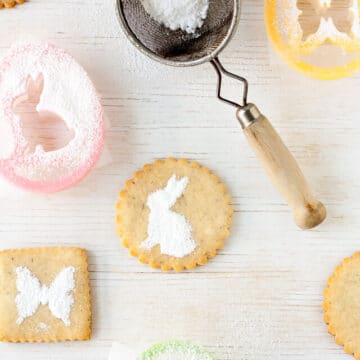 Honey Sugar Cookies
These honey sugar cookie cutouts are sweetened with honey and flavoured with lavender. They would make great sandwich cookies with a little homemade jam or marmalade. 
Instructions
In the bowl of a food processor, pulse together the all-purpose flour, the lavender, and the salt.

Cut up the cold butter into pieces and drop it into the food processor. Pulse to form a fine crumble.

Add the honey and process just enough to form a dough ball. Transfer to plastic wrap and press out into a disk. Chill for 45 minutes in the fridge.

Preheat the oven to 325 °F (165 °C). Roll the dough to ⅛" and cut it out with small 1 ½" cookie cutters or bigger ones. If making buttons, you can use the opening of a small piping tip to make the button holes.

Transfer to a parchment-lined cookie sheet and bake for about 11–12 minutes until the edges are golden brown. Cool on a wire rack.

You can stencil on Easter patterns with powdered sugar.
Nutrition

I do my best to bake with the finest ingredients. Stirling Creamery, a Canadian company, has provided the butter for this post.