When winter is in full swing, it usually means it's citrus season and time to make marmalade like this homemade grapefruit marmalade. This easy recipe for grapefruit marmalade uses the whole fruit method so you aren't spending hours chopping citrus and separating the peel from the fruit.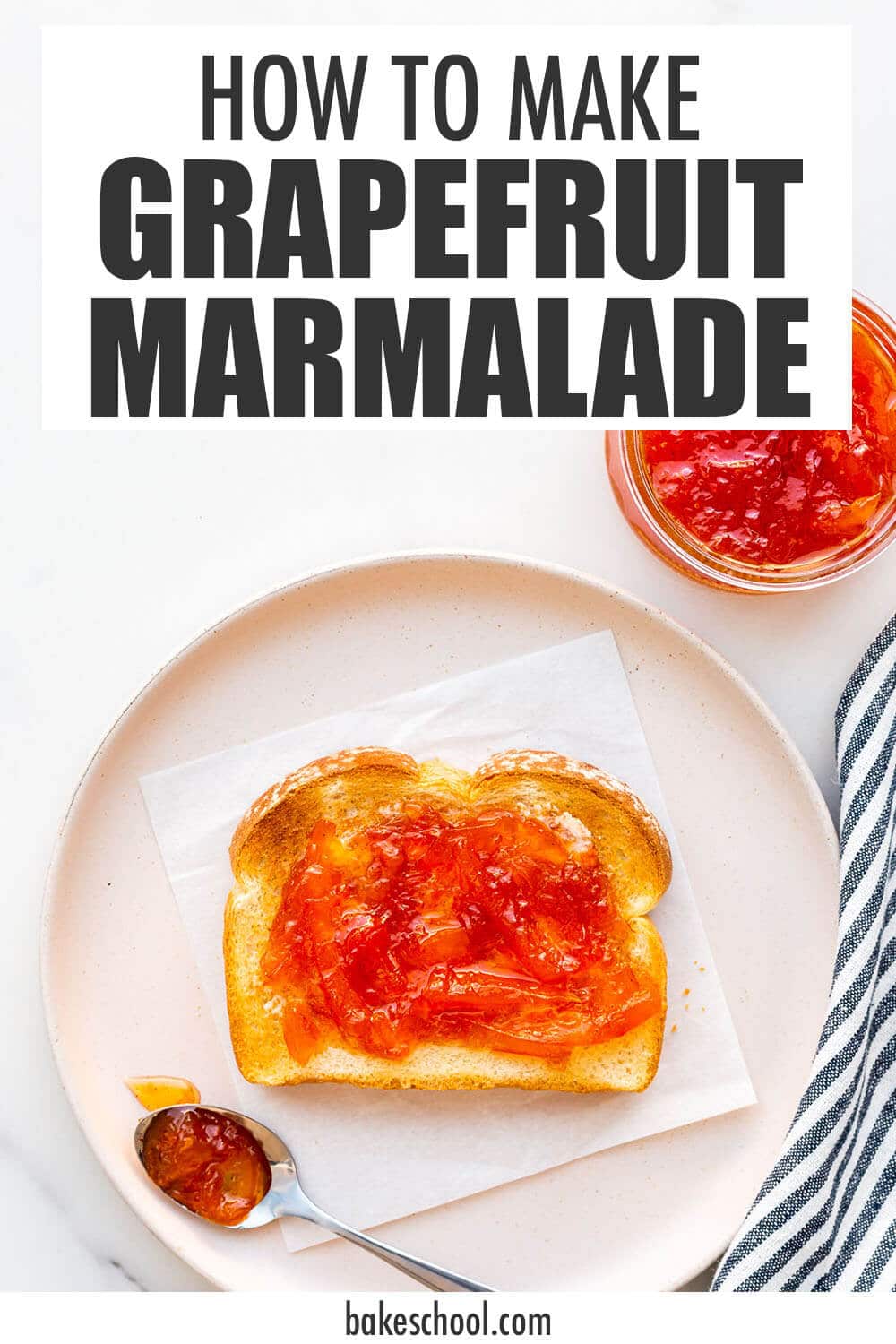 Disclosure: As an Amazon Associate, I earn from qualifying purchases.
If you are a fan of pink grapefruit (or even the Ruby Red variety), this grapefruit marmalade is for you! This marmalade uses the whole fruit and you don't need any pectin if you boil the marmalade until the marmalade setting point.
If you've never made it and aren't familiar with making preserves at home please read about how to make marmalade and tools for canning before proceeding!
Jump to:
Ingredients to make grapefruit marmalade
You don't need to use pectin when you make a batch of marmalade. The three ingredients for this recipe are really simple:
whole citrus fruit, washed well to remove any waxes that may be present on the surface of the fruit

white grapefruit is the least sweet and the bitter grapefruit flavour of the peel will dominate in marmalade
ruby red grapefruit is the most sweet
pink grapefruit offer a good balance of bitter and sweet, but not too sweet

granulated sugar, which is essential to balancing out the bitterness of the citrus peel and also to ensure your marmalade will set
lemon juice to control pH, which ensures pectin activation to gel the marmalade properly but also to ensure the sugar doesn't crystallize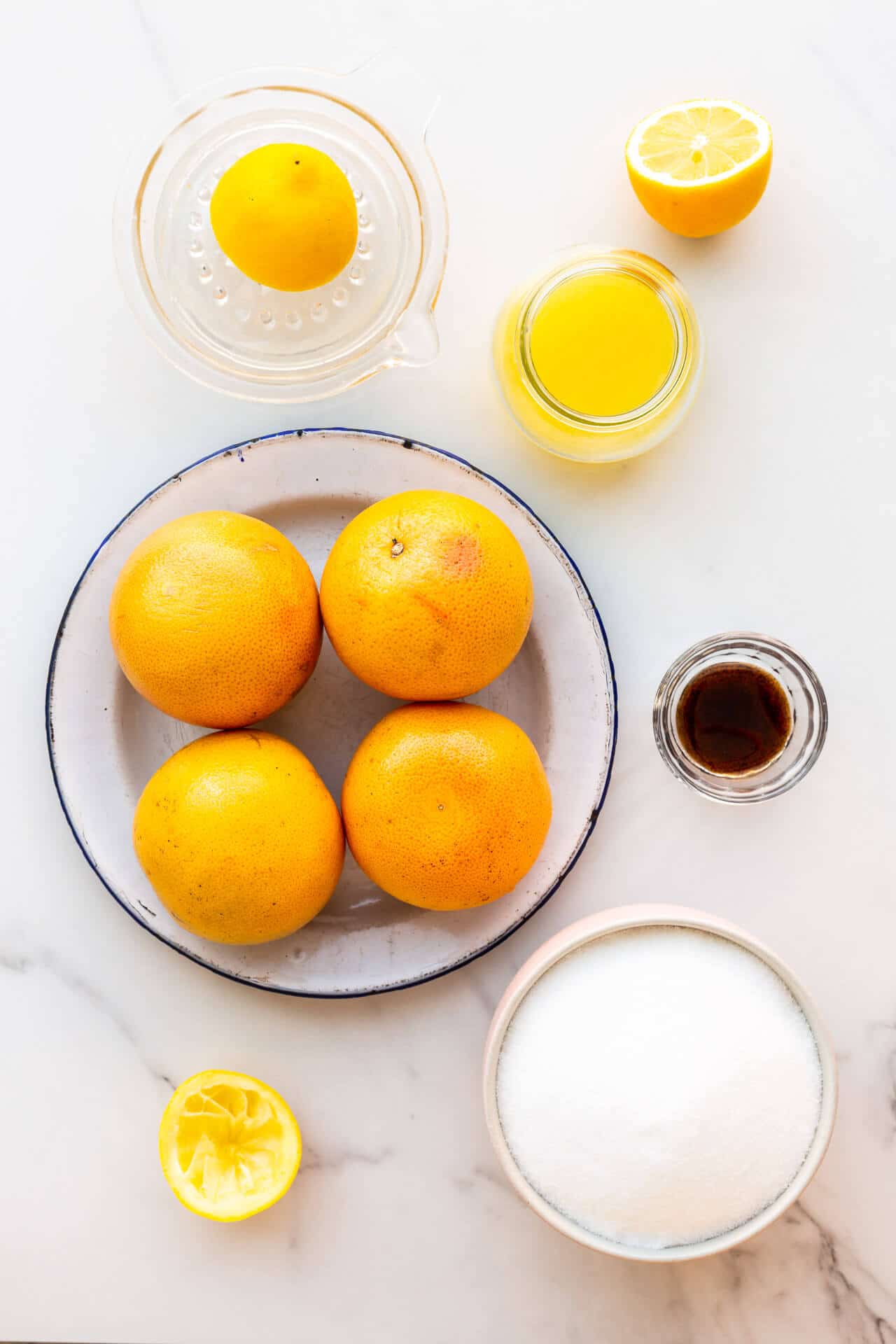 If you have the right ratio of fruit to sugar, you're on your way to perfect marmalade. For the recipes on this website, we use a ratio that is close to 1:1 by weight of fruit to sugar.
If you have a little more fruit, that's okay. But try to measure out your ingredients so that they are close to this ratio to ensure that your marmalade will set properly.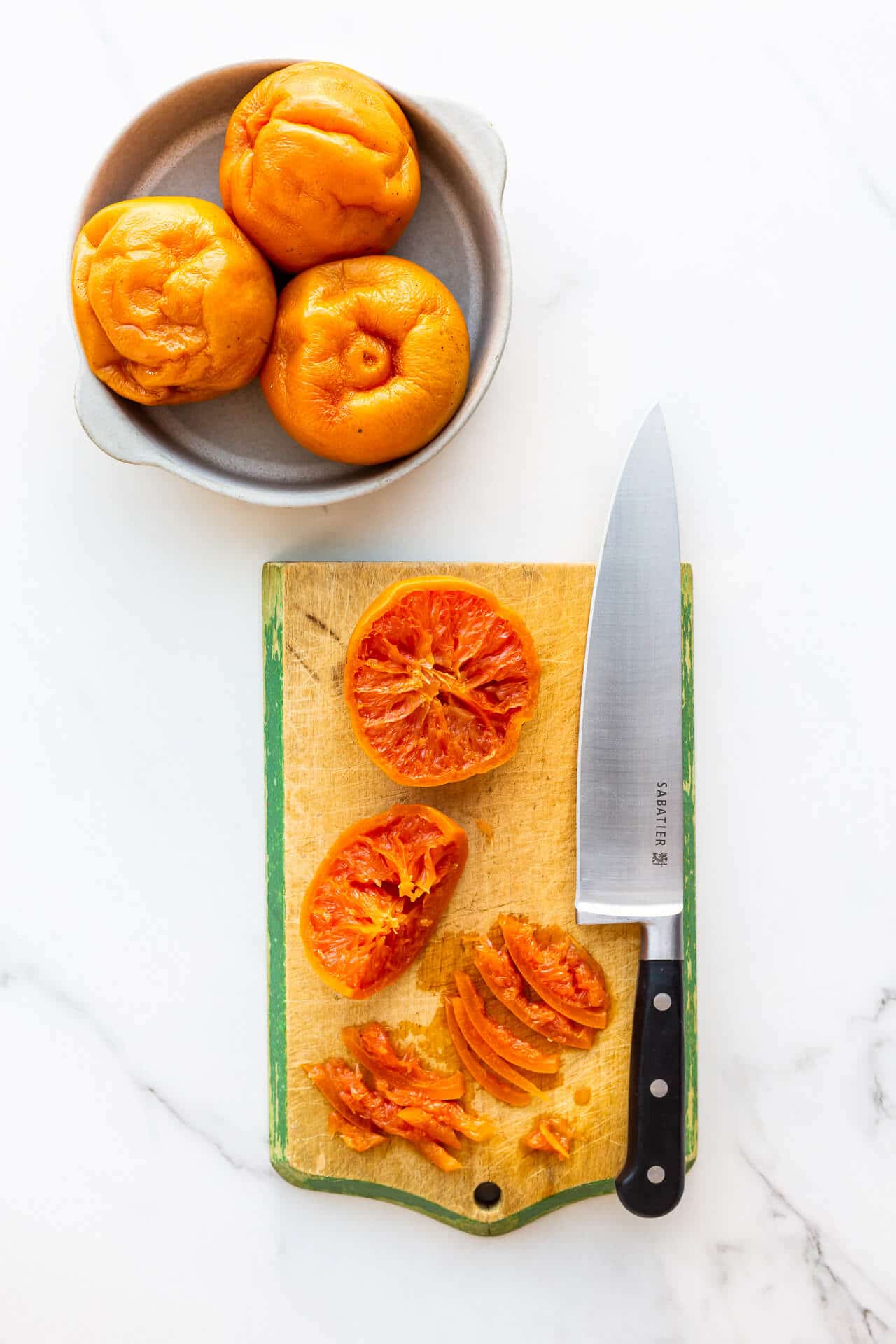 Making marmalade from whole citrus fruit
Using whole fruit for grapefruit marmalade means you are using every part of the fruit. While other methods will have you separate the outer peel from the flesh of the fruit, the whole-fruit method is also a lot easier to do:
Boil the whole citrus fruit for 2 hours or until very soft.
Drain and let cool.
Cut each grapefruit into two, then split each half into quarters or smaller sections.
Separate the flesh of the fruit from the soft peel with your knife (it should separate quite easily), removing seeds as you go.
Chop the flesh fairly finely. Try to remove some of the membranes that separate the segments of the fruit if they seem tough.
Slice the peel into strips.
Place the sliced fruit (flesh and peel) back into a big clean pot and mix with sugar and lemon juice.
Boil until you reach the marmalade setting point, which for this recipe is around 104–105 ºC (220 ºF).
Take the pot of marmalade and let it sit for 2 minutes before giving it a good stir.
Transfer to clean jars and then seal them using a water bath canning kit.
If you prefer a finer-cut marmalade, try this lime marmalade recipe, where the limes are sliced before boiling in water, yielding finer slivers of rind, instead of boiling the whole fruit, then slicing, yielding a more rustic marmalade.
Special equipment for making marmalade at home
I highly recommend investing in a canning kit made up of the smaller tools you will need in order to properly seal your jars, including a magnet to transfer the clean lids to the jars to avoid contamination, as well as a headspace measuring tool to make it easier to verify that you are filling the jars correctly, and a non-reactive funnel that will help you fill the jars without spilling and without dirtying the edges (which would ruin the seal!).
The kit should also come with jar lifters which are so helpful when moving the jars in and out of the water bath! You will also need a big pot preferably with a rack, like this one on Amazon, in order to boil the jars of marmalade for 10 minutes.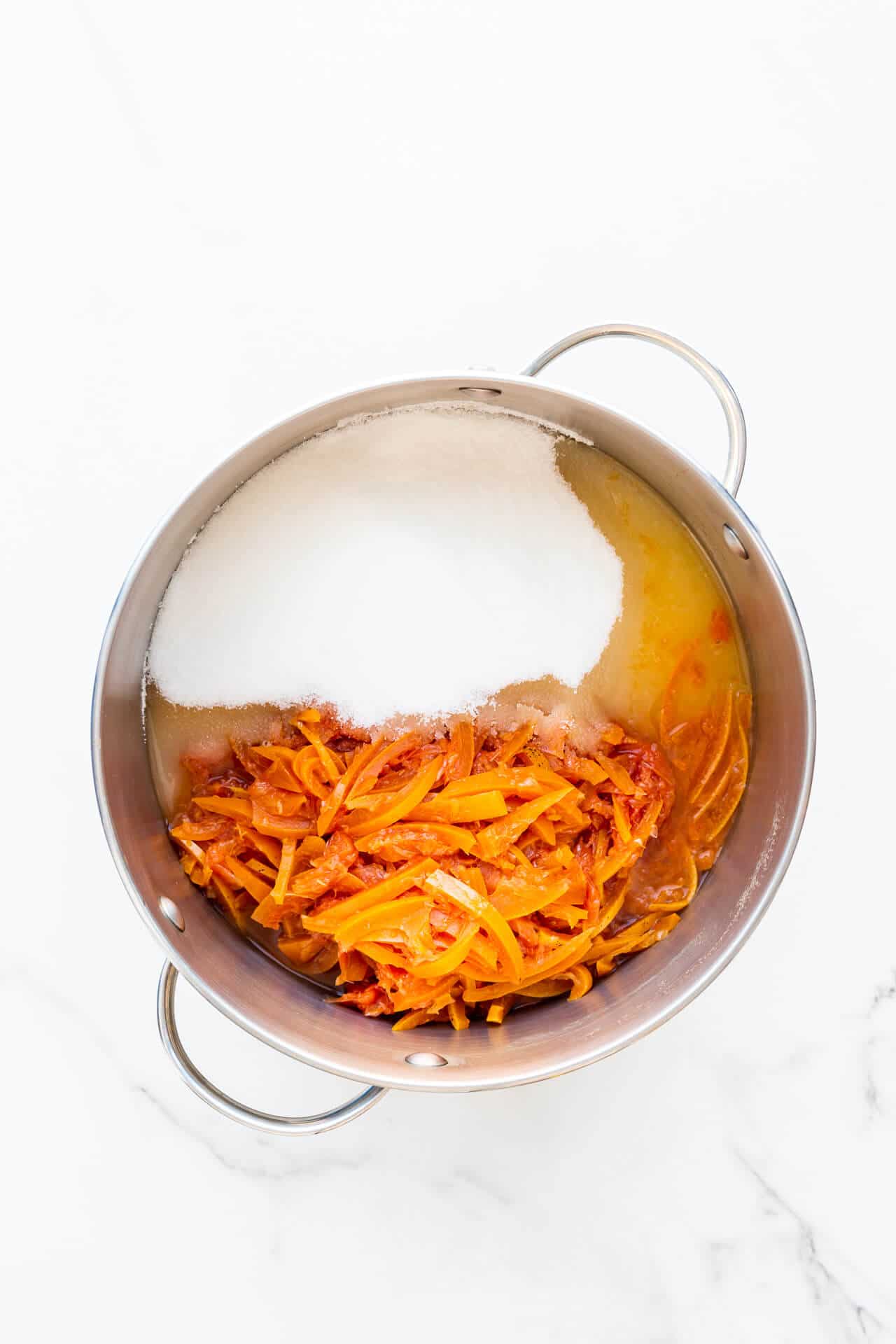 In order to achieve the perfect texture, it's very important to boil marmalade just enough so that it is thick, but not so much that the peel becomes chewy. A thermometer like a fast-reading Thermapen helps judge how far along you are in the cooking process and works perfectly with this recipe and method. The Thermapen is what I use. For a hands-free setup, a probe thermometer with a longer cable like the ChefAlarm would be better because then you don't have to hold it with your hands, which would be much less dangerous to use than my hand-held setup.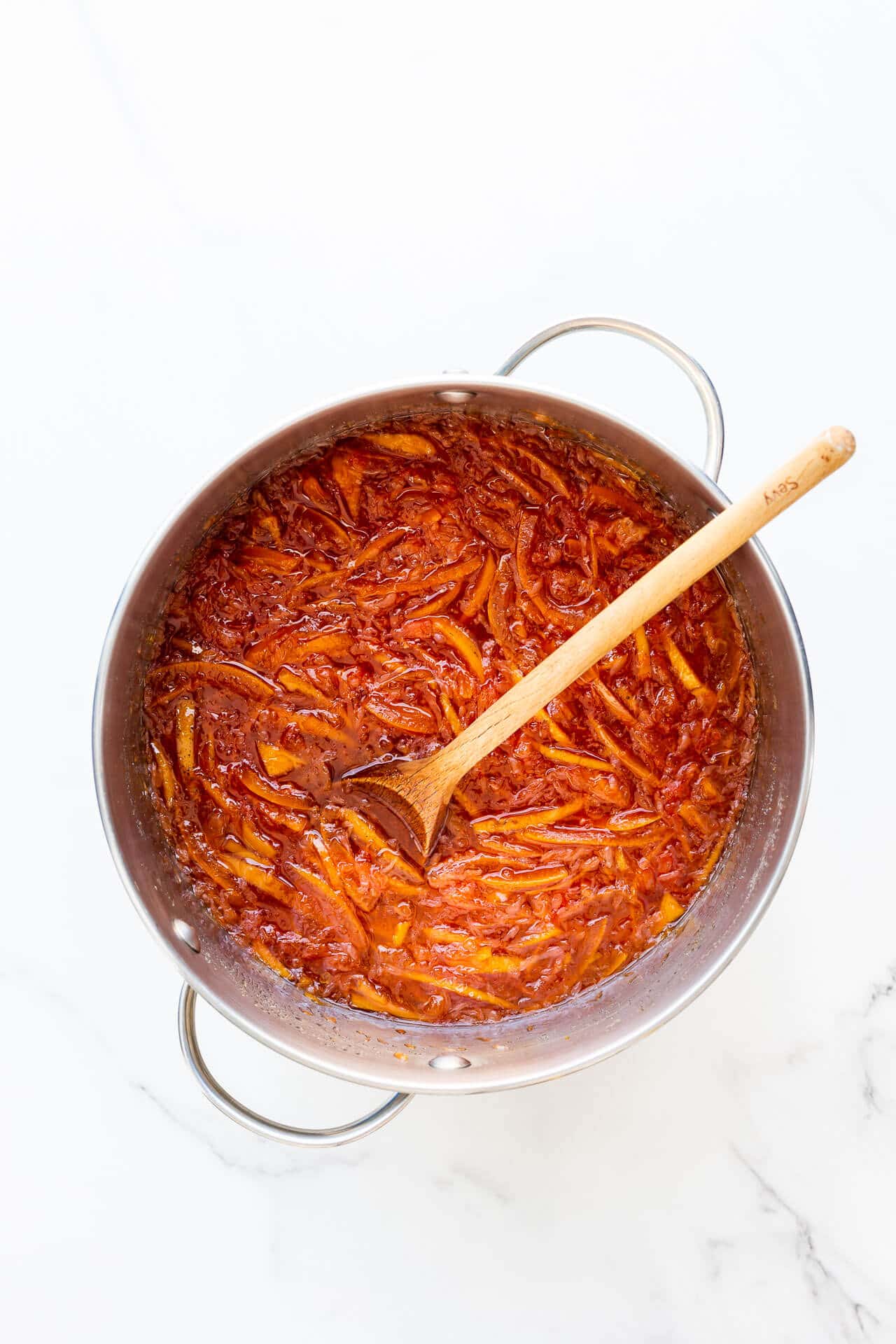 This recipe works with most citrus fruit, and you can see I've used it to make three fruit marmalade and orange marmalade.
Storage
If the jars are properly sealed, you can store marmalade in a cool, dry place, away from the light for 1 year. After that, the marmalade will still be good, but you will notice the vibrant colour will change and the marmalade will become darker.
Store open jars of marmalade (or jars you have not sealed) in the refrigerator.
Cookbooks on Preserves
If you are interested in simple recipes and techniques for making preserves, like this marmalade, check out Camilla Wynne's books on preserving:
I used both these books to research this recipe and follow Camilla Wynne's methods closely as she taught me how to make Seville orange marmalade years ago. Highly recommend!
What to serve it with
Grapefruit marmalade is bittersweet so it's important to serve it with enriched breads, like this easy brioche or even homemade croissants.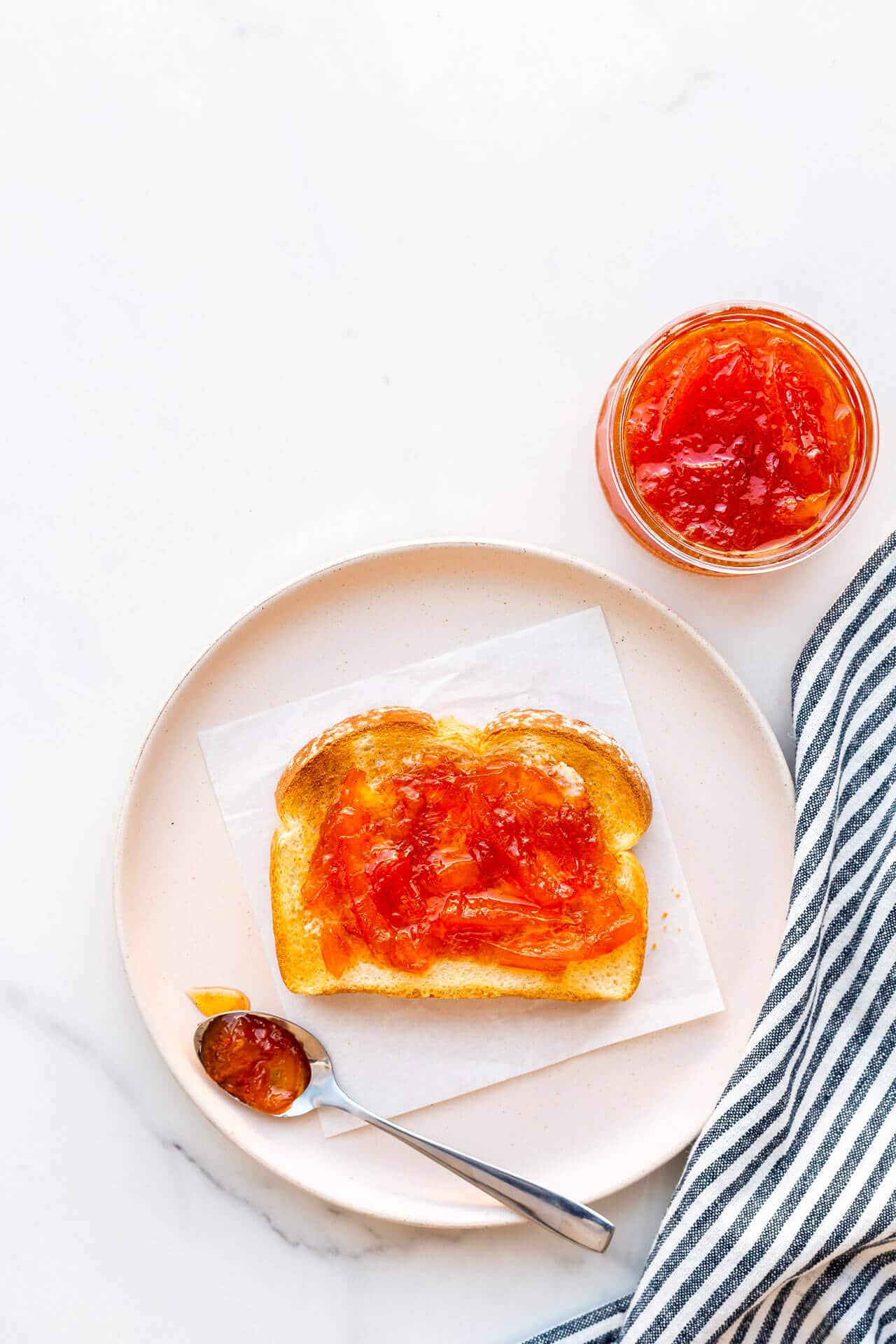 For this method, you do not need to boil the seeds in the pot with the marmalade. This marmalade recipe will set properly if you follow the proportions as written and boil the marmalade to the right temperature.
📖 Recipe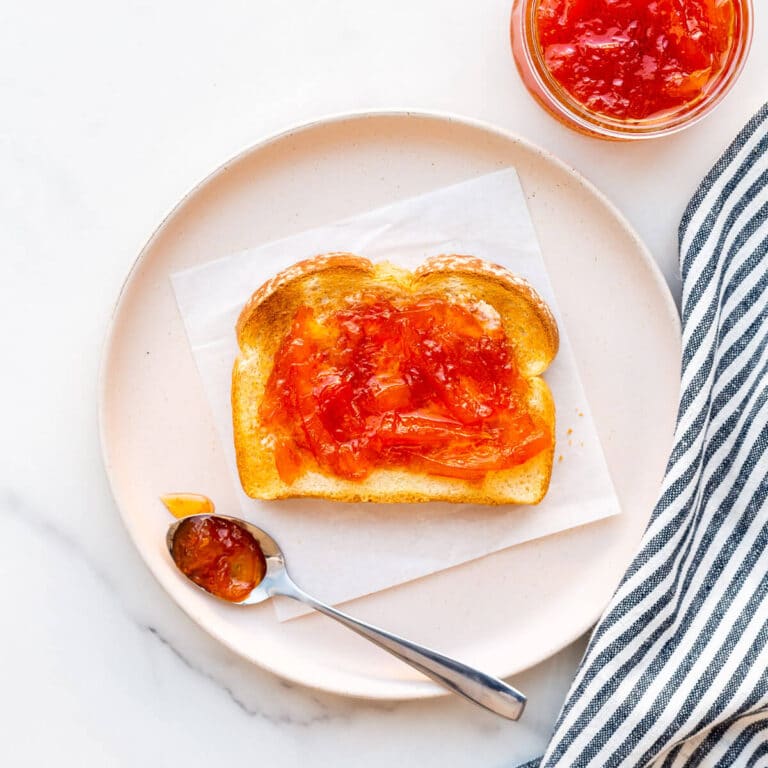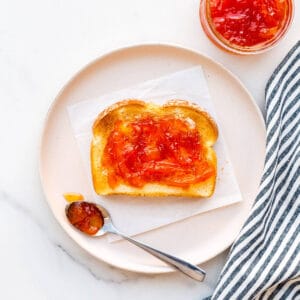 Grapefruit Marmalade
This gorgeous homemade grapefruit marmalade recipe is made with pink grapefruit, using the whole fruit method so nothing is wasted! This recipe works with oranges and lemons too.
Ingredients
950

grams

grapefruit

this is roughly 4 grapefruit

950

grams

granulated sugar

100

mL

fresh lemon juice

5

mL

vanilla bean paste

optional
Instructions
Bring a large, covered pot of water to boil with the whole citrus fruit. This Cuisinart pot from Amazon is a decent size for the job. Boil the fruit until they are very tender and soft. Grapefruit take about 2.5 hours. Drain the fruit and let them cool slightly before proceeding.

Place a cutting board inside a rimmed baking sheet (these Nordic Ware sheet pans from Amazon are great). This is to catch all the citrus juices! Slice each fruit in half to expose the seeds. Remove the seeds if there are any, then quarter each half. Seperate the flesh from the peel so that you can slice the peel thinly and chop the flesh, removing any membranes if they are tough. Transfer the sliced peel, flesh, and juices into a large pot (like this Cuisinart pot from Amazon).

To the large pot of chopped fruit, add the sugar and the lemon juice. Clip on your thermometer (like this fast-reading digital thermometer from Thermoworks). Bring the mixture to a boil on medium–high, stirring with a wooden spoon or heatproof spatula (grab this spatula from Amazon). When the mixture is boiling, this is when you want to start monitoring the temperature. Boil the mixture, stirring constantly, until it reaches 220°F (104–105 ºC). When the marmalade reaches this temperature, slide the pan off the heat, and let it cool for 2 minutes, then add the vanilla bean paste and give the marmalade a good stir. This is to ensure that your canned marmalade will have an even dispersion of peel/fruit and vanilla bean seeds.

Divide the mixture between 5 or 6 sterilized jars (I prefer wide-mouth mason jars like these Ball jars on Amazon), leaving a headspace of ¼ inch. If the 6th jar has a larger headspace, you are just going to have to eat it. Just kidding. Well, except that you can't seal it to store at room temperature, so that will be your jar to enjoy right away, storing it in the fridge. Wipe the rims of all the jars with a lightly moistened paper towel. Top each of the jars with a sterilized lid, and tighten the band until it is finger tight. The Ball canning kit on Amazon is key for this step and the next! Get it on Amazon.

Line a rimmed baking sheet with a large kitchen towel (these Nordic Ware sheet pans from Amazon are great). This will be the "cooling station" for the processed jars.

To seal the jars, place them in a large pot, with a towel at the bottom to prevent them from rattling and cracking. Fill the pot with hot water so that the jars are completely immersed. Bring the pot of water to a boil with the lid on and once the boiling point has been reached, boil the jars for 5 minutes.

Take the pan off the heat, and let the jars stand in the pan for another 5 minutes. Finally, carefully remove the jars from the water bath and place them on the towel-lined baking sheet. You will hear a popping sound soon after, a good sign that the vacuum seal is proper. Let the jars cool, untouched, for 24 hours before putting them away.

Carefully remove the jars from the water bath and place them on the towel-lined baking sheet. You will hear a popping sound soon after, a good sign that the vacuum seal is proper. Let the jars cool, undisturbed, for 24 hours before putting them away.
Notes
This recipe makes roughly 5.5 jars of grapefruit marmalade, so make sure you prepare 6 jars and lids.
Nutrition
Calories:
46
kcal
Carbohydrates:
12
g
Protein:
0.1
g
Fat:
0.1
g
Saturated Fat:
0.003
g
Polyunsaturated Fat:
0.004
g
Monounsaturated Fat:
0.002
g
Sodium:
0.1
mg
Potassium:
16
mg
Fiber:
0.2
g
Sugar:
11
g
Vitamin A:
121
IU
Vitamin C:
4
mg
Calcium:
2
mg
Iron:
0.01
mg
Frequently asked questions
Why won't my grapefruit marmalade set?
If your grapefruit marmalade isn't setting. There are a few things to check: verify the ratio of fruit to sugar you started with (1:1 by weight will ensure a better set); did you boil the marmalade close to the set point (104 °C or 220 °F)? If not, it will be watery.
Can you overcook marmalade?
If you boil marmalade past the setting point, the peel may toughen, but also it will have the texture of a thick paste and may even be difficult to spread. The marmalade will have a darker colour from sugar caramelization. If this happens, you can still eat it, but it won't as good.