Learn how to make peach jam without adding pectin with this easy recipe. You will only need three ingredients to make this jam. By boiling to the jam setting point, you will end up with a thick homemade peach jam without having to add commercial pectin.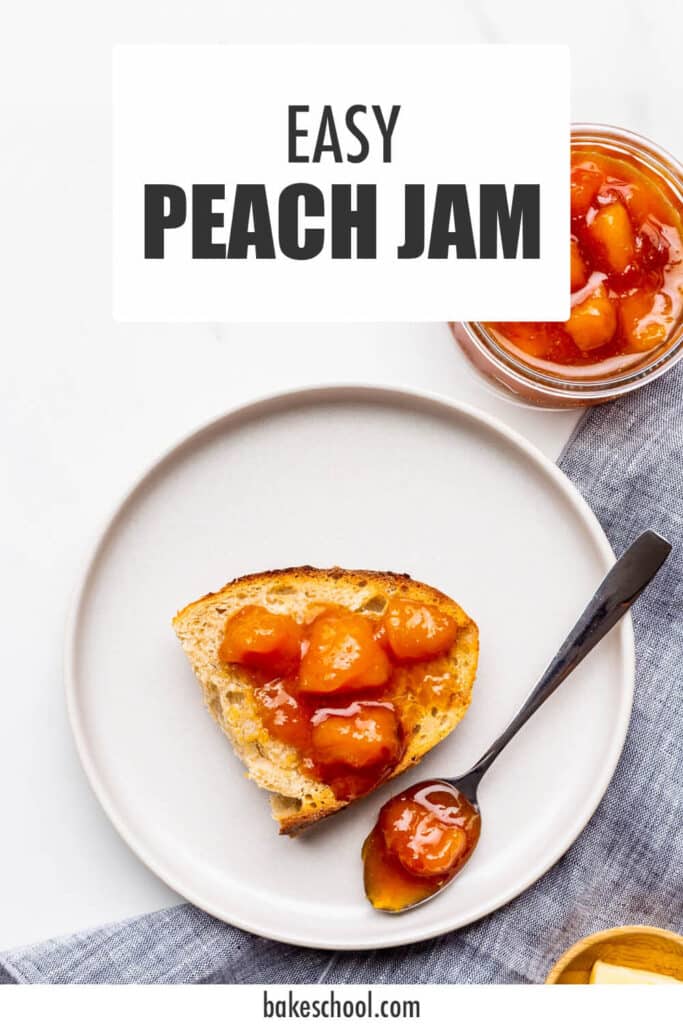 Disclosure: As an Amazon Associate, I earn from qualifying purchases.
Peach season can be short, depending on where you live, which is why you need to make a few jars of peach jam to extend the season when peaches aren't available. If you are a fan of stone fruit, you should definitely try this recipe and also check out the apricot jam without pectin (which is a favourite of mine).
If you have never made jam, make sure to read about the jam setting point (including the different techniques for determining jam set) and also about canning before starting.
Jump to: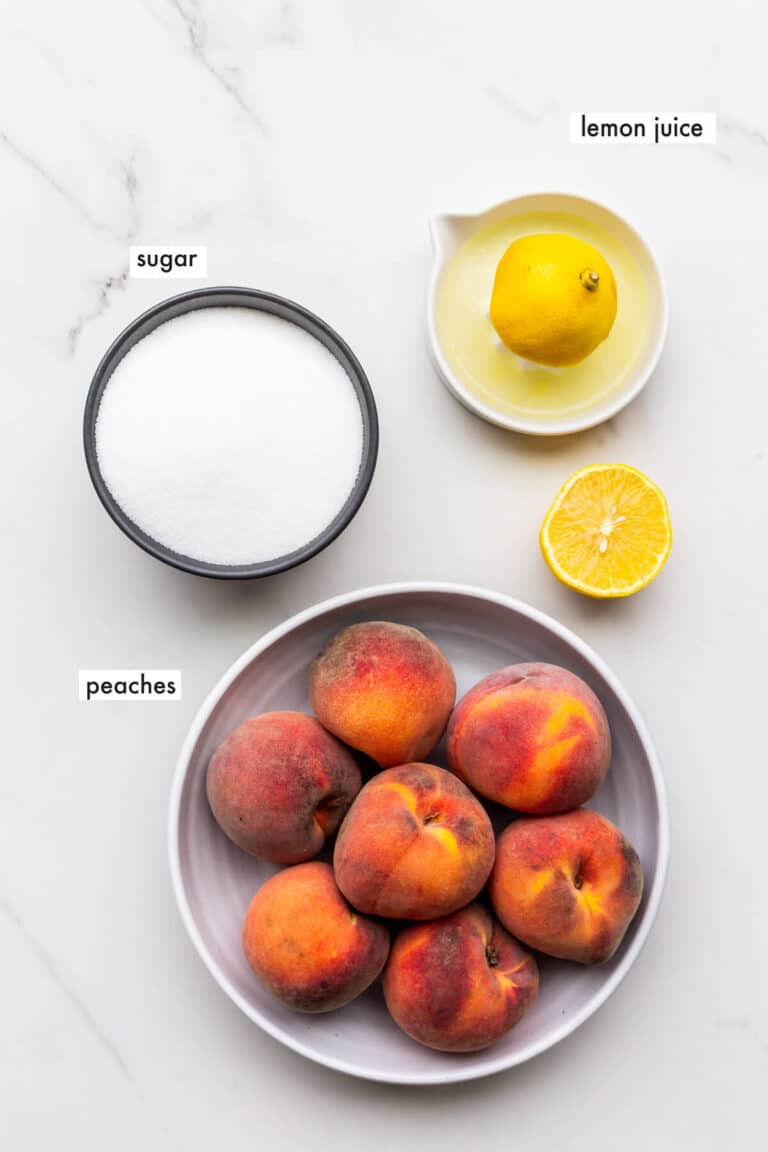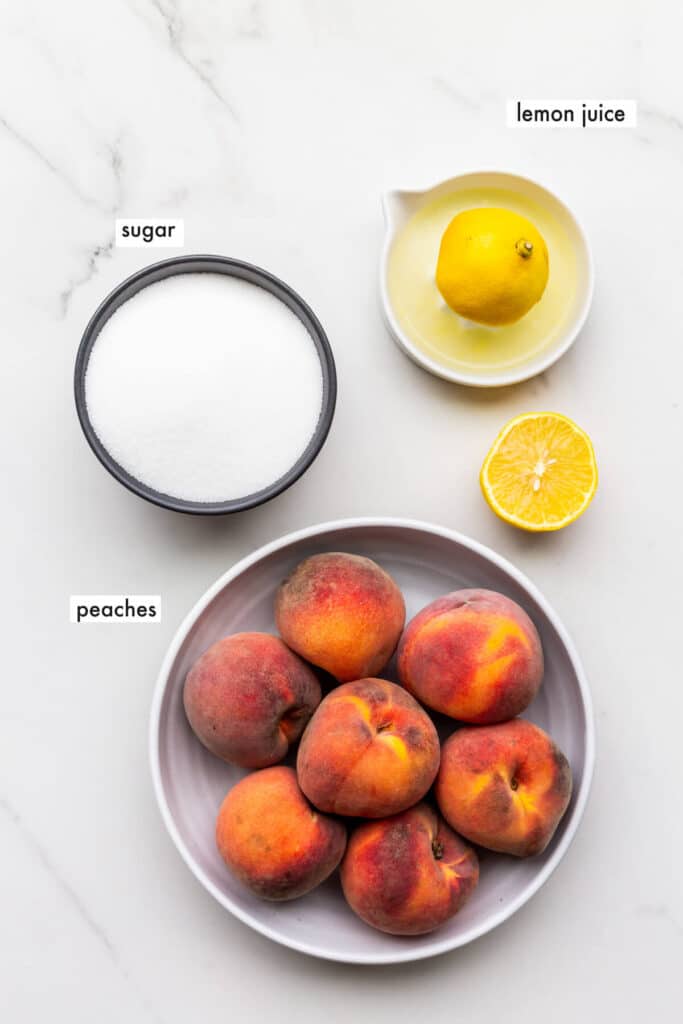 Ingredients
You only need three ingredients to make peach jam. Here's what you need:
fresh peaches—if you can buy freestone peaches, they are easier to cut up fast because the flesh of the fruit isn't clinging to the stone pit, but either clingstone or freestone peaches will work here.
sugar—I prefer granulated sugar because it adds sweetness without interfering with the flavour of the peaches
lemon juice—I use freshly squeezed because the flavour is better
See recipe card for quantities.
Instructions
There are three major steps to making homemade peach jam:
macerate the fruit with sugar and lemon juice to draw out the pectin and to help dissolve the sugar
boil the mixture to the jam setting point
transfer to jars to seal and preserve your homemade jam.
When you are making jam, you don't have to be too careful about how you cut the fruit. Just chop the peaches into even pieces. I aimed for 1 inch pieces of peach, roughly, but you can go for a smaller dice if you prefer a more refined preserve.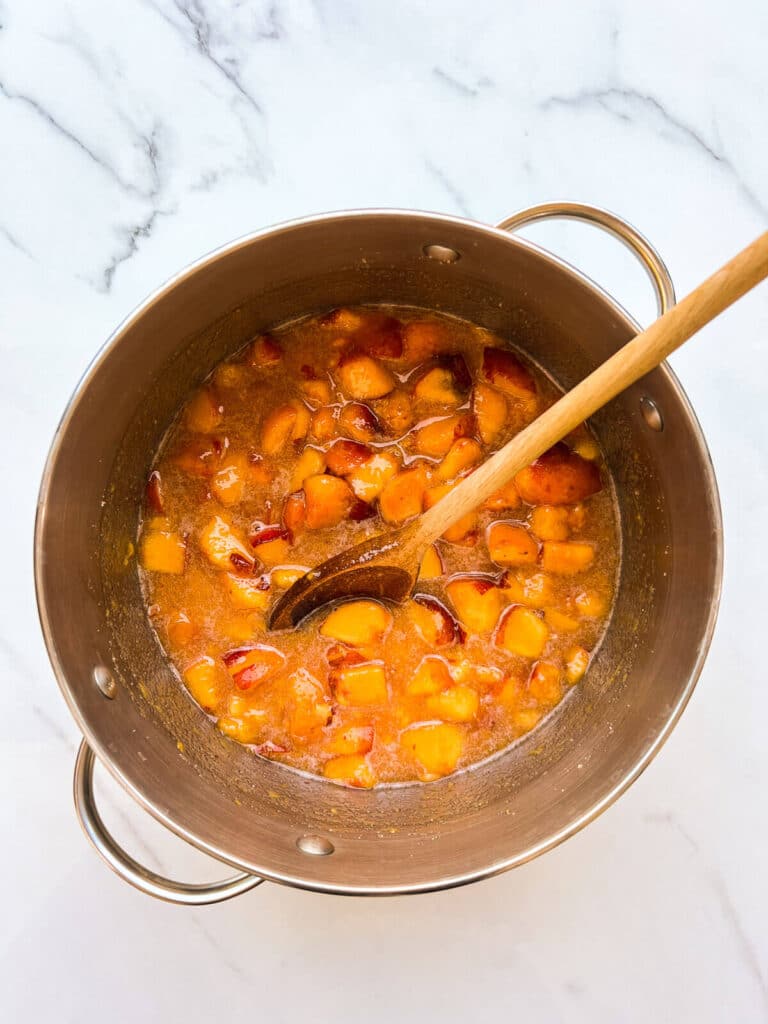 In a large pot, combine the chopped fruit with the sugar and lemon juice. Let the fruit macerate for up to an hour before proceeding. The fruit will have released a lot of water.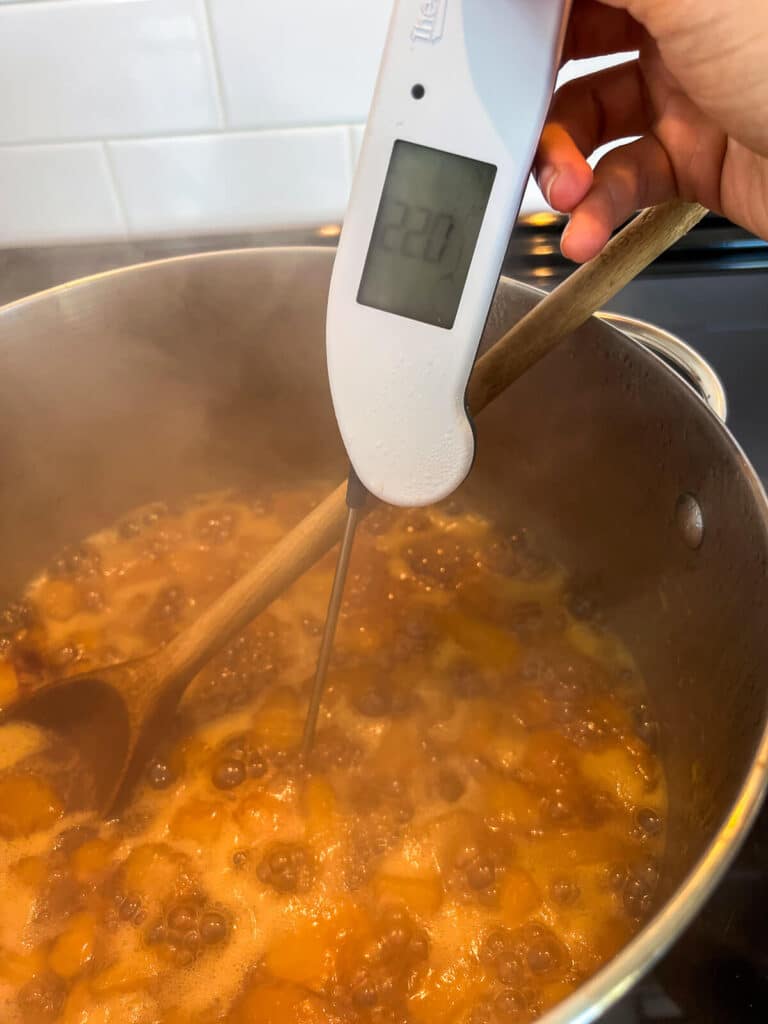 Heat the mixture on the stove to bring it up to the boil, dissolving any remaining sugar crystals. Boil the jam to the setting point (around 104–105 °C or 220 °F).
Tip: Make sure to weigh the peaches after removing the pit to get the final weight of fruit. Use that weight to calculate how much sugar to use. You should use roughly two parts fruit for one part sugar by weight. So for every 1 kilogram of fruit, use 500 grams of sugar.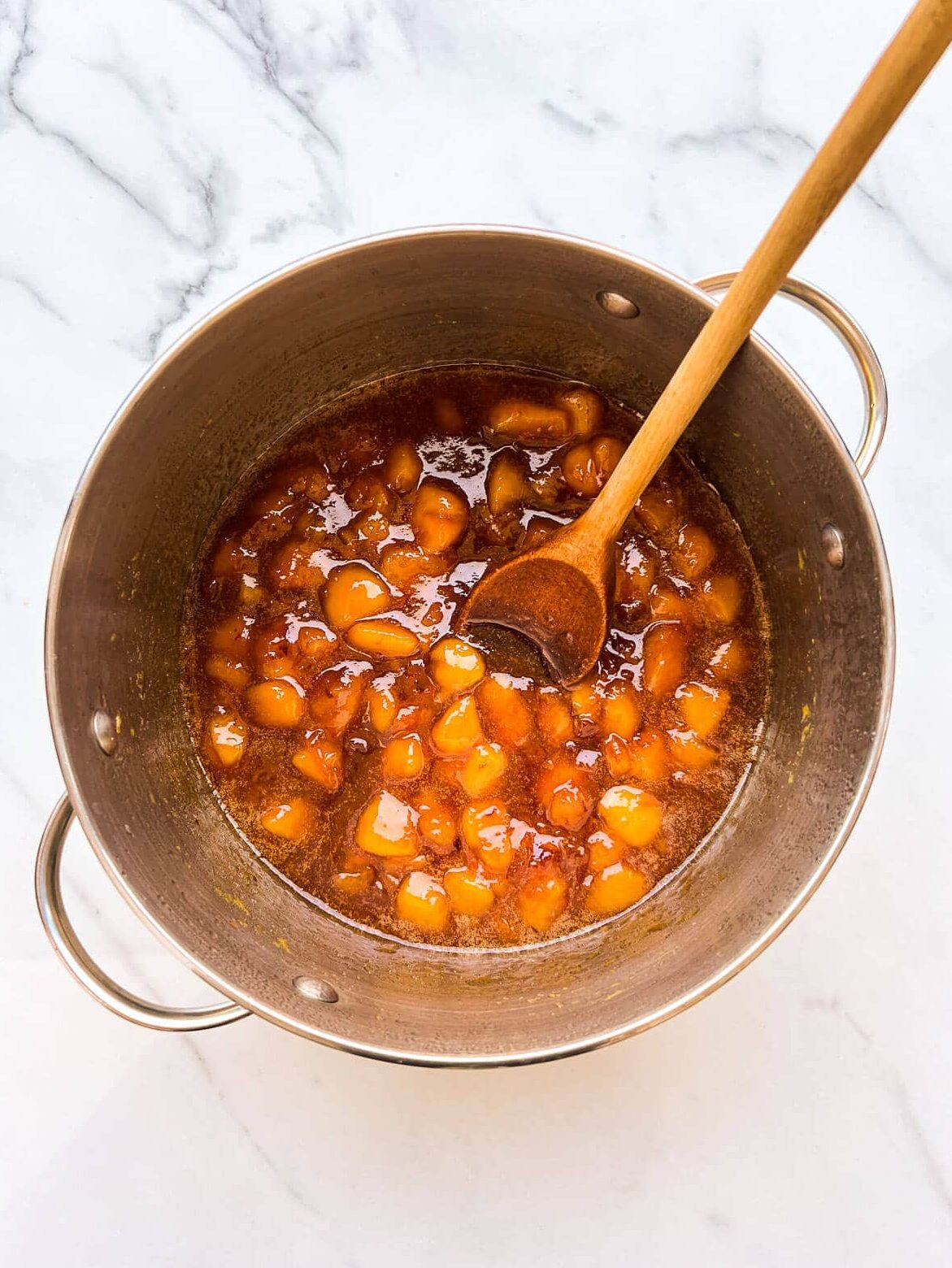 Let the jam cool for a few minutes off the stove to thicken slightly, then give it a good stir to suspend the fruit evenly throughout.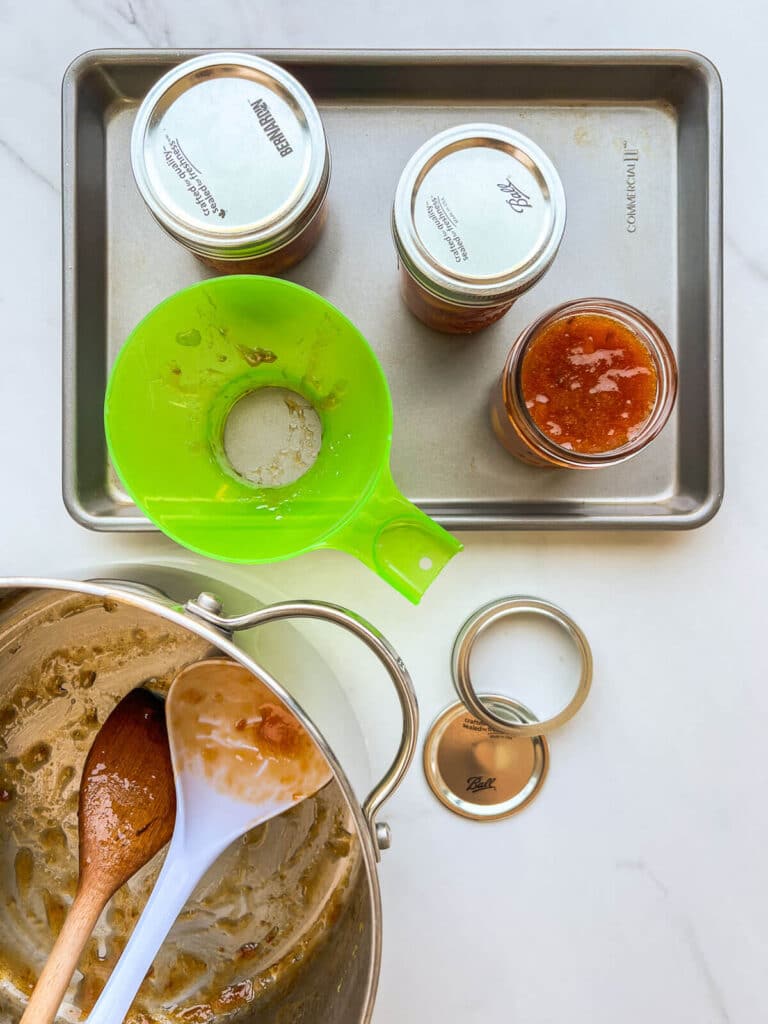 Transfer the jam to clean jars that were sterilized in the oven at 250 °F for at least 30 minutes.
Hint: Use two or three techniques to check the jam set. I like my jams to be thick and so I tend to boil them longer sometimes, but you may like to boil a little less for a looser texture. Always make sure to boil above 217 °F to make sure the jam will gel nicely.
Note that the number of jars you get in the end is entirely dependent on how long and how hard you boil your jam. The longer and harder it boils, the more water will boil off, the lower the volume of jam you will have in the end. Less volume means less jars. If you notice you are consistently making less jars than the recipes suggest, it could mean you are boiling your jam for too long, especially if your jams are very thick.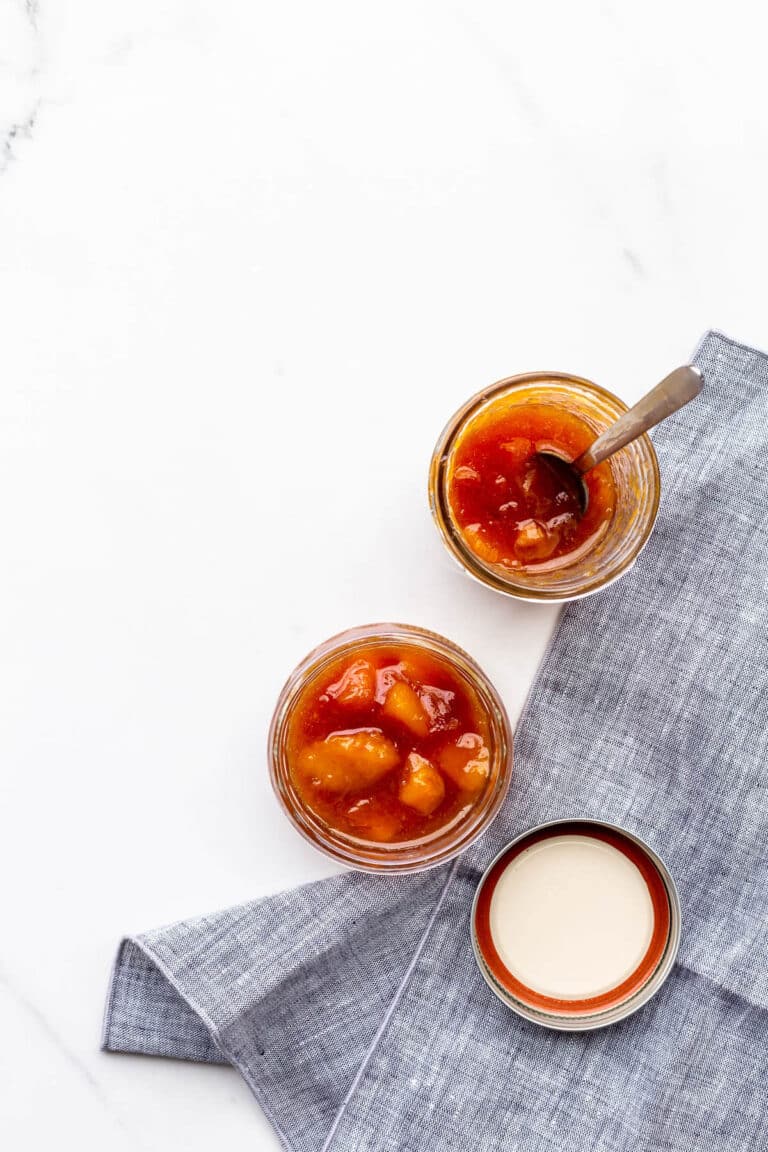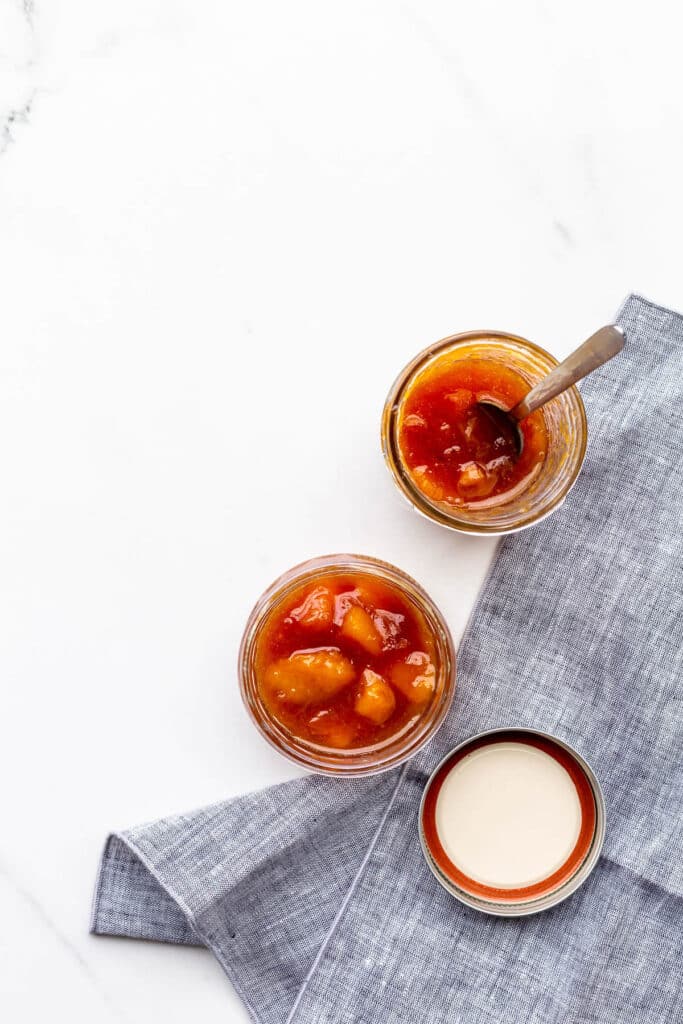 Sealing the jars for long term storage
You can either use a boiling water bath to boil the jars for 10 minutes to vacuum seal the closed jars or invert them as soon as you close the jars for 2 minutes before inverting upright to create a vacuum. These are the two best techniques that work well for sealing jars of peach jam, creating a vacuum in the jars for long term storage.
Store the jars undisturbed on the counter for 24 hours to ensure they are properly sealed.
If you do not go through the process of sealing the jars (either by boiling them or inverting them), then you will have to store the jars of jam in the fridge.
Substitutions
Because this recipe only has three ingredients, your substitution options are limited:
Lemon juice - instead of freshly squeezed lemon juice, you can use bottled lemon juice.
Sugar - I prefer to use regular white sugar (granulated sugar) but you can use brown sugar to give caramel/molasses notes to your jam. Maple sugar would also be an interesting option (or maple syrup) but it will be quite costly, so again, use in combination with the white sugar.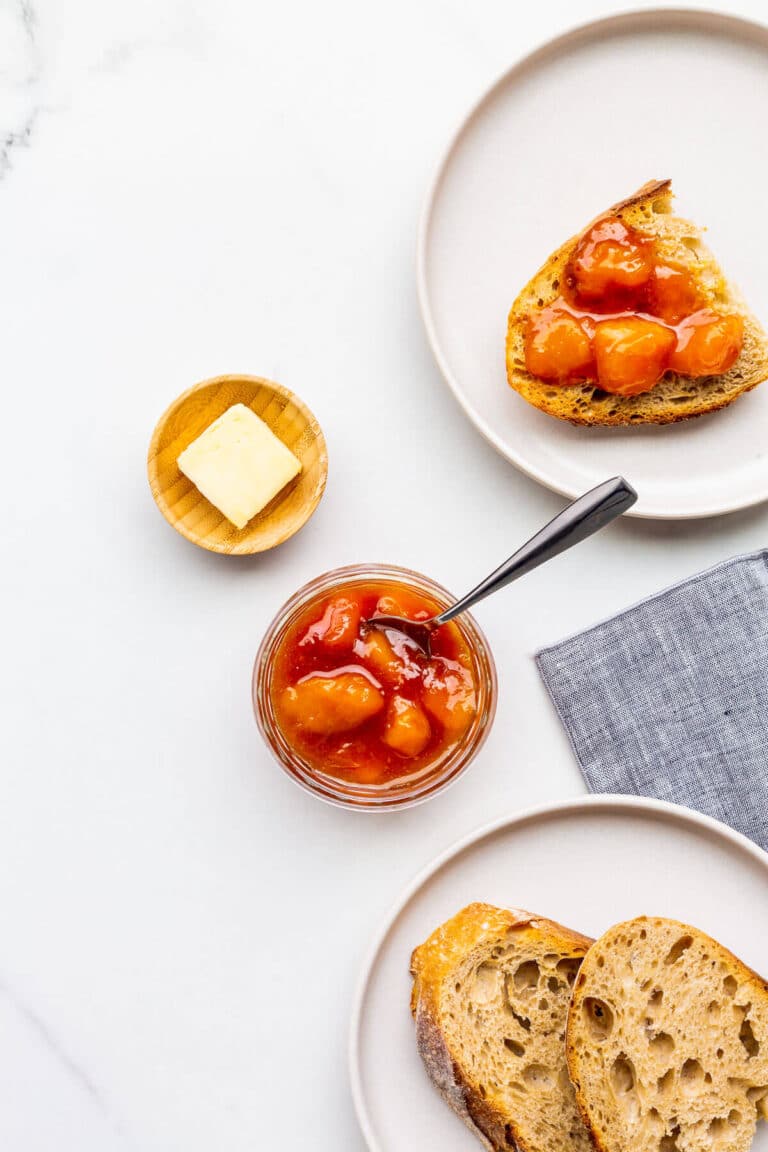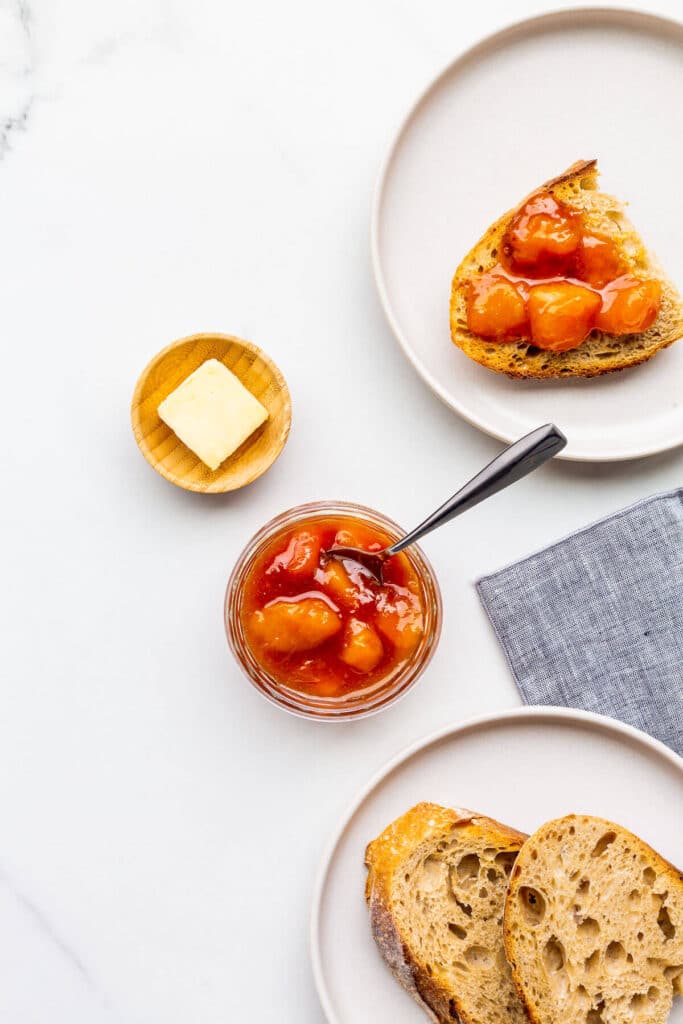 Variations
Peach jam is great plain, but you can also infuse some interesting flavours into your homemade peach preserves. Here are a few examples to try:
Vanilla - add a vanilla bean to the pot to macerate with the fruit and infuse the jam as it boils
Cinnamon - add a cinnamon stick or two
Whiskey or bourbon - peaches and whiskey or bourbon go hand in hand (remember this whiskey peach pie with a crumble topping?), but be sure to add it right after the jam has reached the setting point, just before you transfer the jam to jars. A few tablespoons is all you need to flavour the jam.
Amaretto - almonds pair so well with peaches, so a little amaretto added at the end of cooking is another great option!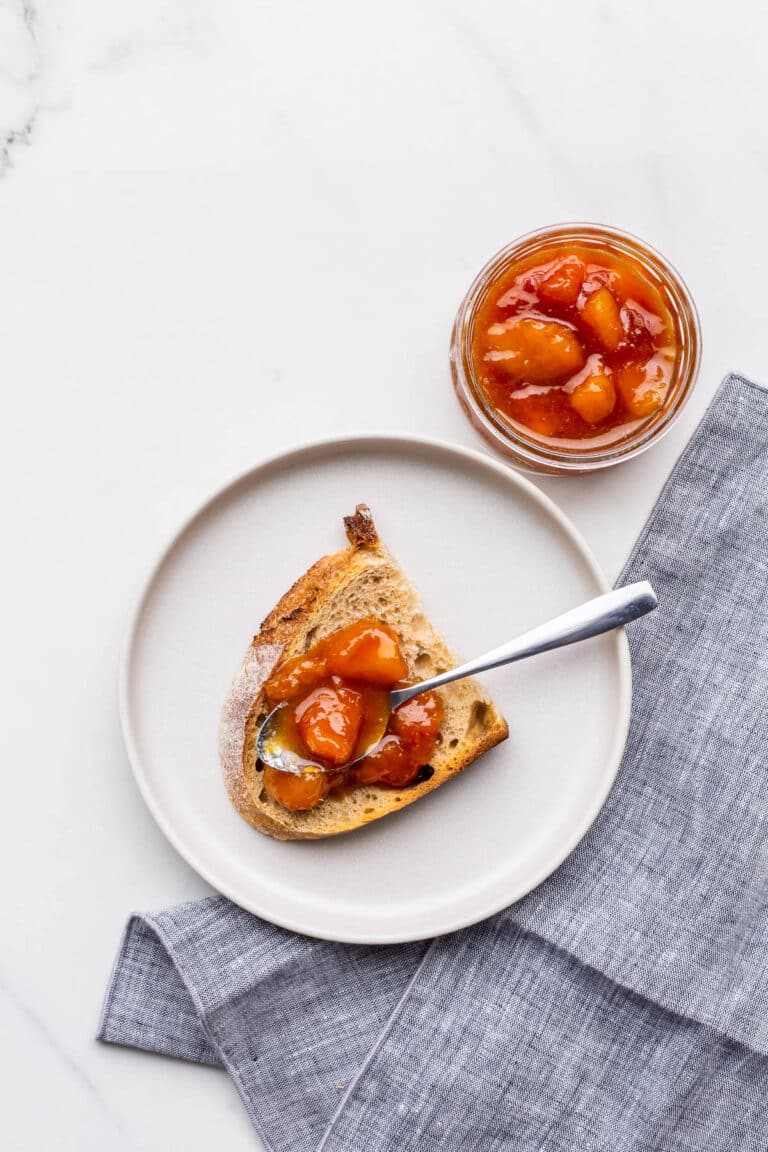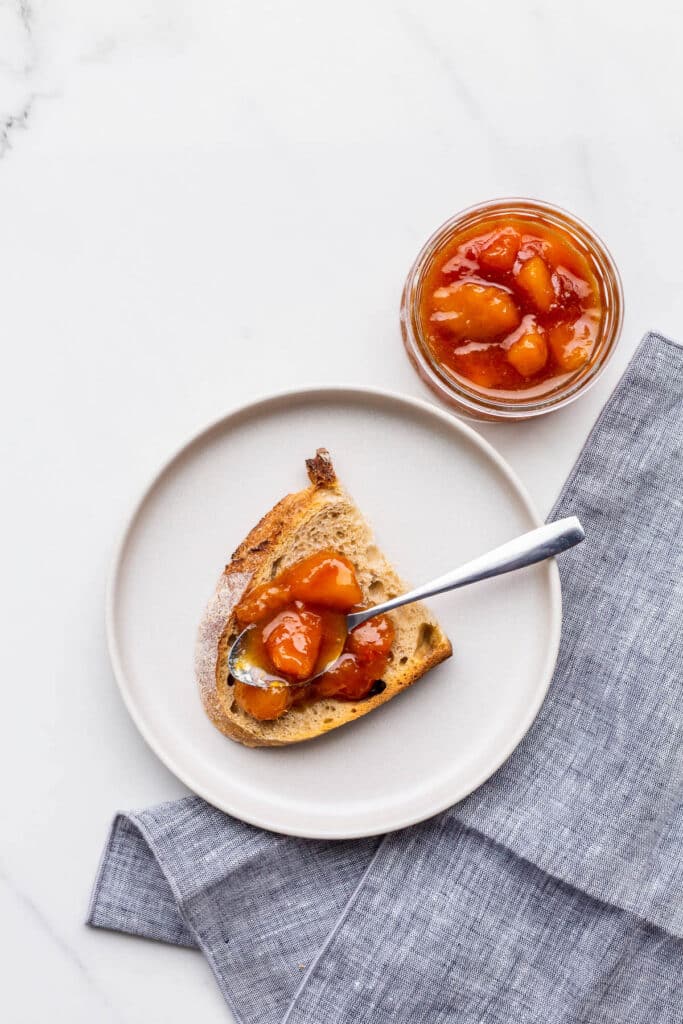 Equipment
To make homemade jam, you don't need much! Here's a rundown of the tools you need to make this jam and other preserves:
If you choose to process the jars to seal them, you will need a canning kit, which comes with a jar lifter, a helpful tool to measure headspace and remove air bubbles, among others. You can actually skip the step of boiling the closed jars to seal them and instead, invert the closed jars of hot jam and let them stand upside down for 2 minutes before flipping right side up. This will create a vacuum and seal the jars too.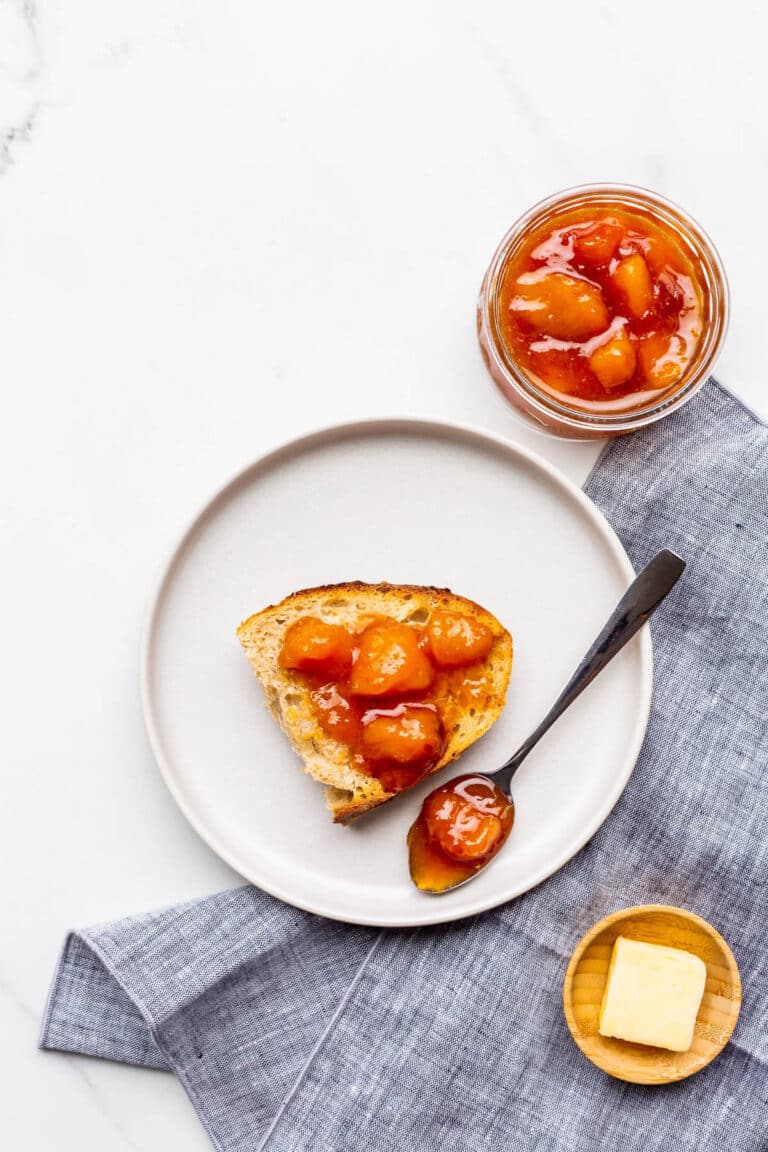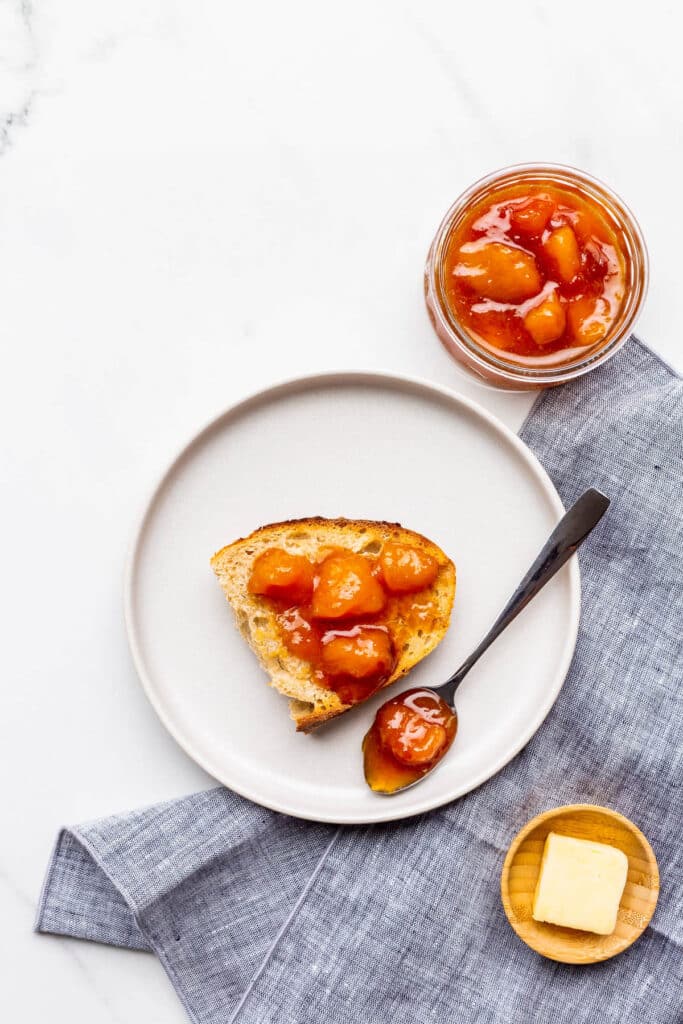 Storage and food safety
If you have gone through the process of sealing the jars properly, then you should be able to store this jam for a year in a cool, dry, dark place. After this time, you will notice the jam loses its bright, vibrant colour. It will still be good enough to eat, but it won't be the same.
Note that if you don't seal the jars properly, or if you have a doubt, just keep the jars in the fridge.
When it's time to use your jam, always use a clean spoon or knife to take out a serving and don't double dip into the jar of jam because you will contaminate it. Otherwise, mold may develop.
After the jar of jam is open, you must store it in the refrigerator and according to most professional canners, an open jar of jam will last up to one month if stored in the refrigerator.
One common misconception is that you can reboil a jar of jam that has developed mold. I would not recommend this. I also would not recommend removing the layer of mold from the top and eating what's below. The mold you see is a fraction of what exists below and it's better to be safe: toss the contents of jar, wash and sterilize the jar, and reuse it to make a fresh batch of jam.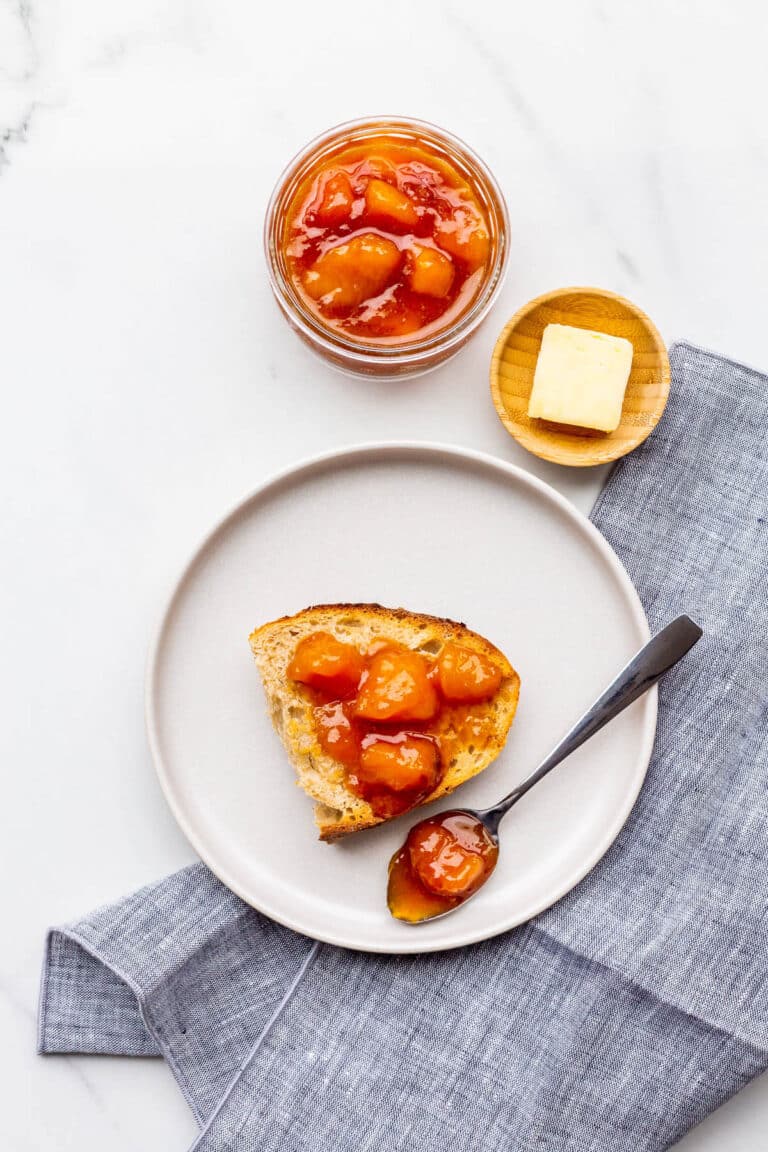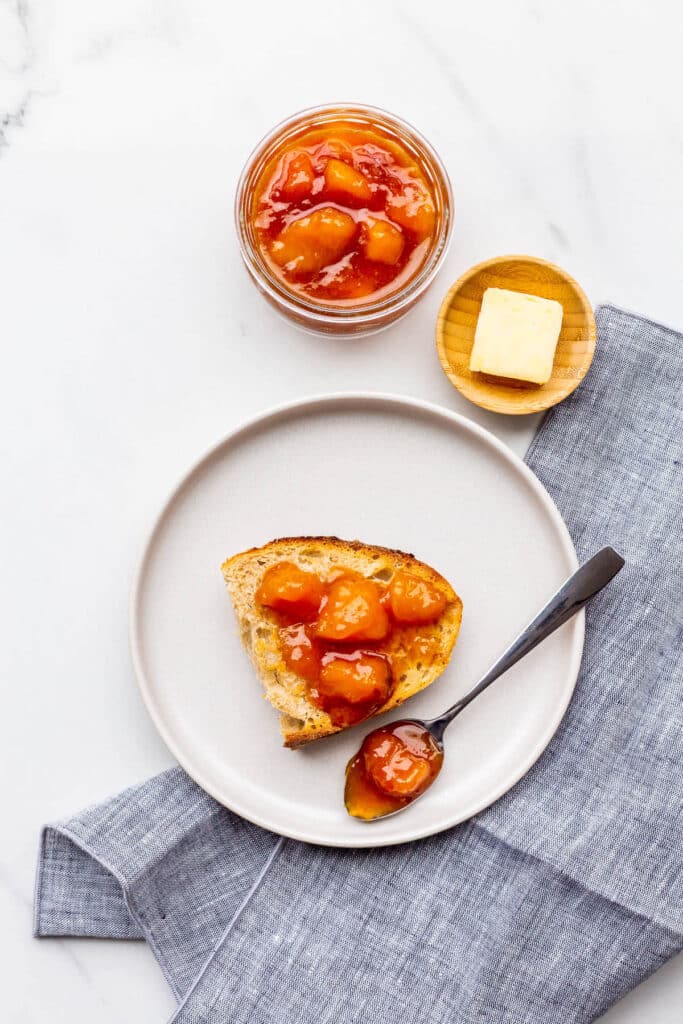 What to make and serve with peach jam
When you start making jam at home, you will inevitably wind up with many jars of it. It makes a great gift, but you should also keep some for yourself to enjoy and to bake with! Here are a few ideas of what you can bake with peach jam and what to serve with it:
📖 Recipe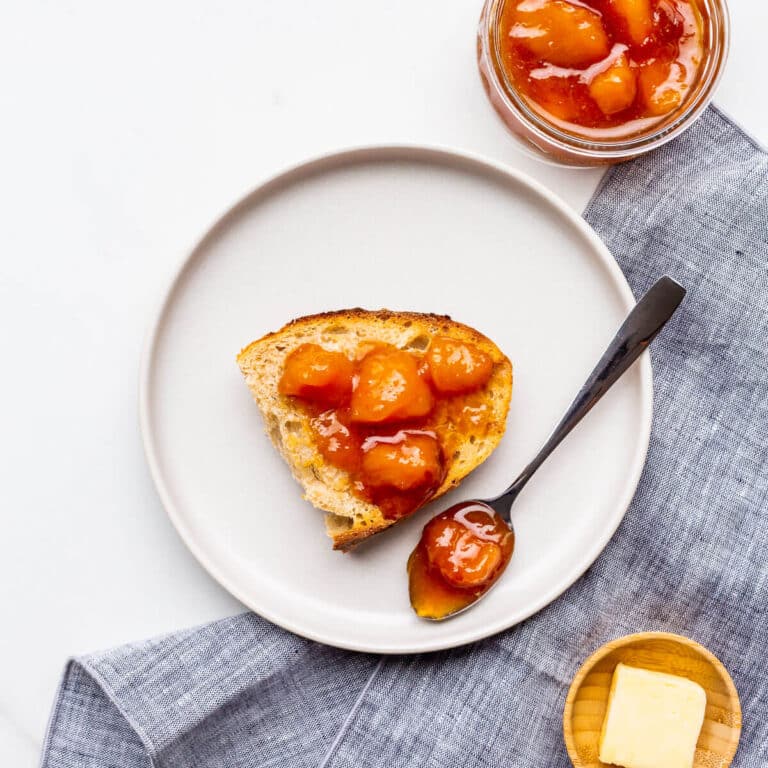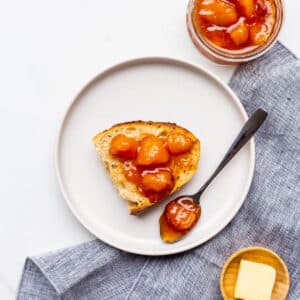 Peach Jam
Learn how to make the best peach jam with this easy recipe. You can achieve the perfect set without adding pectin as long as you follow the ingredients quantities listed below and boil to the jam setting point.
Ingredients
1

kilogram

large peaches

weigh after washing and removing stone

500

grams

granulated sugar

60

mL

fresh lemon juice
Instructions
Mix the chopped peaches with the sugar and lemon juice in a big pot.

Cover the mixture and let the fruit macerate at room temperature for 30 minutes, stirring every 10 minutes with a wooden spoon to help the sugar dissolve.

Place the pot on the stove, uncovered and bring the mixture to a boil, stirring occasionally.

When the jam comes to a boil, continue cooking it until it hits the jam setting point, around 104 ºC (220 ºF). For a softer set, you may boil until the jam reaches 103 °F (217–218 °F).

Let the pot of jam stand 2 minutes off the heat to cool slightly and thicken, then stir to distribute and suspend the fruit more evenly.

Divide the jam among the jars, leaving a ¼ inch headspace. Remove air bubbles, wipe the rims clean, then cover with the lids, fingertight. If any of the jars aren't filled full, don't seal them. Instead you can cover them and enjoy them right away, storing in the fridge.

Seal the closed jars according to the manufacturers recommendations, by inverting the hot jars for 2 minutes before placing upright or using a water bath canning kit.

Let sit 24 hours undisturbed before storing them in the pantry.
Notes
This recipe makes 4–5 jars (of 250 mL (1 cup) each)
To sterilize your jars: wash them well with soap and water if they aren't clean or are new, then place on a sheet pan in the oven, and heat them at 250 °F for at least 30 minutes. Leave them in the hot oven until you are ready to use them.
If you notice that a stable foam forms on the surface of the jam as it boils, you can skim it off the top with a spoon to remove it. This way your jam will be clear and free of too many air bubbles.
Nutrition
Calories:
31
kcal
Carbohydrates:
8
g
Protein:
0.1
g
Fat:
0.1
g
Saturated Fat:
0.003
g
Polyunsaturated Fat:
0.01
g
Monounsaturated Fat:
0.01
g
Sodium:
2
mg
Potassium:
17
mg
Fiber:
0.2
g
Sugar:
8
g
Vitamin A:
44
IU
Vitamin C:
1
mg
Calcium:
1
mg
Iron:
0.05
mg
FAQ
Do I need to peel the peaches to turn them into jam?
You do not need to peel the peaches to make peach jam. I don't and as you can see from the photos, the peel isn't noticeable at all!
Is lemon juice necessary to make jam?
You absolutely cannot skip the lemon juice when making jam. It is important for safe preserving to ensure the pH of the preserves are below 4.6 and safe for long term storage. The lemon juice is also important for the pectin in the fruit to form a gel network to trap water and ensure the perfect set.
How long does peach jam last?
Unopened, jars of homemade peach jam if properly canned will last a year. Technically, they will last longer than that, but the jam will darken.
How do you prevent peach jam from turning brown?
Peach jam will darken as you cook the fruit. The fruit will remain a vibrant orange, but the surrounding jam will be a darker shade of orange. If your jam is very dark, it may be that you boiled it too long and the sugar caramelized. Use a digital thermometer next time to avoid this issue.
Further reading on jams and jellies
What else to make with fresh peaches
If you have a large amount of peaches to use up, peach jam is a great option. You can also make with leftover peaches: