This rhubarb bostock recipe is a fun brunch recipe that is sure to wow your brunch guests, made with brioche, homemade frangipane, and rhubarb jam. If you don't know what it is, keep reading!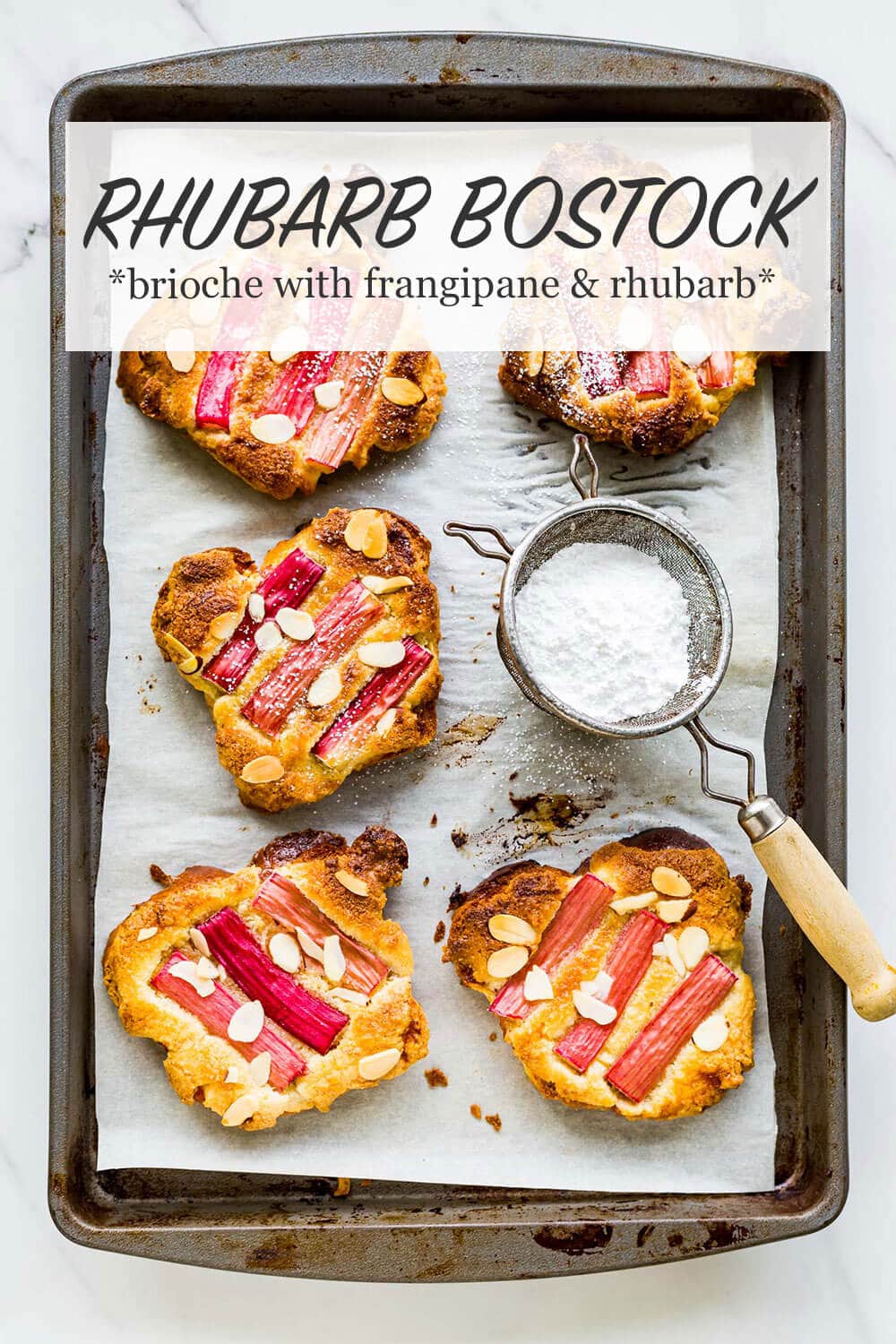 Disclosure: As an Amazon Associate, I earn from qualifying purchases.
What is bostock?
I know that is the question you are asking because my mom asked me that very thing while I was putting these together. Bostock is a sweet tartine of sorts:
the base of bostock is slices of day-old buttery brioche (this brioche made with a stand mixer would be perfect here!)
the filling and topping for bostock is jam and frangipane
the bostock is baked in the oven to toast the bread and set the filling
Think of it like a "croissant aux amandes" (almond croissant,) but it's much easier to make than homemade croissants! It combines all my favourite food groups: butter, bread, jam, and frangipane. You can eat bostock for breakfast, but you can also eat bostock as a sweet snack!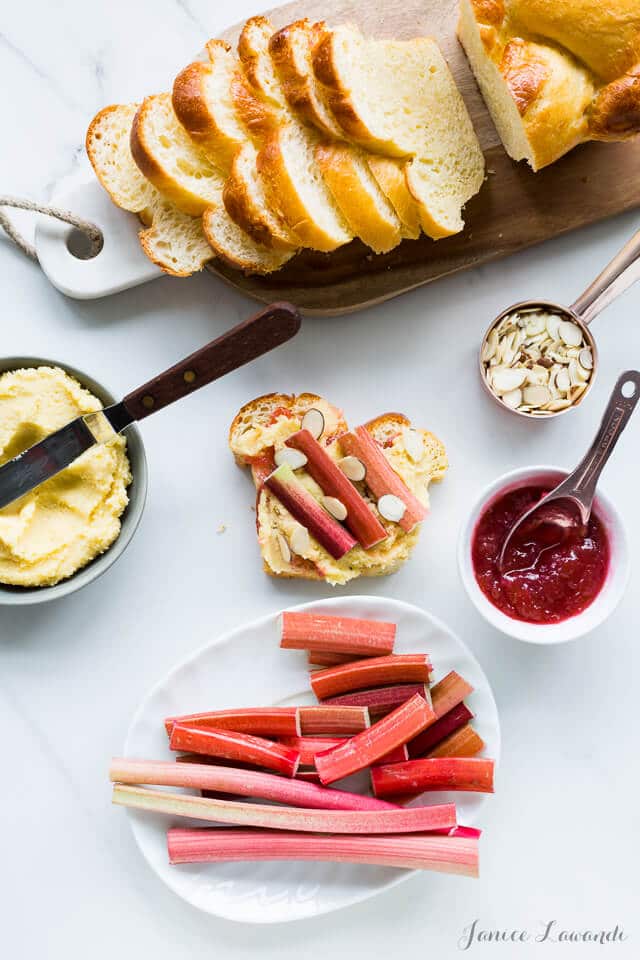 What is frangipane?
I get asked what is frangipane a lot, actually. Frangipane is just a fancy way of referring to almond cream. It's often used in Italian crostata tarts (which can be filled with frangipane and fruit, like cherries), British bakewell tarts (which are filled with jam and frangipane), and the French pain aux amandes (which is a croissant filled with frangipane and baked in the oven).
Frangipane is one of my favourite fillings. I've used it in these blueberry almond mini pies and this pluot pistachio tart (well, that last one is frangipane made with pistachios instead of almonds).
Frangipane is so versatile and it really is quite easy because the base recipe for it contains equal parts of butter, icing sugar, and ground almonds (the French recipe term for equal parts is tant-pour-tant, abbreviated tpt). An egg, vanilla, and almond extract is added to bring it all together into a flavourful filling for so many classic desserts and treats. You can add a little rum to frangipane for flavour too.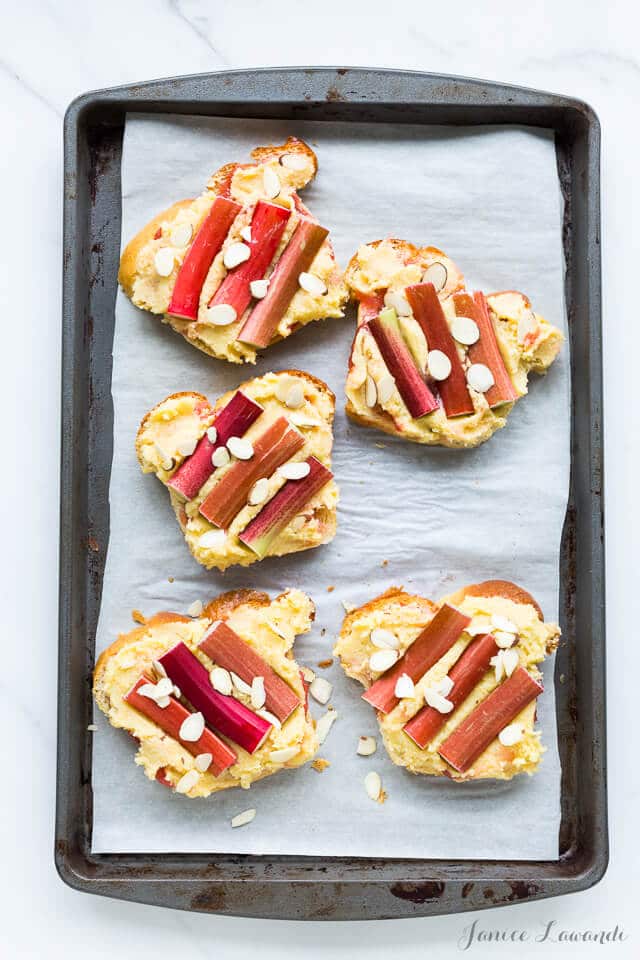 For this recipe, I used orange blossom water, which is such an awesome match with rhubarb. I've paired rose water with rhubarb in a rhubarb chocolate tart, and so this was a variation on that theme. The bostock are baked in the oven for about 25 minutes or so, on the middle rack of a 350ºF oven, then I move the baking sheet up to the top rack, and turn the broiler on to 450ºF, which helps brown the top nicely (watch it so that it doesn't burn in the oven!).
I also made a quick small batch of rhubarb jam to slather between the frangipane and the brioche. It's rhubarb season, so rhubarb is what I am craving, but you can use your fave homemade rhubarb jam without pectin. Some people actually dip the stale bread in a flavoured syrup instead. I prefer the jam route, personally.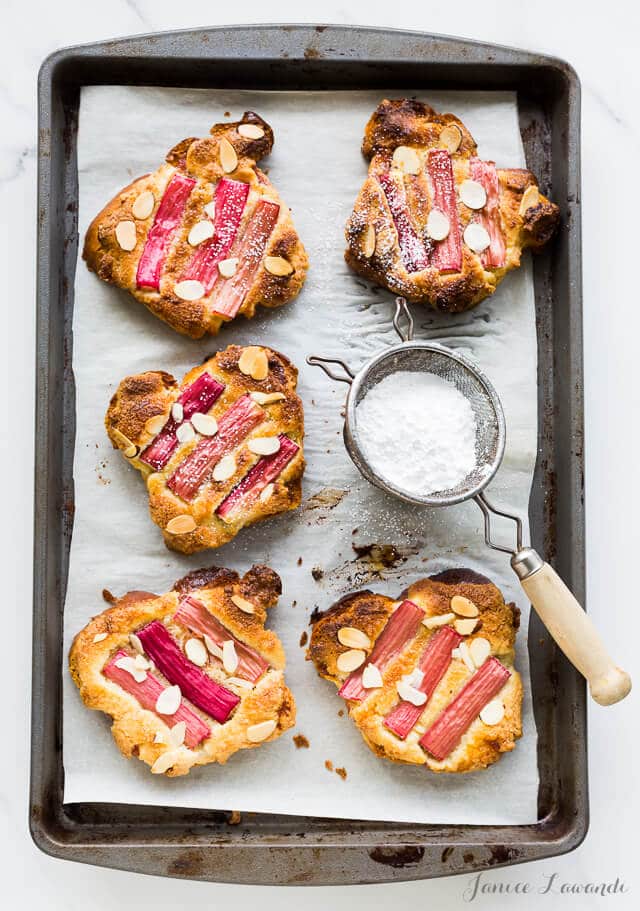 This rhubarb bostock is an easy brunch recipe made with thick slices of brioche bread topped with rhubarb jam, frangipane, pieces of rhubarb, and sliced almonds, baked golden brown. It's definitely one of the best rhubarb recipes I've made so far!
📖 Recipe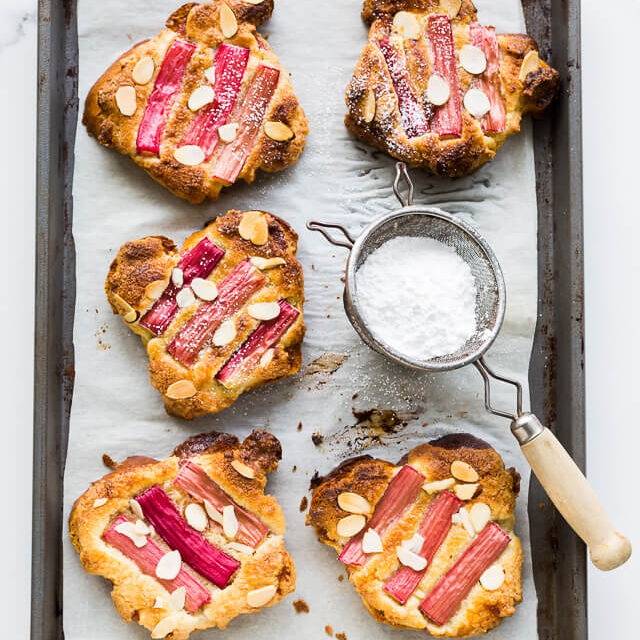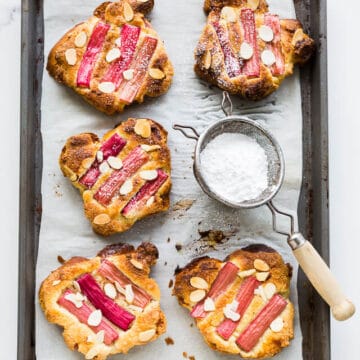 Rhubarb Bostock
Bostock is a French breakfast made from day-old brioche that is topped with jam and frangipane and baked in the oven. Frangipane is an almond cream used to fill tarts and pastries.
Ingredients
For the rhubarb jam
120

grams

fresh rhubarb

chopped

67

grams

granulated sugar
For the bostock
6

slices

brioche

preferably day-old brioche around ½ inch thick

120

grams

fresh rhubarb

sliced into 18 strips about 2-3" long

icing sugar
Instructions
To make the rhubarb jam
Combine the ingredients in a small pot. Heat the mixture on low to dissolve the sugar and help the rhubarb release some of its water. Increase the heat to medium–high and bring the mixture to a boil. Boil the jam until it is thick (the temperature will be between 101 ºC (215 *F) and 105 ºC (221 °F) when it's set). Take the jam off the heat and let cool completely.
To make the frangipane
In the bowl of an electric mixer fitted with the paddle attachment, cream together the butter, ground almonds, and the sugar. When the mixture resembles a thick, creamy paste, beat in the egg yolk, scraping down the sides of the bowl as needed. Add the orange blossom water, vanilla, and salt, and mix it in.
To assemble the bostock
Preheat the oven to 350 ºF. Place the 6 slices on a parchment-lined baking sheet. Divide the jam between the slices and smear it on evenly. Divide the frangipane between the slices, in dollops. Spread carefully with an offset spatula. This isn't easy to do so take your time to cover the jam and smear the frangipane from edge to edge. It will look rustic. Don't worry. Press 3 strips of rhubarb into the frangipane layer, then sprinkle with sliced almonds.

Bake the bostock in the preheated oven for about 25 to 30 minutes until the edges begin to brown and the rhubarb slices are soft.

Transfer the baking sheet to the top rack of the oven and switch the oven setting to broil and the temperature to 450 ºF (230 °C). Broil the bostock to lightly brown the tops (watch it so it doesn't catch fire or scorch too much).

Let cool slightly (or completely), then transfer the bostock to plates and serve warm or room temperature, dusted with powdered sugar.
Nutrition