Want to go directly to the dessert recipe? click here to skip to the recipe for these roasted peaches with muscovado and rum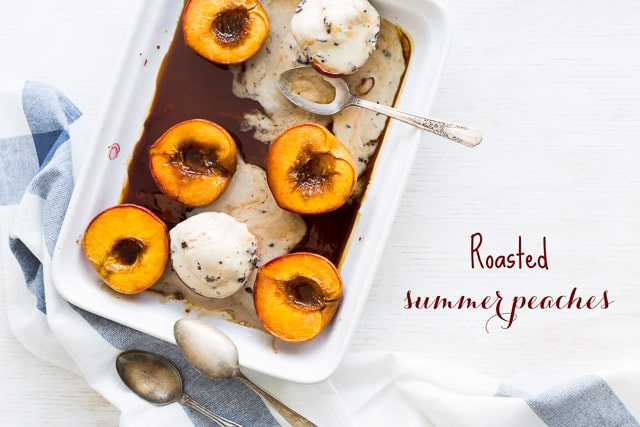 Summer is here, which basically implies eating a ridiculous amount of summer fruit and daily frozen treats in my little world. For real. My entire summer basically revolves around these two "food groups", if we can call them that.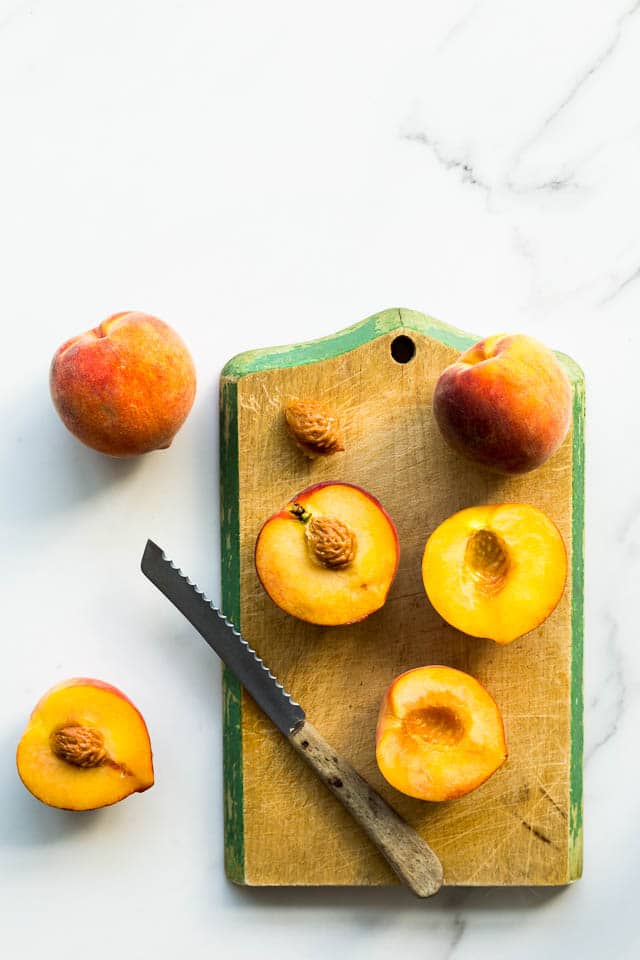 Disclosure: As an Amazon Associate, I earn from qualifying purchases.
Peaches are actually what I look forward to the most, peach fuzz and all. I want to eat every variety, and I want to eat them every day. My go-to summer snack, sometimes twice a day, is a big, fresh peach with a handful of nuts. I slice the fruit off the pit, but still eat the slices with my hands. The juices run down my arms all the way to my elbows. I become a sticky mess from eating peaches but that's been part of my summer ritual for as long as I can remember.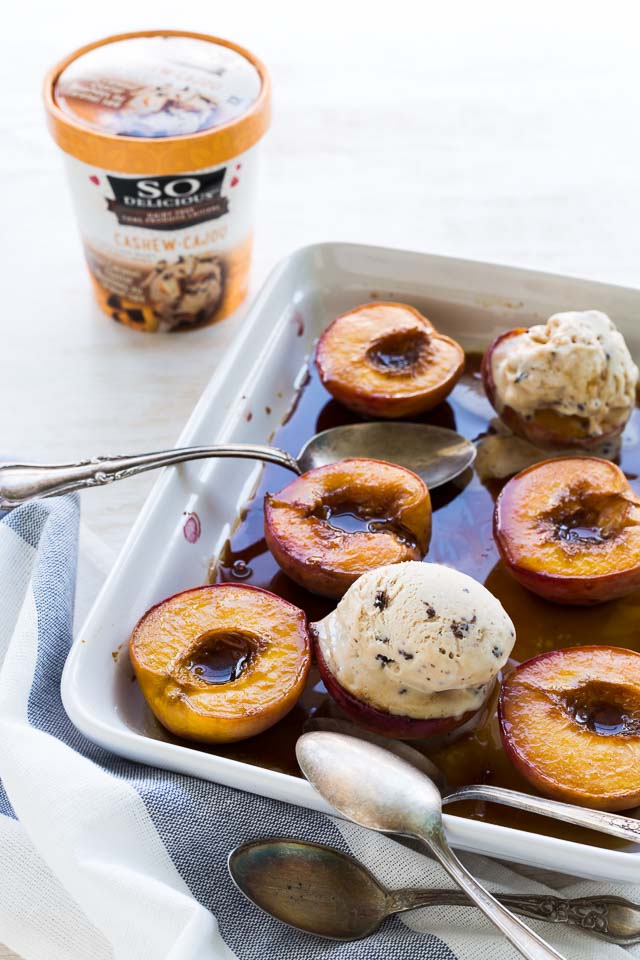 For this recipe, I took my go-to summertime snack of peaches and nuts, and I took it to a whole other level. I roasted peaches with muscovado, coconut oil (the good kind that tastes like a tropical vacation), and a splash of rum because you can't go wrong adding rum to a baked fruit dessert.
I paired these roasted peaches with So Delicious Cashewmilk Salted Caramel Cluster frozen dessert for an easy summertime treat. It's like taking my fave summer snack and making it WAY BETTER! These roasted peaches would also go really well with the Creamy Cashew or the Very Vanilla flavours. I love the Salted Caramel Cluster flavour because it's got lots of specks of dark chocolate and chunks of toasted cashew, making this flavour a real treat! The muscovado and coconut oil melt onto the peaches as they roast in the oven, creating a lovely dark caramel sauce that ties everything together.
This recipe takes 5 minutes to throw together, making it perfect for those lazy, hazy summer days when you want to make a treat but you don't want to slave away in the kitchen. Easier than pie à la mode, but just as satisfying. Plus it's all gluten-free and vegan too!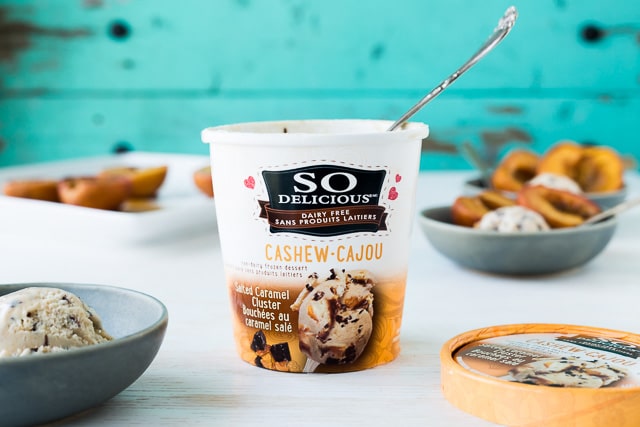 It would pair nicely with a whiskey peach crumble pie too. Just sayin'. Or perhaps you could use it to make homemade ice cream sandwiches.
📖 Recipe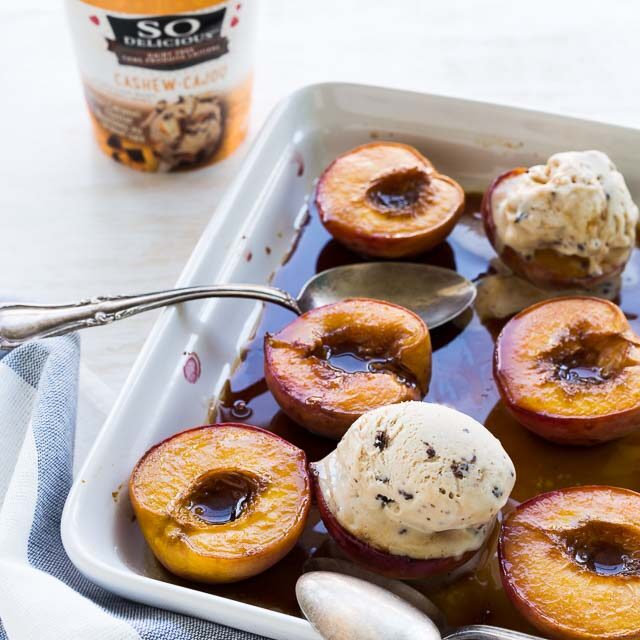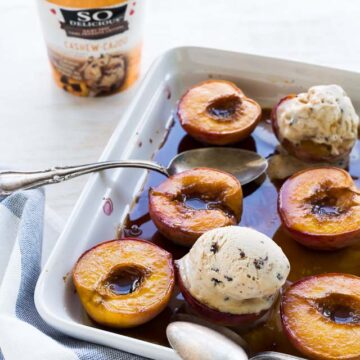 Roasted Peaches with So Delicious Cashewmilk Frozen Dessert
This dessert is way easier than pie. Just sprinkle halved pitted peaches with muscovado sugar (or brown sugar) and some spiced rum, and then roast them. Top with your favourite dairy free frozen dessert or ice cream.
Ingredients
6

large peaches

halved and pitted

50

grams

muscovado sugar

30

mL

spiced or dark rum

10

mL

coconut oil

melted

500

mL

So Delicious Cashewmilk Salted Caramel Cluster Frozen Dessert
Instructions
Preheat the oven to 350 °F (175 °C).

Arrange the peach halves, cut side up. Sprinkle with muscovado sugar, then drizzle with spiced rum and melted coconut oil. Cover the dish with foil.

Bake the peaches for about 20 to 30 minutes with the foil on, then uncover and bake for an additional 10 to 20 minutes. The baking time is entirely dependant on how ripe your peaches are. If your peaches aren't ripe, they may take even longer. You want the muscovado sugar to melt and form a sauce and the peaches to be nice and tender so that you can eat them with just a spoon. Feel free to sprinkle a little water around the peaches if you find the caramel sauce is getting too dry. You don't want it to burn.

Serve the roasted peaches warm with scoops of So Delicious Cashewmilk Salted Caramel Cluster Frozen Dessert.
Nutrition
This is a sponsored conversation written by me on behalf of So Delicious. The opinions and text are all mine. I was compensated monetarily. Thanks for supporting the companies that allow me to create content for Kitchen Heals Soul. As always, please know that I wouldn't work with a sponsor nor recommend a product if it wasn't worth it.
Comments submitted may be displayed on other websites owned by the sponsoring brand.